While you crave a sophisticated design for your home interior, a spacious bathroom is what everyone dreams of. Apart from being spacious, another feature that is very much wanted in a bathroom is that functionality. Good lighting, soft tiles, great faucets, and ample space are some aspects that you need to keep in mind. If you are looking for a bathroom that serves the purpose of your bathing duties and has a touch of luxury at the same, then here are some of the likewise bathroom designs in India for your homes.
Here is a list of as many as 20 bathroom designs for Indian homes.
1. Bold Colours:
Neutral shades such as the colour white have remained a favourite of many for bathroom walls. But trying bathroom designs in India such as bold shades on the walls not just enhances the look but also is easy to maintain. Often the colour white gets dirty very soon and you may have to think of repainting the walls again after a few years. But on the other hand, making use of shades such as teal or blue on the walls helps in hiding dirt and this can go on for a longer time without the need for repainting after a few years.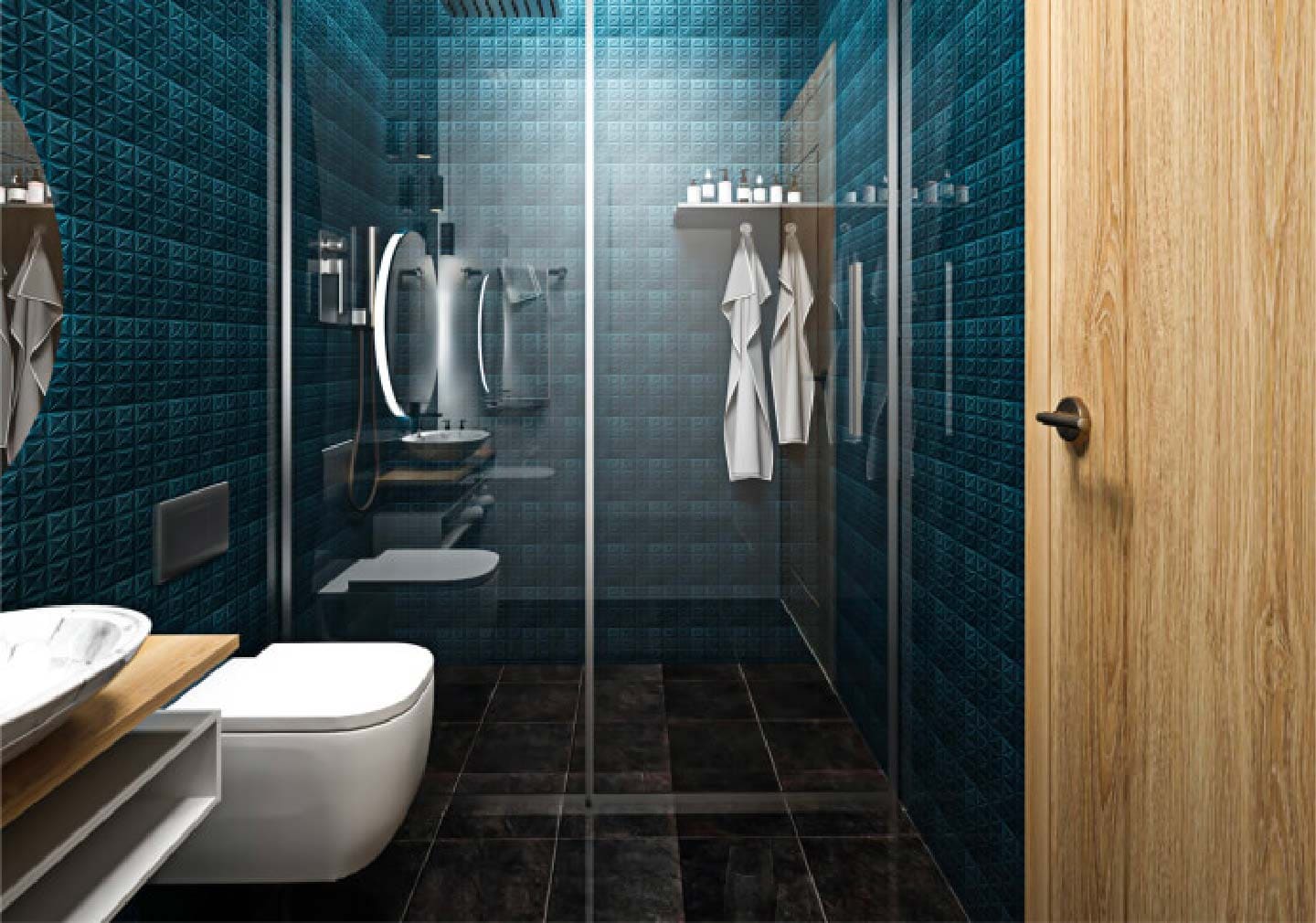 2. Use of Tiles or Concrete:
If you do not wish to colour all the walls of the bathroom in bold shades, consider making use of tiles and concrete use of tiles and concrete on some of the walls. Concrete usually is available in darker shades of grey or black and thus it does not get dirty soon.
On the other hand, you can make use of tiles of brighter shades too such as white to offer a contrast to the darker shades already available in the bathroom. Tiles are usually easy to clean and are water-resistant and thus are extremely easy to maintain. Get more information on the selection of tiles for your bathroom.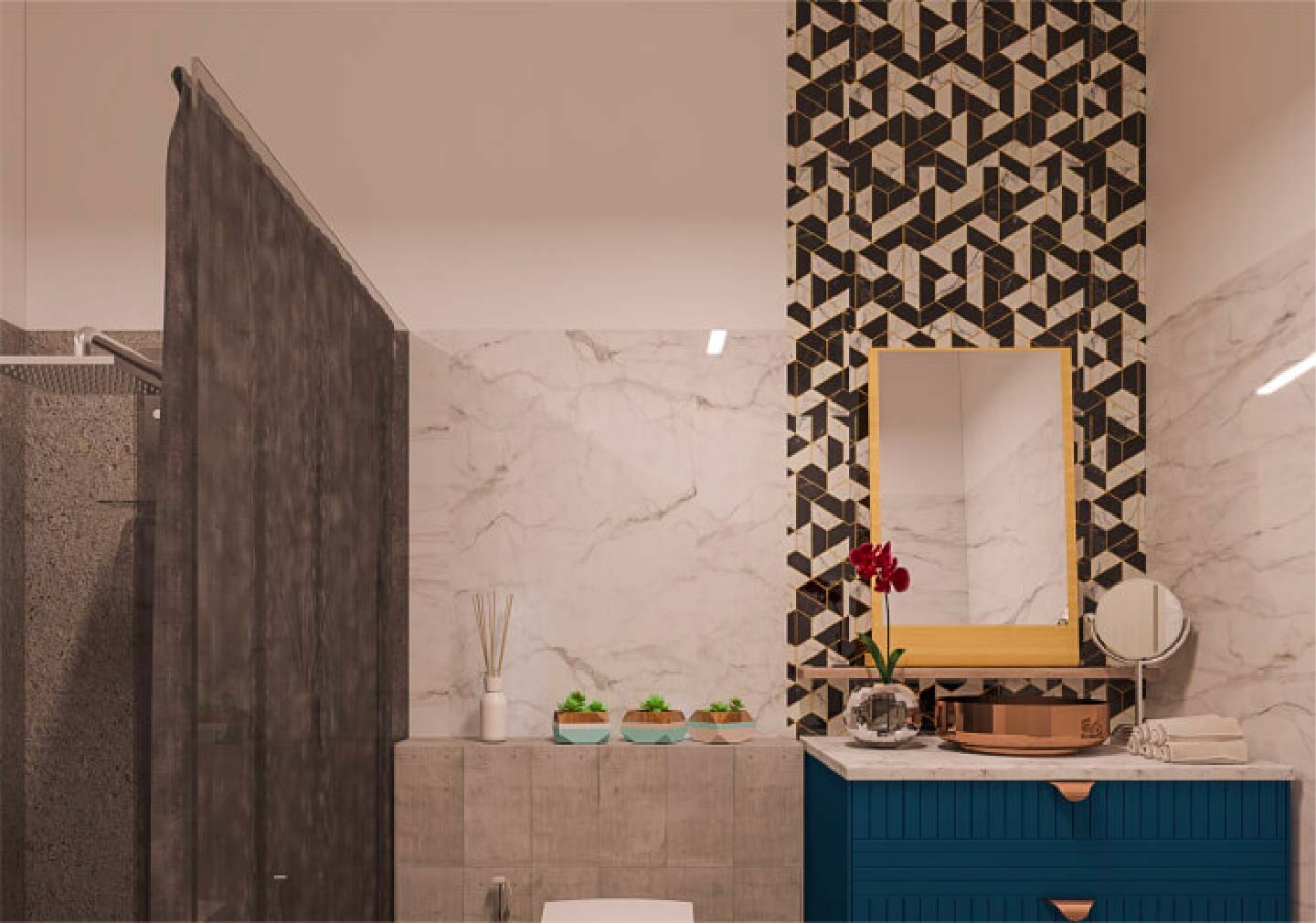 3. Wall-mount Toilet:
In the case of small bathrooms, it becomes quite essential to get toilet fittings that are less space-consuming. One such option is to get a wall-mounted toilet that can be fixed on one of the walls, leaving out a good amount of space in the entire bathroom.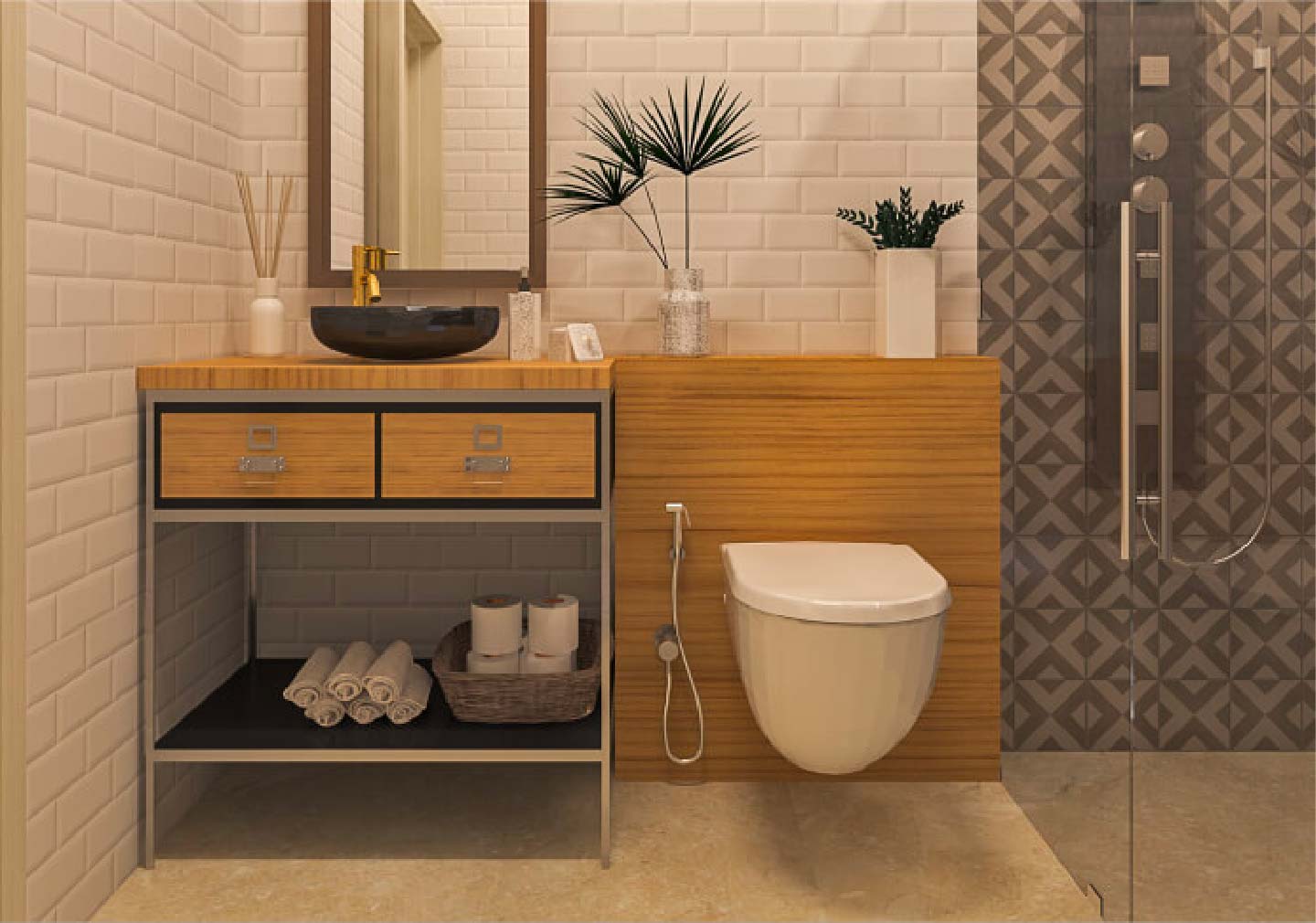 4. Abstract Wall for Mirror:
Having your dressing mirror on just a plain and simple to-do mirror is really boring. Why not add some drama to it by painting the backdrop wall in abstract textures? This will not just make your mirror wall look a bit interesting but also will make this area stand out from the rest of the bathroom that you may have kept simple otherwise.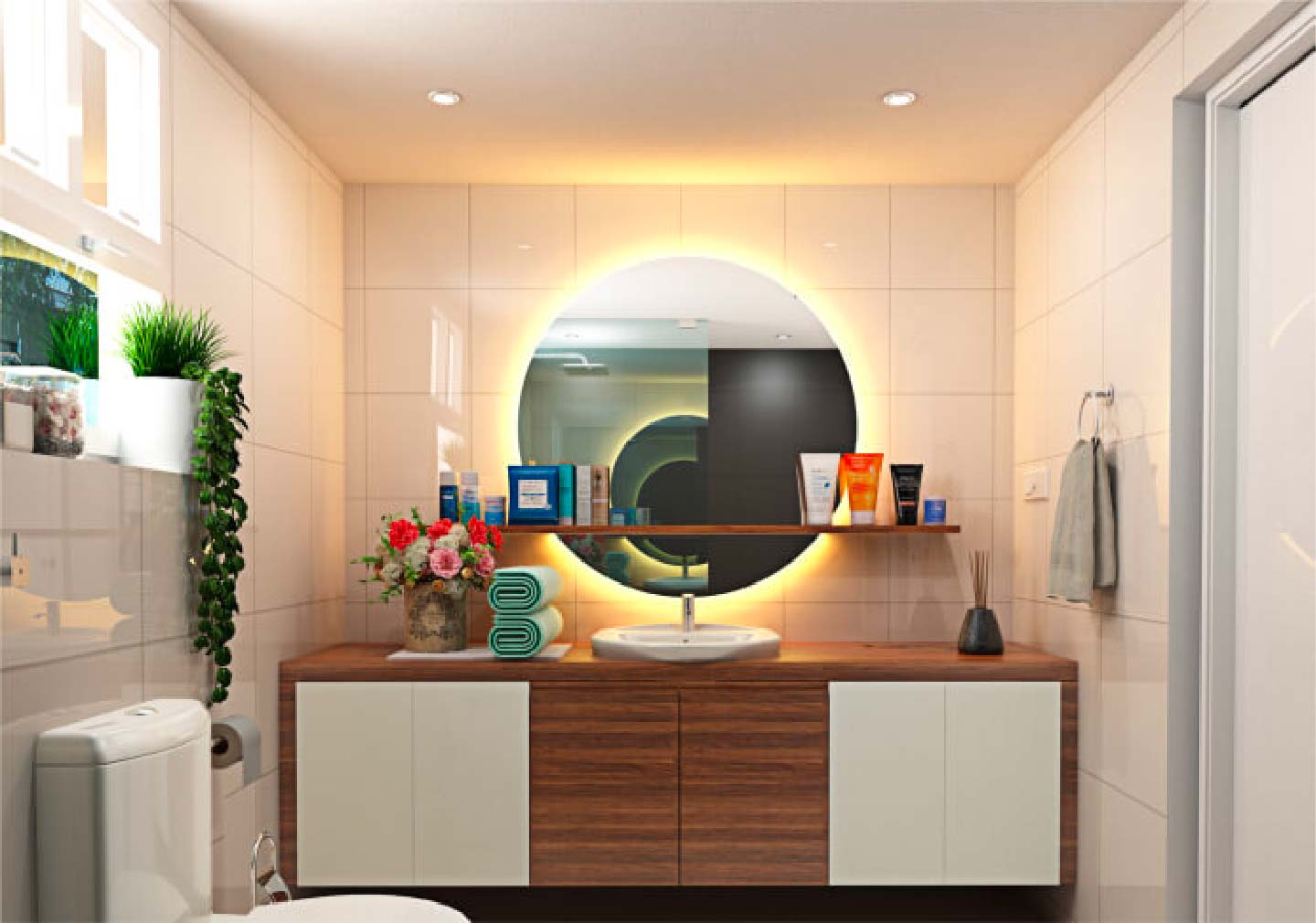 5. Statement Mirror:
If the bathroom is extremely small, you cannot think of doing much of an experiment with the wall shades or other elements. But one of the bathroom designs in India that you can definitely try out is to make use of a statement mirror in place of a simple one. Adding a huge round mirror with decorative or designer edges surely makes a difference. Adding up more light to the mirror wall keeps the focus on this area and this also helps a lot in improving the design of the bathroom.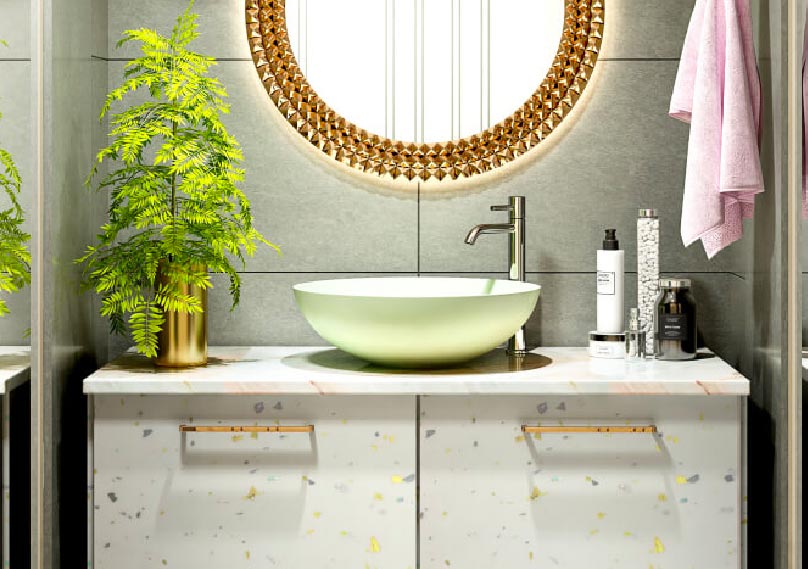 6. Floating Shelves:
It is quite essential to get shelves in the bathroom. But why should you get a usual shelf when you can hype your bathroom interior with the use of floating shelves? The beauty of these shelves is that you can install them anywhere according to the available space styling. Whether you wish to install them on the walls or below your sink, they look extremely sophisticated. Also, now these shelves are available in different styles and patterns so that you can get the right one complimenting the existing interior of your bathroom.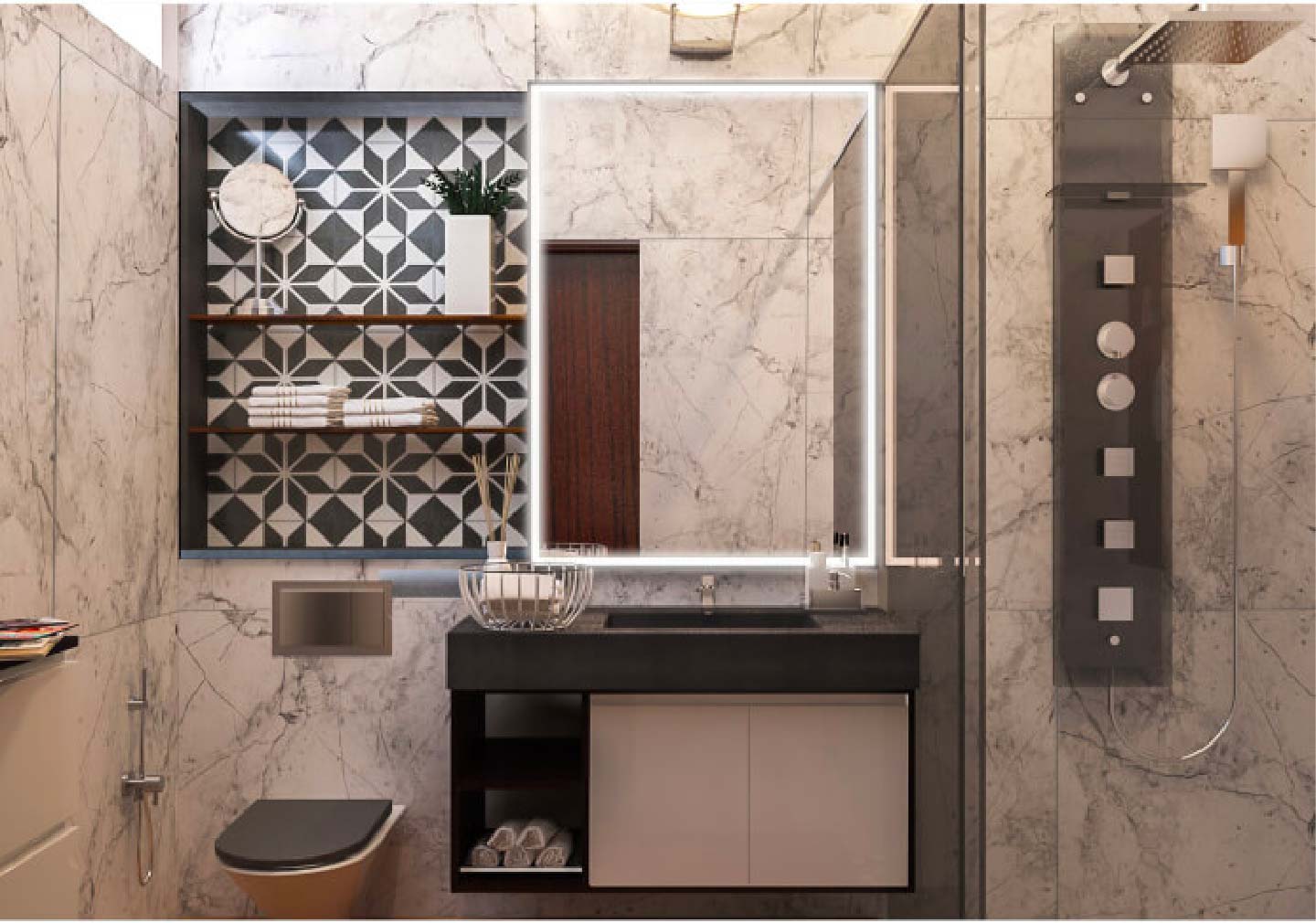 7. Statement Lights:
Who says statement lights are only for your living room or your kitchen?
You can always add a dramatic quotient to your bathroom interior with the help of these statement lights. There are so many ways you can make use of different statement lights in your bathroom interior.
Spotlights can be used in important places such as over the sink, over the toilet, or even in the bathing area. Similarly, sophisticated pendant lights can be used over the washing countertop area to make the place look prettier than before.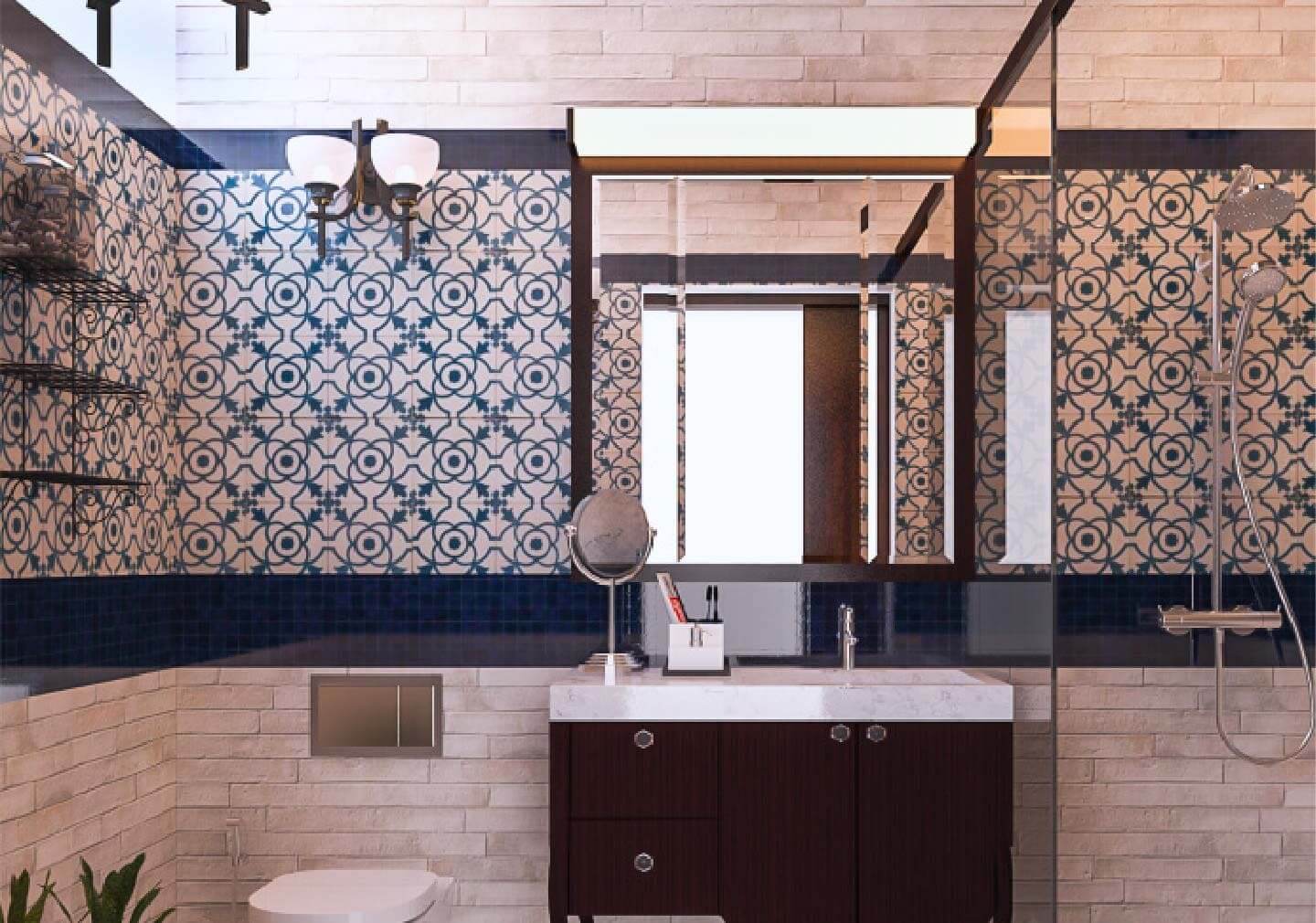 8. Glass Partitions:
Getting a partition for the bathing area in the bathroom is another great way to enhance the interior of your bathroom. But this can be possible only when you have a medium to the large bathroom area. Usually, curtains are the most commonly used partition for this purpose. But now many homeowners also go for glass partitions to segregate the bathing area from the rest of the bathroom.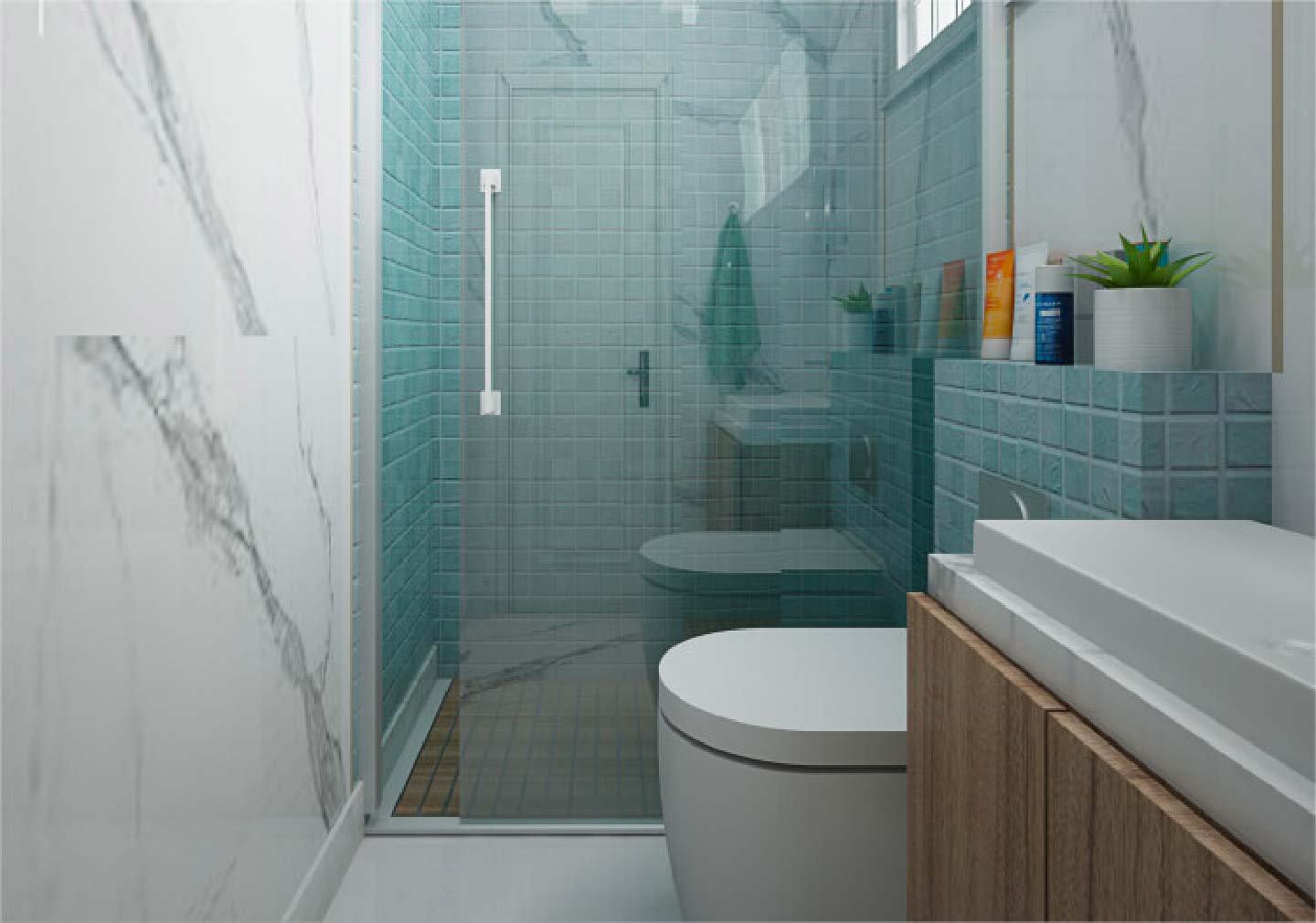 9. Pop of Colours:
Adding bold colours does not just mean that you have to colour your walls in bold shades. There are also many other ways of doing so and that too in a very interesting way. One of the ways is to provide a neutral shade to the walls of the bathroom and then add colourful floating shelves or colourful cabinets across the bathroom. This design makes it feel as if different colours are popping out from different parts of the bathroom and this looks quite eye-catching.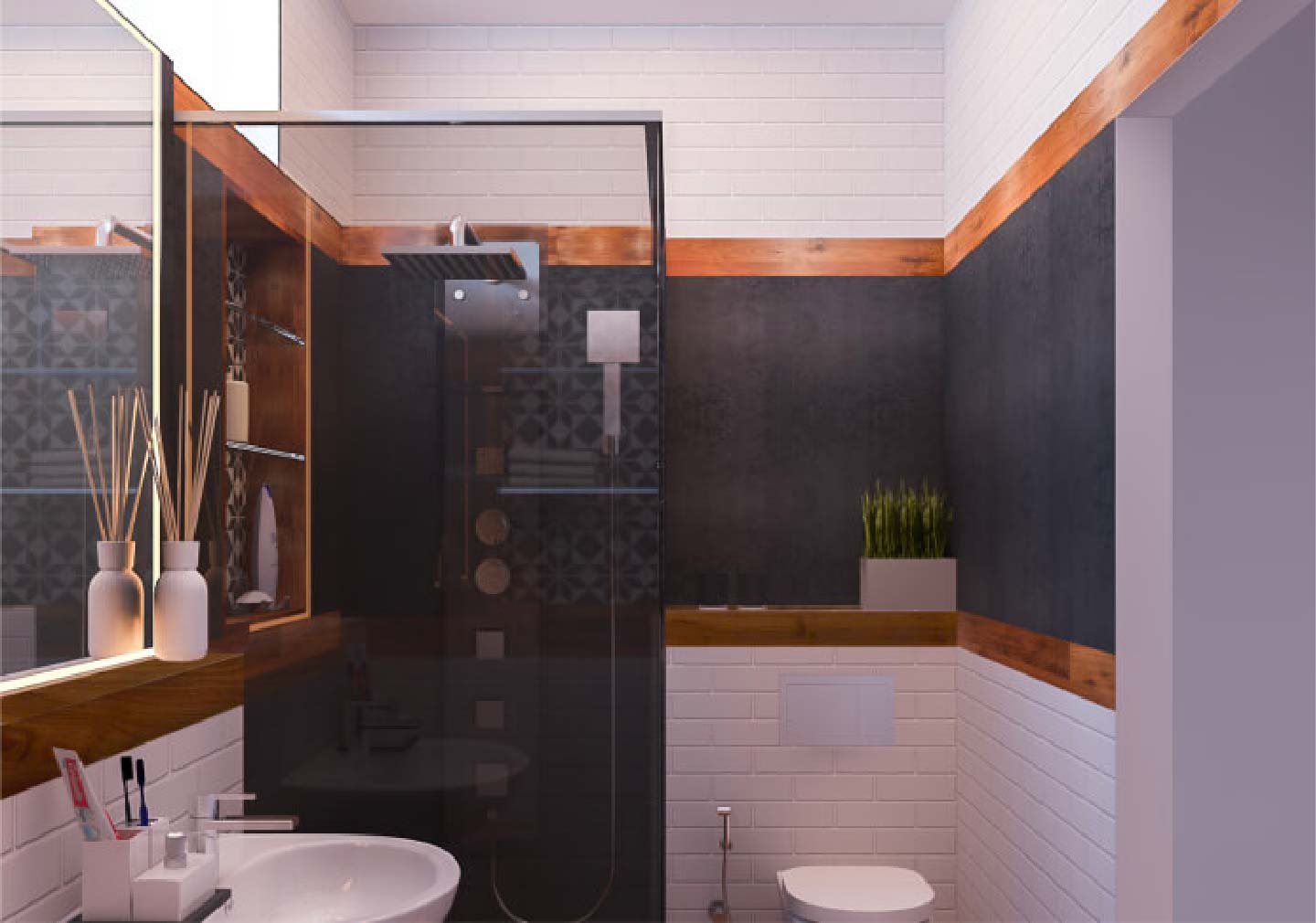 10. Touch of Greenery:
When you can add greenery to your bedroom and kitchen interior, you can do the same for your bathroom interiors too. There are different ways of doing so, such as offering a pastel green shade to the walls or even pasting a grass wallpaper on one of the walls of the bathroom.
Also, you can install different planters at different corners of the bathroom to offer a natural green look to the interior.
11. The Traditional Vibe:
Most Indian homes do not wish to experiment much but at the same time wish to have a spacious and multifunctional bathroom. In such a case, having a traditional bathroom interior with a bit of twist here and there can also help. Neutral shades on the walls, the use of glossy tiles, and bright coloured lights are all some of the eminent elements of having traditional bathroom designs in India.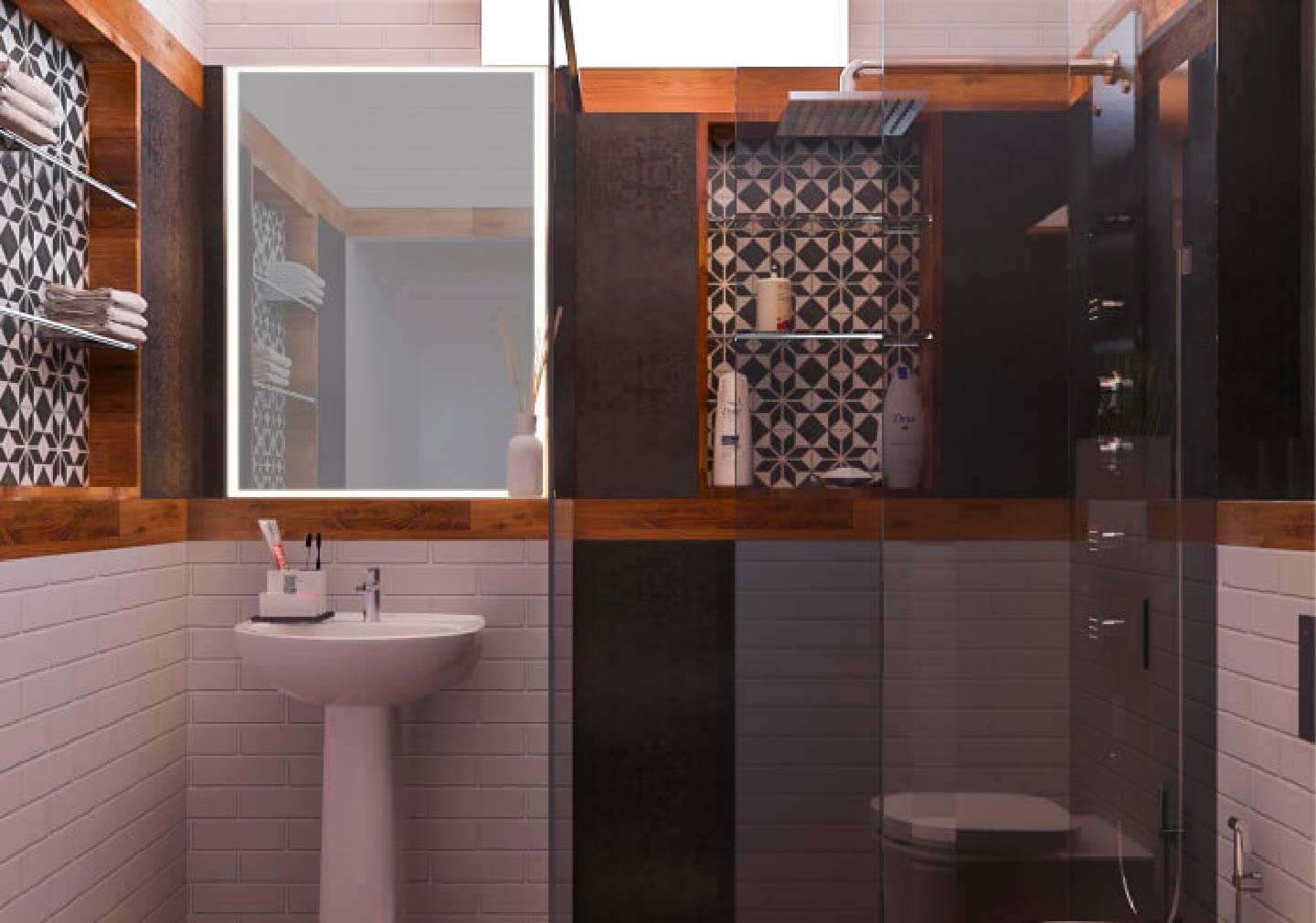 12. A Bohemian Look:
If you love the Bohemian glory, you can welcome it in your bathroom too. Paint the walls of the bathroom in bright shades such as bright yellow and then complement it with contrasting bright coloured curtains and accessories. For example, you can have orange-shaded curtains and purple-shaded cabinets and shelves. You can also add rugs on the floor and green plants here and there to complete the Bohemian look.
13. Lively Floor:
Why should you limit your imagination just to the walls of the bathroom interior? You can do much more when you are imagining the flooring of your bathroom. Usually, people have white coloured tiles on the bathroom floors. But to offer a new look, you can always try out colourful tiles for the purpose. Just make sure that when you are using colourful tiles on the floor, you should keep the walls of the bathroom a neutral shade.
Apart from just having colourful tiles, you can also make use of tiles with textures or patterns on them.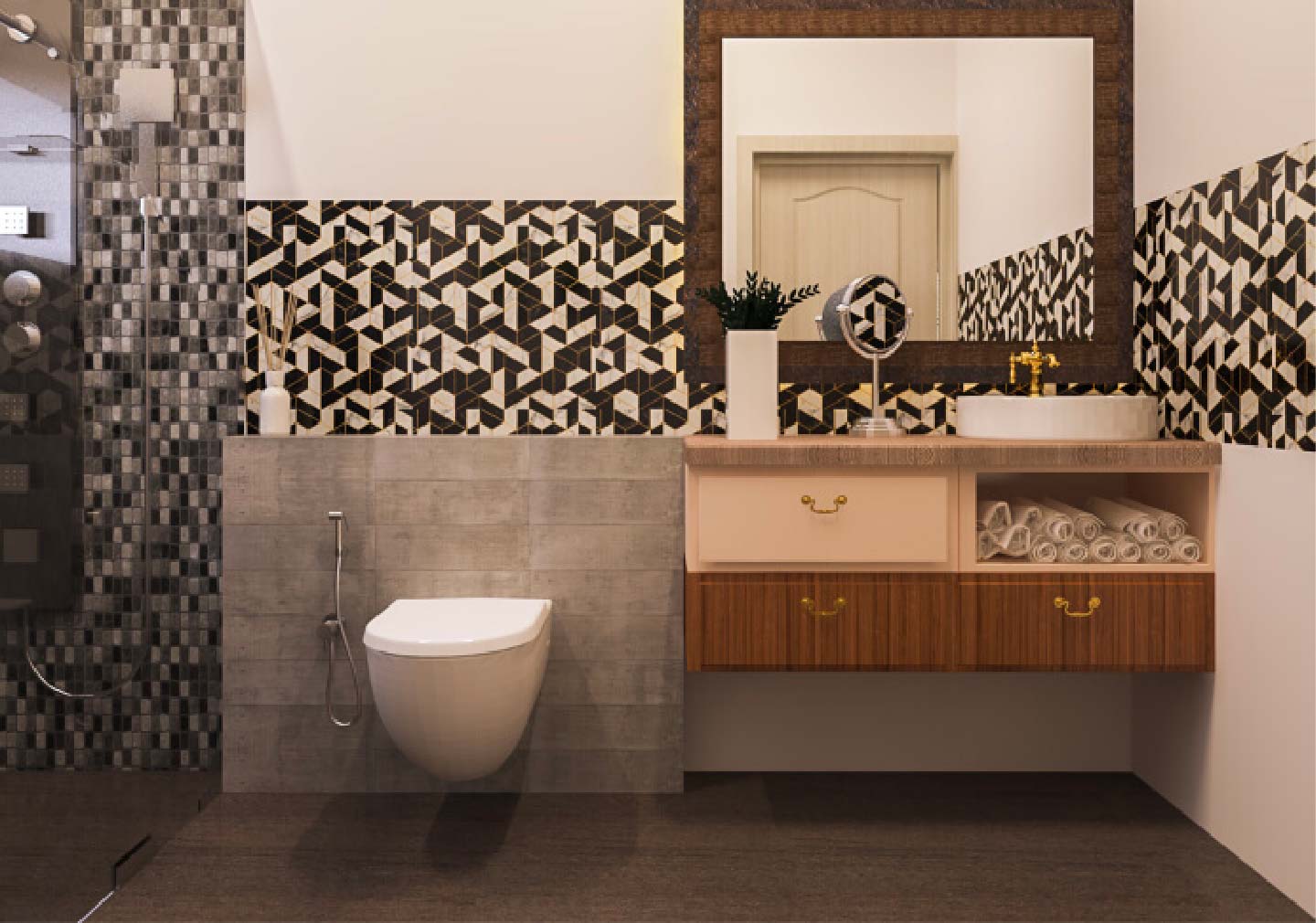 14. Enclosed Cabinets:
While shelves help a lot in storing all your necessary items in the bathroom, in India, there are also certain items that you will not want your guests to notice such as the mop that you wish to clean the bathroom or similar other trash. Hence, one of the best bathroom designs in India is to get an enclosed cabinet also in which you can store all such items that you do not wish to display. Also, when you are storing such things inside the cabinet, the bathroom does not look scattered and offers a much more spacious and cleaner look.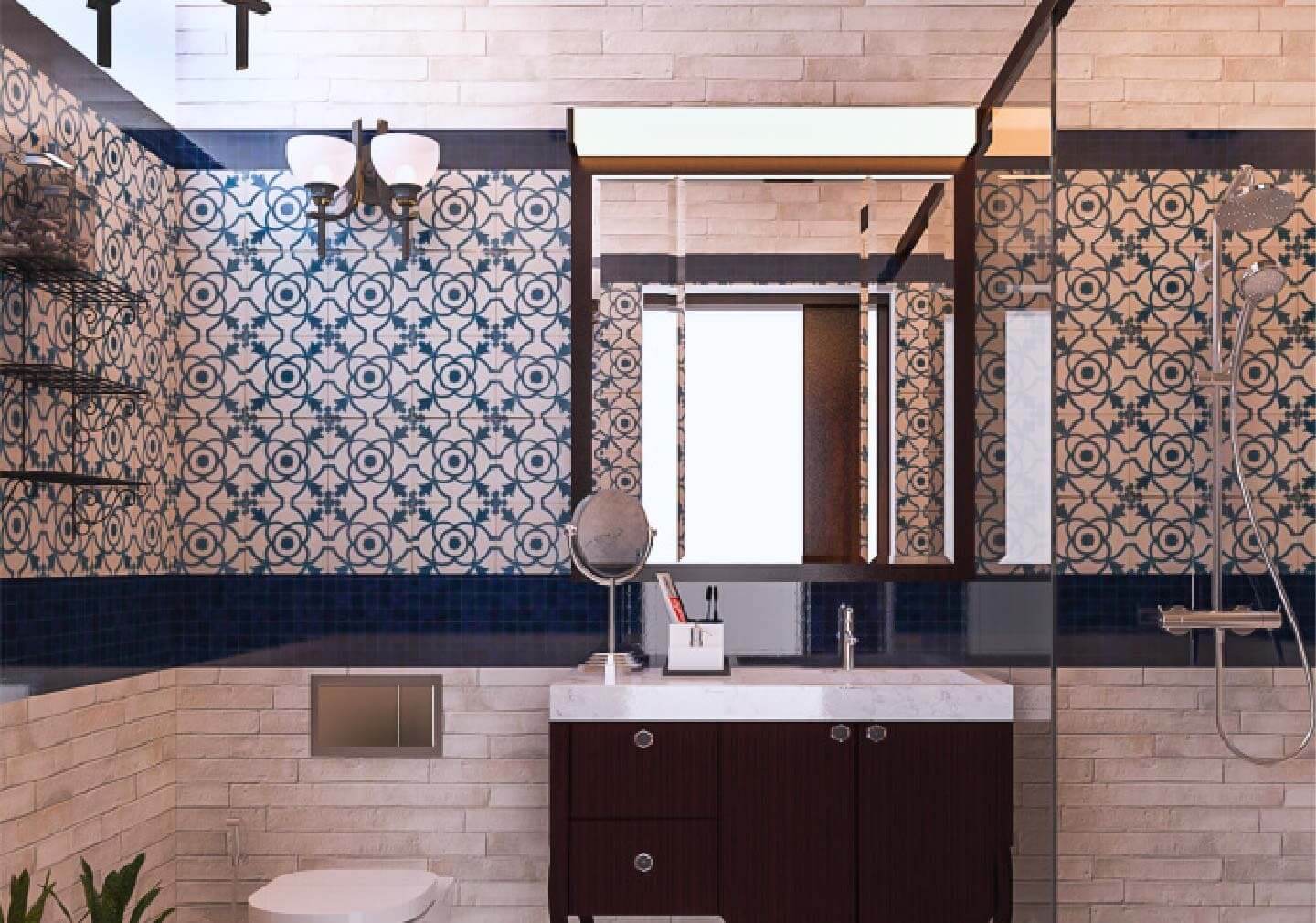 15. Patterned Wallpapers:
Whether it is the walls or the floor of the bathroom, it is not necessary that you have to stick to the usual paints and tiles always. Today, there are several different wallpapers available that are perfectly suitable for your bathroom interior. You can either choose a printed wallpaper to cover all the walls of your bathroom or can also get a textured or highly attractive one to paste on one wall and create an accent piece in the bathroom. The best part about having wallpaper is that you can easily change it, as and when required.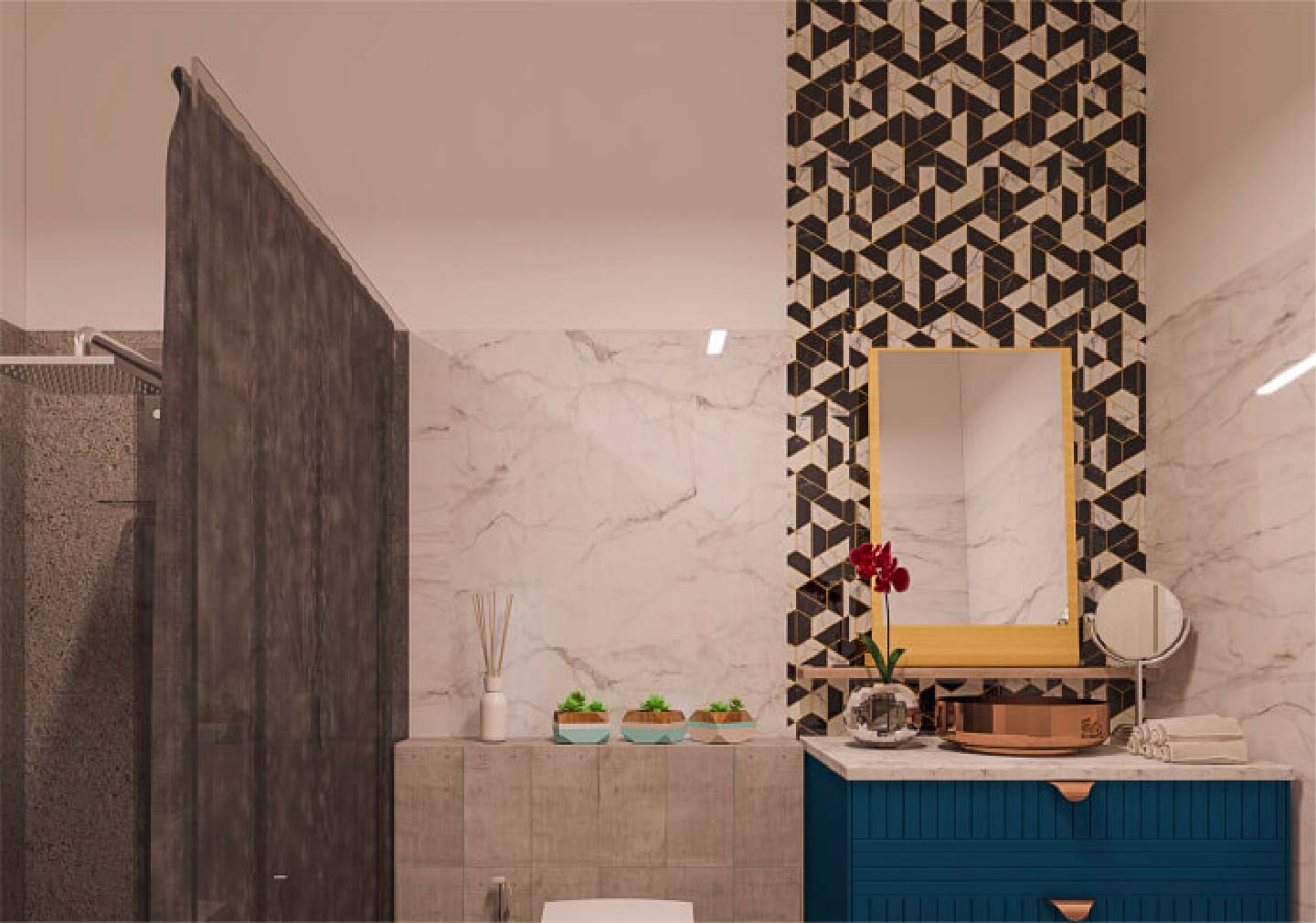 16. The Wooden Look:
While most bathrooms have a tile look, there are also some homeowners who love the idea of having a wooden look in the bathroom interior. When we are talking about a wooden texture, that does not just mean having cabinets and other storage units made up of wood. There are so many houses that have an entire bathroom converted into a lavish wooden room such as wood sheets on the wall, wooden flooring, and wooden storage units.
Of course, when designing the bathroom interior, making use of real wood is not possible as it will get damaged due to water and moisture. Hence, mostly waterproof ply and laminates are used that offer protection to the surface from water damage.
17. A Peaceful Zone:
There are so many people for whom the bathroom is a peaceful zone where they can have their Me time at least for a couple of minutes. If you are among such people, then transforming your bathroom into a peaceful zone is something that you will never deny. So, if you start imagining, there are so many such bathroom designs in India that can surely help you in offering a great design to your bathroom so that you can get your personal corner in the house.
Get a combination of lights so that you can use the dim light for relaxing moments,
A bathtub is always something that increases the beauty and luxury of even a mid-size bathroom
Add scented candles to create a relaxing environment
Maintain a contemporary style with neutral shades to keep your mind at peace
Just get the right elements and you will create your own peaceful zone within the bathroom.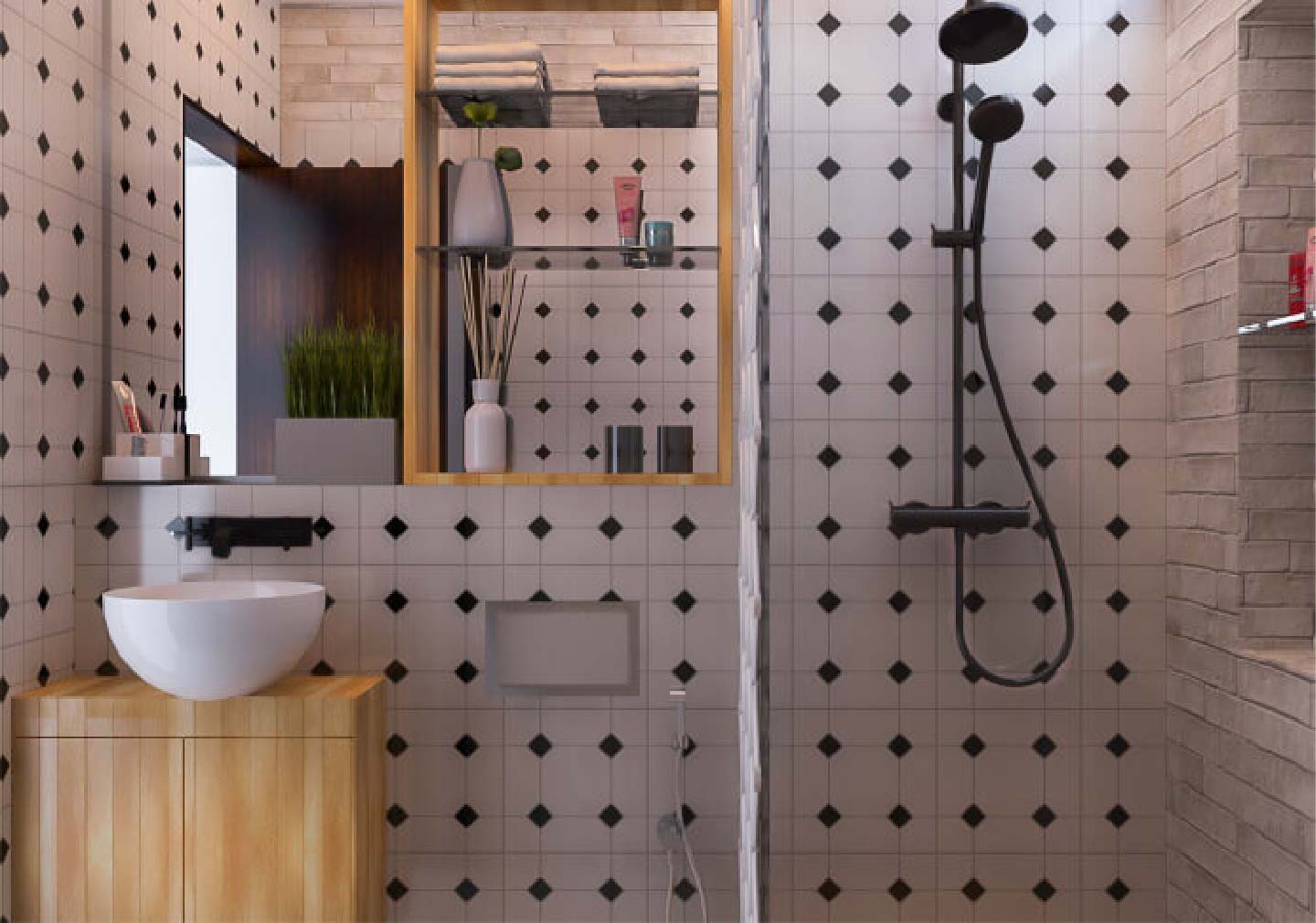 18. Mirror Finishes:
If the bathroom is small, it can make you feel congested even more if the interior is not planned in the right way. One of the most efficient ways to create an illusion of space in any corner of the house is to make use of mirrors in the interior. Even in the bathroom, you can make use of mirror finish doors of cabinets and huge full-size mirrors on the walls. These mirrors reflect light in a great way and not just offer an illusion of space but also create brightness in the bathroom. Just make sure to install the mirrors in the right places to get the work done.
19. Focus on the Sink:
Often while focusing on the decorative items of the bathroom, homeowners tend to forget or miss out on the sink. The washing or the dressing area in the bathroom is the most eminent place and it has to be designed in the right way. Today, there are so many sink options available to beautify your bathroom. You will get sinks made up of several materials such as ceramic, glass, metal, and even wood so that you can get the right one that complements your interiors. Apart from the materials, you can get sinks in diverse shapes such as boat-shaped, horizontal egg-shaped, and others.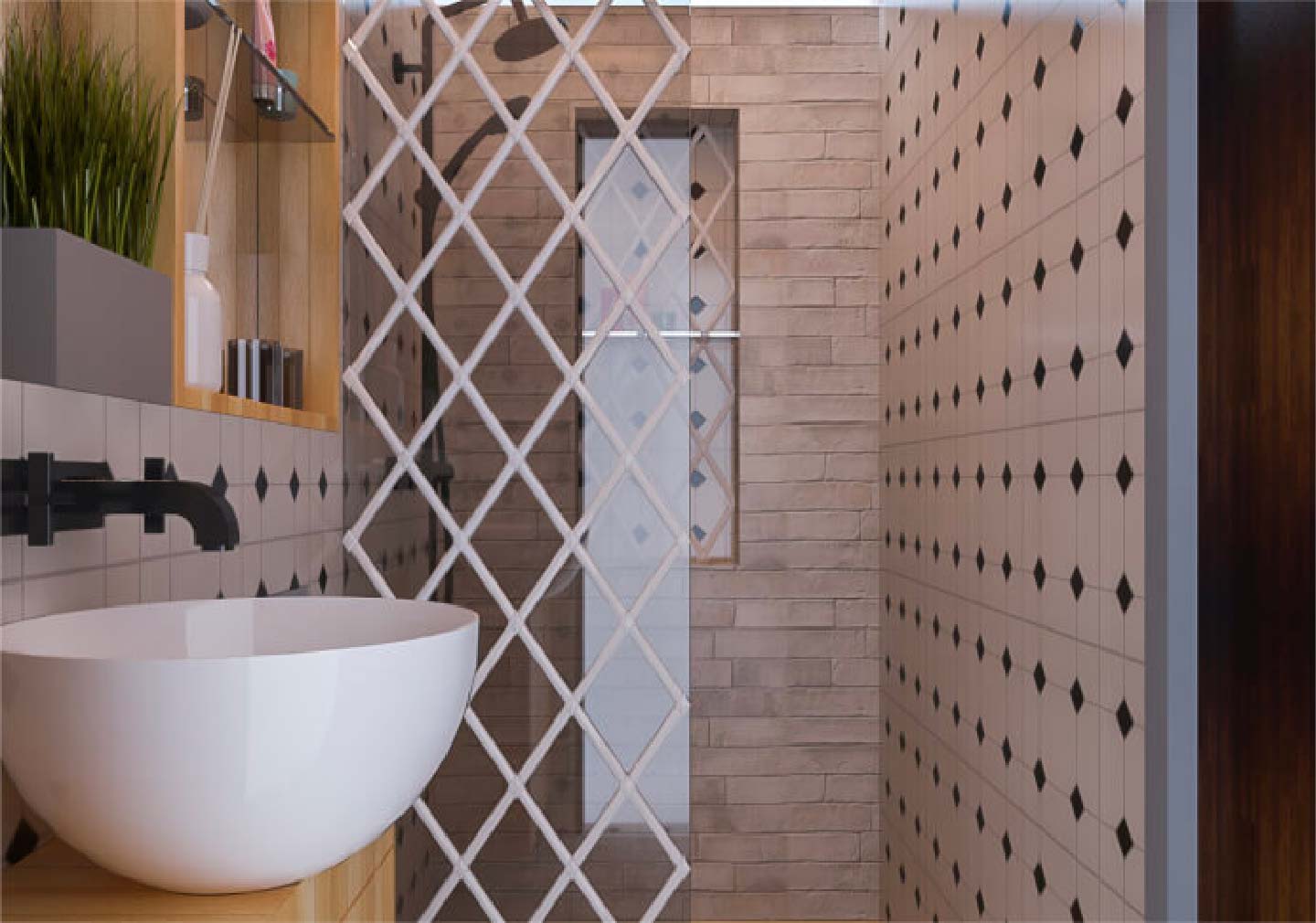 20. Use of Multi-functional Elements:
When the bathroom is small, you have to be tricky with bathroom designs in India in order to save space. So, the universal way is to make use of multipurpose elements. There are so many multipurpose options available today that you can implement in your bathroom so that you can save space as well as beautify the interior. Some of the options are cabinets with mirror doors for storage as well as dressing purposes at the same time.
While decorating the whole house, many times, the bathroom is neglected by many homeowners. Not only does this ignorance leave a bad impression on your guests who were once impressed by your living room interior, but also you stay aloof from the functionality that you can enjoy in your bathroom. Hence, it is always a great idea to get your bathroom designed in the right way according to your need and also according to the interiors of the entire house.
Start your journey with us and craft your
dream home
Make a statement, build a designer home.