Tiles are indispensable part of the home. When people build their new house, they want every nook and corner of their house to look amazing. In that case, everyone becomes particular about choosing the tile designs for each room. May it be floor tiles or wall tiles, they become very choosy.
As far as tile design is concerned, they look into the following factors:
Colour,
finish,
material and look.
In order to educate on variety of patterned tile designs, just take a look at the different tile patterns listed below, before opting for the tiles that add the classy touch to your home.
Sweater tile design
Sweater tile design can be used mainly in kids room, play area or for a cozy living room.
It imparts the warm feeling during winters and also doesn't harm kids who often fall down while playing.
Mediterranean accent tiles
Mediterranean is known for its scenic beauty and no doubt is the tile pattern that has its name. The Mediterranean accent design gives that vibrant and colourful look to the wall. It is usually used in bathroom wall tiles.
It can also be used for flooring, if you feel like creating uniqueness.
Diagonal tile design
This tile pattern is one of the commonly used designs in almost all the houses.
When used in any of the rooms for flooring, it imparts simple and organised look to the floor.
The contemporary center style
The contemporary center style is mostly used in the large hall or lounge flooring. This way the entire floor looks plain but the center alone has the design.
This is a new trend followed by many of them, who love to be simple yet remarkable.
Glass groove tile pattern is usually used on the walls or floors to make the space dazzle with the contemporary look.
This tile pattern is usually easy to be cleaned, i.e. stains don't adhere to these tile patterns and hence it becomes easy to clean.
Stone designs tiles
Stone pattern on the wall give that rugged feel and royal vintage look to the ambience.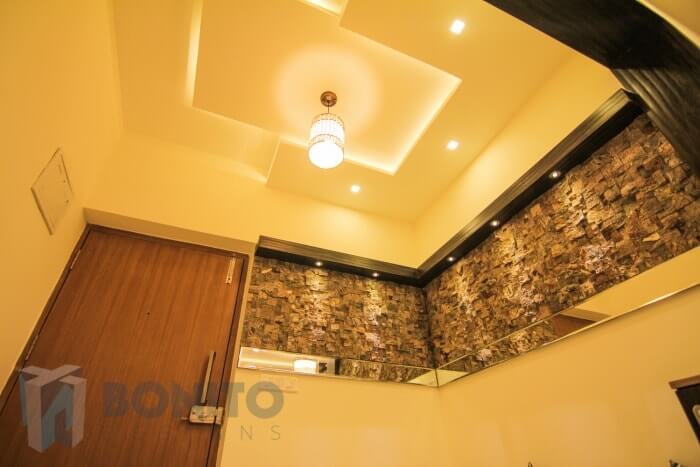 Stone pattern of tiles are usually preferred in the foyer and kitchen to draw the attention of the guests and stand out from the other spaces at home.
Concrete tile pattern
The concrete floor design can be mainly used in the foyer to give that rough and rigid look.
Brick style tiles
If you wish to have a different space, you can bring that by altering the tile design of the wall or the floor.
Any type of furniture or things will look great with that, owing to its antique feel.
Modular carpet tile pattern
The carpet tile pattern is adopted to give the most luxurious feel.
It is mainly used at home office or seldom used room.
Porcelain tile designs
Porcelain tile pattern is another type of tile styles that are often seen in many of the houses. And moreover, look at this design style; do you believe that it is made of porcelain? It is actually made of porcelain in wood finish.
It looks very simple, easy to wipe the stain off and looks apt to any kind of the room.
Penny tile design
The penny tile design is usually used in the bathroom and kitchen walls or floors. When used on the walls, it is either used as a border of the main tile design or the entire wall is adorned with this.
When used on the floor, the proportion varies owing to the size of penny tile one selects.
Feature tile pattern
Feature tile design or feature flooring tile design imparts the sense of artistry.
The design of this tile pattern has combination of different colours playing a vital role. This can look good on kitchen floors and walls.
Hexagonal ceramic tile designs
Hexagonal ceramic tile designs adhere to classic appearance.
Using these patterns of tiles can make your home look chic and elegant.
Geometric tile designs
This type of design is usually used to create the sense of balance in the space where they are embedded as tiles. It also gives that formal look to the space when used.
Generally, bathroom and kitchen walls will look good, when geometric tile design is used, though exceptions are always seen.
Marble mosaic tile pattern
Mosaic tile patterns are a popular choice due to their cost-effectiveness and simplicity. However, when you opt for marble mosaic tile patterns, you elevate the overall look of your home. The natural beauty and timeless elegance of marble add a touch of luxury to any space, creating a truly stunning visual impact.
Vintage Patterned Tiles
Embrace nostalgia and add a touch of vintage charm to your home with patterned tiles inspired by the past. Whether it's intricate floral designs or geometric motifs, vintage patterned tiles create a unique and captivating atmosphere, adding a touch of old-world charm to your floors and walls.
Moroccan-Inspired Tiles
Infuse your space with the exotic allure of Moroccan-inspired tiles. The rich and intricate patterns, vibrant colors, and geometric shapes transport you to a world of enchantment and add a sense of adventure to your home. Whether used as a focal point or covering entire surfaces, these tiles create a mesmerizing and stylish look.
Subway Tiles
A timeless classic, subway tiles offer a clean and versatile option for any room. Their simple and elegant design complements various interior styles, from traditional to modern.
Use them in kitchens, bathrooms, or as a backsplash to create a sleek and sophisticated look that never goes out of style.
Nature-Inspired Tiles
Bring the beauty of the outdoors inside with nature-inspired tiles. Whether it's floral patterns, leaf motifs, or natural textures, these tiles add a sense of tranquility and harmony to your space. Let the soothing colors and organic designs create a refreshing and invigorating atmosphere in your home.
How Can we Help?
When it comes to transforming your home with stunning tile designs and personalized interior solutions, Bonito Designs is the brand to trust. Renowned as India's No. 1 full home personalized interior design brand, Bonito Designs offers a world of end-to-end solutions for all your interior needs.
With over 250+ in-house designs, Bonito Designs brings a wealth of innovation and expertise to every project. Our creative team ensures that your home is designed the way you like, while incorporating the latest design trends.
At Bonito Designs, we understand the importance of long-term satisfaction. That's why we offer a 10-year warranty on their interior services. Every product and service we offer undergoes a meticulous 7-stage quality check. From the initial design phase to packaging and installation, every detail is handled with utmost care and precision.
Bonito Designs sets the standard in personalized interior solutions. Visit our website or contact us today for interiors.