While all the other rooms of the house are visited for specific reasons, the living room is where you might spend most of your time. The living room can be where you love to chill all alone in front of the television or even wish to celebrate some family time. It is also the section where you welcome your guests.
Getting a living room that is attractive and easy to maintain is something that everyone wishes for. We have elaborated on some top-notch living room interior design ideas that will leave you and your guests spellbound.
Factors Determining Living Room Designs
Many people miss out on focusing on the eminent factors that determine the living room design in the quest to transform a living room into something eye-catching. Here are some of the factors that are highly essential when you are designing your living room.
The False Ceiling:
Today, everyone wishes to flaunt a beautiful false ceiling in the living room. But the false ceiling is not limited to showcasing a beautiful look but also holds on to several other benefits too. When you have a steady false ceiling, you can install several diverse lighting options based on your choice. Also, a false ceiling is known for the purpose of insulation. Thus, it is extremely necessary that you make the right selection of false ceilings for your living room.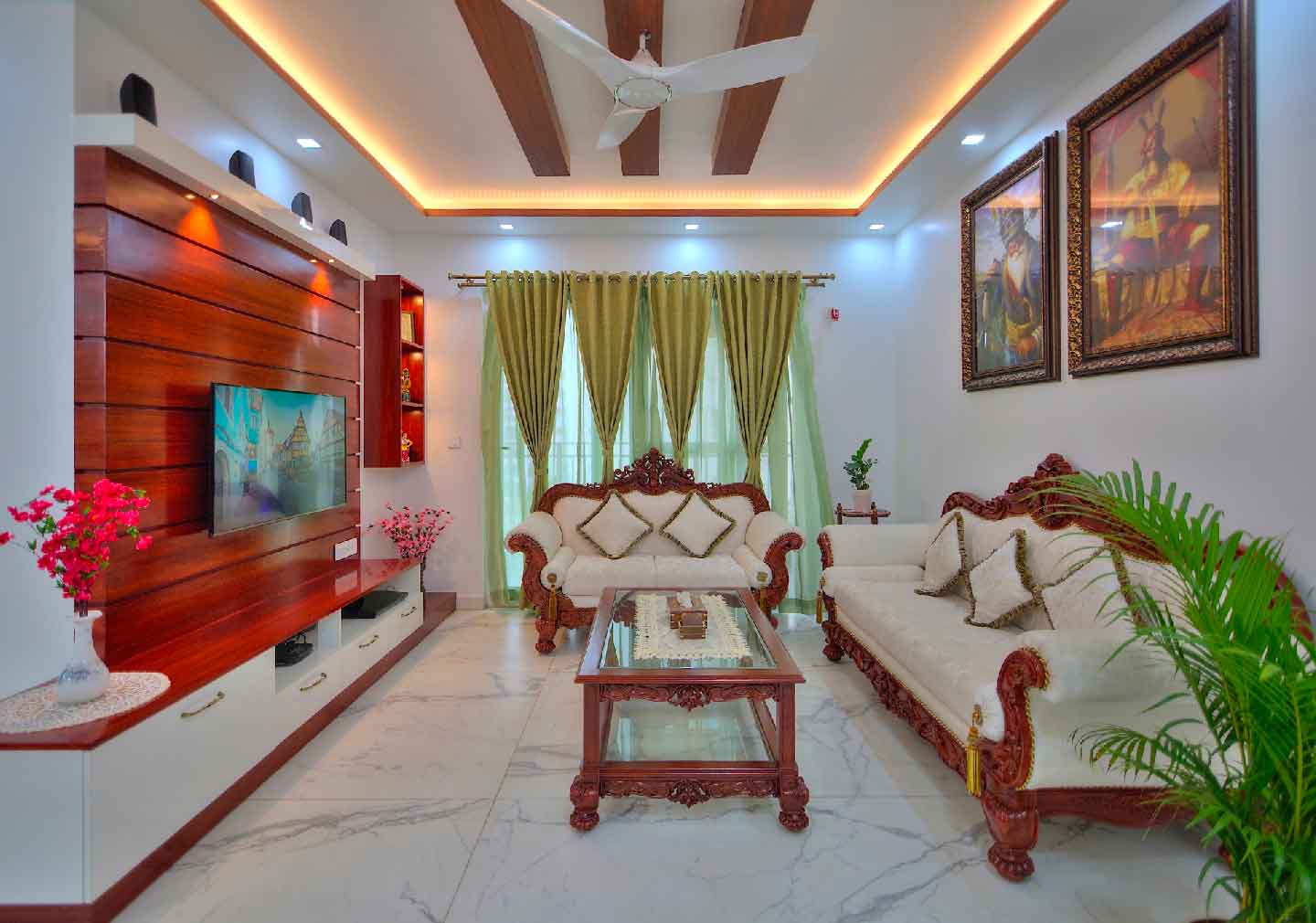 The Walls:
The next eminent factor that you should not leave out is the shade of the walls. There are so many times when all efforts can go in vain if you are not having the right shades on your walls. While selecting shades for your walls, it is essential to check out the size of your room and the pattern of seating, and other furniture you wish to have. Also, if you have issues such as water seepage or if you do not wish to paint your house every 2-3 years, then another great option that you can have is that of installing wallpapers on the walls.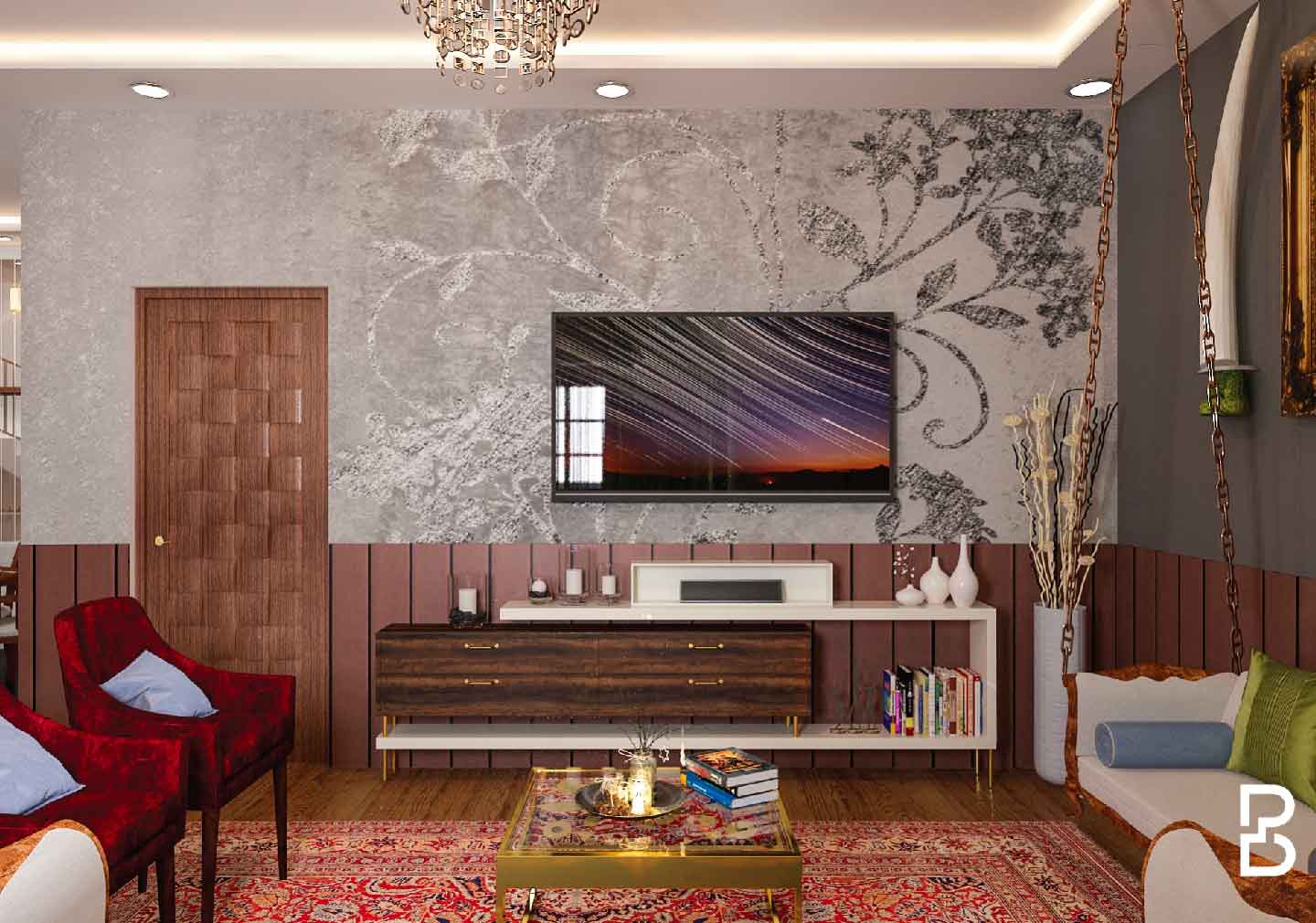 The Furniture:
You cannot go without proper furniture options in your living room. Whenever a guest arrives, you will make them sit in the living room. Hence, you should make sure to have a proper seating arrangement. Also, the seating should be such that everyone can watch the television comfortably and there is no congestion between two furniture options such as the sofa and the table.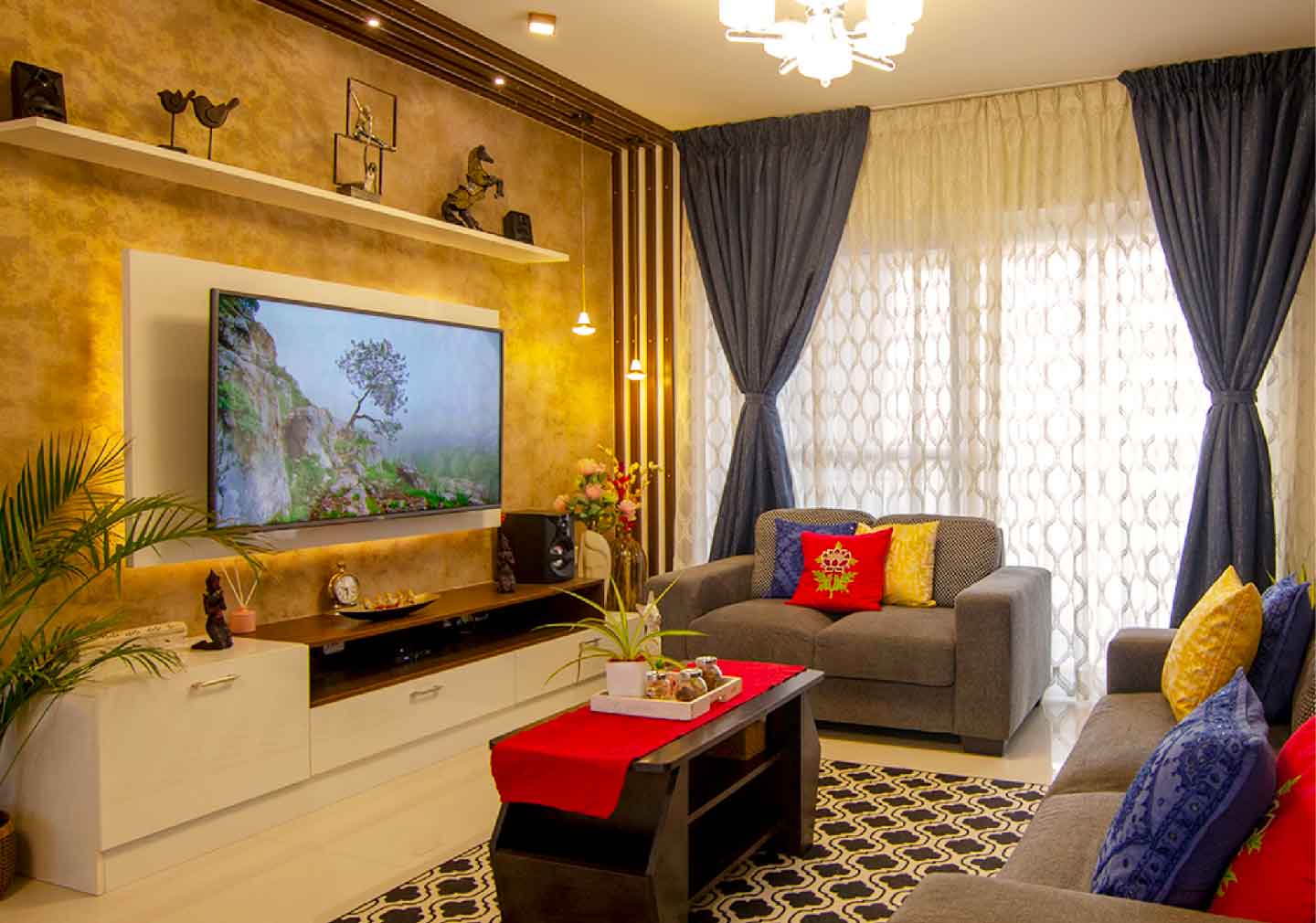 The Lighting:
Often you may keep on changing the shades of the walls or may change the decoratives of the living room, still, you may feel that the look of the room is not impressive enough. This is only because you are not using the right kind of lighting in the living room. The best way is to let in natural lights from the windows or sliding glass doors. But if you do not have probation of natural light, another great option you have is to use bright lights that brighten up the entire room.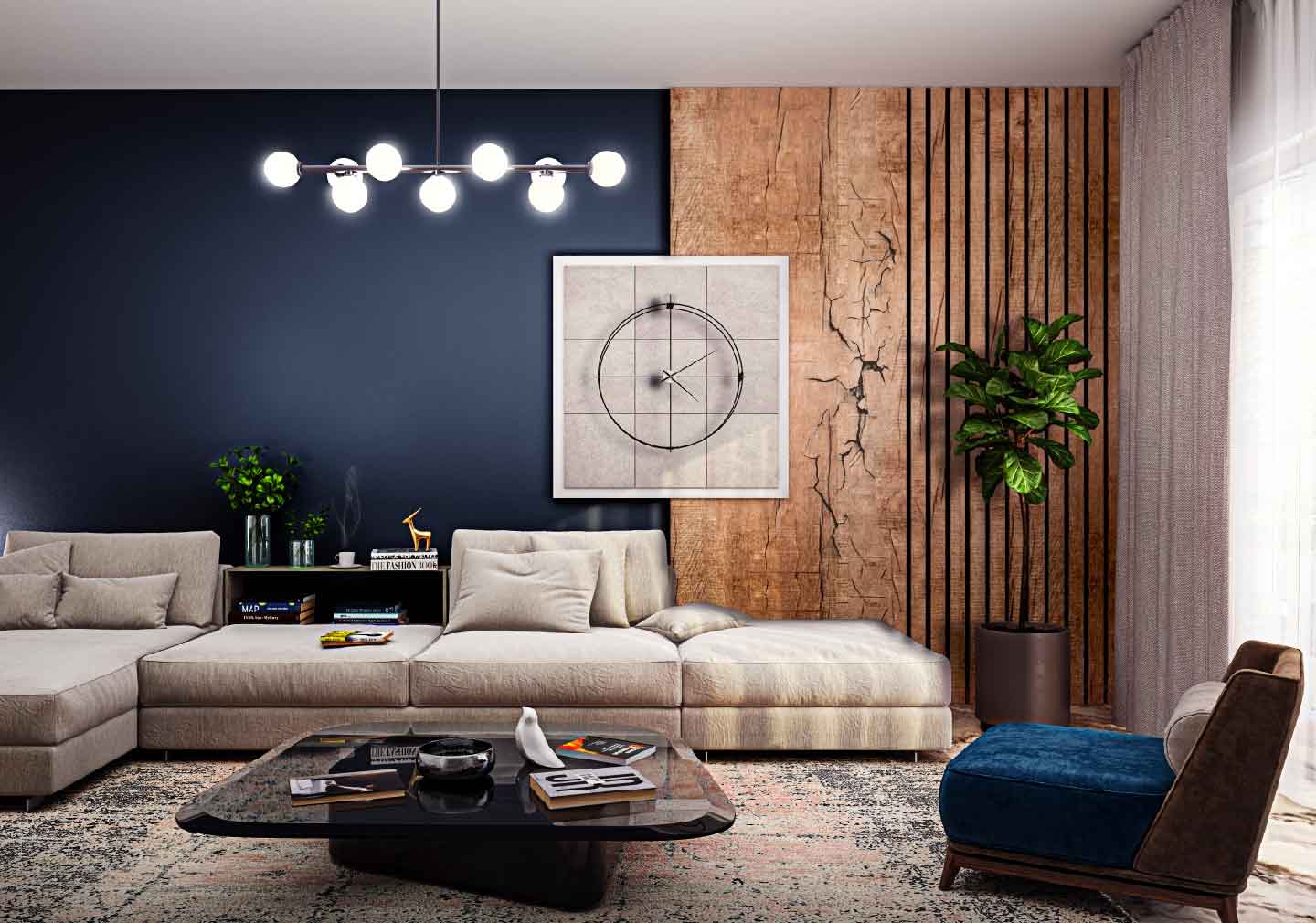 You can also install focus lights at different places such as above a huge portrait that you have hung on the wall or statue on a side table. If you have planned something dramatic such as a pebble foot tray, then making use of focus lights from within the tray also creates an amazing look.
The TV Unit:
One of the most important elements that you cannot miss out on in your living room is the TV unit. Today, the usual portable box television is replaced successfully with the LED televisions that are installed on the wall. This sleek TV option is available in different sizes. First, you need to decide the wall on which you wish to install the television after which you can select the right size of the TV depending upon the dimensions of the wall.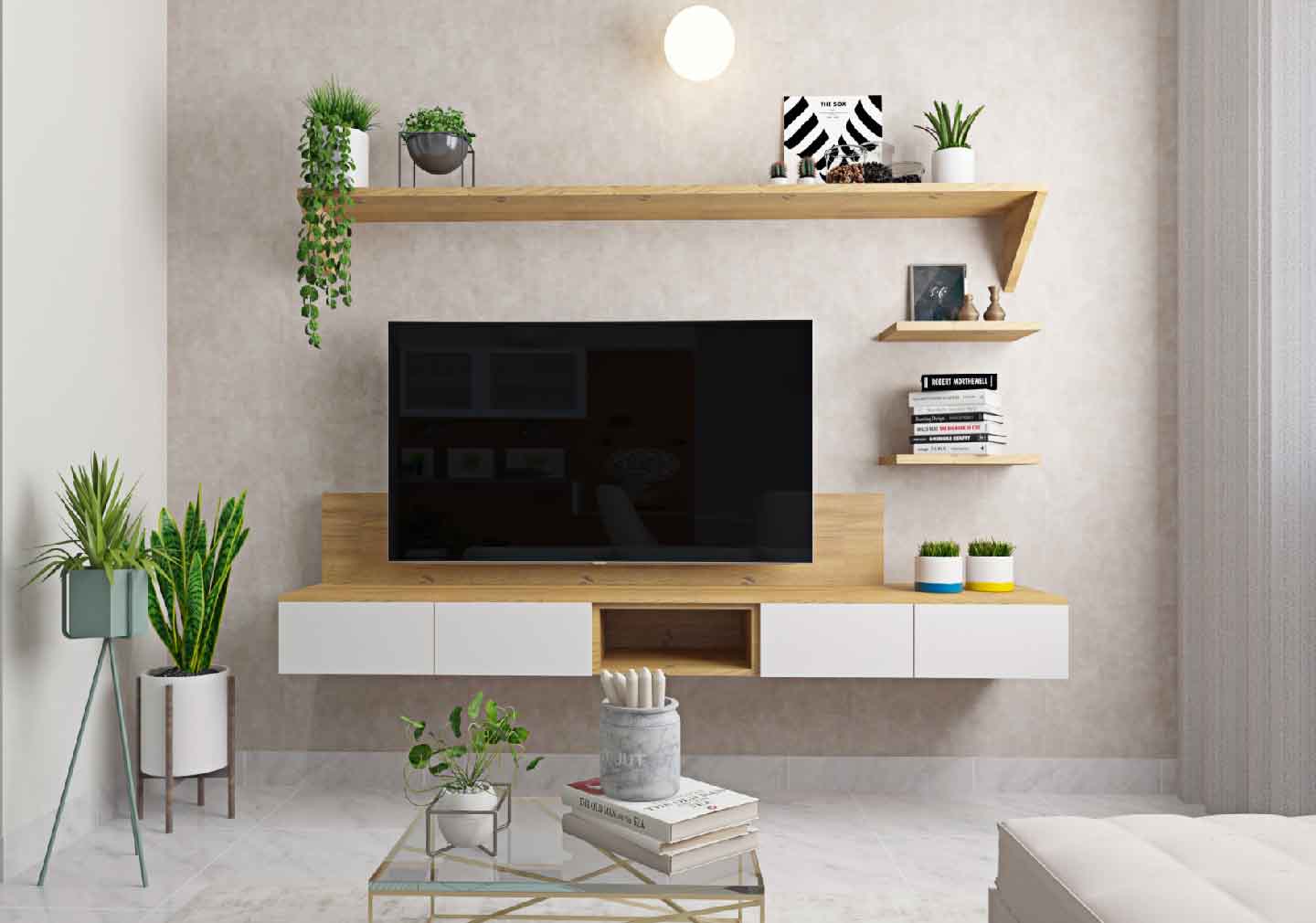 Living Room Interior Design Ideas
While it is important to keep in mind the basic factors mentioned above for the living room, there are some latest living room interior design ideas that can surely help in brightening up your living room.
Go for Neutral Shade:
Whether you have a small living room area or a bigger one, neutral shades are the options that never fail. Of course, when you have a smaller living room, having a neutral room is a boon as it makes the area look spacious when matched with the light lighting. But even when you are using such neutral shades for a bigger living room, you get the option to experiment with a lot of things that can add colours in a much better way to the room.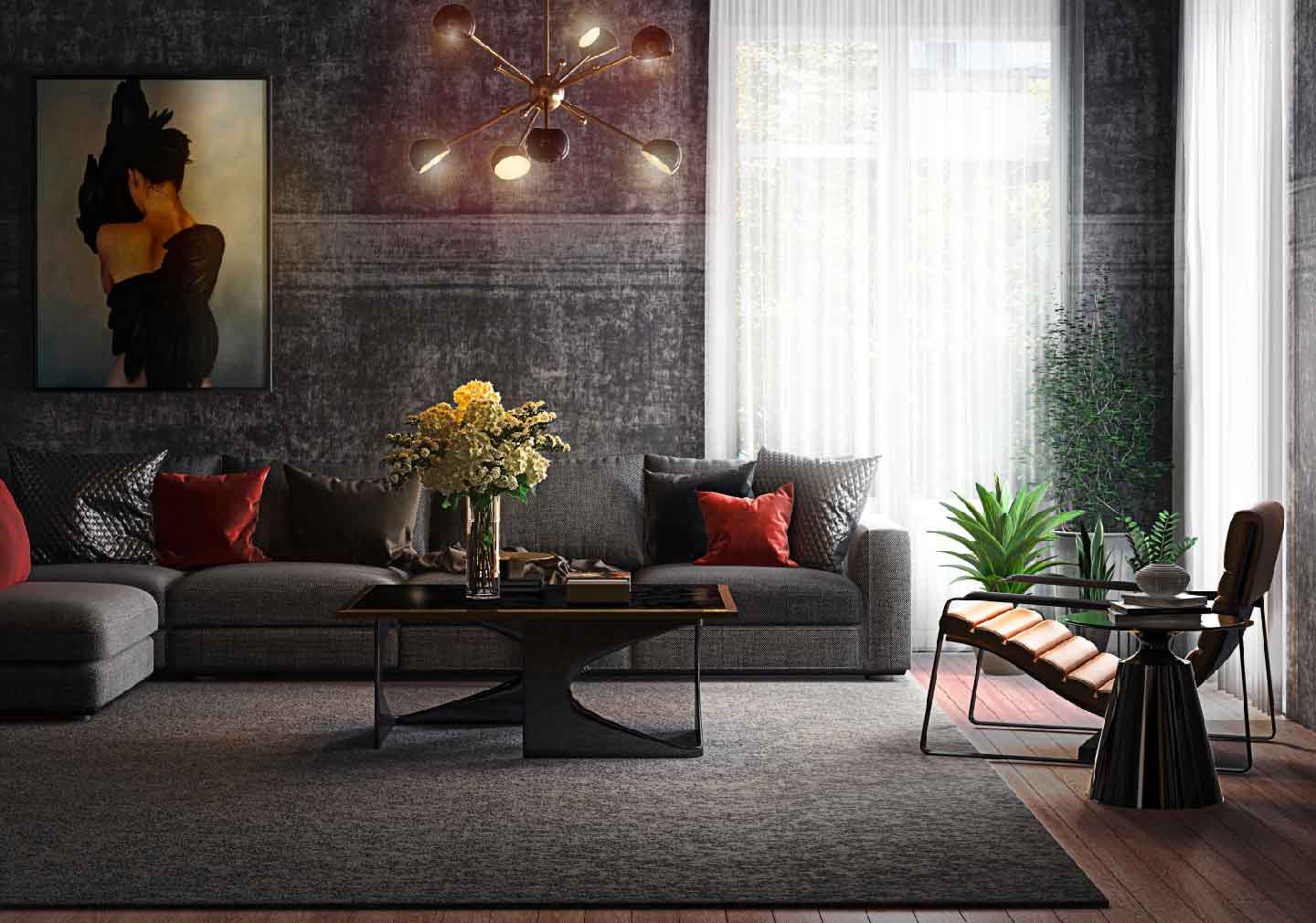 Adding Bold Colour to Some Walls:
The latest trend is to add a bold shade to the wall on which you are installing the TV unit. Of course, this helps in catching the attraction of the guests and making the TV Unit appear most obvious. But apart from the wall behind the TV unit, there are also other walls that can provide a bolder touch in comparison to other rooms' walls.
One such option is the wall just behind the big sofa or the seating arrangement. If you have a sofa set in a bright colour or even nude shades, you can add some dark shades to the wall just behind it such as crimson red, teal, or in other bold shades.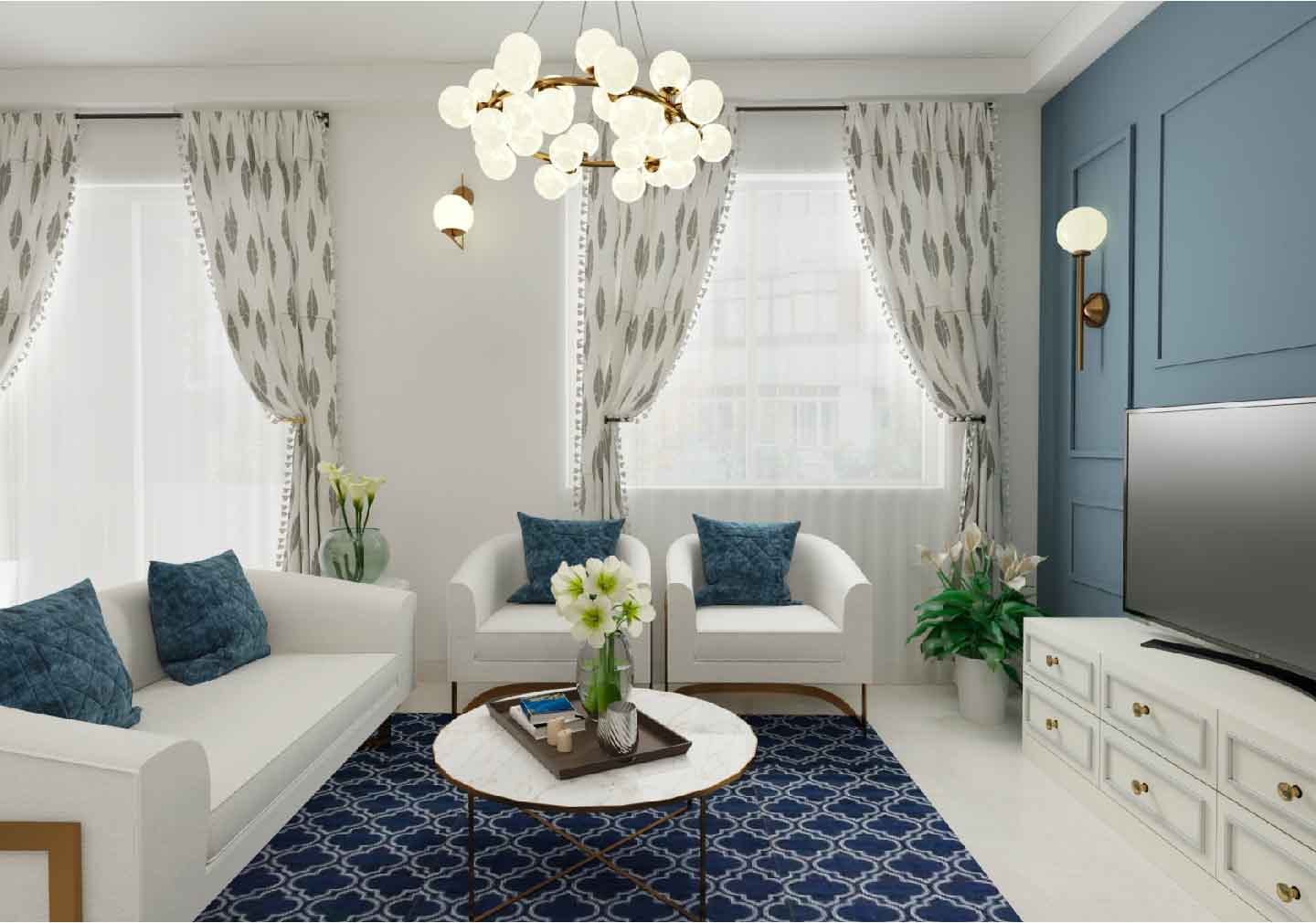 Highlight Your Favourites:
If you have installed a huge portrait or some other options such as your favourite guitar or a masterpiece on one of the empty walls, you can always give this area a new look. The motto here is to highlight the item that you have installed on the wall. Sometimes, just adding focus lights does not work. Hence, one of the best ideas is to provide a bright shade depending upon the colour of the piece that you have on the wall such as if you have a guitar, then you can add up options such as mustard yellow so that it can enhance the dark colours of the guitar. Now, you can add up a focus light for sure to add some more attention to it.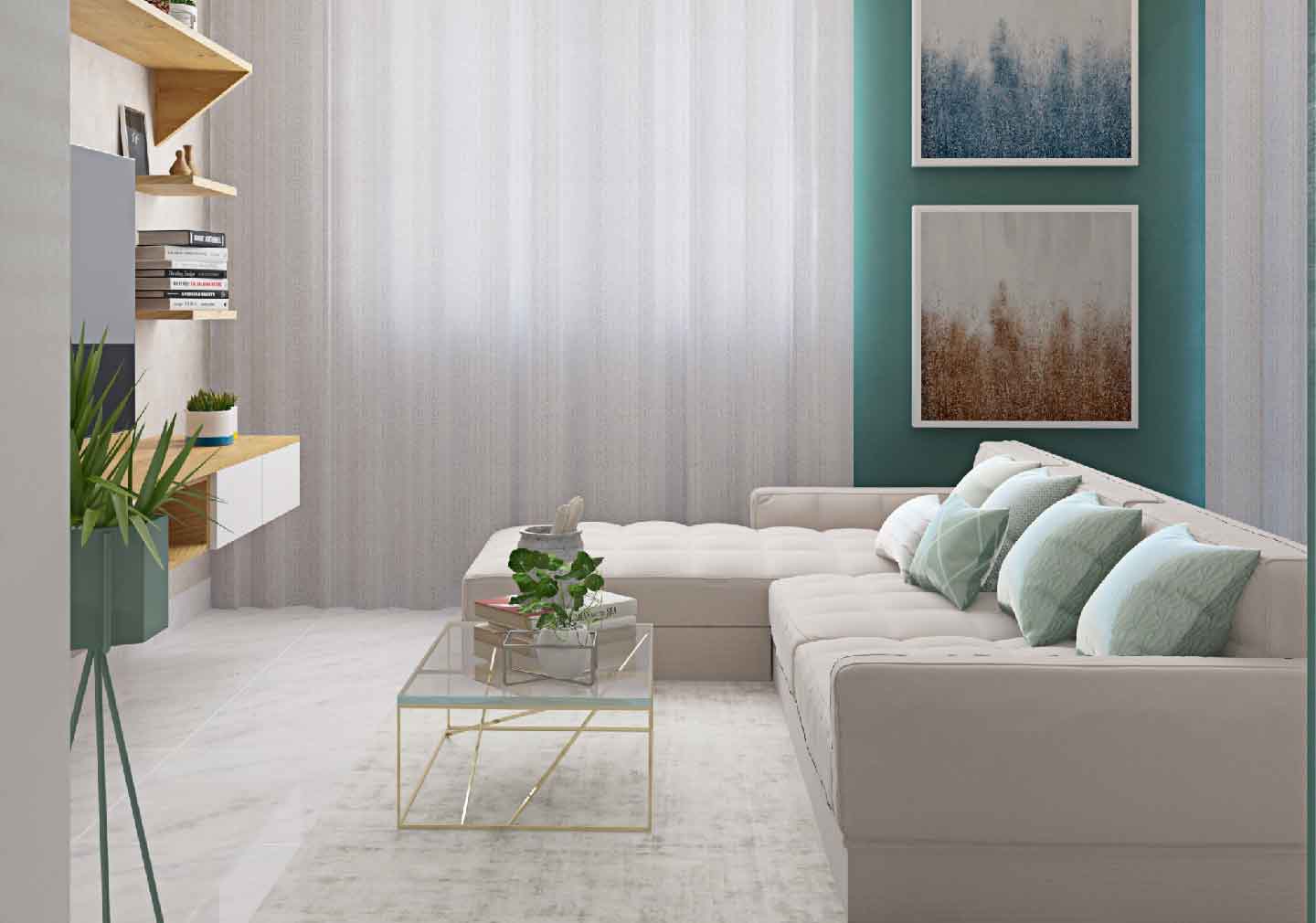 Mood Enhancing Lights:
There are also many people today who make use of color-changing lights that are absolutely perfect to denote different moods while spending time in the living room. You can opt for the right kind of light depending on your mood.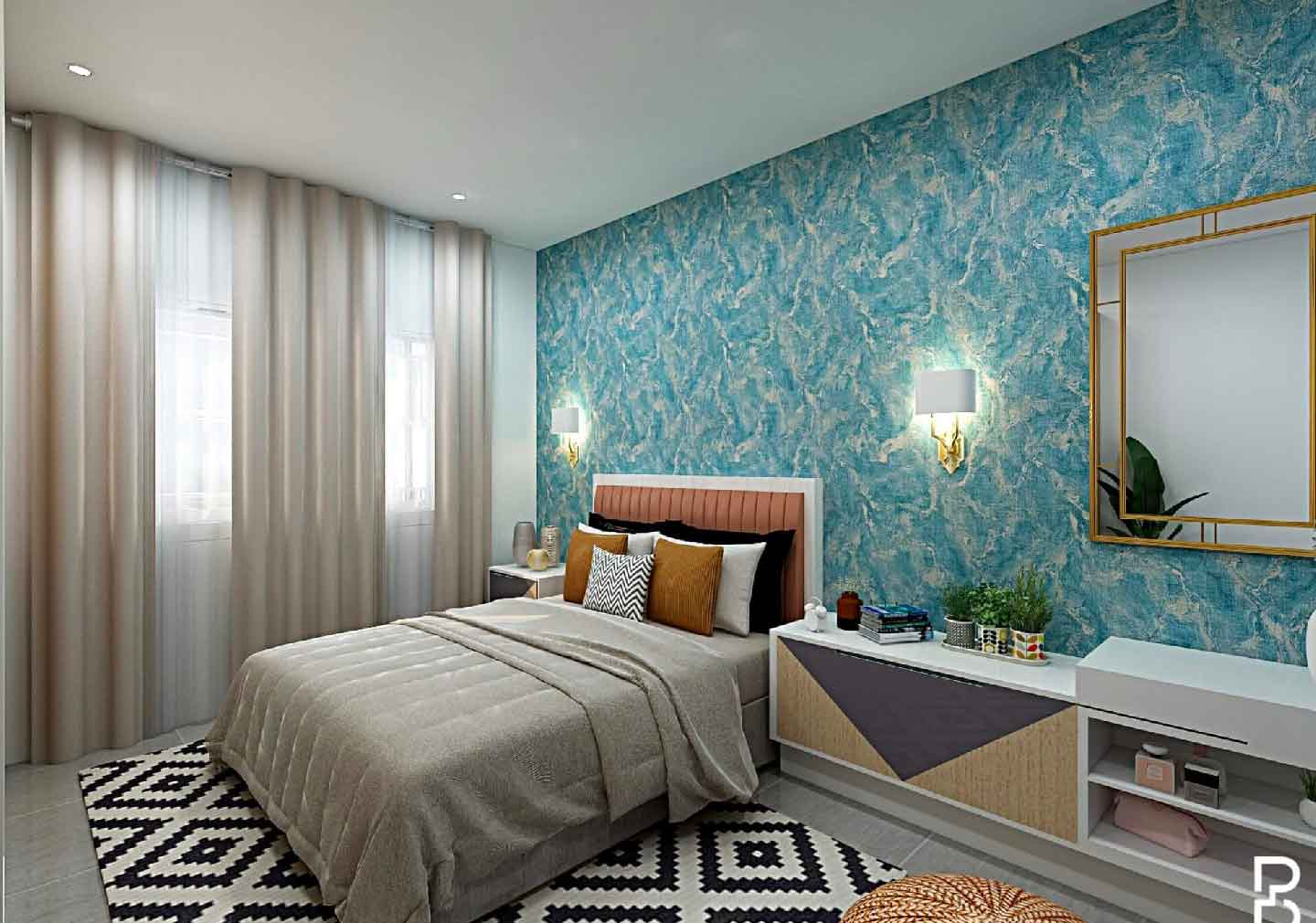 Make the Right Choice for TV Unit:
In order to get the TV unit installed, it is essential to choose the right style such as laminate unit, stone-cladding unit, and so on. As mentioned, in the lighting section, a pebble foot tray is another great option that you can have for styling up your TV unit area.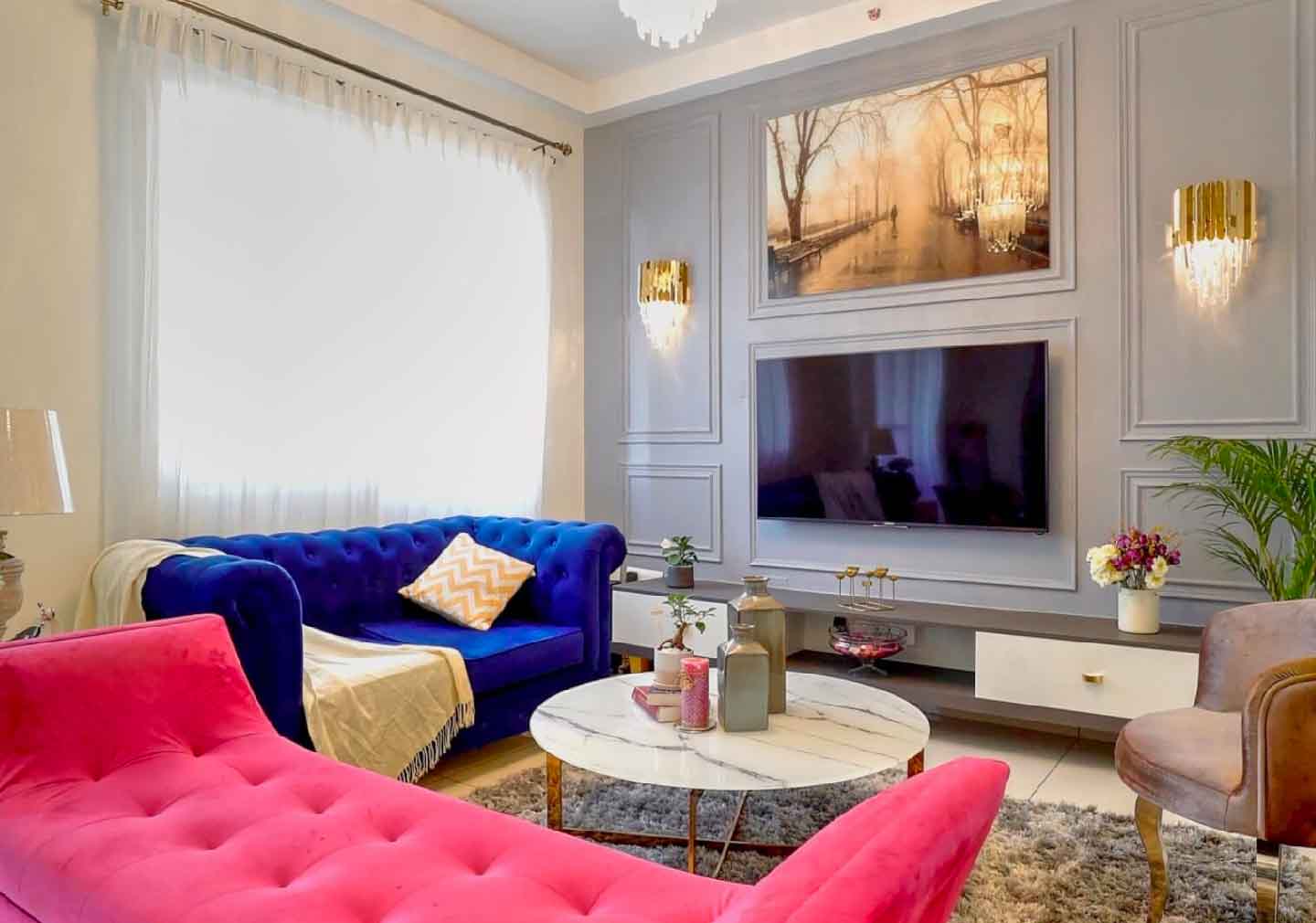 Make Space for Souvenirs:
When designing the TV unit, the prime focus is to make it look pretty. But later on, you may realize that you should have thought beyond the looks too.
The TV unit does not just offer you a background for the TV but also can offer you a number of other privileges. If you have got various souvenirs from different places that you do not want to lose, having small racks on the TV unit can surely help. Get these racks installed on the TV unit in a sort of pattern so that when you keep the souvenirs on them, it offers a new look to the whole area.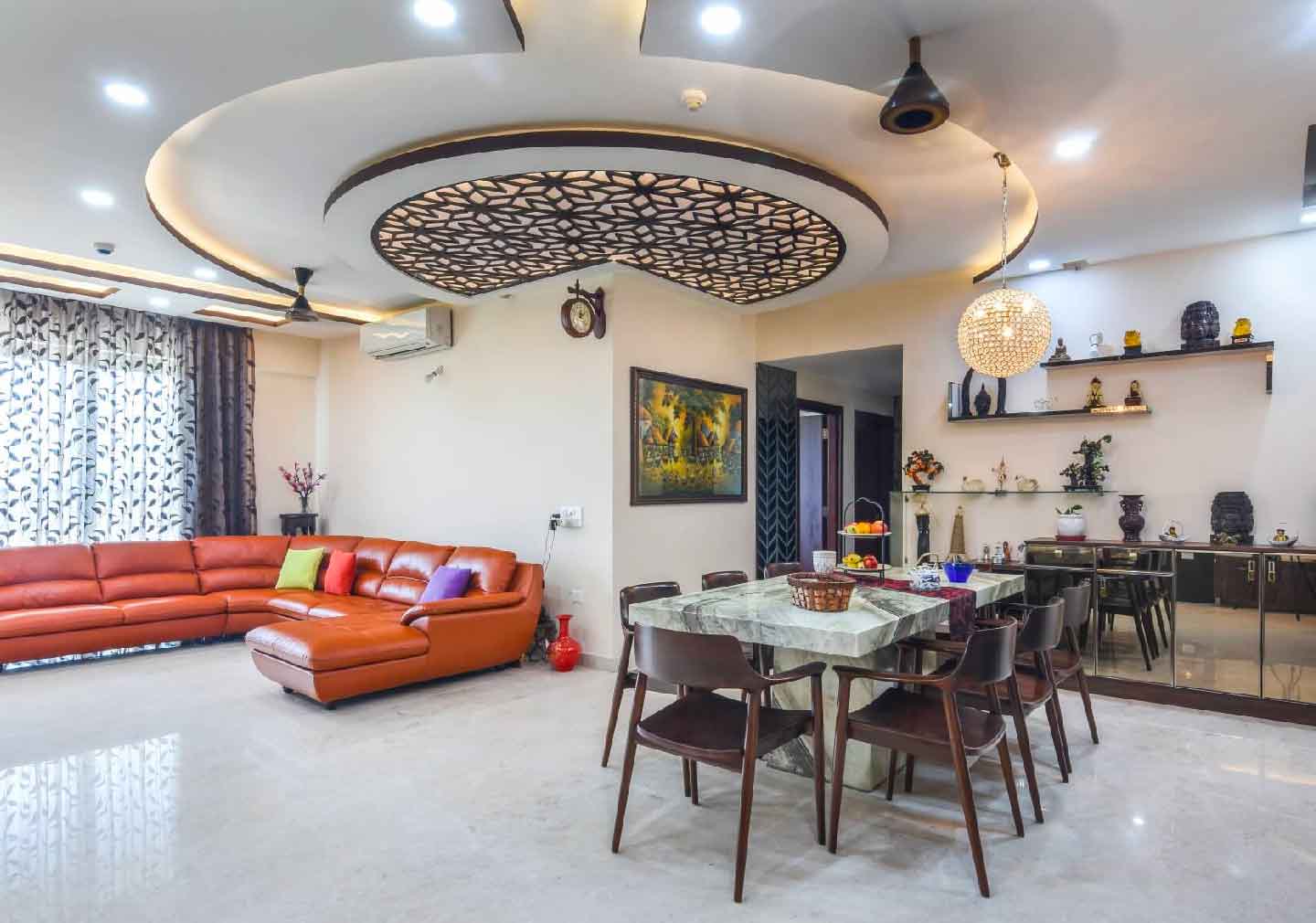 Make your TV Unit Functional:
Similarly, it is again a great idea to get cabinets in the TV Unit so that you can store items in them. There are so many times when you may have unexpected guests and you do not have time to get rid of the mess spread around in the living room. In such a situation, these cabinets are really helpful. You can hide all the kid's toys, and other items messing with the living room in these cabinets to make the room prepared to welcome your guests in just minutes.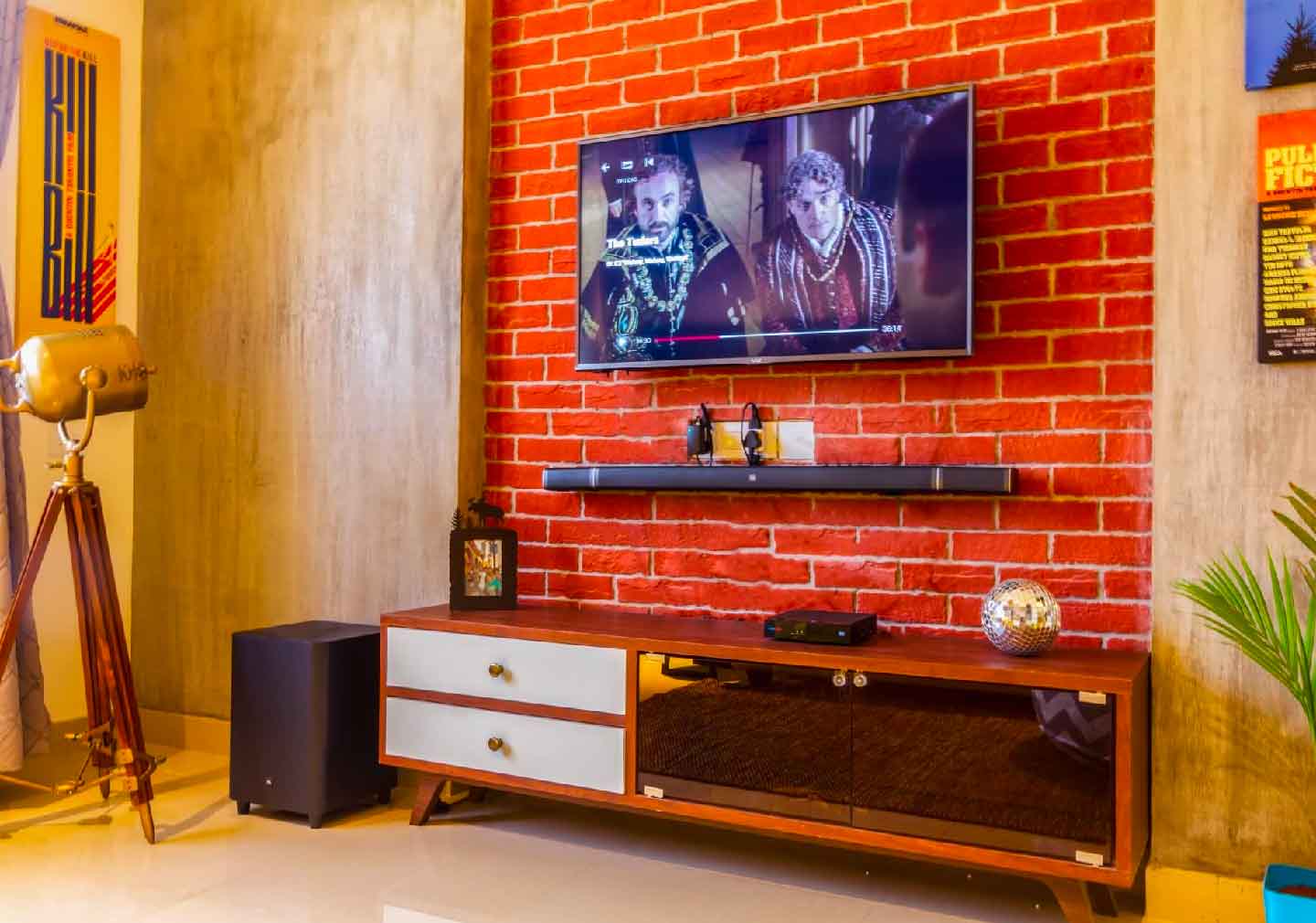 Patterned False Ceiling:
Whenever you are thinking about designing your living room, one eminent element that you will require to do is to think about the false ceiling. While some people prefer to have the usual false ceiling options, there are also many people who love the idea of doing something new. One such option is to make use of floating false ceilings in the form of clouds or layers to get a warm feel.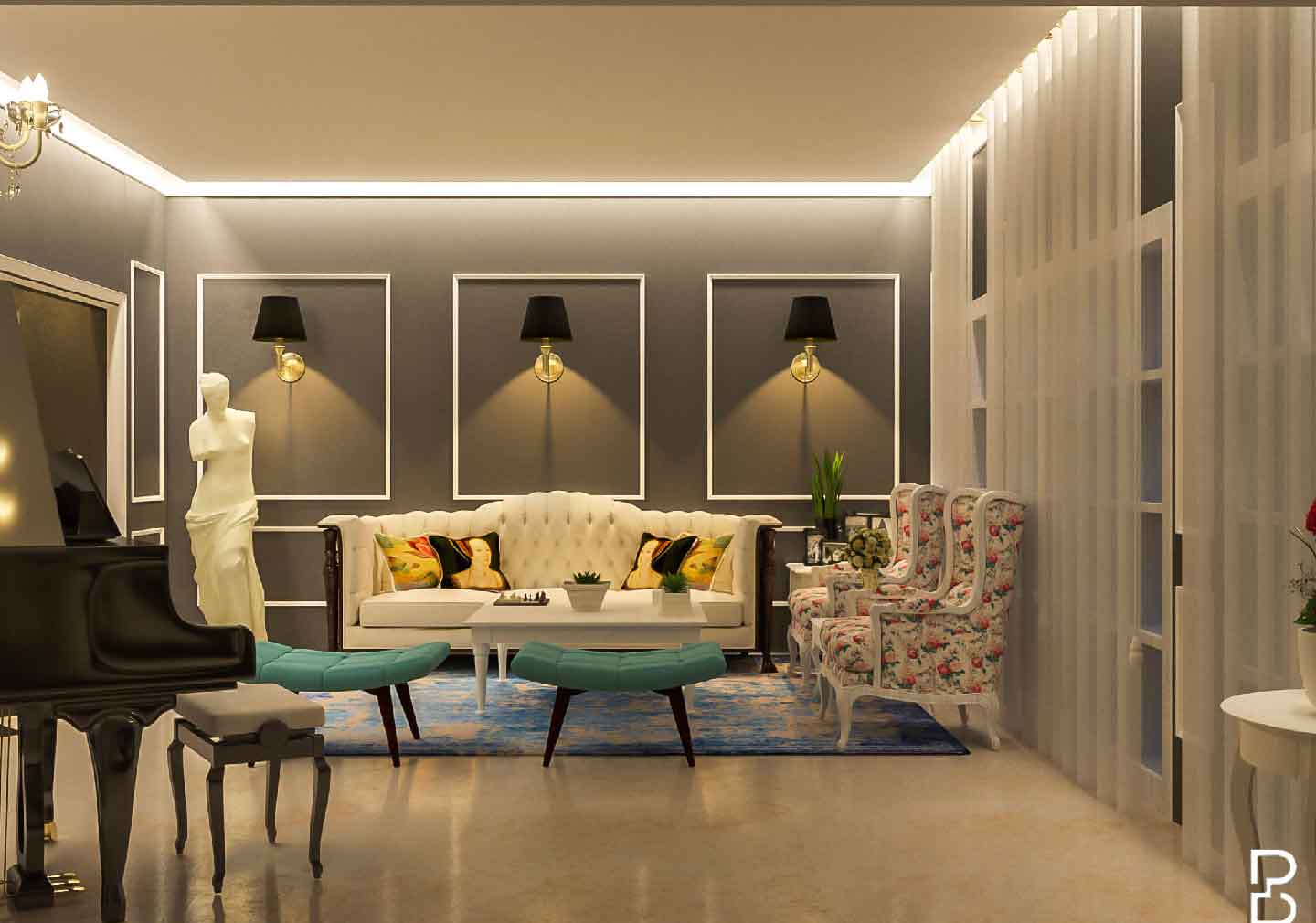 CNC False Ceiling:
Another great option that you can try out is a CNC false ceiling. Today, there are several patterns available in this style such as autumn leaves, and several others as per your choice. Installing hidden lights in the cut-out parts makes the look absolutely perfect.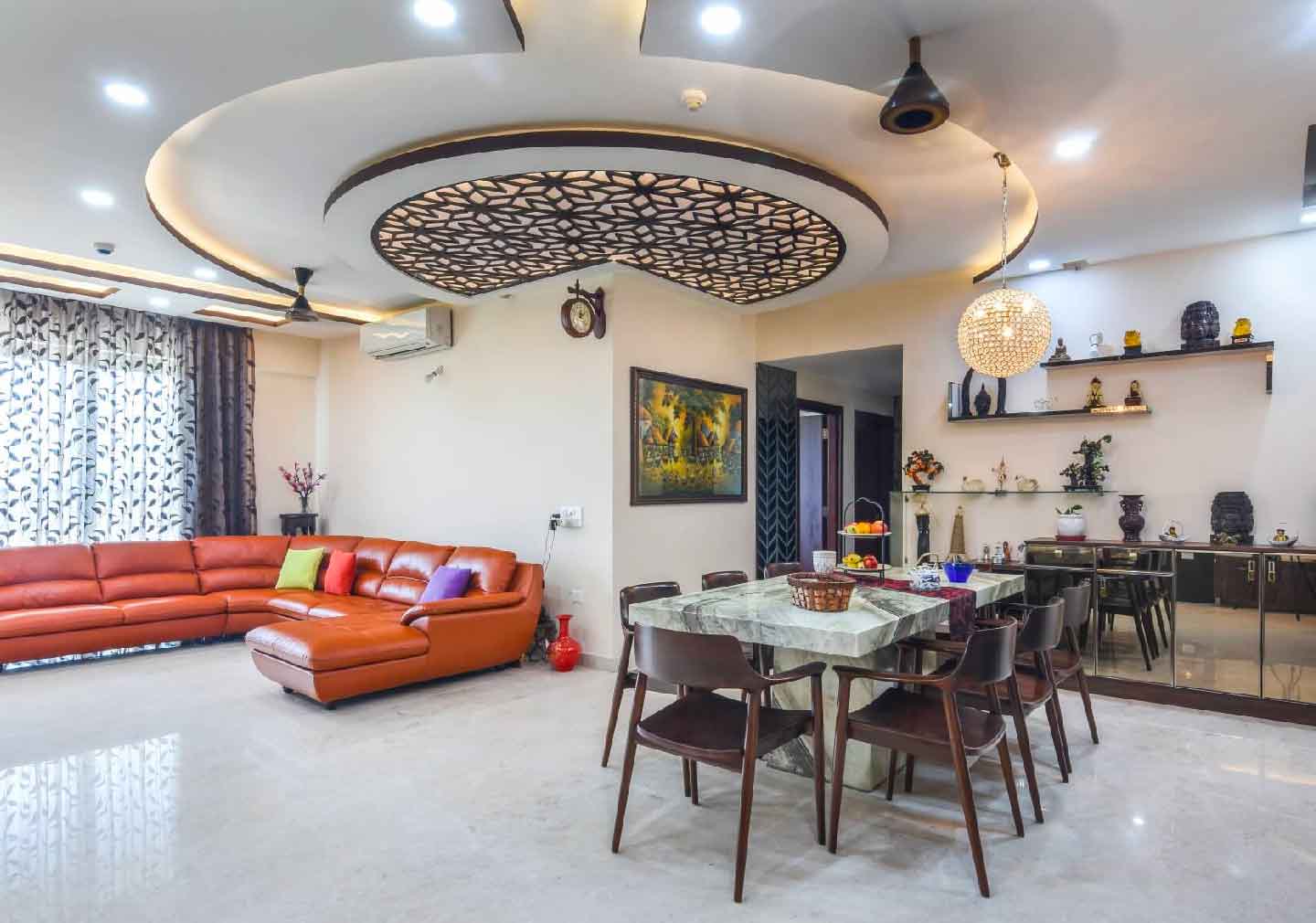 Combination of Lights:
A new trend that many people are following is to make use of a combination of lights in the living room. Of course, bright coloured valance lighting and recessed lighting options are something that you definitely should have to get a brighter look for the interiors. But there are also many other options that are great for different purposes.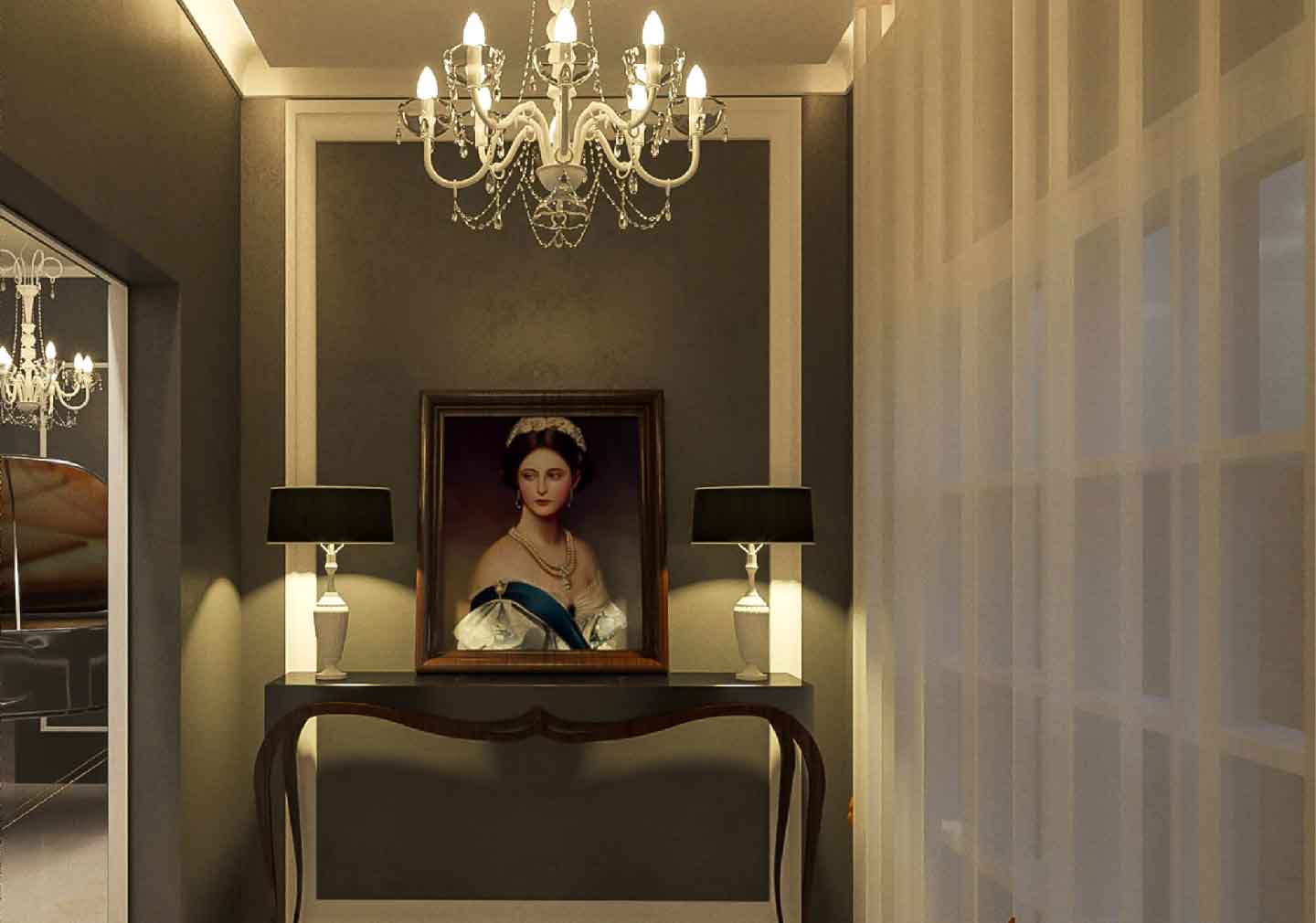 Highlighters:
One of the best ways is to install wall grazers on the wall on which you have installed the TV unit. Such lights also can do wonders when you are installing them on the wall where you have installed some items worth displaying such as a statue or a portrait.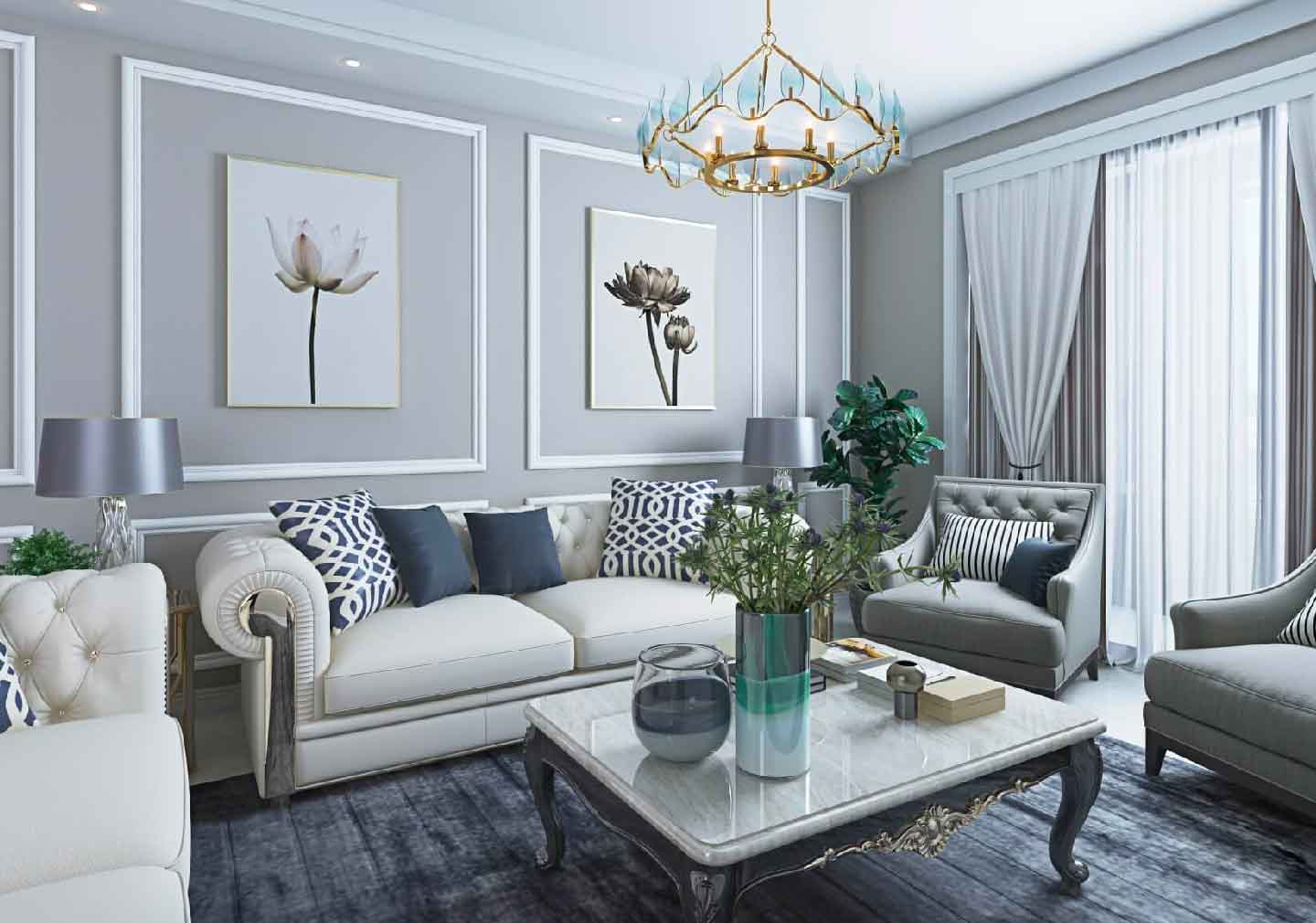 Try out Wall Sconces and Chandelier:
For living room areas that are quite huge, installing wall sconces here and there also can bring in lots of warmth. If you are looking for a royal look, do not hesitate to hang a chandelier from your false ceiling.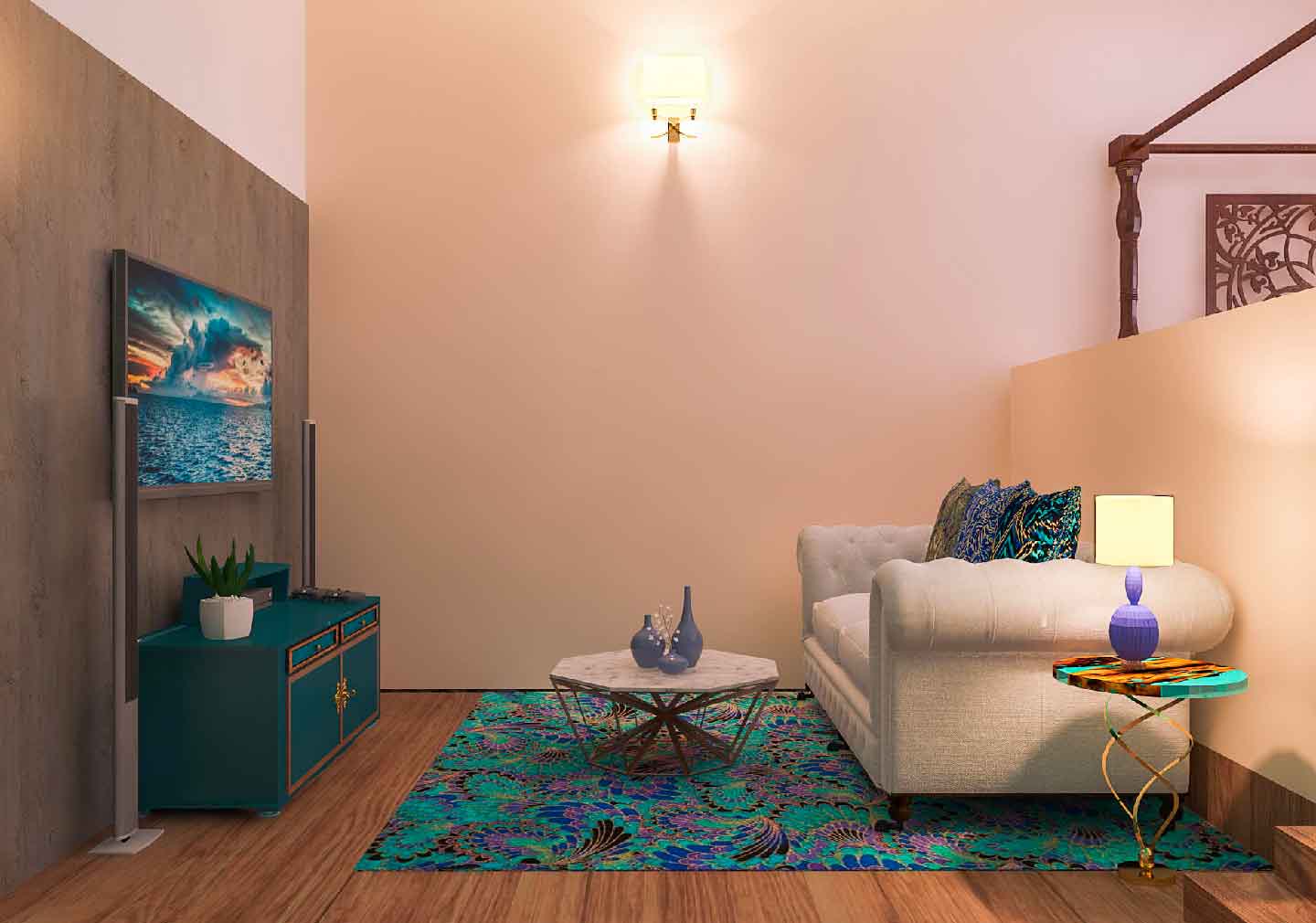 Try Contrasts:
There are so many times when experts suggest you introduce some colourful options in the living room such as dark coloured sofa cover, or an earthly coloured rug. These no doubt work amazingly in balancing the tone of the room.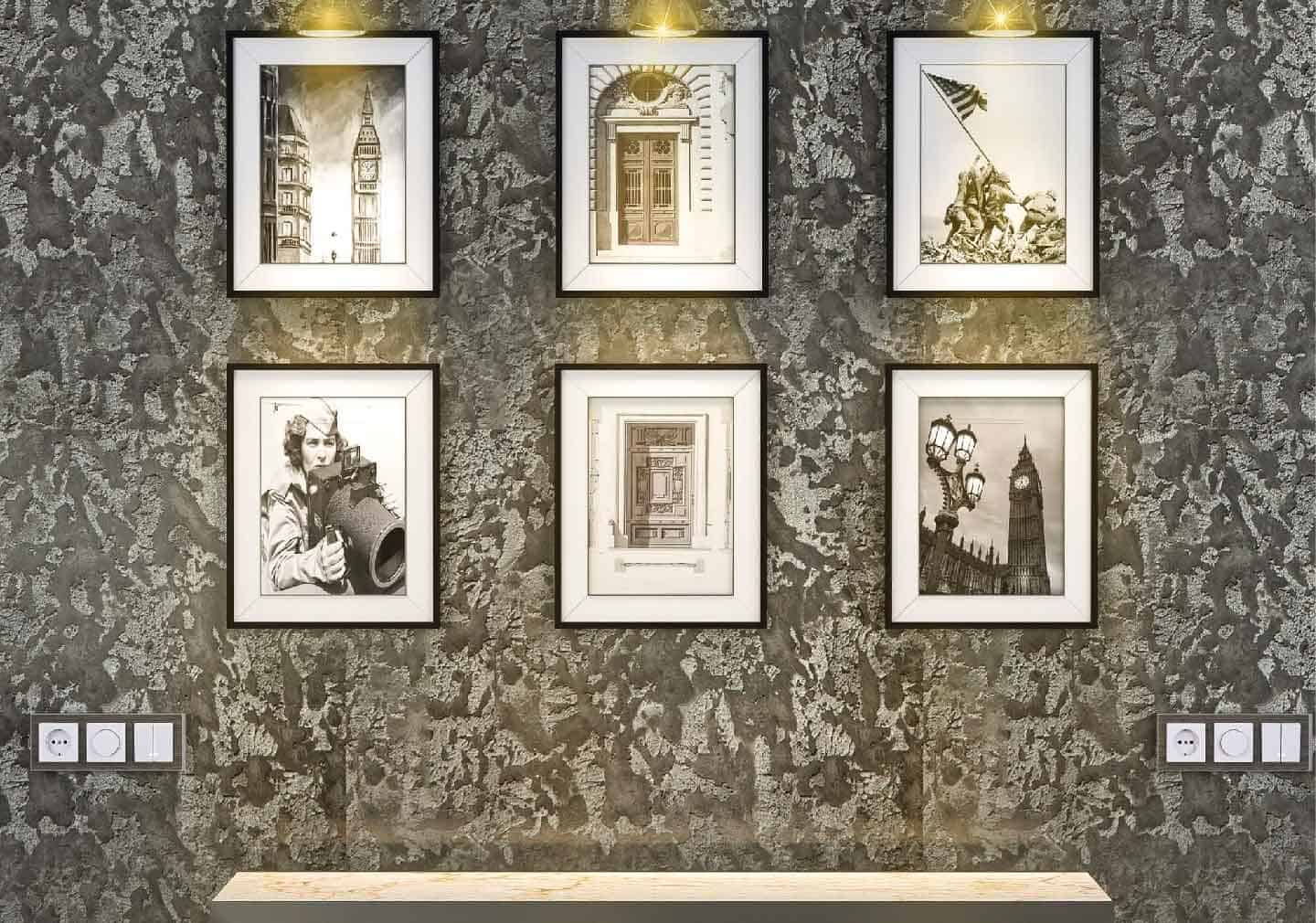 Floral Freshness:
When you have chosen the nude shades for your living room walls, adding up some floral prints on the cushion covers or on the curtains can introduce some nicely arranged colour to the room.
Now, people are much braver to take risks and add up floral prints in place of the solid shades. Why just cushion covers or curtains, you can even add such a floral look on one of the walls by installing floral patterned wallpaper on it.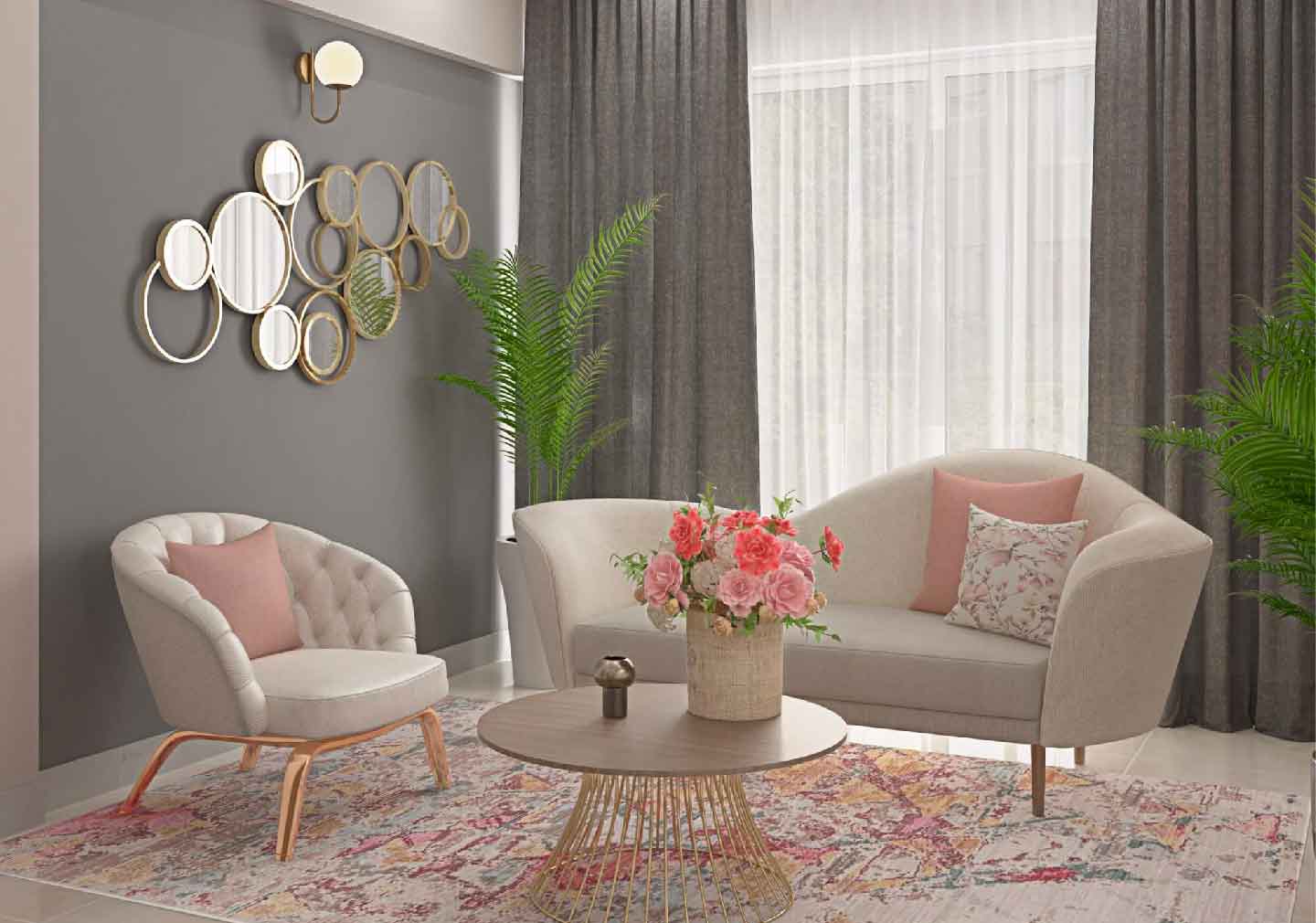 Do Something Unique:
If you are not satisfied even after you have added many floral patterns to the textiles, you can always do something unique. You can get a coffee table that has dried floral petals under the glass top. Also, you can install huge flower vases in different corners of the room and can fill them up with some bright and colourful natural or artificial flowers.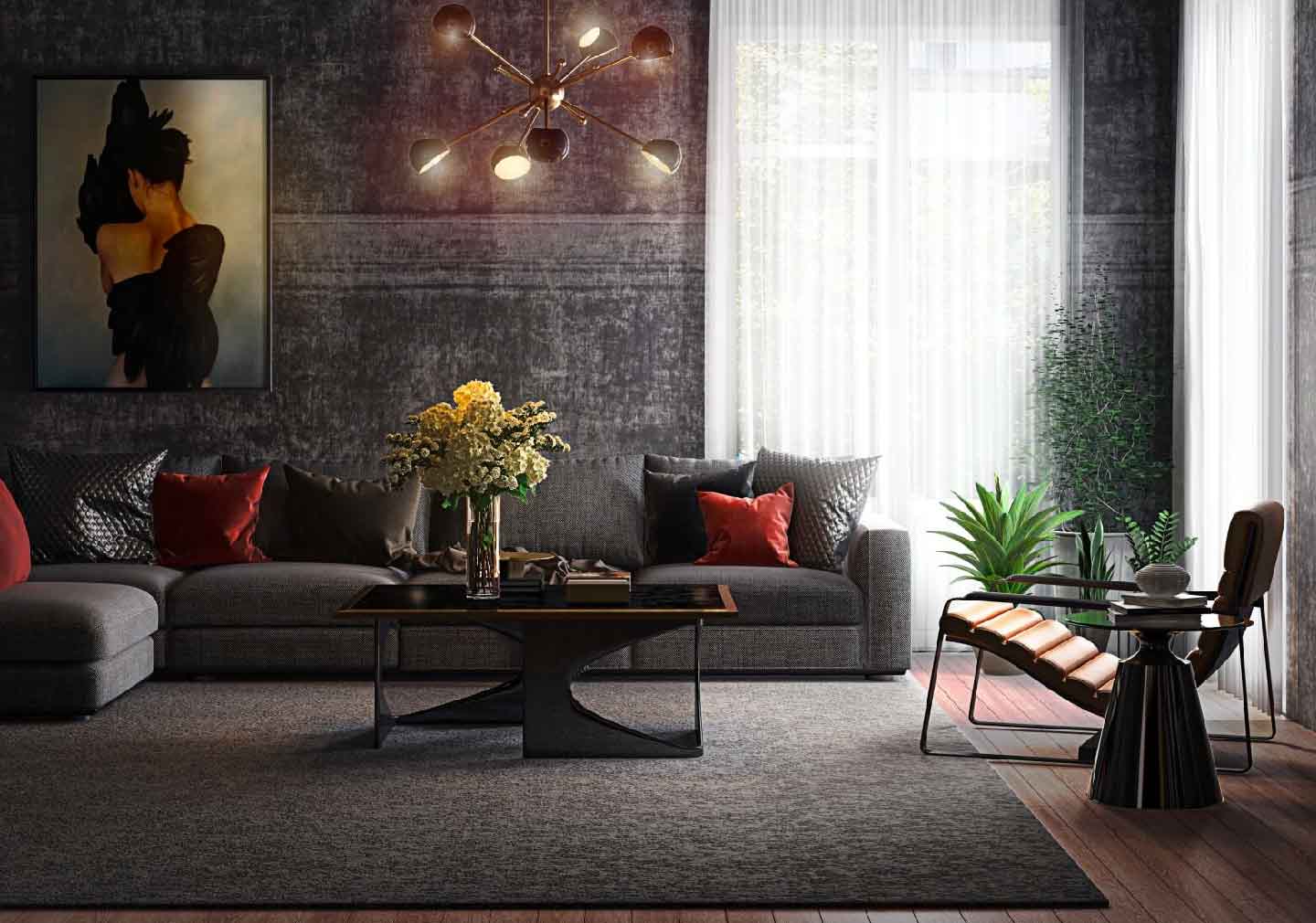 Bring in the Greens:
If you are a nature lover, there is nothing better than inviting your greens inside your living room. The green coloured plants not just add up a tint of colour to the living room but also help in bringing freshness to the air as well as to the views. There are so many indoor plant options that you can look for to install in the living room.
Mix and Match Planters:
Quite obviously, it is not always possible to decorate the whole room with natural planters. In such a case, you can mix and match natural plants with artificial ones to get that look. But in the run of offering your living room a touch of green, do not end up creating a mini forest in the room. Excess of anything can destroy the overall look. Hence, make sure to maintain a balance while introducing your green friends to your living room.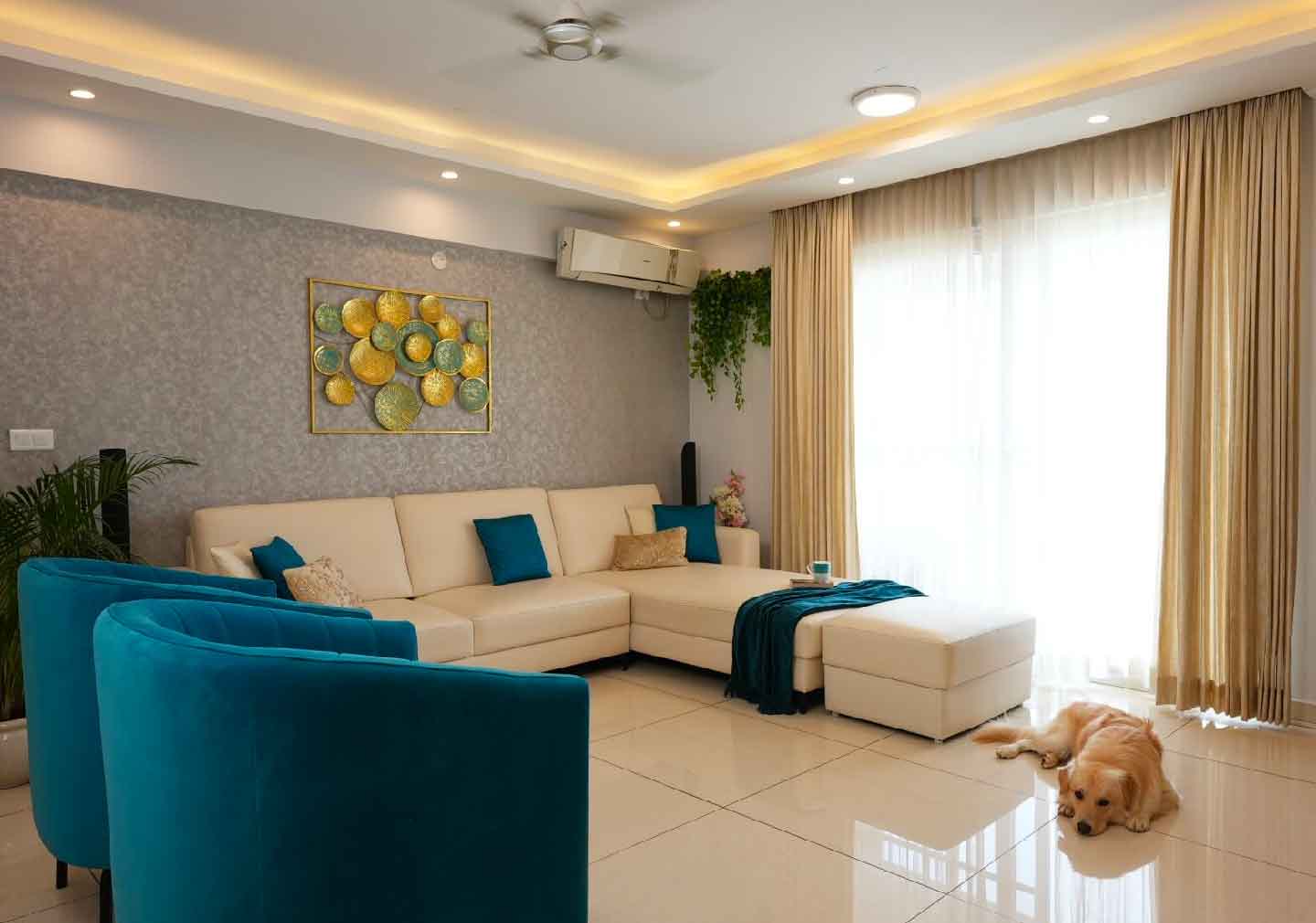 Go Bohemian:
For colour enthusiasts, Bohemian is the perfect style for any place such as a bedroom, patio, or even the living room. Of course, you cannot hype up your living room with the splash of colour here and there but surely there are certain living room interior design ideas that you can utilize to offer your living room a Bohemian look in a standard way.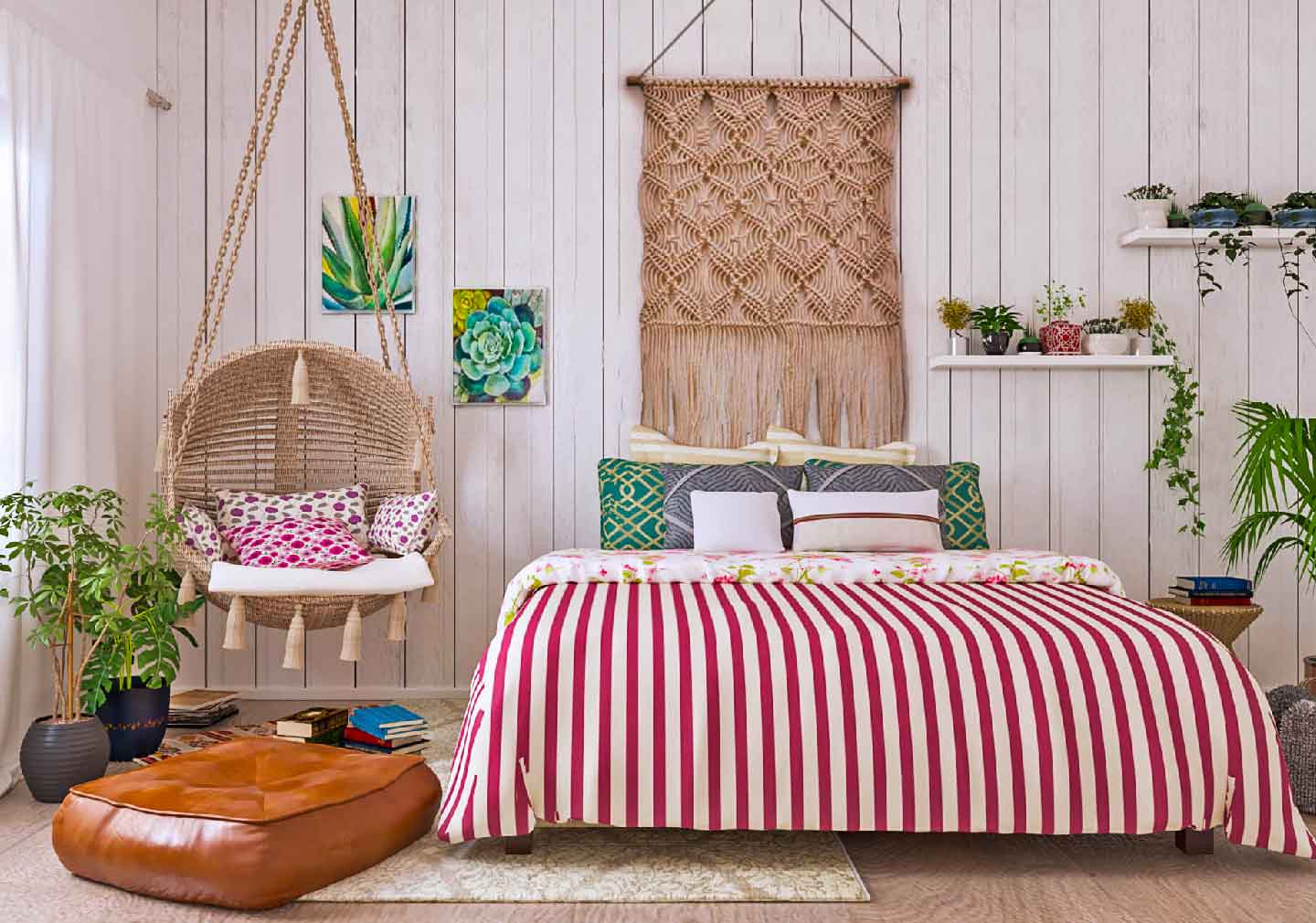 The best idea is to keep the walls neutral only and do the rest of the experiments with the fabric and the textiles once again. You can get a bright coloured sofa such as bright yellow on which you can install solid shaded cushions such as blue, green, and red. While the chairs may or may not have cushions, the sofa can have lots of cushions and throw pillows to offer a super comfortable look.
The Spell of Rugs and Carpets:
Of course, when you are opting for a royal look, you can always throw rugs and install carpets. But make sure that you are installing them at the right place such as under the coffee table and so on.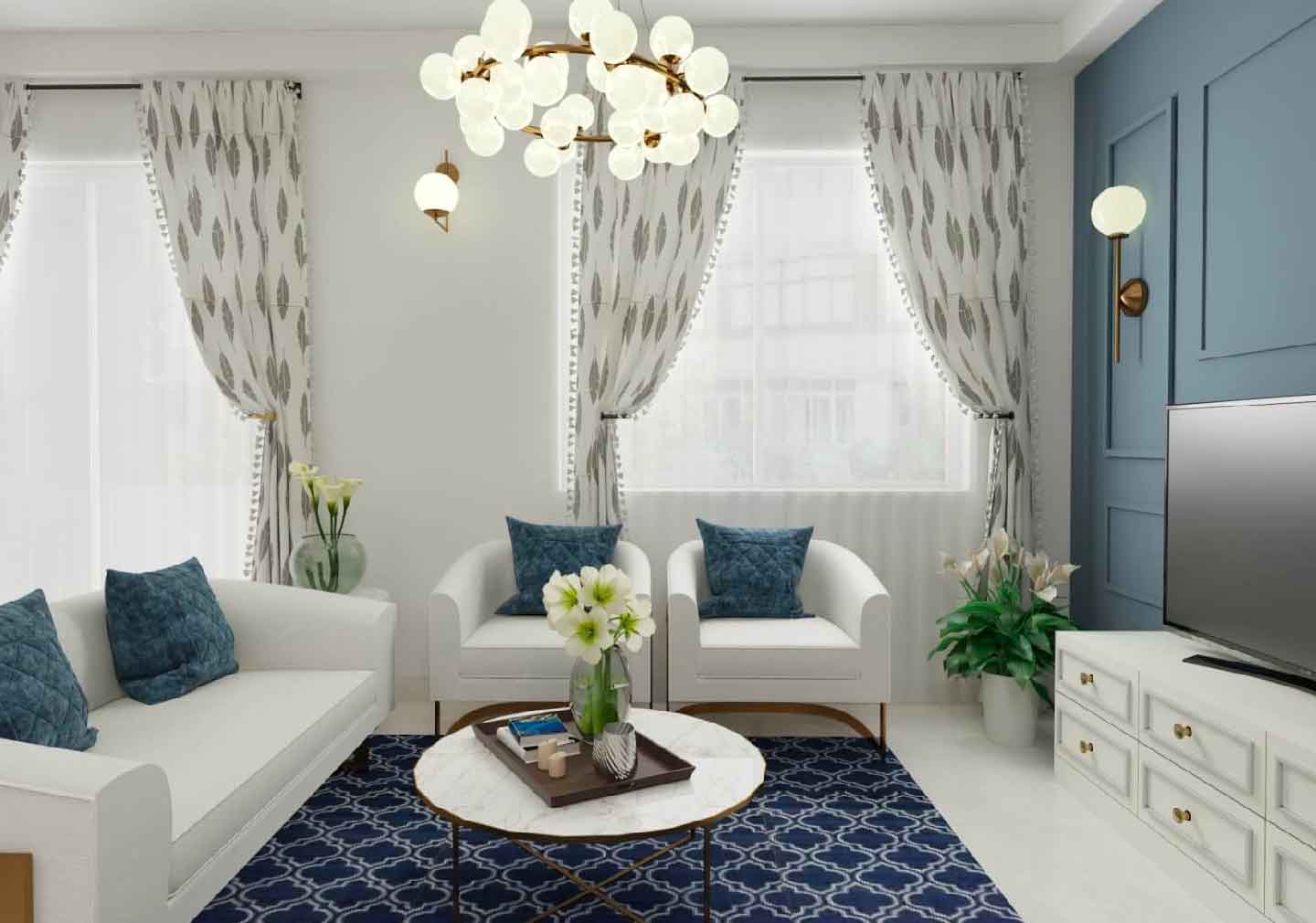 Adding Swing or a Diwan:
If you have a spacious living room and you are opting for a Bohemian style or an Indian traditional style, adding an oval-shaped swing at one corner or one side with a lot of cushions is again a great idea. There are also many people who install a small diwan at one side on which they keep a lot of throw pillows in bright colours to get the exact look.
Try out the Ottoman Style:
If you are someone who is obsessed with a lot of storage areas, Ottoman style is the perfect option for you. Ottomans are usually tables and seating reasons that do not have a back or arms. These are also low in height and are usually cushioned. Many people prefer to have Ottoman-style living rooms because these Ottomans can have storage options in them. Similar to the small cabinets, these Ottomans can have a storage option so that you can just open the top of the table of the seat to store items in them.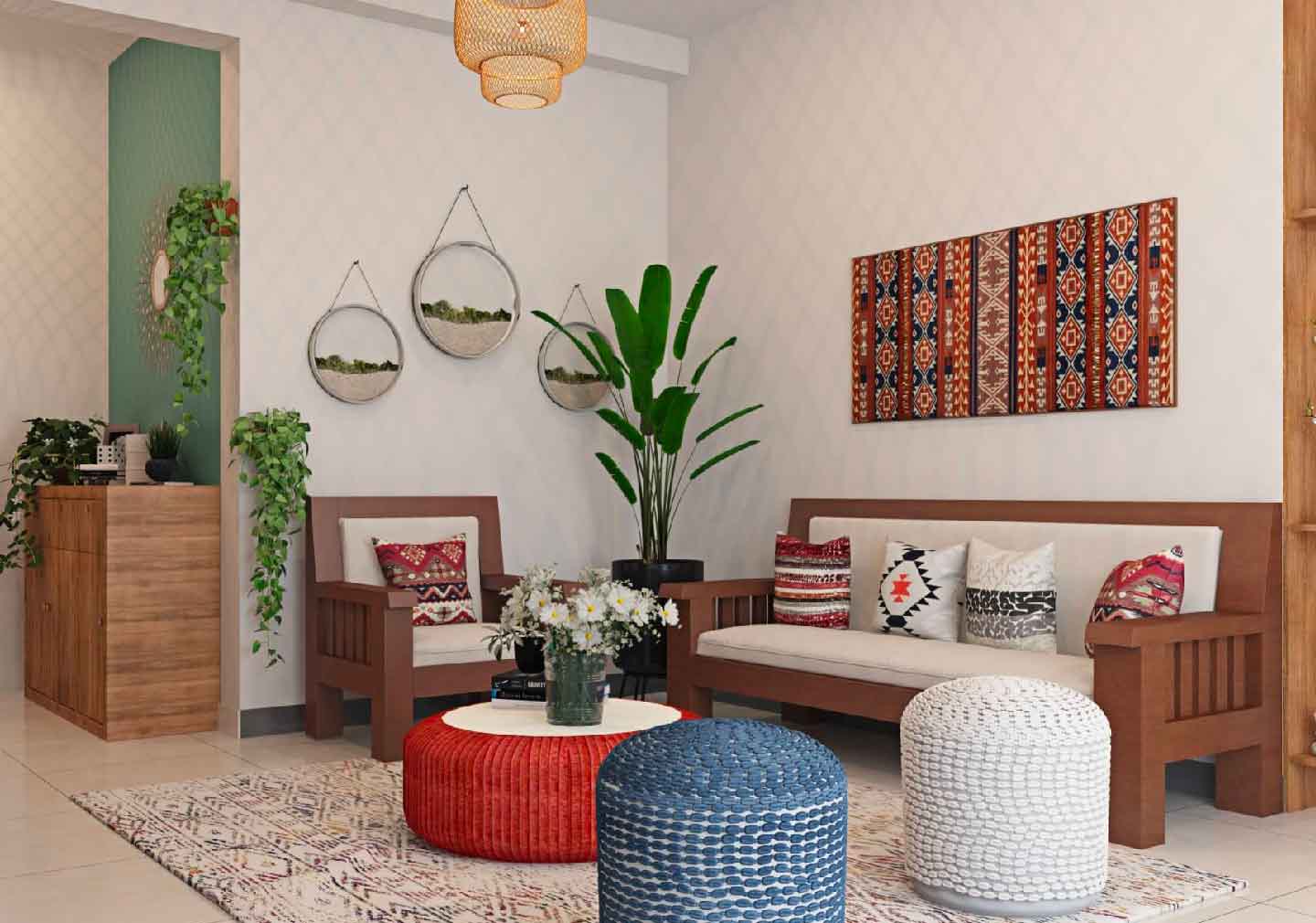 Combine Ottoman, Bohemian, and Modern:
An ottoman-styled living room can have a combination of Ottoman-inspired furniture along with the usual furniture options. When the idea is to have a lot of storage, such a pattern can be highly useful for you. Similarly, you can also introduce a Bohemian look to this combination when you wish to bring in some comfort.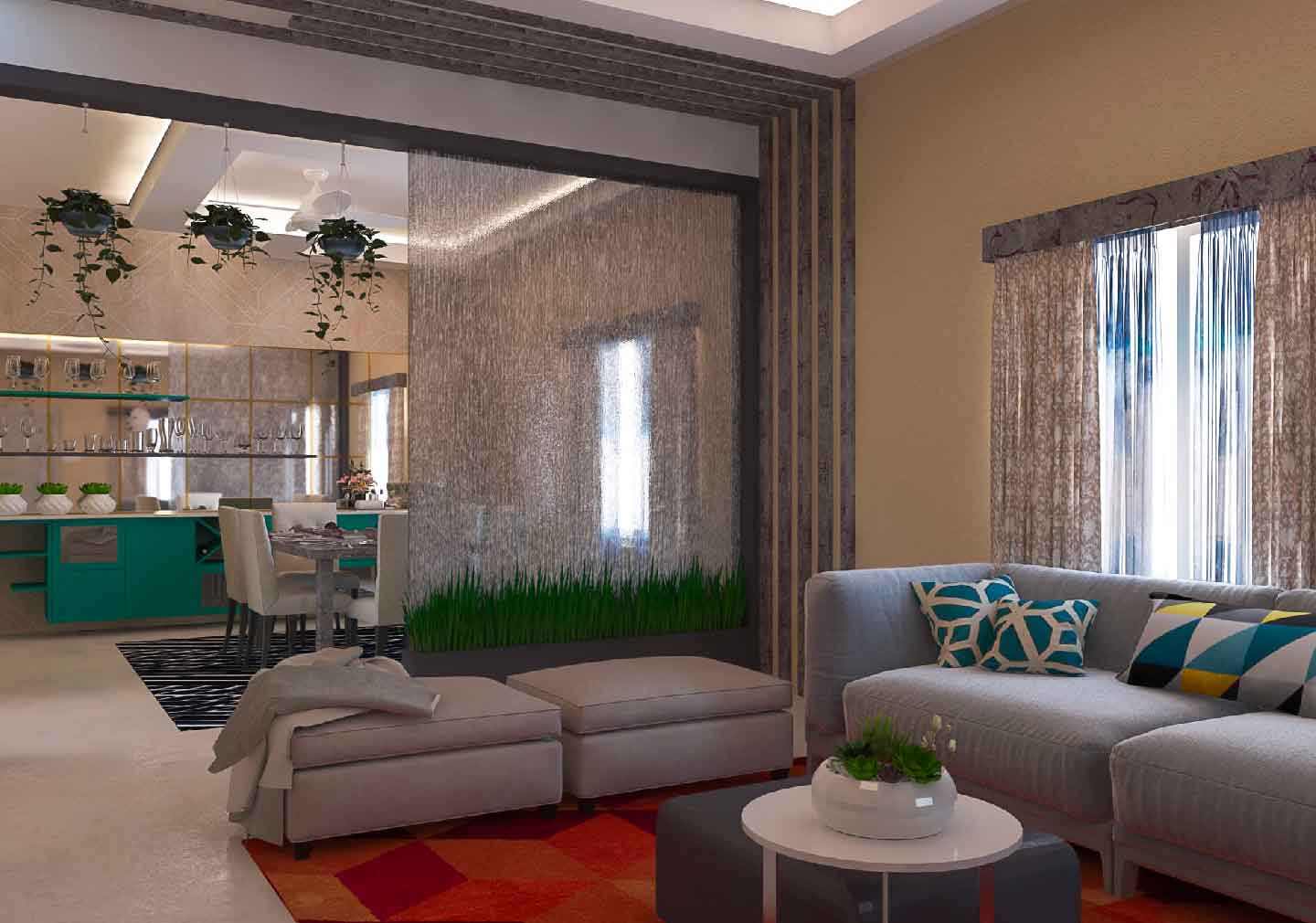 Get a Classic Look:
Another great way is to offer a classic look to your living room. Keep the furniture and other items also in white along with the walls of the room. If you think that using the colour bright white is too much, you can also go for the off whites. This is a perfect option for living room areas that are comparatively smaller in size.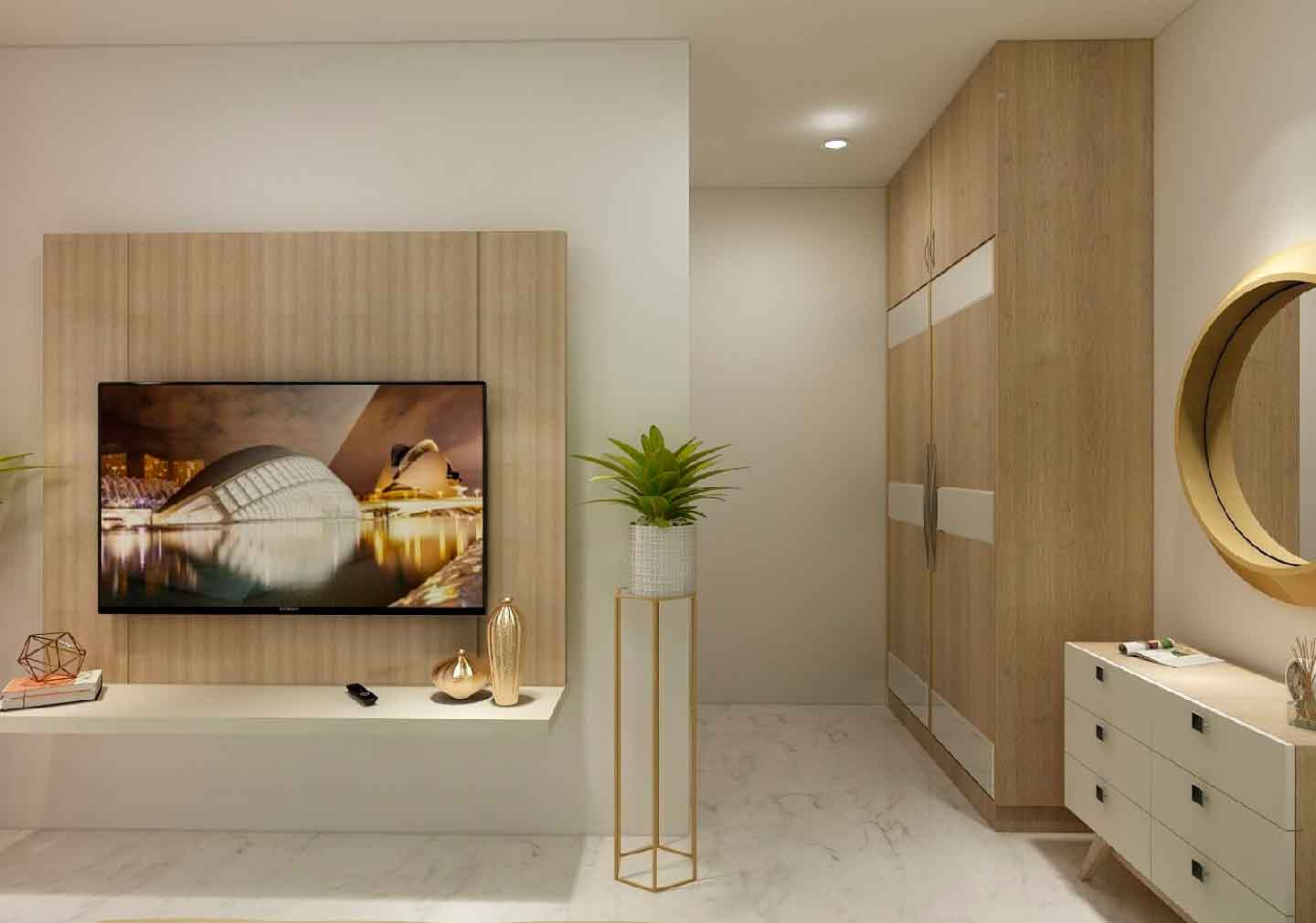 So, is it all about the white?
No, the catch here is that you can add mild variations here and there such as you can have metallic legs for the coffee table at the center of the living room or can have a brass vase at one corner of the room.
The Mirror Look:
Installing a huge mirror on one wall again helps make the room appear bigger when the light reflects through it. Just be careful to install the mirror in the right place.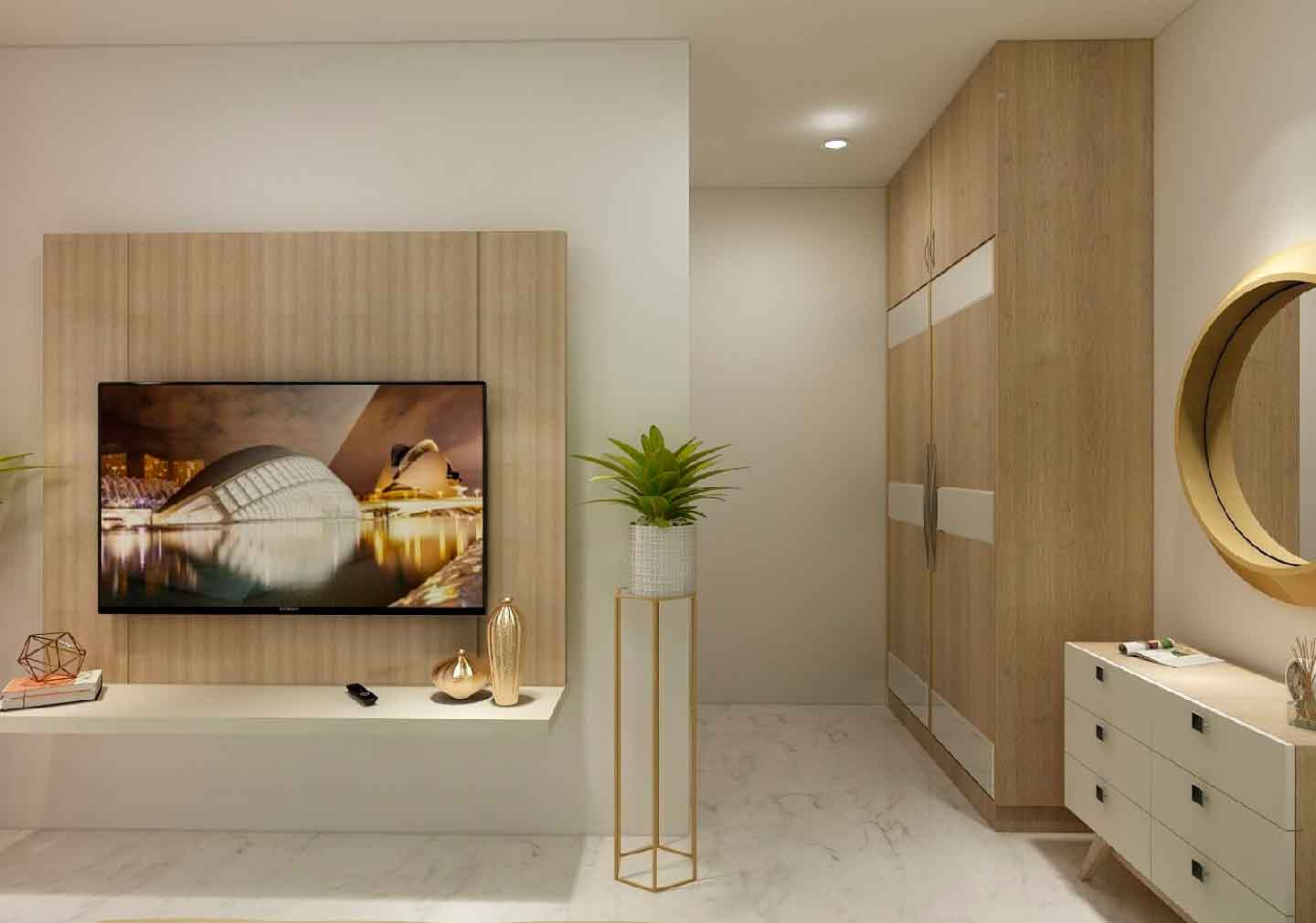 Go with the Flow with Antics:
At times, when you have got antique furniture and other items already with you, you do not require anything else extra. You can go with the flow, keeping the basic features of living room design in mind.
Planning great designs for the living room can be a tricky process. But if you know your living room features well and are sure about what you wish to have, then a lot of difficulties ease out. Make sure to make use of the styles and designs based on the eminent factors of the living room and surely you can get the best design for your living room. In other ways, the experts are always there to help you get the right living room interior design ideas.
Start your journey with us and craft your
dream home
Make a statement, build a designer home.