A person begins and ends his day in the dining area. So what should the dining zone look like? What paints should be there?
How to choose the right colors for dining room? Find simple answers to all these complicated questions of dining room interior design ideas in our 96th blog post.
No home can do without a dining room or a distinct dining space where the family gets together and shares the meals together. And more than sharing food, the dining area becomes the space where one unwinds, shares his day's adventure and discusses future plans.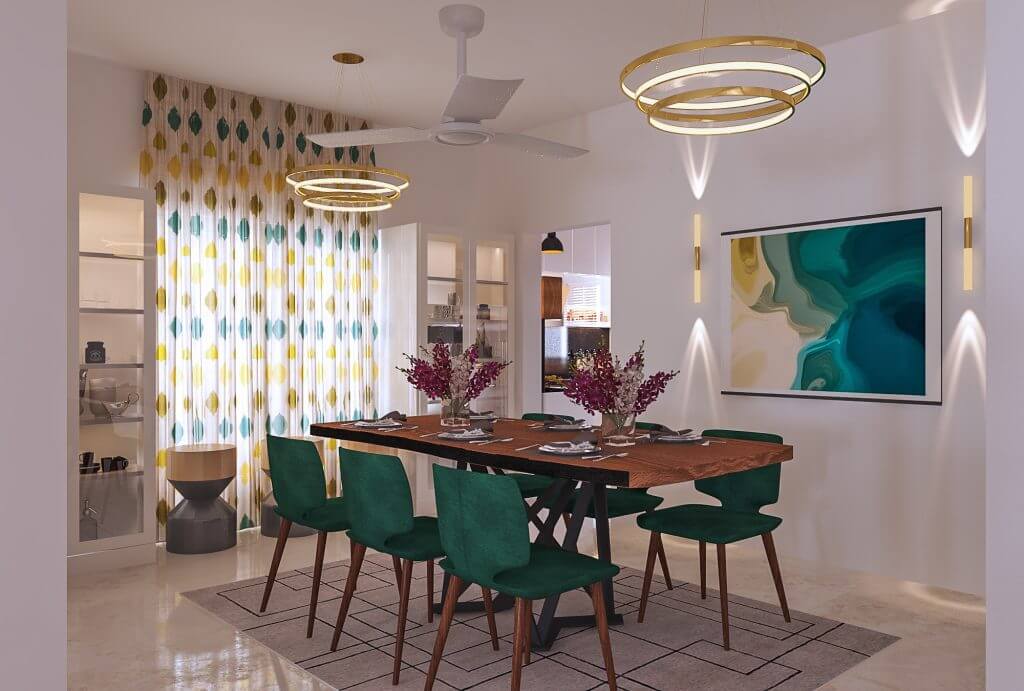 Be it a traditional house or an old styled Kothi or a modern-day flat or apartment – the dining area is as important for a home as it was before.
Hence interior decorators spare special efforts to decorate this area. Dining area decor, furniture and even decorative items are chosen with care. The market too is flooded with lot of choices.
The beautification of a dining room begins with its wall paint. Choosing the dining room tables,  appropriate paint colors and dining room designs can be the most tricky question for the home owner. There are few smart ways to pick the best color for your dining area.
While choosing the paint colors in dining area these elements should be kept in mind:
1. Space: Ask yourself
What kind of space do you have for the dining room furniture?
Do you have an entire room for dining?
Or is the dining area cramped in the lobby or next to the kitchen alley?
This is a harsh question to address but once you assess the area of dining space you can easily decide on the paint to be chosen for dining area.
Dining room ideas – For small dining spaces:
Since most of us live in flats or apartments and there's very less space available for the dining zone. Usually dining area is carved out as an extension of kitchen and in most modern apartments it is amalgamated in the lobby next to the kitchen.
If this is the situation with you, then avoid using bold colors on walls.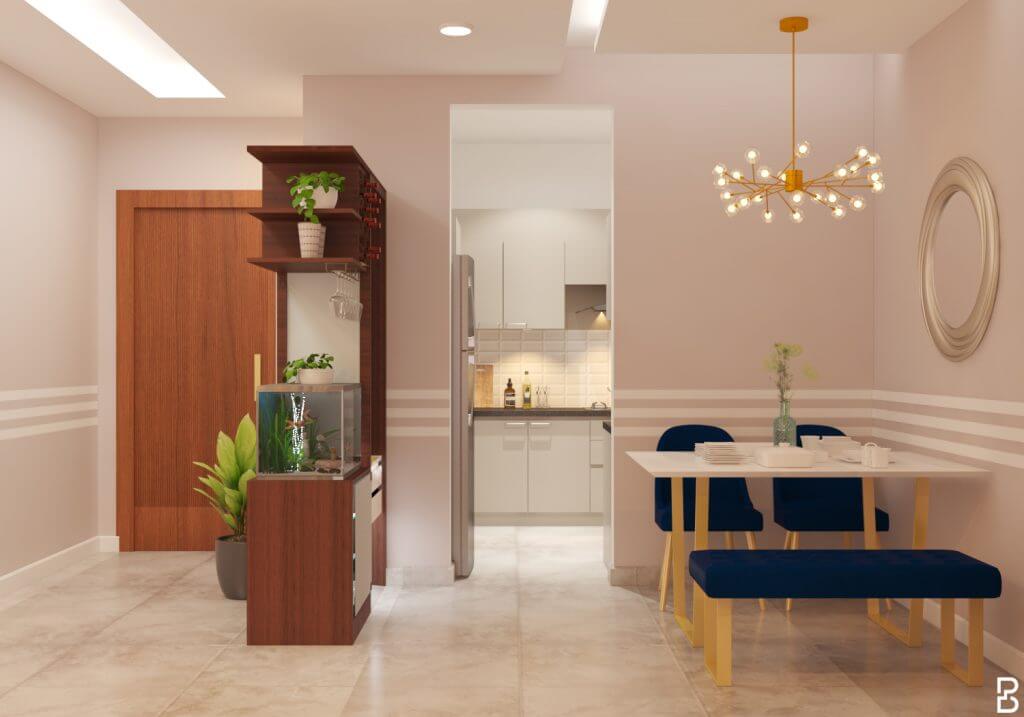 Try using colors that blend with the hues used in the living room or kitchen so that dining areas is in harmony to rest of the house. Using strong colors in such dining spaces could be very appalling since bold colors tend to make the space look small.
If you use bold colors in dining areas then this zone will stand out but look cramped.
You don't have to restrict yourself to using colors done on the house alone. Try painting dining area with a mix of basic shade done in the house along with neutral shades like crème, white, yellow or suede.
Try using wallpaper in alternate walls for your dining room ideas but just make sure that the base of wallpaper is in same color as the rest of the house.
This will create synergy between small dining area and rest of the house. A good reference could be this one: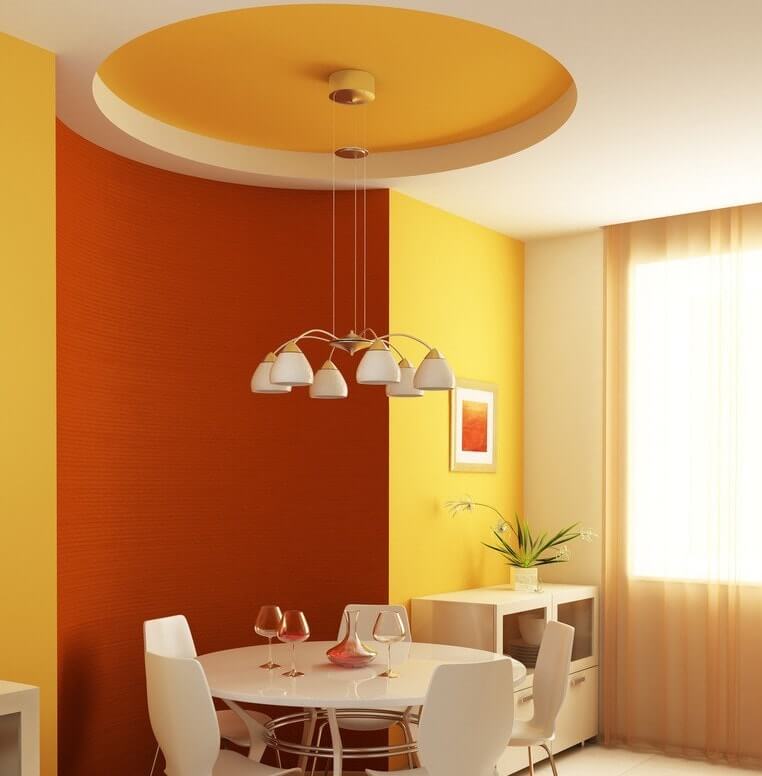 Source
Another situation could be that the dining area has been carved in a corner, or in triangular space or is in space next to a staircase. Here again, you have less space in hand and it has to be done up intelligently so that the space constraint doesn't show up and tenants enjoy cozy meals lovingly in this space.
In such cases, it is suggested that dining area should be painted with a mix of basic color done on house and a complementing shade. That will make the dining space look chic and modern in one go. Check this instance: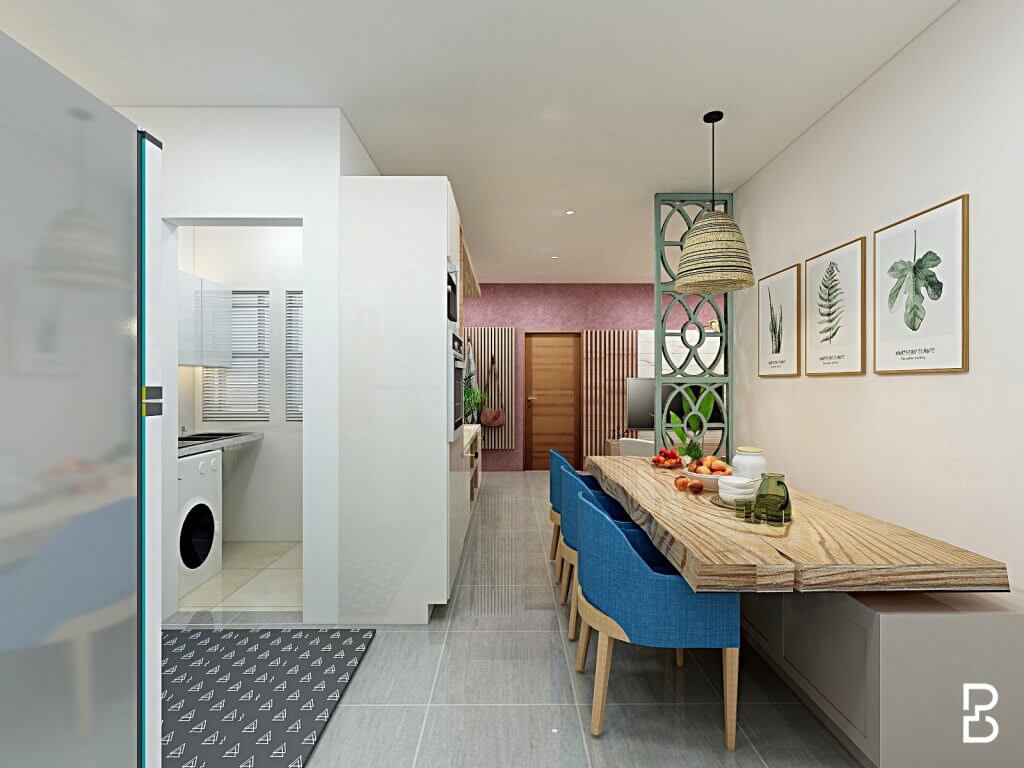 Dining room decorating ideas for dining room interiors:
In case you are lucky enough to have a separate dining room, then you can use just about any color in the walls. People love to experiment with the shades in dining area and we recommend deck this space with vibrant and zestful colors.
For spacious homes, it is not necessary that you follow the themes and colors of living room or any other place. Instead have funky paints or bold themes on walls in dining rooms. Here is how you could do it: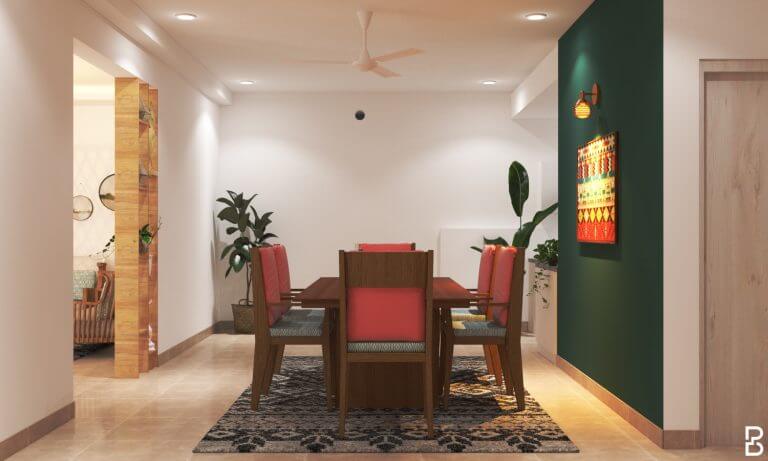 Who would not like to have food at home when your dining room is as lively as this one!
Ask yourself is your dining area well light?
Is it next to a window?
Is it next to a windshield?
Is it in a deep corner of the house?
What is the scope of artificial light there?
Once you have answers for these questions you can choose the right paint color for the house.
For well light dining areas:
First and foremost, take into account the source of natural light like a window, windshield, glass brick partition between kitchen and dining area etc.
The light exuding from these different sources adds to the gleam of your dining area and then choose an appropriate sober shade for the walls.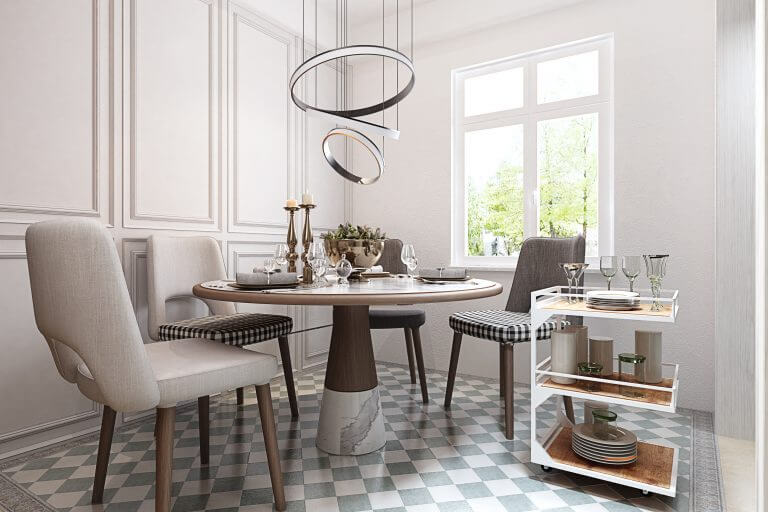 Neutral colors for dining interiors are always in vogue and you can safely use them. They lend a sense of class and sophistication.
However, remember that these colors suit dining rooms more than the small dining areas; so choose accordingly. Here is how the dining room can look:
For dark spaces:
In case the dining space is not well light then you can go for bold colors or contrasting color themes on the walls. When you have to depend on artificial light sources them make sure that the colors done on the walls are bold enough and they make the space stand out.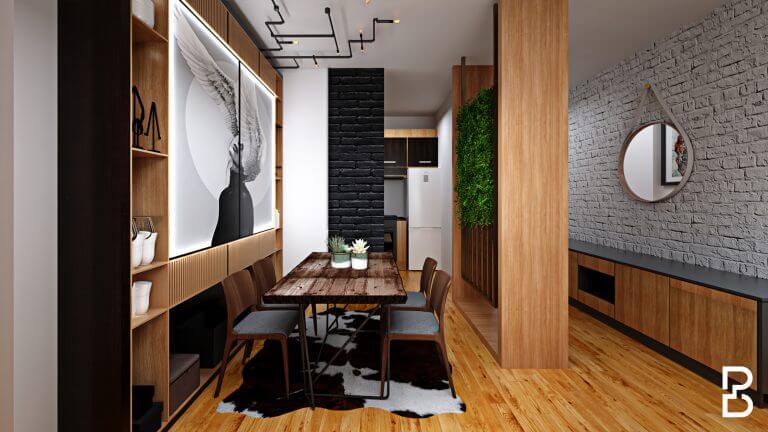 3. Building elements:
Ask yourself – Are there any building elements in the dining area or next to it ? It there a cupboard in the area? Is there a window?
If any such elements are placed in the dining area make sure that you highlights them prominently.
As we mentioned earlier as well, these days space is a huge limitation hence if you are blessed with ample space and have any such elements in the dining area then it should be utilized properly for visual appeal.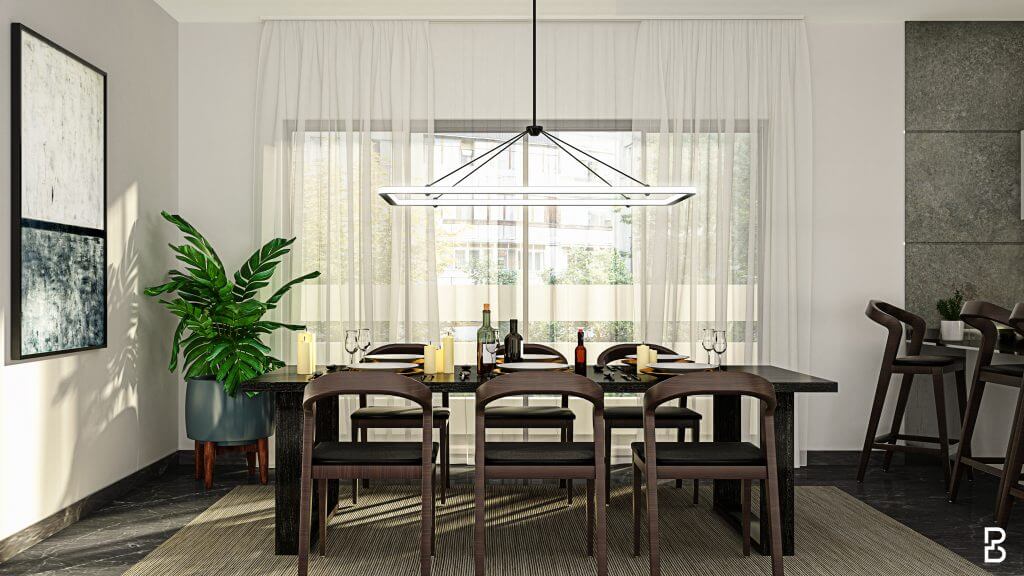 Decking up the dining area begins with its walls and goes on to the furniture, cutlery, utensils and light elements. Once the paint color has been chosen, it is easy for you to pick the rest of the designing elements.
4. Indian dining room design 
Dining rooms are the favorite hotspot for Indian families. Just like the perfect amalgamation of cuisines, the dining table is the spot for topics of all kinds. When designing the perfect dining room think of the purpose for it – will your hosting inspire the design or will you let the design inspire you to host?
Whether you're hosting colleagues or just an intimate family dinner – dine in style. Here is where we come in with a collection of 4 types of dining spaces that we have designed for our unique customers. Every house's requirement is different as well as their style – so we adapt and magic happens!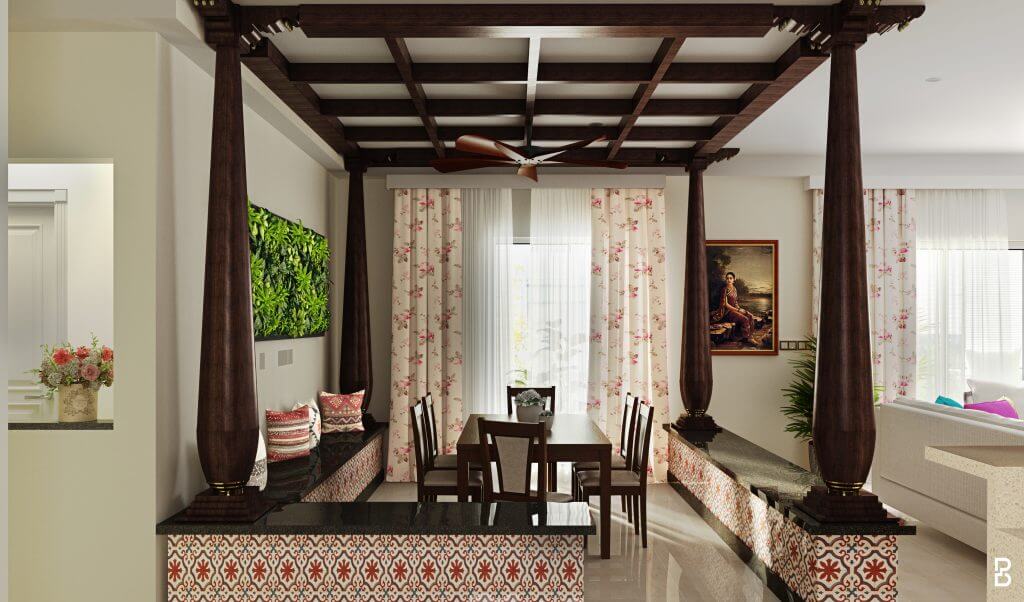 Small dining spaces
In today's modern apartment living, space is of limit. A cozy intimate space for the family is the perfect way to go. Keeping the design simple and the colors used for the space to the minimal to draw focus to what really matters. An accent wall featuring accessories can be the perfect partner for the sleek crockery cabinet that you can include in this space. Using neutral shades of white or beige gives the illusion of extra space. Dining room design should always use color palettes that uplift the mood and induce hunger.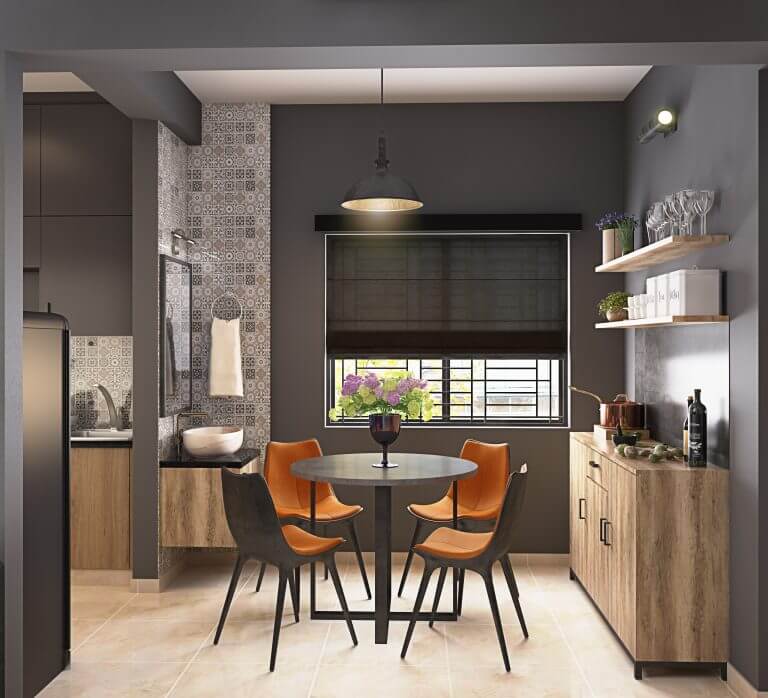 How to design dining spaces for small apartments? Check out our client Mr. Hemanth's interior plans for his 2BHK designer home in Bangalore.
Large dining spaces
High ceilings with dramatic lightings are the highlight of large dining spaces. With a large family or if you frequently host large groups of people – a spacious dining room is your solution. Since the focus here is the big dining table rather than anything else, a statement piece of the same is appreciated. Go bold with the design of the table and the accompanying chairs. As for the drama of the space, focus lights hanging from the ceiling over the table look stunning. 
If you're unsure about the very basics of decorating your dining space here is a guide to be knowledgeable about learning to spruce up the place when revamping your home.
But with the changes in the layout of the modern living area, the dining room is also finding its place in the most interesting of places or being included in others. Let us see what are the options available for your fine dining nights!

Open space plans
With more and more apartments adapting to the concept of open-floor planning, the customers are looking for solutions to merge their living area with the dining. Open floor planning has it's benefits – more visual space but one has to be smart in how to divide that space accordingly. Dining area design for this kind of apartment layout depends more on the expertise of how to define the space without putting up any barriers that would interrupt the flow of the layout. This is where the expertise of an interior designer comes handy who can help you create individual zones in the same space for two very different things.
Check out our client's Bonito home design process in Horamavu, North Bangalore to know more about designing dining spaces
Under the staircase dining
If your new duplex apartment or house has adjacent space with a kitchen under the staircase for the dining room, take the opportunity to create something extraordinary. This space looks and feels intimate for a family affair. Also highlighting on space efficiency, circular tables works wonder to make dinner time conversations much easier. With a lowered ceiling under the stairs, pendant drop lights are sufficient enough to keep the space illuminated and radiant.
Just as important as getting your living room decorated to impress your guests, dining rooms also need love and care in making a statement. Hope that you keeping impressing your guests at your next house party and have more riveting conversations with your family over awesome food and designer surroundings!