Your idea of the perfect living room can look very different from the living rooms of your friends. While it is up to you to decide on the theme and design style of the room, we can help you select the right living room color scheme for the walls so that your furniture and your walls are in perfect harmony. The first impression that your guest receives from your home is from your living room. Also, the living room is where you return to in order to unwind with your loved ones.
Here are some of our living room color schemes that are our designer's favorite for building the ideal Indian home decor.
#1 Living Room Color Scheme: Blue
The Pantone Color of the Year 2020 is a frontrunner in this competition to adorn your living room walls. This color is said to symbolize one's best qualities – like trust, loyalty, wisdom, and confidence. It is also beneficial and works wonderfully in setting the right mood with its serenity or stark depth – depending on the shade you choose. With all these pointers to keep in mind, doesn't it seem to be the most suitable color for a room meant for relaxation? From lighter shades like pale blue to depict the vibrant sky or the dark royal blue to reflect your opulent style. Blue gels well with any other color palettes and works on your behalf to bring out the best in your home interiors.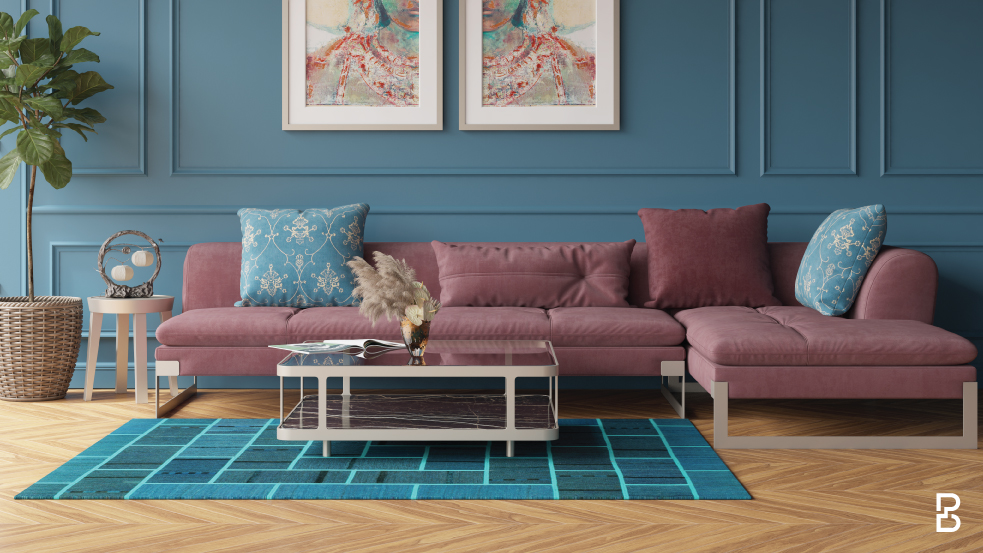 #2 Living Room Color Scheme: Green
Shades of green can work wonders for making an impact on the living room. A look of tranquility or one of great drama – it is a handy shade for transforming the space. From shades like dark moss and emerald green that help you define the accents of your home. To softer palettes like mints and tried and tested lime green. If you're not that confident about something as permanent as walls, one can always go with using these colors on the upholstery. A few throw pillows in plush green velvets or the tried and tested lime green for the couch? Or even adding greenery with a few selected house plants – showcase your love for indoor plants and liven up the place.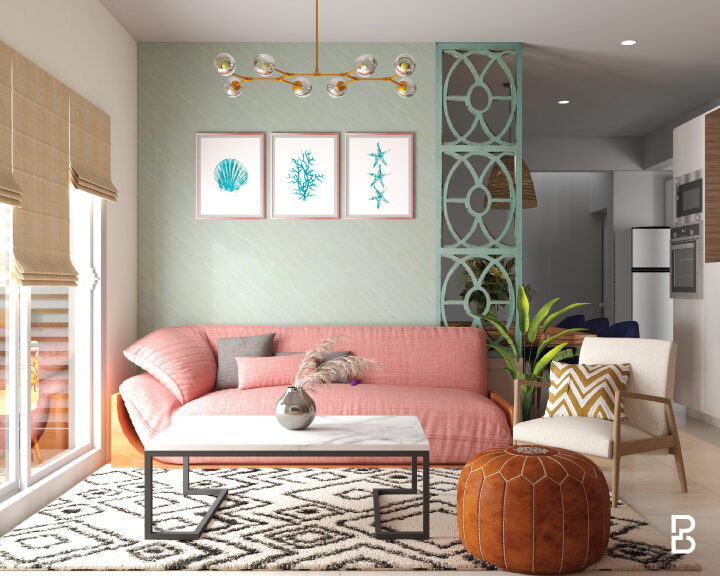 #3 Living Room Color Scheme: White
The go-to color for the commitment phobics. A clean slate for your walls so that you can have your fun with ever-changing colors in the form of quirky upholstery. White allows your eyes to rest and take in the vibe of the place after you come back home. Same for your guests! Let them engage themselves in free-flowing conversations and not lose themselves in the confusion of colors. Even though going minimalist is the best option with white, Indian homes need their spark of color. Add in your favorites with subtle elements that don't disturb the eye and keep your interior designs looking clean.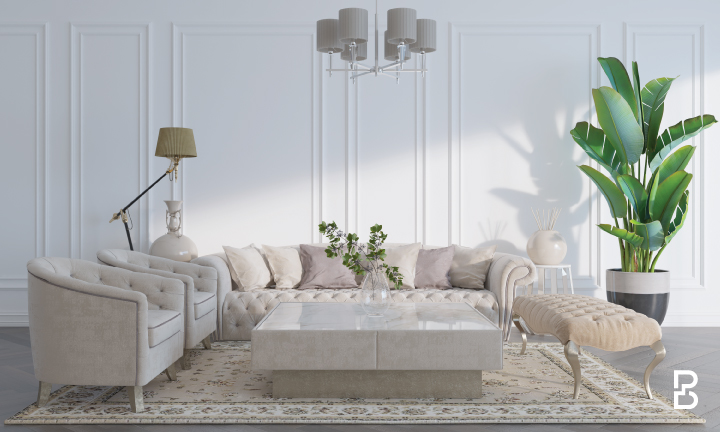 If you're still unsure about which wall paint you should go for in order to match with your interiors, read up on the importance of selecting the right color right here.
#4 Living Room Color Scheme: Grey
Not sure about bright colors for your next living room revamping session? Go for the more subtle minimalistic look with the classy grey! No more confined to dull offices or dingy warehouses, a shade of grey on your smooth walls can help turn the place around. A perfect backdrop to hand those stunning paintings you just picked up or to highlight your new Neo-classical sofa set.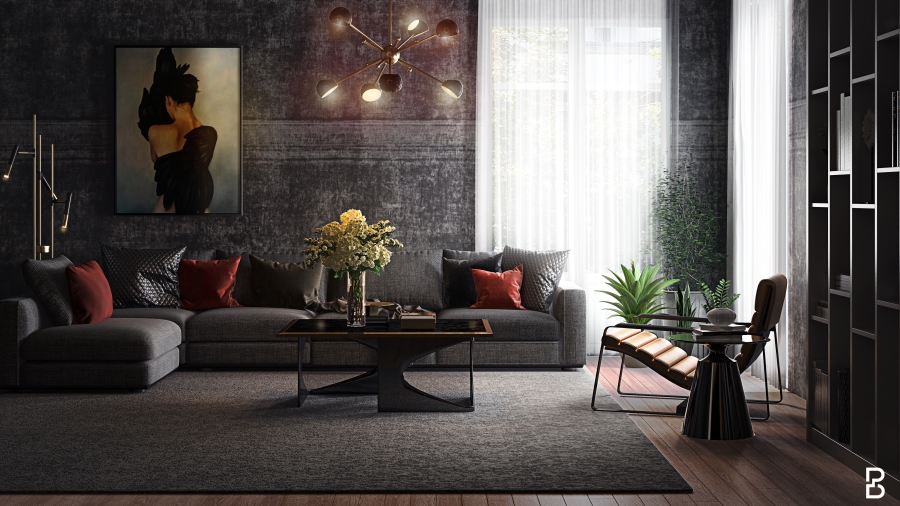 #5 Living Room Color Scheme: Yellow
Let's go over the bolder side, shall we? The most cheerful color on the color wheel – Yellow – is hardly ever used extensively in modern home decor. It might just be too bright for some days or too casual for some events. But as suggested previously, if you don't want to commit to something, approach it in a subtler way. Shades of yellow run from cheery bright to the much alluring golden-yellow. If not by introducing yellow furniture (we know how hard finding that can be), introduce your love for the color in accessories that you place around the room. A bold yellow rug, or yellow tufted sofa pillows – the possibilities are endless.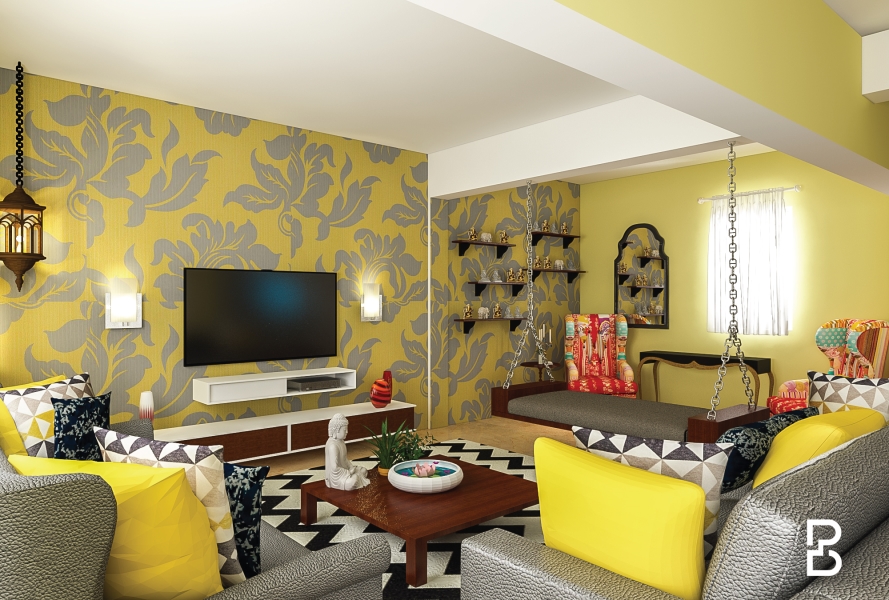 #6 Living Room Color Scheme: Black
This classic shade would usually make anyone run for the hills, but in the recent market research for interior wall paints – people are actually using this gothic shade in all its wonderful glory! Whether it is keeping it minimum or going bold, people are no longer shying away from this. Black has the ability to be used in the very finest details in the room – like lighting fixtures or as struts to separate other parts of an open-floor area. You can always pair black with white in the same area to have a balance and not overwhelm your guests.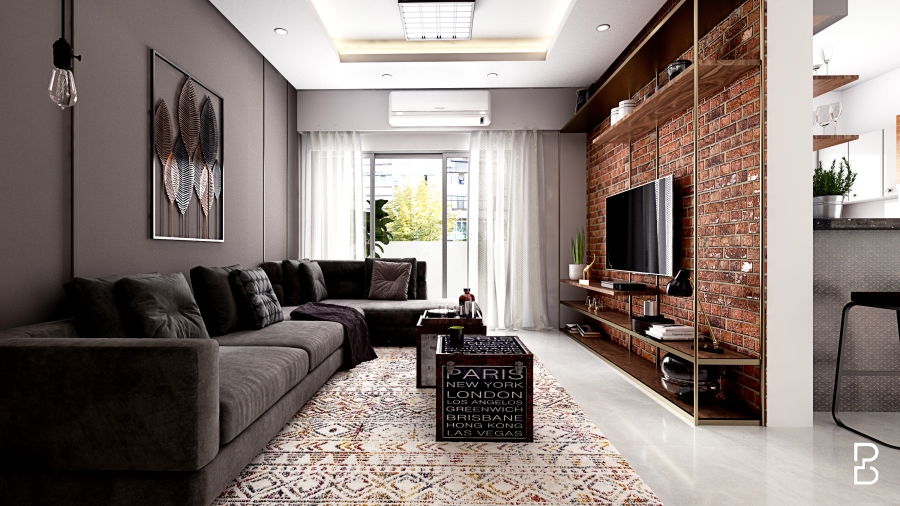 If we have helped you finalize on a color for your living room, and now you want to go out there and hunt down the very first painting service you find – hold up! We can help you in knowing the best brands you can trust when it comes to your dream home and also tell you about all the different types of paints you can explore to get the best out of your selection! So go ahead give this a read to decide on which color to go for and give your living room a makeover fit for the magazines!
Start your journey with us and craft your
dream home
Make a statement, build a designer home.