Painting is a necessary factor for a home. Over time, walls go through wear and tear and they need to be protected from the vagaries of time.
Painting gives it a protective layering and also lends charm and beauty to a home. It is not just the interior walls that require good painting but it is also the exteriors of a home that needs the protection of paint from time to time.
Choosing paint colours
Today various types of paints are available in market and these paints as they differ in prices, so do they differ in terms of content and outcome. You should select paints that are appropriate for your home. Remember, exteriors and interiors both need different kinds of paints; so choose wisely and thoughtfully.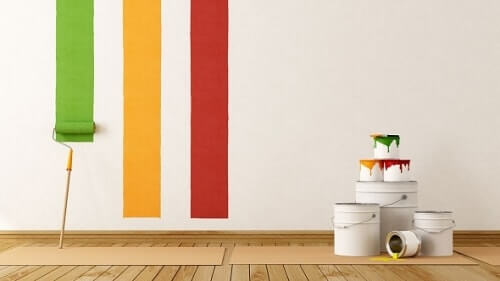 Source
Different types of paints
In India, the three main types of paints that are quite popular are the distemper paints, emulsion paints and enamel paints.
Distemper paints: It can also be referred to as the affordable one because it is much cheaper than any other kind of paints. Its components include chalk, water, lime and coloring agents that lend color. Choosing paint colors for interior will depend on the person's taste.
Emulsion paints: It is made by mixing oil and water and then adding an emulsifying agent.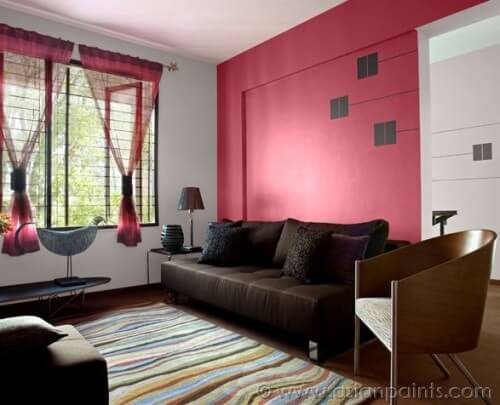 Source
Emulsion paints can be called as one of the superior paints in market today.
Emulsion paints can be washed and thus appropriate for homes where children like to scribble on walls.
Another advantage of emulsion paints is that they are available both for interiors as well as exteriors. They are also easy to apply.
Enamel paints: It is mostly the glossy paints and is available in different gloss percentages. Enamel paints are also washable.
An advantage of enamel paints is that as they can be applied on interior walls so can they be applied on metal and wooden surfaces.
Texture paints: Such paints are very popular in many homes. As the name suggests, texture paints can bring about the desired design and effects as per one's likes and preferences.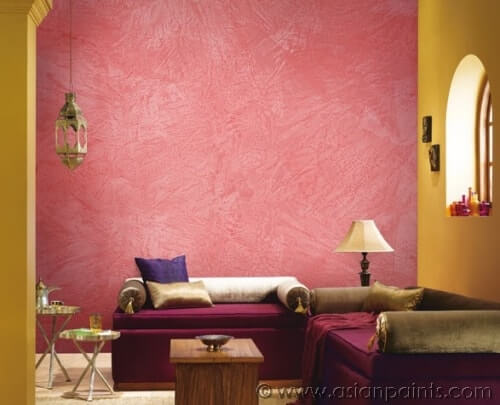 This paint is applied using rollers, putty knives, trowels and brushes. It is easy to create different patterns on the wall using texture paints.
Popular paint brands in India:
India is a land of colors and this is quite visible when people paint their homes. A multitude of colors and designs are preferred by most home owners. Some of the noted paint companies in India are the Asian Paints Ltd, Berger Paints, Imperial Chemical Industries (ICI), Nippon Paint, Nerolac Paints, Shalimar Paints Sherwin-Williams Company (SHW) and many more.
Asian Paints – the most preferred
When it comes to painting companies, Asian Paints tops the list because of its association with quality and durability. Also Asian Paints have a lot of services and paints in offer so that all kinds of people with different budgets too have something to pick up from Asian Paints. Asian Paints have different paints for all kinds of purposes.
Nerolac Paints
Nerolac Paints is the second largest paint company in India and is a leading brand in industrial paints. They offer industrial paints and paints for wooden and metallic surfaces, interior surface paints, water based emulsions, distempers and solvent based paints.
Berger Paints
Berger Paints is also a known name in the field of paints and has been in operation since quite some time. They offer industrial paints, decorative paints, paints for exterior and interior walls, special surface paints, and more. They also offer specialized services.
Imperial Chemical Industries (ICI) or Dulux
Dulux has been in India for quite long and is a trusted name in paint business. It has some of quite popular products such as paints for interior walls and ceilings, exterior paints, designer finishes, metal surface and wood surface paints along with tile protective paints, floor paints, gloss finish paints and so on. They also offer consultancy for color choosing and also offer painting services for homes.
Painting the exterior walls
Interior painting for a home should be done periodically depending on the wear and tear of the walls, so should the exterior walls. It also depends on the climate of the place as to how long the paints done on the exterior walls of homes in a certain place will last.
Usually the paints available from top brands are durable and made to last for a long time and tough enough to face any extreme weather conditions.
Here are some stages that you should check before painting the exterior walls of your home:
Check for damages, slits, rust, broken door hinges, breakages, damaged window sills or any other such damages. Repair it before you start painting. Any replacement of doors or windows can be done during this phase.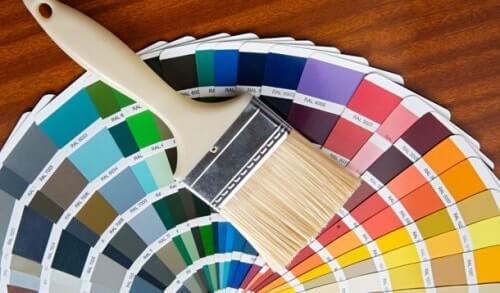 Take a look around and then choose
Second stage is the most important aspect and that is color choice. If you think you can just go about and choose any color for the exteriors of your home, then you are wrong. You should choose a color that can be coordinated with your surroundings.
If you are going to repaint the exteriors with a brand new color, then that could be expensive. But if you are just going to repaint with the same old color, then that shouldn't cost too much.
Also Read: 5 Ways to Make Art of Fingerpaint
Painting the home interiors
Painting the interiors of home is a task; after all, the interior décor is something that will reflect your taste and personality.
While choosing paint colors for interior walls for your home interiors, consider the factors such as layout of the room, the amount of natural light it gets, the door and window coverings, etc. Accordingly you will know what to highlight and what not to and thus you can choose a palette accordingly.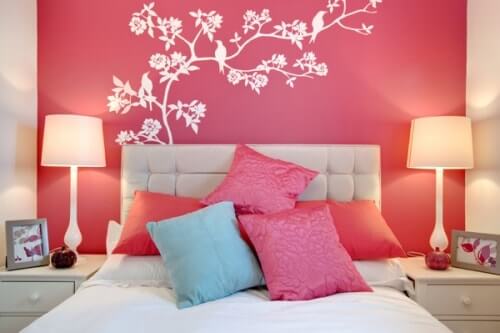 Also remember some colours look different during day time and at nights. So pick colours after taking into account these factors too.
Right choice of paints enhances the whole look of home interiors and makes the home look presentable, attractive and peaceful. Hence, choose the best when it comes to paints for home, be it for exterior walls or for interiors walls.
Popular living room colors
Your idea of the perfect living room can look very different from the living rooms of your friends. While it is up to you to decide on the theme and design style of the room, we can help you select the right color for the walls so that your furniture and your walls are in perfect harmony. The first impression that your guest receives from your home is from your living room. Also, the living room is where you return to in order to unwind with your loved ones. Here are some of our color options that are our designer's favorite for building the ideal Indian home decor. 
Blue
The Pantone Color of the Year 2020 is a front runner in this competition to adorn your living room walls. This color is said to symbolize one's best qualities – like trust, loyalty, wisdom, and confidence. It is also beneficial and works wonderfully in setting the right mood with its serenity or stark depth – depending on the shade you choose.
With all these pointers to keep in mind, doesn't it seem to be the most suitable color for a room meant for relaxation? From lighter shades like pale blue to depict the vibrant sky or the dark royal blue to reflect your opulent style. Blue gels well with any other color palettes and works on your behalf to bring out the best in your home interiors.
Green
Shades of green can work wonders for making an impact on the living room. A look of tranquility or one of great drama – it is a handy shade for transforming the space. From shades like dark moss and emerald green that help you define the accents of your home. To softer palettes like mints and tried and tested lime green.
If you're not that confident about something as permanent as walls, one can always go with using these colors on the upholstery. A few throw pillows in plush green velvets or the tried and tested lime green for the couch? Or even adding greenery with a few selected house plants – showcase your love for indoor plants and liven up the place.         
White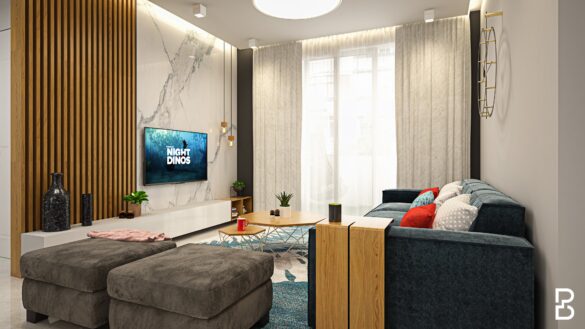 The go-to color for the commitment phobics. A clean slate for your walls so that you can have your fun with ever-changing colors in the form of quirky upholstery. White allows your eyes to rest and take in the vibe of the place after you come back home. Same for your guests! Let them engage themselves in free-flowing conversations and not lose themselves in the confusion of colors. Even though going minimalist is the best option with white, Indian homes need their spark of color. Add in your favorites with subtle elements that don't disturb the eye and keep your interior designs looking clean.      
If you're still unsure about which wall paint you should go for in order to match with your interiors, read up on the importance of selecting the right color right. 
Grey

Not sure about bright colors for your next living room revamping session? Go for the more subtle minimalistic look with the classy grey! No more confined to dull offices or dingy warehouses, a shade of grey on your smooth walls can help turn the place around. A perfect backdrop to hand those stunning paintings you just picked up or to highlight your new Neo-classical sofa set. 
Also Read: Living Room Color Schemes
Yellow
Let's go over the bolder side, shall we? The most cheerful color on the color wheel – Yellow – is hardly ever used extensively in modern home decor. It might just be too bright for some days or too casual for some events. But as suggested previously, if you don't want to commit to something, approach it in a subtler way. Shades of yellow run from cheery bright to the much alluring golden-yellow. If not by introducing yellow furniture (we know how hard finding that can be), introduce your love for the color in accessories that you place around the room. A bold yellow rug, or yellow tufted sofa pillows – the possibilities are endless.
Black 
This classic shade would usually make anyone run for the hills, but in the recent market research for interior wall paints – people are actually using this gothic shade in all its wonderful glory! Whether it is keeping it minimum or going bold, people are no longer shying away from this. Black has the ability to be used in the very finest details in the room – like lighting fixtures or as struts to separate other parts of an open-floor area. You can always pair black with white in the same area to have a balance and not overwhelm your guests.
If we have helped you finalise on a colour for your living room, and now you want to go out there and hunt down the very first painting service you find – hold up! We can help you in knowing the best brands you can trust when it comes to your dream home and also tell you about all the different types of paints you can explore to get the best out of your selection! So go ahead give this a read to decide on which colour to go for and give your living room a makeover fit for the magazines!