Today, as people are getting more aware of interior design, getting a modular kitchen is now high in demand. But a lot of people are still unaware of actually what a modular kitchen has. Apart from the pull-out wardrobes, and cupboards, taking care of the walls is another important element.
There are some people who may simply paint their kitchen walls with the desired shades. While there are some other people who prefer to have kitchen tiles for walls installed.
Why Tiles for Your Kitchen Wall?
Experts of kitchen designing mention that tiles are quite an important element for the walls of the Indian kitchen. There have been some potential reasons behind this.
The Indian Cooking Style
In whatever state of India you go to, one thing that you will find common is the art of cooking in oil and spices. The country is known for its spicy food that turns out to be extremely delicious. But while cooking these delicious dishes, most people end up messing up the countertops and the walls near the cooking area. The splashing of oil on the walls is a common reason in this case. Hence, installing tiles on the walls can work as a protecting layer. All you need to do is to wipe out the marks from the tile easily from the tiles that won't be otherwise possible in the case of a wall without the tiles.
A Different Look:
If the kitchen is looking too simple even after installing storage units, the next trick that you can definitely use is that of installing tiles on the walls. These Indian kitchen wall tilesare available now in different patterns and colour so that you can choose the right one that matches your kitchen interiors perfectly.
Tile Designs for Indian Kitchen's Wall
After you have understood the benefits of installing tiles on the kitchen walls, you must be searching for the best tile options that you can install on the walls. Here are some options in kitchen tiles wall design that you can try out to offer the desired look to your kitchen.
#1 Kitchen Tile Design: Vitrified Tiles
If you have a kitchen that gets dirty very easily, Vitrified Tiles are the perfect option for you. These tiles are made by compressing clay, silica, and quartz with the help of additives. Apart from being durable, these are available in different sizes, textures, and designs. If you have selected the right kitchen wall tiles texture that matches your kitchen interiors well, these tiles can look amazingly beautiful. Also, these are super easy to maintain as you can simply wipe out the oil and dirt from them with the help of soap and water. Also, the lustre of the tiles does not fade and can continue to look the same in many upcoming years.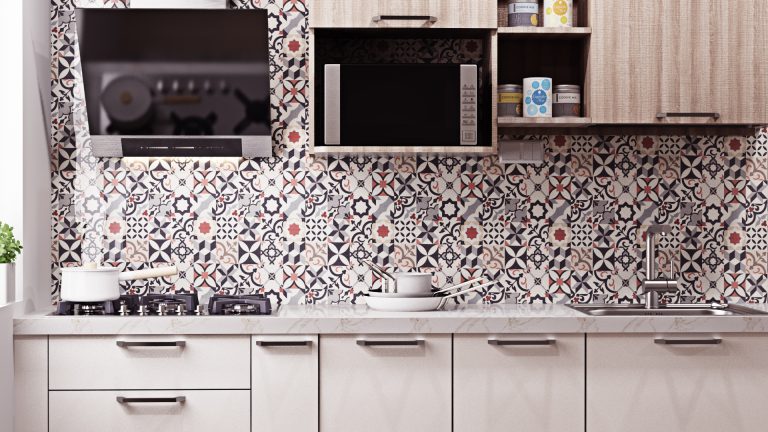 [
#2 Kitchen Tile Design: Glass Tiles
Another beautiful-looking option is the glass tile. Do not just go by the name glass, as these tiles are also extremely durable in nature. Also, these are available in different colours so that you can install the right one depending upon the interior of your kitchen. Also, it is quite easy to clean up the surface of the tiles when they get oil or dirt on them. The only problem with these tiles is that they are available in small sizes and so you may have to put in efforts to clean up the grout dirt regularly that will otherwise make the wall look dirty.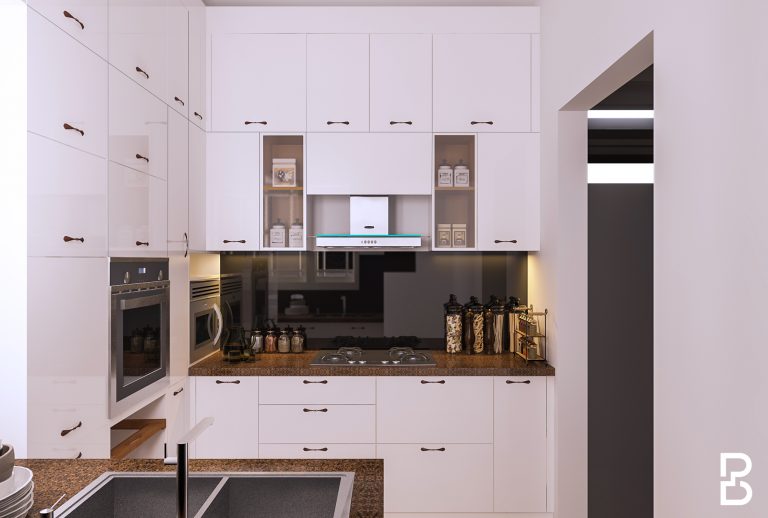 #3 Kitchen Tile Design: Terrazzo
For people who are searching for a cost-effective tile for the kitchen walls, Terrazzo can fit their budget absolutely. It is basically a composite tile that is made up of scrap bits of quartz, mirror, glass, and marble. These scrap materials are mixed in an epoxy solution and the tiles are made. These tiles are extremely easy to clean and maintain and are highly durable in style. The best thing about these tiles is that you can use them for the kitchen walls as well as your countertop.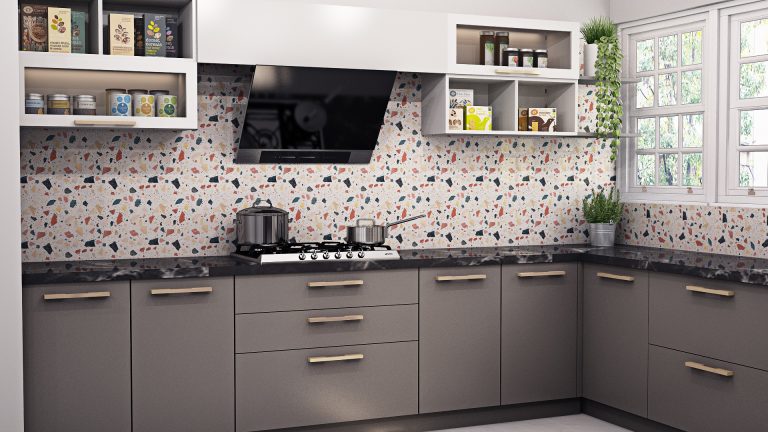 #4 Kitchen Tile Design: Natural Stone Tiles
Lp>If you have been looking for a simple design for kitchen wall tiles, natural stone tiles can be one of the best options to go for. This is another tile option that you can use for the kitchen walls as well as the countertops. These are made up of natural stones such as quartz, granite, travertine, and others. Though these are simple to look at, still they offer an amazing aesthetic to your kitchen if you have installed accessories in greying colour in the kitchen. There are also many people who may use white marble to increase the attractiveness of the kitchen. But as white marble is highly porous, it can get difficult to maintain them.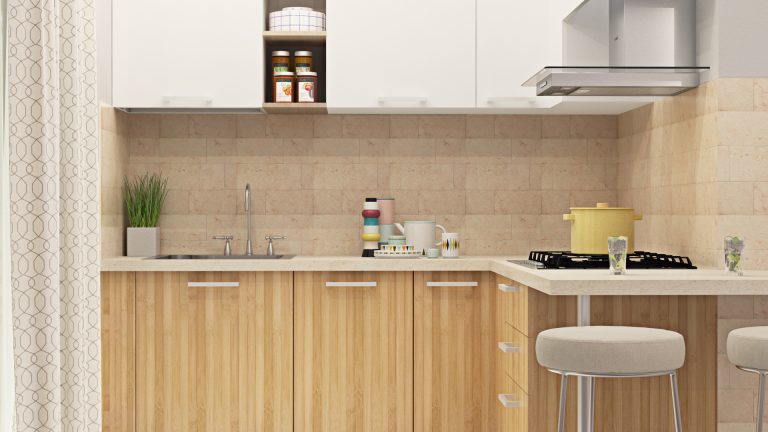 #5 Kitchen Tile Design: Moroccan Porcelain
Moroccan Porcelain tiles are mainly made up of dense clay and are most commonly available in the colour white. On the white colour, there are different designs drawn, mostly floral, in either a single colour or in different colours. These tiles are also extremely easy to clean as they have a glazed texture. You can select the right design and the right texture of the Moroccan Porcelain tiles from a wide range of options depending upon the look that you have in your kitchen.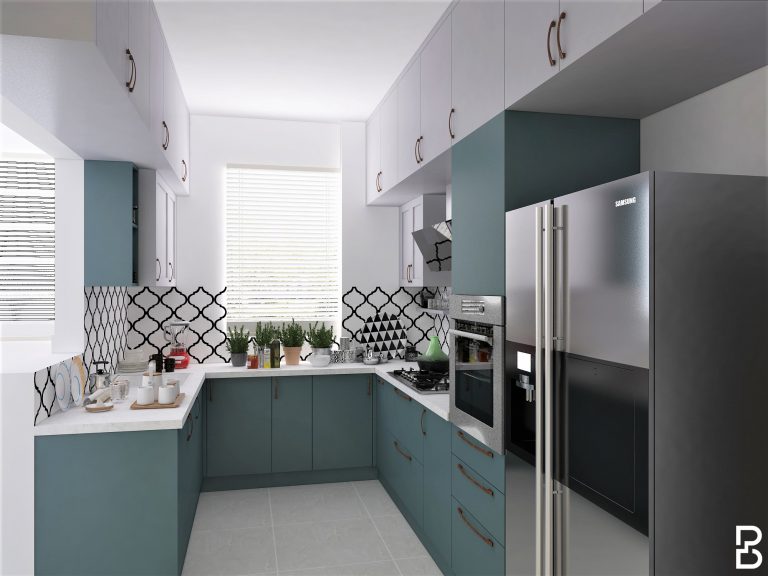 #6 Kitchen Tile Design: Ceramic Tiles
Ceramic tiles are one of the most popularly used kitchen wall tiles design India. These are clay tiles that are heated in fire and then stained in different colours. You can get them in different options such as matte, semi-glazed, or glazed options. Apart from different colours, these are also available in different designs from which you can choose the one that suits your kitchen interiors. In terms of pricing, the ceramic tiles are much cheaper than the vitrified tiles. But the problem with ceramic tiles is that they are not very durable and can chip very easily.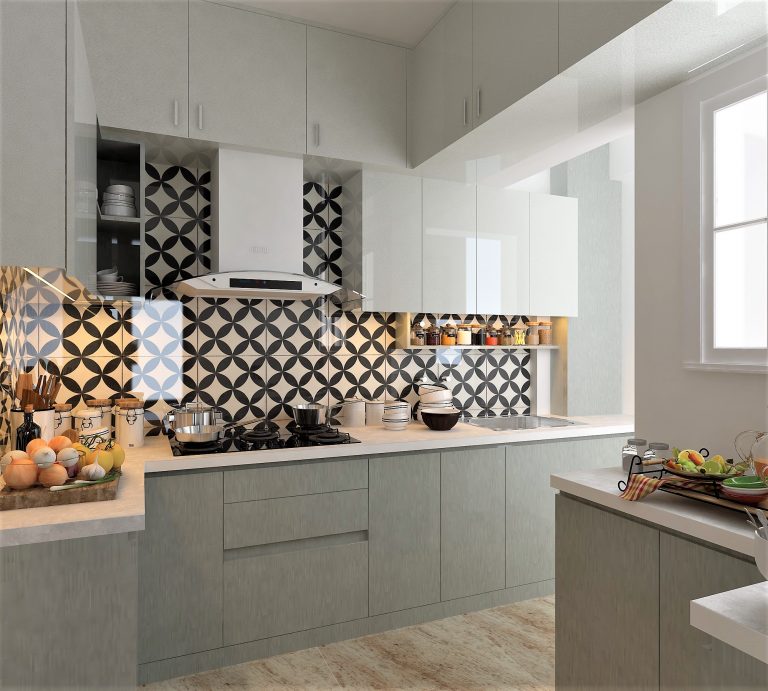 Thus, there are different kitchen tile options that one can have according to the kitchen interiors. While you install these tiles on the walls or the countertops, it gets essential that you wipe the oil marks and other stains immediately after a cooking session so that they do not create a stain. Of course, you can get rid of the stains too but this will mean putting in a much higher effort.
Start your journey with us and craft your
dream home
Make a statement, build a designer home.