Saving your kitchen walls from the onslaught of curry splatters and oil spills daily have never been this stylish. Backsplashes or kitchen tiles have been a must-have ever since modular kitchens launched in India. Recently, installing colorful or quirky patterned backsplashes to kitchens has become the hottest kitchen trend. We at Bonito Designs love experimenting with different styles to spruce up your space and turn your cooking time into a fun time.
Coloured Subway Tiles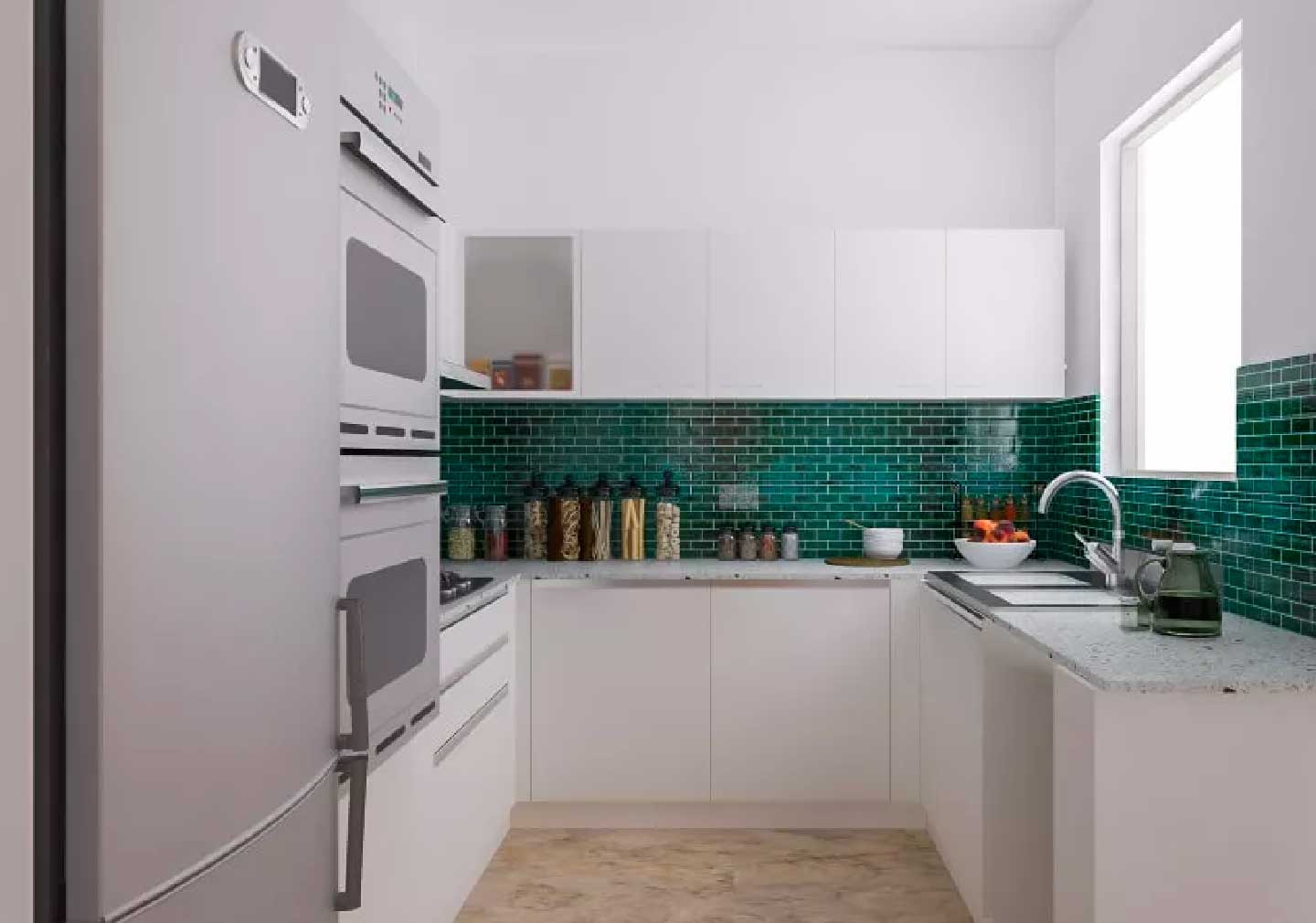 Add some fun elements in your minimalist white kitchen with backsplash tiles in vibrant colors – like the emerald green shown here! The rich color brings excitement to the otherwise simple white modular kitchen setup. A clean stripe of the design like here can be used in various shades that you can find. A big, bold line of this backsplash can run on all three wall space between the cabinets in a U-shaped kitchen.
Lacquered Glass Backsplash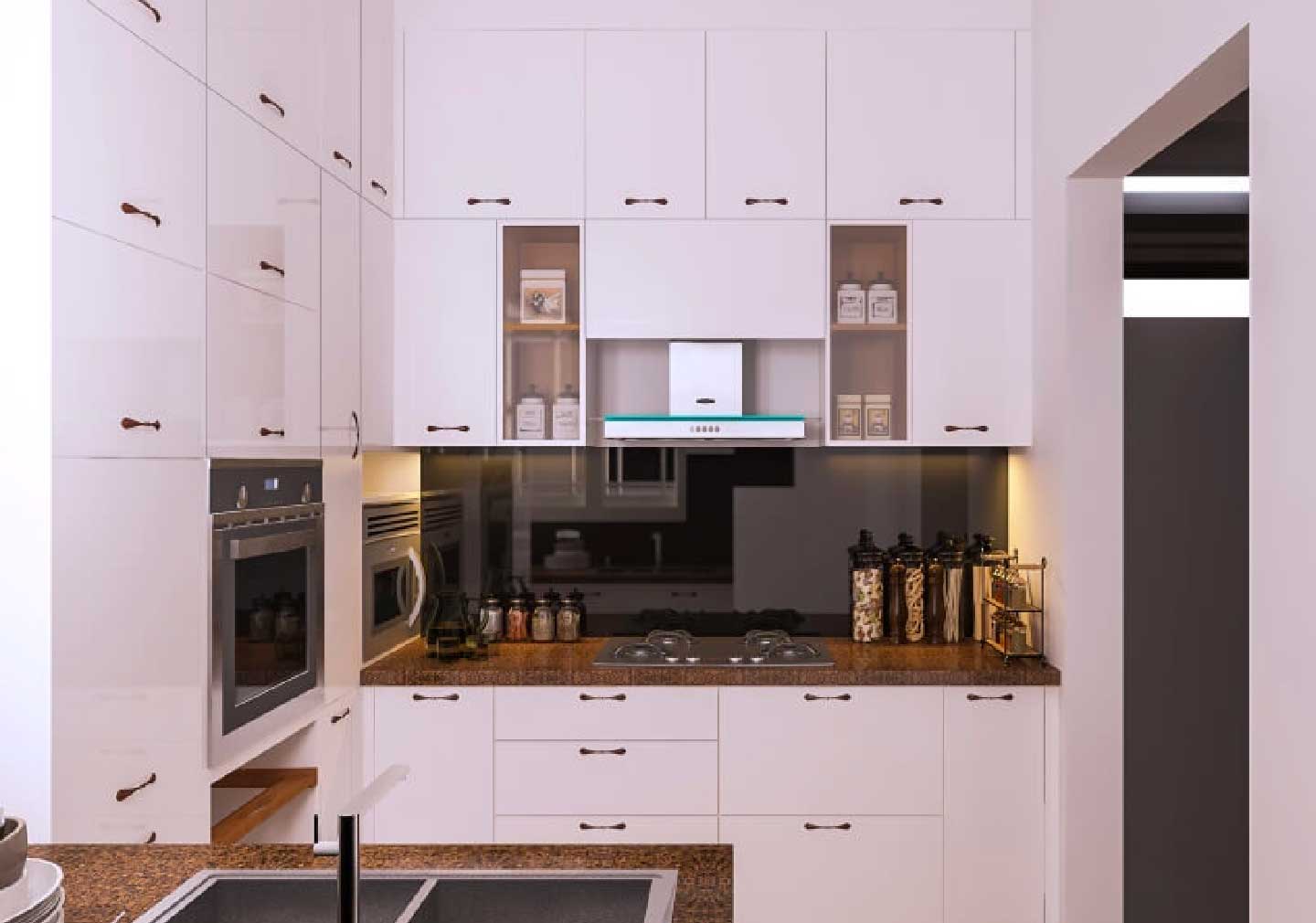 Lacquered glass can look very exquisite if paired with the correct color scheme of your kitchen design. These will not come in pieces like most kitchen tiles but will be a smooth finish product. It adds a layer of shine while being very functional and low maintenance too. All you need to do for cleaning the oil splatters is wipe it down with glass cleaner. These are also durable for being unaffected by moisture and scratch-resistant.
Bold and Colored Kitchen Tiles Mosaic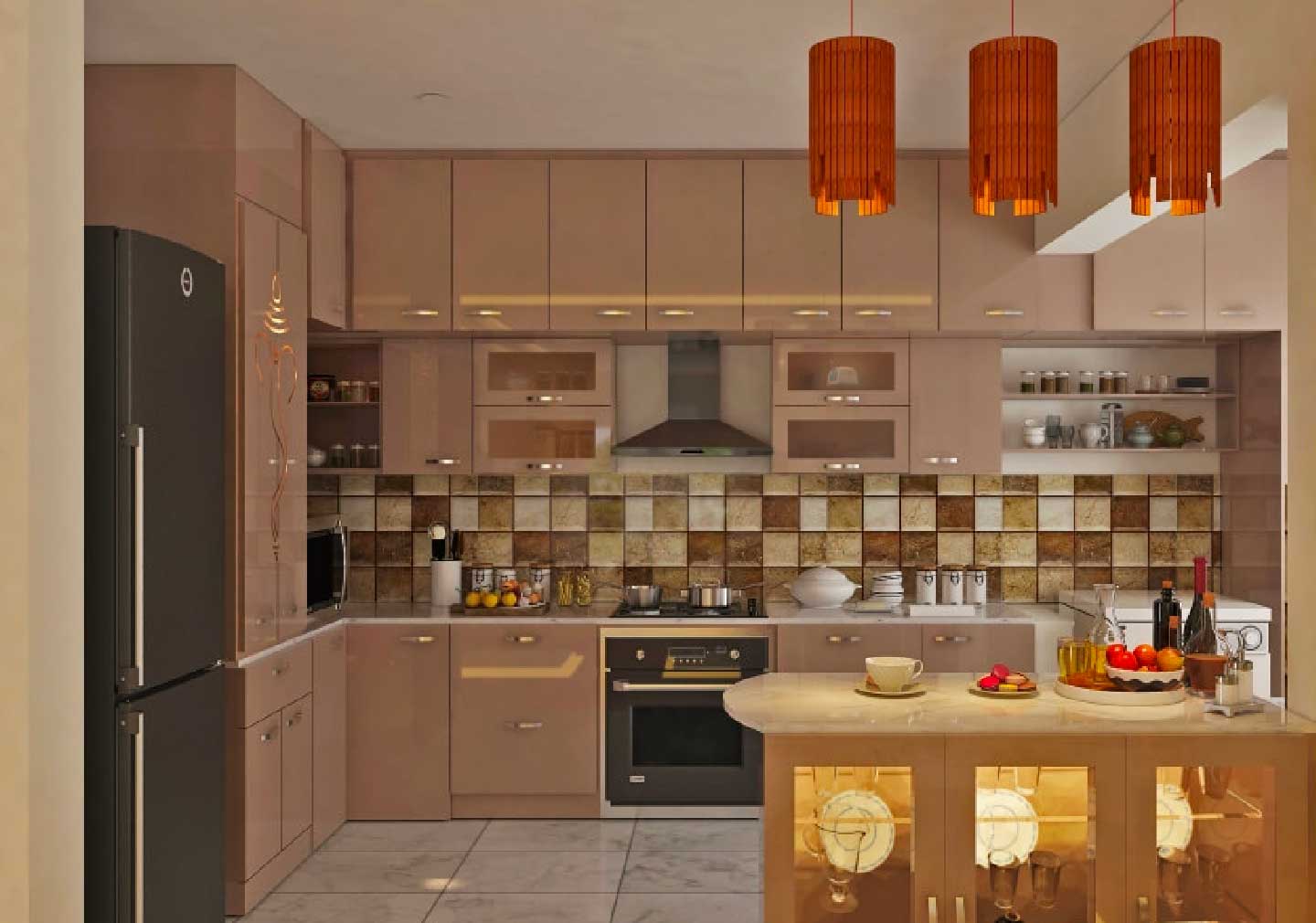 This is an upgrade on an old classic design for kitchens. Time to replace the same old dull colors for shades that are subtle but keep the space lively! One can, of course, experiment with the size of the tiles that they want to install. The above kitchen features a large-sized kitchen tile variety that gives a bold look when put in the desired pattern.
Small and Colored Kitchen Tiles Mosaic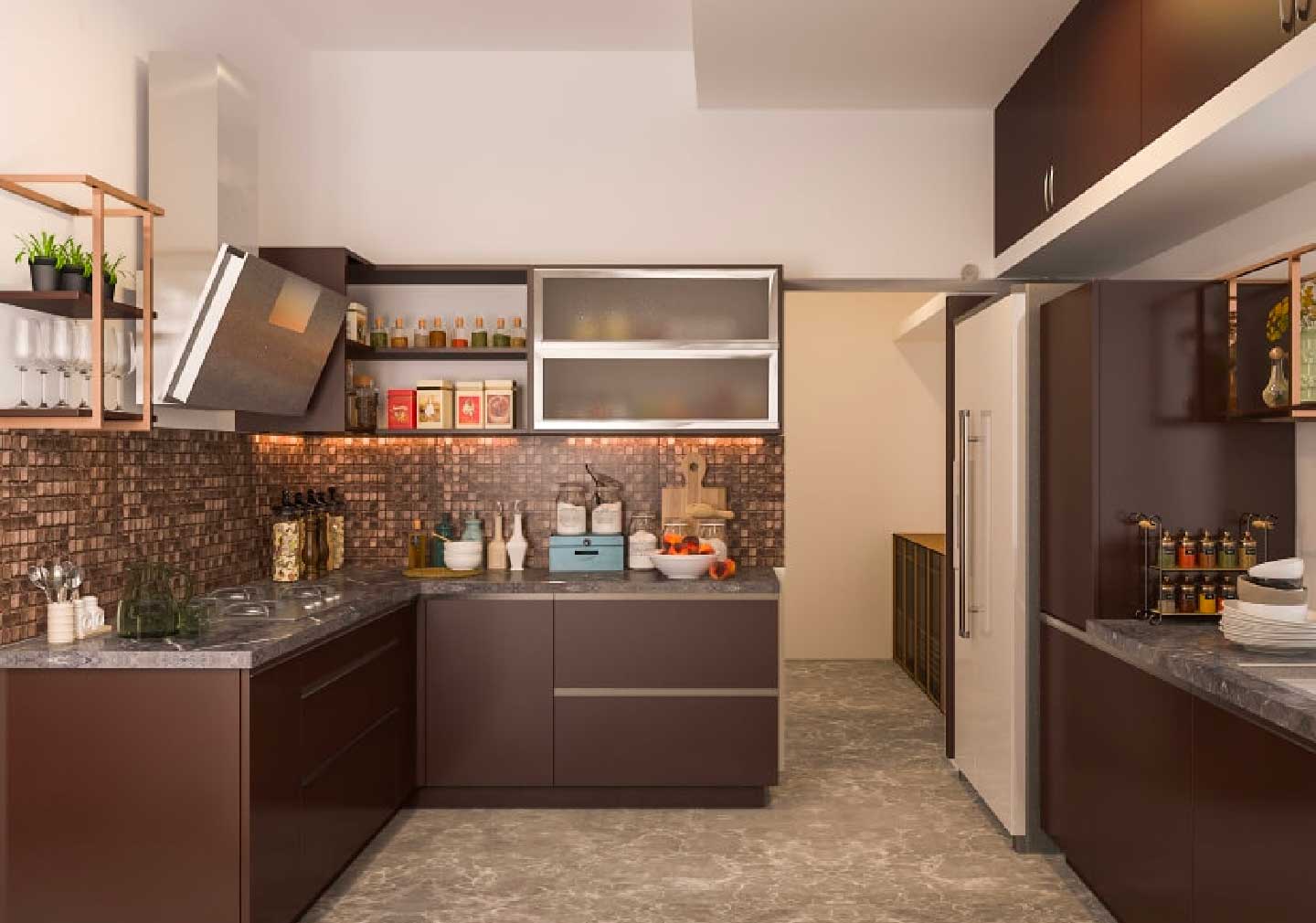 After the large-sized variety of colored tiles comes the smaller version, which suits a mosaic installed in a very tight place. In the above image, notice how just the cooking area walls are covered with these tiles. Work with your designer to get the tiles in a similar color of the cabinets to maintain uniformity in your kitchen design.
Honey Comb Kitchen Tiles Mosaic for Gradients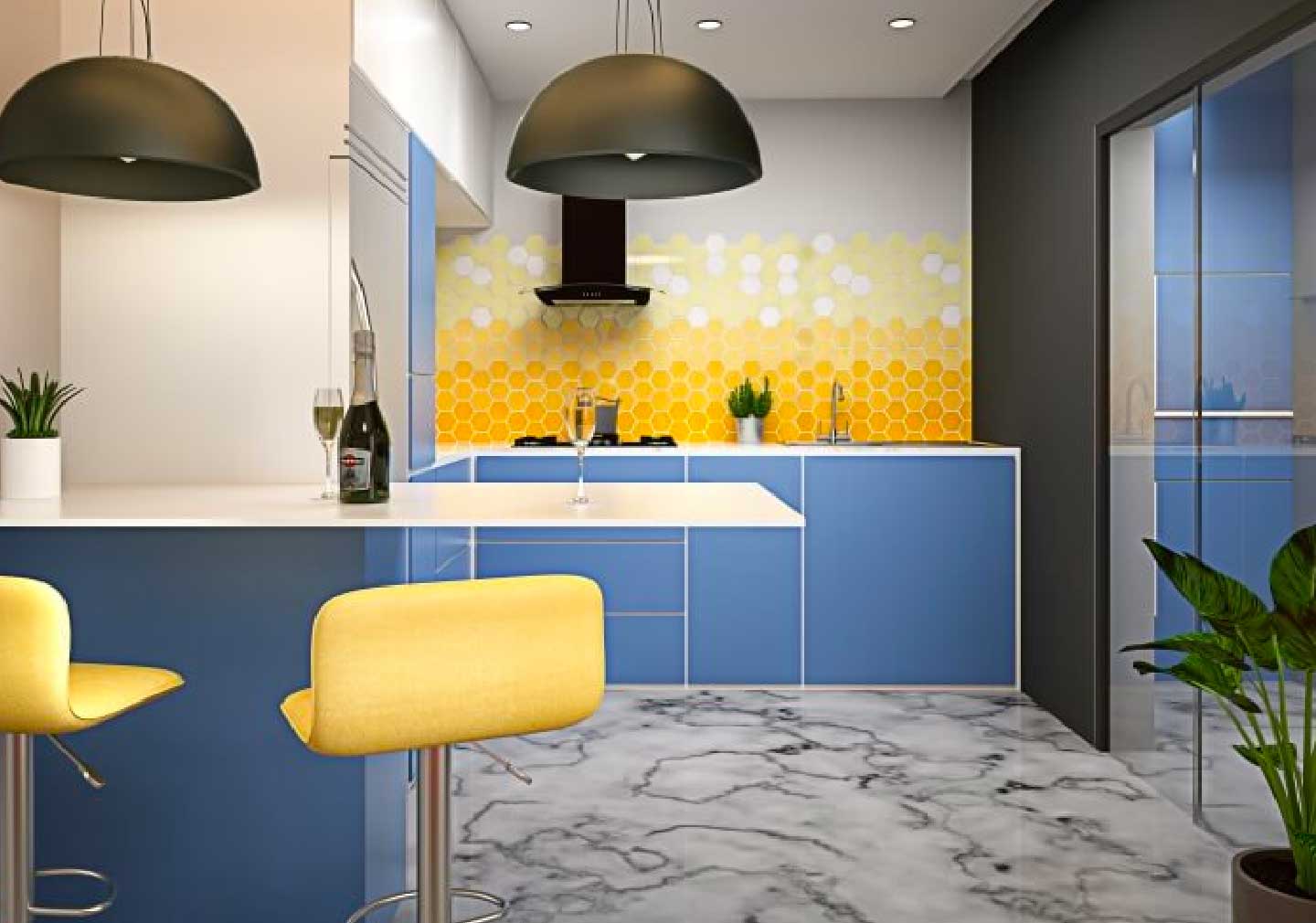 Bring a pop of color to your kitchen with vibrant hexagonal kitchen tiles that look like honeycombs. This shape is quite fun to look in a space with too many straight lines. Throw in a gradient with the colors, and you have something that you will never get bored of looking at when you cook.
Monochrome Wall Patterns with Kitchen Tiles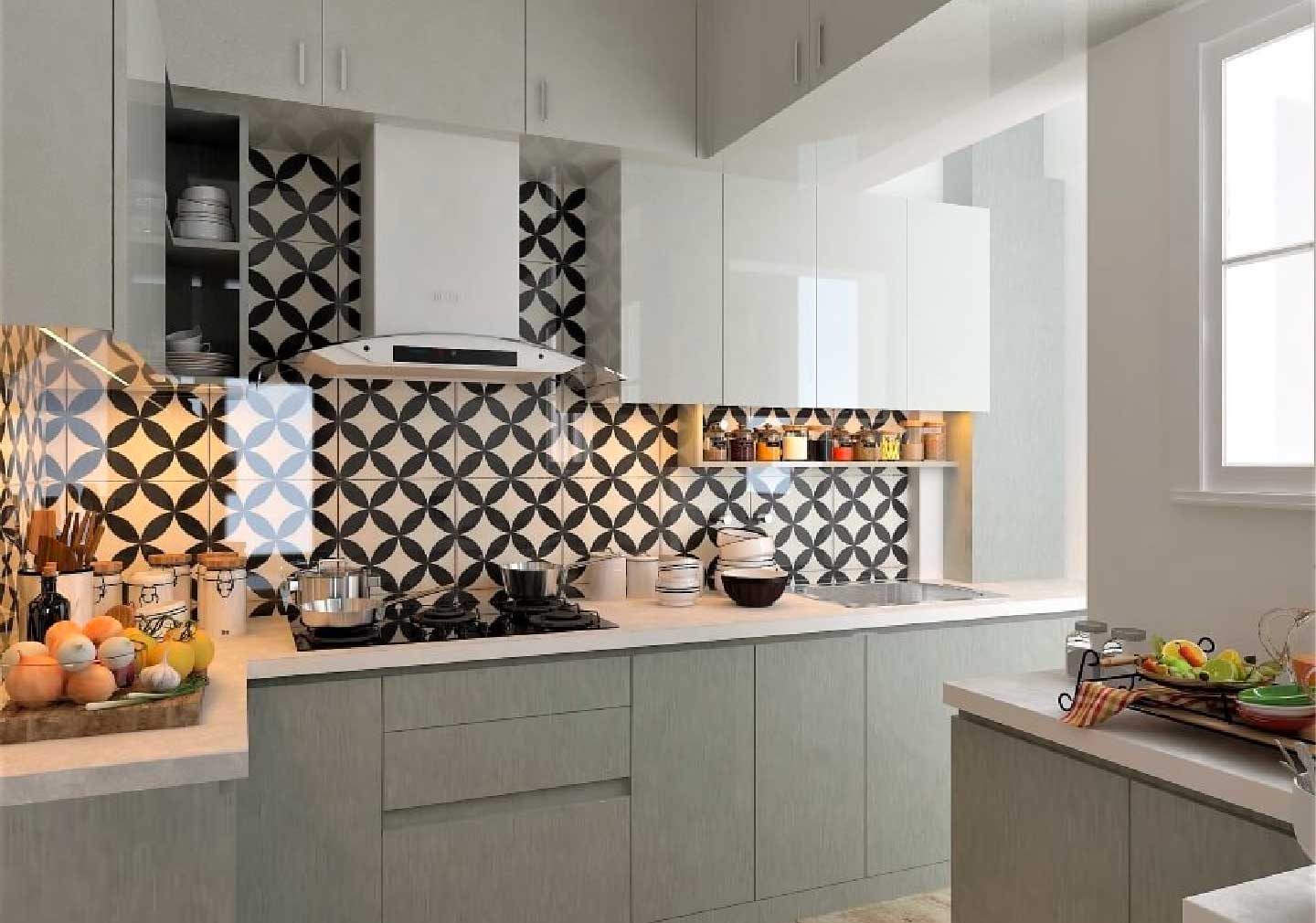 Even in a neutral-colored modular kitchen setup, black and white can play a role in making the space enjoyable. This crossed design pattern brings a fun element as well as depth to the kitchen. A sharp contrast to the otherwise pale finish of this modular L-shaped kitchen, these tiles add a very fresh new look.
Decorative Pattern Stickers on Kitchen Tiles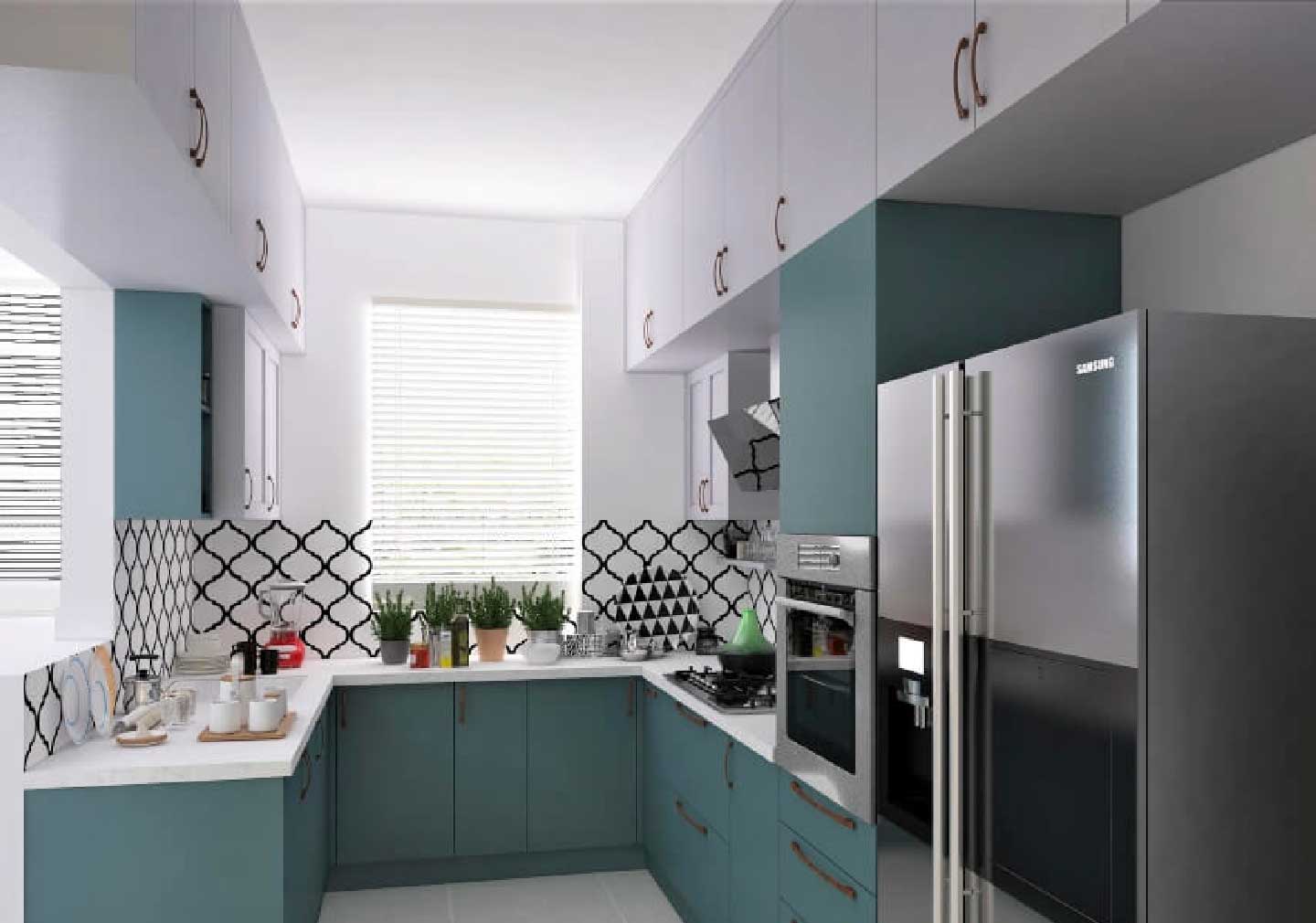 If your kitchen always had white tiles,  you probably would not want to remove and ruin your walls. To install designer kitchen tiles like shown above, here is a smarter option. Vinyl stickers available in various patterns and designs can be applied onto the tiles to achieve the same look. While the installation process for the same requires some practice beforehand, it is relatively easy to rectify any mistakes since they are peelable.
Mixed Pattern Backsplash with Kitchen Tiles

If you are like us and cannot decide on only one pattern for your kitchen tiles – we encourage you to get them all! No matter the varied collection you will end up bringing home, you can always put them together to create something far more interesting than any other tile design. Take the above kitchen for example. The backsplash for this kitchen is made up of tiles with designs that are as unique as the space itself. These kitchen wall tiles add true uniqueness to this simple and functional galley kitchen.
 
Can kitchen tiles be used in other places?
Absolutely yes! Kitchen tiles can be used in various ways around the space and not only as a backsplash. For example, lacquered glass can also be used on cabinets for a uniform look all over the kitchen. Take advantage of the wide range of colors that a lacquered glass finishing is available in and create a stylishly vibrant kitchen for yourself. Here is how.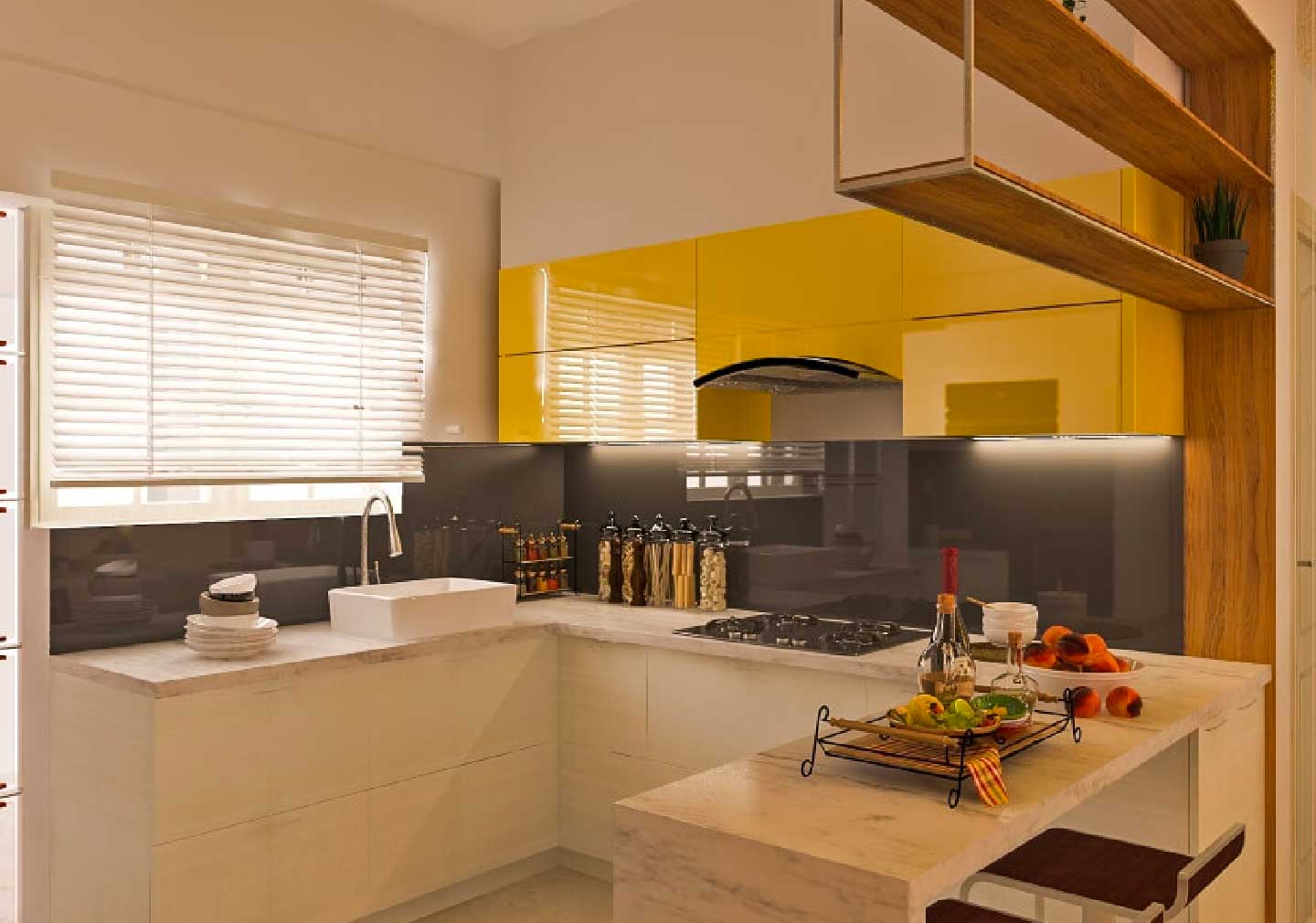 One can also use marble or granite used for kitchen flooring or countertops as backsplash materials. Since marble and granite are quite expensive, it is best to limit the amount used. Limited usage also keeps the space looking minimal and neat. Below are two examples of using granite and marble as both kitchen floor tiles and kitchen wall tiles.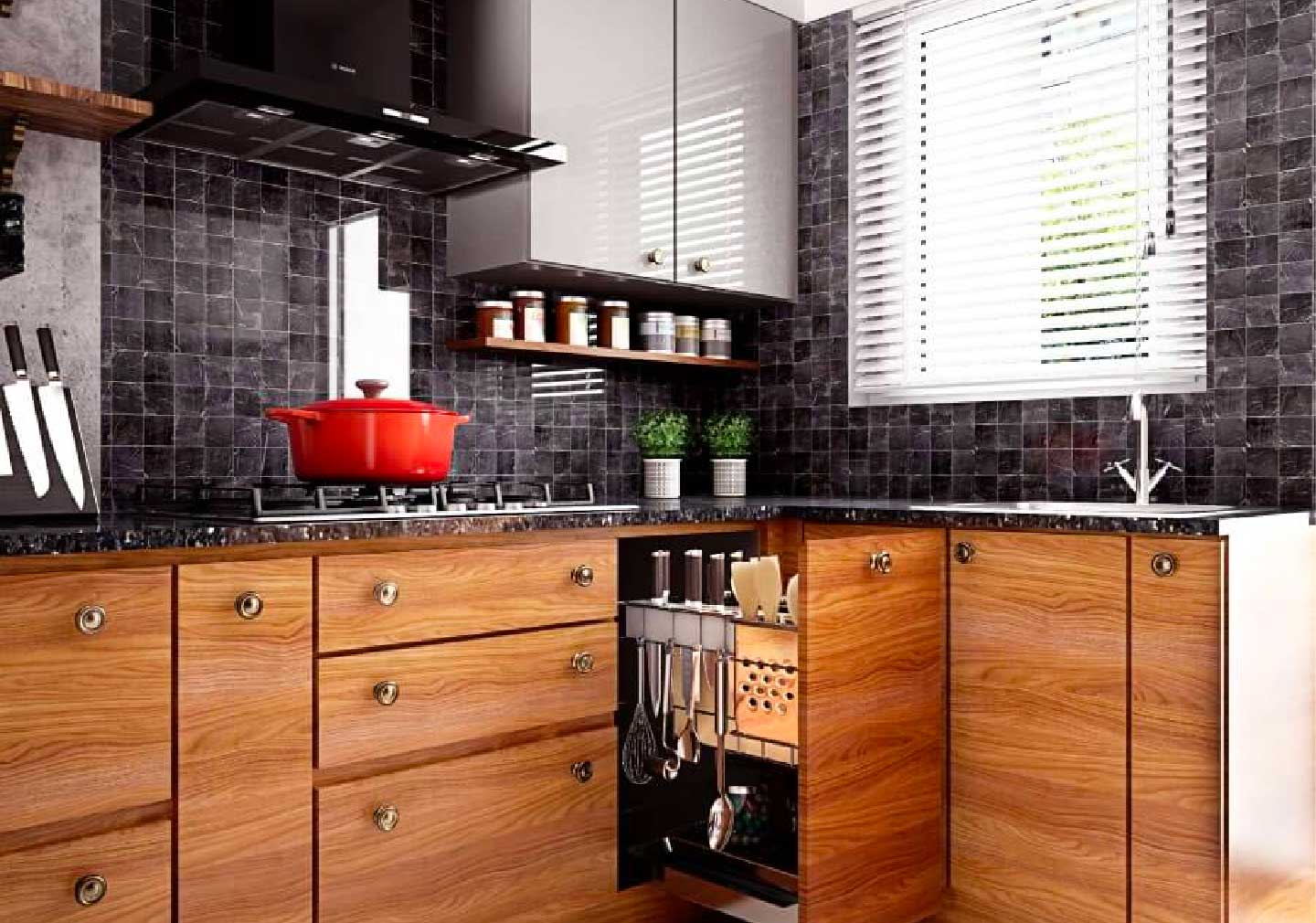 Another way to get the same finish as your marble countertop or flooring for your kitchen walls is to apply wallpapers of the same design with a glossy finish. Glossy wallpapers that are washable is the best for this situation due to oil splatters. Installing these will cut down your cost but will not stop your kitchen from getting a dream finish like this!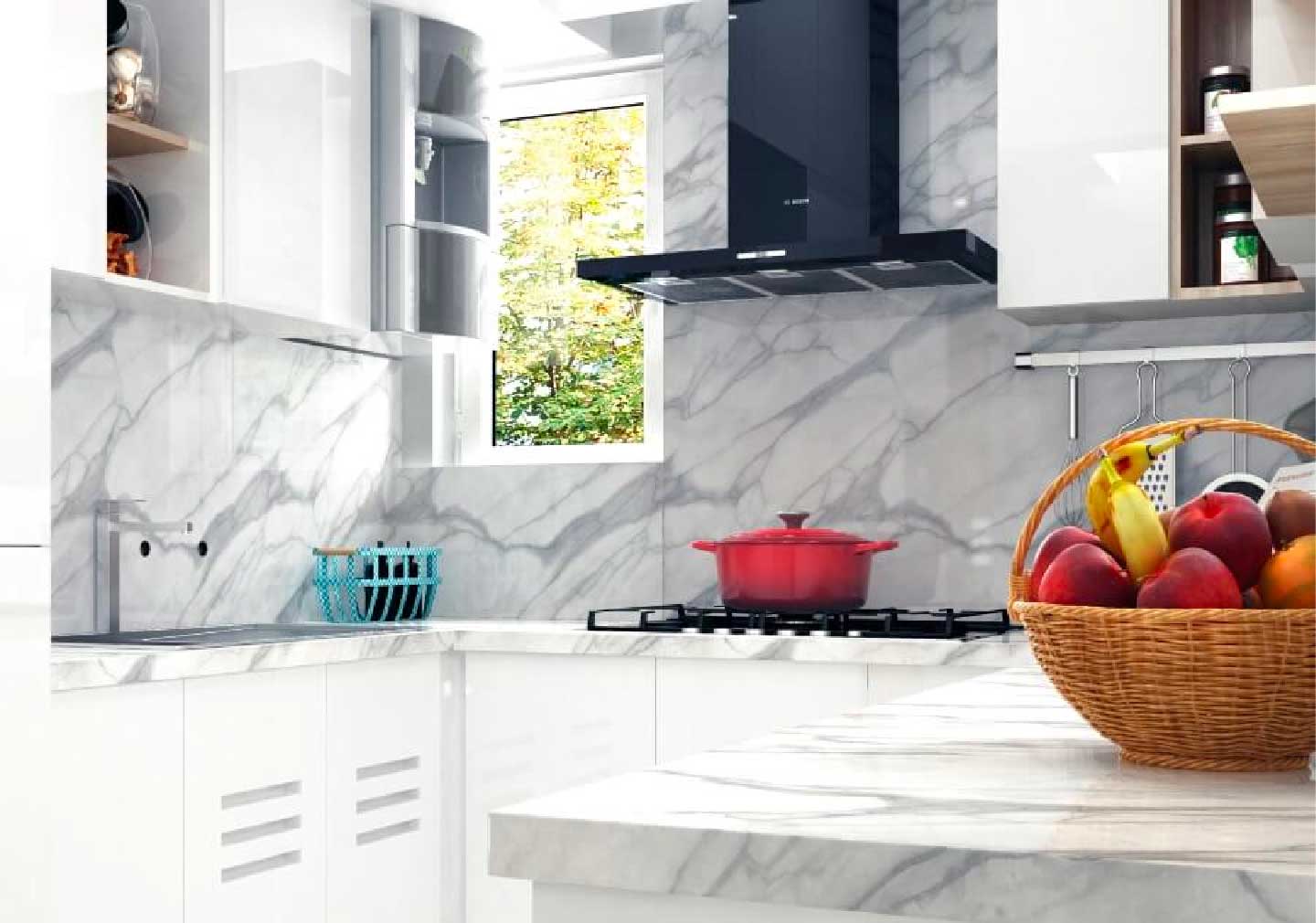 Check out our blog on the best kitchen trends of 2020 to know which kitchen is the one for your new home. Deciding on color schemes from kitchen floor tiles to kitchen wall tiles will become much easier for you and your family. Kitchens are the center of a happy and healthy family, and Bonito Designs makes sure that this space is a stylish one. Call our design experts at 8066085646 to book an appointment with the best designers in Bangalore. We will help you plan a unique kitchen and more – just for you and your family.