Food is definitely everyone's favorite but what about the place where it's cooked? Kitchen is undoubtedly the most important place in your home! Modular kitchen design trends have grown in popularity in recent years. These kitchens are made with discrete modules or sections that are simple to put together and take apart, making them perfect for people who move or renovate their houses regularly. This article will examine current modular kitchen design trends that are well-liked by homeowners and interior designers.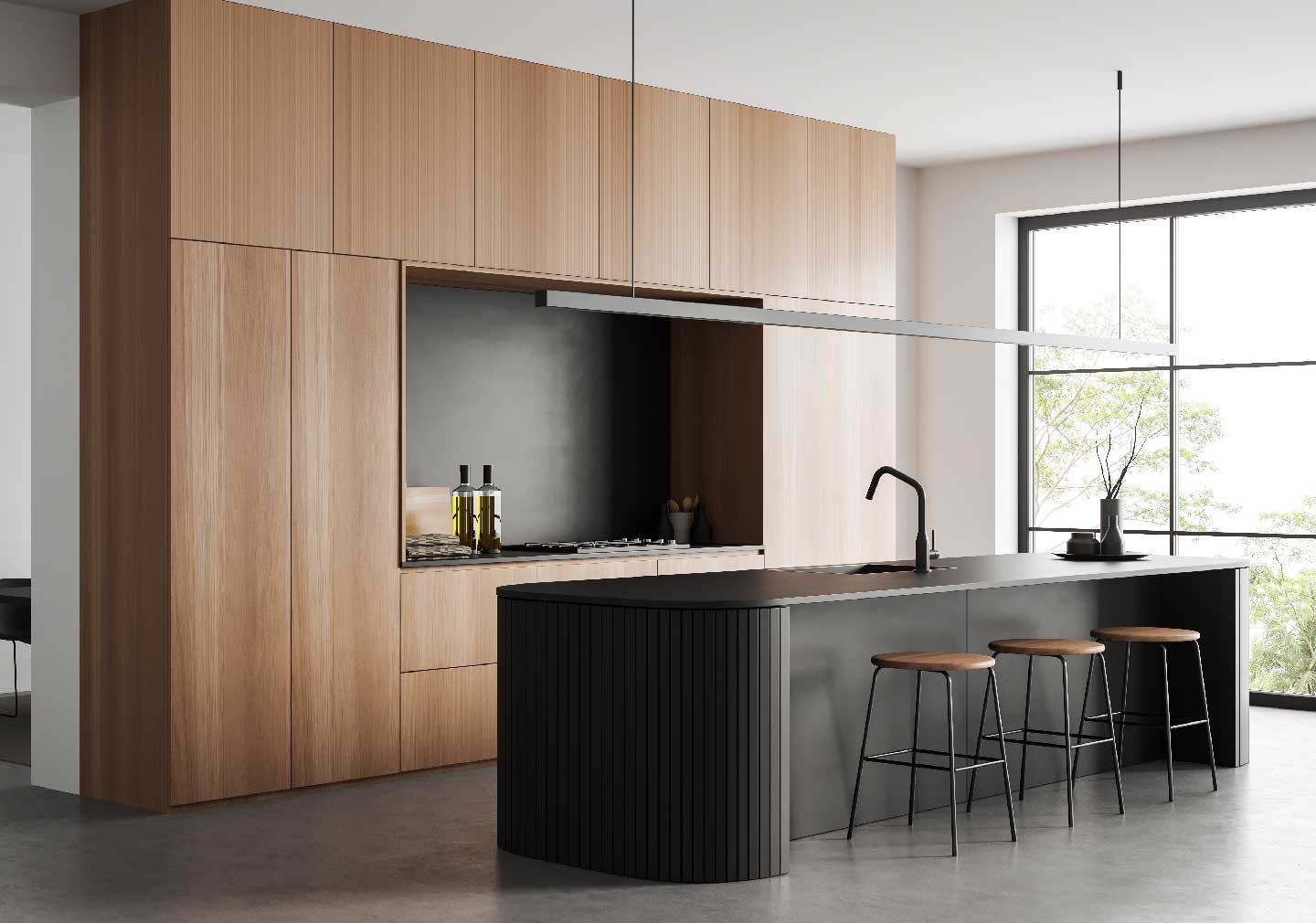 With cutting-edge technologies and gorgeous aesthetics, the modular kitchen interior design is unquestionably the most effectively built kitchen available. The modular kitchen trends are increasingly proving to be popular options, particularly now that modern apartment kitchens are replacing the classic kitchen interior design to accommodate the fast-paced lifestyle. The design for a modular kitchen is indeed the perfect blend of style and efficiency which is constantly evolving.
To improve the cooking experience, new kitchen trends are developing. At Bonito Designs, we make sure your kitchen space or kitchen corners suits your desires and working criteria. Whether or not someone is interested in investing in modular kitchen design ideas, keeping up with these trends can broaden your understanding of kitchen interior design. Some of these trends are just amazing and they improve the functionality of the kitchen. If you keep these trends in mind when you construct your modular modern kitchen design, you will be more prepared.
10 modular kitchen design trends 2023, which you cannot ignore
One of the most fascinating rooms in a house is the kitchen since it's where all the magic happens. The kitchen is where socializing, spending quality time with loved ones, and making memories all naturally occur in addition to cooking. Recent social changes and technical advances have dramatically altered kitchen design. Here are a few of the most significant modular kitchen design trends for 2023:
Simplicity can never go out of style!
The simplicity and minimalism of modular kitchen interior designs is the first trend. Several homeowners are choosing a minimalistic design that emphasizes functionality above ornate aesthetics. The focus of this design movement is on plain, unadorned surfaces and straightforward, clean lines.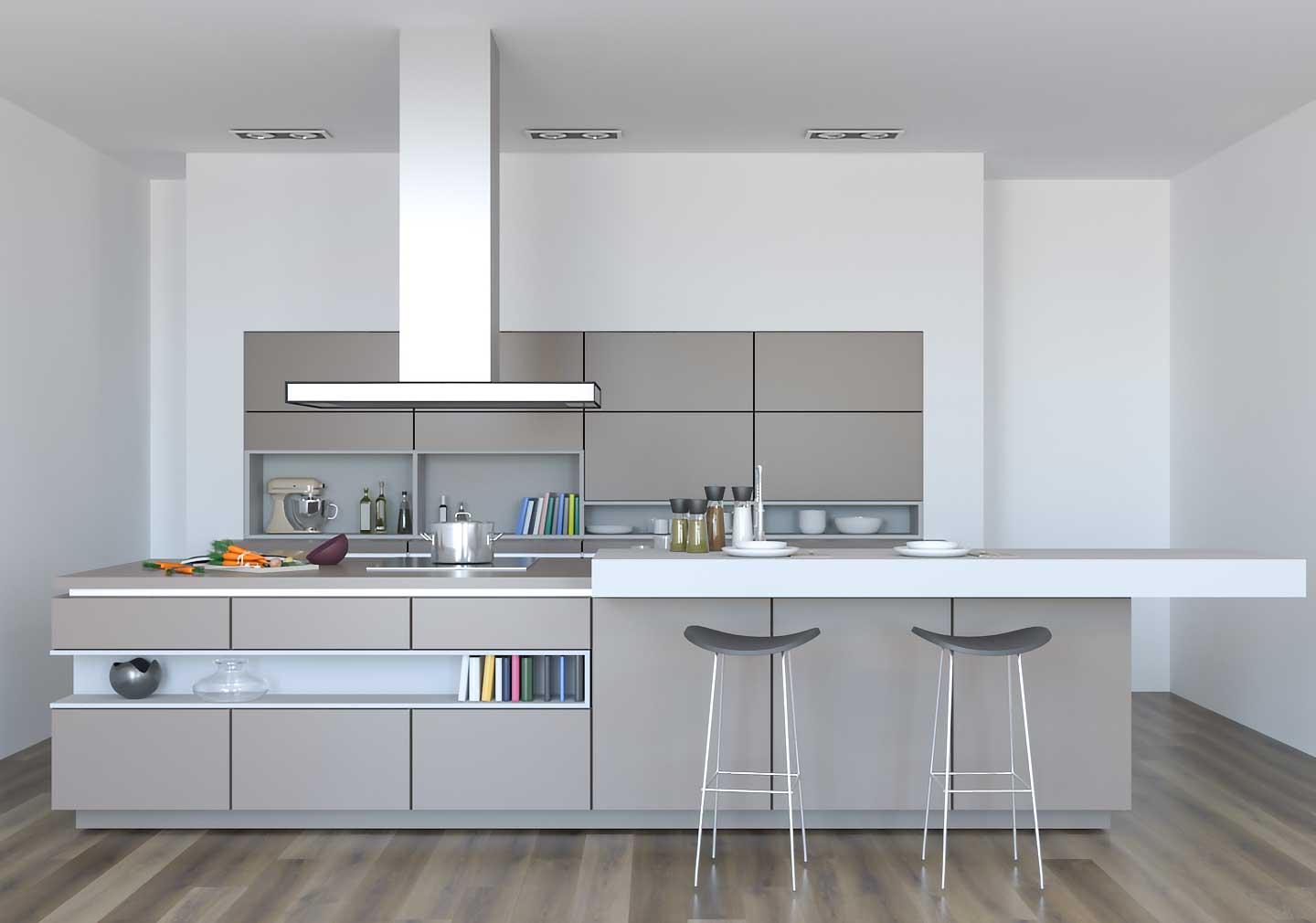 A warm, organic sense can be created in the kitchen by using natural elements like wood and stone, which are highlighted in any minimalist design. Forget the outdated kitchen trends of 2022 and welcome simplicity this 2023!
Enhance with bold colors and contrasting finishes
Despite the popularity of minimalism, some homeowners like a more flamboyant appearance for their modular kitchen interior designs. Vibrant hues like red, blue, and green are getting more and more popular, as are contrasting textures like glossy and matte.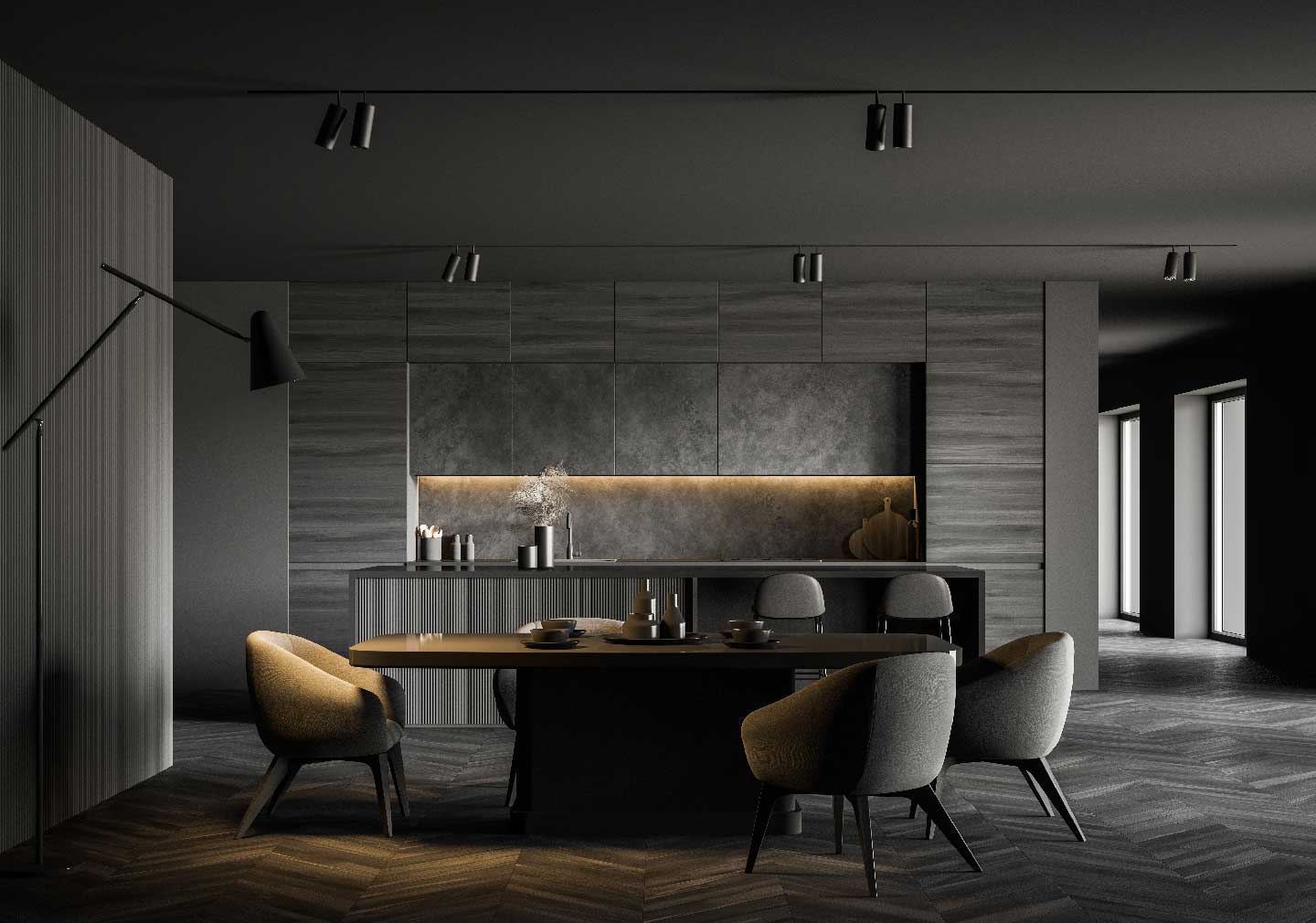 Stunning finishes can be utilized to draw attention to particular kitchen features or to establish a striking center of interest.
Make it smart and technology friendly
Another trend for 2 BHK, 3 BHK and apartments designs that is gaining popularity is the incorporation of smart technology in modular kitchen design trends. Smart stoves and refrigerators which may be operated remotely through a smartphone app are becoming increasingly popular among homeowners. These devices can also be configured to carry out particular tasks, like preheating the oven or launching the coffee maker, at particular times.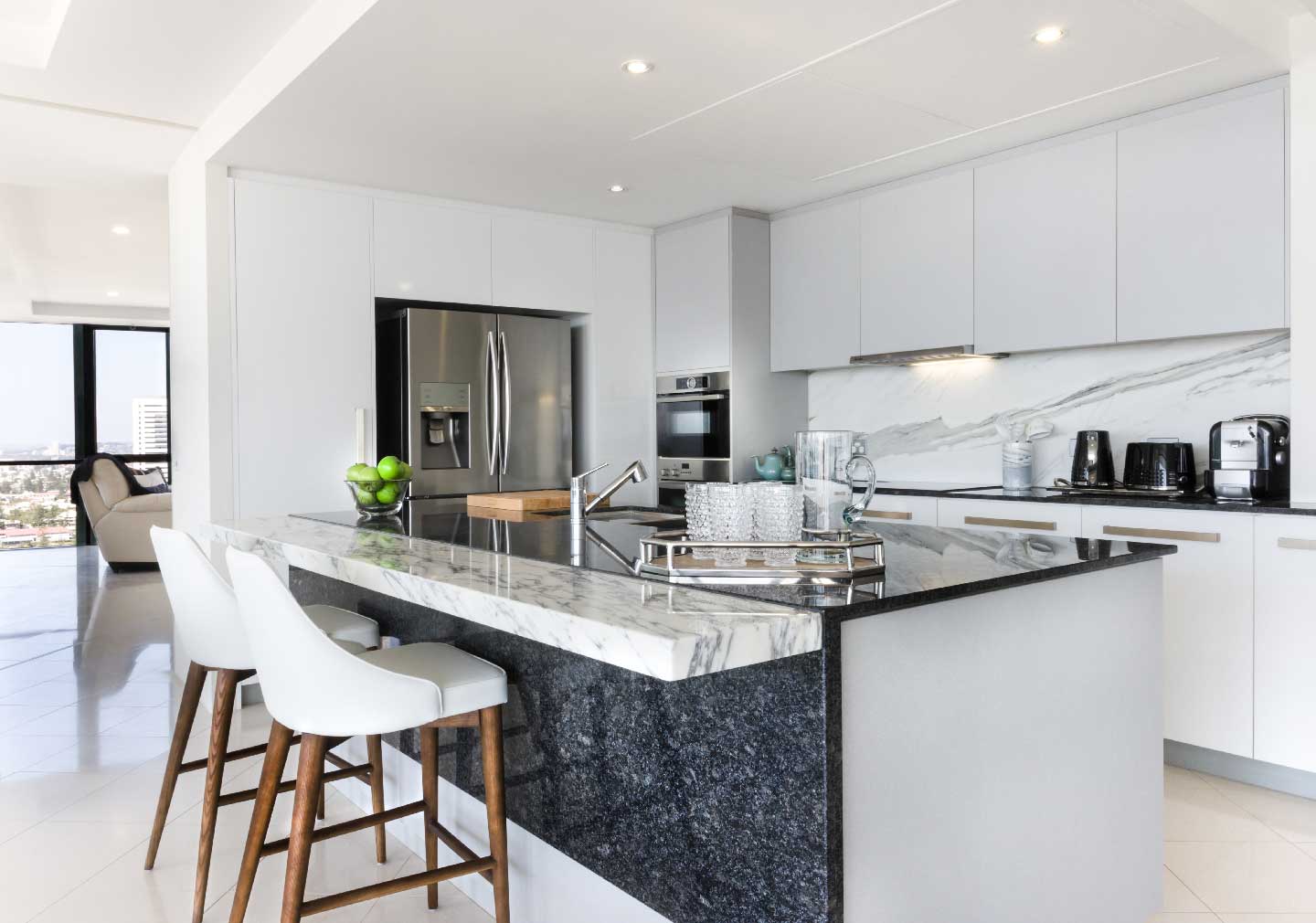 Get customized storage solutions
Every kitchen interior design has storage as a top priority, and modular kitchen ideas are no different. Homeowners are choosing drawers and cabinets that are especially made to hold specific things, such pots and pans or spices, as personalized storage solutions become more and more popular. These specialized storage options can aid in optimizing available space and reducing kitchen clutter.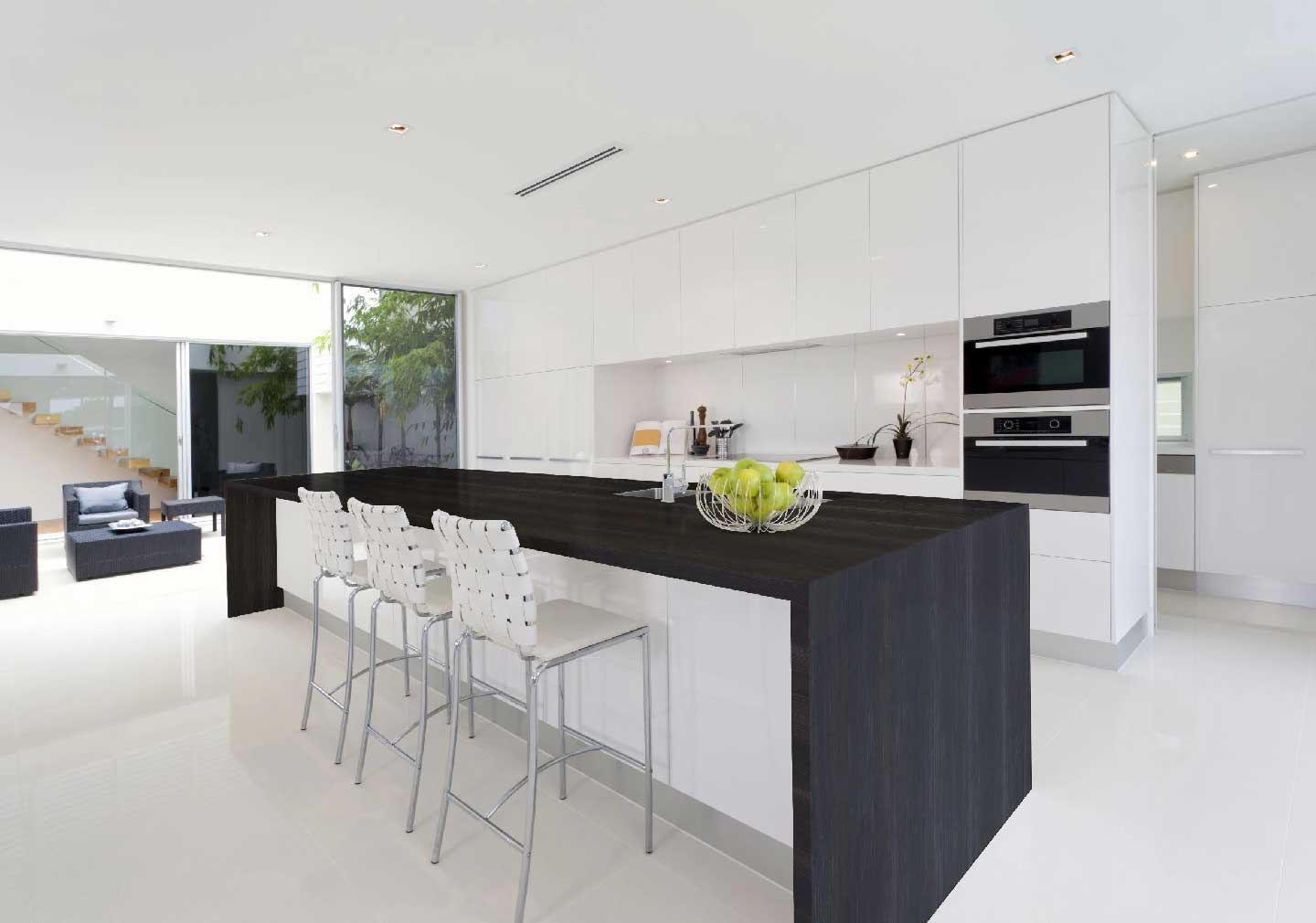 Open shelving is another trend in modular kitchen design trends. Open shelves can be used to showcase both ornamental and practical goods, such as utensils and cookbooks, as well as dishes and glassware.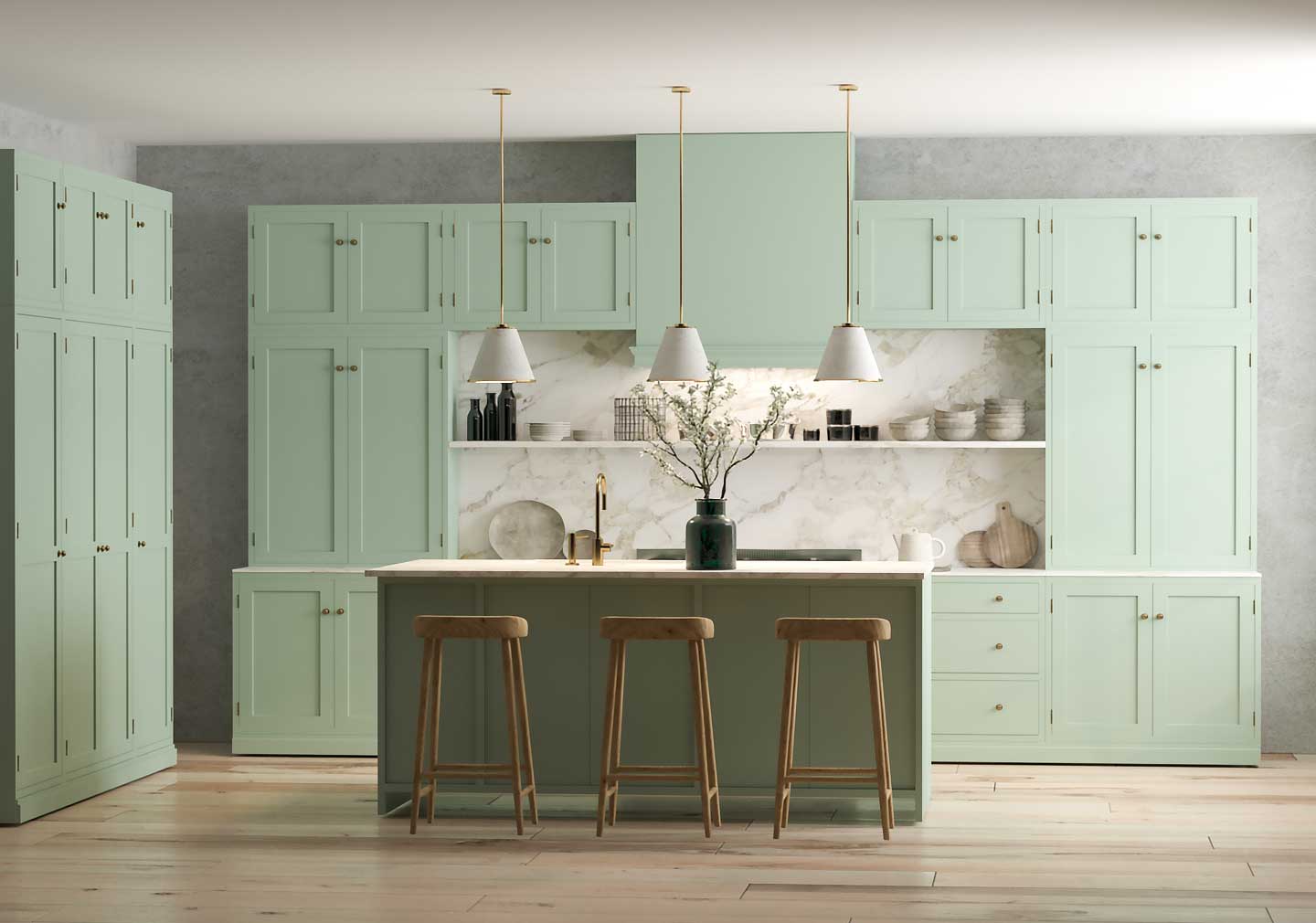 This design concept can make it easier to access frequently used products and give the kitchen a more open, spacious atmosphere.
Create multi-functional workspaces
Breakfast bars and kitchen islands are common examples of multipurpose workplaces included in modular kitchen designs. These work rooms can be utilized for cooking, eating, or for socializing with loved ones. This style highlights the significance of designing a kitchen that is both practical and cozy.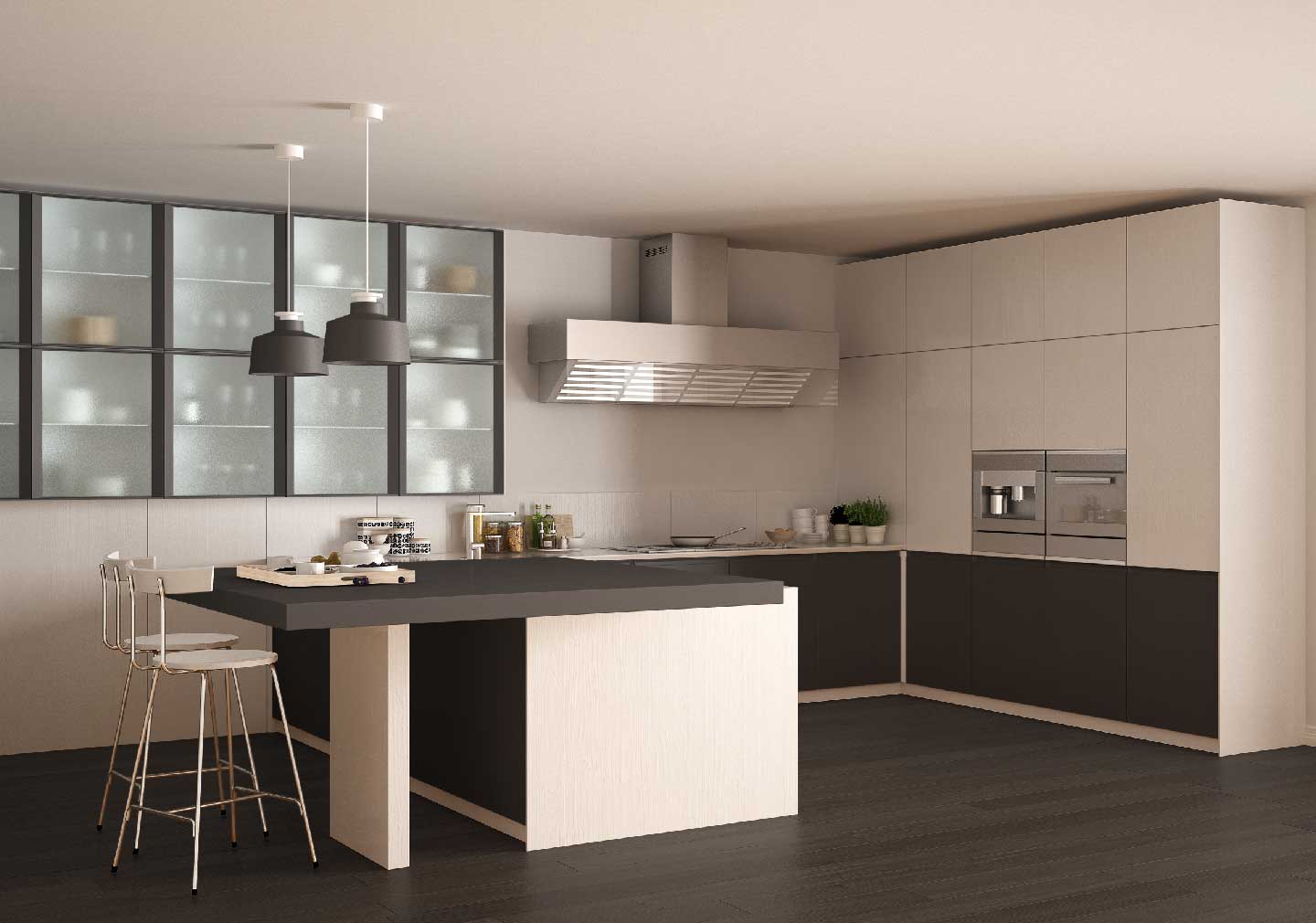 Eco friendly and sustainable materials like bamboo, cork, and recycled glass are being used more and more in modular kitchen design trends. These materials not only lessen the kitchen's environmental impact but also offer it a distinctive, natural appearance. This fashion highlights the significance of designing an attractive, environmentally sustainable kitchen.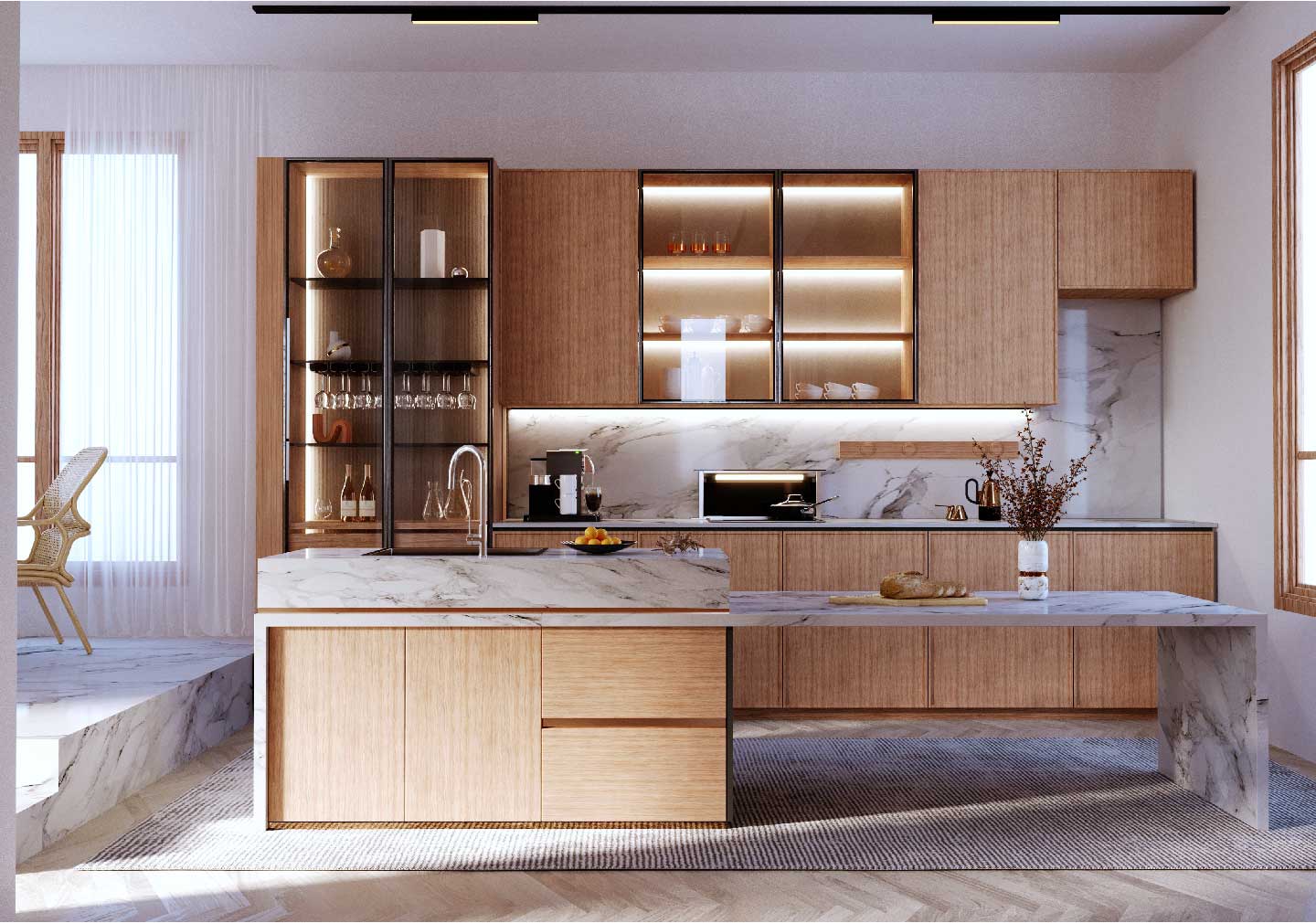 Lights in the kitchen, for sure!
2023 modular kitchen design trends will see a transition to lighter, brighter kitchens as a whole. Regardless of the final style or appearance, the space will be lit. The preferred kitchen trend, however, has long been increasing light. Yet, in the coming years, large windows, light colors, and reflective matte materials will all further intensify the glow.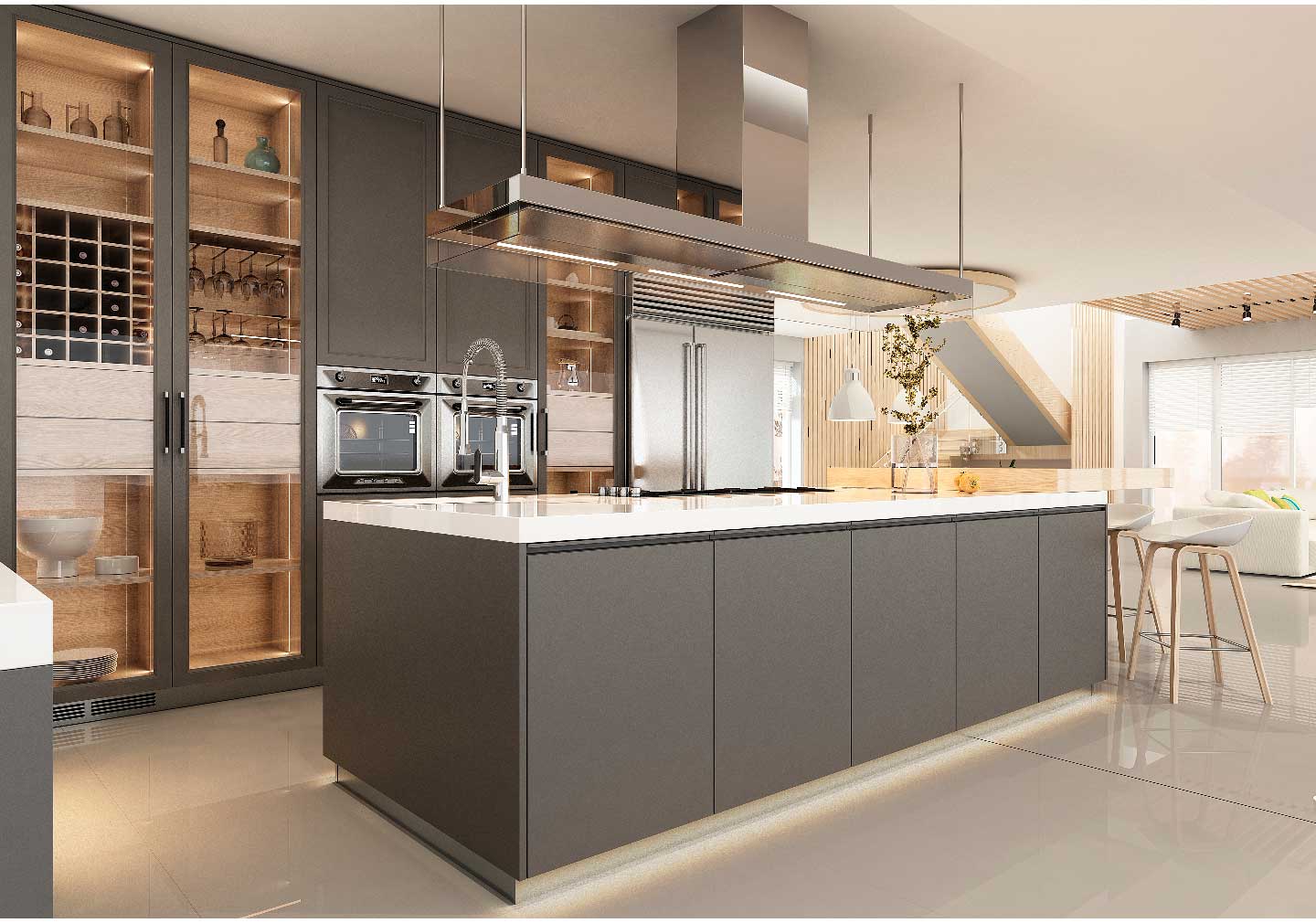 Combining various materials, including granite, wood, metal, glass, and quartz, is a new and developing style that creates an atypically distinctive and ultra-modern modular kitchen décor. A shiny and aesthetically beautiful kitchen interior design will be created with a granite kitchen island, hardwood cabinets and furniture, a quartz and glass kitchen countertop, and metallic cabinet and appliance finishes.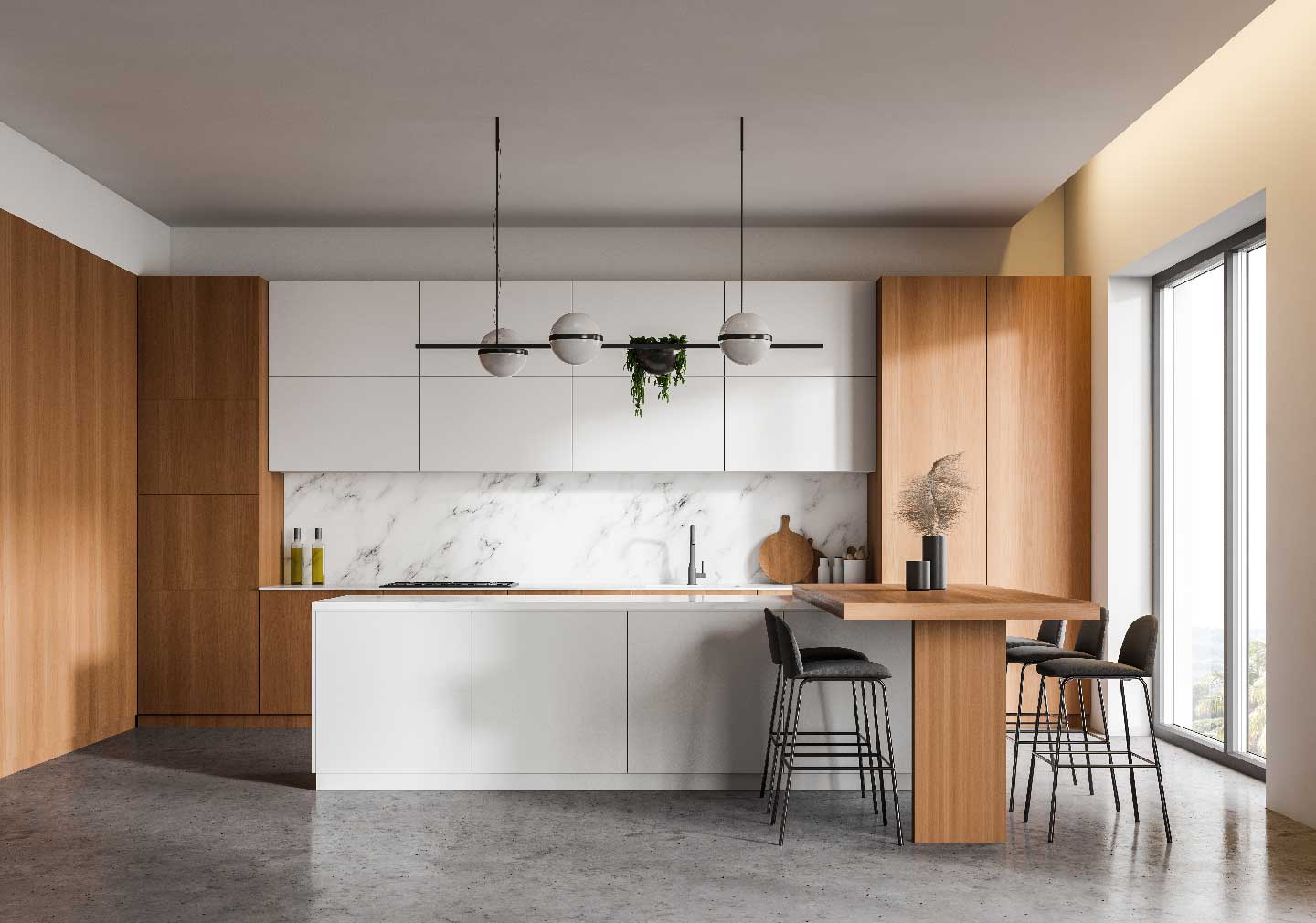 The color white gives the kitchen a traditional, timeless appearance and fosters a fresh, airy ambiance. White can be incorporated as an accent color or used for walls, countertops, and cabinetry. A variety of looks can be achieved by contrasting white with other bold accents or other neutral colors. It is a popular option due to its adaptability, capacity to reflect light, and ability to make tiny kitchen interior design feel larger.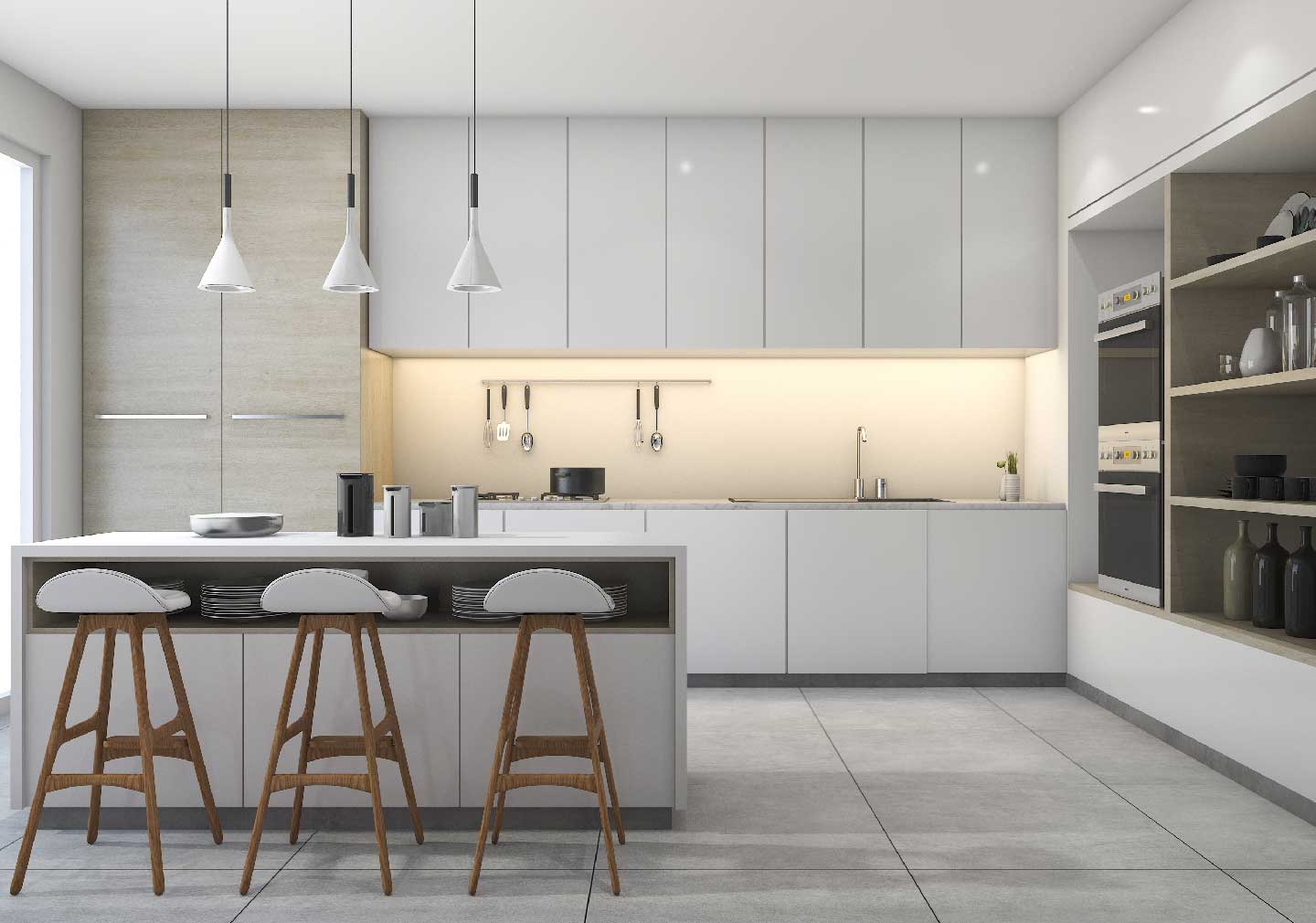 In conclusion, because of their adaptability, functionality, and aesthetic appeal, modular kitchen design trends are a prominent trend in contemporary homes. There are numerous options available to help you design a kitchen that satisfies your needs and aesthetic preferences, whether you like a minimalist, bold, or natural look. You may design a kitchen that is not only beautiful but also practical and ecological by embracing the most recent trends in modular kitchen design trends and ideas.
The trends mentioned above for modular kitchen design trends in 2023. Our interior designers in Bangalore and Mumbai still have a ton of design trends to choose from for you. You can now sit and talk about what would be best for your house.