Dining rooms are the favorite hotspot for Indian families. Like the perfect amalgamation of cuisines, the dining room is the spot for topics of all kinds. When designing the ideal dining room, one should also think of the purpose of it. Will your frequent hosting inspire the design style, or will you let the design encourage you to host?
Whether you're hosting colleagues or an intimate family dinner – dine in style. Take a look at our collection of 4 types of dining spaces that we have designed for our unique customers. Every house's need is different as well as their style – so we adapt and make sure that every meal is magical.
Small Dining Space Design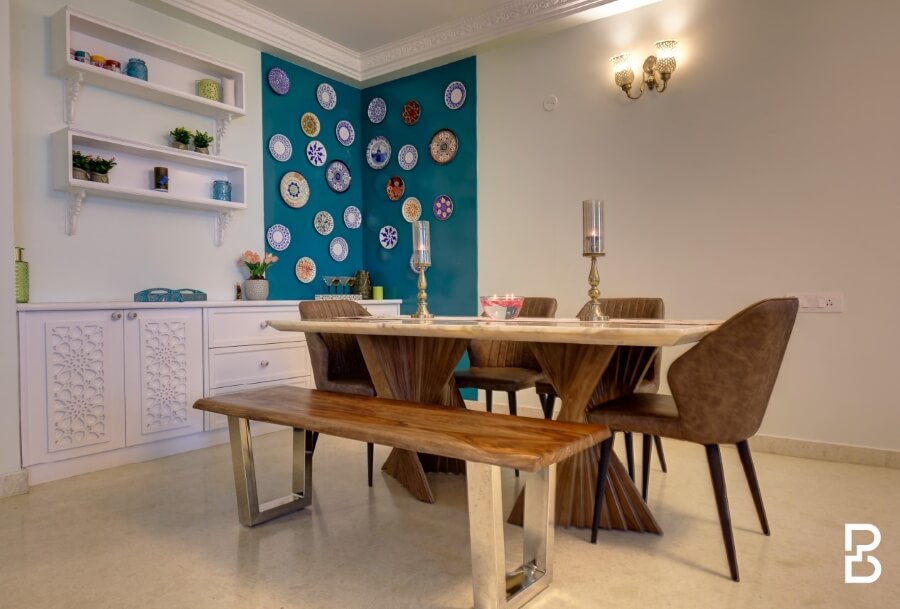 In today's modern apartment living, space is a luxury. And that's precisely why we need to learn to make the most of the limited space we have. A cozy, intimate space for the family is the perfect way to go. Keeping the design simple and the colors used for the area to the minimal draw focus on what matters. Accent walls featuring accessories can be the perfect partner for the sleek crockery cabinet you include in this space. Using neutral shades of white or beige gives the illusion of extra space. Dining room decor should always have color palettes to uplift the mood and induce hunger. Tones like reds and oranges are the most preferred ones for their versatility.
Confused about how to design dining spaces for small apartments? Check out our client, Mr. Hemanth's interior plans, for his 2BHK designer home in Bangalore.
Large Dining Space Design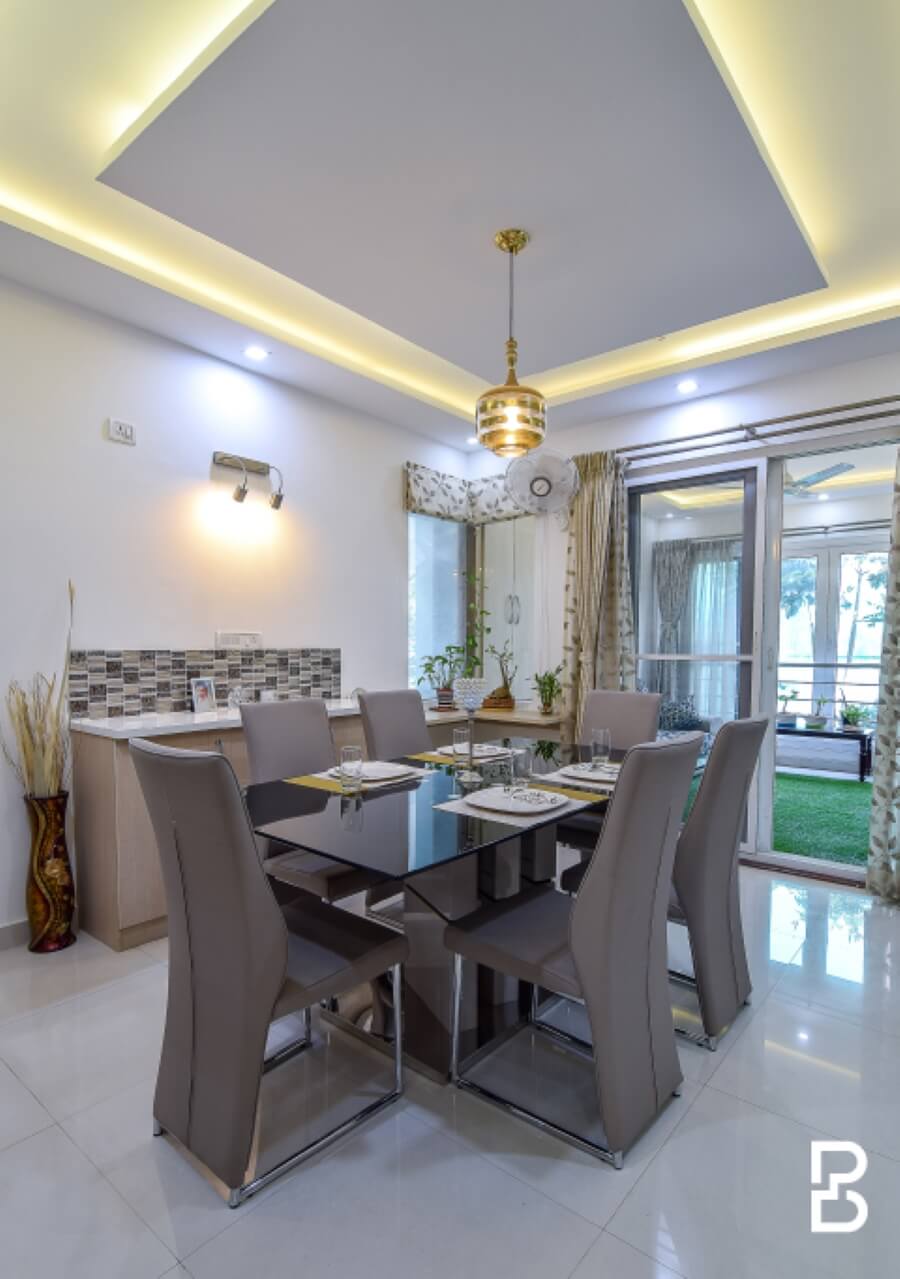 High ceilings with dramatic lightings are the highlight of large dining spaces. If you have a large family or host large groups of people quite often – a spacious dining room is your solution. Since the focus here is the big dining table, a statement table will look good as the highlight. Go bold with the design of the table and the accompanying chairs. Incorporate materials that will be long-lasting and grand to look at for a long time. Imagine it as your version of the royal dining space. As for the space's drama, focus lights hanging from the ceiling over the table look stunning. 
If you're unsure about the basics of decorating your dining space, here is a guide. Be knowledgeable about how to spruce up the dining place when revamping your home.
With changes in the layout of a common living area, dining rooms often find their place in the most exciting places. These spaces are also in some apartment layouts being joined with other regions. If that is the case for you, let us see the options available for your fine dining nights!
Open Space Dining Design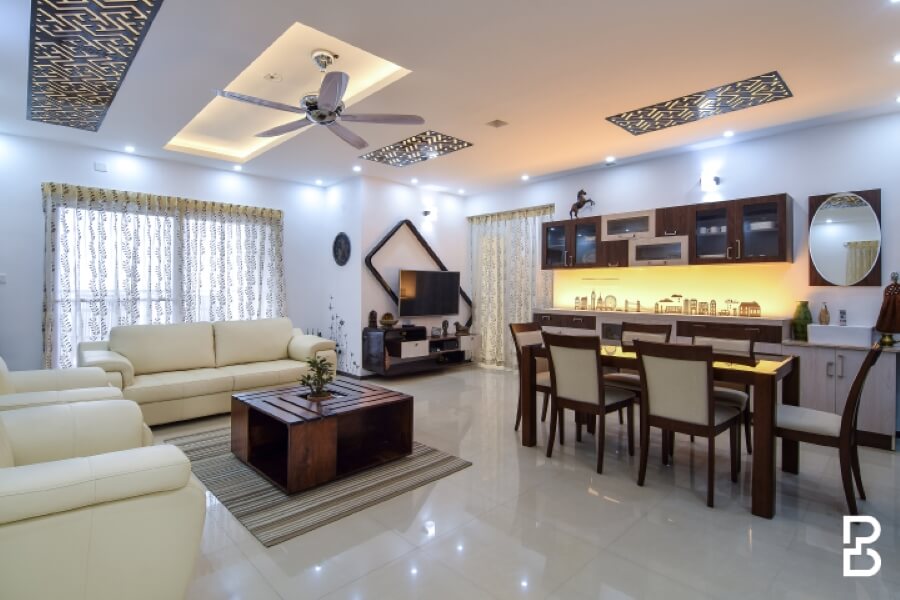 More apartments are now adapting to the concept of open-floor planning. The families in these apartments are looking for solutions that merge two areas of their abode. Open floor planning has its benefits of enlarging visual space. But one has to be smart about how to divide that space accordingly. Dining area designs for these layout depends more on the expertise of how to define the space without any barriers. Solid barriers like walls would interrupt the flow of the plan. This is where the knowledge of an interior designer comes handy. They can help you create individual zones in the same space without visual compromises.
Check out our client's home design process in Horamavu, North Bangalore, to learn more about designing dining spaces here.
Under The Staircase Dining Space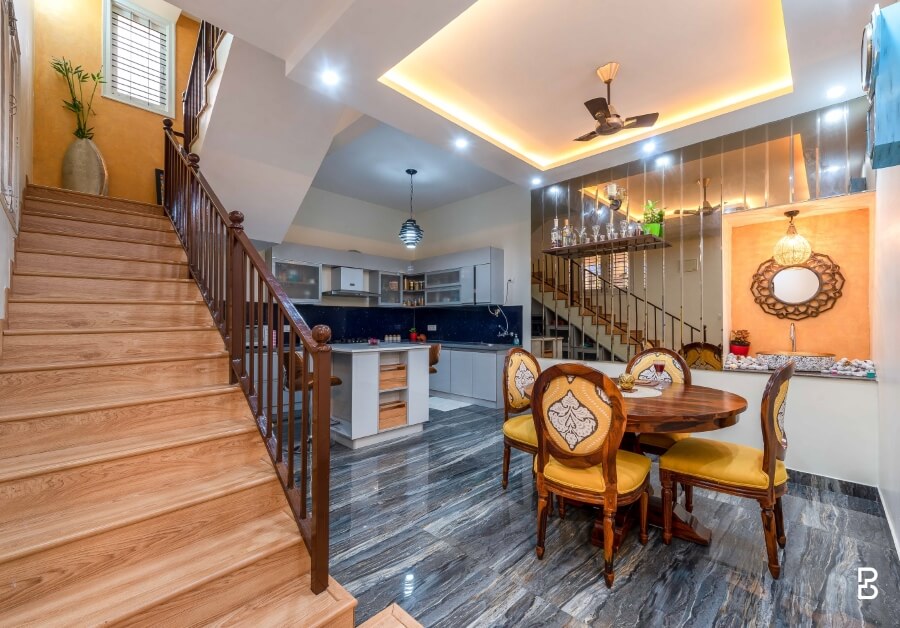 Most new duplex apartments or houses have space for a sit-in kitchen under the staircase. Take this opportunity to create something extraordinary. This space is intimate enough for a family affair. Also highlighting on space efficiency, circular tables work wonders. Not to mention, they also make dinner time conversations much more accessible. With a lowered ceiling, thanks to the stairs, pendant drop lights are adequate. They keep the space illuminated and radiant.
Like decorating your living room to impress guests, dining rooms also need love and care. They can also make a statement. And leave a lasting impression. Hope you keep impressing your guests at your next house party and have more riveting conversations with your family!