Ambience definitely affects our mood and also the food! Feasting is very important in any household. Dining room designs are just that special space where most families spend their quality time together. There are many different factors to take into account when choosing the ideal dining table for your area.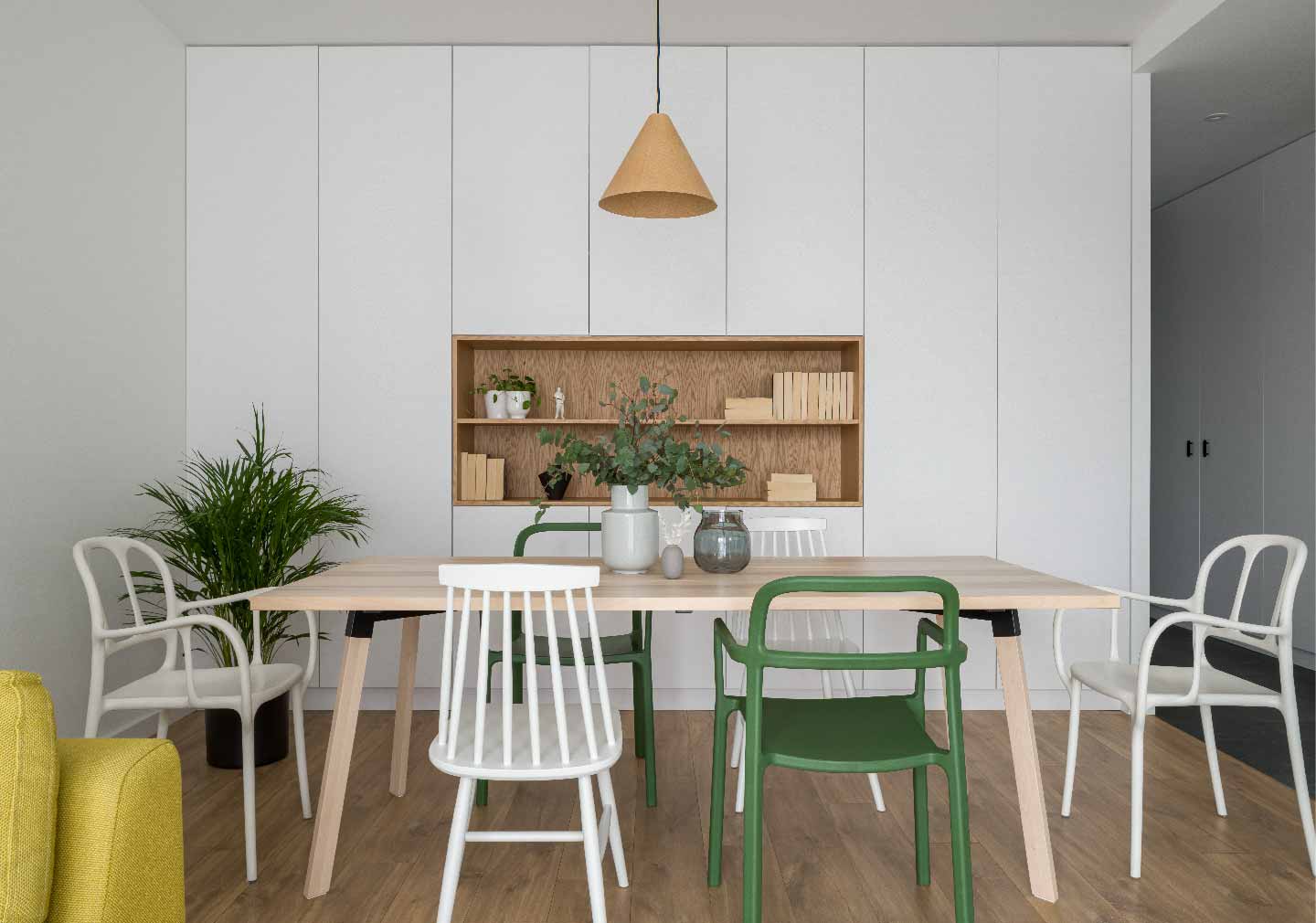 Design for dining space is always evolving, serving as a venue for special occasions. Whether it's straight from the sets of Friends or mid-century set-up of Auntie Mamie, the dining room themes are just beyond ideas.
With minimum layout setting, the multipurpose spaces attract greater attention. It should be enjoyable and pleasant as a feature in any home. Fortunately, there will be plenty of dining room trends in 2023.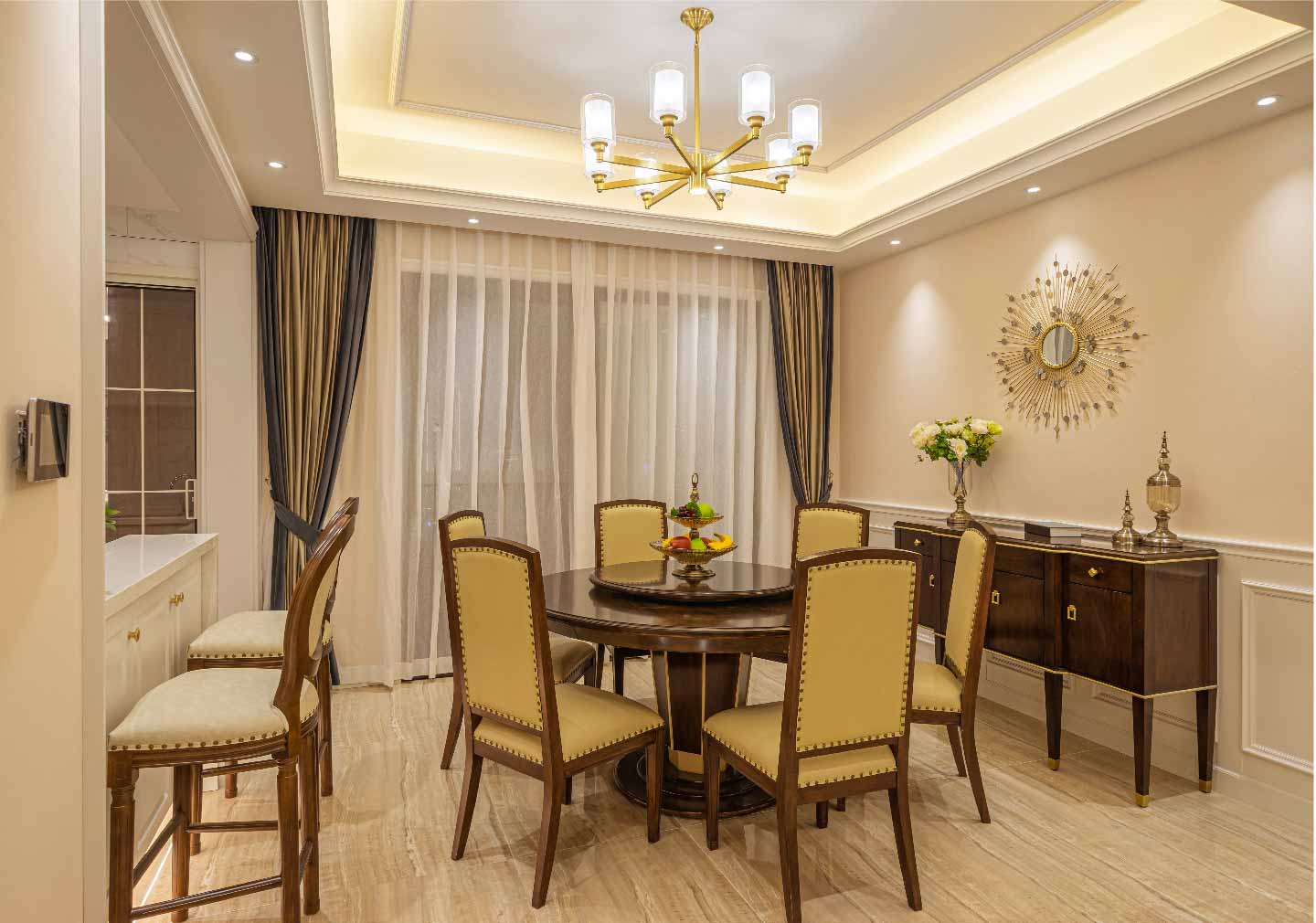 The best way to enjoy a meal is with your friends and family, especially when it's done in a chic setting. You may create a lovely atmosphere in your dining space that you and your guests will never want to leave.
Ideas to amp up your dining room designs
We've gathered some of the trendiest dining room ideas in a variety of styles, that will ensure it's the ideal setting for supper and everyday use. Get ready to make notes on these stunning dining room design ideas!
Dining spaces that are minimalist should need not be free of decoration. The space can have a variety of creative items scattered and still manage to seem sleek and mod. A minimalistic dining room design is characterized by clean lines, simple shapes, and a neutral color palette. This style is absolutely perfect for small spaces as it creates a sense of openness and allows for more natural light to flow in.
Pro tip- Consider a round dining table to save space with a simple hanging pendant light above it. Make it look simple, chic and minimal!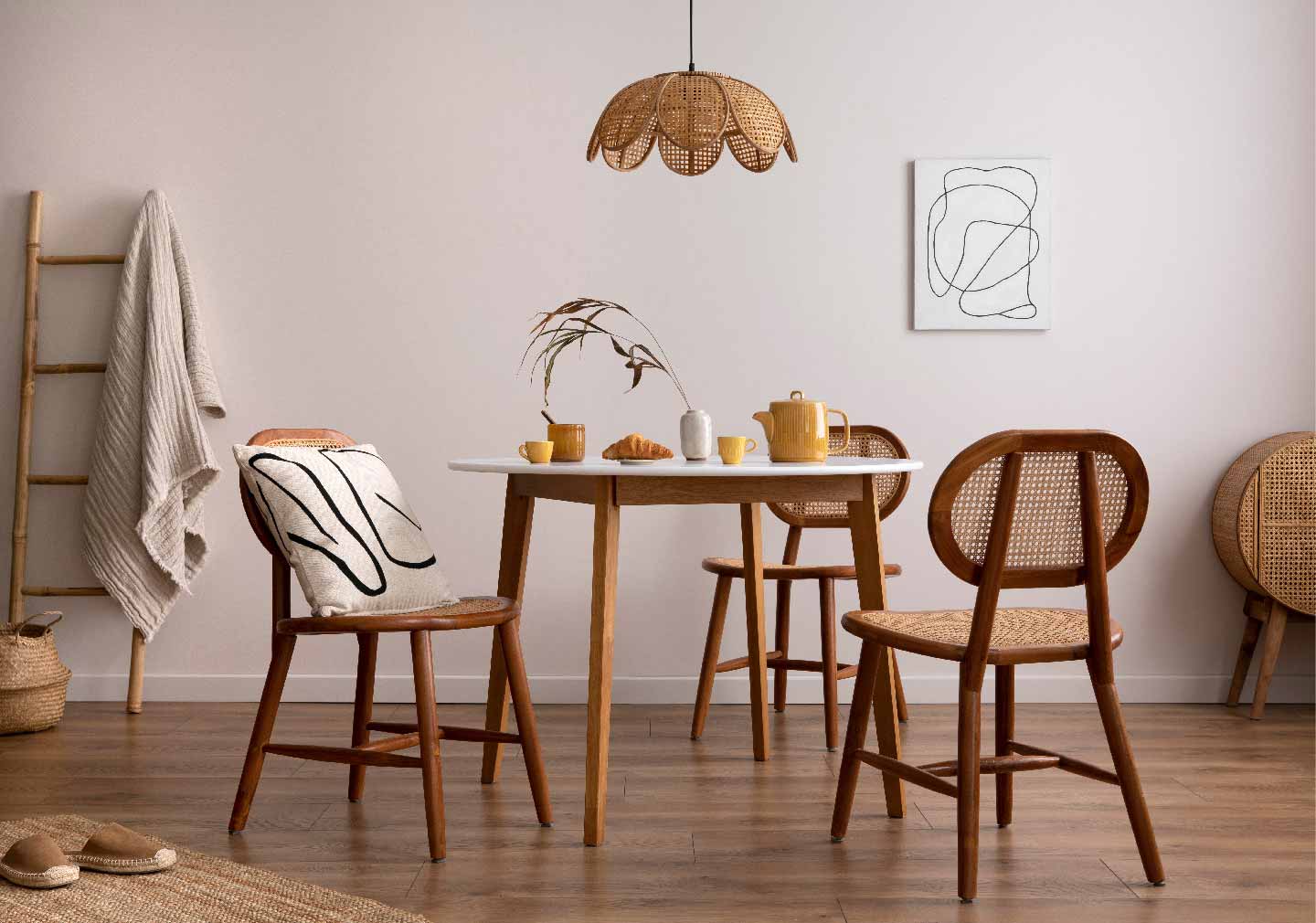 Rule it with the rustic and industrial look
Rustic and industrial decor has a certain charm about it, making it a perfect décor style for all the millennials. A rustic dining room is perfect for those who love the natural beauty of wood and stone. To create a warm and inviting space, add wooden chairs and a stone fireplace.
Industrial-style dining rooms are characterized by exposed brick walls, metal accents, and reclaimed wood. To achieve this look, you can use a reclaimed wooden dining table, metal dining chairs and a reclaimed brick wall as a backdrop.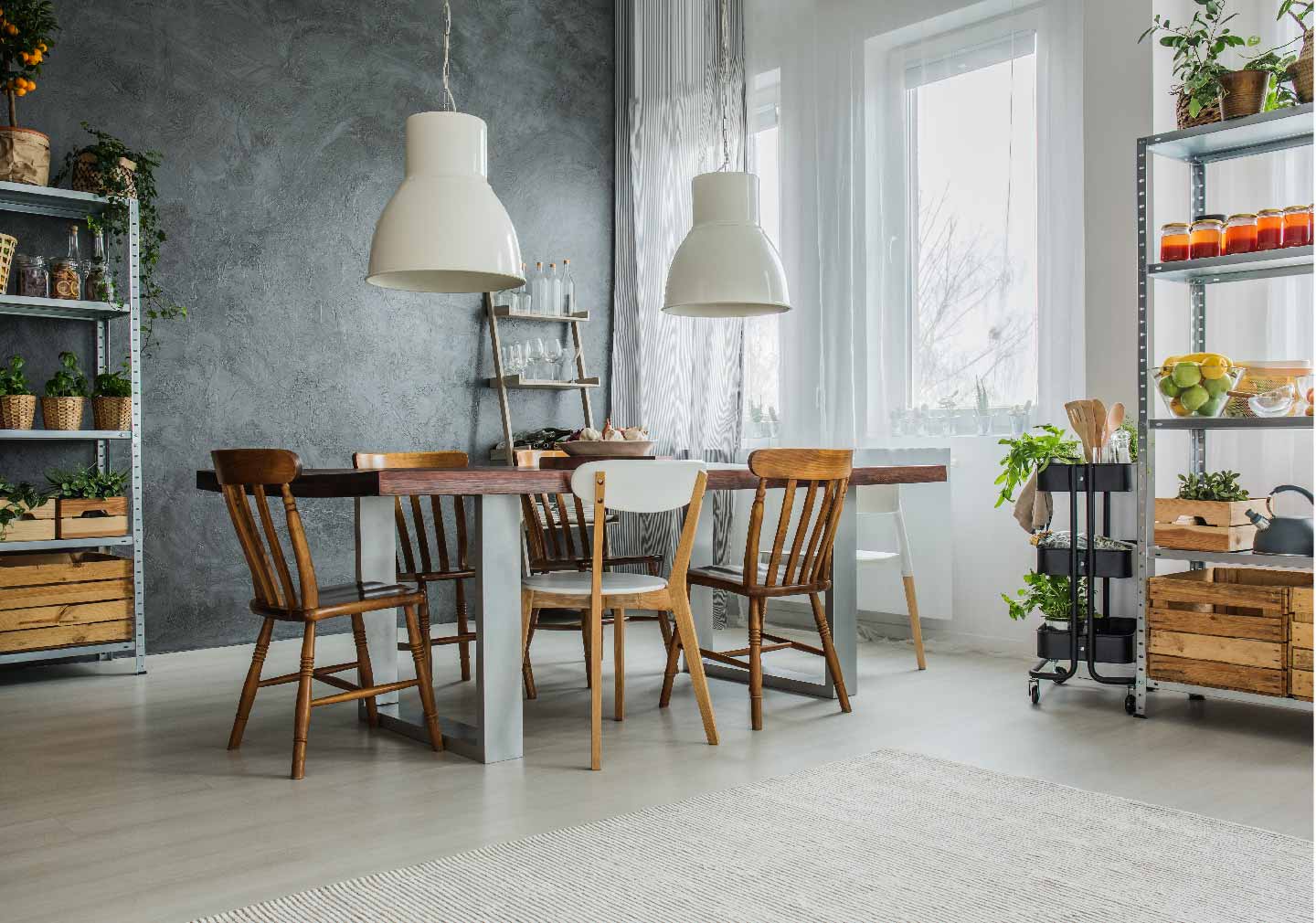 Mark it with modern ideas
A modern dining space can be every homeowner's dream! It is an amalgamation of all- characterized by sleek lines, bold colors, and a minimalist aesthetic. Consider using a glass or metal dining table, leather dining chairs, and a colorful abstract art piece as a focal point. Modern furniture has sharp features and stark lines, which can make the space look surreal and eye-catching. Decorating in modern style gives you a way more liberty to experiment with brighter colors and designs that won't clash with the furnishings.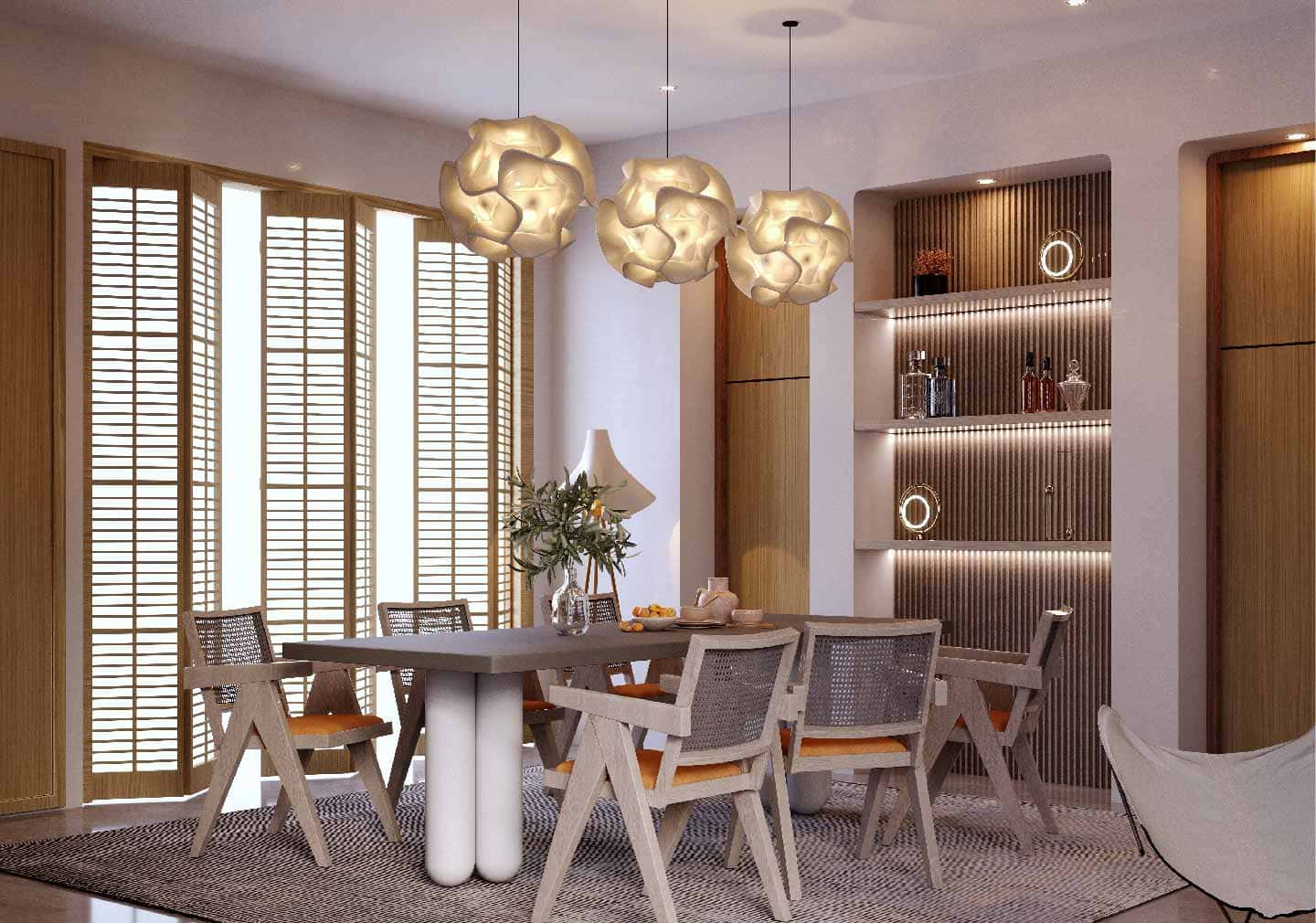 Turn the tables with traditional style
Are traditional dining room designs something what you're looking for? Elegance and comfort coexist in traditional dining rooms. Traditional dining room ideas draw their design cues from a variety of historical eras' interiors, fusing the past with the present to provide entertaining spaces that are both elegant and inviting while also functional and inspiring. A traditional dining room is characterized by classic furniture, elegant details, and a neutral color palette. A wooden dining table with carved details, paired with upholstered dining chairs, and a chandelier overhead creates a timeless look.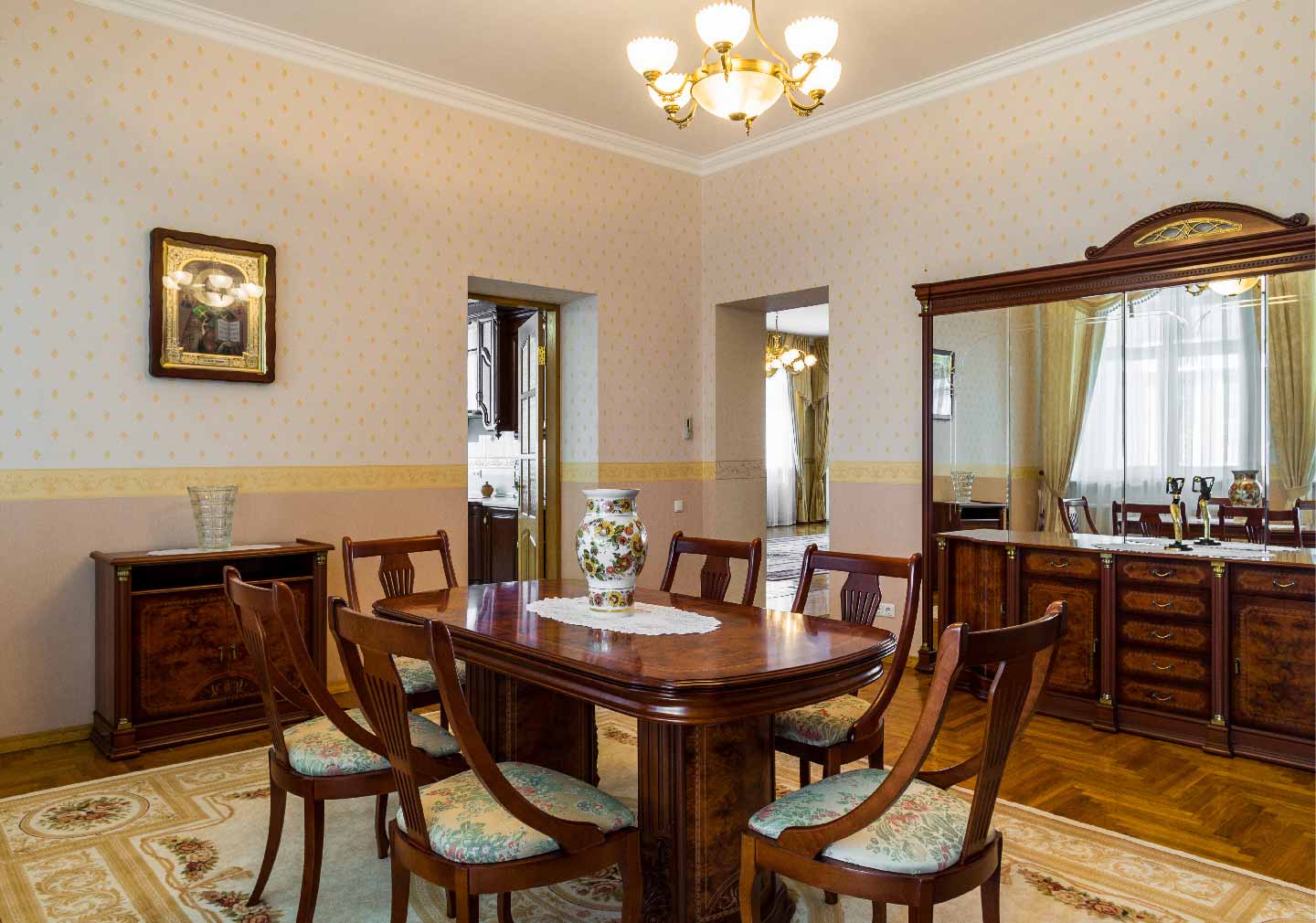 Go classy with mediterranean
The mediterranean dining room is made possible by cathedral-style ceilings, herringbone-patterned wooden roofing, and exposed ceiling beams. All things Mediterranean are heavily influenced by nature, which lends calm to a dining area bursting with pattern and colors. To create this type of dining space that is peaceful and enticing, décor composed of natural materials, warm colors, textured fabrics, rustic details and soothing finishes in earthen tones can be combined with vibrant pops of yellow and red. Consider using a wooden dining table, paired with woven dining chairs and a patterned area rug.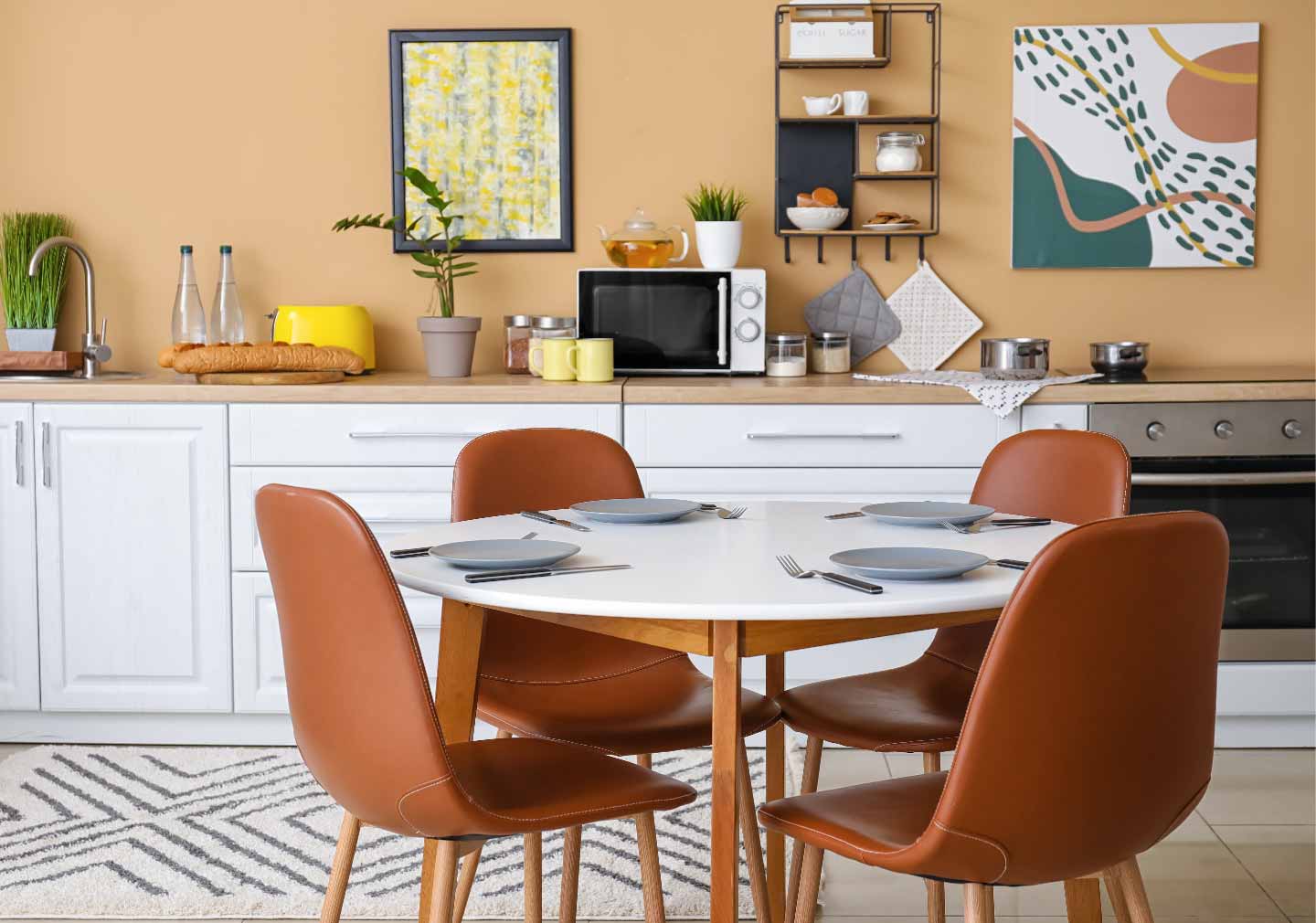 Find your style in eclecticism
Bored of the ordinary? Not everyone is content with a gray dining room, a matching dining table and chairs, basic lighting, and one or two decorative items. A neutral dining room shall fail if your house is all about expressing your personality. An eclectic dining room is a perfect way to express your personal style. Mix and match different styles, colors, and textures to create a unique space. A vintage dining table, paired with mismatched dining chairs and a colorful abstract art piece creates a fun and interesting space.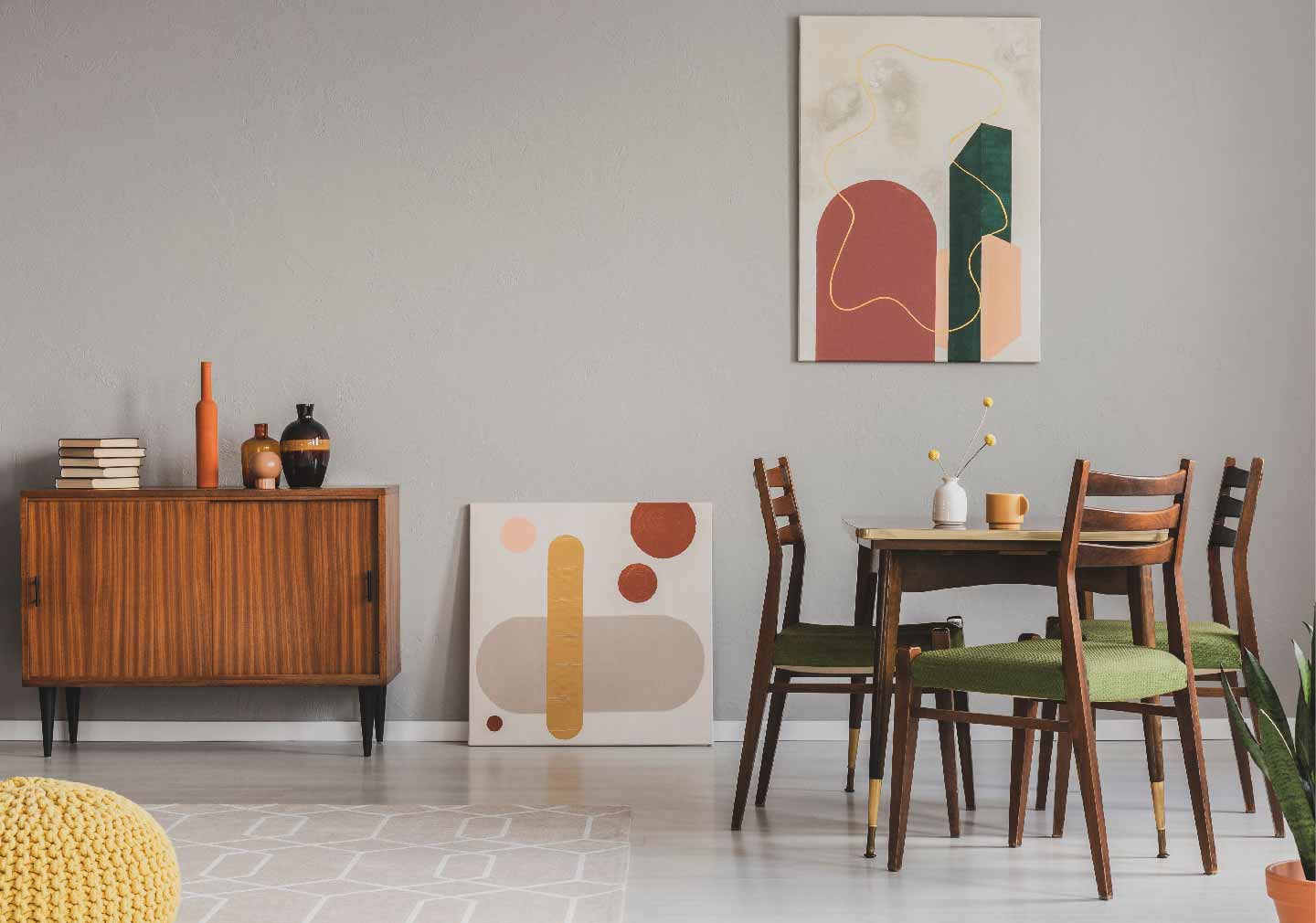 Make your mood for coastal vibes
There are lots of possibilities to create a dining look which exudes coastal vibes- from sea blue accessories and dining chairs to wooden dining tables. Coastal decor doesn't have to involve beachy and sea life motifs. To give your area a pleasant appearance, you can subtly blend modern coastal design into it. A coastal-style dining room is perfect for those who love the beach. Use light-colored wood, such as pine or driftwood, for your dining table and chairs. Add a nautical-inspired chandelier or pendant light and a collection of sea-inspired decor such as shells and starfish.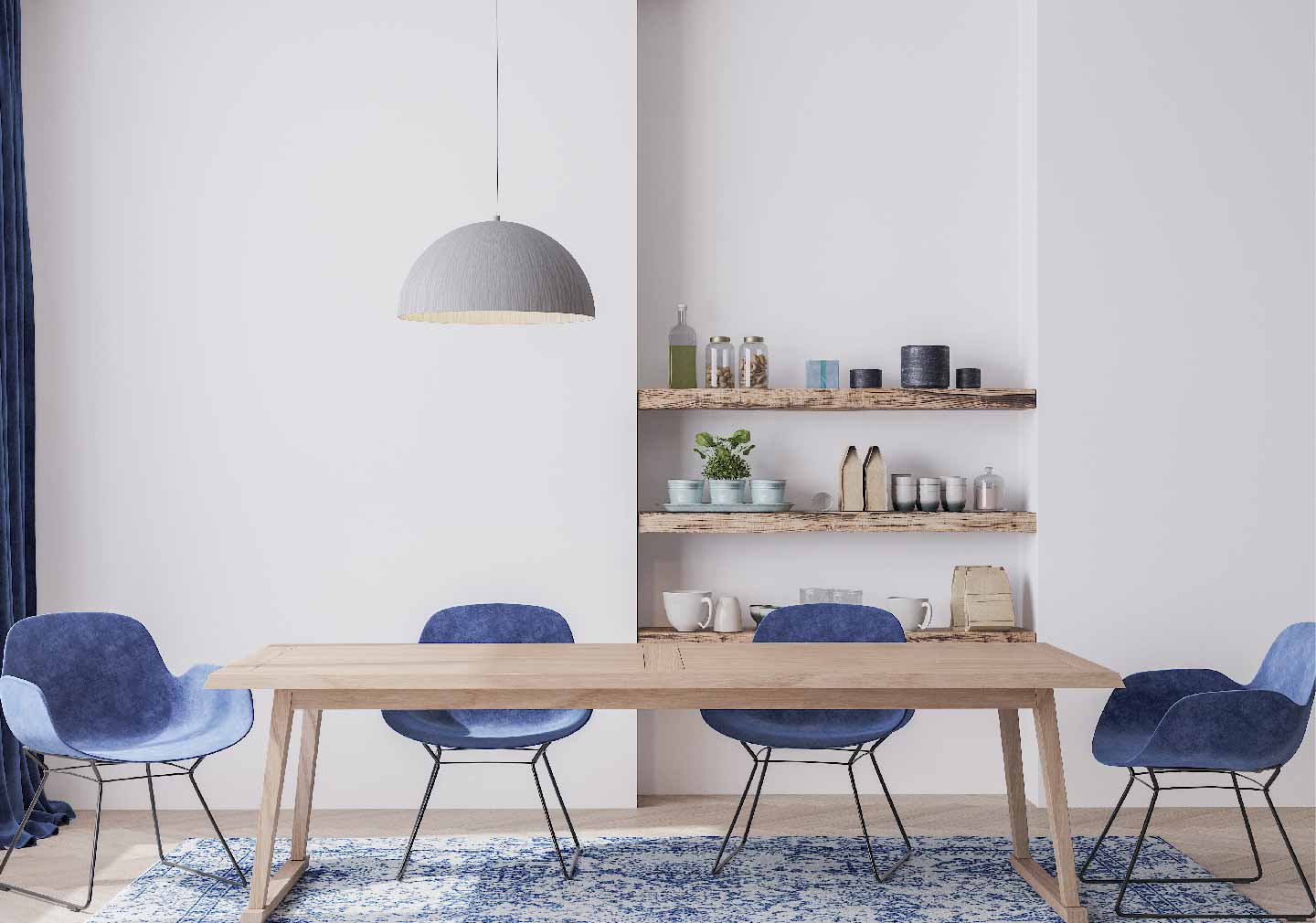 You don't need a time machine to find the best mid-century modern dining room ideas. A mid-century modern dining room is characterized by clean lines, simple shapes, and a focus on natural materials. Faux marble top, plants, striking curvaceous legs, solid wood table top- are all the elements which can redefine your dining space in mid-century style. Consider an oval table paired with eames-style dining chairs and a colorful abstract art piece as a focal point.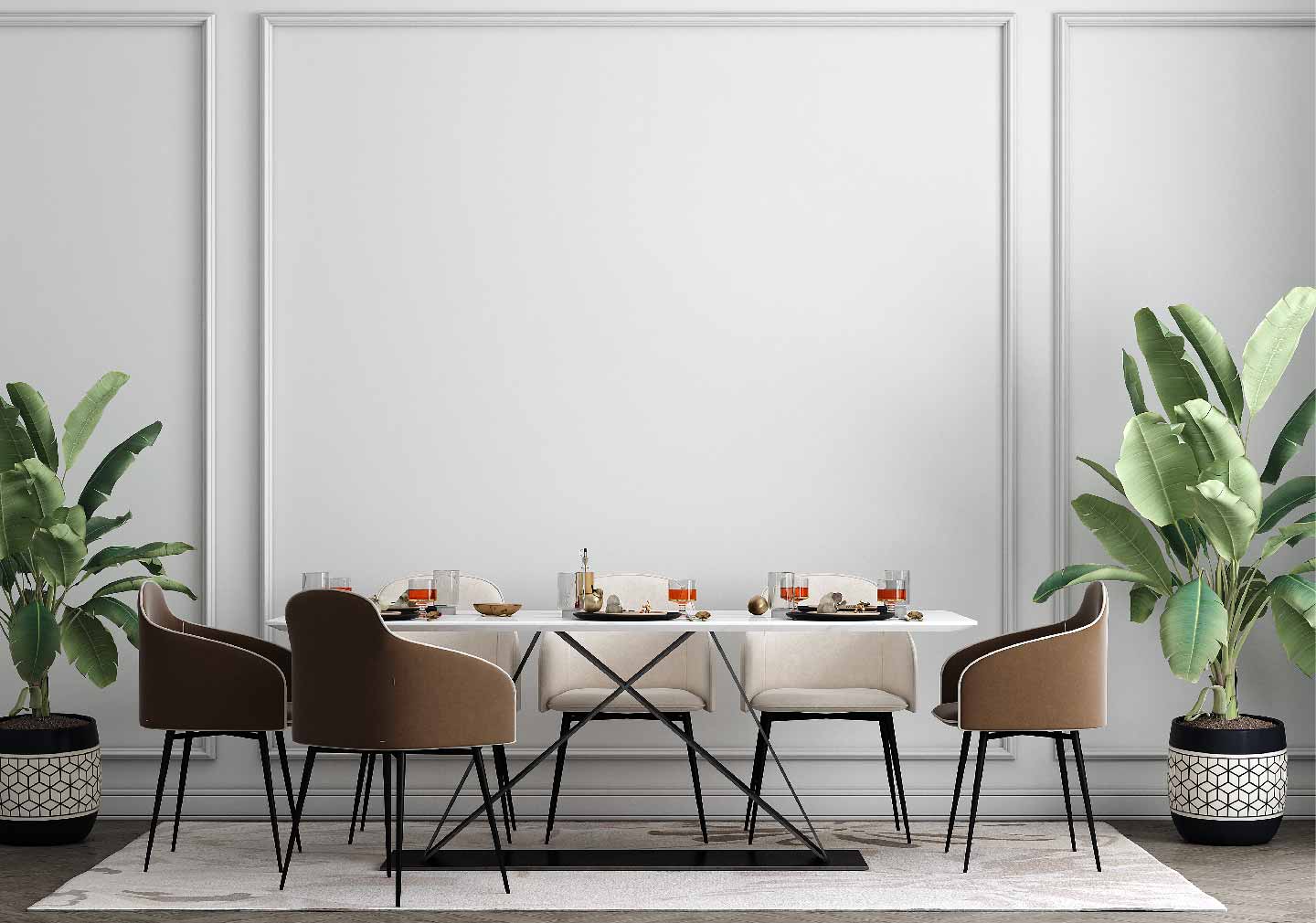 Enhance it in the farmhouse style
Farmhouse decor is the decorating style that gives a raw and rooted appearance and is inspired by old farm houses tucked away in the countryside. It's also family friendly and welcoming. The dining space in this style is characterized by rustic details, natural materials, and a warm color palette. A reclaimed wood dining table, paired with wooden dining chairs, and a simple chandelier overhead creates a cozy and inviting space.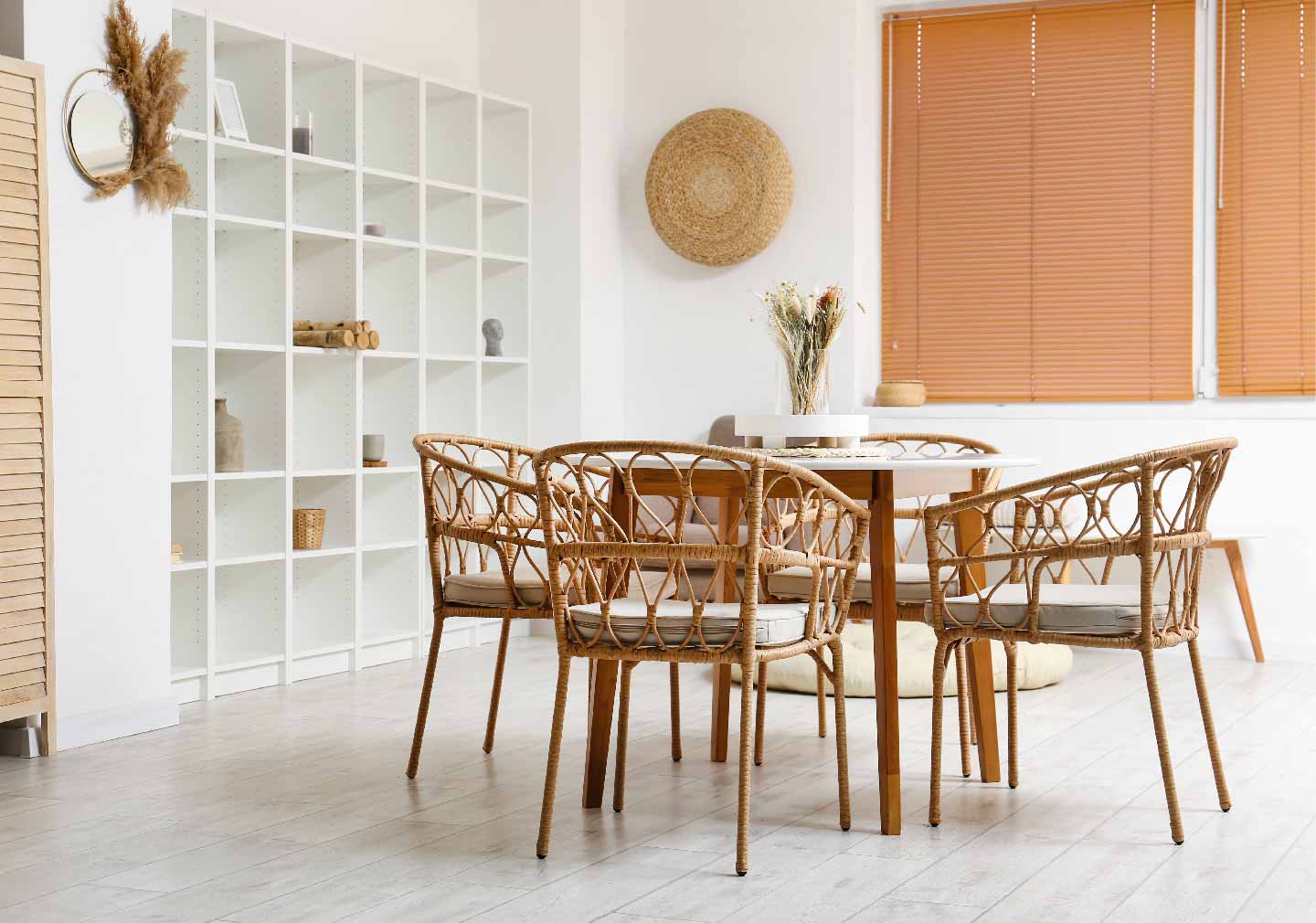 A blend of traditional and contemporary
A dining space with traditional flourishes paired with contemporary details, like striking teal dining chairs, metallic finishes and the industrial-inspired light fixture can play the best for . Play around with classic artifacts without fear as long as the balance of the space feels new and contemporary.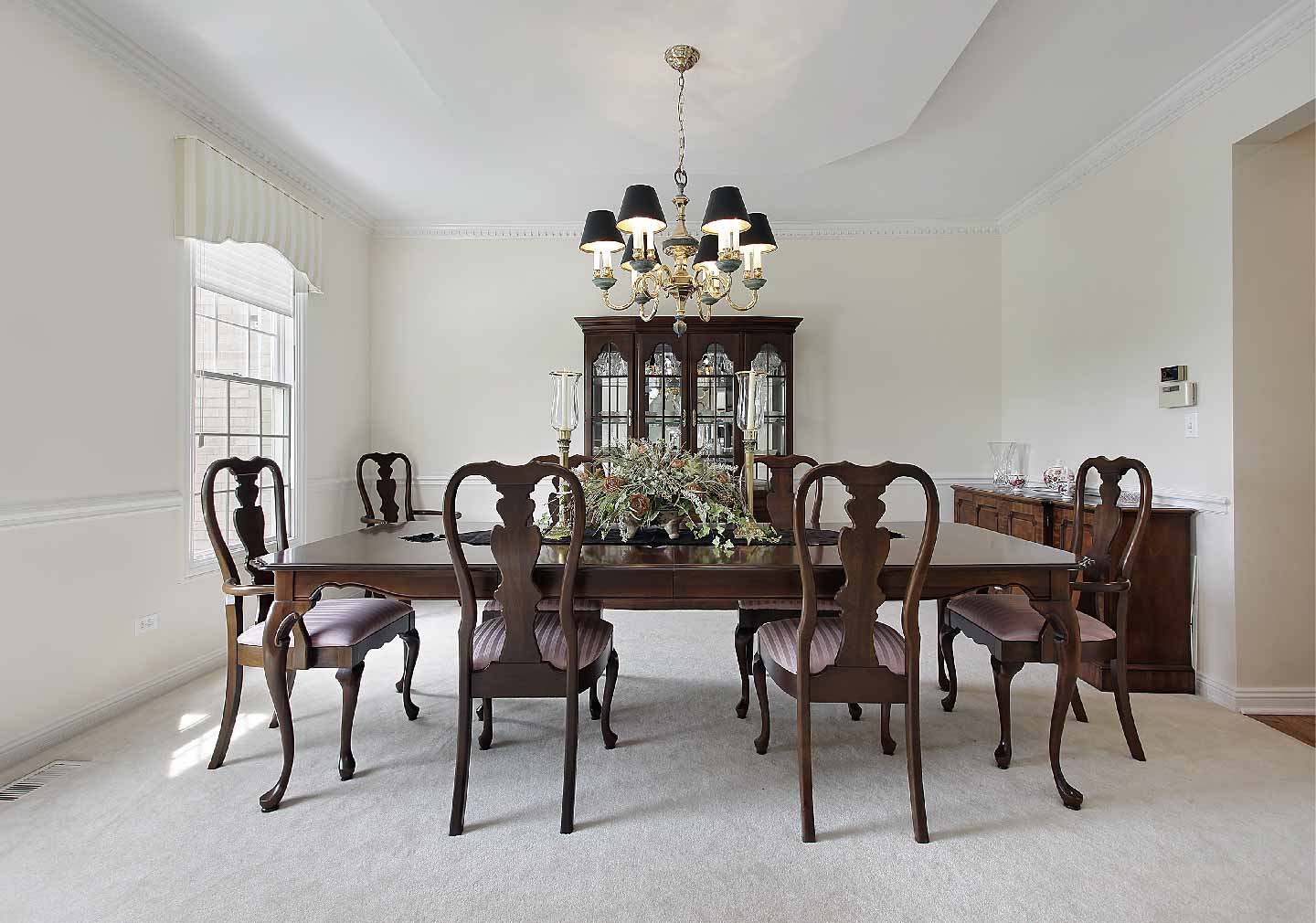 Ultimately, the key to designing a stunning dining space is to choose a style that speaks to you and to incorporate elements that reflect your personal taste and lifestyle. Whether you choose any style from the above suggested ideas, the most important thing is that you create a space that you and your family will enjoy spending time in. If you are looking forward to getting your dining room designed in any of these styles, Bonito Designs is the place for you. Connect with us and let your home tell a story of its own.