Bathroom floors, think over the right materials before picking them
Vintage, hardwood, or plain mosaic, think through before choosing your bathroom floors. It is a place in your home you want to feel relaxed and calm.
It shouldn't be intimidation, that the heavy bucks you spent were just not right!!! The step into your own world should be inspired by you.
Choose from the many possibilities, but keep in mind
The material of the bathroom floor should be water resistant.

It should be safe to walk on it bare foot.

It should not absorb any spills, and

It should be easy to clean and wipe.
You should select a bathroom flooring that can sustain these basic needs and also uplift your personal sense of panache. It is up to you to decide you want an underfloor heating system to keep your feet warm and comfortable, or a cold suave surface to keep you revitalized.
You can select from these various options as per your budget, your taste and the simple bookish rules of laying the bathroom floors
Marble Floors:
Elegant and gaudy, they can make your small bathroom space look sophisticated, if placed with an artistic touch to it.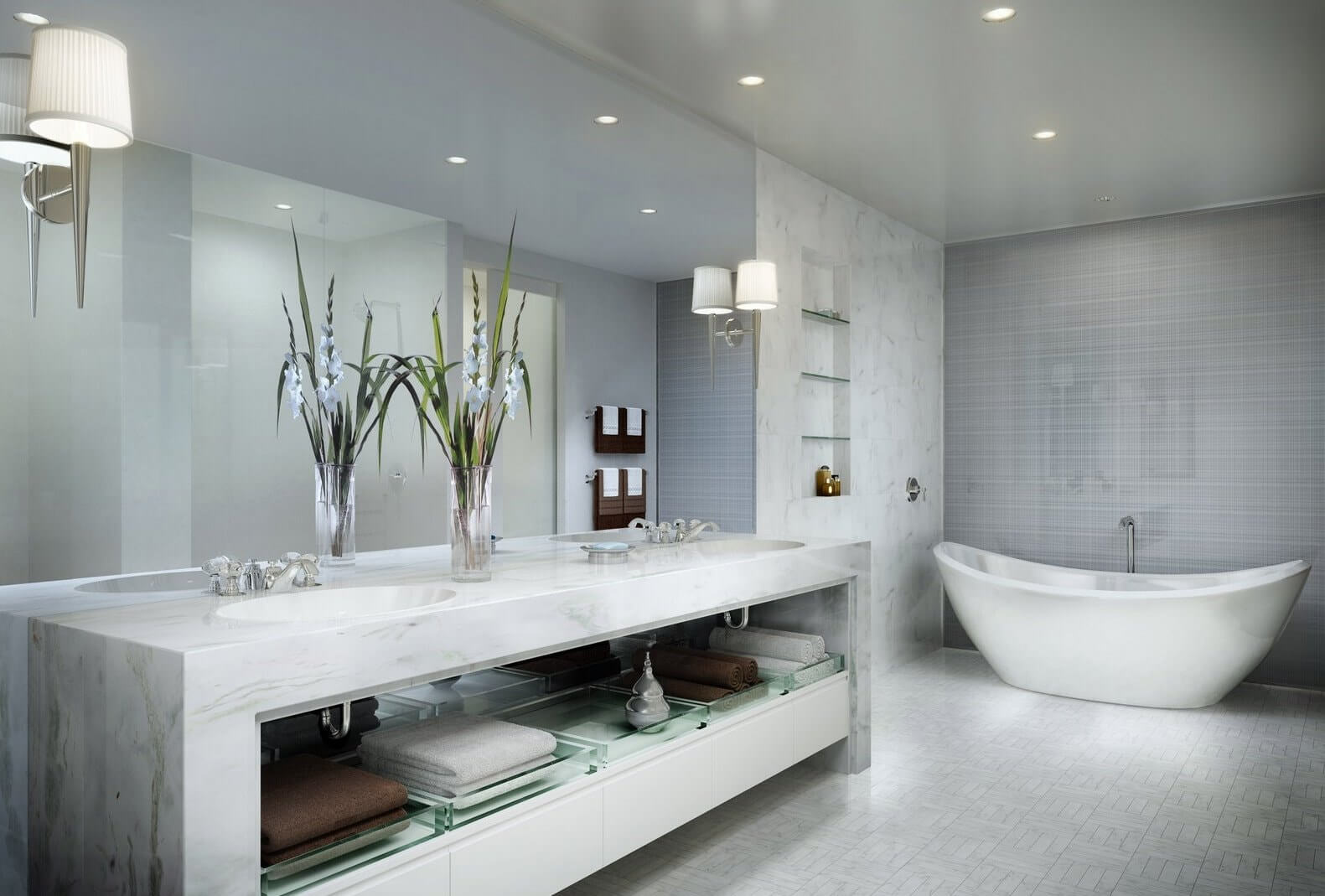 source
Marbles can reflect light, and they will make the space upbeat. But marble floors for bathroom are clearly going to be expensive and tough to maintain.
Vinyl Floors for bathroom/ Vinyl bathroom flooring:
Vinyl is an ideal choice for the bathrooms. These are comparatively low in cost, and easy to maintain. But take care to choose an elegant design and pattern, or else these vinyl floors might start looking cheap, sooner than you thought.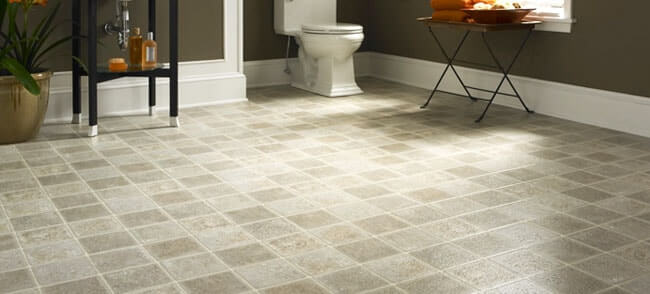 Source
It is a good idea to invest in a little more, to handle these vinyl flooring to look in vogue and classy.
Stone Tiles:
They come in various forms and textures. You can look for ones that are not stone cold, and non-slippery.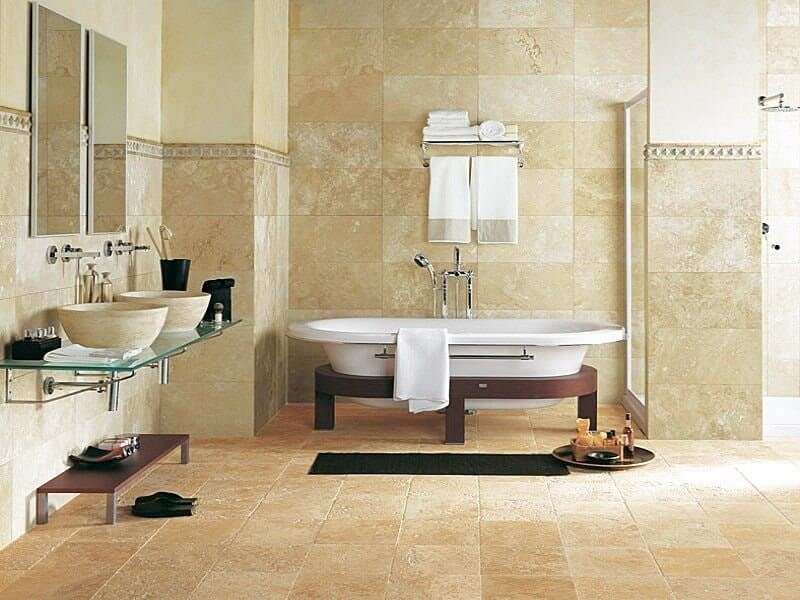 Source
They come in many shapes and sizes to paint an ingenious pattern across your bathroom.
Bathroom Wooden Floors:
Wooden floors for the bathroom are perfect to use if you want a happy heated floor for warmth and that cozy comfort for a cold weather. For a bathroom that has good drainage wooden floors are a good choice.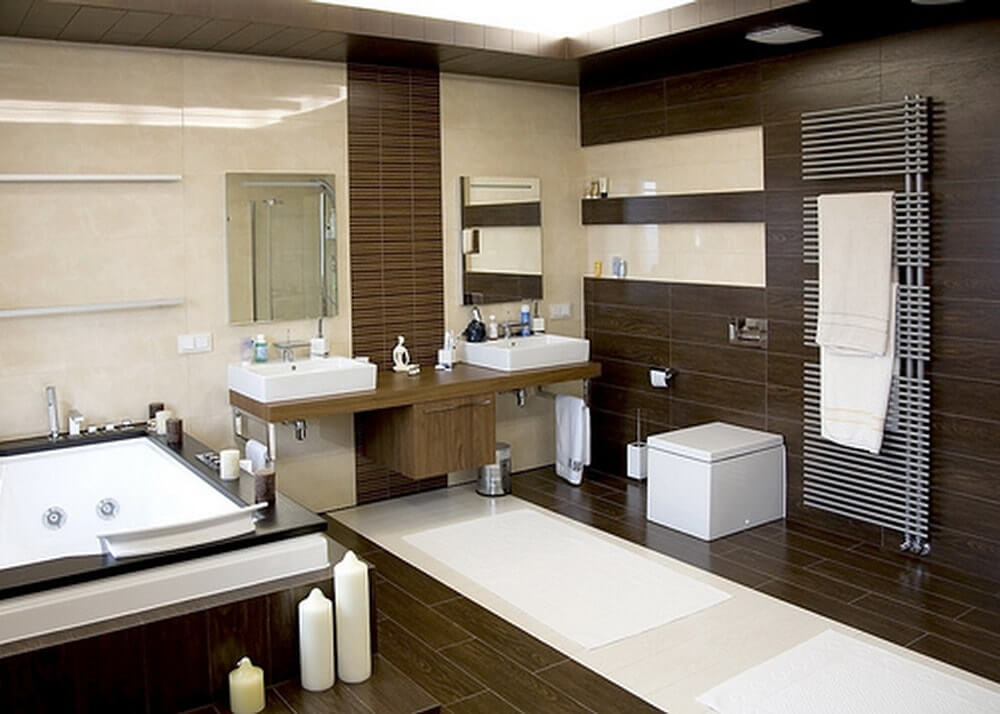 Source
Better if it is laminated, it won't retain water, and therefore will not accumulate mildew.
Mosaic and Ceramic Tiles:
Mosaic and Ceramic bathroom tiles are easy to tailor, as per your own inspirations. You can make them as colorful as you want, or as antique as you want.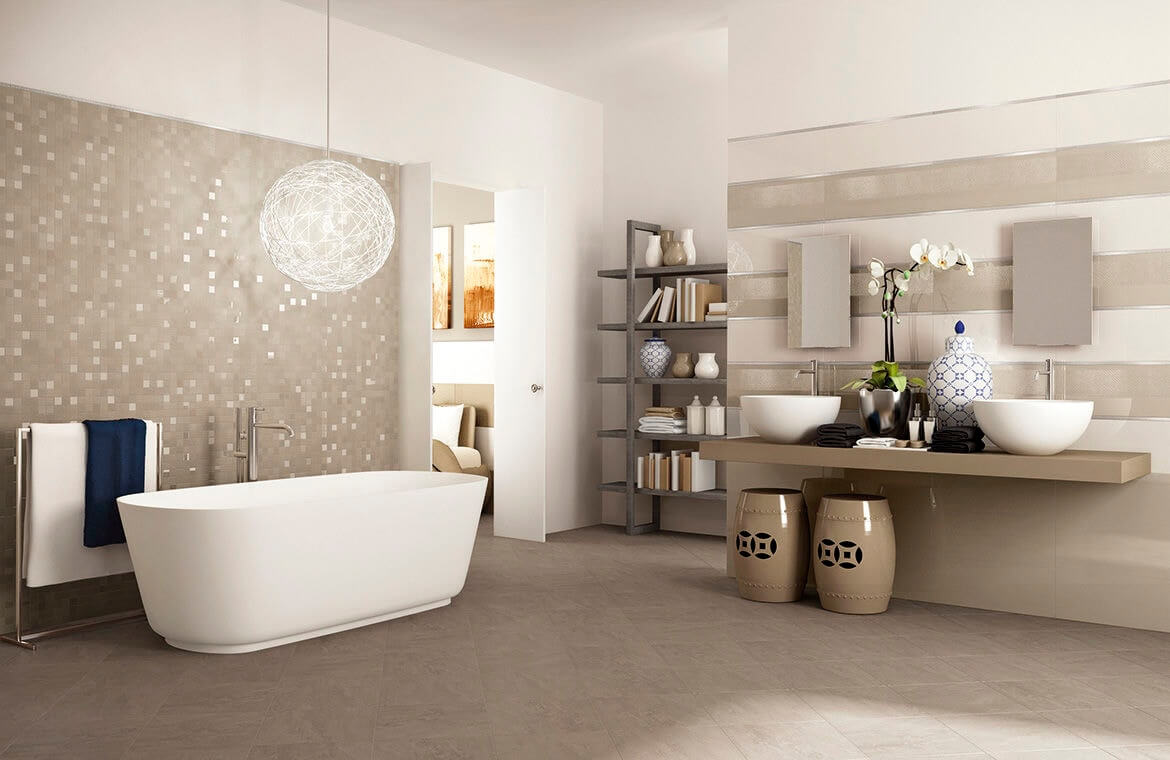 Source
You just need to take time to consider through the countless varieties.
They are easy to clean, and have proved themselves to be durable for long years at a time.
Slates and Stones:
These materials are available to lay down the floor of a macho bathroom with a raw feel to it.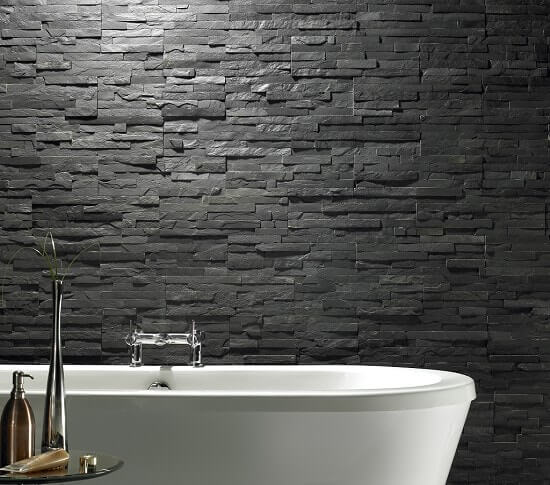 Source
They never go out of style, and you can create a great looking bathroom, if your pocket allows.
Carpet Floors for modern bathroom:
Although they prevent you from slipping, it would become a discomfort to clean carpeted floors.
Nor can they resist the constant flow of water, neither are they safe from spills. Howsoever elegant they look, you should take care not to place them near the faucet or in the shower area.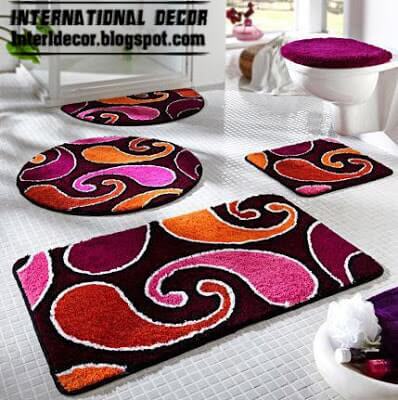 Along with the type of floors, ponder about its compatibility with the cabinets and bath fittings as well. They should all complement each other well to bring out the class to your design.
No component in your bathroom should overpower the other. A perfect hardwood floor and glass fittings should be so placed that they look aesthetically appealing to the eyes.
Remember, that while picking up tiles, you must also select the sealant well. It is like framing each tile you place. The more artistically you place your sealant, the more interesting it will look.
For uneven floor materials, like natural stones, slates and granites, the plaster used should be more. Or else if you want to show off the designs of your expensive tiles, the plaster framing should be as thin as possible.
The plaster and the tiles, could be used exquisitely to transform the look of your bathroom floor. In any case, the plaster or the sealant should be sturdy to give your flooring a long healthy life.
Choose the materials well that can cope up with the high level of moisture in the area, and that which can dry up soon. You don't want a stinky bathroom filled with mildew.
Floors that can be cleaned easy, non-fussy and yet stylish, are a good choice, irrespective of the size of your bathroom.
Make sure the floor is created with a right slant for a good drain out of water.
A modern bathroom separates out the dry and wet areas, and you can easily frame out your shower area.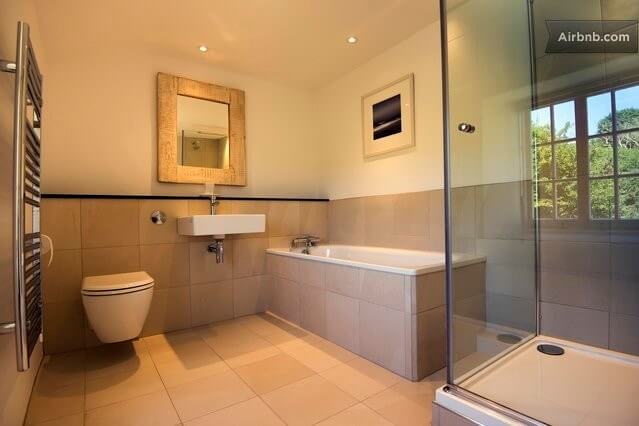 Source
This will not only make your bathroom look neat and organized, but will also let you place your flooring as you desire.
You will not need to worry about the extreme wetness in the dry areas, and might as well place a hardwood or a carpet floor there. And for the wet areas you can choose whatever material suits your whim and is economical.
Look for options that suit your pocket.
There are numerous options available in the market, on the internet, browse through them before making a decision. There is truly a plethora available out there with each one looking more exclusive than the other.
You could also take a stroll through the huge furniture supermalls, look at the already customized bathrooms, discuss at the store about the various pros and cons of your dream flooring.
You can just find the greatest choice of bathroom flooring in the stringent budget you have.

Even if you have a lot to spare, ponder a little while before making a decision of selecting a bathroom flooring. After all, it's about a place in your own home you are going to step in to start a new day with vigor and zeal, and end the day feeling serene.

 Lay the foundation of your most intimate corner, make it chic and durable.