Introduction:
Simplicity – a word that we seem to have forgotten as a generation. Especially when it comes to our life. Everything has to be massive, luxurious, and swanky, as if bigger and grander equate to better. But have we ever stopped to consider the beauty and elegance that simplicity can bring to our lives? 
In our pursuit of extravagance, we often overlook the charm of minimalism and the joy it can bring. There is something functional and attractvie about a clutter-free space, where each item has a purpose, and nothing is excessive. It allows you to focus on what truly matters, appreciating the little details that often go unnoticed amidst the overwhelming flamboyance. 
Embracing simplicity is not about compromising on quality or comfort; rather, it's about choosing what truly resonates with our values and needs. It's about finding contentment in the little pleasures of life, in moments of quiet reflection, and in the company of loved ones. A simple life grants us the freedom to declutter not only our physical space but also our minds, allowing room for creativity, mindfulness, and peace. 
Similarly, simplicity in interiors does not imply a lack of style or character; rather, it reflects a thoughtful curation of elements that resonate with your personalities or even values as a person. 
In a world where kitchens are often seen as a status symbol and state-of-the-art interiors, applying simplicity in kitchen design is a refreshing approach. It encourages you to focus on the joy of cooking, sharing meals with loved ones. 
In the ever-evolving world of interior design, the modern kitchen has become a symbol of efficiency, style, and practicality. As the heart of the home, the kitchen plays a central role in daily activities, from cooking family meals to hosting gatherings with friends. Embracing the principles of simplicity and functionality, modern kitchen interior design seeks to optimize space, streamline workflows, and create a contemporary aesthetic that stands the test of time.
In this comprehensive article, we will explore the key elements of modern kitchen design, from clean lines and minimalism to smart storage solutions and cutting-edge appliances. Discover how to transform your kitchen into a sleek and inviting space that blends form with function, making meal preparation a breeze while elevating the overall look of your home. 
Let's see how modern kitchen interior design can be simple yet functional. 
Clean Lines and Minimalist Aesthetics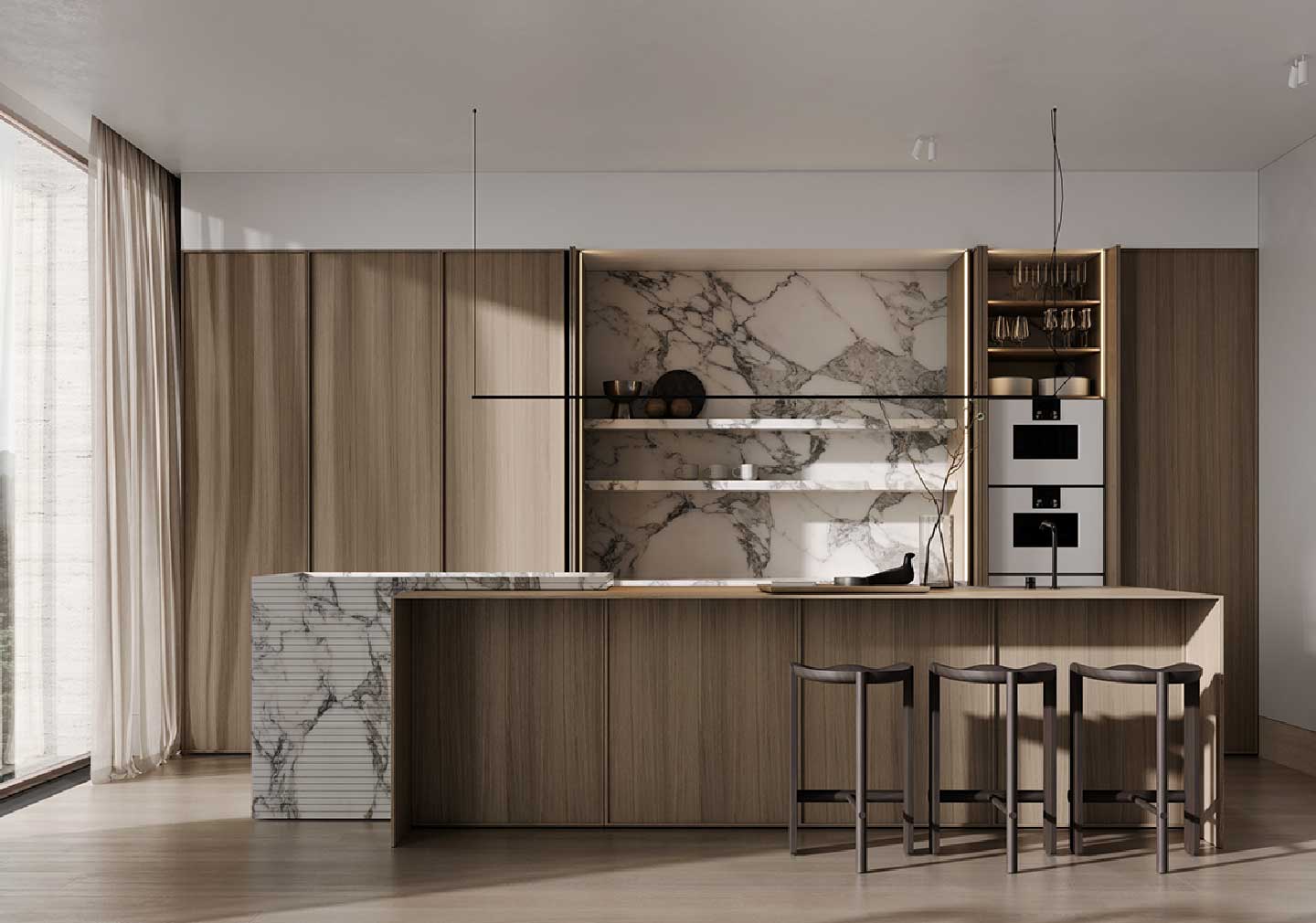 Modern kitchen design is characterized by clean lines, uncluttered spaces, and minimalist aesthetics. In this section, we'll delve into the art of creating a sleek and sophisticated kitchen by embracing simplicity. Learn how to choose streamlined cabinetry, handle-less doors, and smooth surfaces that create an unbroken flow of design. Explore the use of neutral color palettes, such as whites, grays, and blacks, to achieve a timeless and elegant look that complements any style. 
Optimal Space Planning and Functionality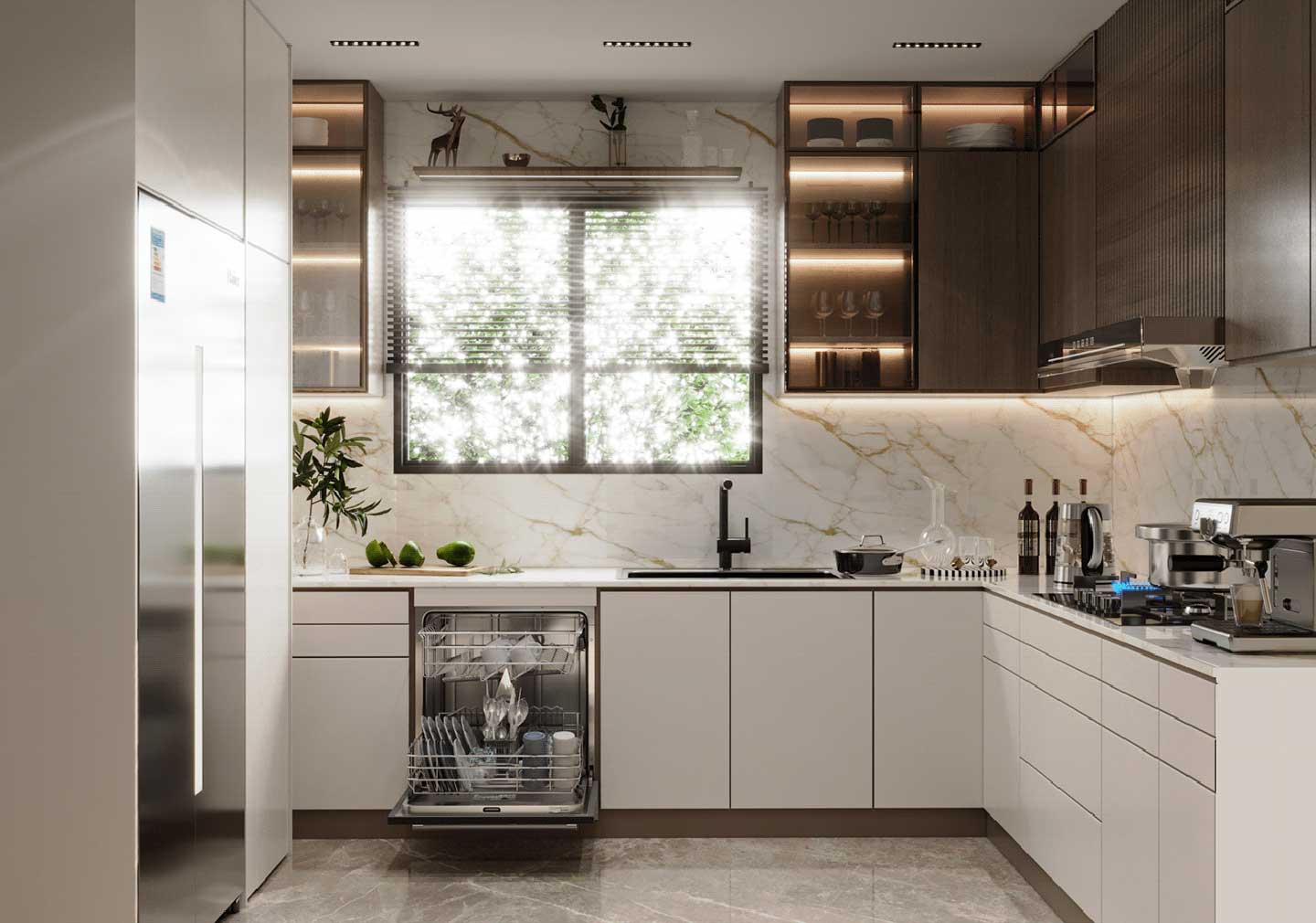 A hallmark of modern kitchen design is the emphasis on optimal space planning and functionality. This section will explore smart layout ideas that maximize efficiency and convenience in your kitchen. Discover the concept of the kitchen work triangle, which optimizes the positioning of the sink, stove, and refrigerator. Learn about the benefits of kitchen islands and peninsulas for additional workspace and storage. By creating a well-planned kitchen layout, you can enhance workflow, making cooking and meal preparation an enjoyable experience. 
Integrating Smart Storage Solutions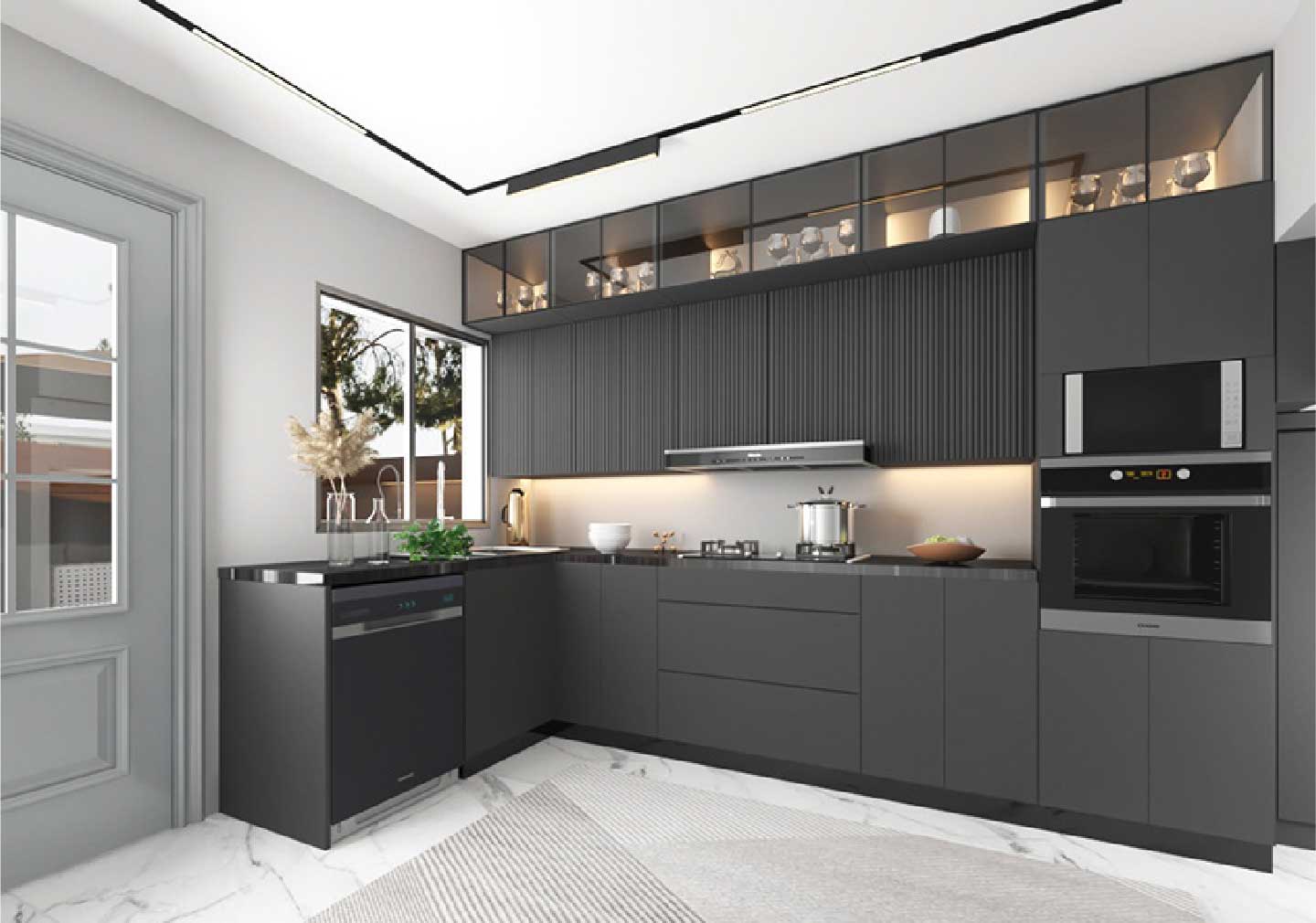 Clutter can disrupt the clean and streamlined look of a modern kitchen. In this section, we'll explore innovative storage solutions that help keep your kitchen organized and efficient. From hidden cabinets and pull-out drawers to built-in shelving and vertical storage, discover how to maximize every inch of space to create a clutter-free environment. We'll also discuss the advantages of open shelving for displaying decorative items while maintaining a minimalist vibe. 
Embracing Modern Materials and Surfaces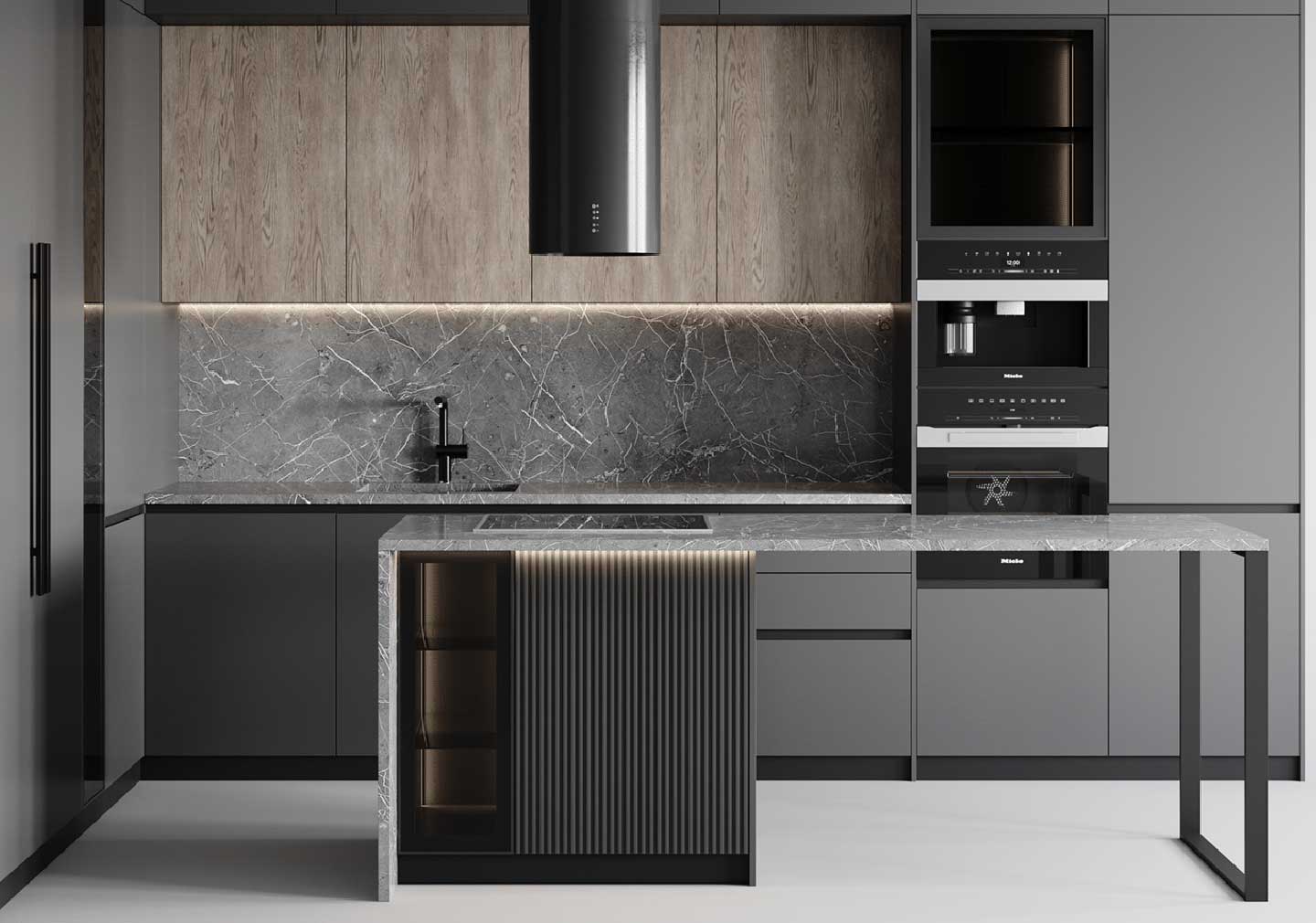 Modern kitchen design incorporates a wide range of materials and surfaces that add visual interest and functionality. This section will explore popular modern kitchen materials, such as stainless steel, quartz countertops, and glass backsplashes. Discover how these materials contribute to the overall aesthetic and provide durability and easy maintenance. Additionally, we'll discuss the creative use of contrasting materials to add depth and texture to your kitchen design. 
High-Tech Appliances and Smart Home Integration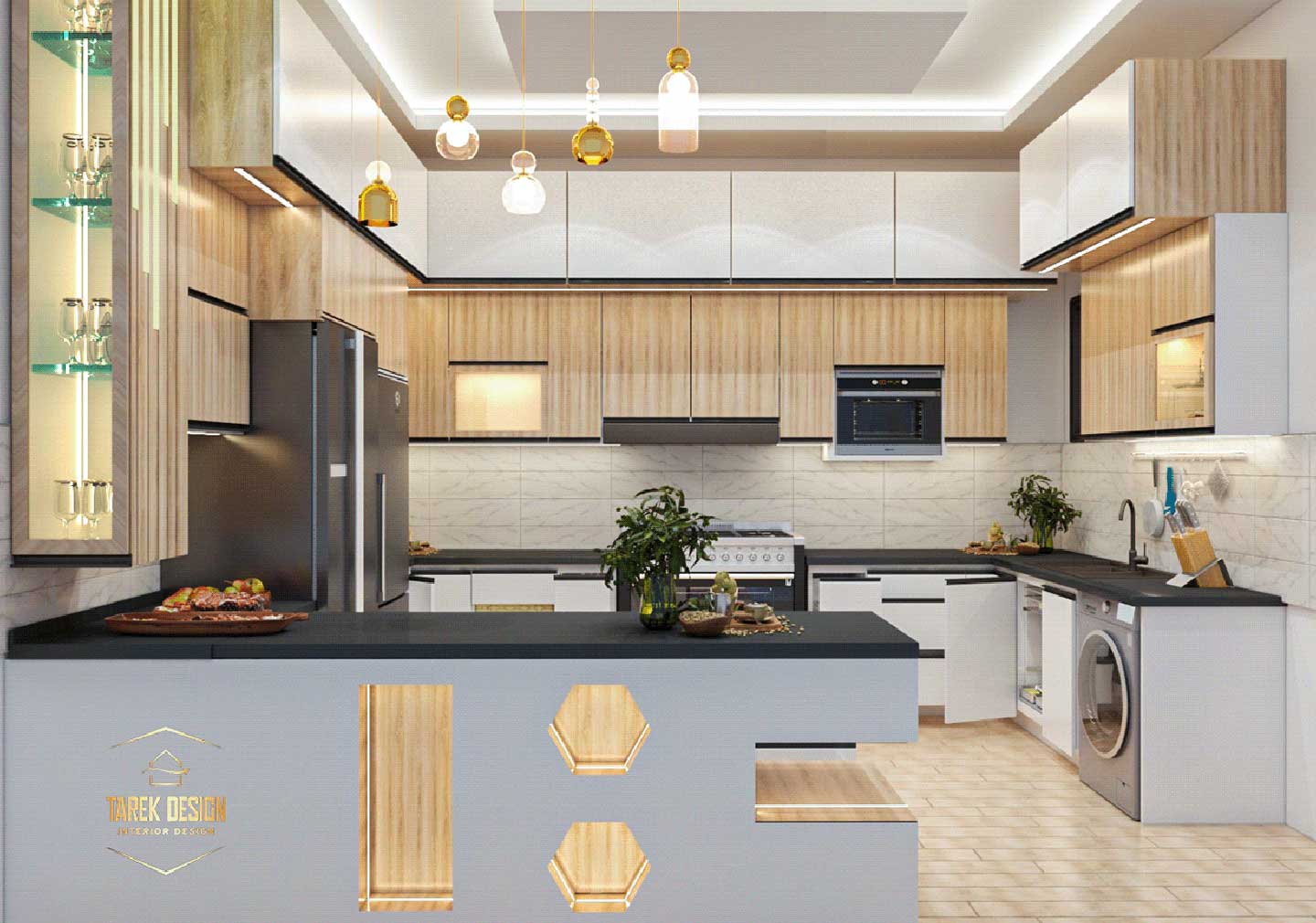 Technology plays a significant role in modern kitchen design, with high-tech appliances and smart home integration becoming increasingly popular. This section will showcase cutting-edge kitchen appliances, such as smart refrigerators, touchless faucets, and induction cooktops, that enhance efficiency and convenience. Explore how smart home integration allows you to control lighting, temperature, and appliances with ease, providing a seamless and connected kitchen experience. 
Bringing Nature Indoors: Biophilic Elements in Modern Kitchens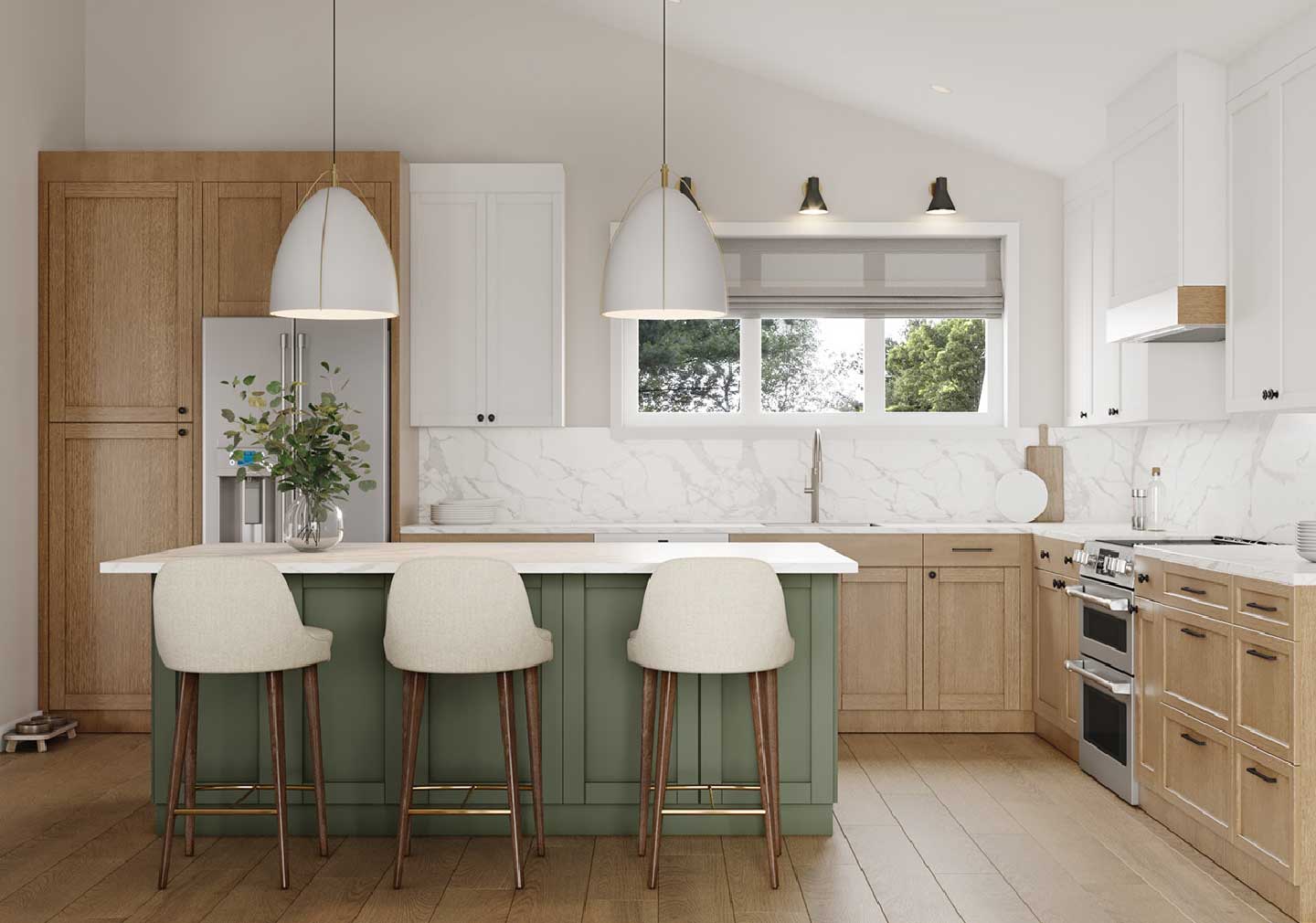 Incorporating biophilic elements in modern kitchen design is a growing trend that connects occupants with nature. This section will explore ways to introduce natural elements, such as plants, natural light, and organic materials, into your kitchen. Learn how biophilic design promotes well-being, reduces stress, and creates a calming and rejuvenating environment, making your kitchen a refreshing escape from the hustle and bustle of daily life. 
Lighting and Ambiance: Illuminating the Modern Kitchen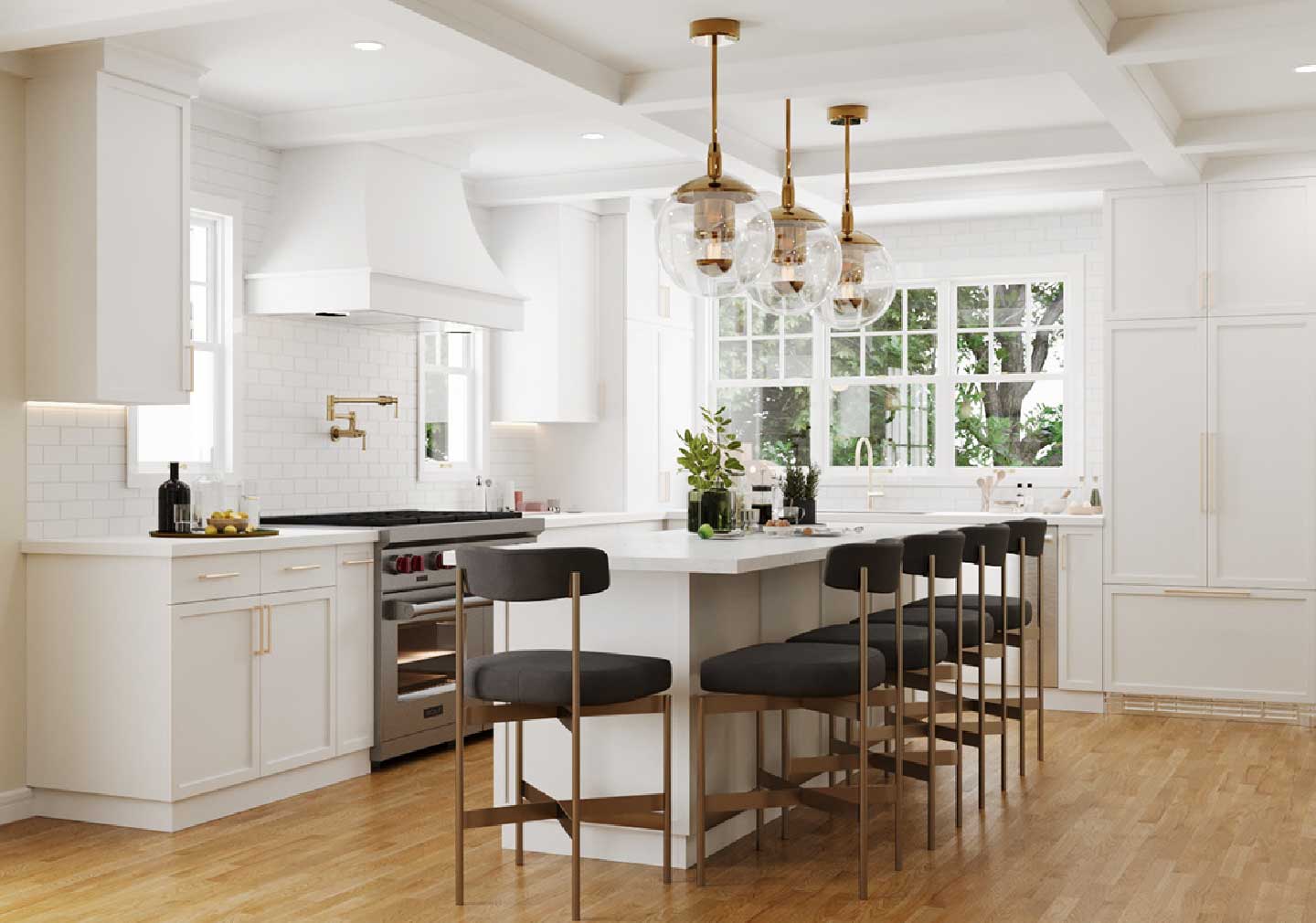 Proper lighting is essential in creating the right ambiance and enhancing the functionality of a modern kitchen. In this section, we'll discuss the importance of layered lighting, combining ambient, task, and accent lighting to illuminate various areas. Discover how pendant lights, under-cabinet lighting, and recessed fixtures can add a touch of style and practicality to your kitchen. Moreover, we'll explore the use of natural light and window treatments to create a bright and welcoming atmosphere. 
Open Concept Kitchens: Bridging Spaces with Modernity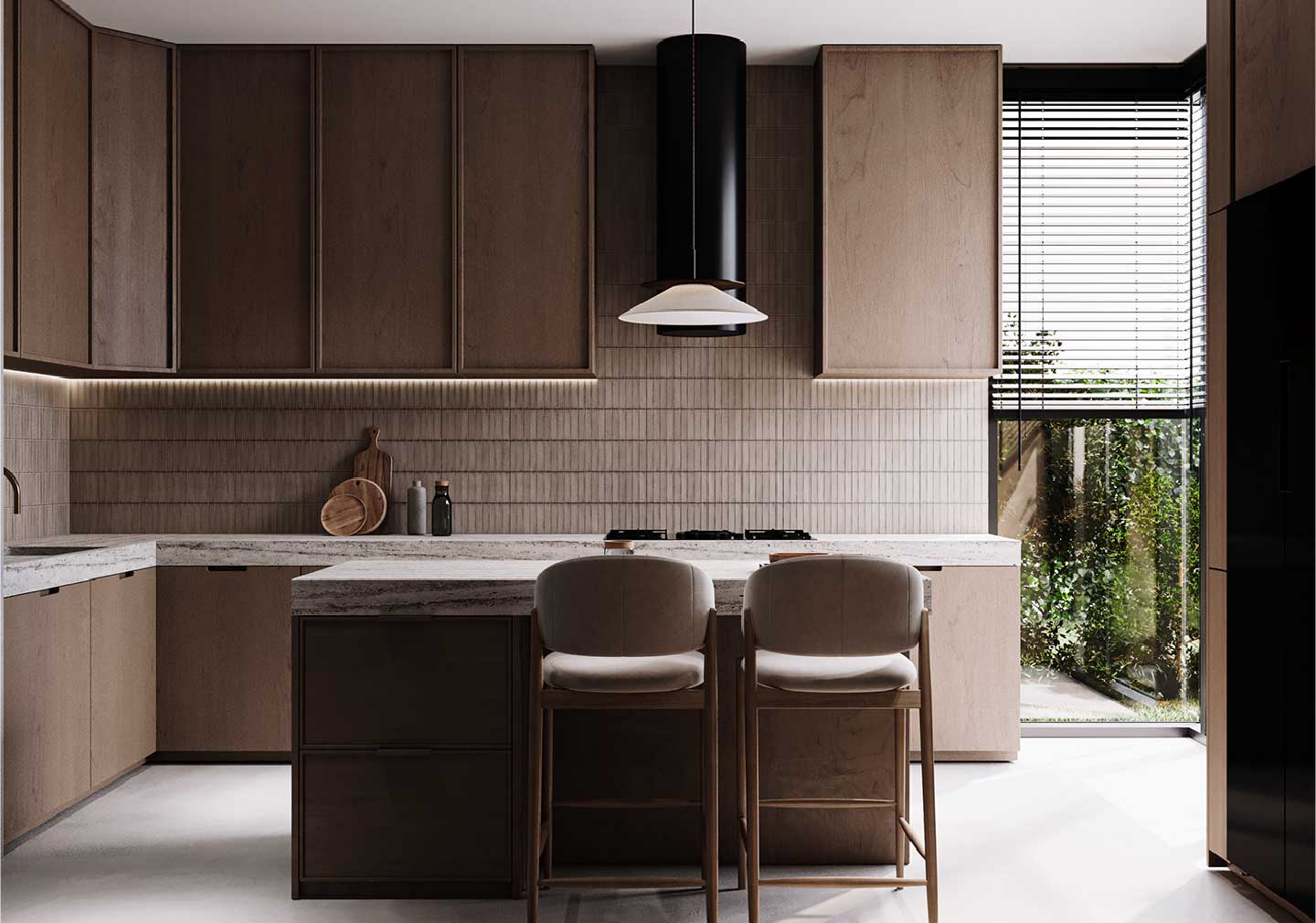 Open concept kitchens have become increasingly popular in modern interior design, as they seamlessly blend the kitchen with adjacent living and dining areas. This section will explore the advantages of open concept kitchens, such as enhanced social interactions and improved sightlines. Discover how to maintain a cohesive design aesthetic while integrating the kitchen into the overall living space.
From strategically placed kitchen islands to creating zones for cooking, dining, and relaxation, learn how to achieve a harmonious and functional open concept kitchen that embraces modernity and connectivity. 
Minimalist Kitchen Decor: Less is More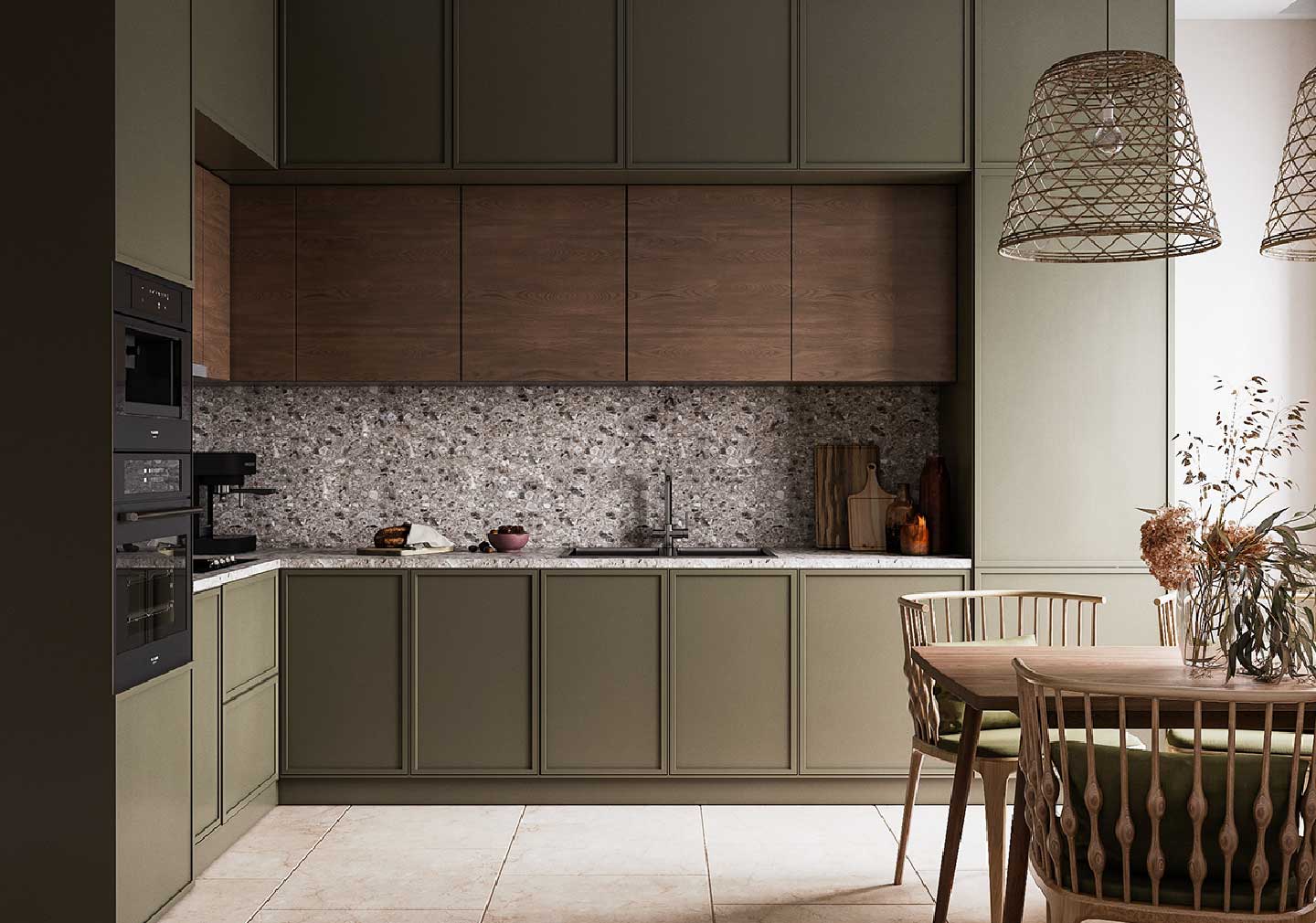 In line with the principles of modern interior design, minimalist kitchen decor advocates a "less is more" approach. This section will delve into the art of decorating a modern kitchen with simplicity and restraint. Learn how to declutter countertops, embrace negative space, and select essential decor items that enhance the overall design. Discover the beauty of minimalistic kitchen accessories and how they can add a touch of elegance without overwhelming the space. By adopting a minimalist approach, you can create a clean, uncluttered, and visually soothing kitchen environment. 
Color Trends in Modern Kitchen Design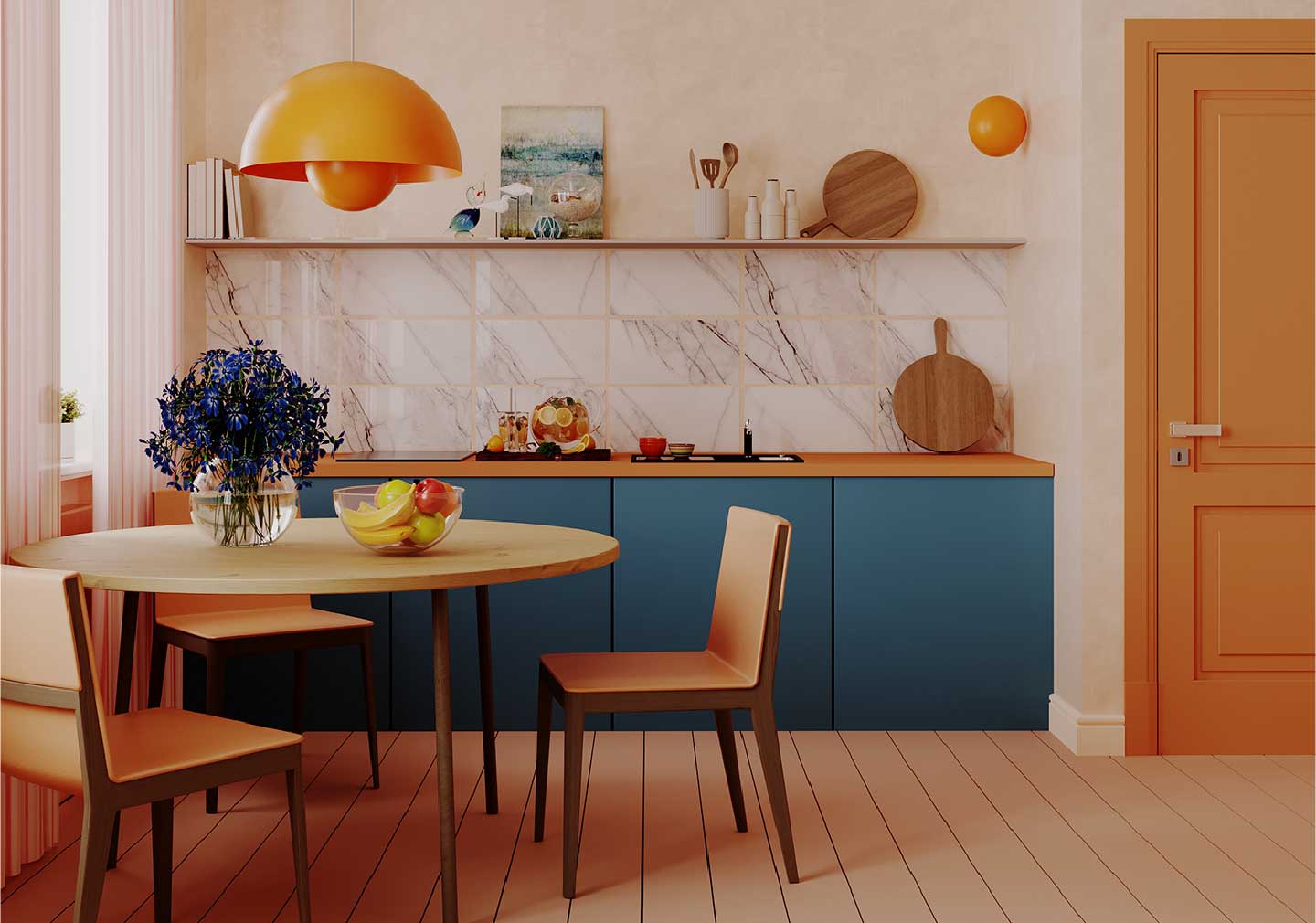 Modern kitchen color trends continue to evolve, reflecting the preferences of contemporary homeowners. This section will explore the latest color trends in modern kitchen design. From muted pastels and earthy tones to bold jewel hues and monochromatic schemes, discover how these colors can add personality and style to your kitchen. We'll also discuss the timeless appeal of black and white kitchens, as well as the growing popularity of incorporating pops of color as accents to create visual interest. 
Eco-Friendly Kitchen Design: Sustainability with Style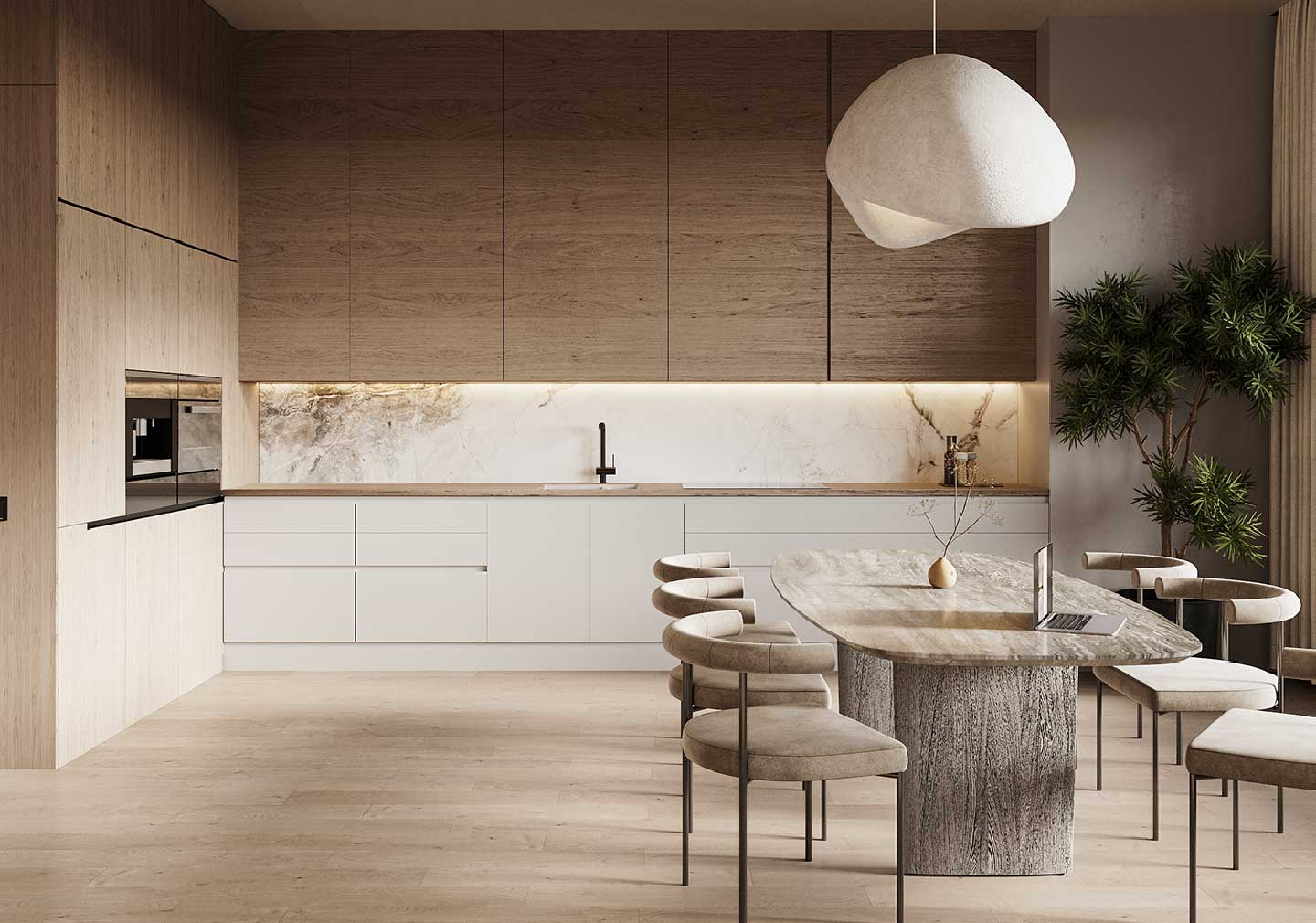 As environmental consciousness grows, eco-friendly kitchen design has emerged as a significant trend in modern interior design. This section will explore how to incorporate sustainable practices and materials into your kitchen. From energy-efficient appliances and LED lighting to eco-friendly cabinetry and recycled countertops, learn how to create a kitchen that reduces environmental impact while maintaining a modern and stylish appeal. Embrace sustainability with style and make a positive impact on the planet through your kitchen design choices. 
Multi-Functional Kitchen Islands: Beyond Food Preparation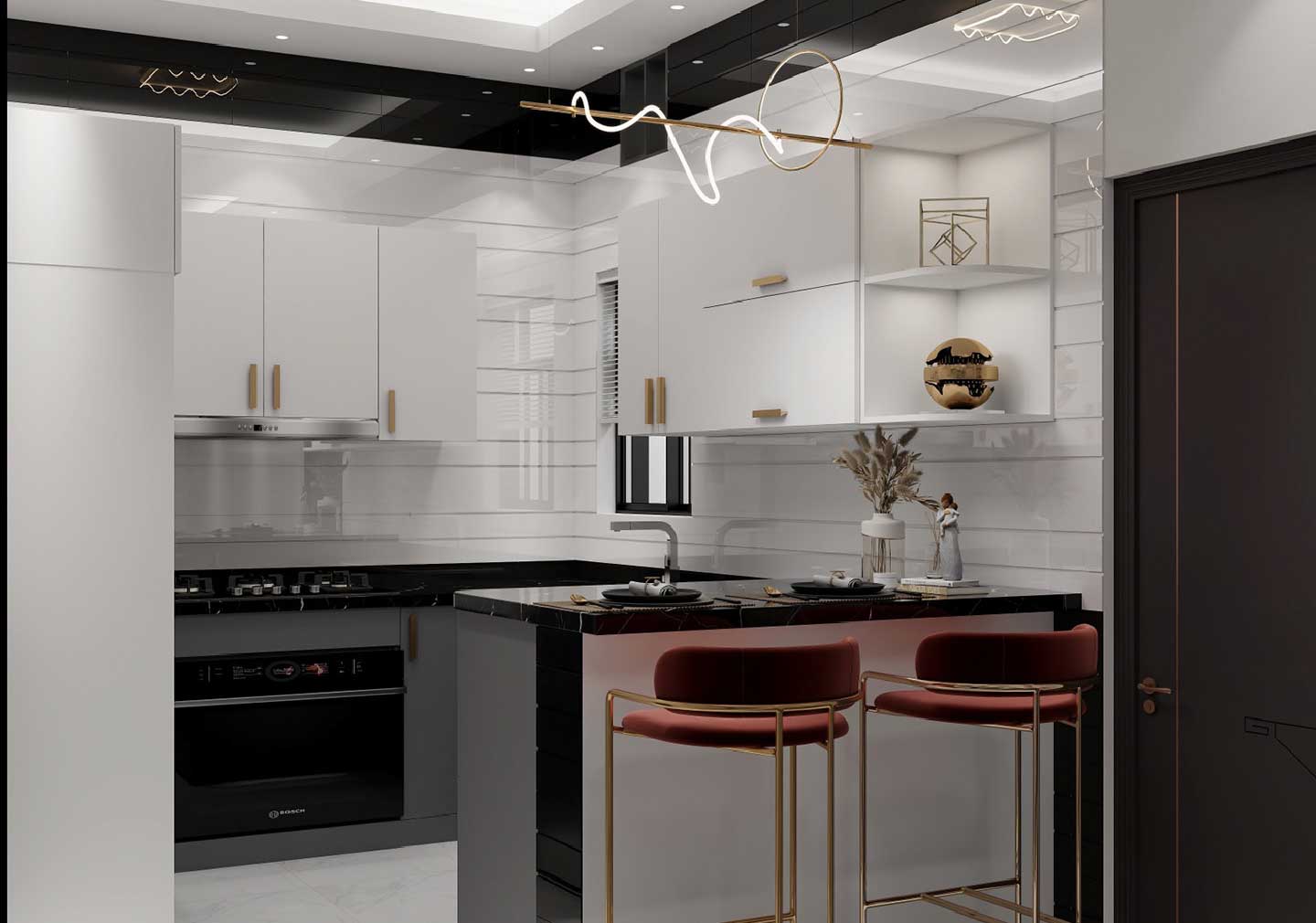 Kitchen islands have evolved from mere food preparation areas to versatile multi-functional hubs. This section will showcase the innovative uses of kitchen islands in modern kitchen design. Discover how to incorporate seating areas for casual dining or entertaining, add built-in storage solutions, and integrate smart technology into your kitchen island. We'll also explore the benefits of movable islands for flexibility and how they can transform your kitchen into a dynamic and efficient space that adapts to your lifestyle. 
Smart Storage Solutions for Modern Kitchens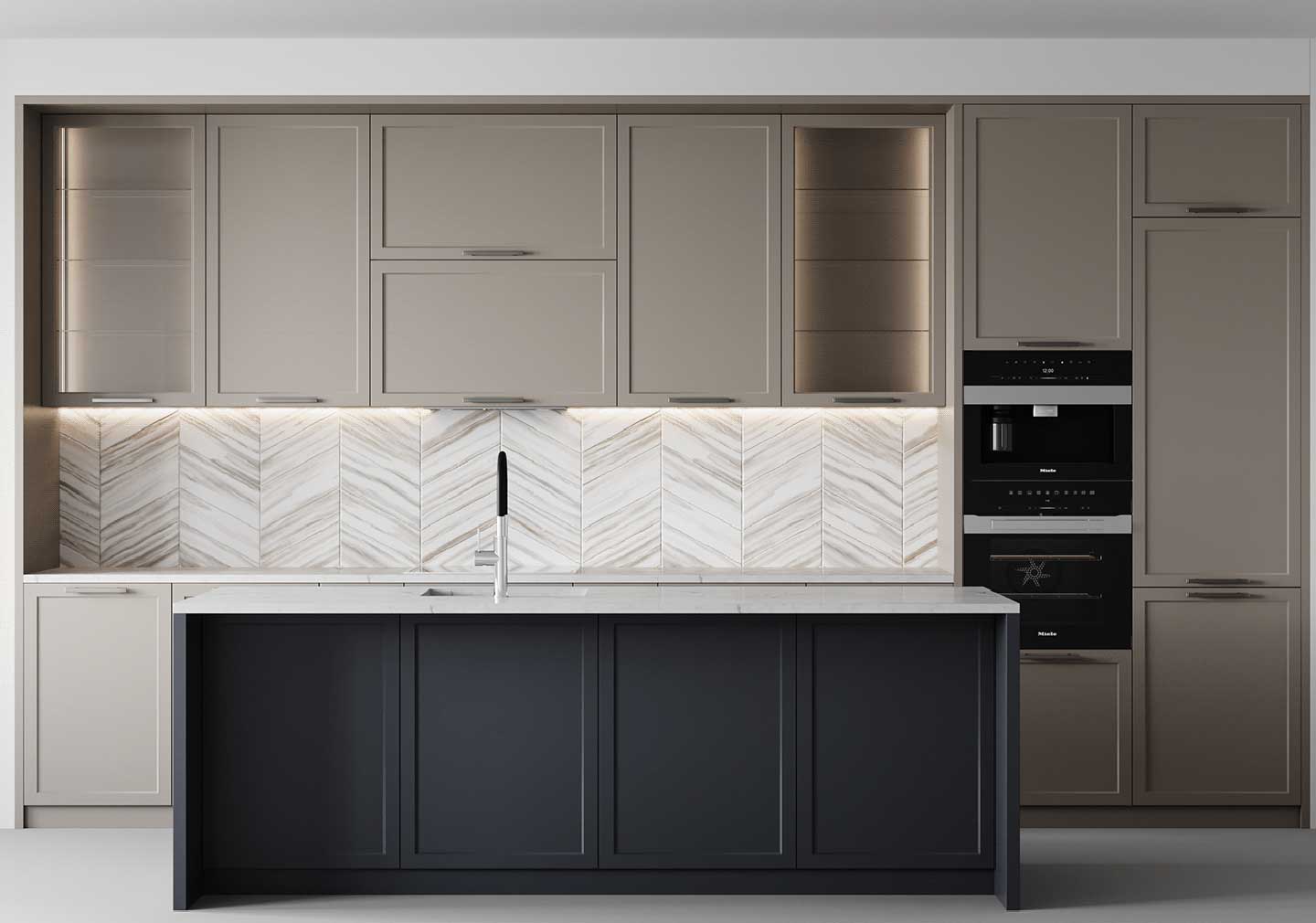 In modern kitchen design, smart storage solutions play a crucial role in maintaining the sleek and uncluttered look. This section will delve deeper into the various innovative storage ideas that maximize efficiency and functionality in your kitchen. From pull-out pantry cabinets and corner storage solutions to vertical drawer dividers and custom-built organizers, discover how to optimize every inch of available space. Additionally, explore the benefits of incorporating hidden storage compartments and appliance garages to keep countertops clean and free from unnecessary clutter. 
Modern Kitchen Flooring: Style and Durability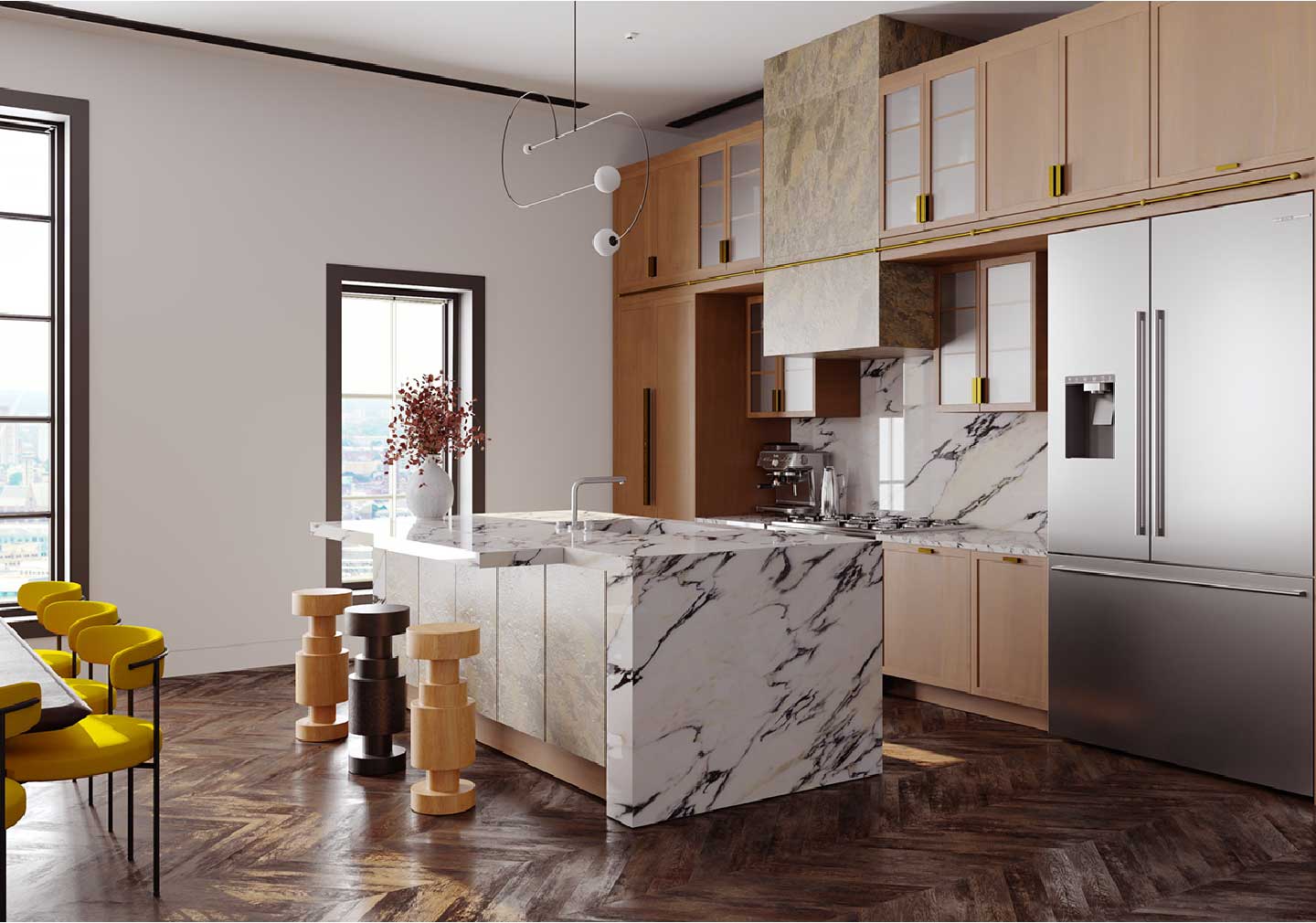 Flooring is a fundamental aspect of modern kitchen design, as it sets the foundation for the entire space. This section will explore different flooring options suitable for modern kitchens, highlighting their style and durability. From sleek porcelain tiles and polished concrete to timeless hardwood and eco-friendly cork, discover how each flooring material enhances the overall aesthetic and complements the design. We'll also discuss the importance of choosing flooring that can withstand heavy foot traffic and the demands of a bustling kitchen environment. 
Personalization in Modern Kitchen Design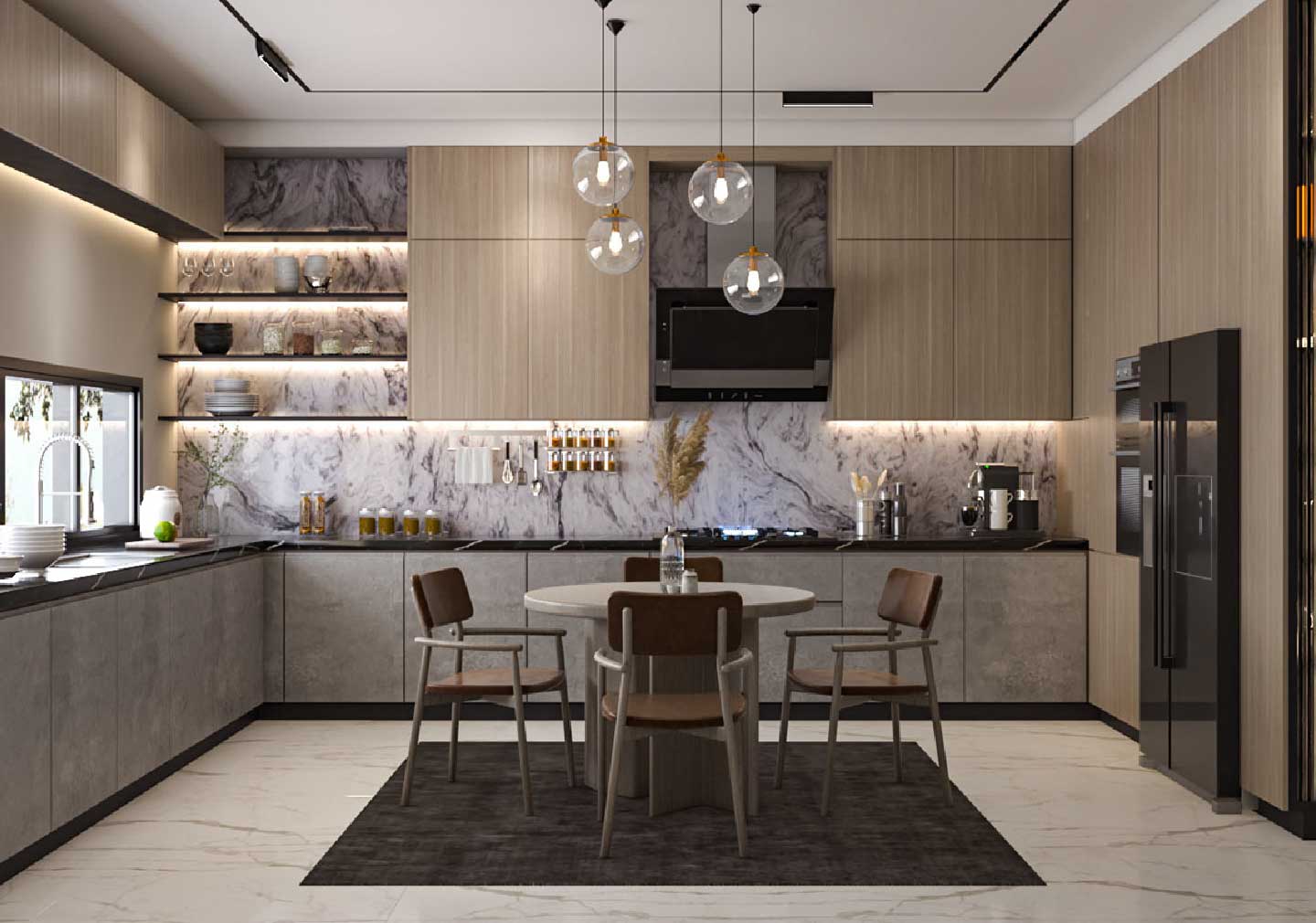 While modern kitchen design embraces simplicity and functionality, it is essential to infuse the space with elements that reflect your personal taste and lifestyle. This section will explore how to personalize your modern kitchen to make it uniquely yours. From incorporating statement lighting fixtures and decorative backsplashes to displaying curated artwork and adding a personal touch with kitchen accessories, discover how these personalization touches can bring warmth and character to the modern kitchen. Balancing modern design principles with personal style creates a space that not only exudes functionality but also feels like a welcoming and cherished part of your home. 
Conclusion
Modern kitchen interior design celebrates simplicity, functionality, and contemporary aesthetics. Bonito Designs embrace open concept layouts, minimalist decor, and current color trends, you can create a kitchen that exudes modernity and connectivity.
Moreover, incorporating eco-friendly practices and sustainable materials ensures that your kitchen design aligns with environmental consciousness. Multi-functional kitchen islands add versatility and adaptability, making your kitchen a dynamic hub for various activities. Embrace the principles of modern kitchen design and transform your culinary haven into a modern masterpiece that reflects your style, enhances functionality, and supports sustainable living. Happy designing!