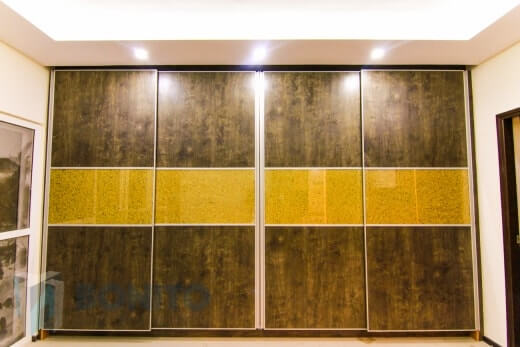 A beautiful house is everyone's dream. It becomes more important as this is the place where we come back and get energy to chase our dreams. If you look into this project we have done, may be you can come to conclusion that we are few among the best interior designers in Bangalore.
Your need and specification is all that is needed for us to fabricate the most elegant and blissful home in the town.
Let's take a look into Mr. Dsouza's house at Salarpuria Greenage, another of Bonito's masterpiece, a one which possessed that top interior designer looks.
Interior design at Foyer Area Layout
The Foyer Area consists of extravagantly spaced four storage shelves,that are big enough to store ample  stuff. The four feet height makes it usable from the top side as well. It simply gives a demonstration of the knowledge and experience of Bonito team, that's trying to make the most out of given space.
At the same time, Foyer area is kept as briefly occupied as possible, so as to give plenty of open space.
Contemporary Living room design
The Living room is quite spacious. The ultimate entertainment section in this living room is the TV unit. This TV unit is given a wooden backspace, which smartly takes in all the wires and gives a clean outer appearance. The wireless stuff and other TV related things could be managed nicely on those two drawer TV storage. A shelf is provided at the top, so that the things which should be kept at a safer height can be put up there.
Kitchen – A place that boosts your energy to chase your food dreams
The kitchen is provided with a big black granite top surface. It is kept broad enough to make the experience of working in kitchen, an inexhaustible and appealing one. We are sure Mrs. Melvin would be honored with a lot of assistance when working in such an inviting kitchen.
The big storage cabinet behind the granite top will make it easier to take out things of kitchen requirement from there. Other than that, there is plenty of storage space provided wherever possible.
Bar Unit – Crown jewel unit for men 🙂
The bar unit is mounted on one corner of the kitchen unit.  It has been sectioned into 3 cabinets, where the middle section is given with Korean top.  Next to it is the storage space with glass doors. This proves that we are indeed smart Modular Kitchen designers.
Interiors in Living and dining area
The living and dining area run side by side. It is kept as sober as possible. The false ceiling has been provided with spot lights to give that ravishing effect. The simplicity has been attained here since this area is used most, so we kept it as simple as possible.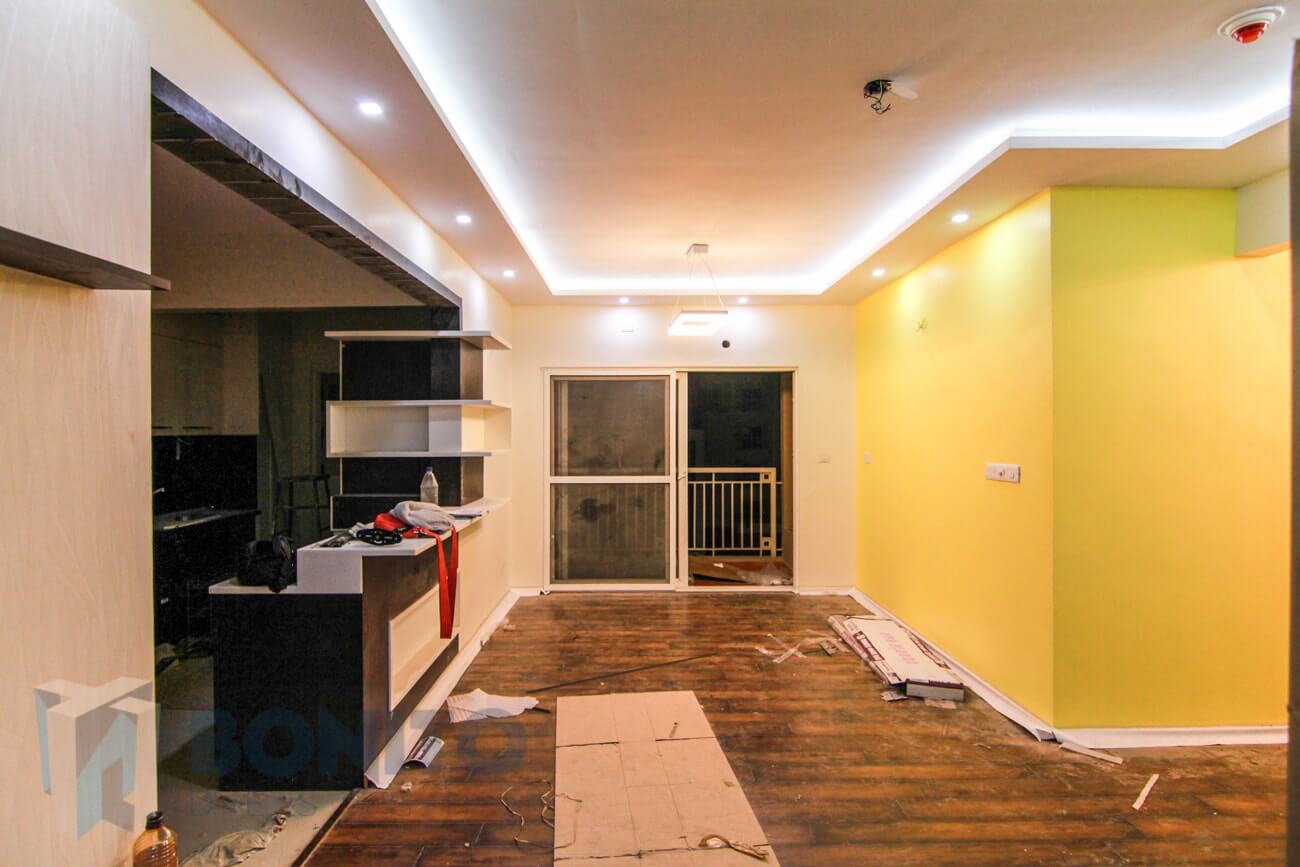 Guest Bedroom
The wardrobe is 7 feet high with separate storage for hanging and regular folded clothing. The modular sliding wardrobe is provided for ease of opening and it is occupying lesser space.
The shelves are drawn accordingly, so that all kinds of things get their desired storage space. Valuables can be kept in small drawers provided. The plywood used is the commercial one, for aided durability.
You know the interior designers in Bangalore are really up to something. 🙂  😉 As interior designers Bangalore we created this awesome creation for them.
Master Bedroom
The 14 feet length of one side of the room is captivated and given the form of a big spacious 4 slider wardrobe door. It has been smartly divided into 2 sections for both genders. This eliminated the issue of sharing the same wardrobe (which is an extra headache for Wives) 😉 😉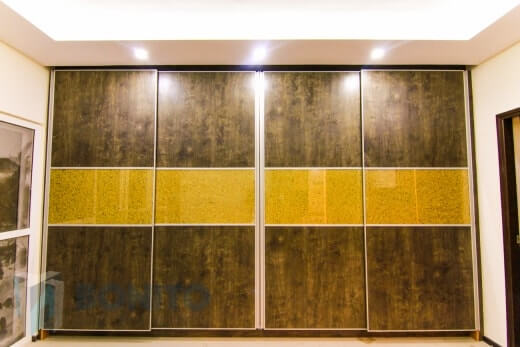 Another impressive feature of this wardrobe is the wall paper which we proposed in the centre drawing completely all the length. To avoid rupturing of this eye-catchy wall paper we covered with sheet of glass, and strips of aluminium are provided to elevate the design.
On the wall opposite to the wardrobe, the place has been crafted for wall panelling.  The beautiful false ceiling along with the spotlights are continued which gave a unique look. The room really looks a masterpiece!
One can view a simple dresser unit with short storage boxes as they enter into the master bedroom.
The interior designing done is Mr. Melvin's house is unique in its kind. The home interior works done at this place has made it, a home worth longing for.
Isn't this house a pretty space?   To get that knock-down ceilings and beautiful interiors landed in your home just call us..!!