Kitchen designs for your savior!
The kitchen is the heart of the home, so it's crucial to consider how to use it in the most practical and functional way possible. However, one has to make sure it looks beautiful too. The world of kitchen design is full of ideas and inspirations which are truly dynamic. You spend a lot of time in your kitchen. A lot of memories are made in the kitchen: when you prepare meals with your partner, host your closest friends, or hang out with your kids at the counter. For these reasons, it's critical to design a space that radiates happiness — not simply as a result of your excellent aesthetic decisions, but also as a result of the way it is set up. Even the slightest kitchen improvement, such as new wall art, lighting fixtures, or peel-and-stick backsplashes, can result in a significant transformation.
Layout, cabinets, work surfaces, appliances, and other components are all important in creating a functional and attractive kitchen design. In today's modern interior kitchen, every square inch must be put to use. Basically, our spaces should be multi-functional.
How to design your kitchen space?
If you're seeking to discover new trends on kitchen designing, read through this collection of tasteful interiors, which features a range of contemporary kitchen designs, vibrant trends, and charming country kitchens. Whether you are thinking of the most recent design trends, want classic kitchen décor that will never go out of style, or thinking of modern day elements, we've thought of everything. While fads and trends come and go, certain ground-breaking designs endure for the current design scenario.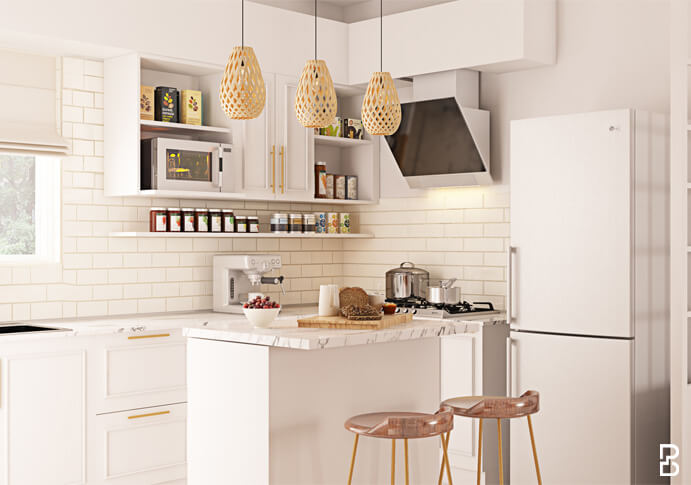 Kitchen trends that are going to rule in 2023:
Here are a few kitchen design trends of 2023 that will work in any setting. Have a look and get inspired:
1. Statement Backsplash
Contemporary kitchens now use graphic tiles made of ceramic, porcelain, or cement that feature striking designs. It is obvious that this trend is back again, reviving the long history of ornamental tile. For a statement look, replace the flooring in your kitchen with statement-making tile. Alternatively, choose a backsplash made of patterned tile for a dramatic focal point.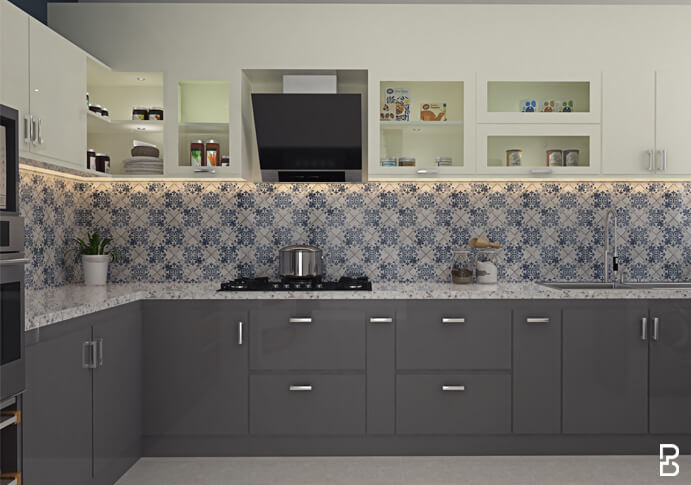 2. Black is the new in
Black is more than just a strong accent or base colour. You may build a layered interior using only black and a variety of dark-hued finishes and materials. Despite this, black still contrasts with a colour well and sticks out the most. In addition, a variety of appealing black tints will be available in the upcoming year which will blend well with natural textures as well. They could also be combined with woody tones to soothe a neutral image.
3. Kitchen lighting is the key
There are many wonderful amazing lighting options to consider, but kitchen lighting is frequently overlooked as part of your overall design. However, proper lighting can completely change a space. Layered lighting designs that combine mood, task, and feature lighting are necessary for a successful lighting. Each component of lighting is important. For example, the one that covers the island offers a chance for fun and expression. Statement accent pieces will take the lead this year with a change in the decor dimension. To know more about lighting in interiors, check out our article and take your inspirational notes!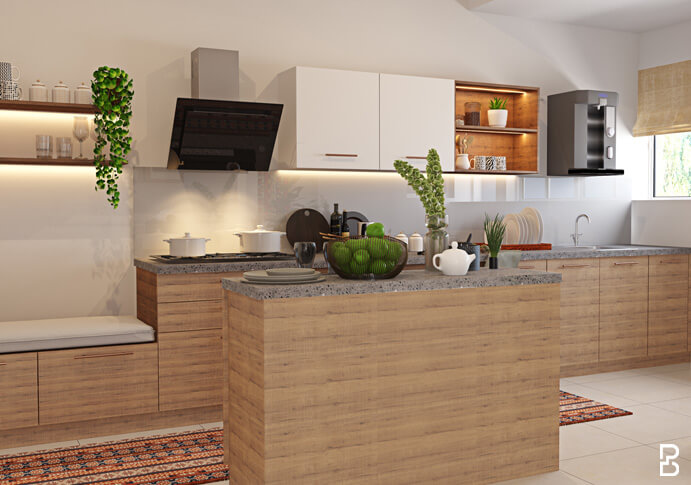 4. Go for green
The kitchen embraces a traditional, timeless tone straight from the garden as a major colour for 2023 as design trends shift collectively toward natural materials, forms, and colours. With the essence of bringing in the calming, grounding nature of the outdoors inside the home, green proves to be the perfect colour. Mint green is a cheery, subtle, yet subdued green colour that evokes our desire to be near nature. Combine this colour with shades of brown or metallic accents for a perfect look.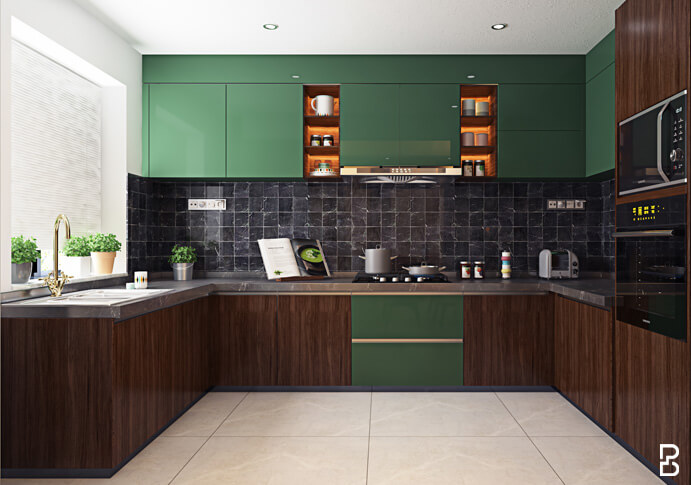 5. Wallpapers for kicthen
Wallpapers for the kitchen? Yes, you read it right! It appears that the trends in kitchen design are portraying solely functional areas, more like a living room. Wallpaper trends in kitchens are gradually gaining pace, and we are seeing it more often. Paints and tiles have always been preferred over wallpaper in kitchens. Now that we want our kitchens to be more like an extension of our living spaces, using wallpapers makes sense since it breaks up the clean lines and adds texture and depth. Nowadays, there are a variety of wallpaper options to choose from- go for waterproof wallpapers which can easily come in a plethora of prints. For more information, you can refer to our article on wallpaper in kitchens for more ideas.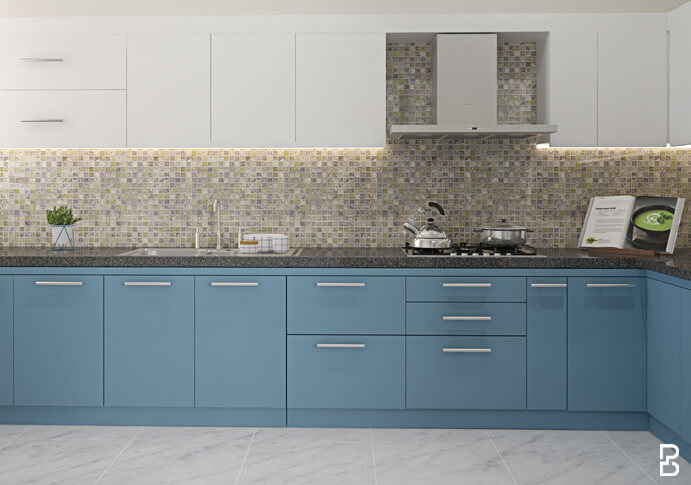 6. Concealed storage
Living in a small place allows for even more kitchen ingenuity. Even if it's a stylish open-concept area in the kitchen area, concealed storage can be the best option for a seamless experience. By blending cooking, dining, and lounging into one magnificent, light-filled room, you can optimize the impression of space. If the storage is concealed the area will look clutter free, allowing the people to benefit more from the space.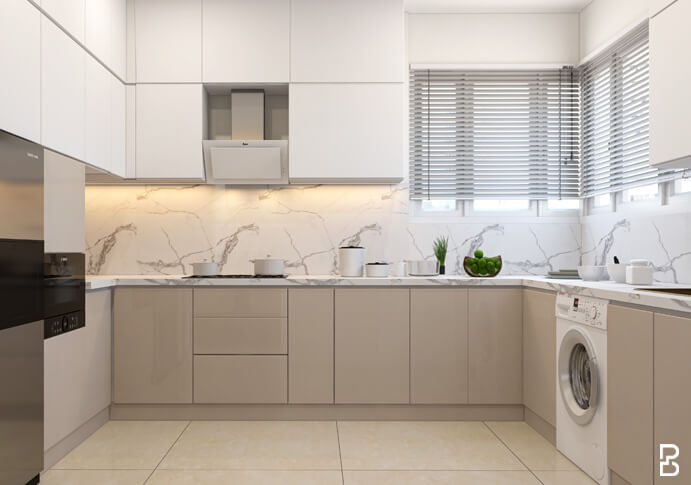 7. Unconventional sink designs
With the advent of innovative styles and design ideas, sinks play an important role in any kitchen now. Black, brass, and stainless steel sinks have received a lot of attention in recent years' kitchen trends. Yet again, sinks with crisp and simple designs are taking the lead. Sinks which complement the gorgeous taps are now invoking the real design essence in kitchens. Beyond the obvious stainless steel or ceramic possibilities, sinks are made of granite, marble, concrete, and Corian and enhance their aesthetics with edge details.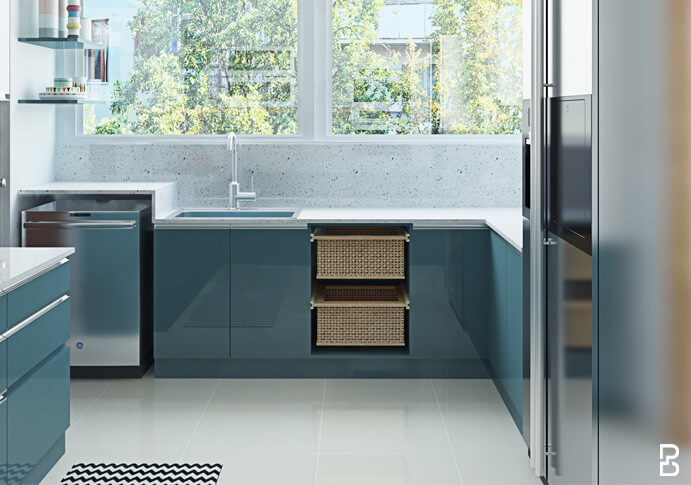 8. Dining cum island table
Redefining the space you eat with your family is very important as here the families reunite for meals. Modern families typically opt for casual meals at the kitchen island rather than using the dining room. Consequently, island designs are evolving to include both a prep area and a dining table. For breakfast in the morning, many homeowners move their barstool seats around the island, and a few just fasten a dining table where they want an island to be. This accomplishes two objectives with a single improvement by combining an island and a dining table and this design is here to stay!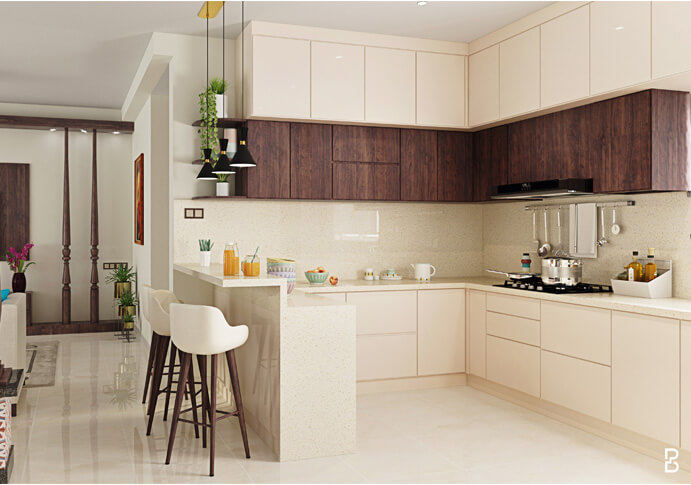 9. Go sustainable
Living sustainably is also having an impact on the materials which we are now selecting to build or decorate our kitchens with. The concept of using sustainable materials will endure, and there will be a development of the upcycling, repurposed, and hand-crafted trends. Sustainable, timeless, and statement pieces are now heading the interior design market. Buying minimal stuff which will last longer will be the ruling idea in 2023. Also, the infusion of greens in the kitchen is also changing the working scenarios.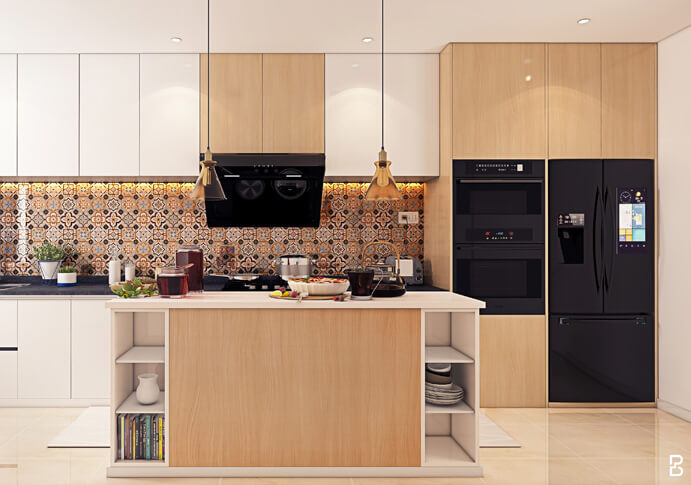 How can we help you?
Kitchen designing is really mind boggling for a designer as well as the people residing in. With families spending more time at home and homeowners making the kitchen truly their own space, kitchen design trends have developed rapidly in the last several years. With a focus on functional aesthetics and family life, modern homeowners are becoming creative with their kitchen designs. They are experimenting with additional colour and style options. If you want to get your kitchen designed with personalized solutions, Bonito Designs is exactly what you're looking for. Connect us for more ideas and get your desired kitchen designs today!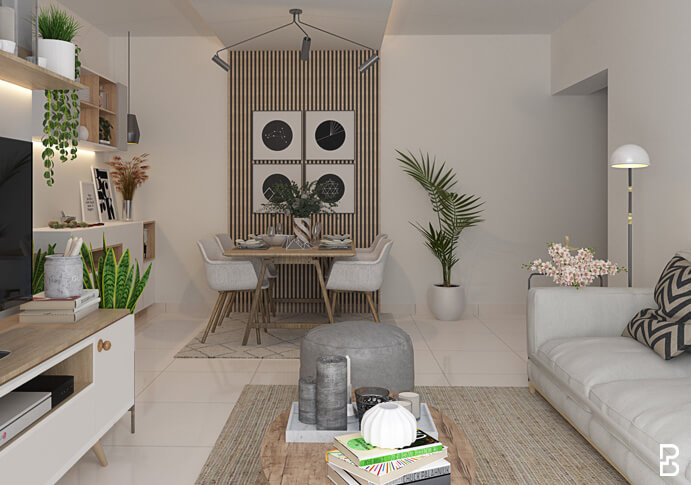 Subscribe to read the latest blogs update.
We promise we won't spam!