Mr. Deepak's Home Interiors at Sobha City
It gives me great pleasure to narrate about one of our well done projects in Sobha City, which itself is a mark of prestige. The house is a 3BHK apartment and it boasts of the creativity of our best designers. The entire project has been meticulously planned and executed.
Foyer:
The foyer area is simple but still possess a charismatic look. The area is composed of a cute shoe rack of brown laminate. The shoe rack is simple but yet appealing as it has three doors for keeping your shoes and other belongings.
[embed]https://youtu.be/Ps_ylBSKpR0[/embed]
Living Area:
The living area is quite spacious and the TV unit may be well said the focal point of the area as a huge back panel covers the TV unit and cute cove lights twinkle from the rafter above the TV Unit. The entire area is done on a white theme so that it gives a soothing look and warm feeling. A wooden dining table and a sofa opposite to the TV unit adds to the elegance of the room. Lofts are provided above the TV unit to keep things of daily use. An image of Lord Buddha and two unique two landline phone sets placed on a wooden cabinet with olive green laminate, just spices up the whole environment. A top lift cabinet holds statues of deities and Goddess.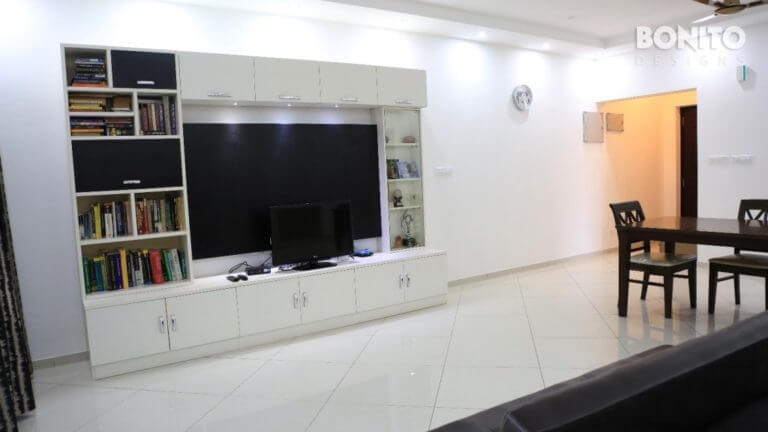 Modular Kitchen:
The modular kitchen is done on white and light grey theme. The kitchen has two parallel cabinets running end to end and so….. also two rows of top lift cabinets running parallel to each other. In other words, it is a parallel kitchen. A designer chimney is the focal point of attraction.  There has been optimum utilization of space while designing this kitchen.
Kid's Bedroom:
The Kid's bedroom is done with a yellow and light grey theme. Two cute beds with small yellow headboards and two equally cute study tables marks the room. A heavy curtain with black markings has been purposely provided to bring in contrast. Two door open able wardrobe on a yellow and white theme just blends so nicely with the entire ambiance of the room.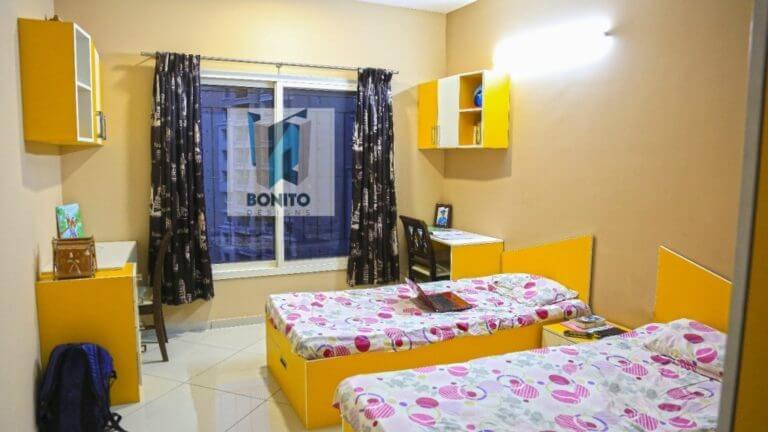 Master Bedroom:
The master bedroom is planned just so well and designed marvelously. A huge wardrobe with open able doors and top lift cabinets along with a huge dressing mirror is the hallmark of the entire room. The bed is simple with a majestic look. On the whole the room is charming and has a decent look.
Guest Bedroom:
Guest Bedroom is again done on a white theme. Two adjacent wardrobes with open able doors and top cabinets along with a tall dressing mirror welcomes you to the room. Cove lights affixed to the top cabinets just stare down to give a cool look. The bed is a simple king-sized bed.
During the discussion with Vathsala, who is our lead designer and also one of the core members, Mrs. Deepak appreciates the work done by Bonito. She recognizes the hard work put in by one and all, specially the project manager Raghu. Mrs. Deepak says her favorite place in the whole house is the study table.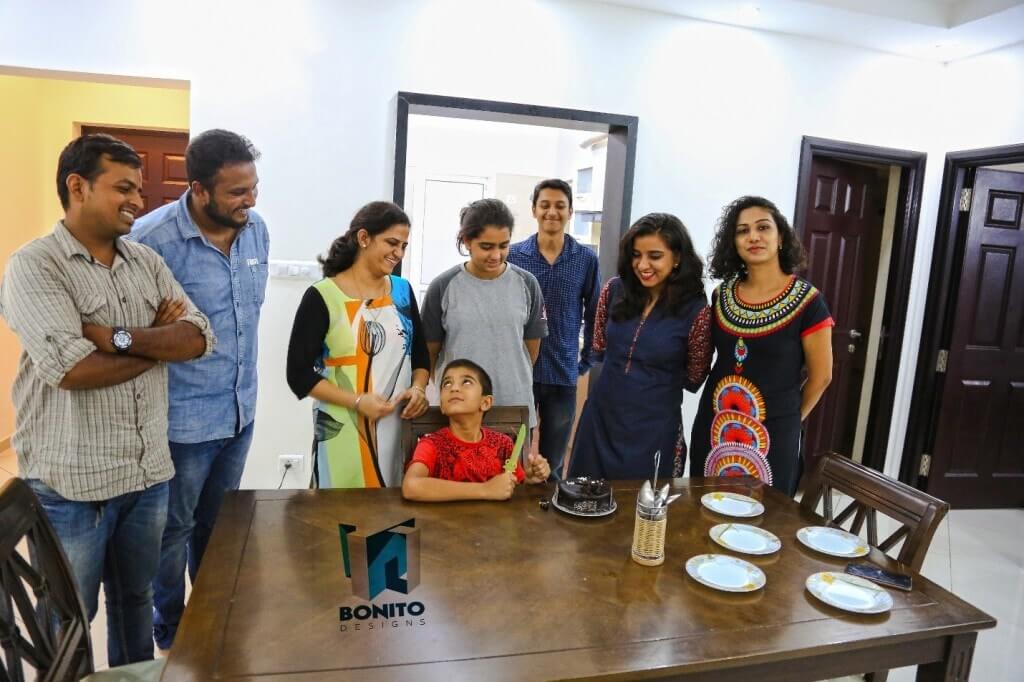 Project Manager Raghu also shares his experience with Vathsala and according to him, working in this project has been quite a pleasure except for minor hitches which are there everywhere.
Please Do reach us on
Email : hello@bonito.in
Phone : +91-9019598877