Looking for latest trends in bedroom interior design ideas?
The bedroom is the only corner of the house where you do not just relax physically but also you attain peace of mind. When you are in your bedroom, you are cut out from the rest of the world and the only thing that you have is rest and relaxation.
Your bedroom can be even more pleasurable if you have designed it in the most comfortable way. Bedroom design trends 2021 bring such patterns that not only will transform your bedroom into a place where you wish to spend a peaceful time but also the design will stay on for long.
Whether you are designing your new home or you are willing to change the decor of your existing bedroom, trying these bedroom design ideas can help you in getting a fresh look to enjoy.
Bedroom interior design trends & ideas 2021
One of the best ways to get a trending bedroom design that can last for years is to make a selection of neutral shades. For a comfortable sleep, you should focus on the materials more in place of the looks. Make use of plush and cotton bed sheets and pillows. Make sure to install different types of lights so that you can use the bright lights while you are doing any work and can use the dim lights while you are trying to relax.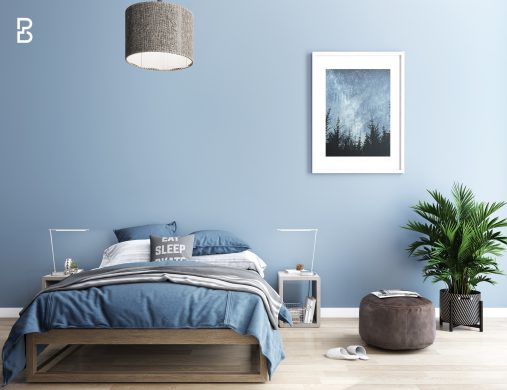 Your bedroom is also the perfect place where you can experiment with your personal choices. You can make use of bold options such as the glossy satin blanket and pillow covers that can be combined with matte finishes such as cotton bed sheets. As per the bedroom design ideas 2021, you can experiment with different options to choose the one that suits you the most in terms of looks as well as comfort.
Modern bedroom with vintage ideas
Who says you cannot fuse modern bedroom design ideas while you are getting a vintage-style bedroom? You can conveniently combine two designs in your bedroom to get results as per your desire.
There are several ways how you can easily combine vintage designs along with modern designs in your bedroom. If you already have a modern-day bedroom setup, there are several ways how you can include vintage designs in it. If you have kept the shade of the bedroom neutral, make use of laces and golden borders to create a dramatic vintage look in your bedroom. Also, you can install chandeliers and a false wall to bring in the vintage impression in your modern bedroom.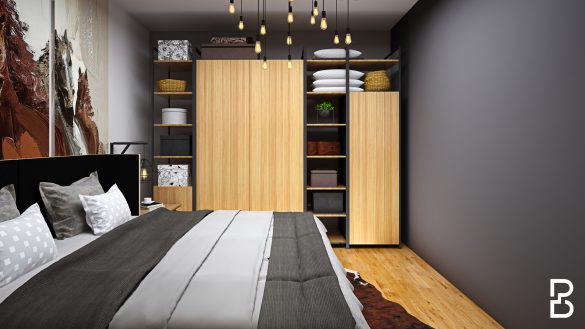 If you actually wish to welcome the vintage feel, one of the best ways is to introduce the canopy bed in your bedroom. Along with this, the heavy glass chandelier, the table lamps at the side tables and the side couches over a proper vintage look. But make sure to maintain the space in the bedroom to include modernity too.
All in one bedroom and bathroom design
If you have limited space, getting an all-in-one bedroom and bathroom design is the perfect option to go for. You may even find such an option in many of the hotels also today.
Even in many cases, large bedrooms are transformed into the all-in-one bedroom and bathroom design to get an impressive look. One of the most common options that you can get is to design the entire room with wooden flooring. There can be a small partition of the wood wall between the sleeping area and the bathing area. There are also options where the bath area is at an elevated area than the sleeping.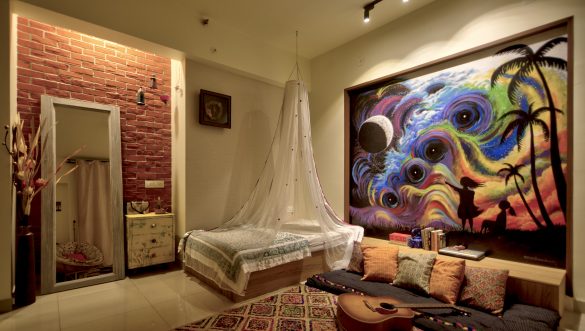 If the whole area is in a smaller space, keeping the colour options such as neutral is the best option. Choosing a subtle colour option such as white is the best thing that offers the impression of having a larger area. If you have a studio apartment or so, this can be one of the latest bedroom interior design trends to have that is functional as well as pretty to look at.
Luxury Modern Bedroom design ideas – leather, brass and marble
When you are looking for master bedroom interior design trends 2021, you can get several amazing luxury options to choose from. The recent day experts create a harmonious combination of steel, leather, and brass to create a masterpiece that is worth flaunting. Though the designs may seem simplistic when they are scrutinized individually, all the textures and patterns coming together offer an excellent result to create a luxurious setup.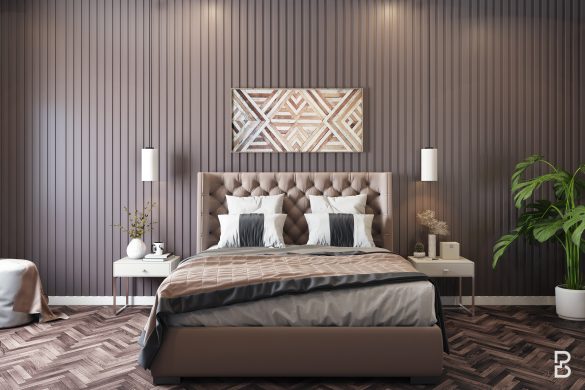 Another material that is highly in trend lately for bedrooms is marble. Marbles have always been a symbol of class and luxury. But there are many people who make the mistake of installing just marble on the flooring or even on the walls. This can create a cold look in the room. Also, during the winters, you may face lower temperatures in the room than usual. Hence, the best way to make use of marble is by combining it with materials such as brass and leather. For example, if you are getting the marbles on the wall behind your bed to get a backdrop, make sure to have a headboard of the bed with the material leather on it. You can also install brass items such as lamps and artifacts on the side tables or so to match the look and the temperature of the marble wall.
Also Read: 11 Tips for Luxurious Bedroom Interior Design
Bedroom designing materials 2021
While selecting bedroom designing materials, there are three eminent points to take care of. These are the themes that you choose for the design, the combination that you wish to have, and the options that you prefer the most. But apart from this, there is one more important point that people often miss out on is the type of quality that they need to choose. With the increasing amount of carbon imprints, it is a healthy idea to look for organic and natural items for your bedroom designing. There are several areas where you can choose to have natural material in place of plastic or synthetic.
One such place is the furniture. It is quite a trend to make use of furniture made out of polypropylene these days. But these materials are also a form of plastic that can be harmful to the environment. One of the best options that you can have while looking for furniture ideas for bedrooms is the material wood. These can easily match up with the decor of your bedroom and can offer you a perfect look. But if you are looking for an even trendier look, you can go for cane furniture options.


Apart from furniture, you can again make use of cotton rugs in place of synthetic ones. Also, using natural items such as steel, cotton, wood, velvet, and others is comparatively much more comfortable than the other synthetic items.
Here you are ready with some of the best bedroom design ideas 2021 to get your bedroom redesigned and get a new look. To conclude, the trend this year is to make use of natural materials and recycle the old stuff that already exists. More focus is provided on the comfort of a person rather than the massiveness of designs. Bedrooms are exclusively for resting purposes and the recent ideas and designs depict comfort as a prior element.

Start your journey with us and craft your
dream home
Make a statement, build a designer home.