We all love treasuring the memories and it becomes all the more special for the kids. Kids bedroom serves as the focal point of their growing-up experience, whether it's their sleeping time, while listening to lullabies or bedtime stories, playing their favorite game toys or drawing on the wall with colors.
Kids too have their own likes and dislikes. It should therefore be properly designed which reflects their personality. Some might have their own fantasy picks or some might love living like their favorite inspiration.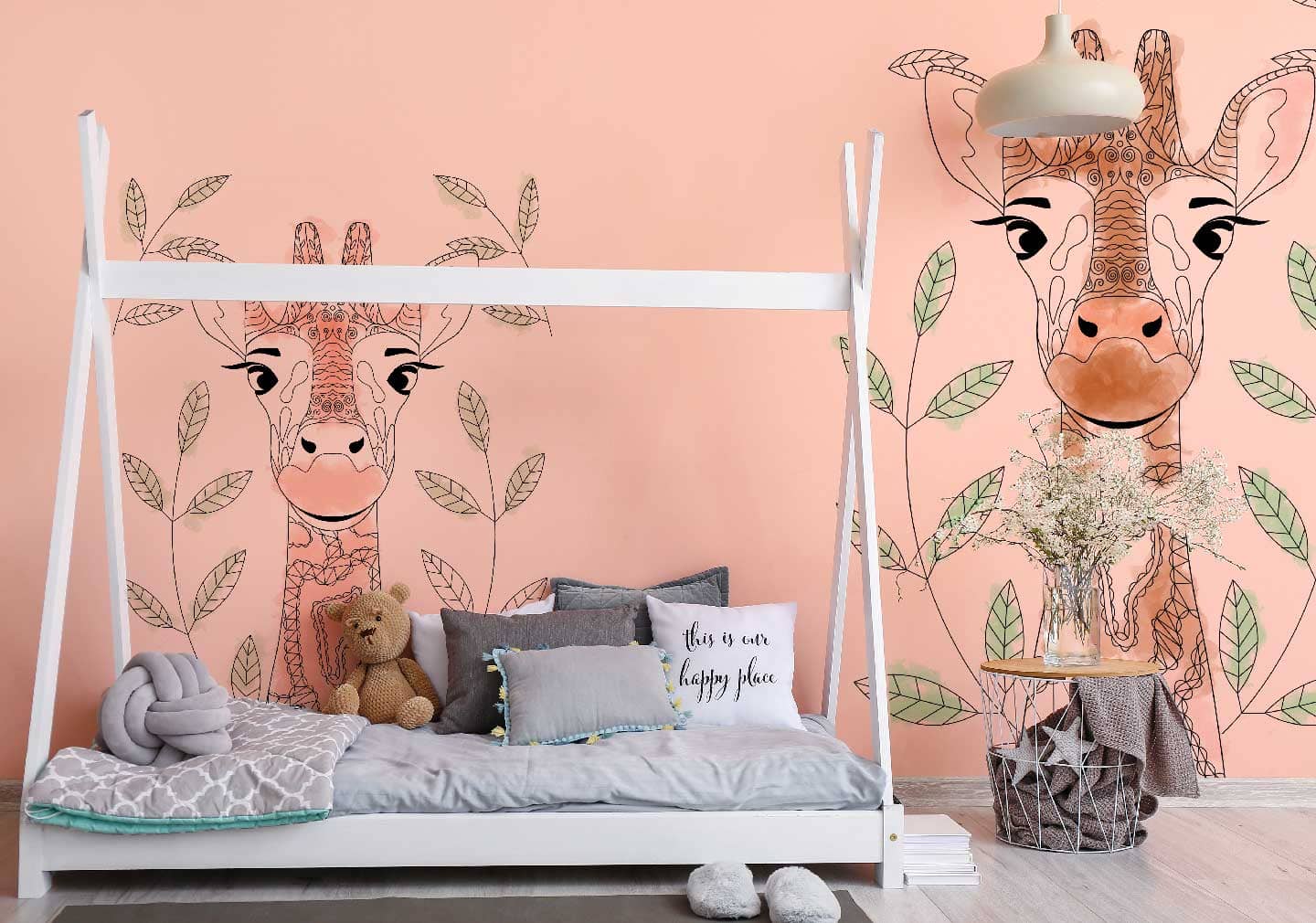 Kids room design ideas might be fascinating, but they aren't always the simplest to come up with. The idea is to select furniture and accessories that not only complements your child's personality and encourages them to enjoy their new space, but also serves their practical needs.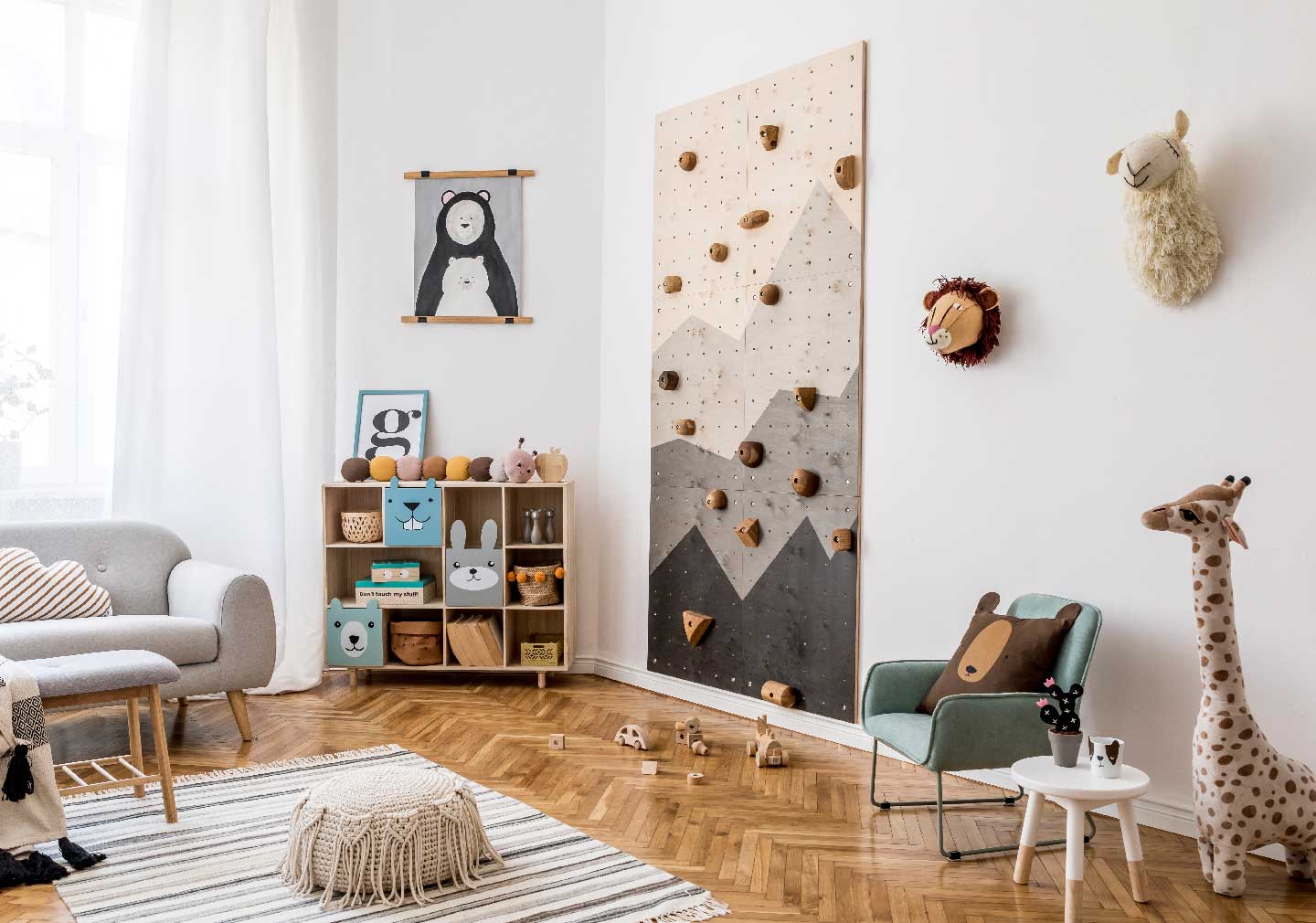 Ideas to accentuate your kids bedroom decor
You can find a lot of inspiration for kid's bedroom designs. Here are some unique ideas which can help to accentuate your child's space in a way which they'd love to enjoy!
Lights are really important considerations while designing the kids bedroom. A child's room serves as a dynamic space for anything from homework to bedtime stories, necessitating lighting that is just as flexible. There are other options for decorating your kids bedroom design, playroom, or nursery besides posters, plush animals, and wall decals. Accent lighting can actually be the ideal addition to all of these.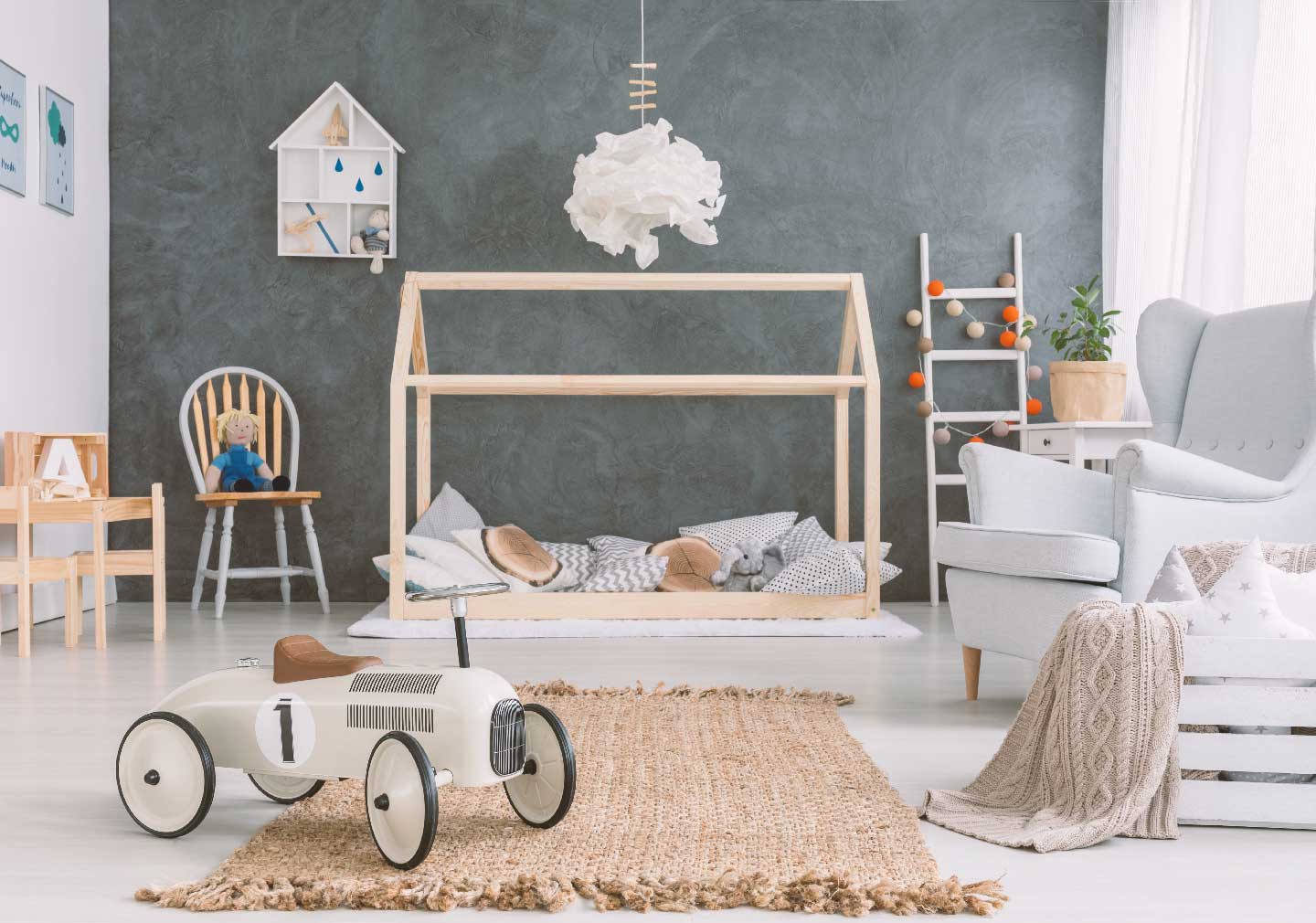 Accent lighting can be used to draw attention to a particular item of décor or it can function as the adornment itself. Lighting can instantly improve the aesthetics of any space in addition to simply illuminating the area. With the correct kind of illumination, you may also encourage children's creativity, which has some of the most fascinating and innovative minds ever.
A child's life isn't complete without creative play; it's how they learn about the world, grow as imaginative thinkers, and have fun! One of the biggest concerns for parents is to keep their kids actively engaged. Make the kids room design ideas interesting by creating a designated play area for them. Include an adventurous activity in their bedroom.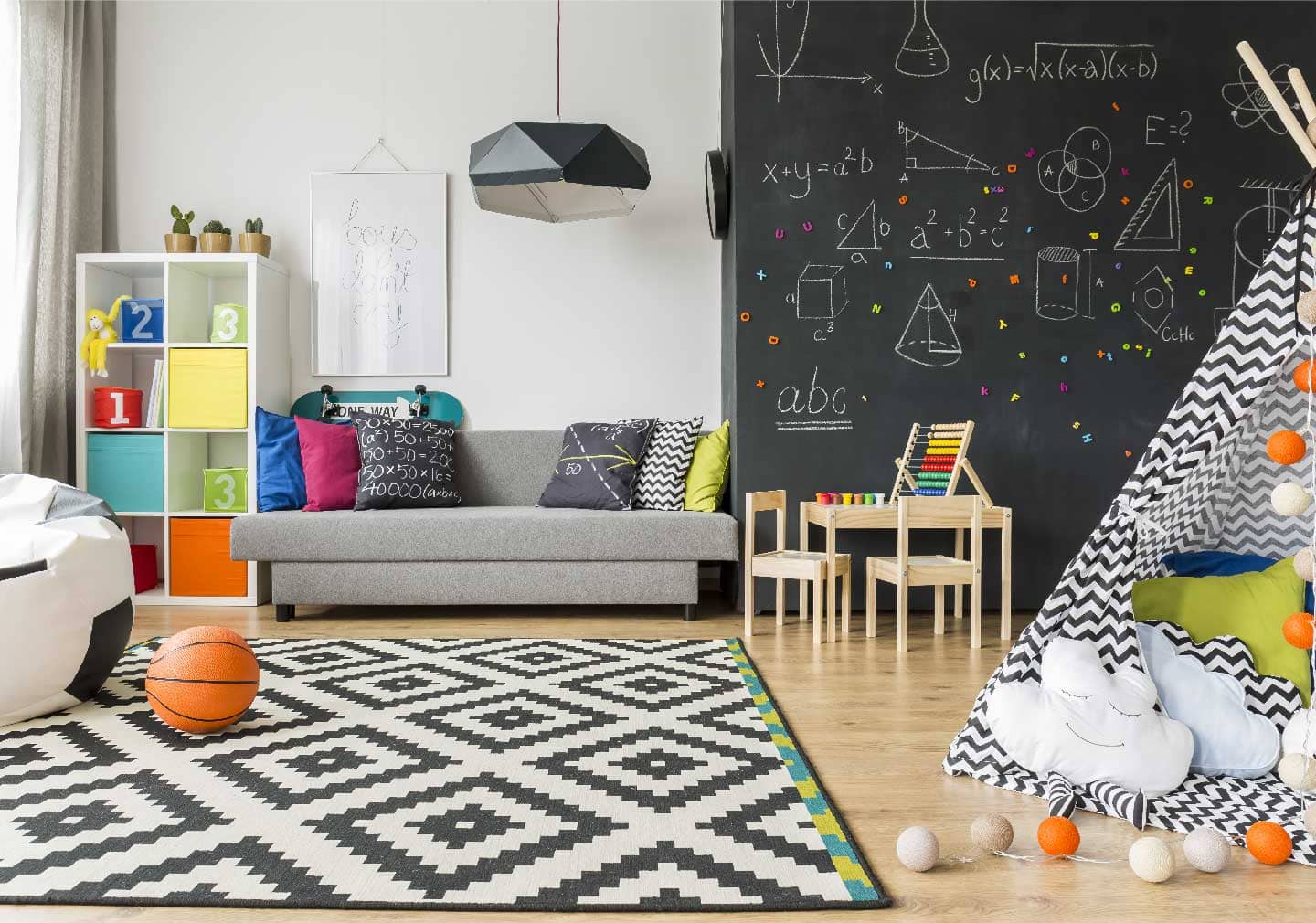 A climbing wall can increase their interest and they will be entertained for hours. Install some soft flooring just beneath it to ensure safety. Add a slate wall and make it an accent one. Let them draw, write and scribble on it. You can start over with only a quick wipe down with a damp towel! Teepees are another great alternative! Teepees are simple to assemble, take down, and transport around the house. You can also accessorize the area using board games and soft toys.

Enhance the space with rugs
Kids bedroom ideas are just so amusing! Kids' carpets come in gorgeous colors and creative patterns. While selecting the kid's rug, be sure to know what to look for. You'll be able to tell if you've chosen the ideal rug for your child's personality by paying attention to its quality, color, size, form, and style. Rugs can change the mood or personality of the space. It might be a subtle accent or a bold contrasting piece. Kids room carpets come in imaginative designs that go well with the concept of the room.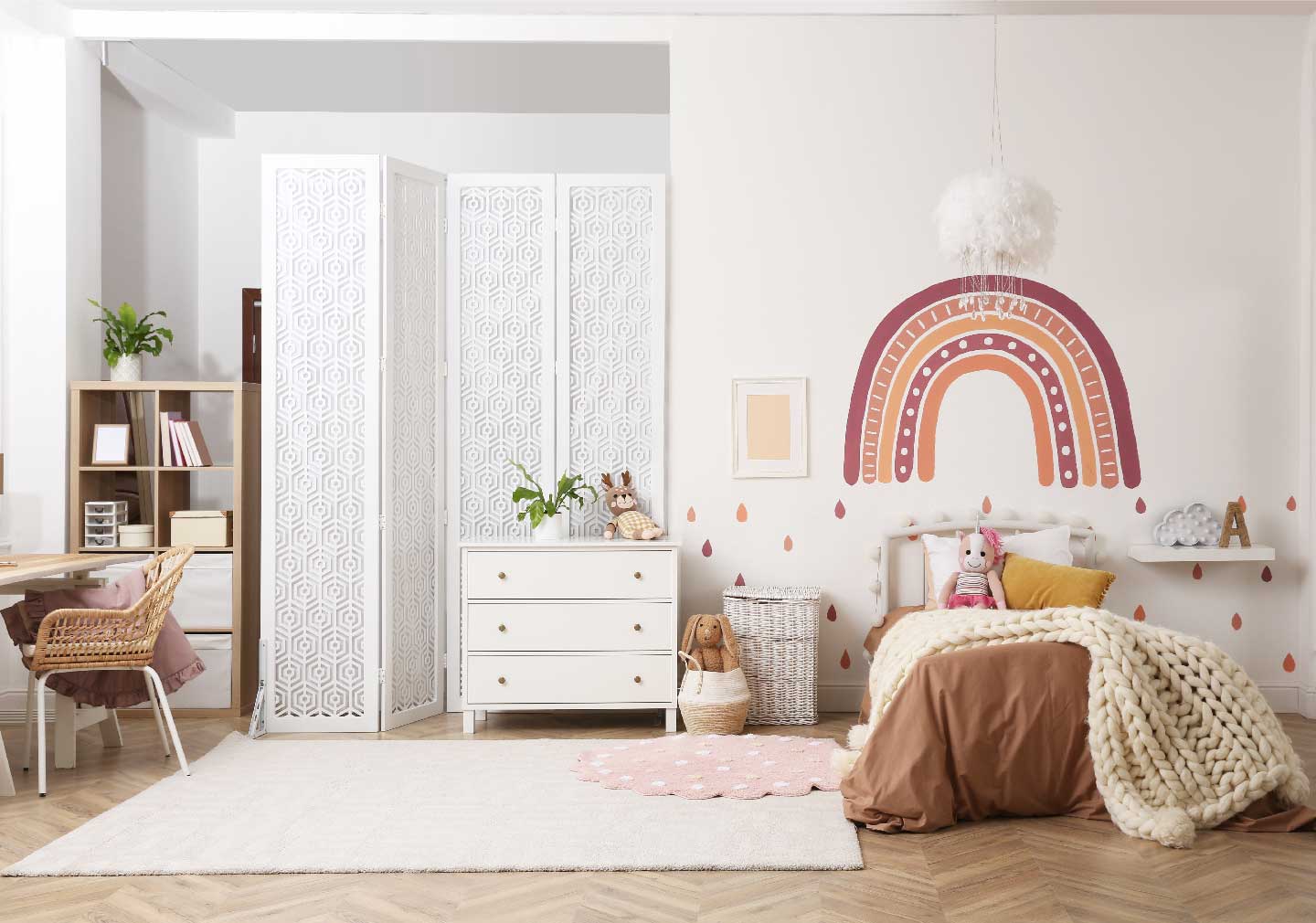 Popular rug themes for kids' rooms include balloons, city streets, and the animal kingdom. Alternately, themes might be replaced with just fun, abstract colors too.
Make the kids kids bedroom space interesting
A functional yet aesthetic study space for your kids where they may complete their assignments, work on class projects, and put in the long hours required during exam periods, is very important. Let your child share his thoughts and opinions to create a space like they want. You may assist your child in having a beautiful place by choosing well-designed furniture, considering the arrangement and color scheme, and considering the existing layout of the kids bedroom.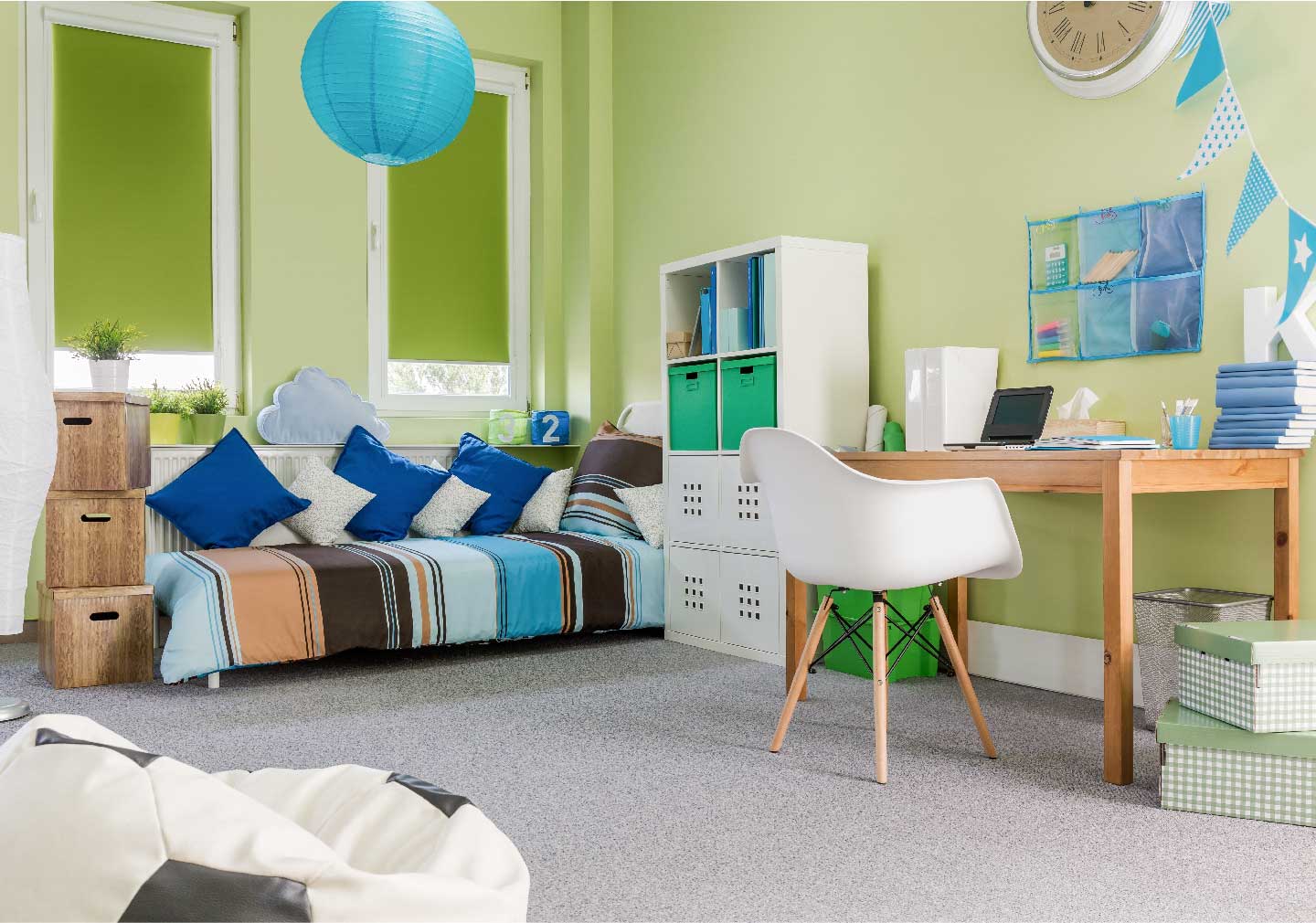 Add proper storage space where they can keep their stationery and also get ergonomically designed chairs which can help them with their sitting postures. Children love to have colors around them. Bright colors energize and excite the kids. Pastels are also the new in.

Purchasing a bed for yourself is different from purchasing one for your kids bedroom. There are further considerations, such as bed size, capacity, durability, style, comfort, storage, and safety, which should always come first. In addition, a child's bed serves as their own little playground, where they can play with their friends and perhaps even do their homework. To give your kids enough room to grow, choose a kids' double bed or a kids single bed design. Invest in a kids bed with storage so you can keep all of their toys, books, and linens in one place to increase functionality.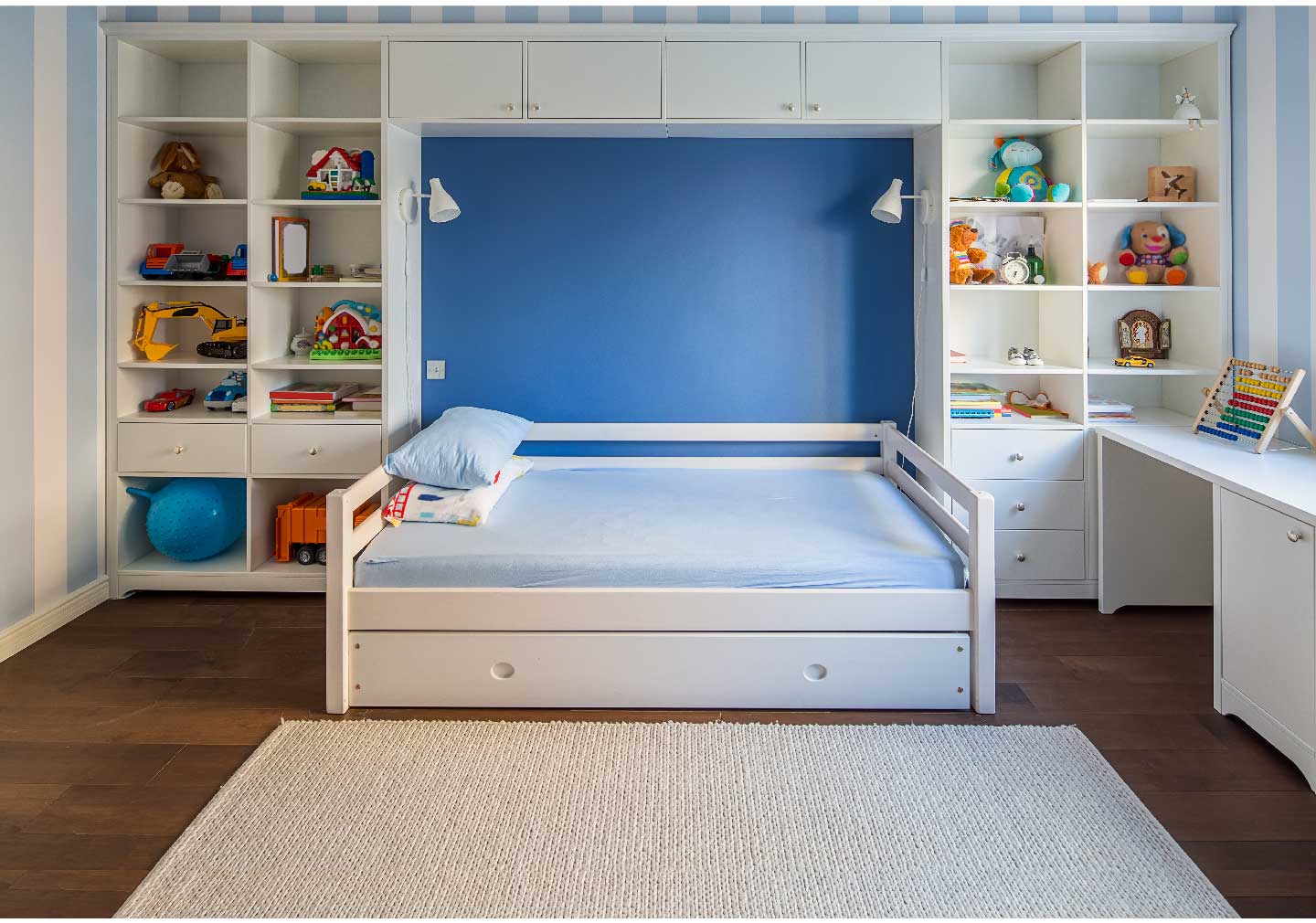 Kids room design ideas also include places for play. They have a soft spot to dream about future occupations, hobbies, or even simply the day ahead because they are creative, quirky, and filled with all their favorite things. Have a little girl who spends all of her time with fairies? Make her bed pink-themed and provide lots of storage. Are you a parent of a young race car driver enthusiast? Put them in a car and drive them to sleep. You can also choose from innumerous ideas like homes, favorite cartoon characters, unicorns etc.
Kids have very distinct ideas for their bedroom design, which is certainly influenced by their favorite movies or complex fairy tales. All it takes is a harmonious blend of youthful imagination with practicality and taste to build their cocoons. Bonito Designs helps you in designing your kids bedroom like they'd love to have. Connect with us and let your kids live their dreams too.