What are the best places to have bookshelves in your home?
Books are my best friend! We have heard this statement from a lot of people around us. Reading is one of the most fulfilling hobbies anyone can have and so the importance of books for them is at the top notch.
So, when an ardent reader designs a home for himself, he would not like to miss out on designing a space for his best friends, the books!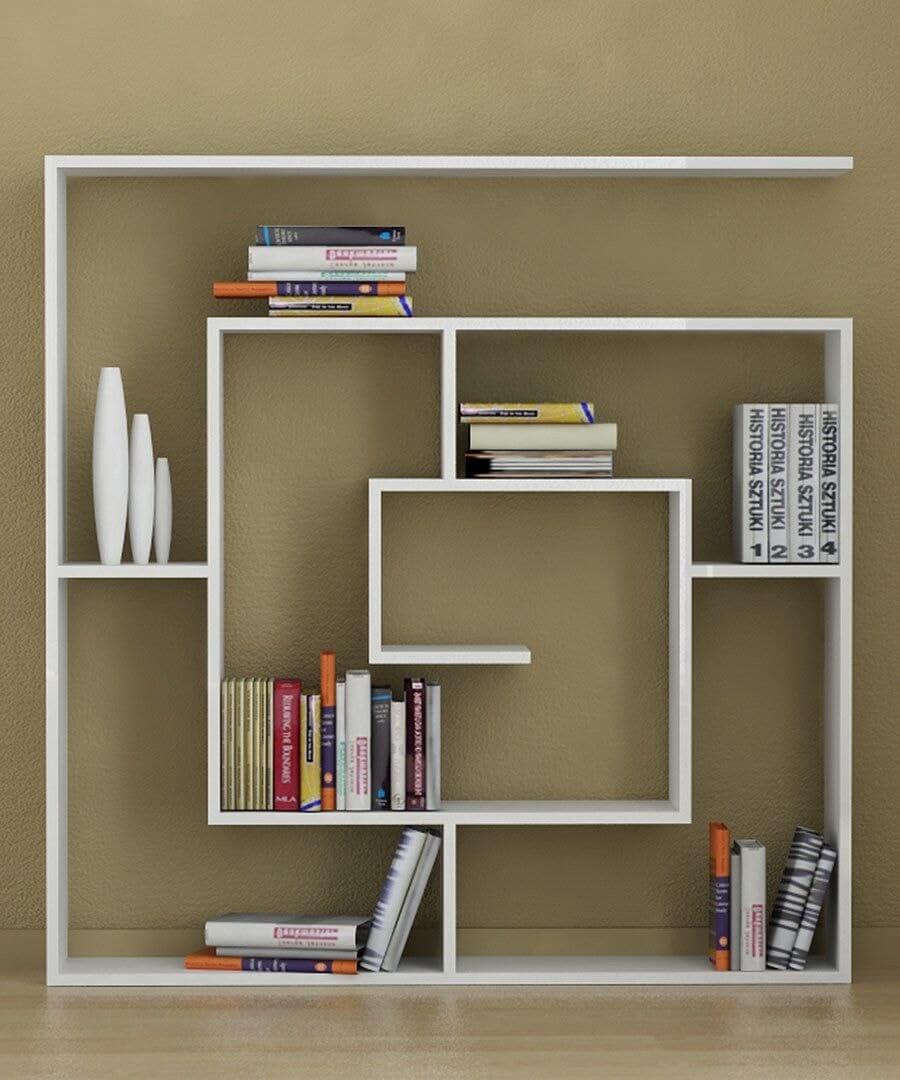 Source
Leaving the Interior designing perspective at bay for a while, we all would agree that the kind of books we read or collect, say volumes about our personality and nature, and not just about our liking.
So, while its convenient to store digital media, we have to really work out the best possible creative ways to showcase their clients' book collection. A personal choice of book storage designs has evolved many a stylish readers.
Being Professional Interior Designers, we believe that the best places to have a book shelf, largely depends on your nature and comfort, but one thing which one may not find in the casual books or internet blogs is that, book shelves can be styled in varied ways.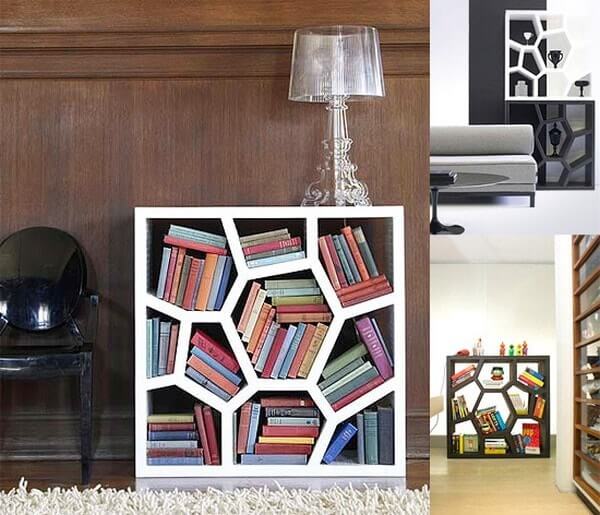 Source
Let's go through each of these stylish compositions of arranging your bookshelves!
• Some books are meant to be read and re-read while some are more of an asset which we like to collect and preserve for the time we would like to read them. So, it's ideal to arrange one's bookshelf keeping this in mind.
• Placement of the books can be mixed up :
While some of the books can be arranged in a vertical manner and some in horizontal pattern, in the same space to create a rhythmic balance in appearance and also to create a not-so-apparent segregation.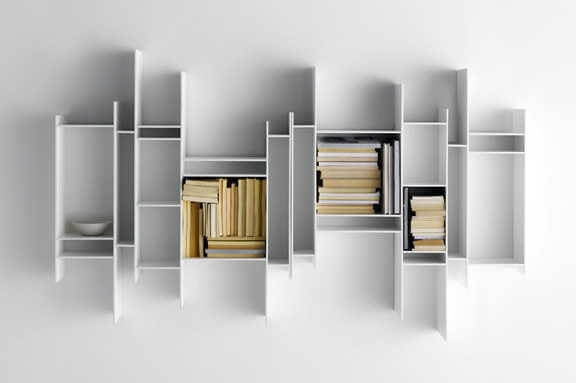 Source
• Color
Color plays a lot of importance when it comes to visual aesthetics and also psychologically it binds us to a place.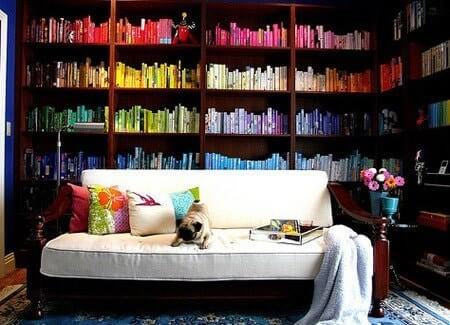 Source
So, when we arrange our books as per the color of their cover, we tend to remember and follow our preferences easily, while choosing which book to read. The only restraint is, it's difficult to arrange by the colour theory when the collection of books is lesser.
• Combine the bookshelf with decorative objects:
This type of arrangement looks aesthetic and interesting.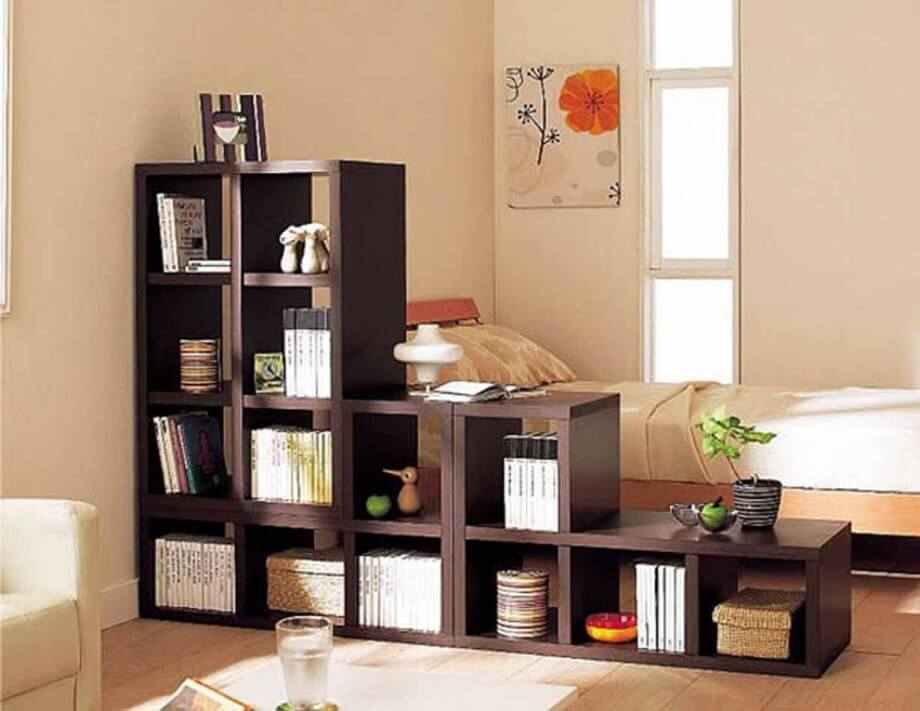 Source
A sculpture or photo frame aligned in the same rack as that of the books is an attraction to the eyes and also gives a break to the monotonous look of the books.
Also Read: 6 Simple Ways to Organize Your Books
• Nature with books:
With the advent of bringing nature inside our built environment, Interior Designers play with the various components of the inhabitant's interest.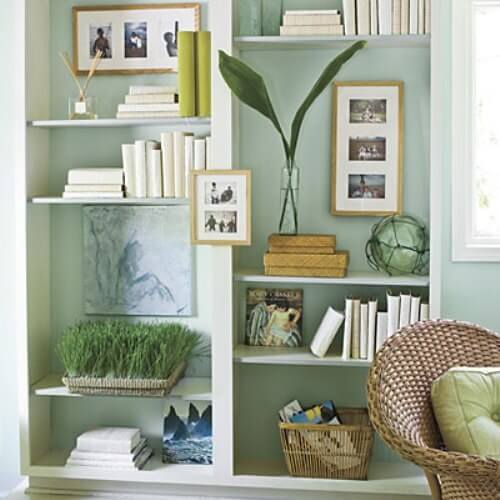 Source
Like, for example, placing a bowl of pebbles or a small table-top fountain or may be a bonsai next to an arrangement of books on the same shelf. This is a wonderful style and a unique placement of books in a showcase.
• Amalgamation of books with artwork:
Artwork incorporated into one's bookshelf scheme is definitely a trendy and ever-green style. It's more of an English style of look wherein one can either prop small artworks on the shelf or either hand them in between.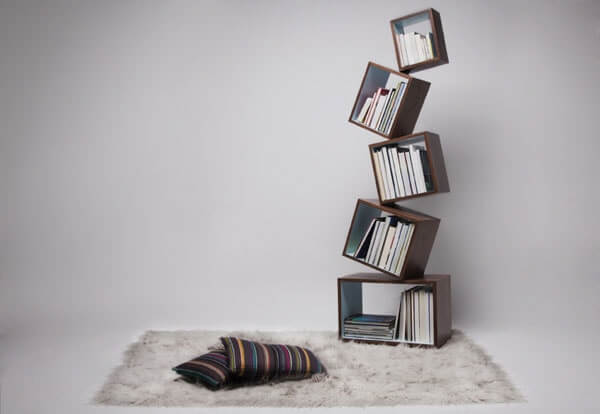 Source
Well, yes, styling a book shelf is an art by itself! And so is placement.
The styling and readers' comfort mark the placement of book shelf in a habitat. All this together, when seen by your guests, speak a lot about your personality, something like what your car speaks about you!
Books are an appetite while going to bed or relaxing during a lazy afternoon. An ardent reader would always like to have a mini collection of a couple of books by his bedside, which is latest on his mind. While an apt arrangement would be having a separate cozy reading area where one would place his book shelf.
If not on the bedside table, an ideal arrangement would be a separate book shelf somewhere in the seating area of the bedroom, pairing them with one's personal collection of DVDs of music and films.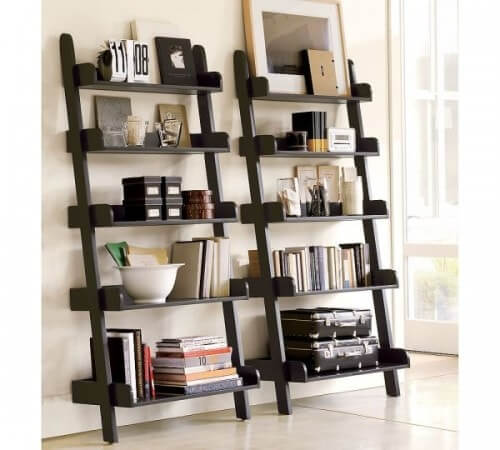 Source
This creates a kind of an entertainment zone in one's bedroom which has no connection with the world outside. Such an arrangement of book shelf ideas is ideal for people who like to keep it private and personal.
Another worthy location for a book shelf cabinet would be the living room interior where you prefer to have an informal seating clubbed with a TV case and other pieces of art showcasing one's love for a hobby, or travel, or just books!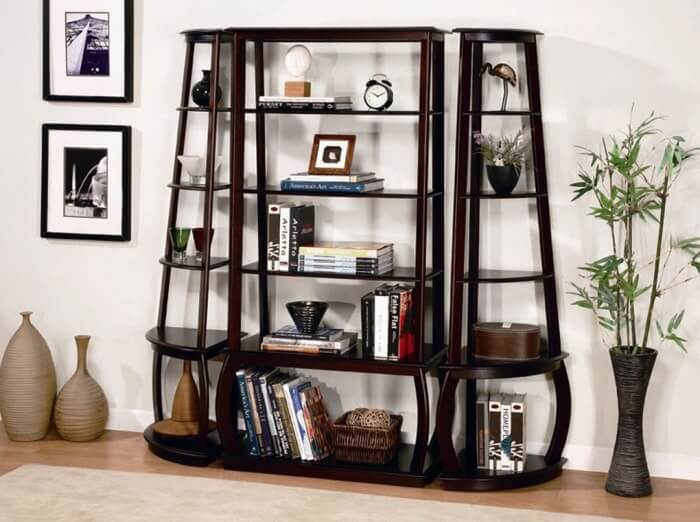 Source
Interior Designers usually find this kind of an arrangement more suitable unless specifically made a choice. Living room being the life of home is more of a showcase of a person's interests.
Also Read: Best 15 Corner Shelf Design Ideas for Your Interior
Creative and designer book shelf design ideas
A Hallway is an area where one gets the first impression of the person. A tidy and artistic or stylish hallway makes a lot of sense and gives the first insight into the lifestyle and personality of the owner.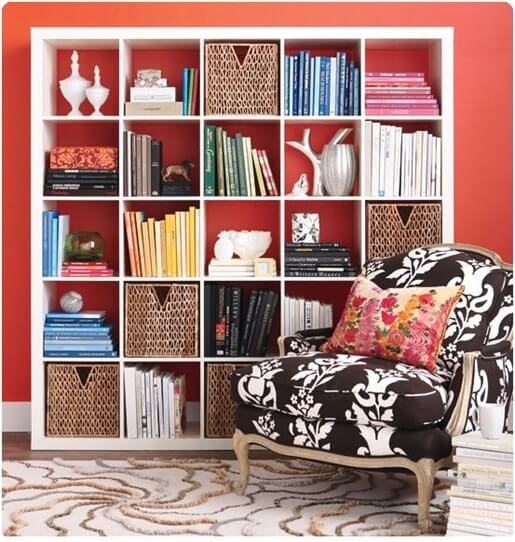 Source
A book shelf that is housed in a hallway, though speaks volumes of an individual's interest, is not that of a comfortable place, where one would be tempted to go for reading. It's more of a pick up space for the books.
Designer bookshelf for home office
Having a home office is a luxury as much as a need. Creative book shelf designs if done with a stylised book cabinet; speaks volumes about the person's sense of professionalism and systematic behaviour.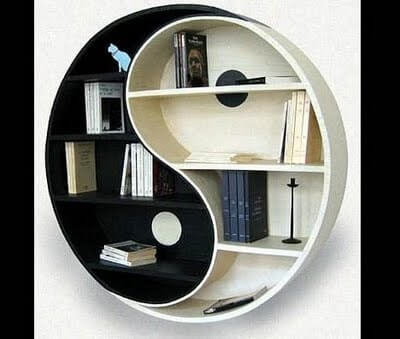 Source
Books also find space in official cabins and meeting rooms which are meant for creative discussions. But these books are different from the kinds one would like to keep at home. A trendy bookshelf showcasing professional journals and business magazines are an icing to any cabin space interiors.
Source
All in all, books can find the best place in the best possible style with whatever space and accessories are available with anyone, if done with a personal style and big heart, for those who are in love with Books!