Divide your room, not the world!!
To divide and conquer is a famous technique that has diverse interpretations for different genres of people. For decorators and designers, this method holds nothing but all constructive results. It creates space, makes a hallway into sections. Partitions and divisions are always a welcome in the rulebook of interior designing.
Dividing a drawing cum dining space, or segregating a studio into partitions for kitchen, bed, and work area, needs a bit of planning.
Here are some ideas for bisecting a single room into multiple sections, using some very stunning techniques.
1. Venetian and Oriental Screens room dividers:
The multi-fold dividers have been an object of decoration since a long time. With the period style back in business, why not invest in some gorgeous screens?
These wooden structures can be used to segregate practically any area in the house. Bathroom area from the bedroom or even drawing area from the rest of the hall. You can use the ones that go along with the décor for the rest of your space.
The best part is their portability and adjustability. Traditional screens can be folded and kept away at times of heavy rush, and they can be moved from one area to the next with not much difficulty.
2. Sliding Doors Interior:
These have been in vogue for some time now. Interior Sliding doors are a great way to bisect a studio into sections such as living area and bedroom. These lay flat, and thus do not occupy the extra sector as an ethnic door.
They look very stylish, and are useful as a dividing structure. There is a gamut available to pick from. You could choose them to be solid, translucent, or elegantly sheer.
3. Curtains as dividers:
Fabric or lace curtains are a very easy and economical way of sectioning the room. They allow for the passage of air and light. Curtains are very easy to handle and can be washed without any fuss.
On the down side, they cannot keep noise from the other section away. But, a sheer fabric for a curtain, does make up for an ethereal divider! Choose wisely, while curtains are not the safest or the best option with kids at home, they make up for a luxurious items otherwise.
4. Patterned Wall Divider:
A wall to divide a room is such a cliché! But that's definitely not the case with a patterned one. They are literally a classy see-through designing techniques that acts like a dream. Patterned wall dividers can be installed to divide a dressing area in a bedroom, or in a large hall.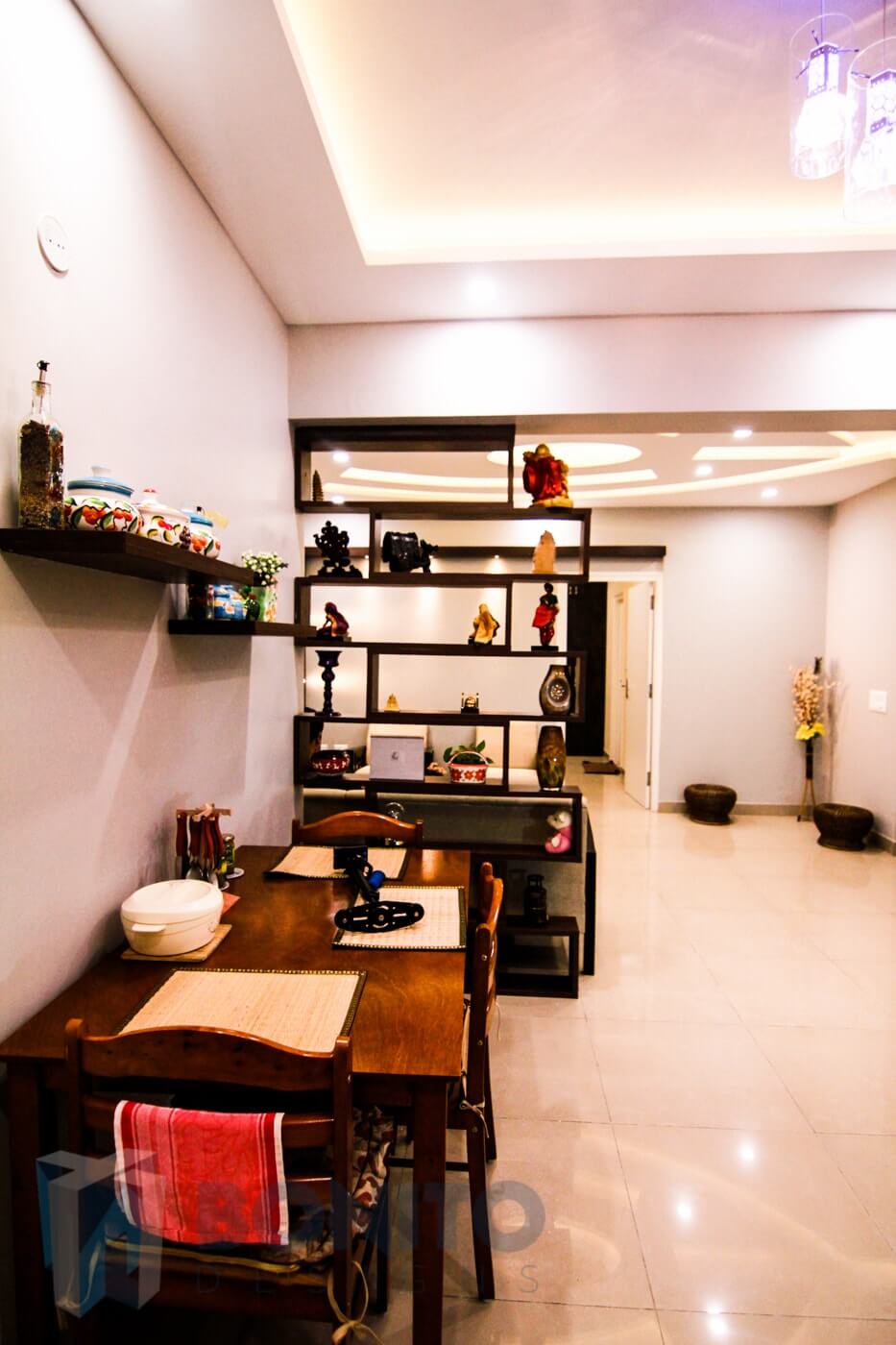 You could decorate the patterned wall as per your luxury. From lights to potted plants, anything would blend in well with these. They can be as intricate as your want them to be, or can even have a strong pattern to show off.
5. Plants:
Why not use some of nature inside the house in a manner that would help segregate the rooms to maximize space? In a modern home, the need for greenery could be fulfilled by installing tall spiky plants. They would be soothing to the eyes, and act like a natural division between two areas of the house.
You can also use hanging pots with flower blooms or herbs that would impart a pretty touch to your home! Plant dividers are equally useful and creative. Not only do they give you a whiff of fresh breath, but also to your apartment.
 

Also read: 10 Ways to Fill That Empty Space on the Wall

 
6. Bookshelves:
A cup of tea, and a book, if that's what soothes you, we are all praises! Having your very own bookshelf with your favorite collections, is but a thing of luxury in urban apartments. We suggest installing a multipurpose bookshelf that would even act as a division between your drawing and dining area. Now does it seem feasible?
Carve it up as per your requirement. Make it low or as high as you feel would suit your needs. This is a marvelous way to include your best companions even under a constricted space.
7. DIY Projects:
We definitely cannot finish off without including some inspirations for creativity. From embroidered drapes to hanging decorations, you can make something special and exhibit.
Installing a plywood partition sound not so interesting. But what about adorning it with beautiful cutouts, photographs framed exclusively with Washi Tapes?
You could use a little help from your family to create attractive DIY's and beautify your home.
Making space in the house and segregating it into different sectors is not as overwhelming as it might sound. If you have a budget and a rough idea, you can proceed to have a talk with your designer, or look up on the internet for great planning techniques.
Room partition ideas could be as dramatic as a water fall divide, elaborate as a shoji screen, or as simple as a self-made, or traditional hanging divide.
Contact our design experts at Bonito Designs to help you organize and maximize the room space.