You decide to remodel your home. You thought of repositioning the furniture, getting your home painted, but what about that silly big wall, which stares expressionlessly at your face?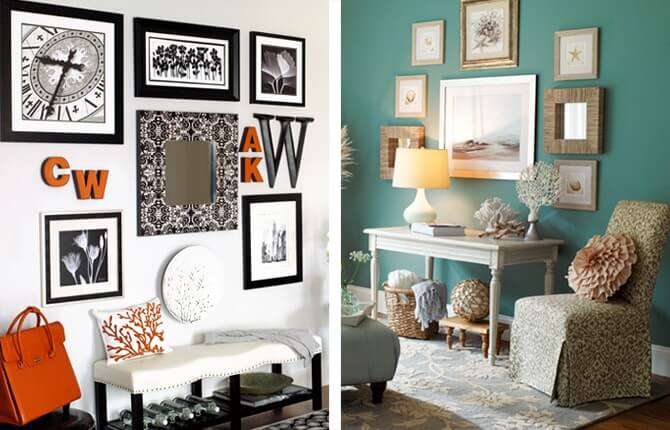 Source
A common sight in most Indian houses is a blank wall embellished with old calendars that you got as a token from the bank, or your favorite shop. Or a wall would have pictures of Gods and Goddess stuck to them.
As demanding as this might sound, there are always methods to beautify a blank wall that would look more sophisticated and become an instant attention grabber, elegantly.
Neither are these methods time consuming nor are they heavy on the pockets. These are easy projects that you can do yourself in your free time, or just assemble together with a little help. You can also get some great ideas online that you can implement, with a little tweak here and there.
1. Collage:
Make a collage, get it framed, and stick it on your wall. Sounds easy, doesn't it?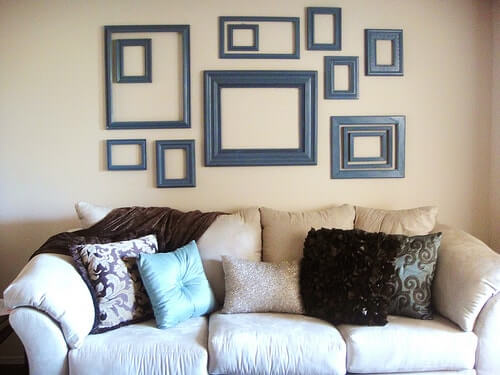 Source
But the thing is, what collage should you get? There are numerous DIY ideas available on the internet. You can make a collage of your old photographs, some beautiful magazine cut outs of fashionistas, or anything creative that you think suits your taste.
From a wall big or small, a collage can adorn it very beautifully. Just make sure you put up the finished product, or else small mistakes would cause a lot of damage to your wall.
Collages could turn like a cover up, to hide petty dents and bumps in the wall, or act like a gorgeous decoration on a newly painted wall. Try this idea, and you would confidently take pride in your own creation.
2. Mirror:
A beautiful antique mirror, can increase the show of the wall manifold. Mirrors acts like strong statement pieces, while increasing the feeling of depth in the room. They reflect light, and make the room perkier.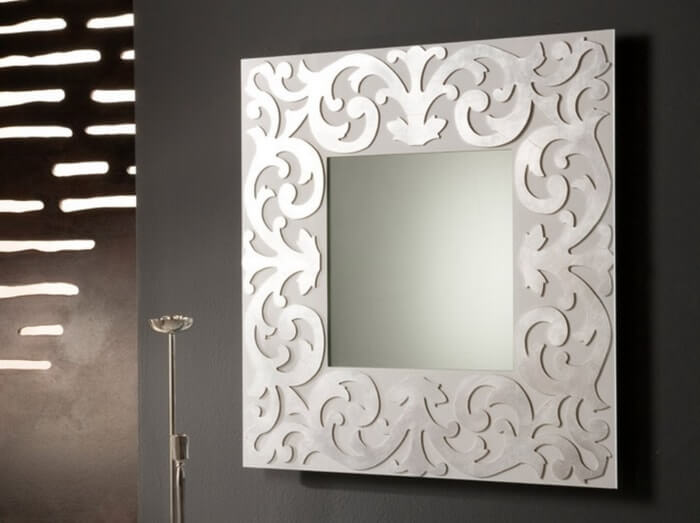 Source
Hanging a DIY mirror on your wall would certainly make your creativity known. Purchase an antique embossed mirror or simply spray paint an old one with metallic colors and decorate them up against your wall.
These easy techniques would go a long way when deciding to make over a room in a strict budget. And mirrors would undeniably make your wall shine!
3. Blow the walls with Photographs:
Memories have all become digital nowadays. You have lots and lots of .jpeg images stored on your computer. Why not get them printed and framed, and hang them up on an empty wall?
They would remind of your happy times as they would adorn the wall.
Blow up your wedding pictures, or events where your entire family was together, frame them up yourself, in as many DIY frames you could, and put them up.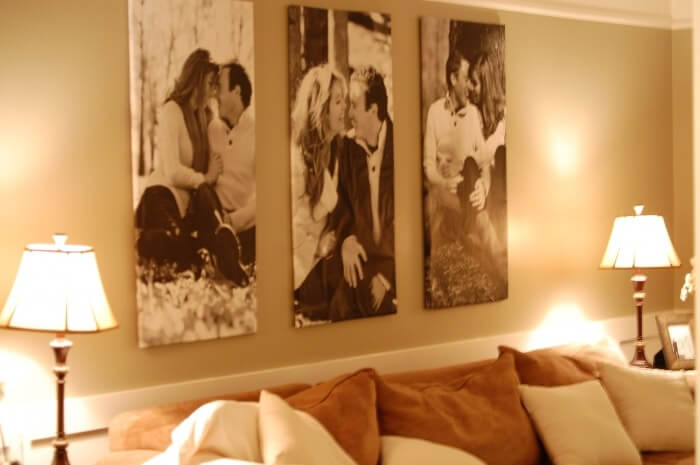 It is perhaps the most beautiful way of showing that you care. An empty wall by the stairs, or behind your bed, or even in your kitchen, photographs can go absolutely anywhere.
Choose not to put up a single one, rather a combination of many together, each one in a bold frame, would look classier, from designing point of view.
4. The Nature Indoors:
A frame of decorated pressed flowers are by far the most economical way to bring nature indoors. There are times when we simply pick up the dry flowers and throw them away without even thinking that they could still be used as an object of embellishment.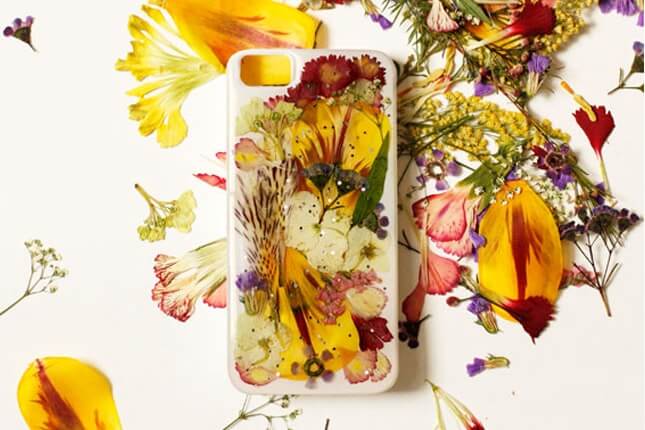 Source
It is extremely easy to preserve flowers and leaves, place them on scrapbook pages, and get them framed. Learn the art, as it is eco-friendly, creative, and very inexpensive, all at the same time.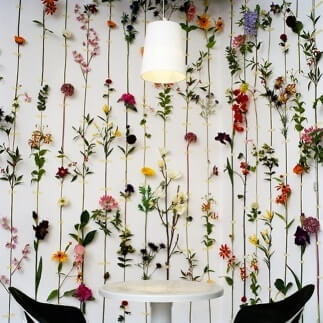 Source
An empty wall, with beautiful frames of pressed flowers, in all different colors, sizes and shapes, is a gorgeous sight to look at. It makes you aware of the beauty and usefulness of nature.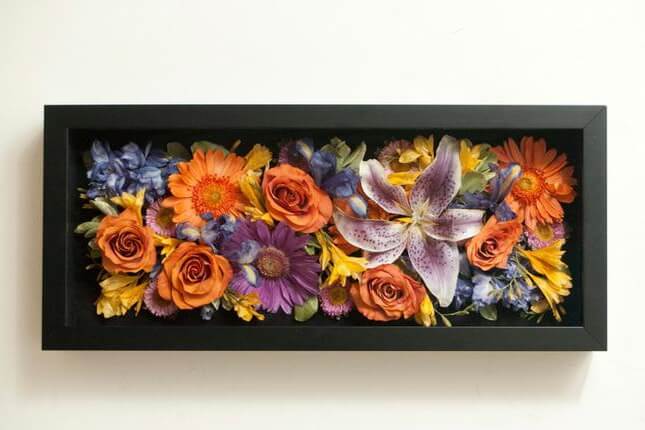 Source
Flowers are gorgeous when they are fresh, but when they are dry, they remain forever!
5. Write on the wall:
Didn't you enjoy scribbling on the walls as a kid? Those blank canvases gave your creative sides wings, didn't they? Try your hand again, but this time a little more like an adult!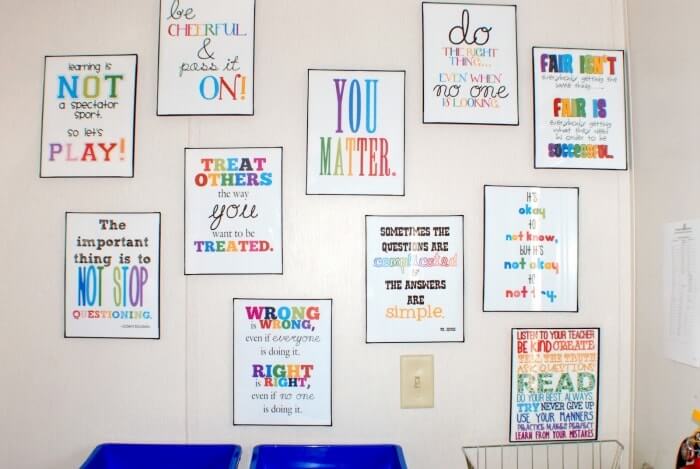 Source
Write your favorite quotes on the wall, or using calligraphy draw a beautiful poem such that when you look at the wall, you are inspired. Graffiti or Doodles are very common forms of scribbling artistically. Try to trace out your creations as a wall art.
It looks modern, very innovative, and is also a very imaginative and romantic way of covering up an empty blank wall.
6. Modular Bookshelf:
Bookshelves have always concealed up blank walls very judiciously. They are a source of information, easily accessible off the walls! With Modular Bookshelves, the scenario is little more chic. They are smaller, more compact, hold just as many books or magazines that you can manage.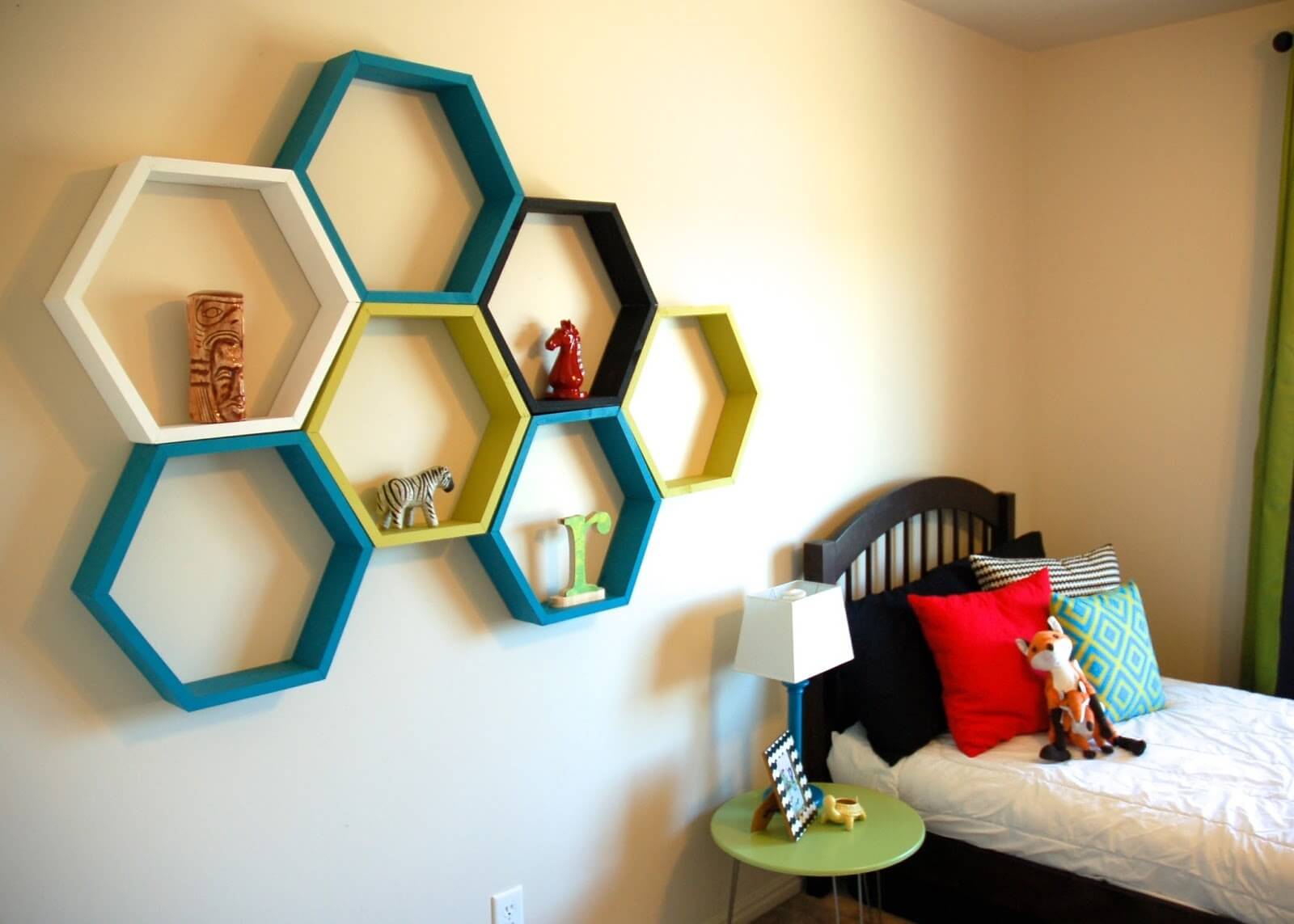 Source
The best things is they can change their places as you will. From one wall to the other, they can be easily shifted. Fit in some incandescent arrangements around, decorate them with flower vases, or use them for your favorite collections.
Bookshelves look elegant, and never go out of style. Modular ones are cheaper, obviously lighter, and show off your beautiful walls, without hiding them away.
7. DIY Artwork:
"A work of art is the unique result of a unique temperament." These words of Oscar Wilde inspires one and all to create and show off.
DIY Artworks are not difficult, demands very less from your pocket, and many a times you can create beautiful pieces even with recyclable items. From bottles, to Washi tapes, from blow pipes, to spray paints, anything and everything can make your wall look classic.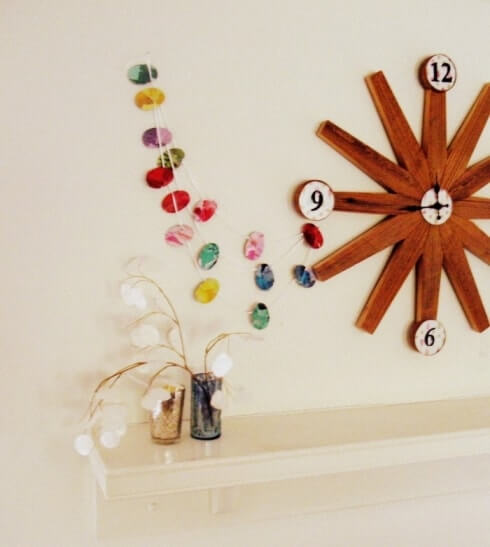 Source
Easy or difficult, you choose! With lots of choices and concepts available in the market, creating a fine-looking artwork is but a piece of cake.
8. Light and Silhouettes:
Candles make beautiful decorative pieces for the walls. Candles and silhouettes create an ethereal beauty. There are many decorative designer candle sets available, that look gorgeous on the empty walls.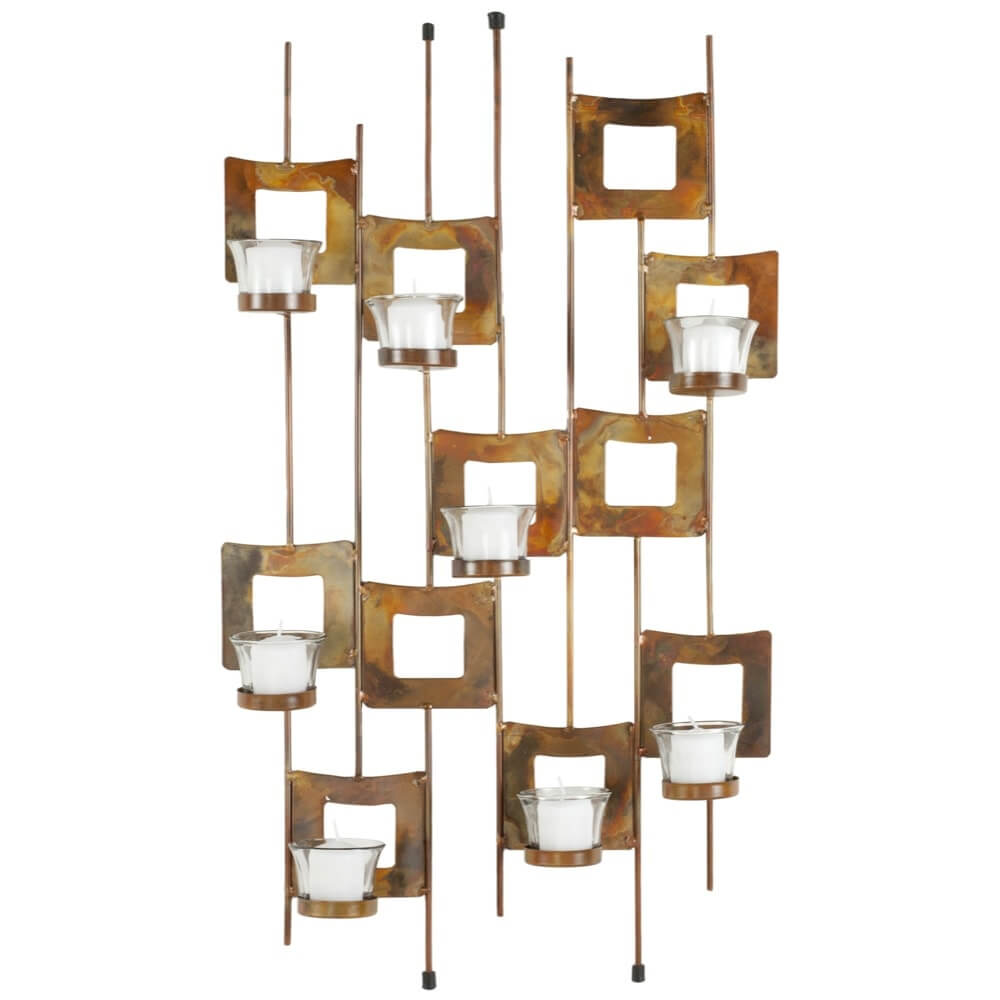 Silhouettes, on the other hand, can be created or simply purchased and used as a wall sticker. Making a silhouette is again not at all a daunting task. All that is needed a black sticky paper, and lots of inspiration and ingenuity.
The light and dark cover up an empty wall with romanticism. Complement this with a tinted chandelier in your room, and bring out the magnificence of your wall.
9. Tapestries, scrolls or carpets:
Many of us have an oriental tapestry that we might have purchased, but know not what to do with it. Why not use it as a centerpiece for a blank wall? Embroideries from different parts of the globe make a splendid display for an empty wall.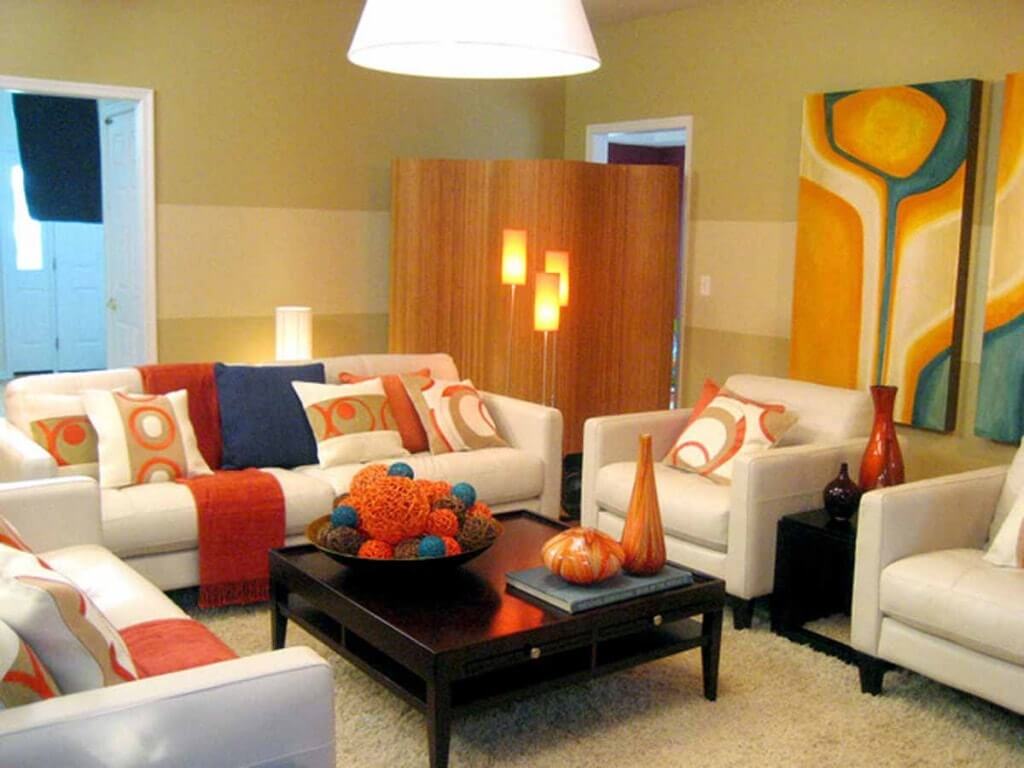 Source
Buddhists scrolls, Egyptian hieroglyphs, or Kashmiri carpets, these peculiar pieces render a different character altogether. Big or small, symmetric or haphazard, tapestries, or carpets get the conversation started.
Your guests would be enthused to hear your tales of travel, or where and how did you make such inventive purchases.
10. Clocks:
Not the trifling ones, but bigger timepieces make a statement when hung high on the walls.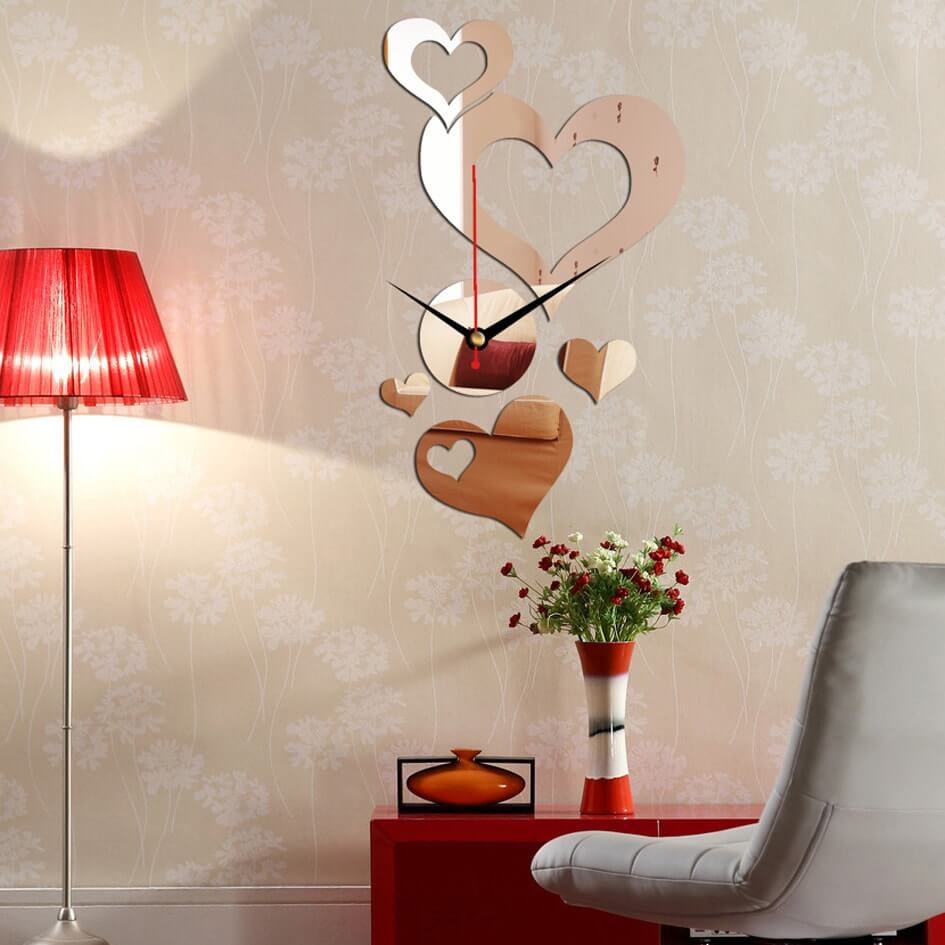 Source
They create a strong focal point and groom up your entire room. They come in all sorts of designs. From trendy glossy butterflies to picture frame wall clocks, you get a myriad variety in the market.
Antique or retro, modern or contemporary wall decor, wall clocks comes from all the different genres. Create a testimonial with your unique choice, and make an outstanding statement.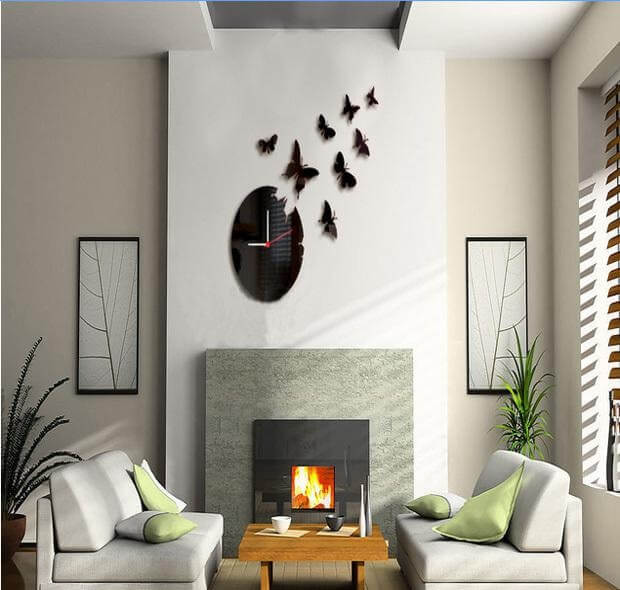 Source
They are decorative as well as practical, a very rare combination. You can find vintage oversized pocket watch designs, to DIY wall clocks made with folded magazines, they are made to complement a plain wall with their uplifting contrasts.
Howsoever neat a plain wall looks, decorating it stylishly requires a certain amount of high taste. There is a gamut of new wall decor ideas available, choose from them, or call upon the interior designer with you. It is nothing but a blank canvas waiting to be adorned with the drapes of your originality.