Home decoration or interior design is always a trend that is picking up and one has innumerable ideas floating and creating waves. Something which will never be out of fashion is the texture & fell of stone in the interiors.
Stone beautifies the residential interior designs with its rustic, raw feel and finite textures and colors which surrounds it.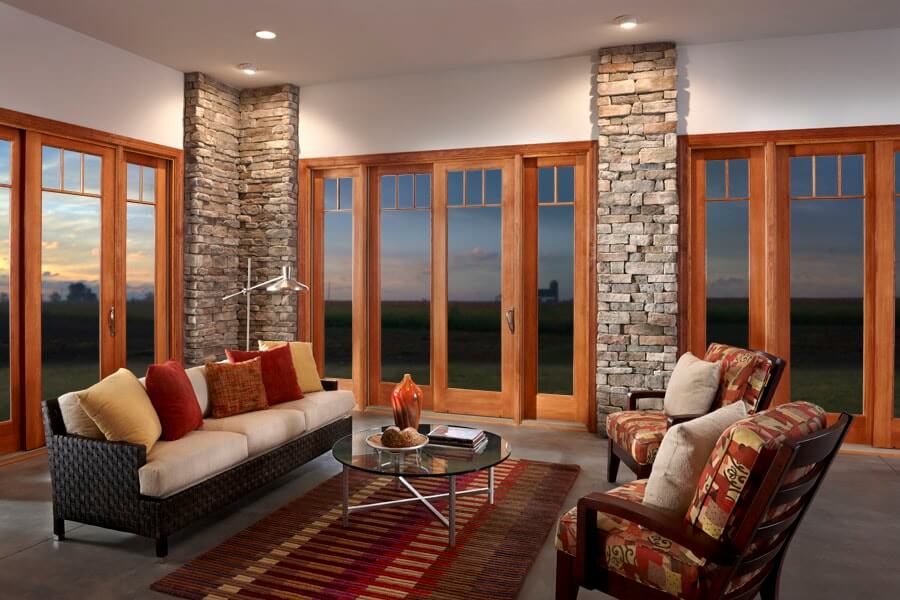 Source
Stone finish is achievable not just by natural stone cladding, but also through stone tile cladding. Though the properties of stone like it acts as a coolant in the interiors, is best found when done in natural stone cladding.
Home interiors are always a talk of interest in any gathering, and so an impeccable interior space with a finished natural look adds that extra flavor needed.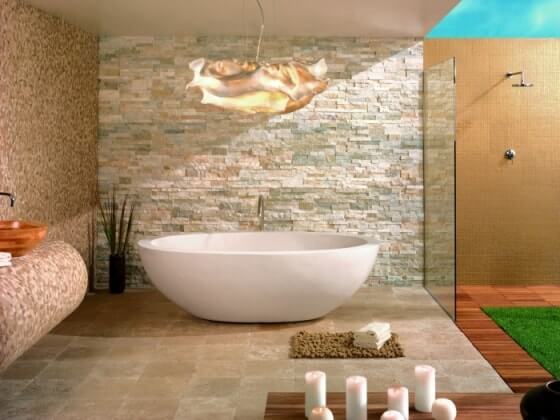 Source
If we are looking for a cladding material which has good performance, lifetime durability, and had unmatched natural beauty, then one cannot walk past Stone cladding.
The best reasons for using stone cladding are:
Timeless elegance: It's one such material which when used in home interiors will never be a fashion passé. One may choose from a wide range of natural stones, be it granite, limestone, marble or onyx, as each will have unique properties, both in look and feel.
Durability & resistance from fire: This is one of the important factors which make stone as a desirable material for cladding. It is highly durable and requires very less maintenance over the years.  Stone cladding offers fire resistance as stone does not support flames. So, it's also a boon from the safety point of view. Source 
Good Insulator: The property of providing insulation for both hot and cold climates it is ideal for Indian climatic conditions. Stone cladding is a good sound insulator from the external noises and gives excellent acoustic assistance and makes house a quieter place. Stone can be used not just for the external finishes but also in the interiors due to its unusual feel. Some of the best places to have stone cladding at our home are:
1. Stone cladding in the Entrance or the Hallway:
The entrance to our abode reflects a lot about us and makes the first impression to our guests. The entrance is one of the most attractive places for stone cladding.
It boasts of not just the strength of family, but also suggests that one is attached to his roots and is a nature lover, of sorts.
2. Stone cladding for the kitchen walls:
Another place with will look wonderful in stone cladding is the kitchen walls.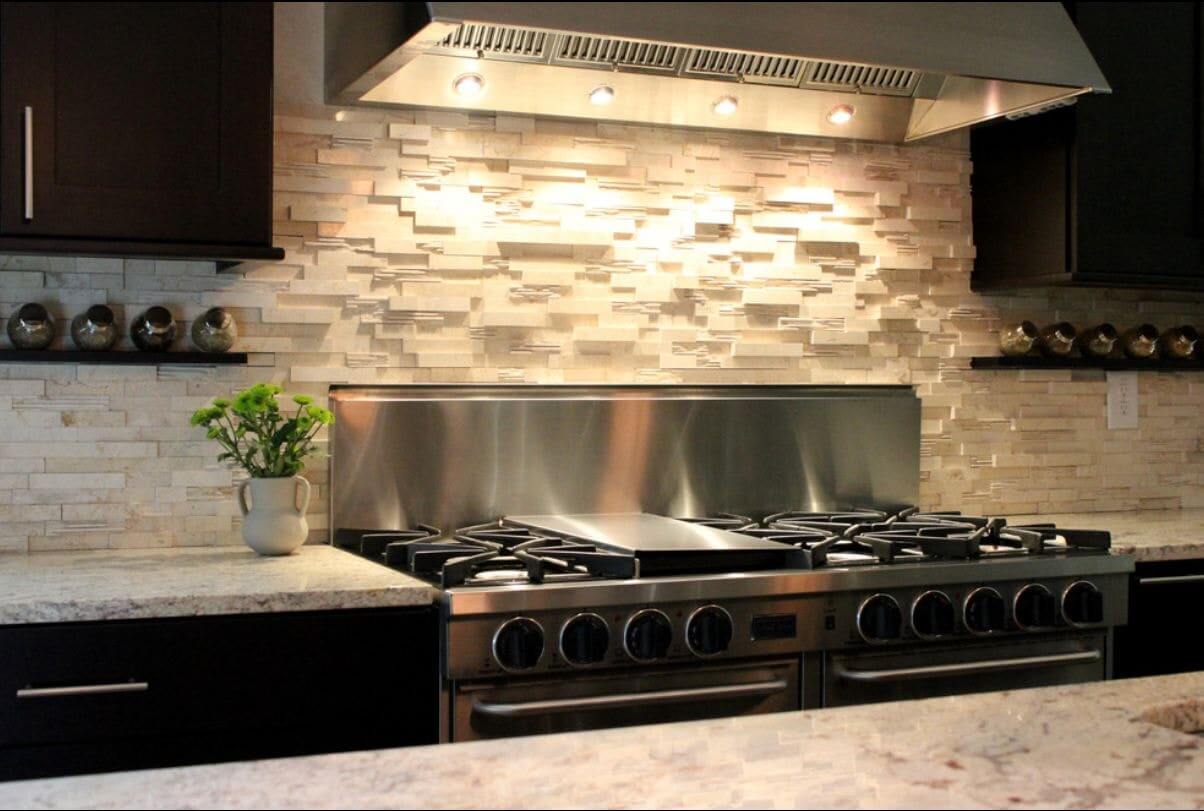 Source
Unlike the traditional kitchen, people prefer minimalist design elements in their kitchen and stone ads up to the simple yet smart texture in contrast with smooth and finished facades of the veneer or the tiles.
3. Stone cladding designs in the sit-out space
Using stone cladding in the sit-out space walls is also an attractive composition. A sit-out is a semi-open space which is meant for informal and relaxed time.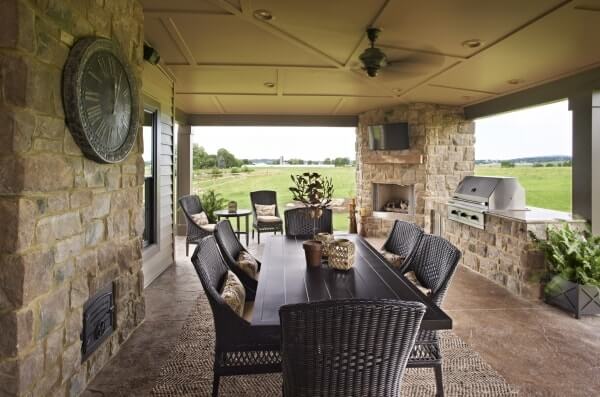 Source
A stone cladding done in that area merges the soul with nature and the gives a soothing atmosphere.
4. Stone cladding for the partition wall
A partition wall is one of the other apt places for stone cladding. This partition may be between the living and the dining space or the entrance hallway and the drawing room area.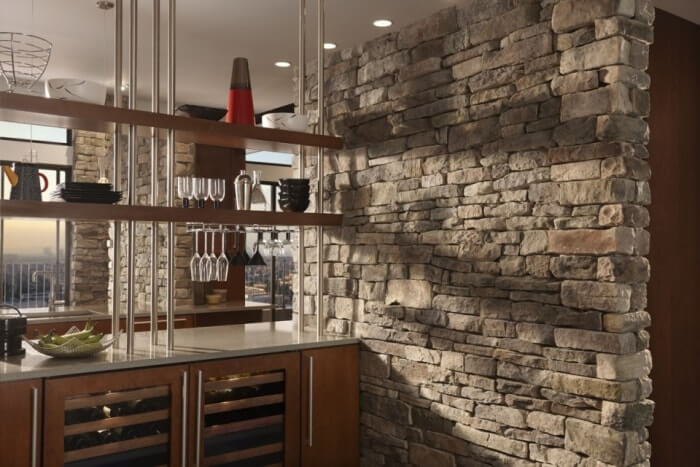 Source
A well-lighted, stone cladded partition wall may have small niches to accommodate art pieces, or just adorned with paintings, it sure catches the eye and makes it astoundingly marvelous in home interiors.
5. Stone cladding in the landscaped areas
Some people may like to clad a wall even in landscaped area right at the entrance or surrounding a tiny pond in the backyard. Stone cladded wall with a picturesque surrounding of trees and flora create a dramatic effect of nature. It's a treat to sit in such a soul stirring space.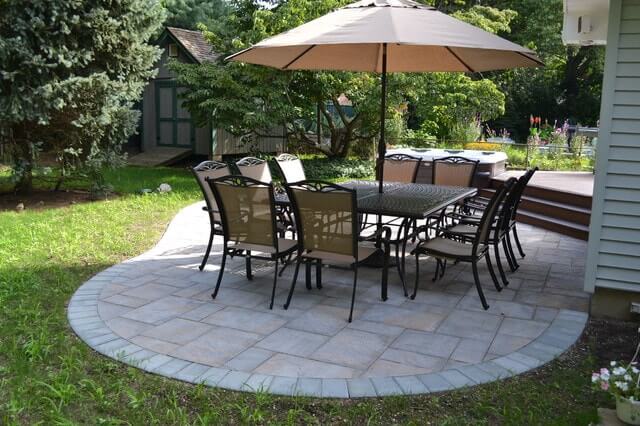 Source
Above all, stone being a natural material is available in plenty in varied forms and colors. It is a simplistic material which is easy to clad and maintain. Stone cladding is gaining a lot of popularity in interior designing due to its various advantages of look, feel and texture.
All in all, stone cladding is a never-ending trend in home interior fashion.