Home is not a building made of bricks, its a sense of togetherness. It's a place to love and to be loved. We welcome you to a Whitefield property owned by Mr.Rengaraj!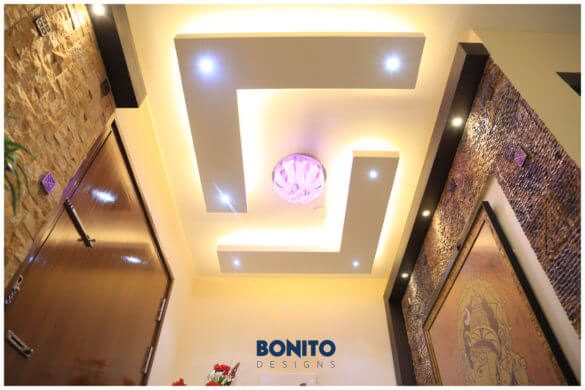 The foyer has dark and bright colors running around. One wall is kept simple. Whereas the other wall looks really grant with stone cladding. A cute Ganesha painting invites us to this sweet home. The shoe rack, rafter, and the false ceiling are in "L "shape. A bright chandelier makes sure that the entrance is bright enough. You can transform the place according to your mood using the light effects on the false ceiling.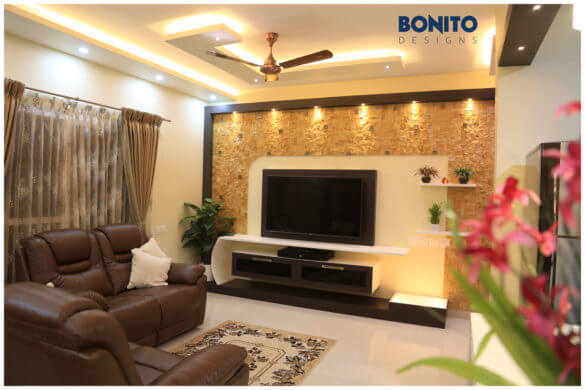 One full wall in this living area is been converted into a display cum Tv unit. Stone cladding and rafters define this wall. Brass highlighters compliment the Tv panel in a white glossy laminate. Brown colored reclines and curtains go well with the color theme. The false ceiling has different levels and cove lights highlight them. Pebbles are the natural element that adds color to this living area.
The living and dining area is planned in a shared space. Hence one wall is dedicated to the Crockery unit, display, and Pooja. This is a great idea for the optimum use of space. The glass ledges between crockery and pooja have a tab placed for displaying his daughter's pictures. The color of CNC cutting and Crockery laminates are carefully selected to maintain the theme.
Modular Kitchen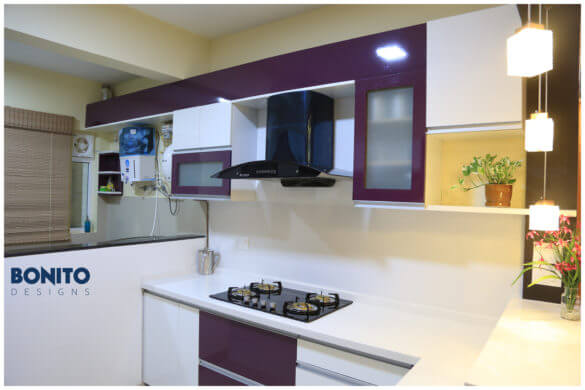 The kitchen has purple and white colors. There is a wooden panel with spotlight and designer hanging lights at the entrance. This adds a classy touch to the breakfast counter. All cabinets inside the kitchen have a handleless design. G profiles are used and it has soft closure. The utility area in this kitchen is having enough storage space.
Kid's bedroom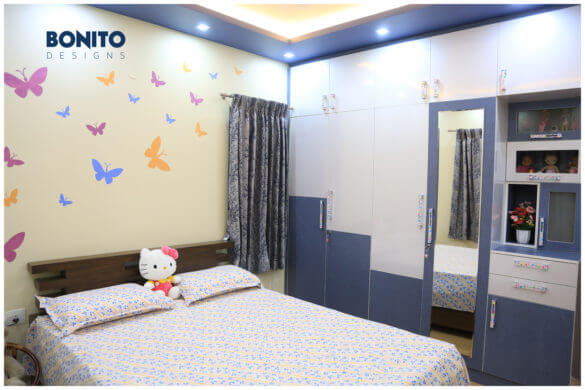 The center point of attraction in the kid's bedroom is the wardrobe unit with laminates pasted in a step shape. White and blue colors are selected as these are the kid's favorite colors. A lot of storage space is added to display her barbies. white handle with a splash of colors is the pattern of the handles in this room. The butterflies above the headboard make the room colorful. A blue color theme runs on the false ceiling peripheries too.
Grey is the color of compromise. It's the color between black and white. when we choose grey to decorate this master bedroom, we included 2 different shades of grey. That gives this room a warm color tone.
We understand your struggle to find the right interior designer for the dream home. You may contact us for help @ 080660 85646