There are many questions that cross your mind when deciding on the décor for kids room. Children's room has to be colorful and peppy but you can't be using colors here and there randomly.
There are few tips that help you in deciding the right color and decorative elements for the kids' room. Read the article for the complete details.
Renovating kids' room is one of the most difficult tasks for any parent. These days people spare lot of money and attention in decorating their children's room and they want inspiring, funky and zany ambiance in that room.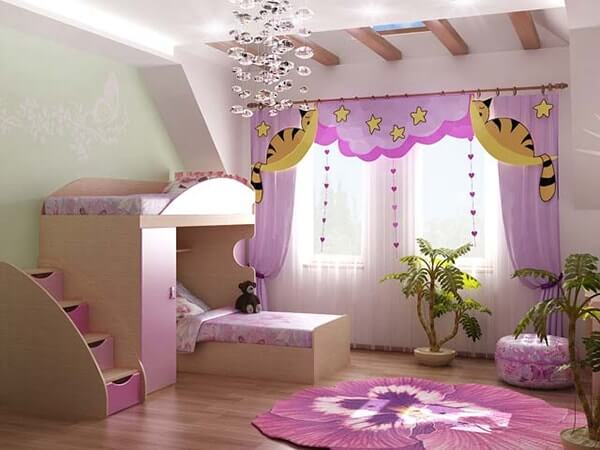 Source
And it may sound easy but picking the right color for wall paint, suitable décor and apt theme for the kids room can be a nightmare.
Few factors are most important while doing the kids room interior. They are:
1. Age group:
Toddler room decorating ideas
A kid between one and three years of age is called a toddler. He is in his formative years of learning and hence his room should have basic elements laden around him.
The room should be colorful enough to grab his attention and you could safely use bold but contrasting colors in the room like blue wall and alphabets drawn with pink, red, yellow, green colors.
In fact you could use an entire palate of colors for painting kid's room interior just like this in this age group.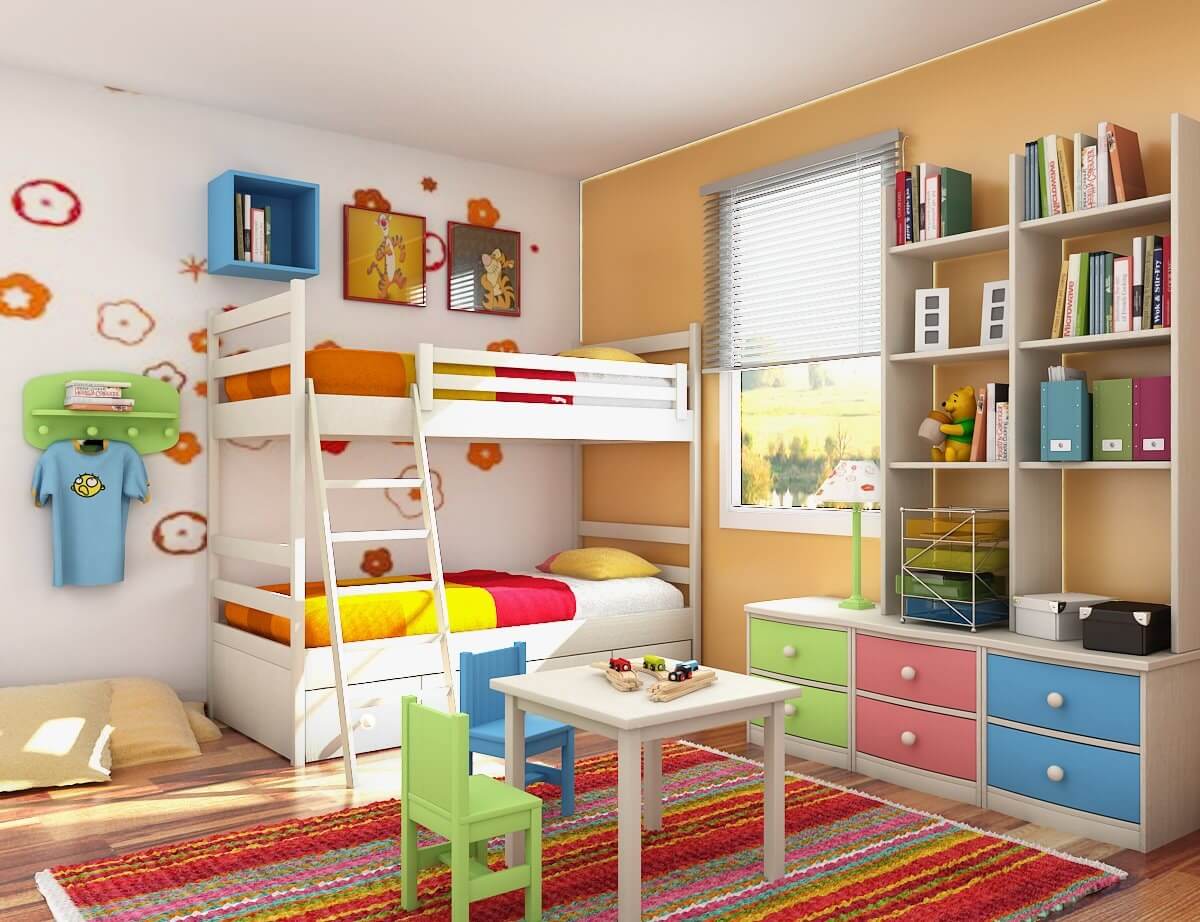 Source
Toddlers are attracted towards bright colors, so make use of bold even fluorescent colors on walls, furniture and decorative elements.
Preferably the décor elements should have animals, things, alphabets, numbers and even objects featured on them. The furniture should be with soft edges and the room should be very well light for toddlers.
School going kid
The child between three to seven years could be placed in this category. Children in this age bracket attend primary school and learn new things every day. The room for such kids should be a rehearsal ground for all things he is learning at school.
The wall colors should be little sober and walls could feature a cartoon, or fairy tale that he learns at school or even cartoon characters that he is fond of.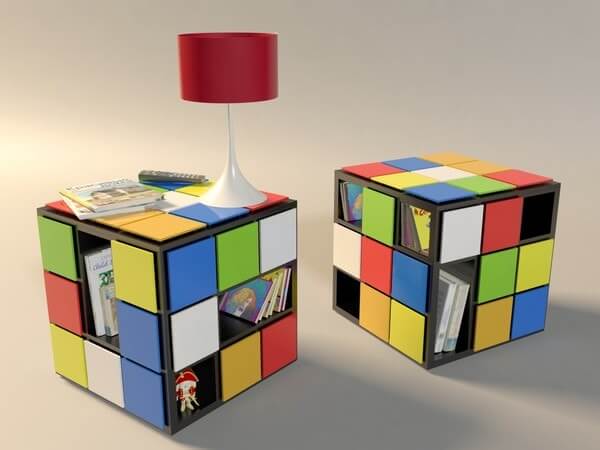 Source
Use learning tools in the decorative elements fairly so that the child has enough opportunity to rehearse and learn all the new things he is learning.
For example you could highlight a scale, Rubik cube etc. You could use elements like white board, coloring shelf in the room. Keep enough space for books, school bag, dance dress, shoes etc.
Grown up kid
Children beyond seven years and less than thirteen years come in this category. These kids are grown up and have distinct tastes and preferences. It makes sense to consult the child and decorate his room accordingly.
2. Themes:
Once your child is grown up, ascertain his liking and that could be the beginning for decorating his room. Here are few broad themes based on the preferences of children:
Adventurous
If your kids love to go on camps, participate in activities and is always up to discover new things then your child could be the adventurous kind. The room for such kids should be done with vibrant colors.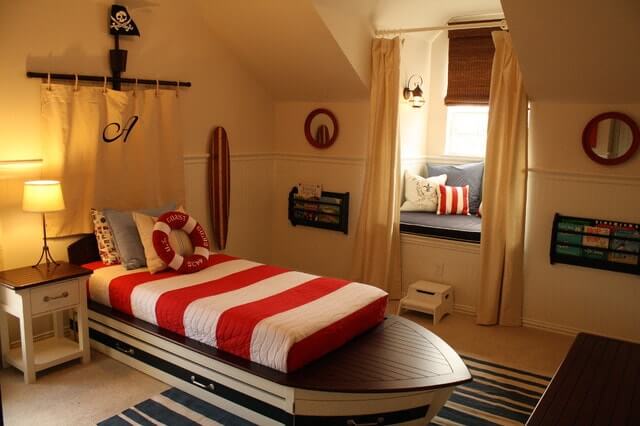 source
Use abundance of colors on the walls. You could use wallpaper featuring his favorite superhero, or highlight his latest campsite pictures on the wall. Here is a room well done:
Sporty
If your kid loves sports then don't think twice about using a sporting theme in his room. The wall paint could be green or in shades of green representing the playing field.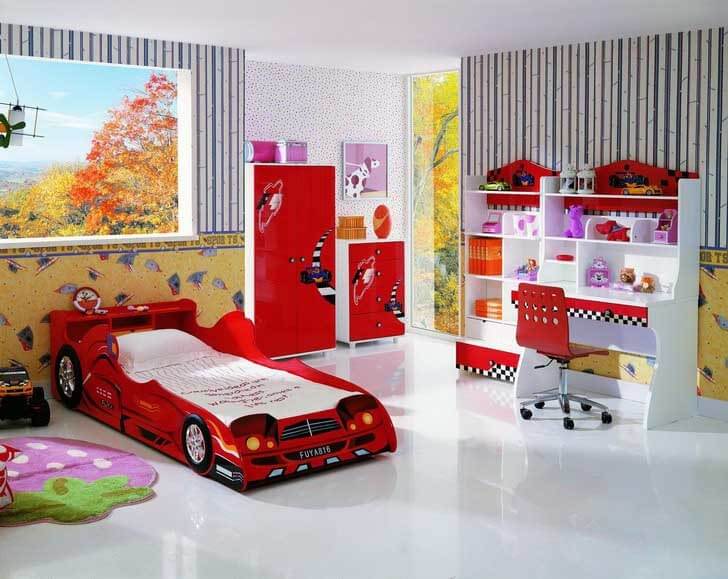 Source
Ensure that you have a little corner where his sports accessories are kept. You could have his favorite sport star pictures on the cupboard, a corner dedicated to his sport and other sporting stuff.
The room's furniture and décor elements should have a generous display of the sport that you child loves. And most importantly have little showcase for him to keep his trophies, medals and other achievements!
Here is how a football lover's room could look like: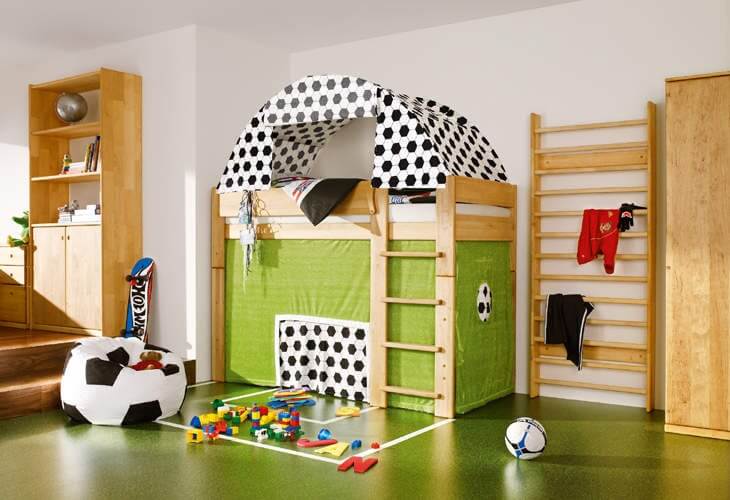 Source
Geeky
If your kid has inclination towards science, statistics and technology then there is no other way to celebrate his genius other than decorating his room with his favorite theme.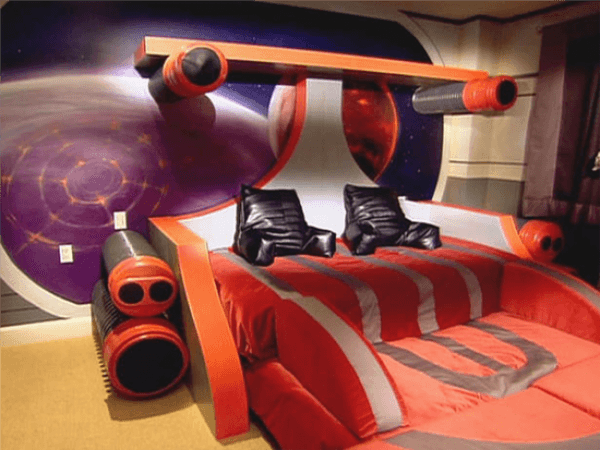 Source
Wall paint could be in dark colors with science themes painted on it. Alternatively, a zany wallpaper with science theme could do the trick. The furniture and decorative items can be complimenting the nerdy theme.
Philosophy themed kids bedroom ideas
If your child loves to read extensively and is a fan of philosophy and has a pulse on the latest news then you should certainly reward his talent by decorating his room with his taste.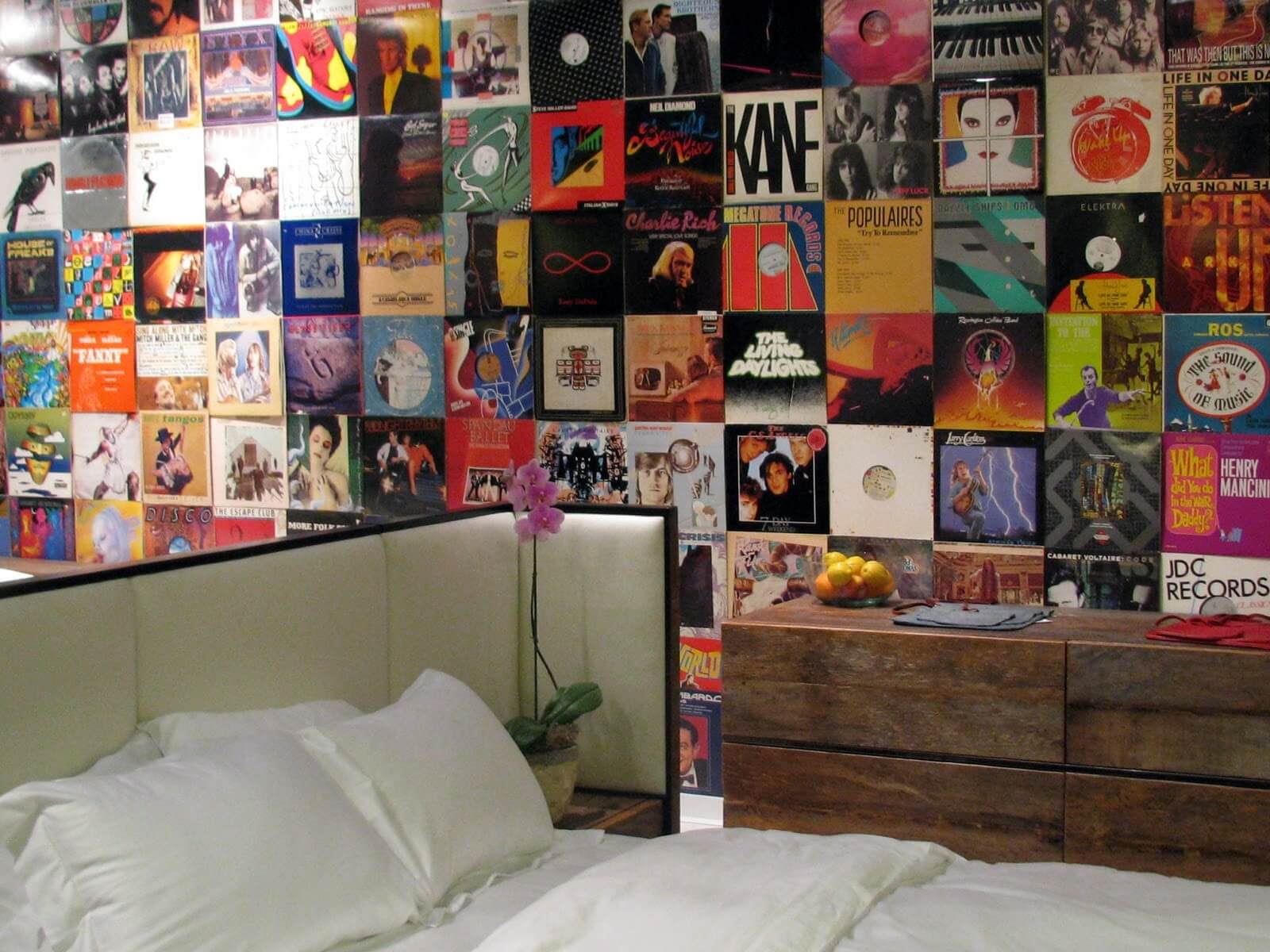 Source
Wall colors should have sober color on them and the room should have lot of storage space for his books, newspapers, magazines etc. The decorative elements should have mild complimenting colorsand could represent famous men, latest happenings or other remarkable stuff.
Creative
If your child loves to pick things randomly and create beautiful articles from them then you should laud his creativity by doing his room equally creatively. Wall paint should be in bold but complimenting colors.
Walls should have things made by the child as hangings, cuttings or drawings – that is the best way to celebrate his genius.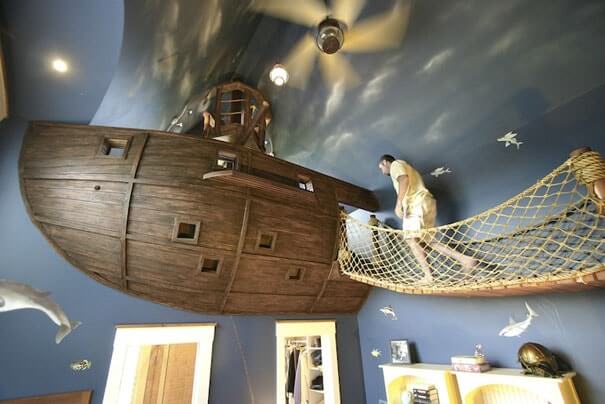 Source
There should be ample storage space where the kid can keep his work in progress articles and a showcase where his complete work can be highlighted.
Also Read: 5 Colourful choices for Master bedroom and kids bedroom
3. Accessories
Lighting
Other than the aforesaid points, the kids room should have ample lights. Children spend lot of time finishing school projects or homework and hence need good light in the room. If the room lacks natural light source then try adding decorative lights in the ceiling or as table lamp. These should match the theme used in the kids' room.
White board
Every kid needs little space to memorize his work and keep a tab on the coming day. A white board is must in every kid's room. He can draw, write, solve puzzle and do many many things when he has a dedicated space to as his corner.
Curtains
These days there are very many curtain designs available. Pick light colored curtains for kids room, but just ensure that they go comfortably with the theme used in the room.
Source
The material of the curtains should be light enough so that air and light can easily pass through them, making the kids' room more lively.