Hidden Gems: Unfolding the World of Stylish Murphy Beds  
Imagine a living area that seamlessly converts from a comfortable living room or a productive home office during the day to a lavish bedroom at night. Imagine a home that smoothly combines design and functionality, where the use of space is maximised without sacrificing elegance. The impressive Murphy bed has become a prominent concept in contemporary home design.
A unique piece of design that perfectly captures contemporary living, Murphy beds disguise sleeping regions to improve daytime usability, much like chameleons do to blend in with their environment. They are a great addition to an interior design for a small living room or bedroom. 
A Blend of Aesthetics and Utility
Imagine walking into a cozy home that has been tastefully decorated and precisely designed. However, as you continue to look around, a Murphy bed that has been cleverly integrated becomes apparent, which is a surprising makeover.  
The idea of Murphy beds has completely changed the way that interior design is done since it offers a flexible answer for cramped quarters without compromising on comfort or style. These inventive projects, which range from studio flats to elaborate houses, have swept the design community off their feet. With their unique interior solutions, Bonito Designs, which is renowned for adding a special touch to houses, revolutionises interior design. They also work in collaboration with famous designers to lend an air of exclusivity. 
Unravelling

the History of the Murphy Bed: Inventor and Purpose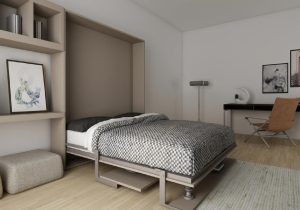 The popularity of the Murphy bed has changed throughout time, and it has a long history. It became more well-known because of motion pictures like "Be Big," "Nothing But Pleasure," and cartoon movies like "The Pink Panther." The bed saw a rebirth during the recession of 2010, as individuals looked for practical ways to maximise space without sacrificing on aesthetics.
Today's Murphy beds come in a variety of styles, models, and colours. They are space-saving wonders as well as fashion statements. They integrate design and utility in guest bedrooms and studio flats to accommodate individual tastes and customisation demands.  
Bringing Form and Function Together in the Mechanism of Murphy Beds
Murphy beds are unique since they maximise the space that is available due to their capacity to be folded up. Since box springs obstruct the bed's vertical storage, this system does not use them. The Murphy bed mattress is supported by a sturdy platform or mesh rather than a sagging frame. It is immobile because the mattress is solidly secured to the bed frame. 
Elastic straps, piston lifts, and torsion springs enable the bed to be folded and raised with ease. This blend of engineering and design captures the spirit of Murphy Beds, making them pieces of art in both form and function. 
What distinguishes them from regular beds?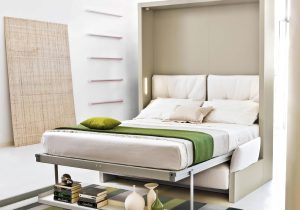 The flexibility of Murphy beds to blend usefulness and beauty is what makes them unique. They improve the aesthetic appeal of your living environment rather than only serving a functional purpose. But with distinctive differences, the appeal is further enhanced. Imagine a bookcase that hides a comfortable sleeping area, or a dining table that opens to a sumptuous bed — each design a work of beauty in itself. 
In essence, Murphy beds reinvent how we view and use our spaces, making them more than simply pieces of furniture. They represent the spirit of adaptation and provide a flexible response to the shifting demands of contemporary life. A home office may be used as a guest room, and a reading nook can easily become a peaceful place to sleep. A studio apartment is transformed into a multipurpose refuge. 
Murphy beds are a monument to design development in this age of invention, meeting our demands while breaking through traditional barriers. Murphy beds are the perfect example of how usefulness and beauty can coexist, and as we push the limits of interior design, they serve as a reminder that even the most conventional pieces may undergo amazing changes that enhance our lives in ways we never dreamed possible. 
Discover the creativity of Bonito Designs and how Murphy beds may improve your way of living. Their designs, which range from tiny studios to opulent residences, present a tale that is #exclusivelyyours. So why settle for the usual when Bonito Designs can help you embrace the extraordinary? 
Types of Murphy Beds: Crafting Dreams in Style
Murphy beds are available in a wide range of designs to suit various demands and aesthetic preferences. There is a Murphy bed to suit every taste, whether you want a modern, minimalistic aesthetic or a traditional, ornate one. 
Expert Advice: Take the entire design scheme of your room into consideration when selecting a Murphy bed. Choose a style that harmonies with your existing decor to create a welcoming atmosphere. 
1. Vertical Murphy Beds
Vertical Murphy beds, the most popular and classic style, are intended to be stowed vertically against the wall when not in use. 
These beds are ideal for spaces with high ceilings or little free space on the floor. 

 

They provide a sleek and streamlined look, making them perfect for modern, minimalistic aesthetics. 

 

Additionally, vertical Murphy beds can be customised with various finishes and materials to match your existing décor seamlessly.

 
Expert Advice: Vertical Murphy beds are a great option for spaces with little floor space. Their upward folding mechanism effectively makes the most of the space.
2. Horizontal Murphy Beds
A contemporary variation of the conventional design is Murphy beds with a horizontal shape. Due to their ability to be folded out horizontally, these beds are an excellent choice for households with low ceilings or large interior walls. 
Horizontal Murphy beds give more adaptability in addition to giving any space a sleek and modern appearance.

 

These mattresses conveniently accommodate larger people or couples who need a greater sleeping area thanks to their horizontal folding mechanism.

 
Tip from the Expert: A horizontal Murphy bed may be the ideal solution if your room has a unique layout or lower ceilings. Both comfort and aesthetic appeal are provided.
3. Bi-Fold Murphy Beds
Bi-fold Murphy beds can fold twice thanks to a mattress-splitting folding mechanism. This style is not only more adaptable but also a great option for rooms with little wall space. 
The bed's bi-fold mechanism makes it simple to store and gives you the choice of using only one side while keeping the other folded.

 

This makes it a workable alternative for rooms with several uses or smaller living areas where making the most of the available floor space is essential. 

 
Expert Advice: If you require the flexibility to utilise only a piece of the bed, such as sofa-style sitting during the day, think about a bi-fold Murphy bed.
4. Cabinetry Murphy Beds
Murphy beds with cabinets are a dream come true for people who value storage above all else. These beds are built within fashionable cabinets, adding more storage space while keeping a sleek appearance. 
The cabinets may be customised to complement the room's current decor, giving the space a finished and unified appearance.

 

Additionally, Murphy beds with cabinets sometimes include built-in shelves and drawers, boosting storage possibilities and obviating the need for extra furniture in the room. 

 
Expert Advice: Choose a cabinetry Murphy bed if space is an issue. The additional storage spaces help keep your area tidy and organized. 
Best Murphy Beds for Small Spaces: Thinking Outside the Box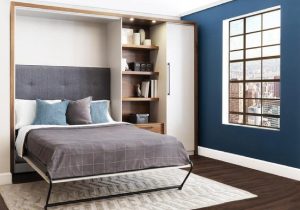 When it comes to interior design, smaller rooms present special difficulties. However, Murphy beds provide clever solutions that make the most of available space and improve the aesthetics of small spaces. 
Expert Advice: For compact rooms, get a Murphy bed with several uses. To make the most of your space, look for built-in amenities like fold-down workstations, shelves, or even sofas.
1. Sofa Murphy Beds
Sofa Murphy beds are a great option for studio flats or guest rooms since they mix a seating space and a sleeping area. The bed may be folded up to reveal a cozy sofa throughout the day. By doing this, you may make the most of your space's utility without compromising its appearance or comfort. Additionally, some couch Murphy beds include extra storage areas, giving your tiny room even more space-saving options.  
Expert Advice: Sofa Murphy beds are a flexible choice for open-concept rooms. They let you divide a space into several areas without sacrificing comfort. 
2. Desk Murphy Beds
Murphy beds for desks have become very popular in the age of remote working. These mattresses have a desk that folds down to use as a useful workplace during the day and as a bed at night. This creative layout is ideal for constrained spaces like small flats or home offices. Desk Murphy beds provide you the convenience of a dedicated workspace without sacrificing your bed's comfort.  
Expert Advice: A desk Murphy bed might be a game-changer if you work from home. It provides a distinct workstation without taking up more space.
3. Bookcase Murphy Beds
Murphy beds with bookcases combine the enjoyment of reading with the convenience of sleeping. These beds are built into stylish bookcases, which wonderfully complement home offices or inviting reading nooks.  
Expert Advice:  Bookcase Murphy beds give your room a sense of refinement. They are best suited for designing a comfortable reading nook that can be transformed into a bedroom when necessary. 
Elevate Your Lifestyle with Bonito Designs
Murphy beds stand out as a shining example of creative design in the quest to produce living spaces that flawlessly balance beauty and practicality. As a provider of custom interior design solutions, Bonito Designs advances this innovation. We recognize that your house is a reflection of your personality and way of life and that each component should be distinctive. We create Murphy bed designs using our experience that not only conceal sleeping spaces but also turn your home into a luxurious refuge. 
We urge you to learn more about Murphy beds with Bonito Designs as you start the process of remodeling your living space. Let's work together to create a Murphy bed that captures your vision, meets your needs, and improves the look of your house. Every design we produce is #exclusivelyyours since we are dedicated to bespoke luxury. 
Whether you are looking for the best interior design companies in Mumbai, or architects and interior designers in Bangalore, visit Bonito Designs, where practicality and creativity are combined to create the place of your dreams. 
Upgrade your living area with unique interior solutions from Bonito Designs. 
Let us create a Murphy bed design that reflects your distinct tastes and preferences while blending in smoothly with your lifestyle. 
Learn about the wonder of customised luxury now. #exclusivelyyours