Creative Storage Ideas

for

Clutter-Free Interiors
While the idea of moving to your dream home is always exciting, the nightmare of running low on storage space for our collectibles can kill the fun. When it comes to designing your dream home, creative storage ideas can help make room for all the essentials while looking aesthetically pleasing. 
Whether it's your favourite childhood dress or a medal for some achievement, we understand the importance of never letting your personal stuff go. This is why we've curated a list of the ultimate creative storage ideas for clutter-free interiors.  
Designer's Pick: Top 10

Creative Storage Ideas
1.

Hide It Under the Bed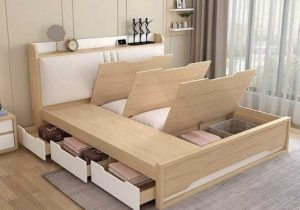 At the end of the day, don't we all seek the comfort of a simple bedroom interior design that's clean and organised? The key to keeping the bedroom cozy and comforting is to prevent clutter. And one of the smartest creative storage solutions is tucking it all under the bed. 
This storage idea gives you ample floor space that makes the room look spacious while keeping it organised. You can store all the seasonal items like off-season clothes, shoes, and linens within storage containers and conceal them under the bed.  
2. Welcome Floating Shelves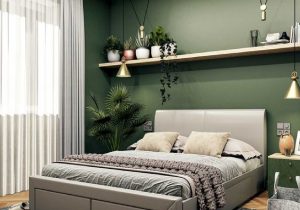 Looking for creative storage ideas for small spaces? A floating shelf could be the answer! As compact spaces don't have much floor space to offer for storage, make use of walls and add floating shelves. 
One of the major advantages of opting for a floating shelf is that it makes the space look bigger and more stylish. Owing to their versatility and ease of installation, these can easily be incorporated into any design. You can use these shelves to flaunt your books, awards, photos, or a few plants.  
Pro-tip: Layer the storage with more storage by placing jars or baskets on the floating shelves for maximised storage and well-organised stuff.  
3. Invest in Multi-purpose Furniture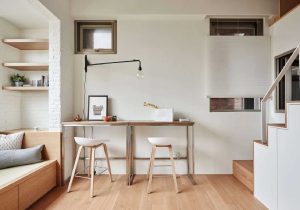 Whether it's the latest interior design for a living room or a low-budget small house interior design, as more and more people are settling in flats, creative storage ideas are essential to incorporate. And when it comes to maximising storage, multi-purpose furniture can't be overlooked. 
As modern designs seek open and airy layouts, multi-purpose furniture has a major role to play in tying the look and keeping spaces organised. Consider the idea of adding furnishings like a sofa with built-in storage, a futon that can convert into a bed, a centre table with drawers, or ottoman footstools for added aesthetics and functionality. 
Pro-tip: Add a bench with built-in shoe storage in the foyer to prevent clutter from entering your home.  
4. Versatile Bins and Baskets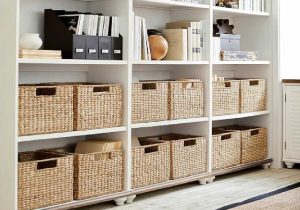 What's better than creative storage ideas that maximise utility and, at the same time, are aesthetic and affordable? Baskets have always been the go-to choice for home decor and these can-do wonders with their storage capabilities.
From the space under the bed to open shelves, there's no limit to where baskets can be placed. Keep your essentials sorted in different baskets for easy accessibility and better organisation. Designate specific baskets or bins in toddlers' rooms to keep their toys sorted. 
5. Less is More!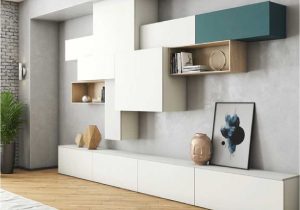 Less is More should be your mantra if you want to keep your interiors clutter-free. As you look out for creative storage solutions, you also need to sort the things you want to keep. Decide whether to keep an item or not by being honest about its use and need. 
Before seeking creative storage ideas for small spaces, ensure to discard all the unwanted items. It makes it easier to display what actually has a meaning and keeps your home away from the mess. 
6. The Secret Chambers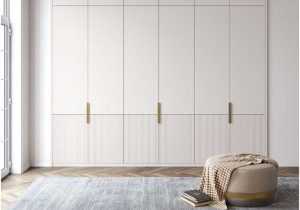 Wish to keep your storage a secret? Consider incorporating creative storage ideas like camouflaged shutters. These shutters can help you store the knick-knacks you can't discard but can't put on display either.
You can add storage shelves behind the mirror in your bathroom and dressing room to keep all your basics at an arm's distance.  
7. Space-saver Furnishings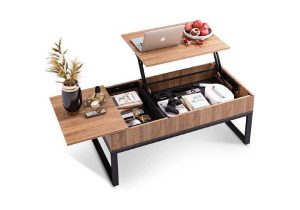 Another creative storage solution is to get furniture that comes with smartly incorporated storage spaces. Opt for box beds that store and conceal the mess, or tables that have a storage box, drawers, and cupboards.  
In order to make the space look bigger, you can invest in furnishings like foldable tables, chairs, or beds. These will leave you with more space to keep your things organised.  
8. Add-on to the Basic Storage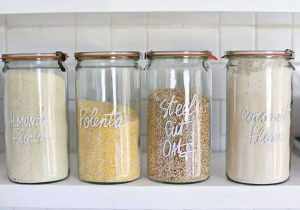 There's no limit to the number of creative storage ideas that can be added to a single space. Build smart storage solutions over the already existing elements. For example, floating shelves can be incorporated above the study table to keep your books organised.  
While opting for incremental storage, make sure that it doesn't end up cramping the room. Strike the right balance between vertical and horizontal creative storage solutions for clean aesthetics. 
9. Hooks in the Nooks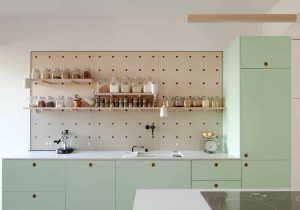 Every nook has the potential to serve as a creative storage solution for that room. Whether you're looking for easy access to the dishes or seeking a place to hang towels, hooks can be the ultimate creative storage ideas for small spaces. 
You can even go over the top by creating a peg board wall for the ease of arranging accessories. It can be added to the kitchen as well to keep all the spices right in front of you. 
10. Embracing the Verticals!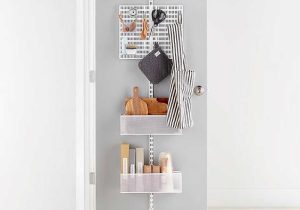 In order to achieve a refreshing look for your home interiors, make sure that the floor space is free from clutter. One of the most efficient creative storage solutions for facilitating this is by picking vertical surfaces for storage. 
Apart from wall-mounted shelves, you can also take advantage of doors by adding hanging storage behind them. Add sleek wire baskets behind the door to accommodate small items like stationery or grooming kits that otherwise always get lost in the space or keep it untidy.  
A Fresh and Healthy Welcome: De-cluttering Guide for Hallway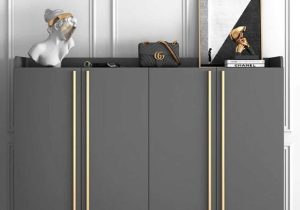 It takes creative storage ideas to give your home a refreshing makeover without making it look cluttered. As hallways set the first impression on visitors and are the transitional zones between your home and the outer world, they have to be extremely organised and welcoming.
Being one of the narrow zones of the house, make sure that hallways accommodate just the basics. Flank the entrance with a console table accommodating baskets for extra storage. Add multi-functional furniture like a stool with storage to serve the purpose of shoe rack and seating. 
5 Easy Steps for a Clutter-free Living Room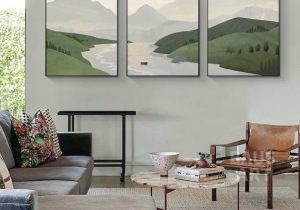 Living room interiors are a reflection of you and your design taste. This is why it has to be smart, stylish, and organised. Let's look at some pro tips to help you keep the living room de-cluttered. 
Sort the Mess:
The first step to begin your de-cluttering journey is sorting all that you have in store at your house. Segregate everything based on what's essential, what can be thrown, and what can be stored modishly using creative storage ideas. 
No More Broken Items:
As you're sorting things, ensure to get rid of all the broken or damaged items that can't be repaired or put to use.
Take Out Old Magazines:
While we all love our daily doze of newspapers and magazines, it's important to get rid of them at the right time. Curate a schedule to clear out old magazines, booklets, and papers or store them in designated baskets or drawers.   
Go for Built-in Shelves:
One of the most practical creative storage ideas is the addition of built-in shelves. Always look for furniture with this feature for additional storage.
Open Shelving:
Open shelves are the best creative storage ideas for small spaces. These help you keep the living room interior design organised and, at the same time, make the room look larger.   
A 5-Step De-clutter Guide for Bedrooms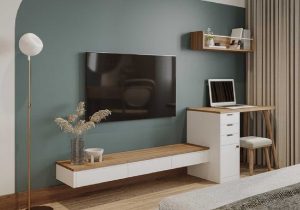 The best interior design companies in Mumbai believe that a simple bedroom interior design has no space for mess! While bedrooms are the most clutter-prone areas, cleaning and organising can prove to be purely rewarding. Let's look at the step-by-step guide to easily maintain a clutter-free room. 
Define Function for Every Element:
Define the function of every space and element in the room. Designate a space for the most common items that clutter your room, like laundry clothes, books, mail, etc.  
Take Things Back to Place:
Most of the time, our beds become the dumping ground for anything that's not wanted. Use the bed box or keep a few woven baskets to get rid of the clutter.
Empty the Floors:
Always begin with clearing the mess from floors first. This leaves you with ample circulation space while organising your stuff.  
Segregate Piles:
Segregating items based on their use will help you to sort out the mess quickly. 
One Item at a Time:
Whether your bed is full of clothes or your study has books scattered all over the table, always pick up one item at a time to neatly organise and declutter your room. 
Creative Storage Solutions

For

Your Kitchen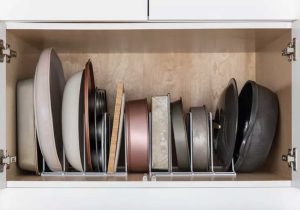 When it comes to buying storage containers, always look for premium quality. Being exposed to several temperatures in the kitchen, the containers must be durable.

 

One of the best

creative storage ideas

for the kitchen is nesters that make the space look aesthetic and more practical.

 

Rather than investing in a set of containers, opt for single ones based on the size needed. 

 

Measure your space, and analyse your requirements before shopping for storage boxes.

 
Creative Storage Ideas

for a Clutter-free Bathroom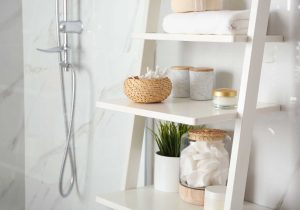 Maximise the utility under the sink by placing shelves for daily grooming essentials.

 

Another

creative storage idea

for keeping the essentials is placing all the bottles and baskets on a storage trolley that can be put to use or taken away as per the need.

 

With mirrors consuming ample vertical space in the bathrooms, a smart storage hack is to add storage behind them.

 
Place multiple hooks on the walls to keep daily essentials easily accessible.

 

While opting for hooks on the walls, always go for self-adhesive hooks rather than drilling to protect the wall from damage. 

 
Tackle Clutter Creatively!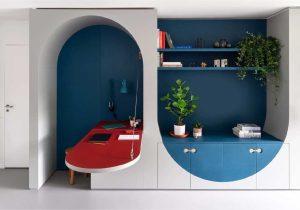 Modern living demands every room to be versatile. Whether it's your living room or bedroom, flank every corner of the space with creative storage ideas to keep them clutter-free. The only way to truly experience the comfort of living is by keeping the interiors well-organized and stylish.
We at Bonito Designs care about your comfort while fueling it with creativity. Contact us for the ultimate interior design ideas exuding sophistication and creativity. 
De-clutter the 

Cluttered!