Sleek surfaces, crisp furnishings, and cutting-edge art represent the contemporary home interior design. While the style has gotten a bad name for being cold and impersonal, more and more modern spaces combine warmth and minimalism for a fresh and sparkling effect. We've selected beautiful spaces from the Bonito Designs archives to prove that contemporary decor can be welcoming and eye-catching, showing the many sides of the trend. These ultramodern spaces are packed with rugged materials, bold lighting, streamlined furnishings, and yes, even some fun colors, creating rooms that are dramatic, livable, and very of the moment.
What is Contemporary Interior Design Style?
Clean lines and smooth surfaces characterise contemporary architecture without intricate details. However, because the days of boxy furniture and quirky decorating are long gone, that does not mean that your home will look strong or cold. A combination of comfortable, livable elements establishes a sophisticated, fresh look and feel in today's revamped contemporary design.
You may want to add these main elements to create a contemporary look in your home: paint, metal accents, texture, wood tone, and lighting.
Color is Essential
Typically, industrial architecture is contrasted by neutral colors. When painting your walls, you'll want to select shades of brown, taupe, cream, or pure white. By painting one wall with an accent color, adding a bold colored sofa, and choosing small but vibrant decorative accessories, such as pillows, area rugs, lighting fixtures, and artwork, you can easily spice up your room. A word of caution when accessorizing is not to clutter your room since simplicity is the key to contemporary design.
Steel Accent
In contemporary design, metals such as stainless steel, nickel, and chrome are prevalent since they provide a sleek finish and a clean look. By selecting stainless steel appliances for your kitchen, you can easily accentuate your home. There is a myriad of great metal finishes to choose from when it comes to your kitchen and bathroom faucets. For home accents, to help keep the theme consistent from room to room, consider using metal for furniture parts, tables, shelves, and artwork.
Texture Matters
Fabrics such as silk, crushed velvet, linen, or wool are used to add texture and create a more natural and welcoming environment. Accents such as cloth window treatments, upholstery for chairs, overstuffed pillows, area rugs, and linen wallpaper are a perfect way to counter the metal accents' tidy, smooth lines. Keep away from intricate designs when choosing your fabrics because they can distort the crisp, contemporary look you are trying to achieve.
If Contemporary Design Style is not to your new generation's taste buds, then we have you covered! Check out these Modern Interior Design Style Inspirations for your Home today! 
Tones of Wood
Contemporary designs typically feature very light or very dark tones when it comes to selecting wood surfaces. You can easily create a unique flooring design with a wide variety of woods, finishes, styles, and stains to choose from. Your only weakness is your budget and creativity. The use of large wooden flower pots, cabinets, picture frames, end tables, and floor lighting are other ways to integrate wood into your interior design. The secret to a successful contemporary design is that your accents are compatible and that your living room is not cluttered.
Lights to focus on the Design
In contemporary design, lighting is essential since it is important to illuminate the design of the space. To provide interesting, clean lines to accentuate your contemporary style, there are several lighting choices available. Track lighting, pendants, and floor lamps are common fixtures.
Now let's take a look at a Bonito home designed with Contemporary Interior Design style.
 
Contemporary Living Room Ideas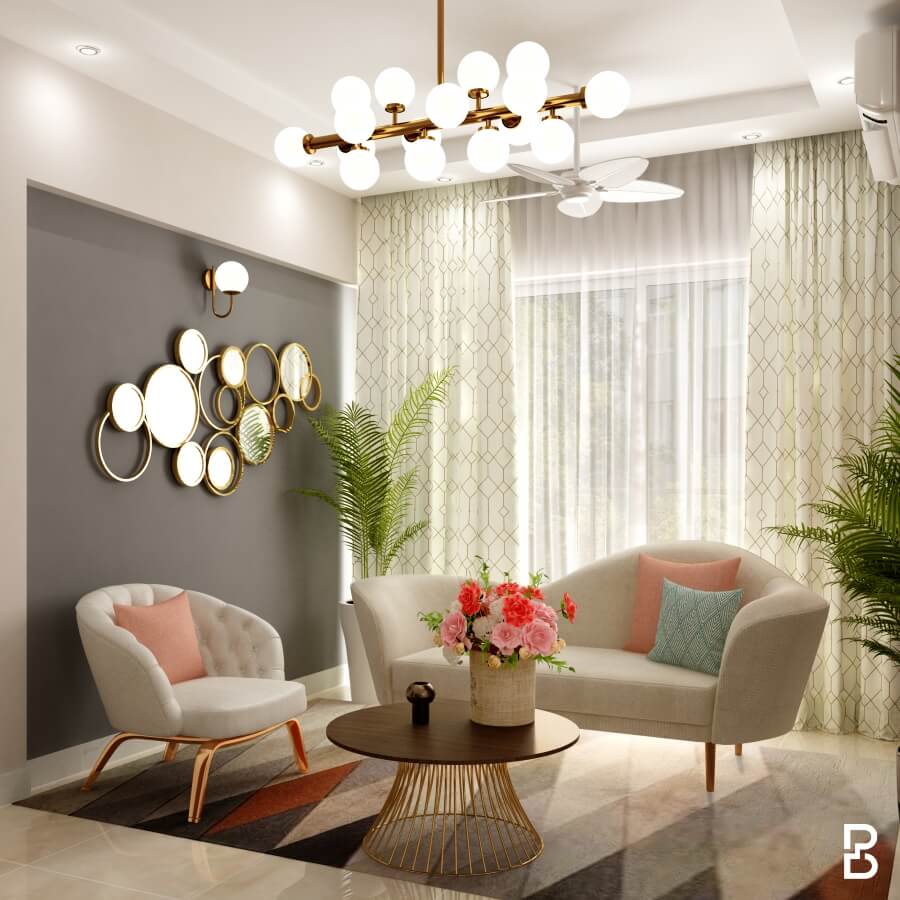 There's a reason why the family room is the most commonplace in the home, less formal and more relaxed than a living room and, more importantly, optimized for family fun and social gatherings. A room that is both comfortable and timeless, yet fun and contemporary. Start by playing with a fun throw pillow for a splash of color if you cannot paint a statement wall yet.
Track lighting and recessed lighting lead to the light washing of a wall. Consider installing cove lighting or indirect light in both home renovations and new construction. The light fixtures contain color and metallic components.
Using spotlights that target a painting, poster, or print. These can help attract the focus to the parts on which you want to concentrate. By setting them on a structural column or pedestal or hanging them against an accent wall, contemporary style sculptures or framed art can be positioned at eye level.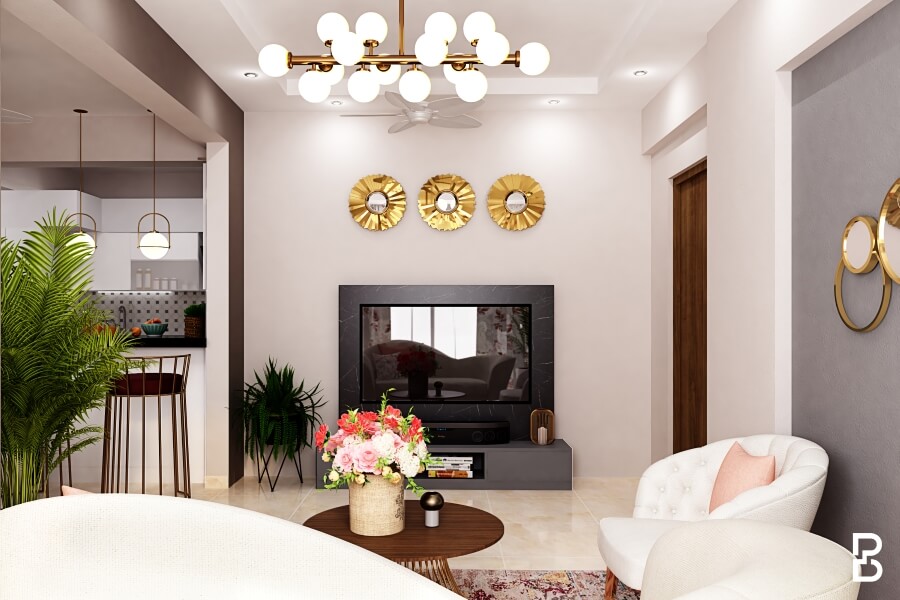 Entertainment walls have become a major feature of the living room and now provide the conventional feature fireplace with stiff competition. A common option for a TV wall is wall-mounted units. The uninterrupted floor space looks transparent and tidy; the space is more spacious and easier to clean as well.
There is nothing quite like a chandelier that says glamour. Their traditional homes in entrance foyers and over dining tables make quite the impression of being multi-armed, multi-faceted, and glittering. Take an approach to your chandelier that is more structured. Hardwired to perfection is this electroplated gold gem. A mid-century modern loft down to the ground would suit this golden design.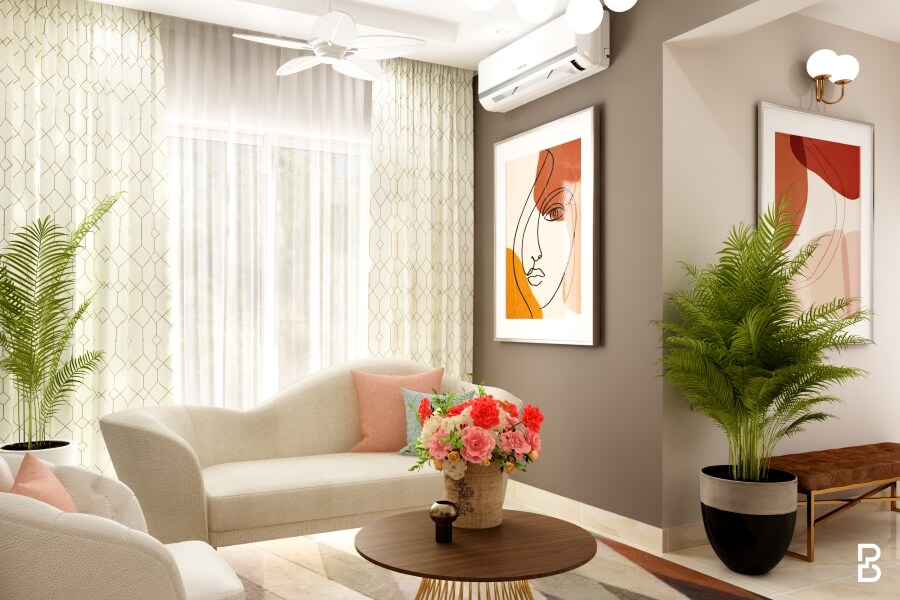 Frames are perfect for artwork in high-gloss or matte black, natural wood, or metal finishes. Hang them close together if you have to bring several pieces together, so they build the impression of one big piece. Or you can prop them up on adjacent walls like here. Don't clutter contemporary-style rooms with collections or too many pieces. Open space is often just as significant in contemporary interiors as the pieces you placed in the room.
 
Contemporary Kitchen Ideas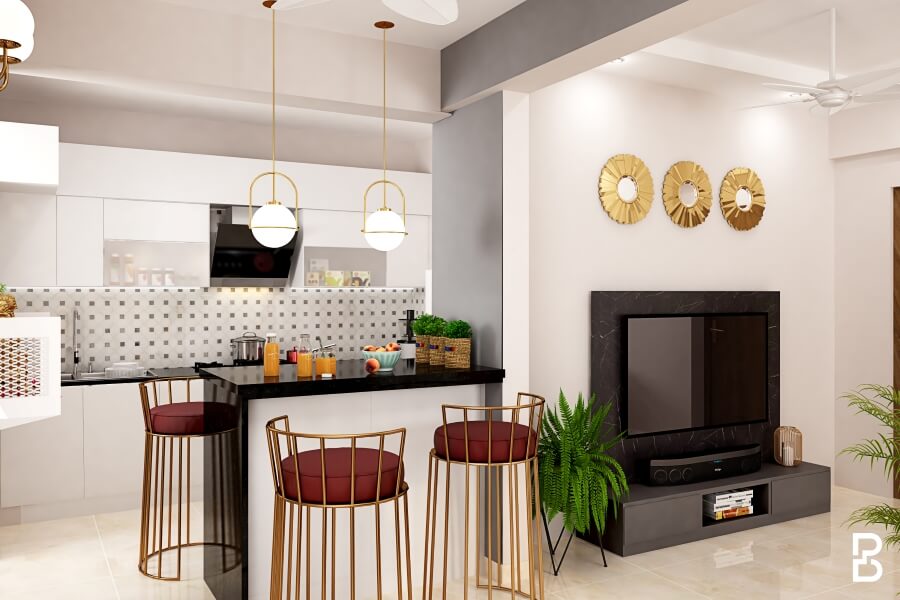 To reap the benefits of a breakfast nook, you do not need an enormous kitchen. The bright white design of this nook and kitchen is the pinnacle of modernity. The stunning, chic look is complete with Chrome accents. And to make good use of a breakfast nook, you do not need a family. Space is romantic and practical for two. The unique bar stools in the kitchen are an idea for an adult design like this one.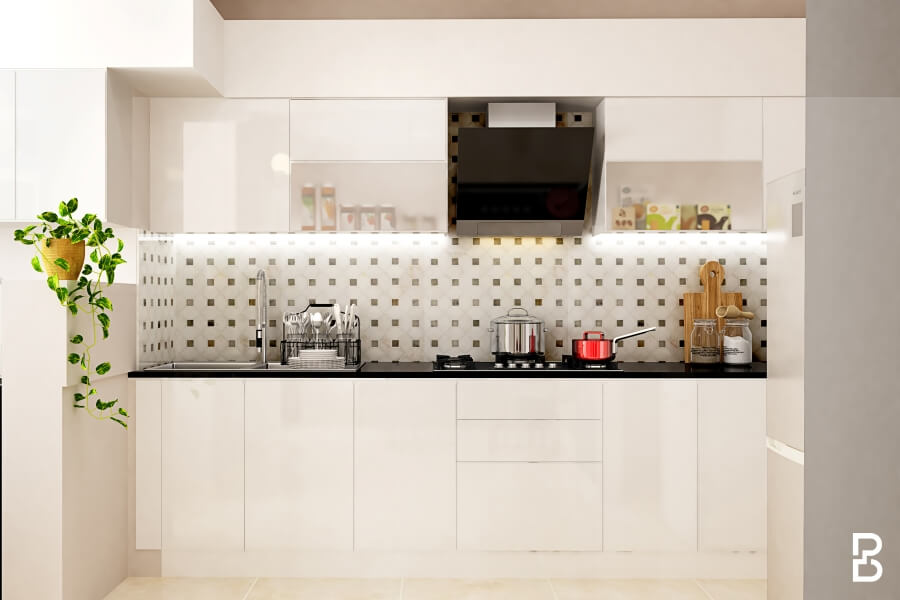 Of any room in the home, the kitchen gets the most use. With slab cabinet doors, a sleek solid surface countertop, and plenty of clean lines and angles, make it your home's contemporary show point. Patterned tiles mixed on the backsplash and glossy cabinet finishing will open the room and reflect light. To enhance this, add some pendant lights, and don't be afraid to experiment with color. Here the whole room can light up with red cabinets or blue glass tiles.
 
Contemporary Bedroom Ideas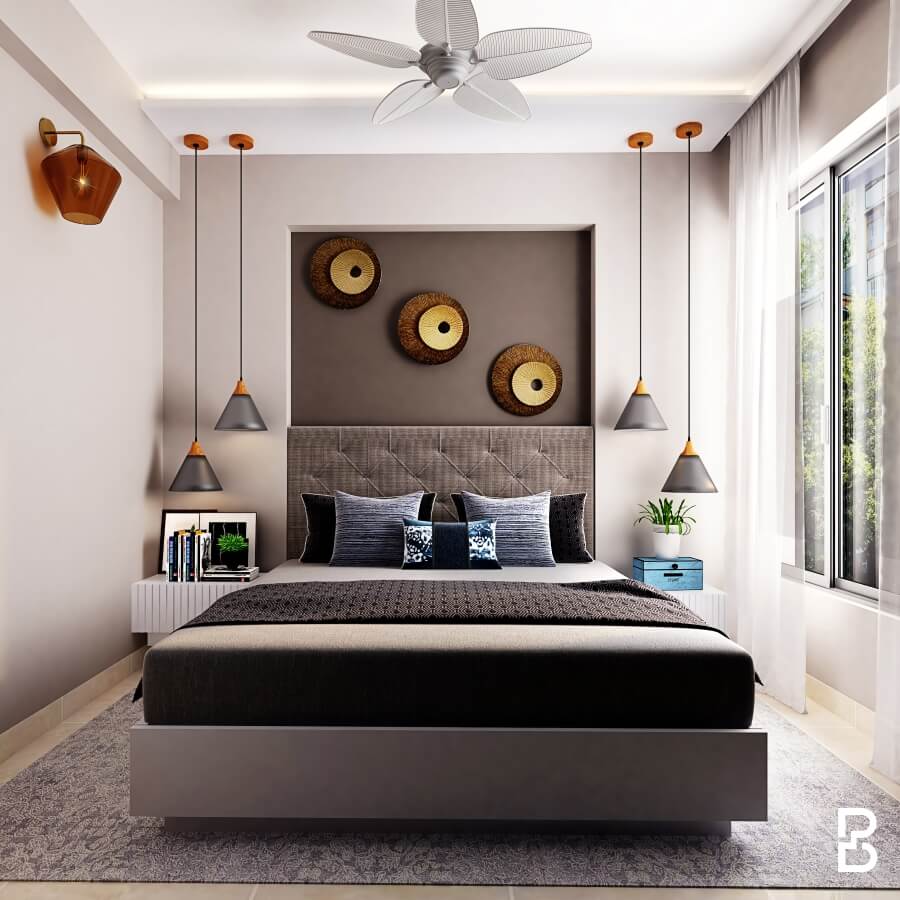 As the focal point of your bedroom design, invest in a good platform bed. Platform beds are directly on a platform with a mattress without a box spring. The result is a cleaner, simpler, lower-to-the-ground design. To accentuate its clean lines, keep your bedding tucked in and sleek with minimal throw pillows.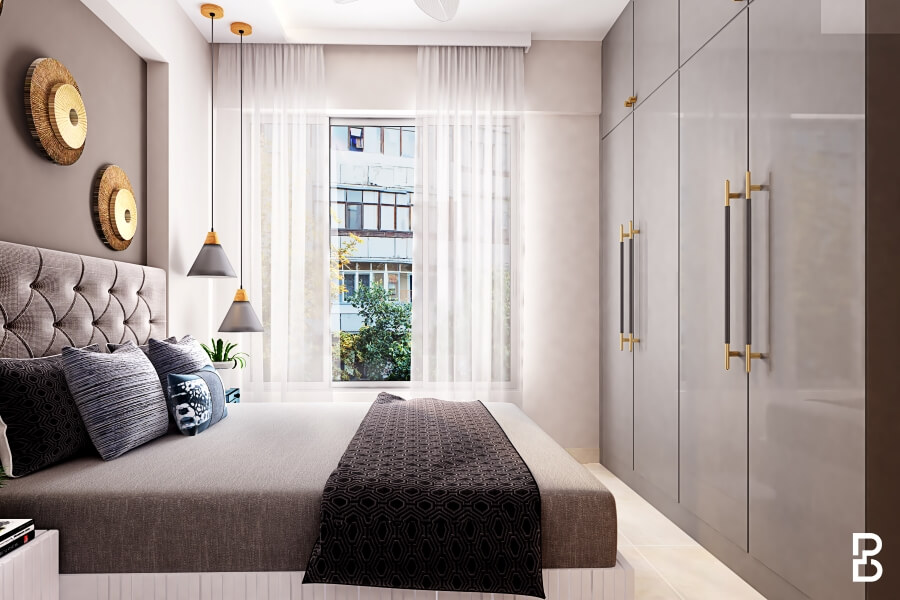 To fade into the background of the design, stick to dressers, wardrobes, and other furniture with clean lines, sharp angles, and rich dark color. Give the walls and the accent pillows on the bed the color and contrast the dark wood to make the colors of the room pop.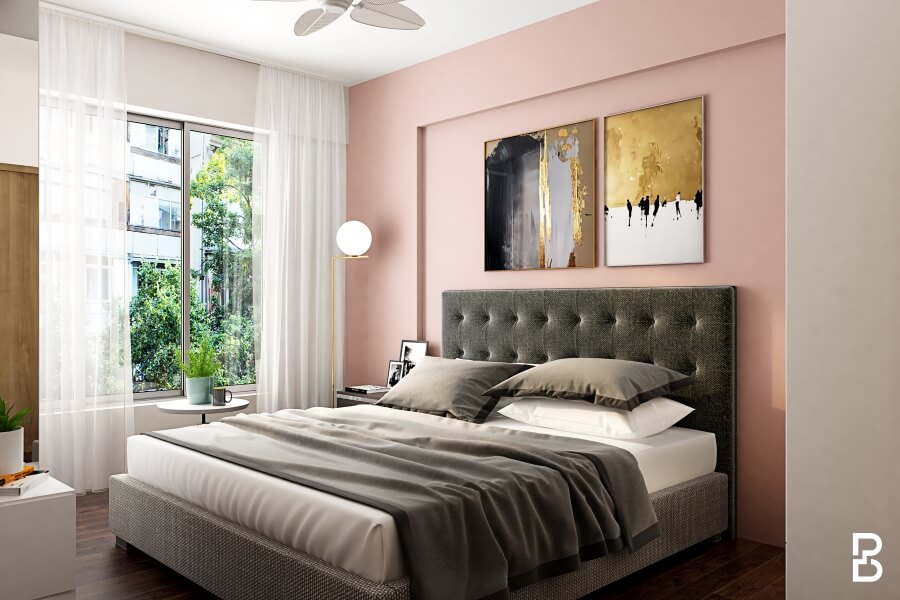 The cushioned headboard has been set inside a single frame created by an inlet into the wall in this pink and grey bedroom, resulting in a bigger headboard that becomes part of the accent wall. You can put together a bedroom scheme that is not overbearing by taking out only a few of your favorite pink bits. In this case, the muse for the space is a collection of two modern artworks, and a pink backdrop has been provided that brings out its colors. The exhibit includes flowing white window drapes that reach the room's full height, golden pendant lights, and grey bedding.
 
Contemporary Home Design Ideas for Foyer and Balcony
While you may consider the living room, the kitchen, and the bedrooms to be the most important areas of your house, you cannot ignore the smaller areas such as the foyer and the balcony. When someone enters your house, it is the foyer area that catches the attention first. If you have a cute and warm balcony overlooking great views, you will love to spend time there and also show off to your guests.
When the entire house is designed with contemporary ideas, it is quite obvious to offer a contemporary touch to your foyer area and other smaller corners of your home too.
One of the best ways to design your foyer area is to put up a huge colourful painting on a stone cladding wall. If you want your foyer to embody a warm welcome, you should definitely install benches with cushions here as per the availability of space. Of course, you can create drawers and storage beneath the seating area to make use of the space efficiently.
The use of mirrors, planters, false ceilings with focus lights is also some of the elements that can make your foyer area stand out in a contemporary way.
When you talk about the balcony area that you have, the first thing that comes to mind is to transform it into a small garden where you can spend your own private and cosy moments. The use of grass carpets with planters and creepers around, a small swing along with some seating arrangements can offer the exact contemporary look that you are looking for while considering a contemporary home interior design.
 
Contemporary home interior design makes the modern home liveable
Modern homes seem not to have because we're so used to the "lived-in" look. Some modern homes can actually look more like showpieces than family homes. Contemporary home interior design can create some problems for the homeowner to contend with but try to remember that the entire purpose of contemporary design is to create a living space that is functional, above all. Wood flooring doesn't just look nice: it's a lot smoother than wall to wall carpeting, too. And while that uncluttered room can produce a nightmare for all your belongings when it comes to finding storage space, contemporary interior design offers the answer to the issue.
Storage solutions include attractive, stackable, under-bed storage, storage containers, closet organizers, and other wonders designed to help build the minimal look while offering anything but minimal storage space.
Not every home is built to manage contemporary interior design or furnishings. Start with spaces that are wide, open, and devoid of any intricate crown or beadboard moldings. Airy, open, and clean should be the end product of your contemporary design. As you design to build a home that blends purpose and elegance into one, keep this in mind. Contact Bonito Designs – interior designing company in Bangalore, to help you discover the very best way to integrate contemporary designs into your home interiors.