The kitchen always remains to be the busiest section in your entire home. Hence, many homeowners get a modular kitchen interior to get the tasks of a kitchen done speedily and conveniently. But just getting a modular kitchen set up is not going to help. You also need to clean and maintain the kitchen regularly and properly to keep it looking as it is. A modular kitchen will make your life comfortable. But it cannot stop the dirt and grime to collect.
Hence, you should make sure that you do not ignore the cleaning part of the kitchen.
For many, maintaining a kitchen may seem to be a strenuous task. But it is actually not if you can follow some of these useful kitchen interior tips.
It is quite obvious that cleaning each and every element every day is not possible. Hence, it is a great idea to divide the maintenance tasks on a daily, weekly, monthly, and yearly basis.
Modular Kitchen: Daily Maintenance Tasks
The kitchen will always look perfect if you can maintain this daily regime.
The Sink:
Make sure that there are no food items in the sink that would otherwise clog the sink drainage system. As you rinse your utensils, similarly, rinse the sink also with mild soap and water at the end of the day. If you are maintaining the sink properly, it will not look dull after a couple of months. Always make sure not to use or even not to throw any chemical or acidic item in the sink as it can damage the material and look of the sink.
The Hob:
While you are cooking, there are high chances that the hob will get dirty due to oil spillage or the spices. So, you should clean the oil spillage from the hob immediately after you have completed cooking, otherwise, this will form a crust on the surface. The best way is to use a club soda mixed with water to clean the hob area and make it shine as earlier.
The Countertop:
You should also clean the countertops after every cooking session with a proper soap or disinfectant. Warm water mixed with disinfectant is a great way to get rid of tough stains on the countertop. Make sure not to use sharp objects or chemicals to clean it as it will leave the countertop dull and filled with marks.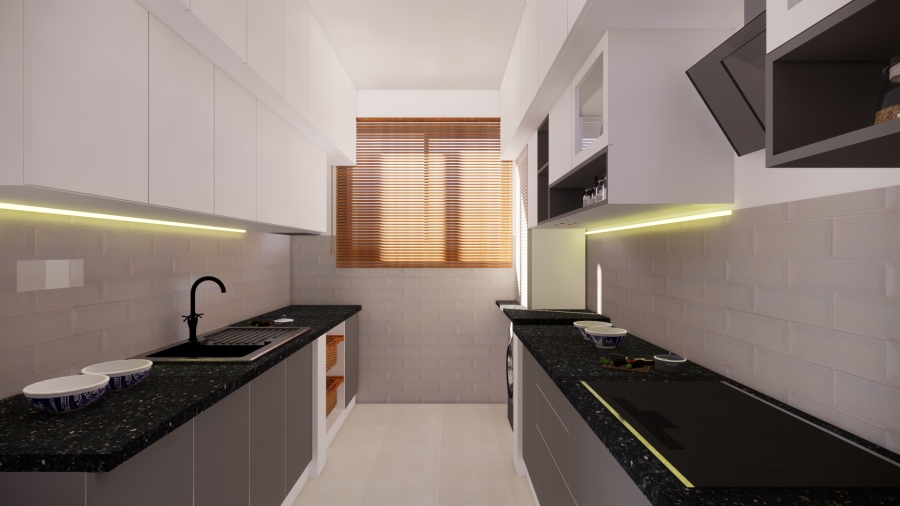 Cabinets:
During cooking, make sure that you keep all the cabinets closed to avoid oil vapours entering the cabinets and forming a layer. Similarly, when placing washed utensils inside the cabinets, make sure to dry them well to avoid stains and bacteria growth in the cabinets.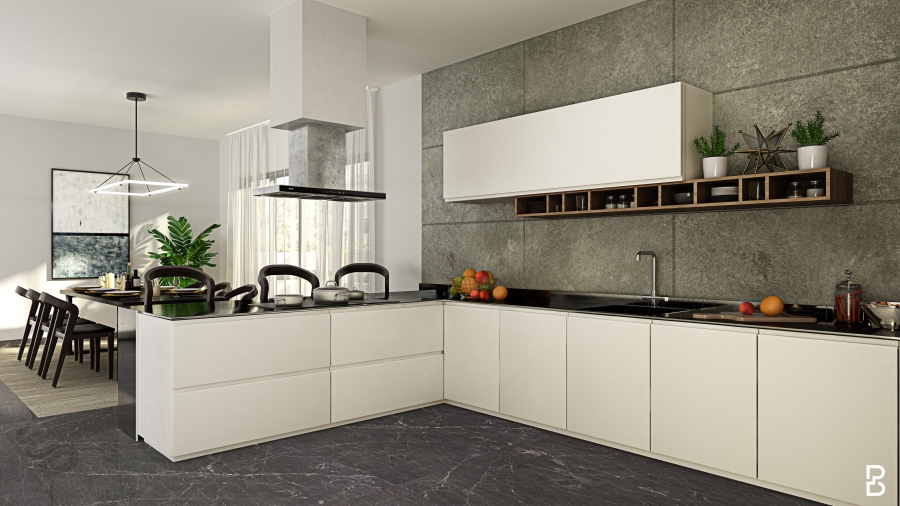 The Floor:
The floor should be mopped carefully at the end of the day to get rid of any grime or any oil spillage that would otherwise cause accidents. Make sure not to use excess water, else it can damage the doors of the cabinets.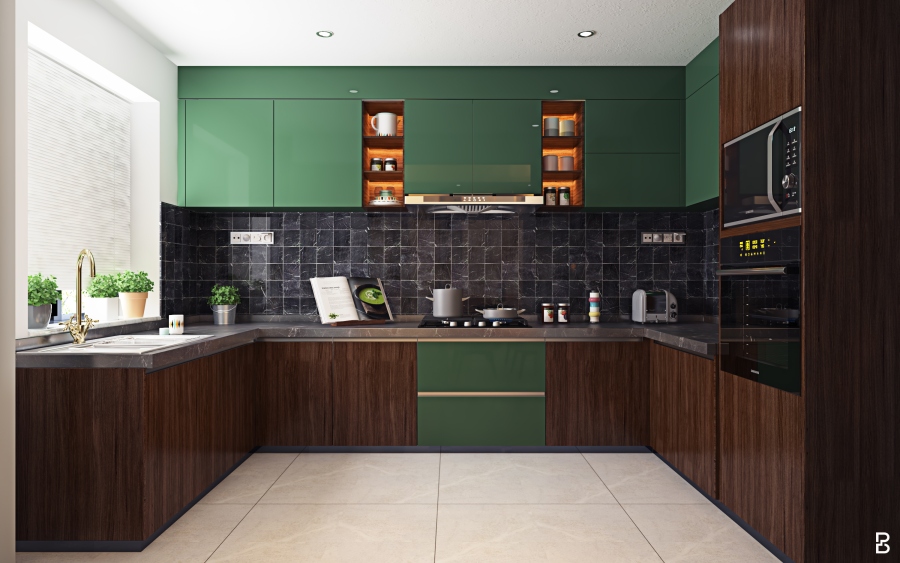 Modular Kitchen: Weekly Maintenance Tasks
Apart from the daily cleaning, it is always a great idea to upkeep weekly maintenance in your kitchen.
The Tiles:
The tiles installed on the walls get extremely dirty when you are quite often cooking in oil. The oil splatters can get rigid at times and can form stains on the tiles. Hence, scrubbing the tiles once a week is always a good idea to get rid of such stains. Use a mixture of baking soda and water to clean such stains.
Also Read: Kitchen Tiles to Consider For the Indian Kitchen Walls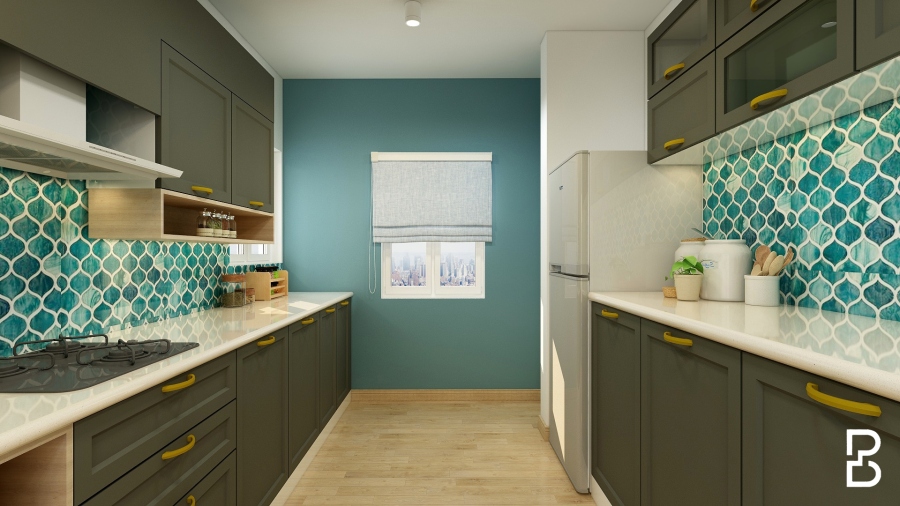 The Dustbin:
While you have a habit of replacing the trash bag every day, it is also crucial to clean the dustbin on a weekly basis. Use warm water and disinfectant to clean the dustbin and keep bacteria away.
Cabinets:
Remove all your items from the cabinets and perform dusting. Cabinets can be home to various insect infestations. Hence, dusting it once a week reduces such chances. Also, spray the insides with vinegar water and air dry them before placing back all your items.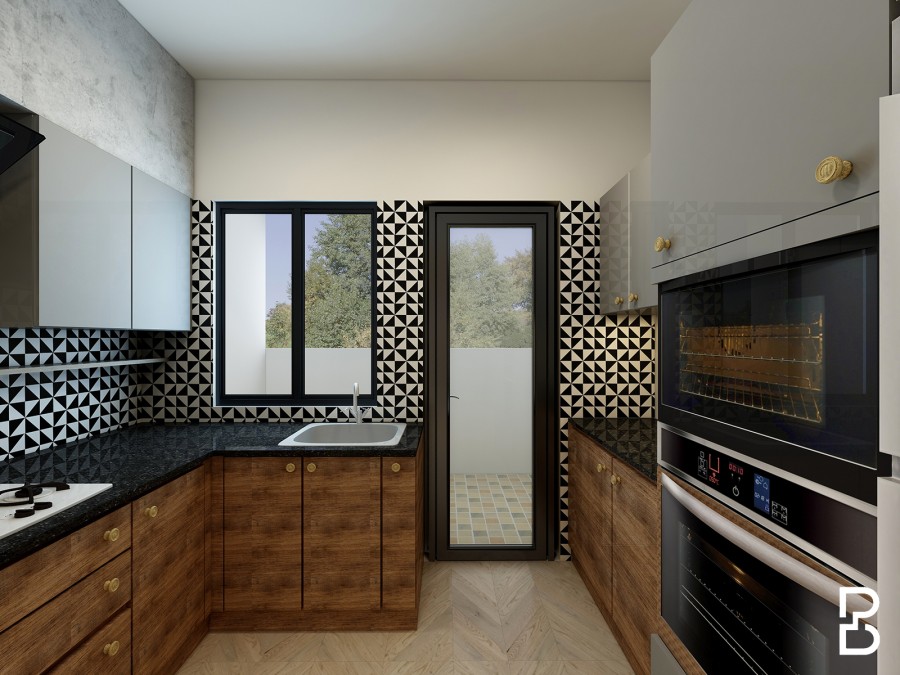 Electricals:
Whether it is the microwave, the refrigerator, or your grinder, clean them on a weekly basis so that they do not lose their luster.
Modular Kitchen: Monthly Maintenance Tasks
Once you've completed the daily and weekly cleaning and maintenance tasks, you shouldn't have much time left over for the monthly tasks. But in order to offer your kitchen a fresh and hygienic feel all the time, follow these few monthly regimes too.
The Storage Units:
Apart from the cabinets, it is also important to clean up other storage units in the kitchen such as the drawers, pull-outs, tall units, and others. It is quite obvious that cleaning them on a weekly basis is not feasible. Hence, taking a day's time out once a month is enough to clean up all these kitchen storage units to keep them free from being breeding places for rodents.
Taps:
Taps can lose their shine and they should be cleaned to keep them as it is. One of the best ways is to dab some lemon juice or vinegar on the tap and leave it for some time. Later on, wash it off with lukewarm water.
The Appliances and Electricals:
While you clean the microwave, refrigerator, and grinder once a week, there are also other appliances to take care of. The exhaust fan, the light fittings, and other electrical appliances can also attract a good amount of dust and grime that might keep on getting tougher and tougher as time passes by. Hence, cleaning these appliances on a monthly basis keeps them clean and also reduces the hassle of cleaning a mountain of grime.
Annual Maintenance and Checkups for Kitchen Interior
When we talk about annual maintenance, it is not just about cleaning your kitchen. Apart from cleaning, it is also quite important to check whether all the items in the kitchen are working in the right way or not. Hence, here are some of the checklists that you need to follow.
The Chimney:
Cleaning the chimney is a difficult task and it is not possible in the absence of professionals. Hence, call up the professionals who will clean the chimney and will also offer maintenance work done to it. Checking the nuts and bolts of the chimney once a year helps in keeping it working without any problem throughout the year. Get the annual maintenance charge package of the chimney so that you do not have to pay extra while you are calling a professional to clean and maintain your chimney once a year.
The Storage Units:
If you are cleaning up the storage units regularly, you will be free from the task of cleaning them during your annual maintenance regime. But during this regime, you need to check the maintenance of the storage units. Check thoroughly the nuts and hinges of the storage units to check whether they are working properly or not. Oil the joints to make them smoother. Check for any kind of rust that you need to get rid of so that you do not have to worry throughout the year again.
Call the Electric Maintenance Professionals:
Of course, you have already accomplished the task of cleaning the exhaust fans and light fittings. But as mentioned earlier, the annual maintenance is not all about cleaning, but also about checkups and maintenance. Thus, you should call up the electric professional who can have a thorough check-up of all the electric options such as the exhaust fans, dehumidifiers, vents, and others. Also, they will be able to clean up such points that you could not during your cleaning regime. Hence, a complete cleaning and maintenance task can be done with the help of professionals.
Plumbing Tasks:
Similar to the electric tasks, it is also a great idea to get some maintenance and checkups done on your plumbing areas. There are also many people who make use of bleaching powder in the drains and outlets to keep them clear and free from any kind of bad odour. But there can be other plumbing issues that you might not recognize. Hence, getting the plumbing lines checked by the experts once a year is a great idea.
Following this regime can surely help in keeping your kitchen modular kitchen sparkling always.
Some Other Tips to Follow
Apart from the above cleaning and maintenance tips, here are also some tips that might help.
Use a chopping board to cut fruits and vegetables in place of cutting them on the countertop directly to avoid any marks on the countertop.
Use a water softener if the hardness of the water in your area is high, otherwise, it will damage all appliances that use the water but can also cause health hazards.
Always put back things from where you have picked up to keep the kitchen uncluttered.
There can be an endless number of tips and tricks that can help you in maintaining the kitchen.
Getting a modular kitchen interior can be an investment of a good amount of money. Hence, it should be up to you to maintain it well so that it does not lose its beauty.
Start your journey with us and craft your
dream home
Make a statement, build a designer home.