Designing interiors for a villa may seem tiring and exhausting at first. But Mrs. Padma gave us complete freedom to let our design thoughts freely occupy her 8,000 sq.ft. Duplex villa put up in Nambiar Bellezea.
Let me first explain you about the interiors in the ground floor we have done in this home.
Ground Floor Interiors:
The ground floor has various rooms and units; hence it would be easier if we go about it in different sections:
Foyer interior design:
Nice and rich brown colored stone cladding in the foyer interior gives you a warm welcome. The entire horizontal space was occupied with the shoe cabinets cum storage. On either side of the shoe cabinet, we have designed pebble unit which gives a relaxing feel. The false ceiling in the foyer was designed with a set of parallel wooden rafters.
Living Room designs:
On moving inwards, the next room that we enter is the living room; and Nambiar Bellezea has been more than generous in providing ample space in the living. Living room furniture has a TV unit, below which there are bottom cabinets for storing their CD's or dish boxes. TV can be mounted on simple wooden paneling we have proposed. Wall paneling around the TV unit in inverse U shape is carved with hand-picked CNC designs which made a unique stand-out design for the entire floor. With the lit up LED lights positioned at the back of this CNC panel, the design can be clearly highlighted especially at nights or in the gloomy evenings.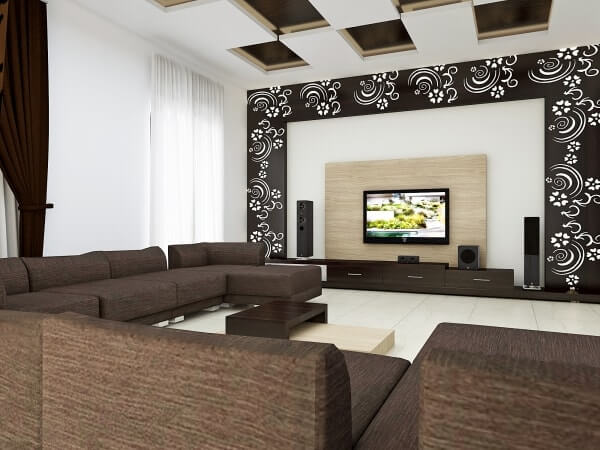 One of the walls of this living is designed as a partition with vertical wooden planks and square shelves have been put in between these planks; so that the staircase can be clearly seen.
Puja Room design:
Next to the living room is the Puja room, which has a stone cladded wall and a couple of bottom cabinets to store their diya's.
Crockery Unit design:
The crockery unit in the dining interiors is the artistic arrangement of various wooden cabinets that are provided with frosted glass.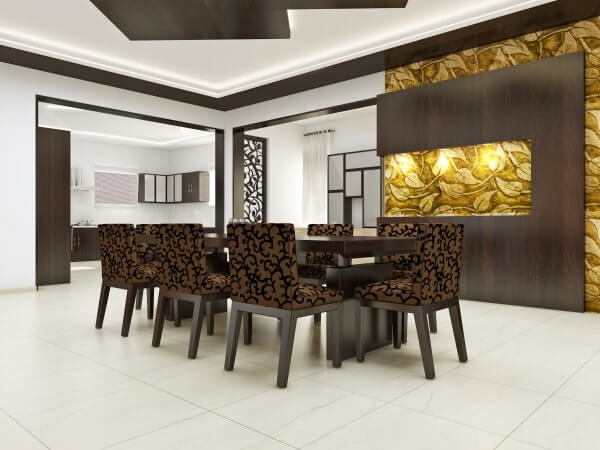 Wall in the dining was highlighted again with leaf printed stone cladding which has a tint of brown color on it. On the top of stone cladding, we planned wooden paneling setup in order to synchronize with the design of the false ceiling. Set of spotlights was provided in this wall paneling to highlight the stone cladding design.
Island Kitchen and Pantry design:
For this villa interior, we could easily add an open island kitchen and so we did. Provision for refrigerator was given at one of the entrances of the kitchen wherein we have designed a tall cabinet and storage units beside and above the fridge space. On either side of the chimney there are two windows in this kitchen interiors which brings in sufficient sunlight during the day and allows for great ventilation.
Pantry place:
From inside the kitchen there is a way to the pantry area, where they can store ample amount of eatables and related stuff. To provide rich lighting effect in the kitchen, we designed a diamond shaped false ceiling along with cove lighting throughout.
Second Living Area:
Next, as we move into another living room on the ground floor of this Nambiar Bellezea's villa, there we have put up a TV unit where wooden paneling occupied the entire wall. We provided some shelves in the wooden paneling so that they can place any artifacts or shields. Below the TV there are cabinets for storage of utilities. False ceiling in living room is surely a head raiser for its checkered design.
Parent's Bedroom ideas:
One of the major attractions of this room is the walk-in wardrobe which occupied its own special corner. The headboard was made of wood and the same rafter runs into the ceiling.
A couple of drawers were provided on the either side of the bed, which can be utilized as lamp tables. Another addiction of this room is the comfy seating zone where the parents can sit and enjoy the outside view.
Stair case beside the living room takes you to the first floor. The different rooms in this first floor have been designed in the following manner:
Home library bookshelves:
Being a book lover, Mrs. Padma wanted to have a huge reading space for her, where she can enjoy her readings. Keeping this point in the checklist, we designed an amazing home library shelving at the entrance of the first floor where Nambiar Bellezia team left the space for imagination of the buyer.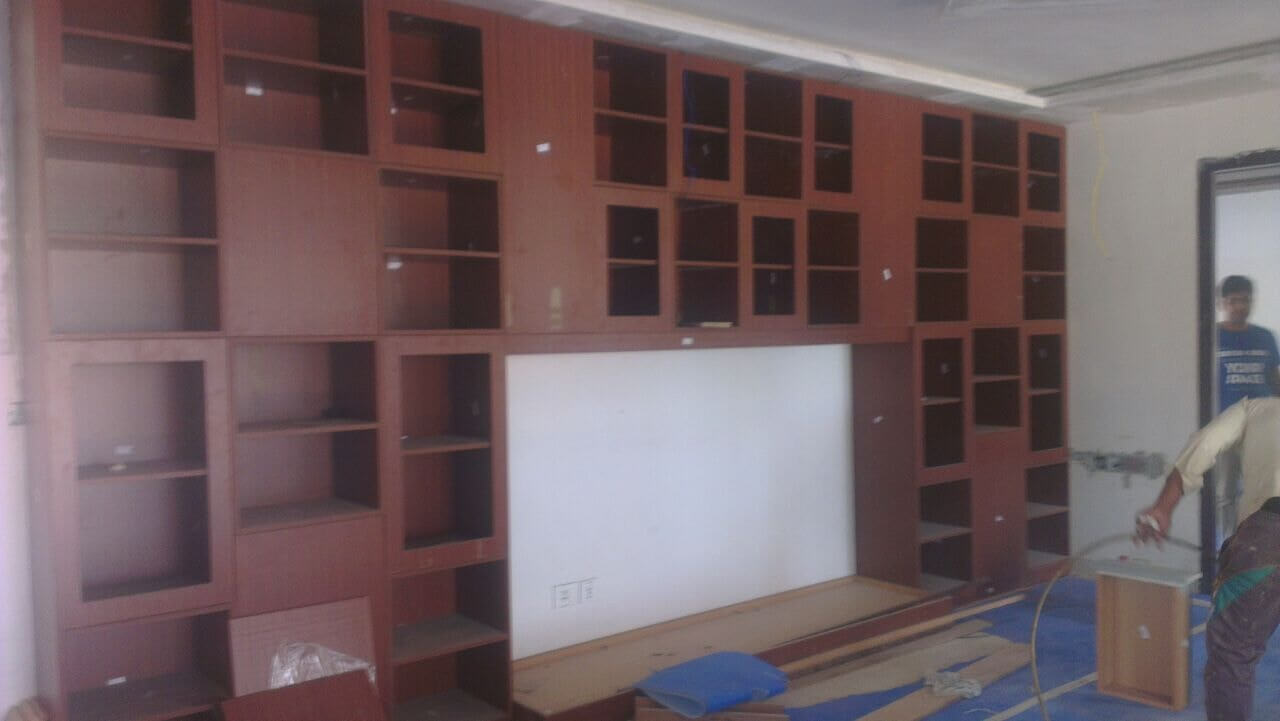 3/4th of the wall was allocated for seating and shelves in varied sizes; so that she can arrange her books and read peacefully. On the other side, we designed a play station area where kids can enjoy their favorite car race.
Home Office design ideas:
The next room is the home office, which has a study unit with top and bottom cabinets. The opposite wall to the study unit was entirely occupied with alternate strips of wallpaper and wooden paneling. Long S shaped snake corner shelf was fixed to one of the corners along with spot lights in it.
Guest Room decoration:
A simple floating bed with wooden headboard, and a study unit is all about the Guest bedroom furniture. Just like other rooms we have designed a walk-in wardrobe for guest bedroom as well.
Utility Area: A small utility room has been designed in the first floor, to make space for stuff like washing machine, fridge, mops and other useful items.
Interior designs in Master Bedroom:
Designs in master room are simple yet stylish. A floating coat was designed along with a cushioned headboard sandwiched with wallpaper. The entire wall behind the cot was decorated with nice wallpaper instead of using regular paints. 3 pigeon holes were fixed with equal spaces on the one of the walls, which made the room look more attractive. False ceiling in the bedroom was designed with couple of rectangular shape wooden rafters.
Walk-in Wardrobe idea
One may not notice the beautiful wardrobe as soon as they enter the master bedroom. But it has its own space which attracts anyone to glare at it for minutes.
Yes, you are right, I'm talking about the walk-in wardrobes. 🙂
Right opposite to the bed there comes the walk-in wardrobes designed with 2 contrasting laminates.
Trendy Kid's room designs:
The kid's room has a study unit along with a dresser unit, in which we have used pulsating colors to make it look livelier. A matching funky wallpaper and 2 color laminates were used in the entire room and it has been designed with a false ceiling that stretches throughout over the bed area. Like other rooms, it also has a walk-in wardrobe.
With a large area, there is a lot of scope of great and soothing interior designing; but on the contrary; even a slight misjudgment in choosing the designs or colors could make things go terribly wrong.
But at Bonito Designs, we make sure to give attention to each and every aspect of interior designing to bring the best outcome for our clients just like we do in all projects. We are definitely falling in love with villa interior designing. Its a totally different ball game.