Simplicity ,the ultimate sophistication.Something which is easy to understand and explain.That is the nature of design we have created for this  home.
Foyer design
This foyer invites us with warm spot light and cove lights  and highlighted beautiful stone cladding. A shoe rack with ample storage serves the purpose of furniture in the foyer.
Living area at Salarpuria Greenage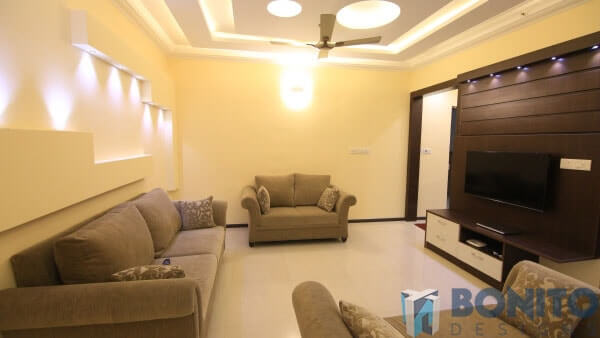 A beautiful TV unit which continues from the entrance panel and lit up by spot lights has enough storage space.The false ceiling has a unique shape which starts from living and continues till the dining area. A false wall with spot light is the main attraction at this entrance.Spot lights pops up from the top and bottom of the false wall features the wall decor which would come up there.
Crockery Unit
This crockery unit has top and bottom cabinets and a glass ledge in the middle for display. Spot lights are provided to lit the show pieces displayed there.It also has a counter which will be of  best use   to set up a buffet counter when the number of guests are more.
Modular kitchen design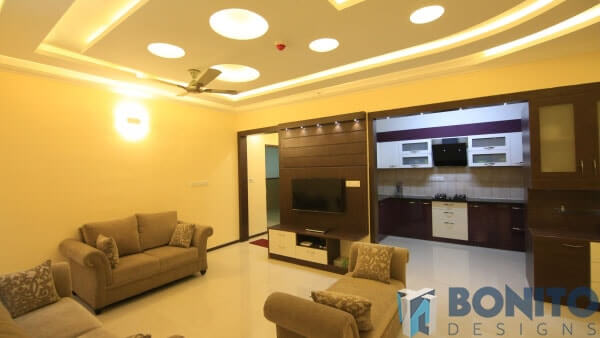 This is a huge kitchen, We have used white and black currant colored laminates to decorate this kitchen.we have provided dustbin and detergent holder,magic corner, tandem boxes, cutlery unit,bottle pull out and open storage shelves.We have covered the chimney patty with blackcurrant colored laminate which acts as a border enhances the look even more.
Modular Pooja Unit
Behind the crockery unit, a designer Pooja unit is placed with enough storage in it. we have provided spot lights to lit up the idols inside.Doors of this unit is grooved  in square and rectangle shape  to make a pattern.We have provided storage space below.
Passage  area storage unit
We have wisely used the passage area to incorporate some more storage and display area.The Skirting of this unit is been continued and curved out so that it can be used it for display.
Guest Bedroom Design
Since there was a space constraint to design a dresser separately we have installed the mirror on the door of the wardrobe and we have provided drawers below the mirror. so this is  a dresser with storage and a wardrobe at the same time. We have played around with Lighter and darker colored laminates on the wardrobe to give that perfect design. Lofts are of lighter colored laminate.Head board of the bed has an interesting design. The side table is of 2 different colours.
Master Bedroom Design
The first thing you will notice in this master bedroom is the huge dresser with mirror. spot lights are provided in the dressing area.We have provided storage behind as well as below the mirror.A three door slider wardrobe with more of darker laminate with strips of lighter laminate and an end to end loft with lighter laminate is designed so that the same theme is running around in the entire home.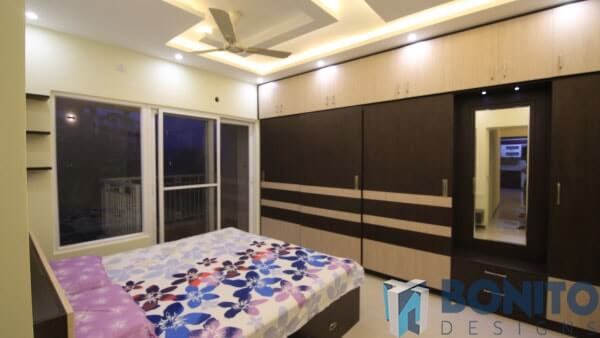 A king sized coat with designer headboard adds up to the look. Another interesting thing in this room is ledges in the corner for displaying artifacts. Our designer Sunita  has effectively used the available space to create this unit.False ceiling of this master bedroom has "L" shaped design with spot  lights and cove lights to lit the entire room.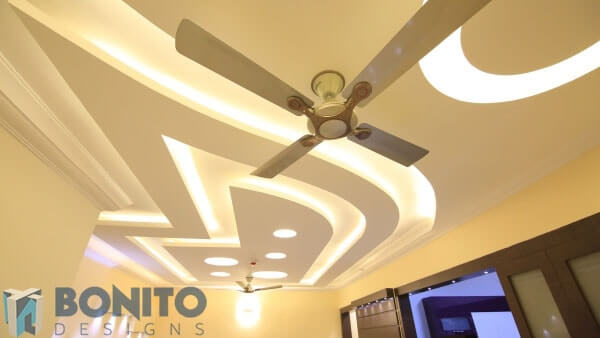 This was a chronicle of  the nicely designed 2 BHK home. Do contact us for more creative and functional designs @ +919019598877 and check out our online furniture at www.squadro.in