"Houses are like people – some you like and some you don't like – and once in a while there is one you love." ― L.M. Montgomery, Emily Climbs
There are houses which quite capably make you fall in love with them; sometimes just about at the first glance. A lot if it has to do with the kind of aura the place spells. The entire ambiance of the house is what the interior décor and its architectural structure renders to it. From the wall clock to the couch, everything inside the place has an expression which not just adds to the look of the house but also to its aura.
Whether you have got into a new house or just want to revamp the interiors of your old one, you would want to pick up an interior décor idea that is voguish as well as renders the house a pleasing and lovable feel. Leaves are not just the ornaments of nature but they could even help enhance the décor of your place.
Here are some cool leaf décor ideas inspired from leaf that you can choose from!
• Traditionally you would decorate colorful flowers in a vase. But the trick lies in picking up unique ideas. Instead of flowers, put some dried and branched twigs of trees in a metal or china clay vase in a way that all of it appears to be highly meshed.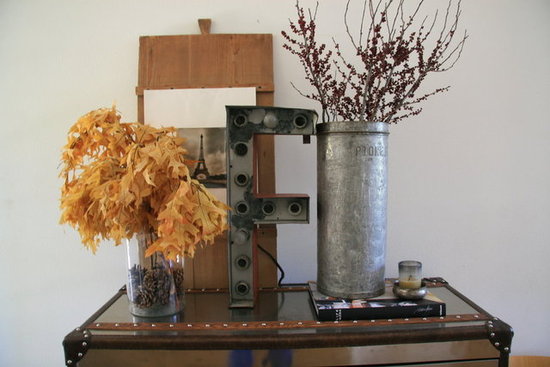 Source
Now put some tree leaves (maple) in between these twigs. Do not put in many leaves; leave out enough space in between the leaves. This décor idea would render an earthy feel to your place.
• If you are fond of candles and you like lighting them around in your home, here is an interesting candle décor idea you could opt for. Take some wide mouth transparent glass bottle; like the ones in which you get jam or pickles. Wash and clean them properly.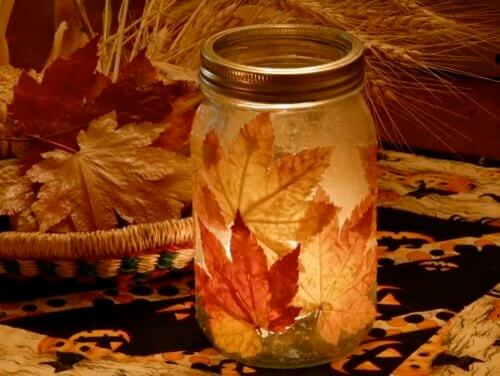 Source
Now take some dried leaves, preferably of maple tree, and stick them around the body of the bottles from inside. Place a small candle inside each of these bottles. These would look absolutely splendid when you light up these candles.
• Another idea to decorate your home with leaves is to get different kinds of leaves framed. Stick it on a transparent glass piece and get it framed. You can put up these frames in your living area or use them to decorate your dining space or study room.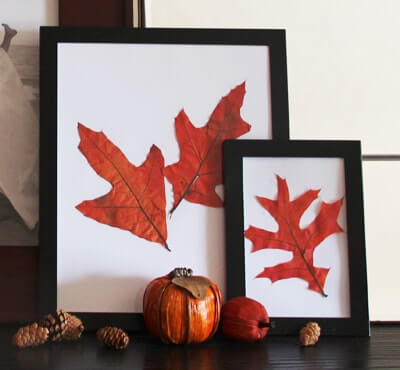 • Instead getting the leaves framed you could also stick different kinds of dried leaves on equal sized pieces of white paper and put them up on the wall just above a big cabinet or any other piece of furniture. Place these pieces of paper in a symmetrical manner.
• A leaf shaped lacy table cloth on your coffee table or you center table could just add to the entire feel of the room immensely. Even a table cloth with leaf prints also renders a very refreshing look to the house.
• String some autumn leaves to a twine with the help of clothespins. Put it up somewhere like at the open wooden door. You can choose different shades of leaves but it would look good only if these leaves are similar in size.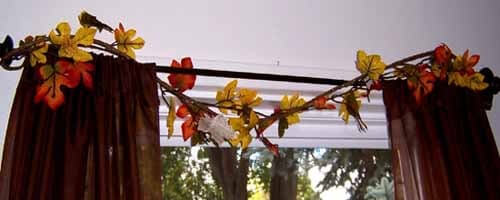 Not just with actual leaves, you can do this with paper cut out of leaves and place it from end of the mantle of your fireplace to the other.
• You can even use the leaves as table mats or coasters. Pick up a bunch of dried leaves and pile them up randomly in a way to form a circle or a rectangular by sticking them together while they overlap each other in arrangement. Your guests will appreciate this style when you would use them.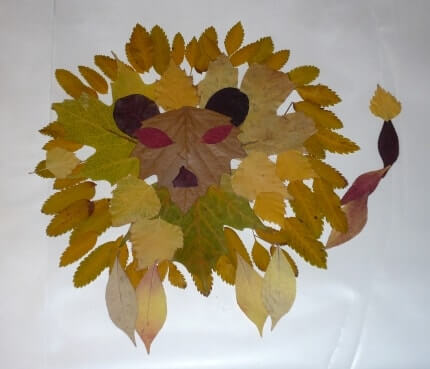 If you are wondering about the mess dried leaves can cause when they break or get crushed then here is what you can do. Use artificial leaves instead of the dried ones. They would last long and you can also clean them easily.
These leaf inspired décor ideas are not very unique but quite inexpensive. You can easily pick and use any of these at your home without burning a hole in your pocket.
Choose few more favorite leaf décor ideas mentioned here in this blog to add to the exquisiteness of your house.