7 dried and pressed flower DIYs to decorate your home
"Don't wait for someone to bring you flowers. Plant your own garden and decorate your own soul." A saying so true and so motivating, that you would want to jump up and start building your own little flower pot.
But have you ever wondered that the flowers which adorn your pots and vases, could be useful even when they dry up. Yes! This is a new way of recycle, pressed flower craft ideas which you can do in the comfort of your room, and you can really make splendid decorative pieces for your home.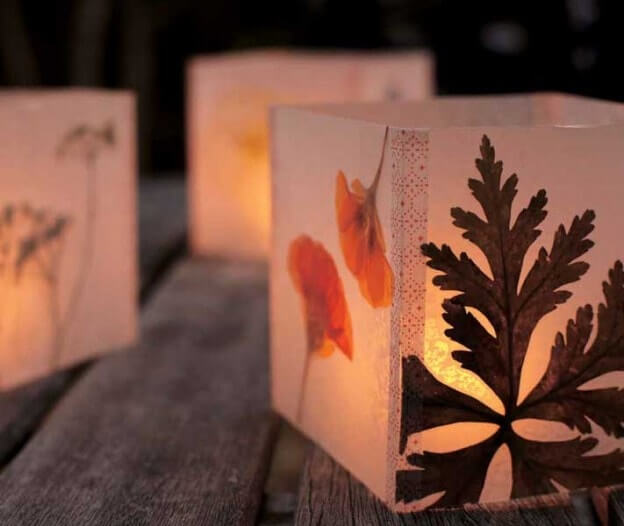 Source
How do you make pressed flowers?
There are a couple of really smart techniques to dry and press the flowers to use them for decorations. One, you can separate the leaves and the petals and spread them out on a newspaper, and then keep them in a dark, dry place. Make sure you don't put them out in the sun. This will fade away the natural color of the flowers.
And two, you can hang them upside down after removing the unwanted leaves that might have rotten or gone brown. Make sure the area is dry. Moisture will only rot your flowers and render them useless for decorations.
For pressing, the one simple technique is to put them inside a heavy book, and keep it under a stack. It might take some time this way, but it will retain the color and the look of the petals and the leaves that you can then confidently use for the beautiful DIYs.
Dried flower Uses – How to Reuse and retain the beautiful flowers
1. Candles:
Are you bored of those single colored candles, which do nothing but come out only during a load shedding? Take them out and decorate them with dried and pressed flowers. Here is how you can do DIY dried flower candles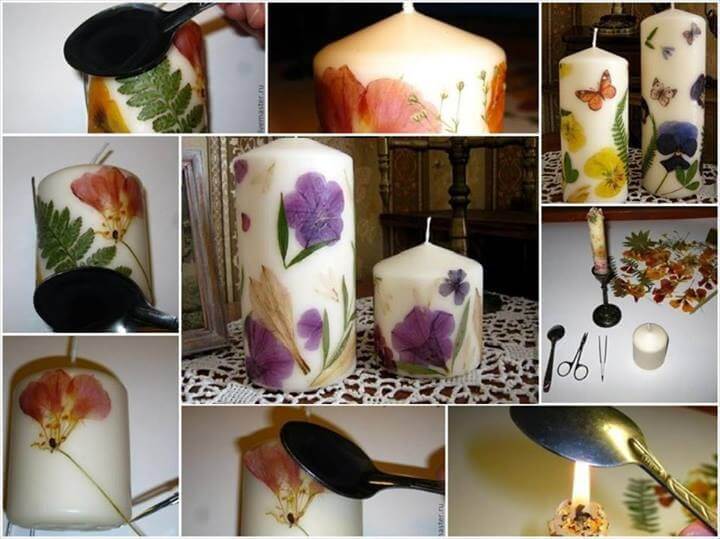 Source
Take the candle pillar, as many pressed flowers and leaves as you wish, some molten wax in the same color as that of the pillar, and there, we are ready to begin!
Take the dried flowers, dip them in the molten wax, and stick them on the pillar, make any design you want, in any way you want. Make it fast, so that the molten wax does not dry up. Once you stick on your flowers to the candle, hold the wick and dip the entire thing into the molten wax. This will coat the candle and the flowers nice and warm, hold them in, and give the candle the perfect finishing touch.
Your candles are now ready to adorn your house, and they look much more stunning after the makeover, don't they?
2. Framed Wall Hangings:
Hanging up paintings on the walls are such clichés.
You can make very inventive wall decorations with pressed flowers. It only depends on your innovative genius how you want to decorate the flowers, as there countless ways to do that. We give you a real simple one to start off.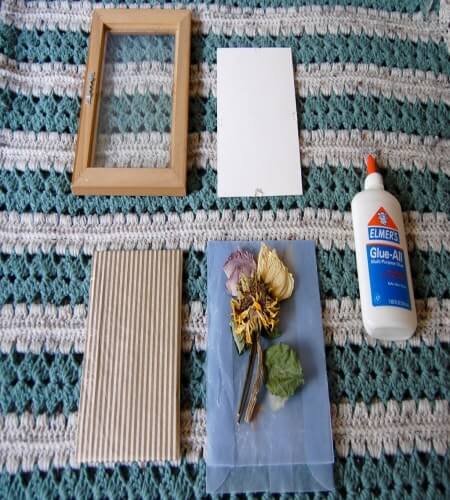 Source
Take an old newspaper, or a page from an old book which you don't need anymore. Lay it absolutely flat, decorate it with the pressed flowers, and put them up in a frame.
The flowers that you once admired, will now get admired by your guests, when they embellish the empty walls.
3. Flower Vase:
A crystal vase is stunning with its sharp cuts that reflect the light. Why not make a rather inexpensive vase compete with this one from our dried flower vase idea? Buy a clean plastic vase that looks like a true crystal piece, some epoxy dots, and create a stunning bud vase that people would be awed to look at.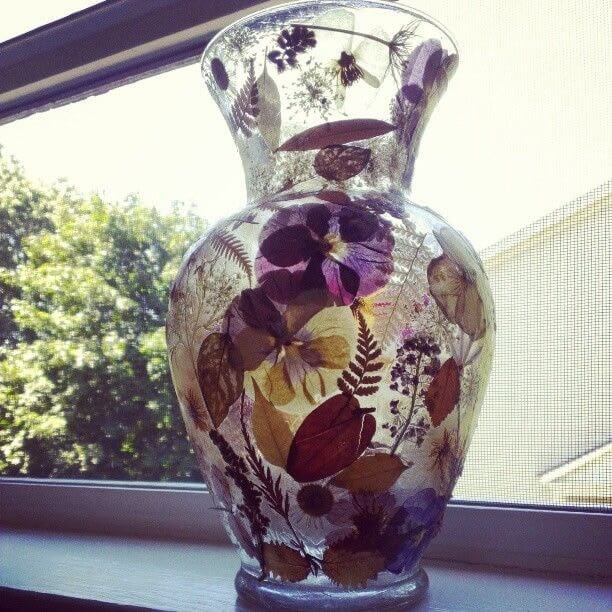 Source
In the little cuts of the vase glue up the pressed flowers and cover them up with epoxy dots to secure them in. Make sure you keep the vase neat and do not overdo it. This elegant decorative piece is sure to make you the talk of the town!
4. Glass Coasters:
This is perhaps the easiest one of all the ideas. All you need is two identical pieces of glass, perfect for the size of a coffee table coaster, an adhesive tape (you can use nice metallic tapes that all that glitter on the edges) and some pressed flowers.
Take one of glass pieces, clean the inside really well, place some pressed flowers on top, and cover it up with the other piece. Now, stick the sides with the adhesive and there you go. You have ingenious coasters for your wooden table that are also strong enough to hold up a coffee mug or a cocktail glass!
5. Ornamental Plates:
Decorate a clean white china with colorful pressed flowers, and put them up in the cupboard or out on the walls. You can try doing the same with bold colored cups. To secure the pressed flowers you can use clear adhesives.
These decorated china ware can only be used for decorations and are not for use, as the washing and cleaning might take off the layer from it. Nonetheless, they transform a humble plate into a state-of-the-art ornate item.
6. Centre Table Pieces:
How would you think of a little salt shaker, with a dried rose inside it, the cap beautifully tied with a lace ribbon? Or a potpourri of colors tucked inside a clear glass cup? Don't they sound like the work of a tiny tinker fairy trying to work around useless items of the house?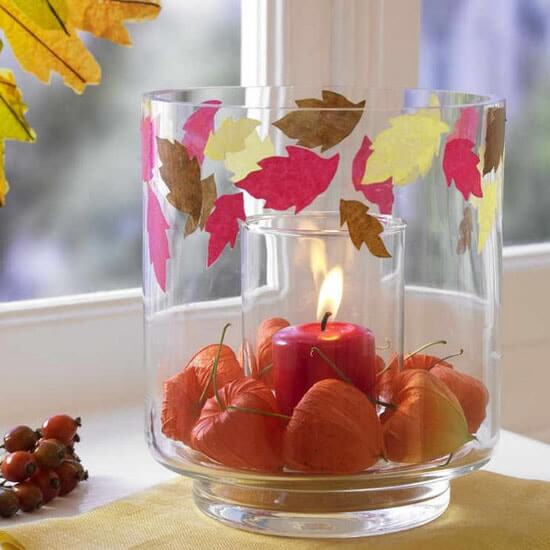 Source
Easy and exceptionally cute, these ideas can adorn your center tables like no other luxurious piece.
7. Stained Glass Decorations:
Like you made the coasters, in a very similar fashion you can use stained glass decorative and use them anywhere in the house. From a kitchen back splash to a front door attraction, they can fit themselves in almost everywhere. You might need a little help from a professional to get them fixed, but once they are done, your craftsmanship is what would get all the credit!
Love the blog but you also had few more ideas to share? Do comment below and let our fan base know your thoughts and ideas as well 🙂