Stylish Interiors for Urbane Living
Elegance, style, modernity, all these words flew in mind of Mrs. Parvati when she saw her home interior décor. Usage of extraordinary materials and colors in simple yet unique manner is what that is owned by this home interiors of this house.
This house interiors is surely incomparable, let's ride on this cycle and check why! 😛 🙂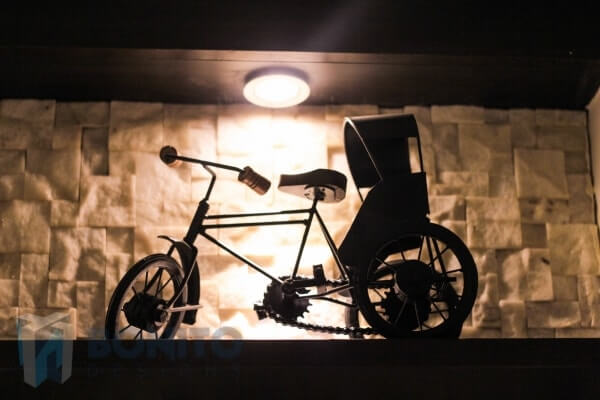 Interiors in Foyer
The large foyer area of around 12 x 6 sq ft. is provided with two close storage cabinets to deliver as much utility as possible.


The large storage cabinet is further complimented with zigzag shape open display shelves that are there to keep books, artifacts or other similar items.
The unique style stone cladding done in living room on both these walls is something of interest. The cladding is done with subtle, small size natural looking stones, which are further beautified with spotlight on top placed on good size wooden ledge.
Living Room interior designs
Moving inside takes one to the amazingly designed living room of very big size. The one big wall is completely used for entertainment purpose and is provided with stylish LCD cabinet.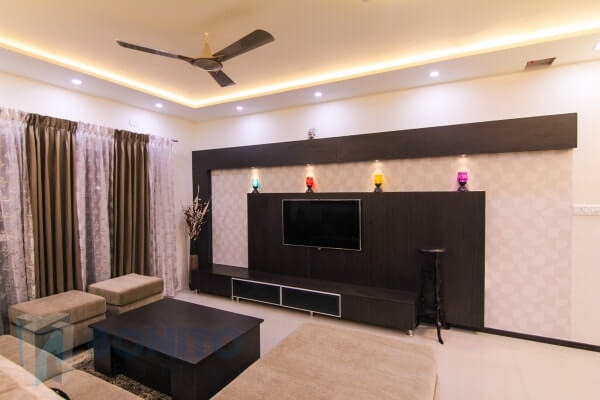 A floating storage cabinet right above the ground is offered in the cabinet design that makes it appear truly modest and classy.
Opposite to the LCD wall is another wall, which is half covered with a wooden partition in order to separate the living and passage area. The great wooden rafter partition not only enhances décor of entire space but adds perfection to the living space. The L-shape false ceiling with cove lights completes the look of this area.
Dining room cum Passage Area
The concept of close kitchen is enhanced in interior of this apartment. A solid board partition with two self print glass sheets are adjoined with the transparent self printed door of the kitchen.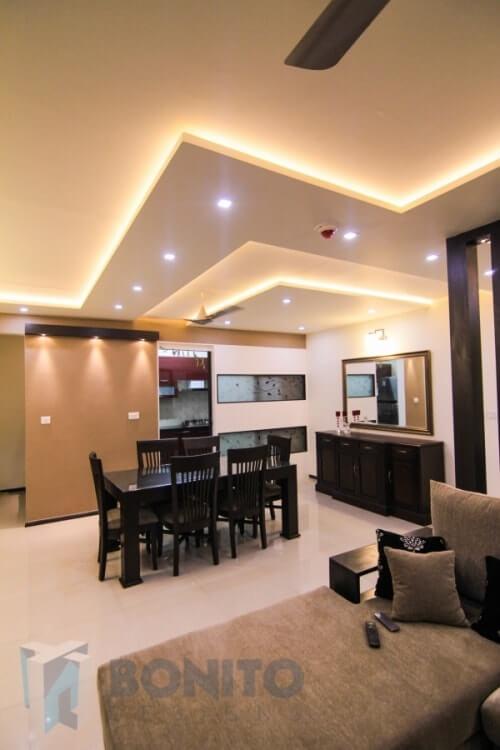 Adjacent to this is a wall that is highlighted with spot lights in order to augment beauty of artifacts or pictures placed. This area can be used as dining room and the wall perfectly breaks the monotony of entire space.
Kitchen interiors
The glass entrance door sided with korian topped wall support is an interesting aspect of the kitchen interior designs. Another unique and exclusive aspect of the kitchen is usage of single dark color for all cabinets, drawers and shelves.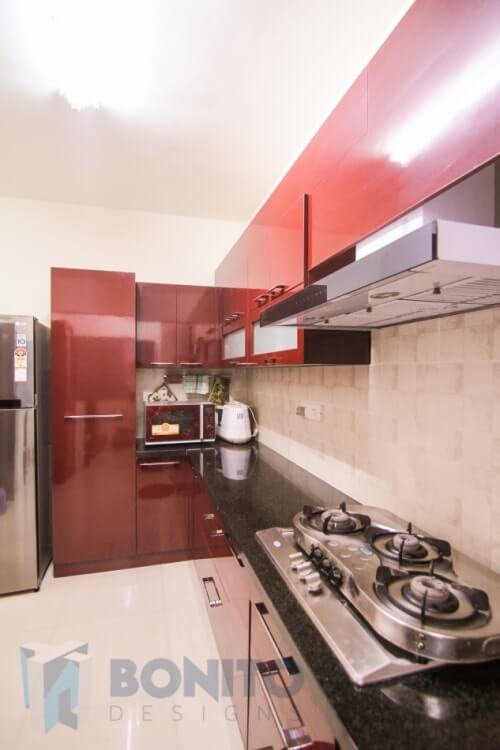 There are two frosty glass cabinets provided on both sides of chimney that not only add more elegance to the entire space but perfectly breaks single color monotony.
Addition to solid board cabinet has also provided the opportunity to create a separate towel unit. This unit is very much in depth and offers excellent utility for medium to large items. The entire kitchen appears interesting and unique from all corners.
Master Bedroom interiors
An amazing and all-time favorite color combination of black and white is used for the master bedroom.
The black and white study table with storage at top is offered with black color floating bed. Things get more interesting in this room as one sees a full-length 3 door sliding cabinet.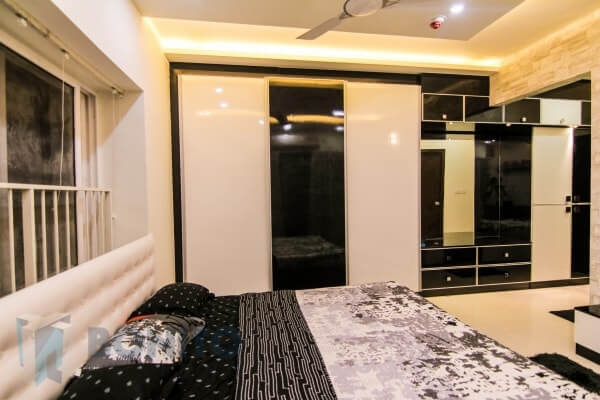 The cabinet is beautified with black and white colors, which are enhanced with use of spotlights at top. Adjacent to the big cabinet is the dressing and small storage unit.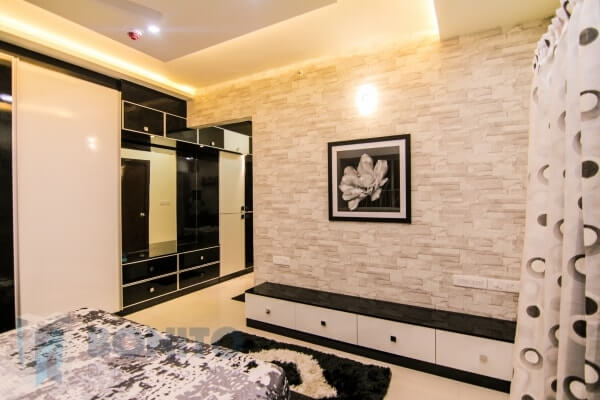 Finally, the look of the bedroom is completed with a free-floating low height cabinet opposite to the bed area.
Kids Bedroom interiors
This is another interesting space of the house where green and white colors are used to enhance the overall look.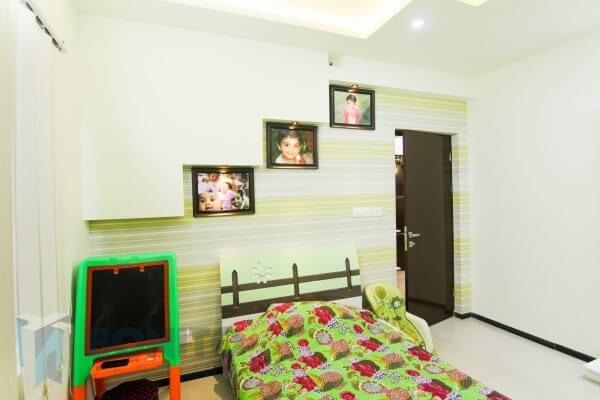 A double door big wardrobe cabinet is enriched with green and white color laminates.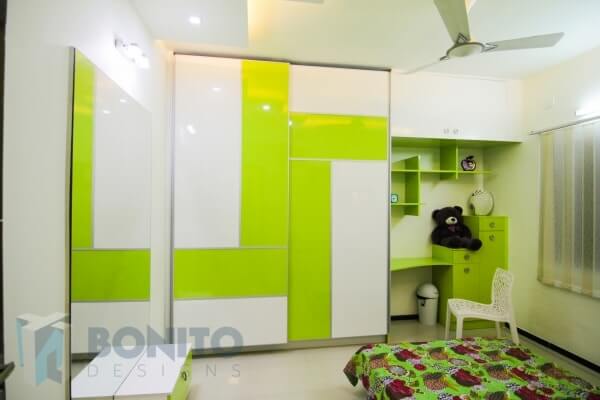 The study corner is innovatively designed in step shape study table that not only appears amazing but also adds more storage utility in the kids bedroom.
An extruding step shaped P.O.P on wall behind the bedside is lavishly décor with stylish wallpaper. A s big size mirror with simple storage unit of green color precisely completes the look of this room.

A big size wardrobe cabinet with storage units till top is provided in the guest room. Soft brown color laminates are used to add to style within the space.
Close to the wardrobe is the pooja unit that appears perfect in the area.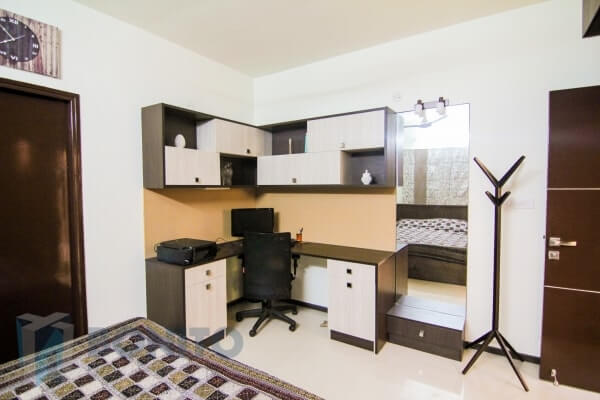 This is one of the few guest rooms with a study table. An L-shape study table with trendy 'box style' storage units above makes the corner of the room very much interesting. The dressing unit is kept simple.
With so many interesting features, the interior of this house is surely to fall in love with. Didn't it?