What did your bedroom look like when you were a kid? Not precisely like the in vogue vibrant, creative, and unquestionably amazing settings, that we'd venture. Kids rooms nowadays are the masterworks of brilliant design, and pretty decent taste. The kid's bedroom is a space that serves a variety of functions. It's a place to rest and rejuvenate. Additionally, it also serves as a space for interaction, play, and self-reflection. This is the space where your child's creativity develops with healthy brain-feeding and this article is all about inculcating these ideas through decor.
What's the haul about kid's bedroom designing?
Things are definitely shifting in the realm of children's bedroom designs, from unisex design styles to serene interiors for mindfulness. These 2032 ideas for kids' rooms not only inspire a fresh wave of creativity, but also foster uniqueness. The kids' room is unquestionably that one room in the house that we simply enjoy decorating and even redecorate as and when required. These are the areas where conventional decorating rules may occasionally be flexed. Naturally, you'll need to find that traditional designing styles can be upgraded while designing these spaces. The design ideas that are just not possible in adult bedrooms, living rooms, or kitchens; kid's rooms can be decorated with vibrant colors and design. This "decorating flexibility" is what makes the whole process so satisfying. Naturally, you'll need to find that balance between what's feasible and what the child wants. But the ideas in this article can truly make you think of revamping your child's space.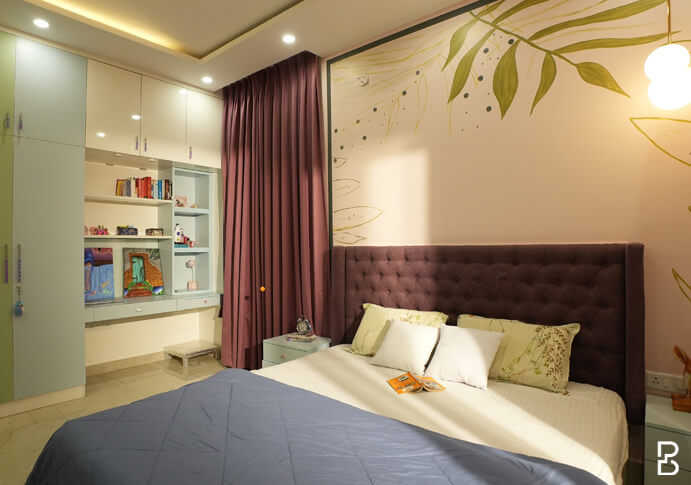 Importance of Kid's room designs
Parents are the happiest when their kids are happy! But what's the importance of designing the kid's bedroom? Let's check out the various reasons for creating a fun and aesthetically beautiful environment for our children to live in!
1. Boost your kid's imagination:
All we might see as adults is a bed and a sheet. However, your boy sees his sheets in the superhero cape and your daughter might love her castle. Despite how unimportant it may seem; the child's psychological growth depends on this imaginative stage. While designing their rooms, paying attention to their fantasies and personal tastes is very important. They gain the confidence to communicate their opinions and feelings since they feel their ideas are acknowledged. As a result, let them decide on an equal basis what goes in their room. It's good to ask them about their desires and ask them a few questions on their favorites for room designing.
2. Enhancing creativity:
Kids want a dedicated area where they may plan and organize their favorite activities. A vacant space in the middle of their bedroom is where they can play with their toys or engage in creative activities. Additionally, making their toys and paints accessible in the storage cabinets can inspire them to participate in these activities even more. Decorating their rooms with their favorite colors, fictional characters and objects can help them develop a sense of good taste.
3. Increasing a sense of responsibility:
If the space is tidy and organized, people are more likely to keep it that way. So, by creating a well-organized place for our children, we increase the likelihood that they will be motivated to keep it that way. Kids won't keep their shelf empty if you designate a board or a shelf just for displaying their awards, trophies, and other accomplishments. In a similar vein, you could put a bookshelf next to their bed to encourage reading. Through proper planning, one can influence them to be responsible and motivated. It will also affect their social circle too.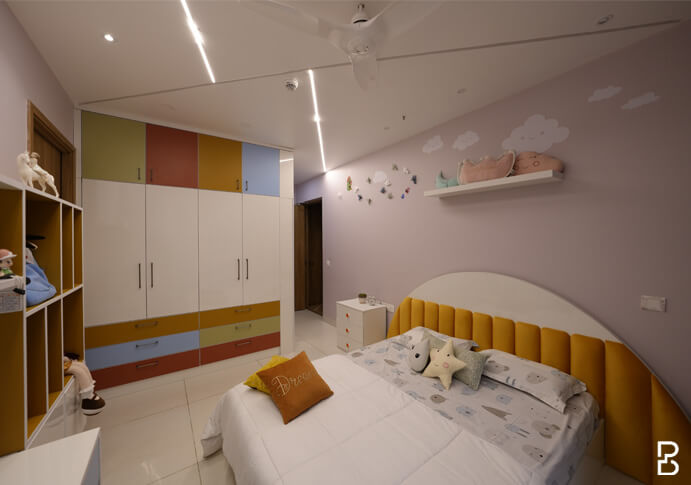 Kid's room trends to follow
A child's bedroom design can be challenging. On the one hand, it's crucial to respect a child's individuality and allow them to personalize their area. On the other hand, since the room is a part of your house, it should sync with the existing interiors. Here, we have compiled a list of kid-friendly bedroom trends that both you and your child will adore. Check out these ideas which can inspire you to have the best space for your kids!
1. Add vibrancy through colors and accents:
Children of all ages enjoy colors. Coming year will welcome warm colors like tangerine orange, canary yellow, and deep red are more in demand. We cannot miss the pastels and earthy shades which will create a subtle effect in the kid's bedroom. One can bring in colors through curtains, pillow covers, table upholstery, and small decorative furniture too. Brightly coloured couches and cushions may also add a fresh look to any room. Contrasting colors like blue and white, red and black are also some good options for youngsters. You can also check our article on the importance of colors in vastu if you're keen on designing your kid's space according to vastu.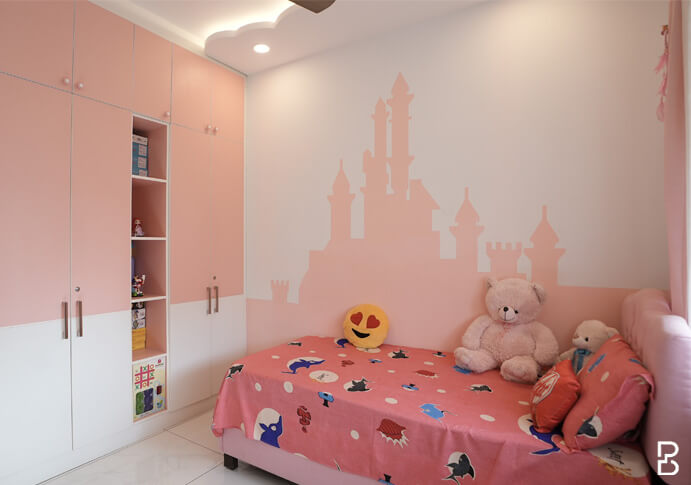 2. Bring nature in:
Nature has a significant part in the world of interior design. The use of nature in design has increased over the last few years, and 2023 will be no exception. Your children should learn to appreciate biophilia by learning about it through the decor and this is possible when you include nature-themed items. For a more rustic look, you might consider using hardwood furniture with natural finishes. Wallpapers with plant designs can also make the room look beautiful. one can also opt for wooden flooring which can exude the essence of a tree house for your child.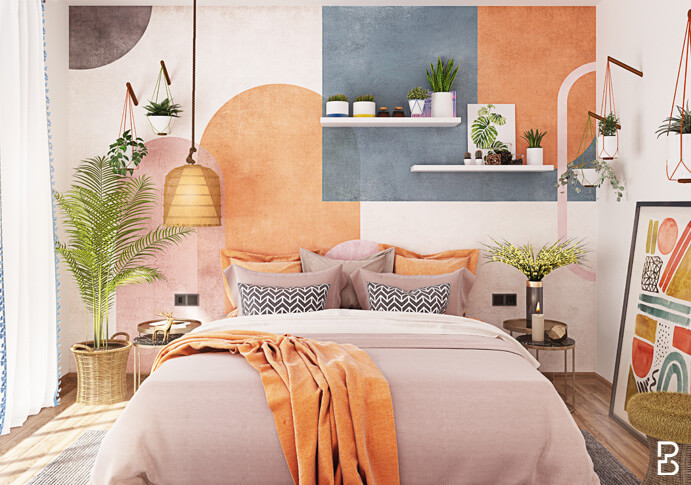 3. Go for a theme:
One idea that will bring your child tremendous joy is to have a theme based interior decor style. A few décor elements, such as curtains, a cushion, and perhaps a small portion of the wall that must contain these motifs. The themes can be safari, minions, or their favorite cartoon character. For youngsters, applying wallpaper or painting a mural from a movie on one wall, can completely transform a bedroom. The furnishings and general color palette must coordinate with this idea.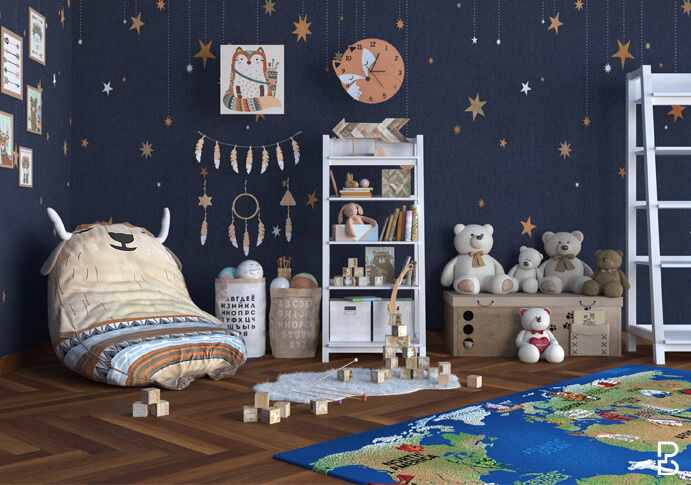 4. Shelf it up:
Proper shelving is very important in a children's room. Instead of decorating a typical bookcase, one can go for bookshelves in their rooms. Book ledges can be positioned low enough for children to reach their possessions. Additionally, you may quickly create a reading nook by placing a floor pillow close to the shelving. One can also opt for shelving ideas to keep their stuff toys or games. This can also help them to arrange their academic accolades in future.
5. Contemporary ideas to amp it up:
Contemporary decor ideas can create calm havens that children may retire to after a long day at school. Small spaces can appear light if one opts for contemporary space saving furniture style. Eye-catching wall and ceiling decals, laminated wooden flooring for safeguarding their presence etc. are some of the modern-day ideas which can boost their space. Set up some colorful bins and containers in neutral colors to complete the modern appearance. Minimalism for your kid's bedroom design can make them realize the importance of simplicity. Our article on minimalist interior design can provide you with more insights on this.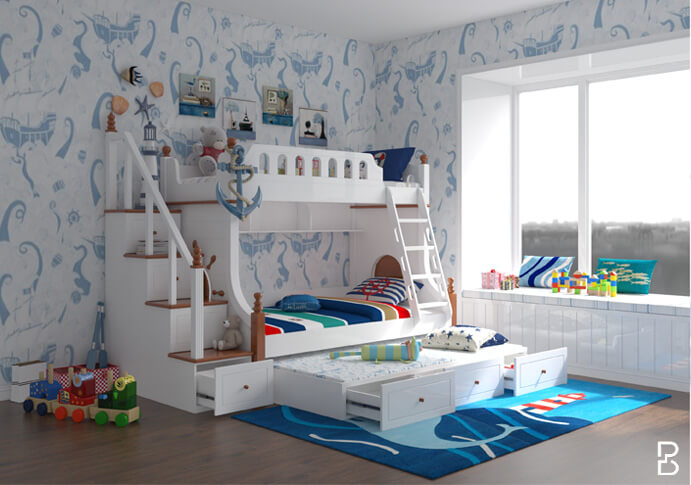 How can Bonito Designs help you?
Every space in the house, from the kitchen and living room to the bathrooms and children's quarters, should smoothly flow into one another for the house to feel completely integrated. It might seem hard to match your home's aesthetic with the area where your children spend the most of their time. Bonito Designs understands your kid's requirements and delivers an abode which truly reflects their personality. Connect with us for more design ideas for your kids bedroom and have a dream-like space for your kid too!