Introduction:
Colours – The last time you something with colours, was a second or two ago and without realising, you were affected by its influence. Your brain was instantly engaged in a dance of emotions and perceptions. It has a role to play in our decision making and overall mood. Therefore, choosing the right colours for your bedroom interior design integral part of your everyday life, whether you realise it or not! 
Colours have long held a special place in our history, humans as well as animals. From ancient civilizations using natural pigments for cave paintings to modern-day artists creating breathtaking masterpieces. Our relationship with colours goes beyond mere aesthetics; it is a deeply ingrained aspect of the human experience. 
While we are gifted with the ability to perceive a vast spectrum of colours, there are some creatures and animals that take this sensory experience to a whole new level. Take, for instance, the remarkable bluebottle butterfly, creature adorned with stunning azure and iridescent blue wings. They can even distinguish ultraviolet and polarized light. Which humans can't. Fascinating, isn't it! 
For centuries, colours have also been a part of various therapy to promote healing and emotional balance. So much so that the ancient practice of chromotherapy involved harnessing the power of colours. 
Similarly, the use of colours in interior design is not only important for the aesthetic value but it sets the right mood to evoke the specific emotions. Whether it is in the living room or bedroom, colour science is important. Red denotes intensity, green brings a sense of harmony and renewal. Blue elicits calmness, and yellow radiates warmth and cheerfulness. 
Understanding Color Psychology: The Emotions Behind Hues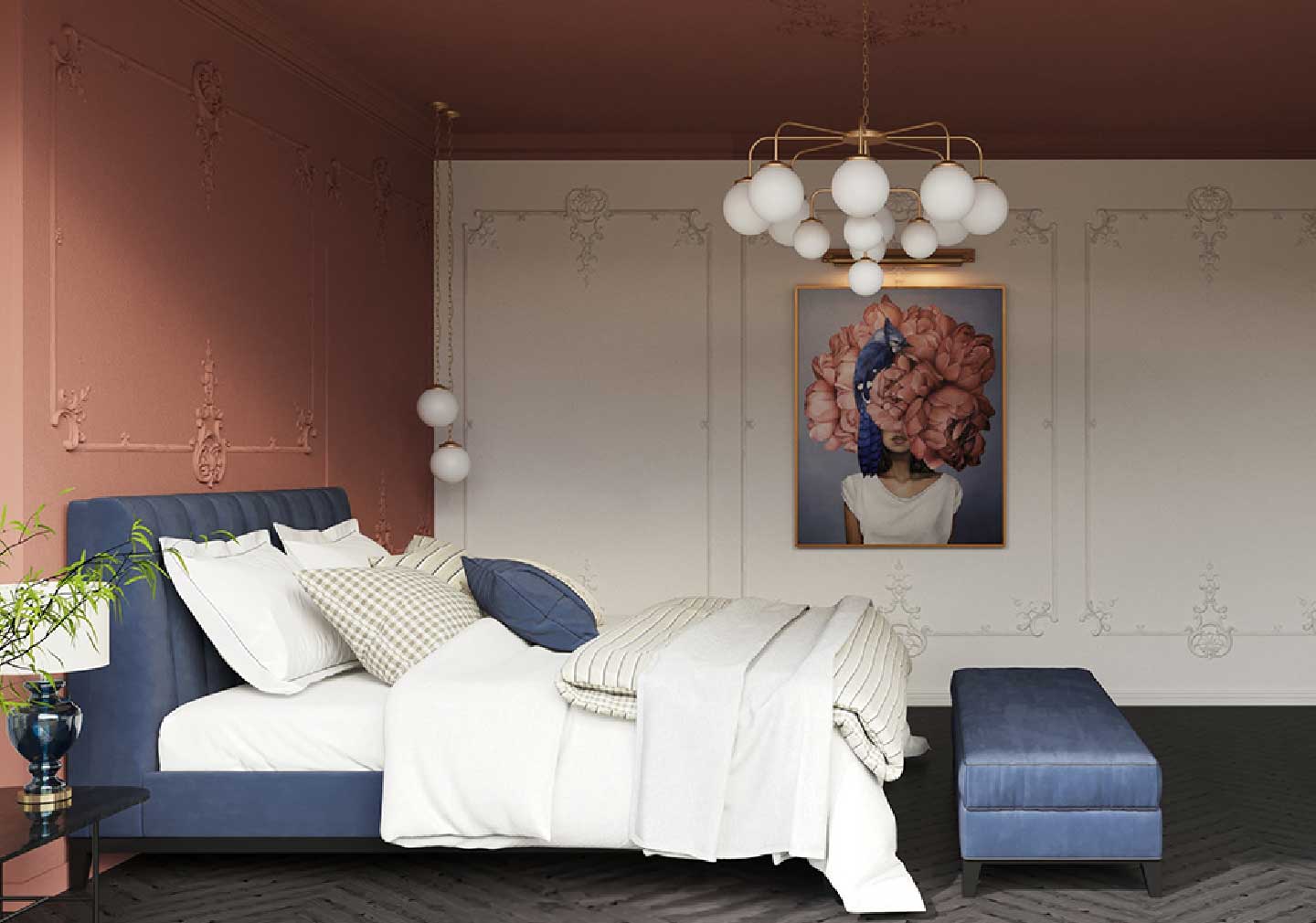 The Impact of Colors on Mood and Emotions

 

Warm Colors vs. Cool Colors: The Distinct Effects

 

The Importance of Personal Preference

 
 Colors have the power to evoke emotions and influence our state of mind. In this section, we'll delve into the fascinating world of color psychology and how different hues can affect our emotions. Discover the calming effect of blues and greens, the invigorating impact of reds and oranges, and the soothing quality of neutrals. We'll also discuss the significance of personal preference and how it plays a crucial role in creating a space that feels comfortable and inviting. 
Selecting a Soothing Bedroom Color Palette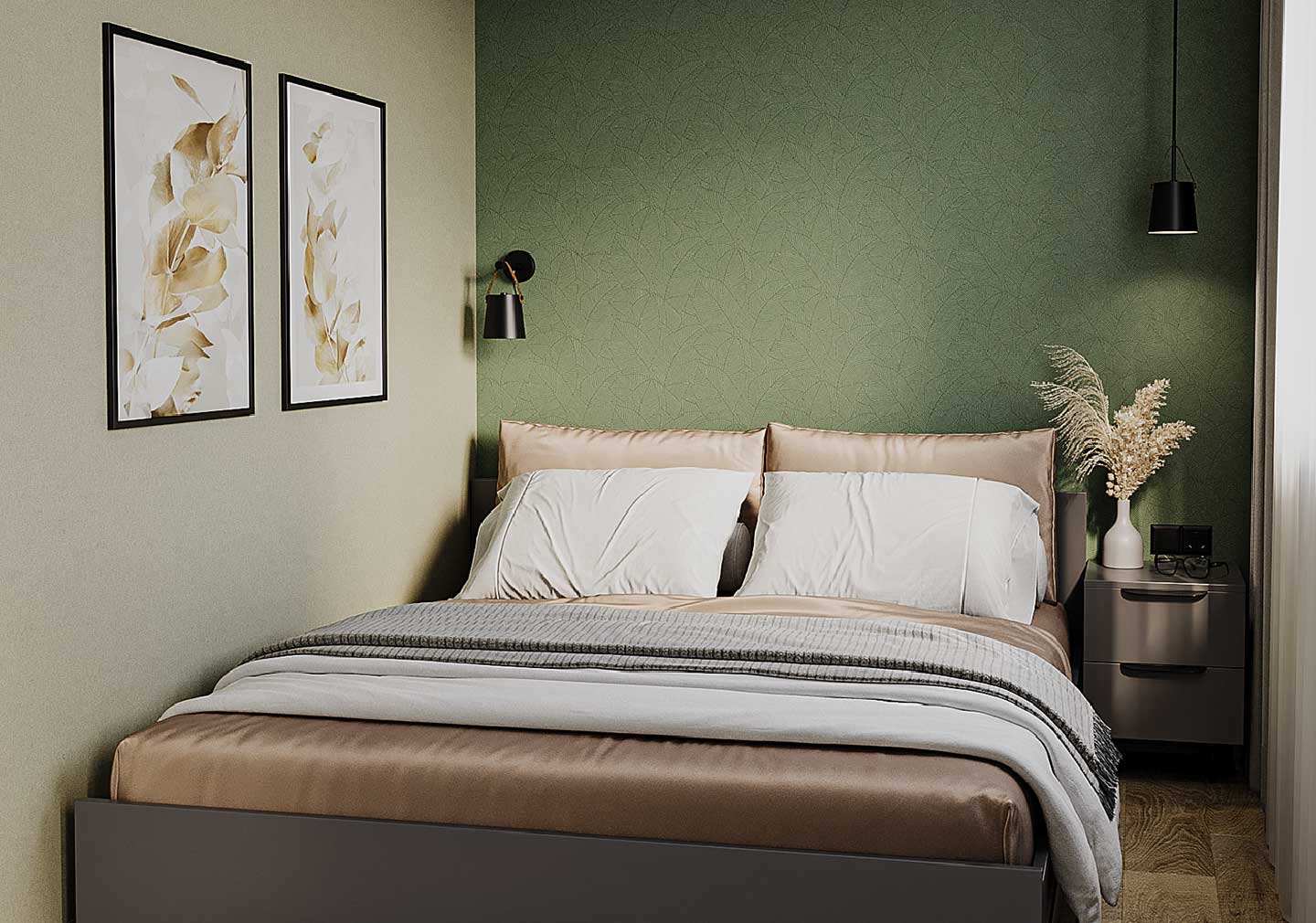 Tranquil Blues: Promoting Relaxation and Serenity

 

Calm Greens: Connecting with Nature for Tranquillity

 

Soft Neutrals: Creating a Versatile and Timeless Base

 

Serene Pastels: Adding Subtle Elegance and Warmth

 
 The bedroom should be a sanctuary of peace and relaxation, and the right color palette can foster this atmosphere. In this section, we'll explore various soothing colors that are ideal for bedrooms. From tranquil blues that promote a sense of calmness to calm greens that connect us with nature, you'll learn how to create a serene and restful environment. Additionally, we'll discuss the versatility and timelessness of soft neutrals and the subtle elegance and warmth of serene pastels. 
Infusing Personality with Accent Colors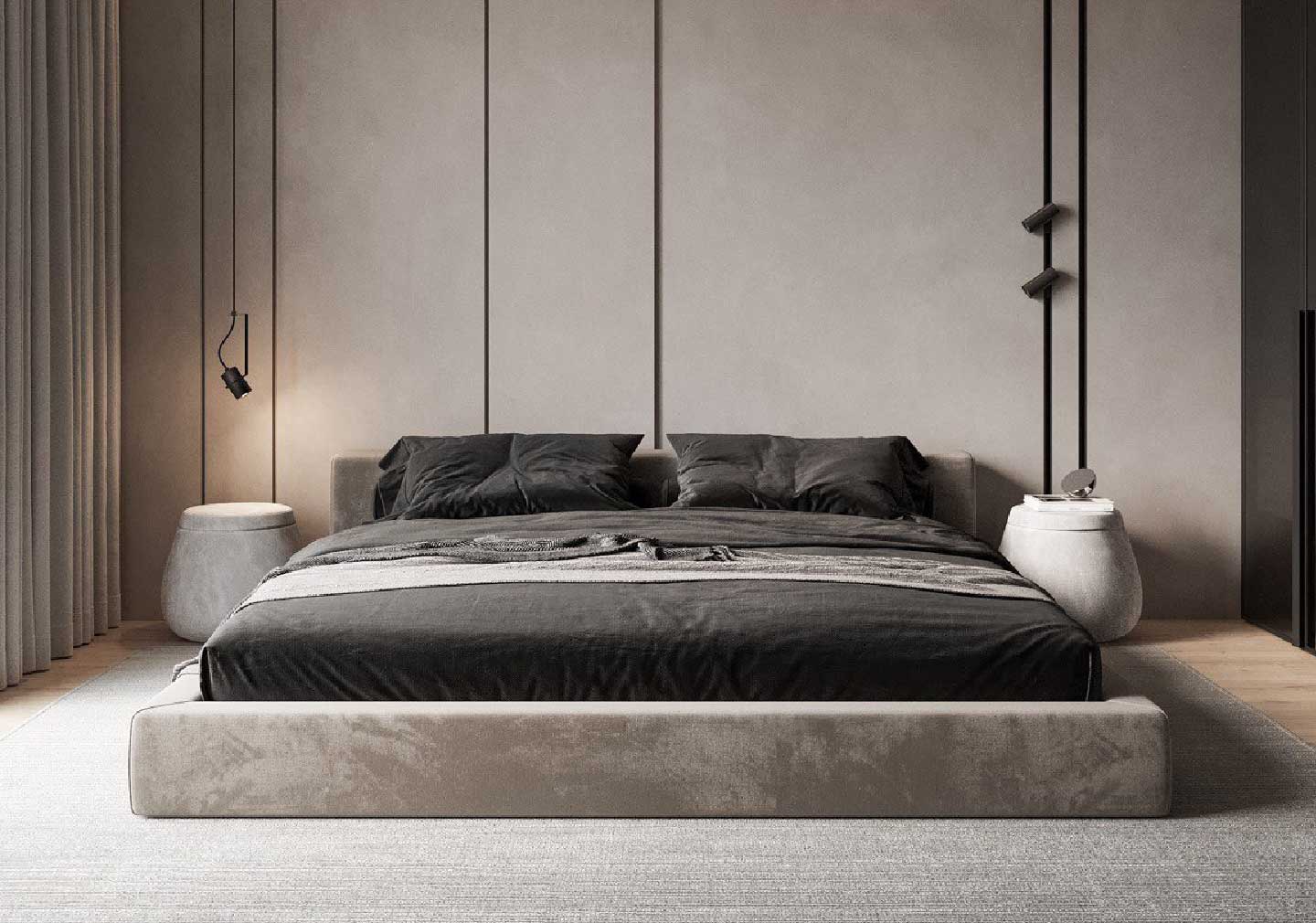 Energizing Reds: Adding Passion and Dynamism

 

Vibrant Yellows: Bringing Cheerfulness and Positivity

 

Luxurious Purples: Embracing Opulence and Creativity

 

Earthy Tones: Establishing Grounding and Warmth

 
 While soothing colors dominate the main color scheme, accent colors offer an opportunity to infuse personality and character into your bedroom. In this section, we'll explore how energizing reds can add passion and dynamism, vibrant yellows can bring cheerfulness and positivity, and luxurious purples can embrace opulence and creativity. Additionally, we'll discuss the grounding and warmth provided by earthy tones, helping you strike the perfect balance between relaxation and expression. 
The Impact of Lighting on Bedroom Colors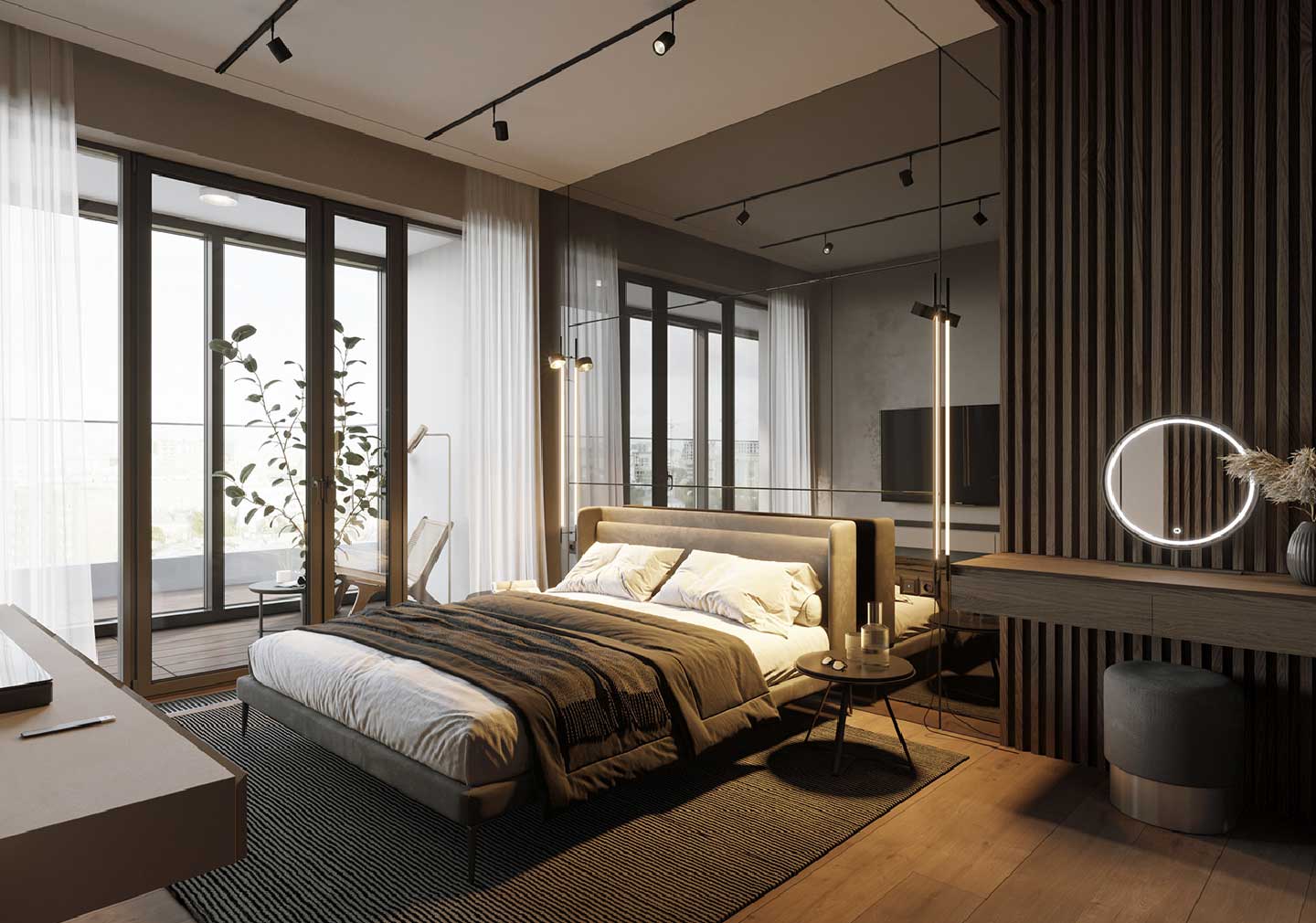 Natural Light: Enhancing Color Vibrancy and Ambiance

 

Artificial Lighting: Setting the Right Mood at Night

 

Window Treatments: Balancing Light Control and Aesthetics

 
Lighting plays a crucial role in how colors appear and feel in your bedroom. In this section, we'll discuss the impact of natural light on color vibrancy and ambiance during the day. We'll also explore the importance of artificial lighting in creating the right mood at night, whether it's warm and cozy or bright and invigorating. Moreover, we'll consider the significance of window treatments in balancing light control and aesthetics, allowing you to enjoy the perfect lighting for different times of the day. 
Color Harmony and Combinations: Creating a Cohesive Space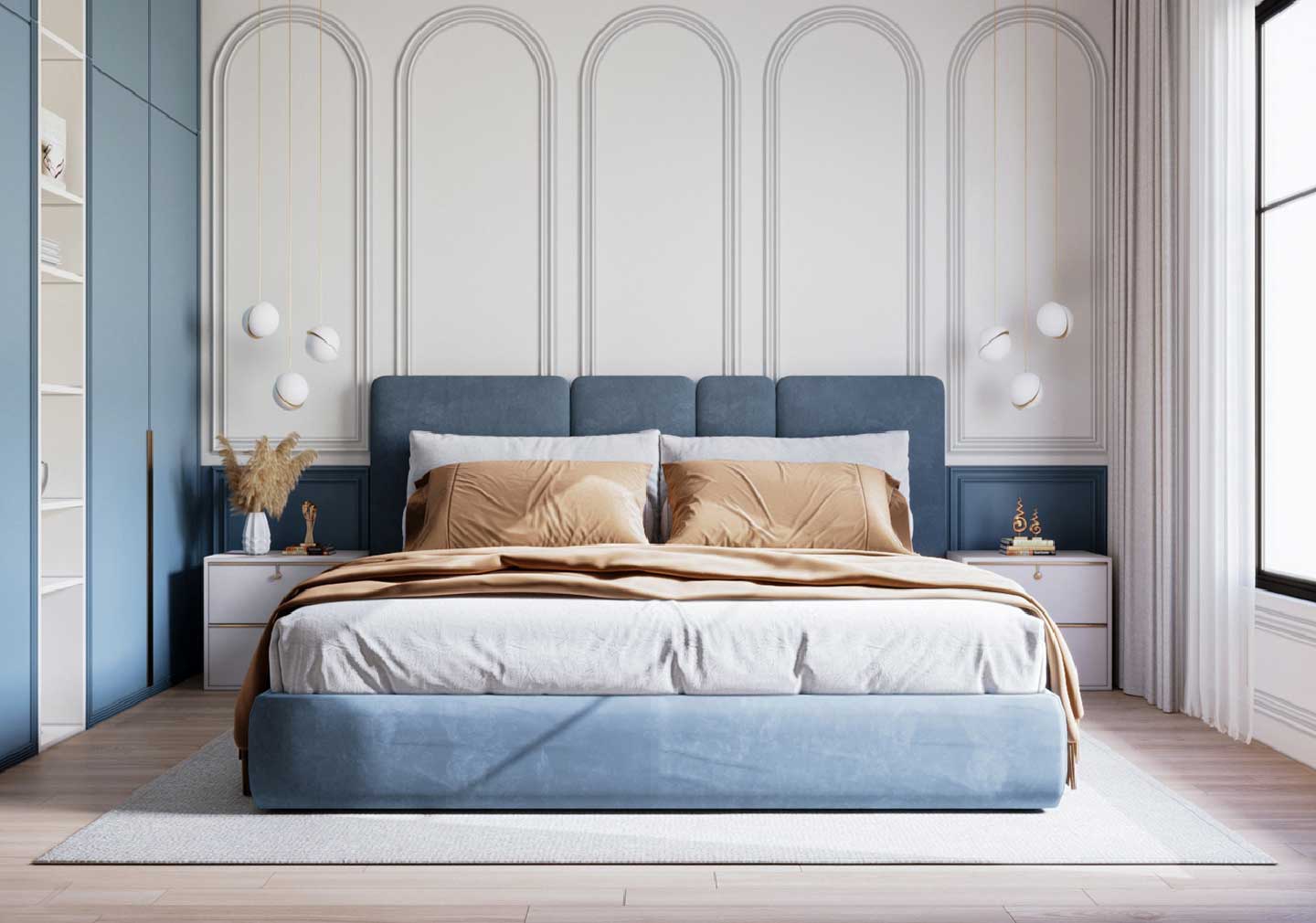 Monochromatic Schemes: Emphasizing Depth and Sophistication

 

Analogous Schemes: Achieving Subtle Elegance and Harmony

 

Complementary Schemes: Adding Bold Contrast and Interest

 

Triadic Schemes: Infusing Vibrancy and Balance

 
Creating a cohesive bedroom design involves selecting colors that work harmoniously together. In this section, we'll explore different color schemes and combinations to achieve various design effects. From monochromatic schemes that emphasize depth and sophistication to analogous schemes that achieve subtle elegance and harmony, you'll learn how to play with color combinations. Additionally, we'll discuss complementary schemes that add bold contrast and interest, as well as triadic schemes that infuse vibrancy and balance into your bedroom space.
Sample Bedroom Color Palettes and Inspirations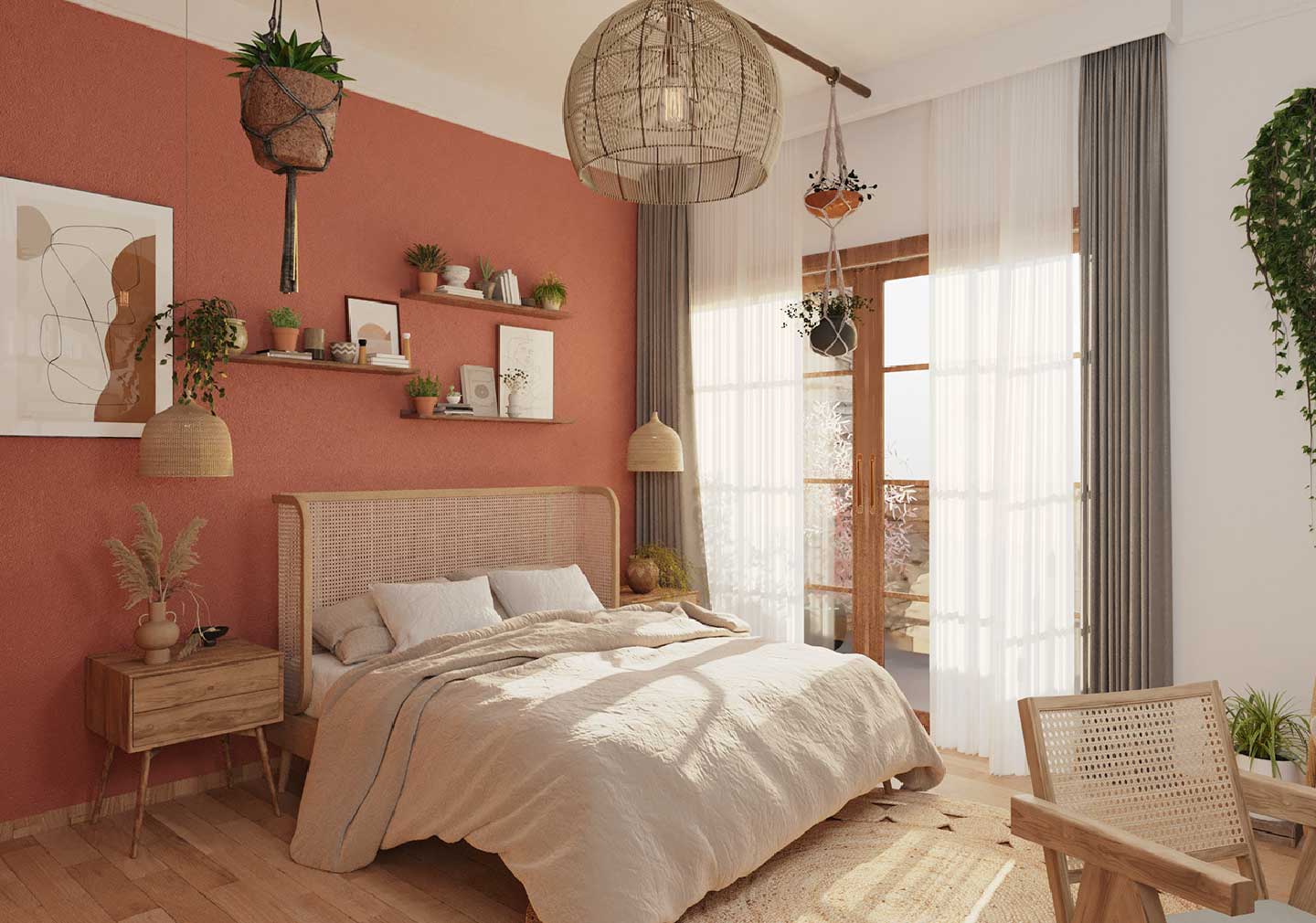 Coastal Calm: A Beach-Inspired Bedroom Retreat

 

Tranquil Zen: Infusing Eastern Serenity into Your Space

 

Timeless Elegance: Classic Neutrals with a Touch of Opulence

 

Bohemian Bliss: Vibrant and Eclectic Expression

 
To help you envision how different color palettes can come together, this section will present sample bedroom designs and inspirations. From a coastal-inspired retreat with sandy hues and ocean blues to a tranquil Zen space with serene greens and neutrals, you'll find ideas to suit various preferences. We'll also explore a timeless elegance theme with classic neutrals and touches of luxury and a bohemian-inspired blissful retreat with vibrant and eclectic colors. 

Neutral colors are a timeless and versatile choice for bedroom interiors, offering a serene and calming ambiance. This section will explore the beauty of neutral color palettes and how to use them effectively in your bedroom design.
From soft whites and gentle grays to warm beiges and earthy tones, neutral colors provide a soothing backdrop that promotes relaxation and complements various decor styles. Learn how to play with different shades of neutrals, layer textures for added depth, and incorporate natural materials to create a tranquil and inviting atmosphere that stands the test of time. 
The Impact of Bedroom Size on Color Selection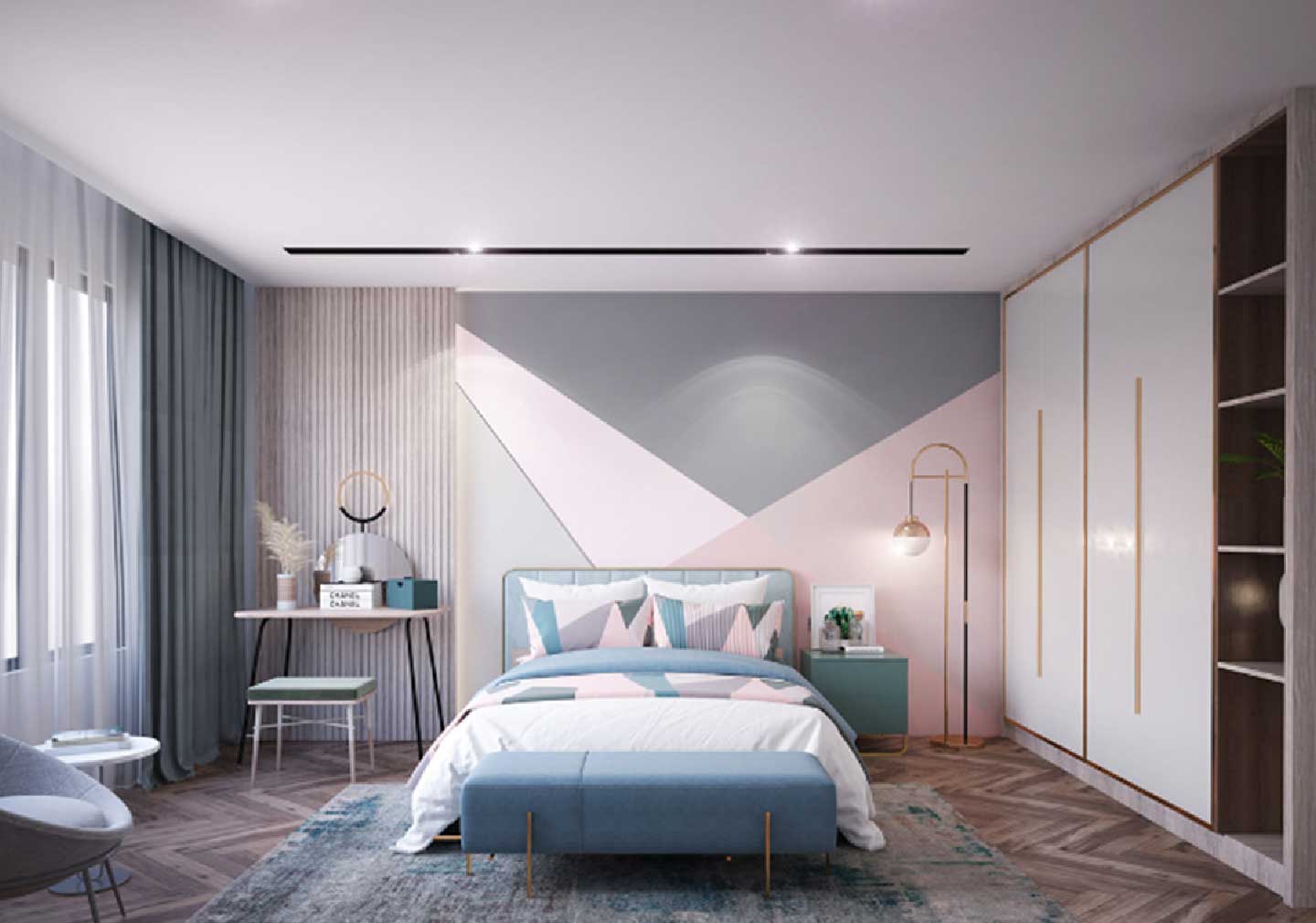 The size of your bedroom can influence the choice of colors and their effects on the space. In this section, we'll discuss color selection considerations for different bedroom sizes. For smaller bedrooms, lighter and cooler colors can help create an illusion of spaciousness, while in larger bedrooms, deeper and warmer colors can add coziness and intimacy. We'll explore tips on visually expanding or contracting the space with colors, ensuring that your bedroom feels perfectly proportioned and harmonious. 
Incorporating Patterns and Textures with Color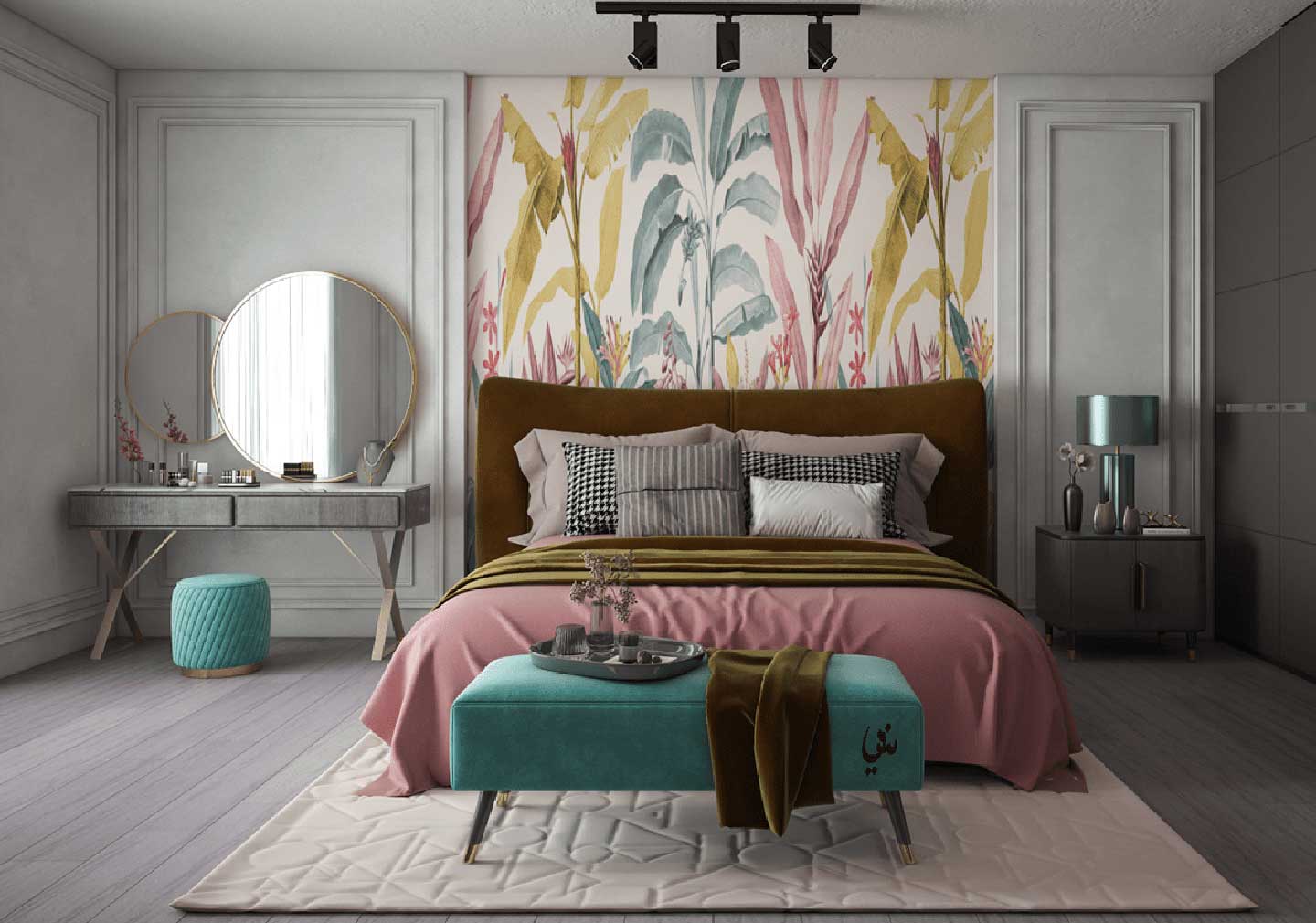 Color isn't limited to paint on walls; it can be expressed through patterns and textures as well. This section will delve into the art of incorporating patterns and textures to enhance your bedroom design. From patterned wallpaper and textured bedding to area rugs and decorative accents, discover how these elements contribute to the overall color scheme and ambiance. Learn how to strike a balance between bold and subtle patterns, and how textures add visual interest and tactile appeal to your bedroom space. 
Accent Walls and Color Focal Points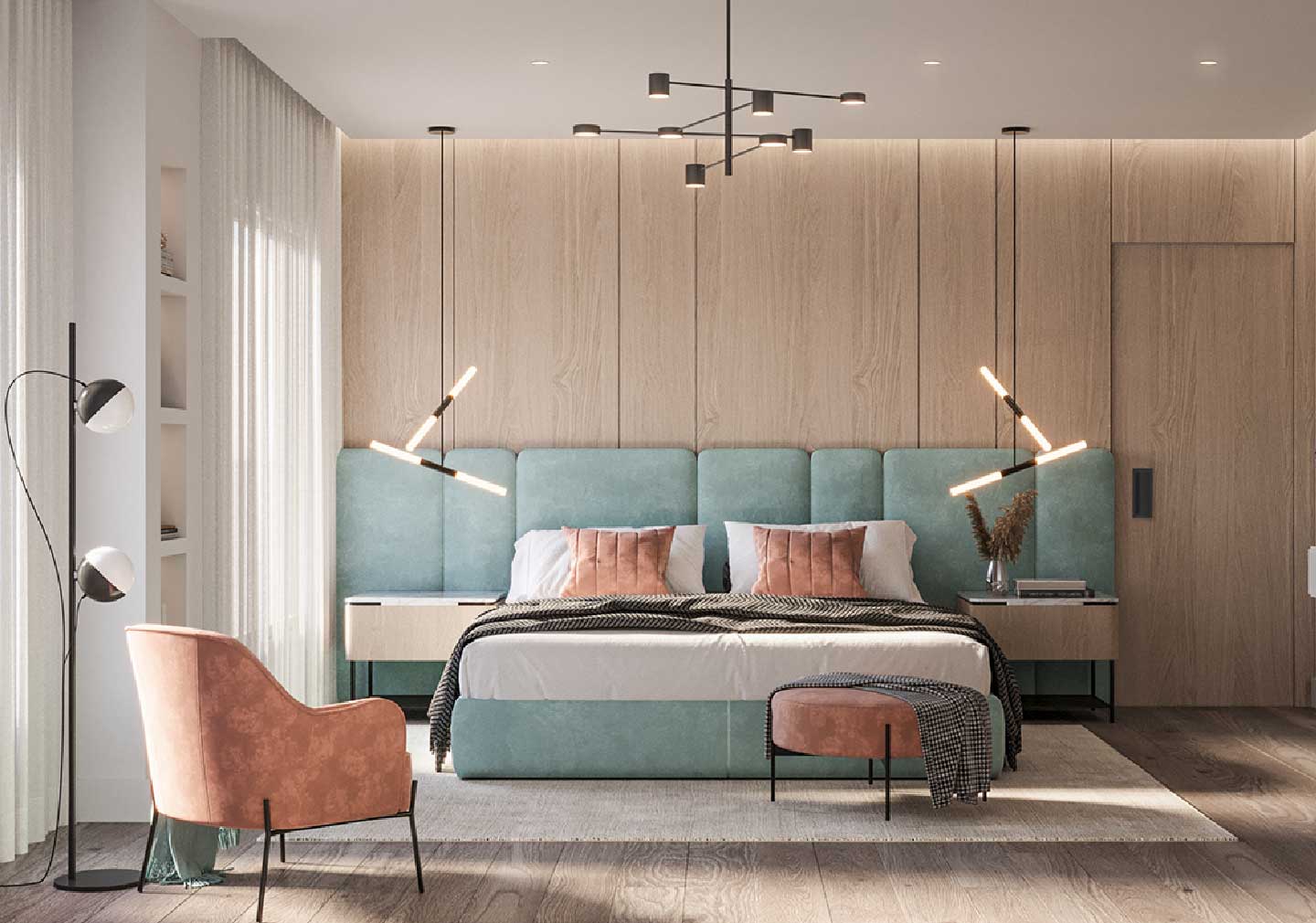 An accent wall can be a captivating way to introduce a bold color or design element without overwhelming the entire room. In this section, we'll explore how to create accent walls and color focal points to add drama and personality to your bedroom. Whether it's a vibrant painted wall, an eye-catching wallpaper, or a curated gallery of artwork, these focal points can become the centerpiece of your bedroom design, setting the tone for the entire space. 
Seasonal Transformations: Embracing Color Flexibility
Your bedroom's color scheme doesn't have to remain static throughout the year. This section will discuss how to embrace color flexibility by making seasonal transformations. Discover how to introduce seasonal colors through bedding, decorative pillows, curtains, and accessories. By incorporating seasonal elements, such as cozy winter blankets or light and breezy summer fabrics, you can create a refreshing and ever-evolving bedroom that adapts to the changing seasons and keeps your space looking fresh and inviting all year round. 
Conclusion
Choosing the right colors for your bedroom interior design is an exciting and transformative process. Bonito Designs understands color psychology, exploring soothing and neutral palettes, incorporating accent colors, considering bedroom size, and adding patterns and textures, you can create a serene and stylish retreat that reflects your personality and promotes relaxation.
Don't be afraid to experiment with accent walls and color focal points to add personality to your space, and consider seasonal transformations to keep your bedroom fresh and inviting. Your bedroom is your personal sanctuary, and the right color palette can turn it into a space where you find comfort, peace, and restful sleep. Happy designing!