Introduction
A bedroom is not the only place today where you rest after the whole day's toil. In modern times, the bedroom is also used as a home office or for leisure times. But decorating the bedroom does not just mean that you need to overdo everything. There are several simple bedroom design options available that can help you in getting an elegant look in your bedroom.
Simple Bedroom:
Here are some of the most popular and effective simple bedroom design ideas to transform your bedroom and make it a comfortable nesting refuge for you.
While many people maintain discipline in working from the living room or a specific study area, there are also some other people who find comfort in working from their comfortable bedroom space. Thus, one of the best ways is to offer a cocoon feel to the bedroom where you can relax and can also go moody or can work in your comfort zone. Ideas such as having extreme contrasts, and using the colours gray are some of the best options. Some other options for a bedroom design with a wardrobe are to contrast the wooden shade of the wardrobe or the bed with the white bed sheets and pillows.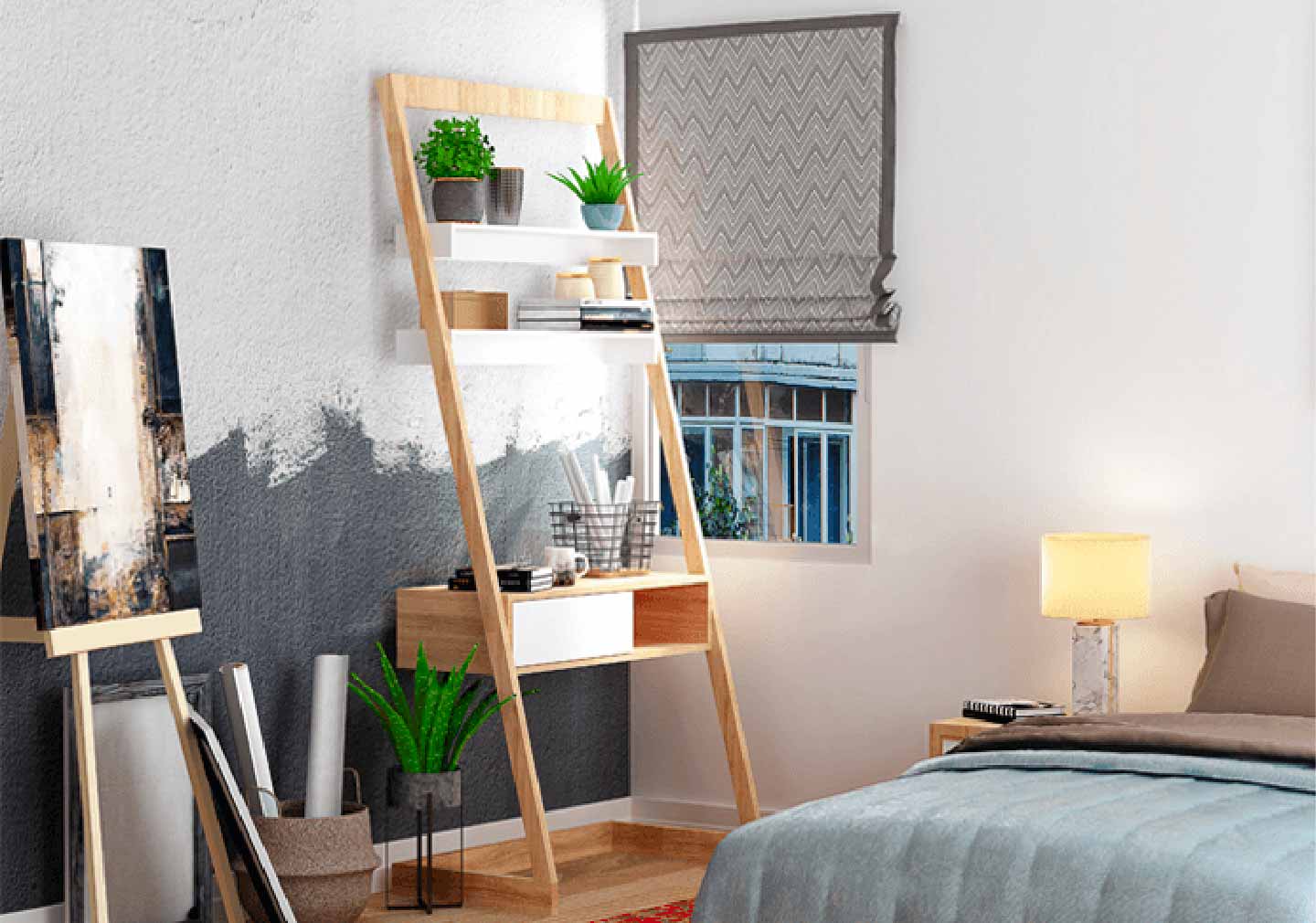 Wish to have a modern bedroom design? One of the best ways is to adopt the eclectic design theme for the purpose. Get bold shades such as aqua blue or green against the neutral background shade. Utilise different lights such as bright focus lights in combination with dim lights to set the room according to your mood.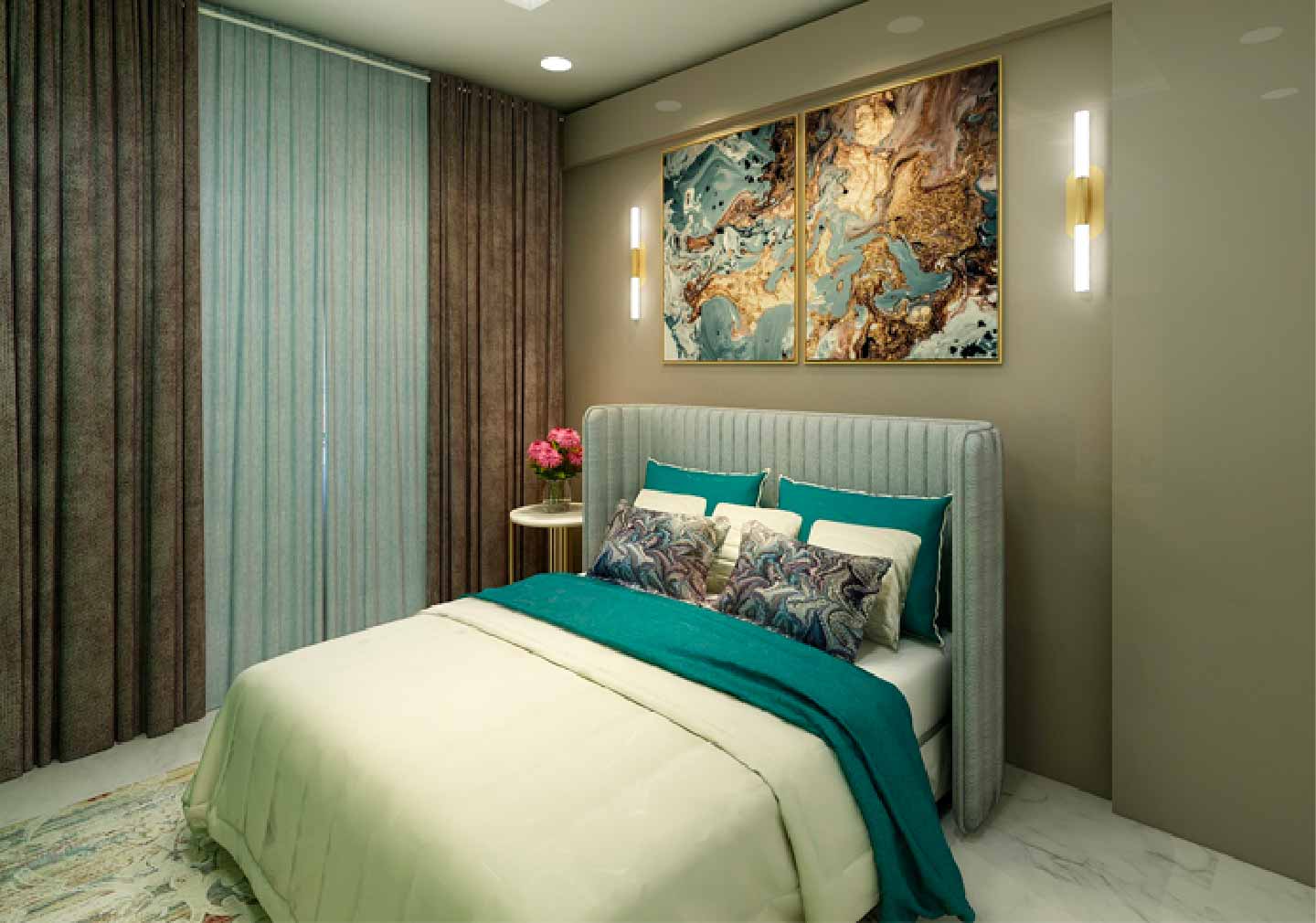 Nothing can be as refreshing as creating a coastal vibe in your bedroom. Go for light shades such as whites for the walls while making use of blue and green shades for the upholstery and other options. Bring in seating options made up of jute and similar fiber to add up the coastal feeling to the entire interior with such simple bedroom design ideas.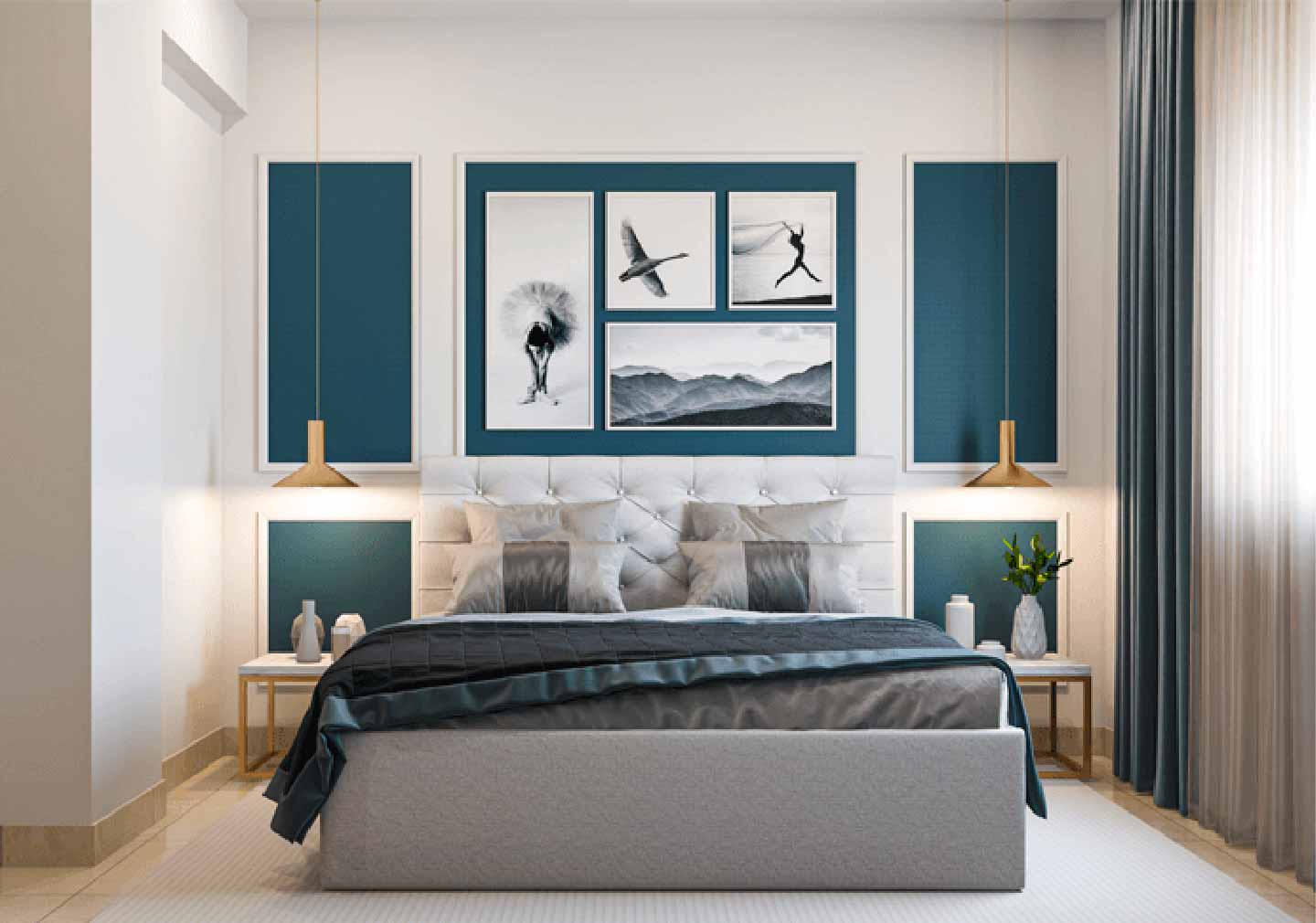 Staying traditional is not always wrong if you especially love the idea all by yourself. Having a traditional bed with high wooden stands and adding up other traditional sconces in the room does not just make you feel comfortable but also offers a different look to the bedroom in this world of modern designs.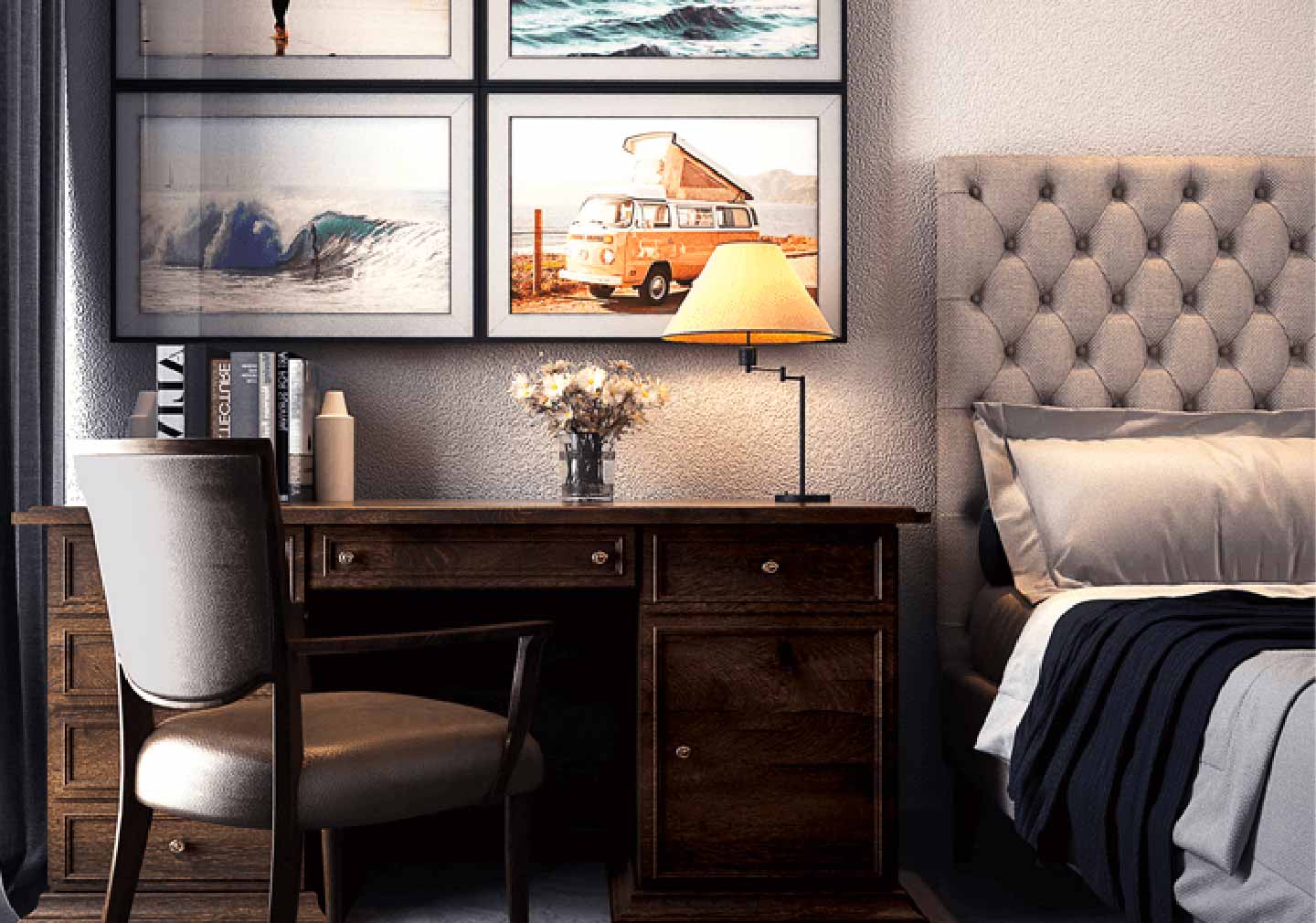 If you are in love with colours and wish to have a super lively yet bedroom design, then the Bohemian look is absolutely for you. Throw colourful plush pillows and blankets on the bed, get lively shaded curtains, and do not forget the rugs on the floor.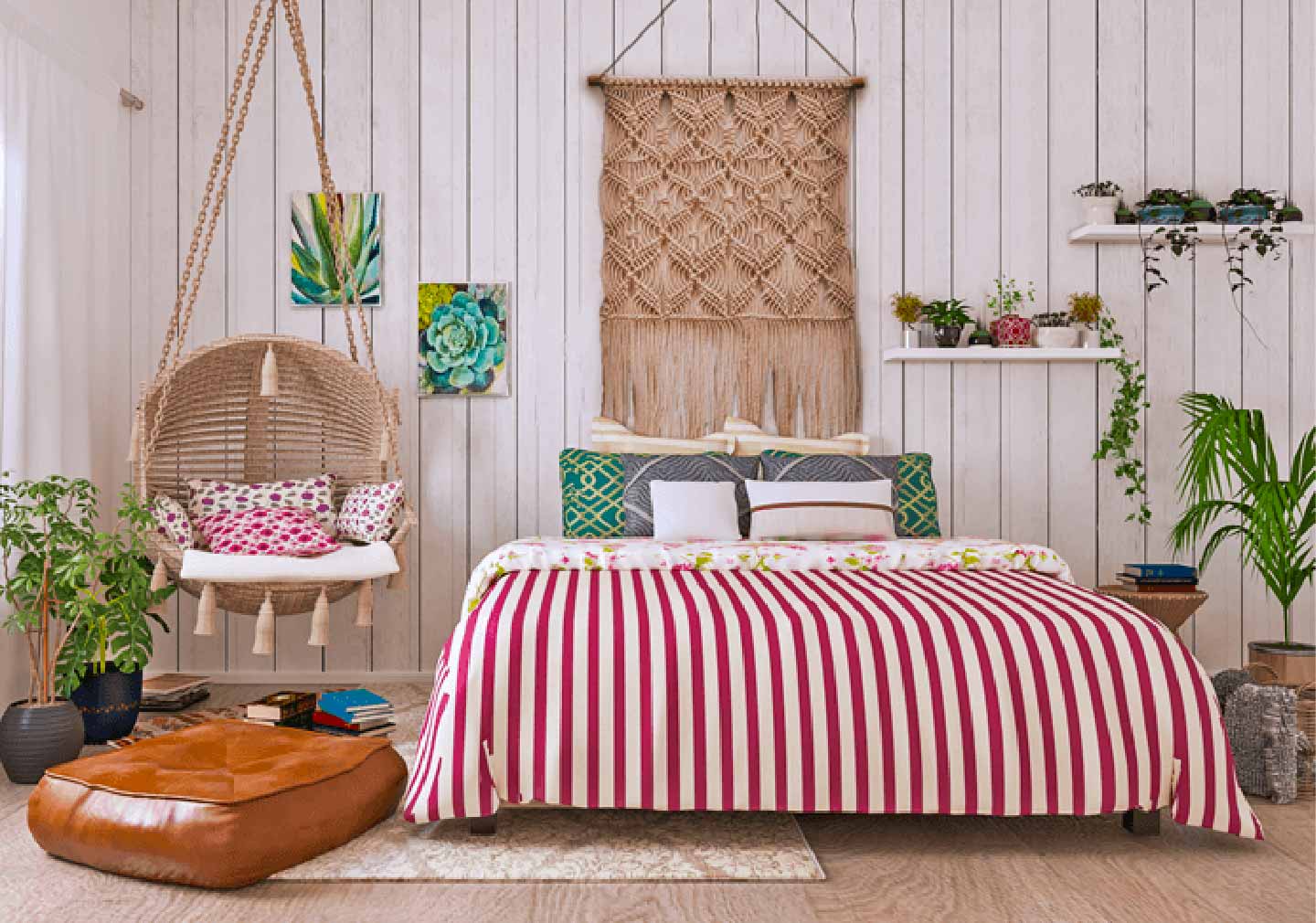 Having an art deco design in your bedroom is another amazing idea that one can have if one understands art well and wishes to have the latest simple bedroom design. You can create a gallery of paintings on one of the bedroom walls or even can get a whole wall painted with options such as tribal design or use wallpaper instead to get the look.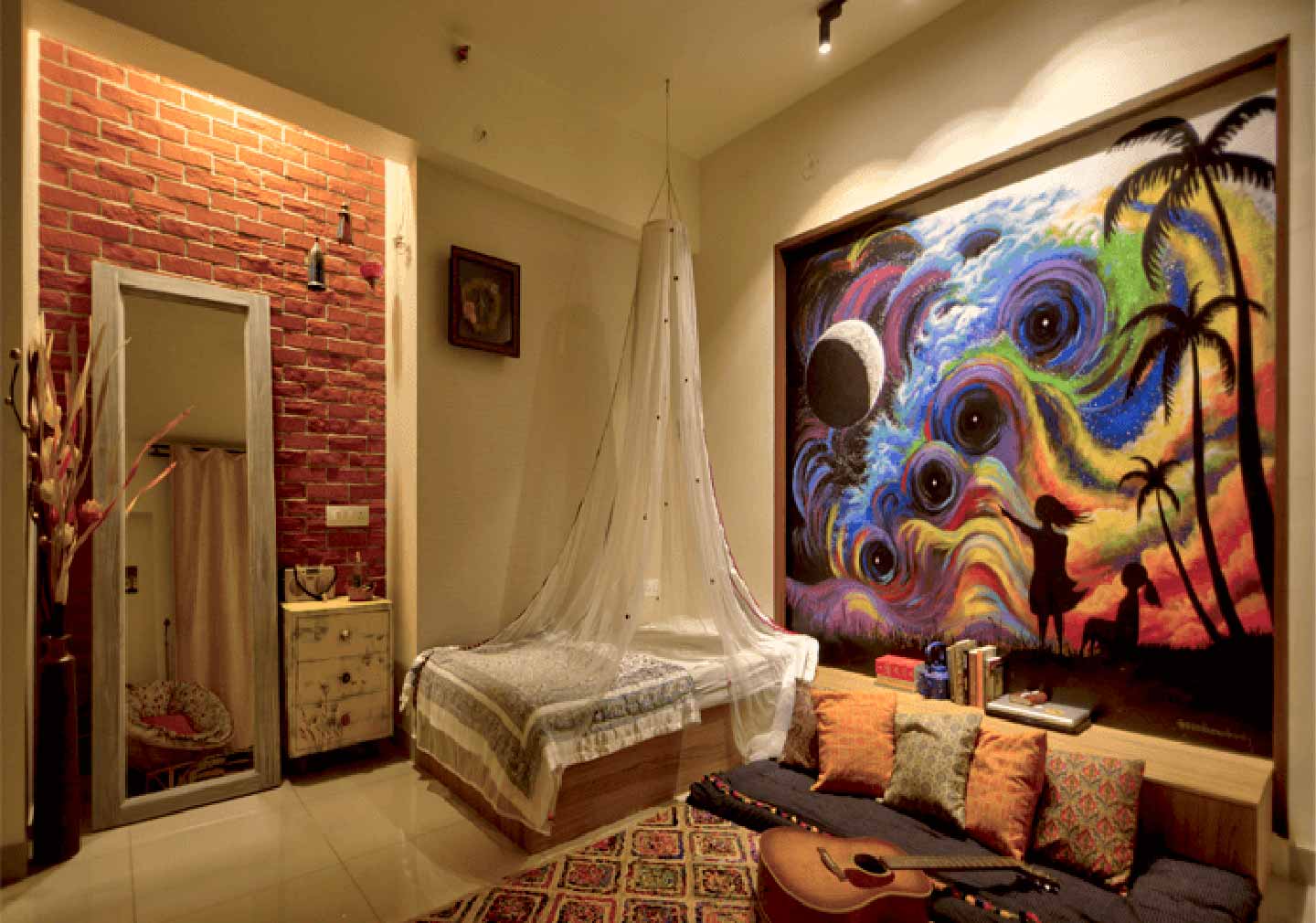 If the idea is to get a modern simple bedroom design, then you are on the safest side. All you need are neutral shades for the walls as well as for the upholstery too. Having neutral shades for the furniture and other options in the room too offers an even more enhanced modern look. This bedroom design can be completed well with huge glass windows in the room.

Do not confuse the Moroccan design with the Bohemian design while both of them have huge use of different colours. But unlike the Bohemian design, Moroccan design is much more organised and arranged. The use of Moroccan-style rugs and carpets or even the use of souk-style furniture adds up a lot to the look of getting a simple bedroom design.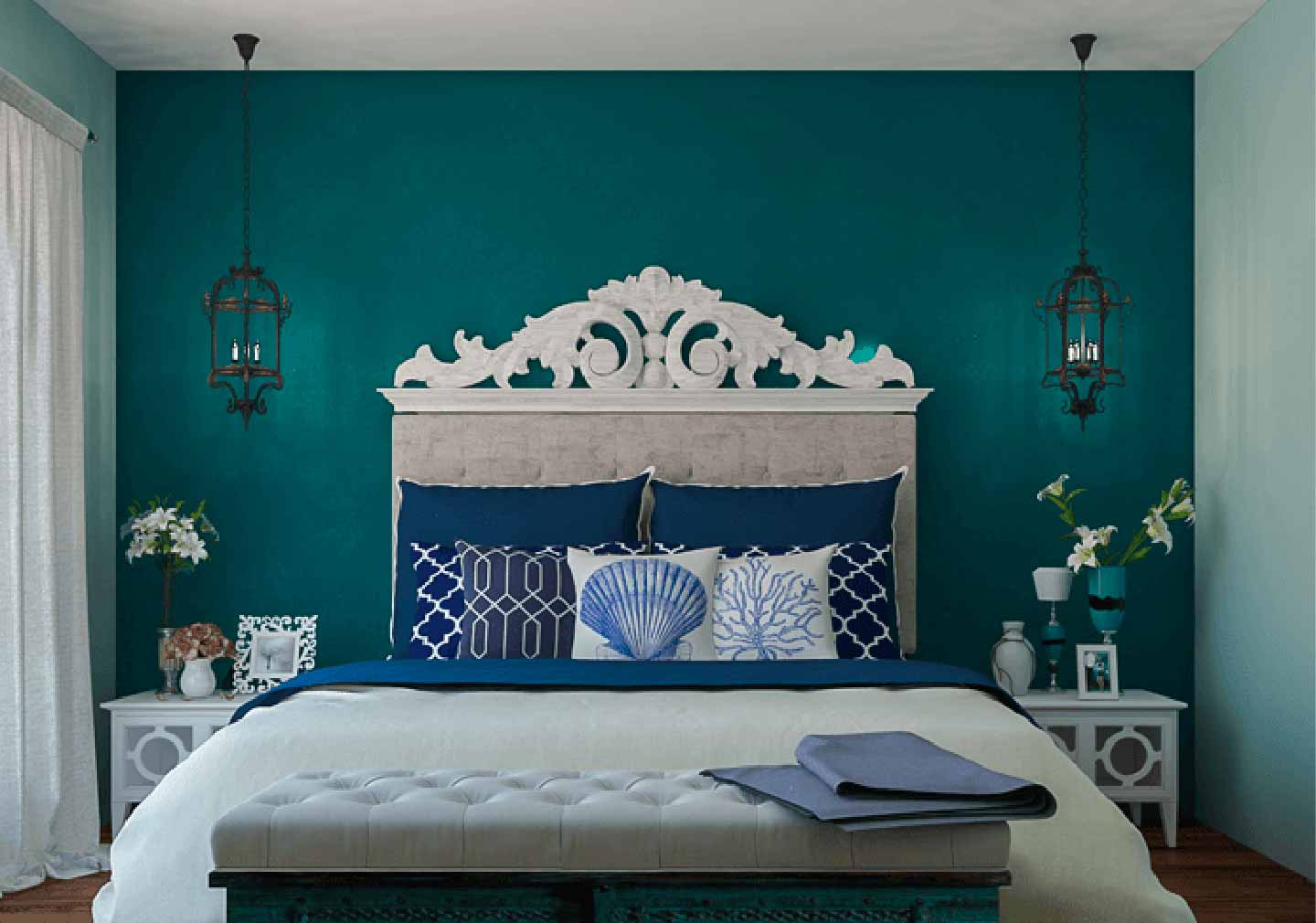 You can create a modern farmhouse in your city bedroom too. With options such as wooden flooring, and furniture made up of pure wood, you can bring in the bedroom design vibes of a modern farmhouse in your bedroom interiors.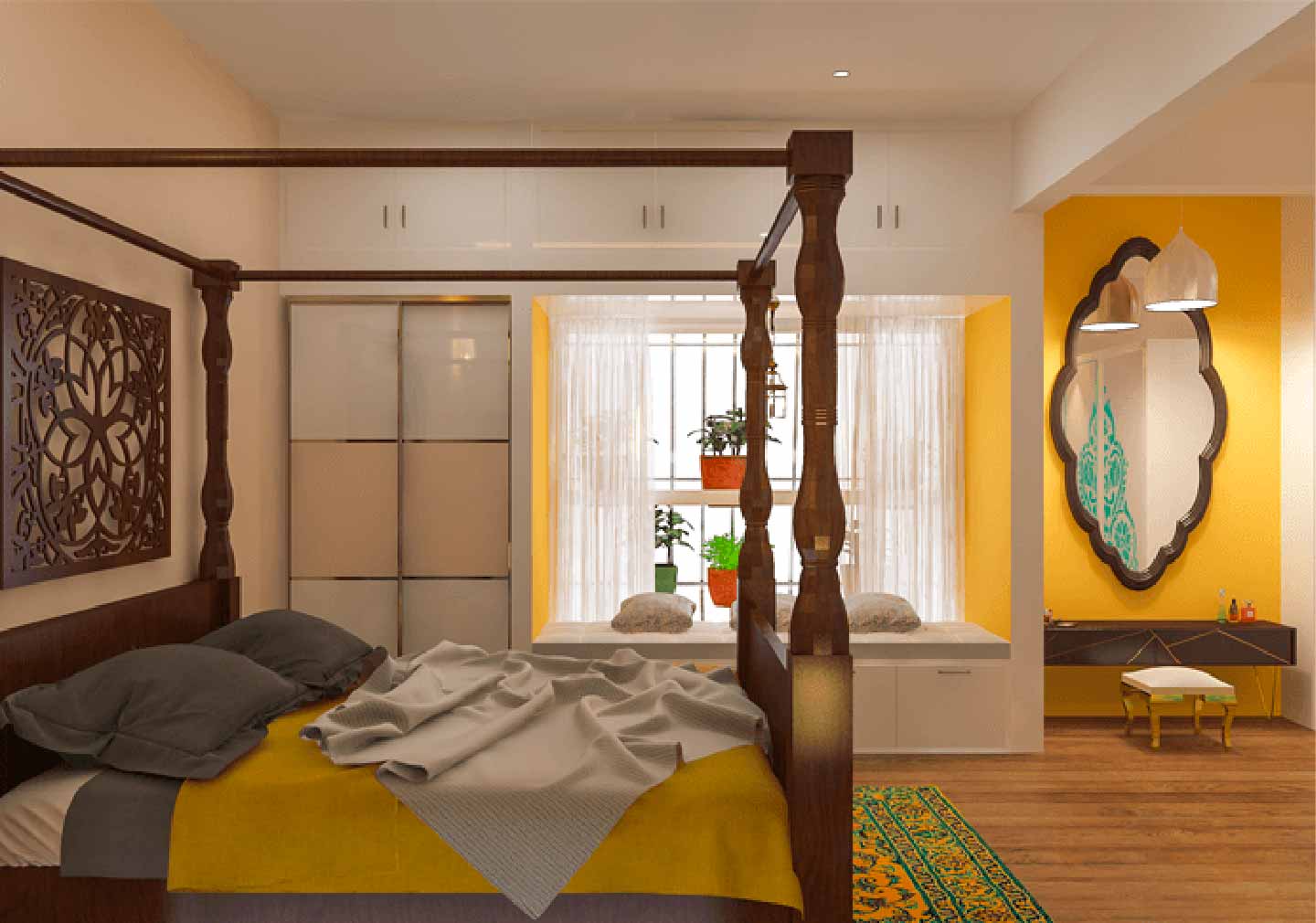 Who says designing has to be huge? You can always opt for the minimalistic design or modern simple bedroom design where you just have limited options in your bedroom and keep everything just simple.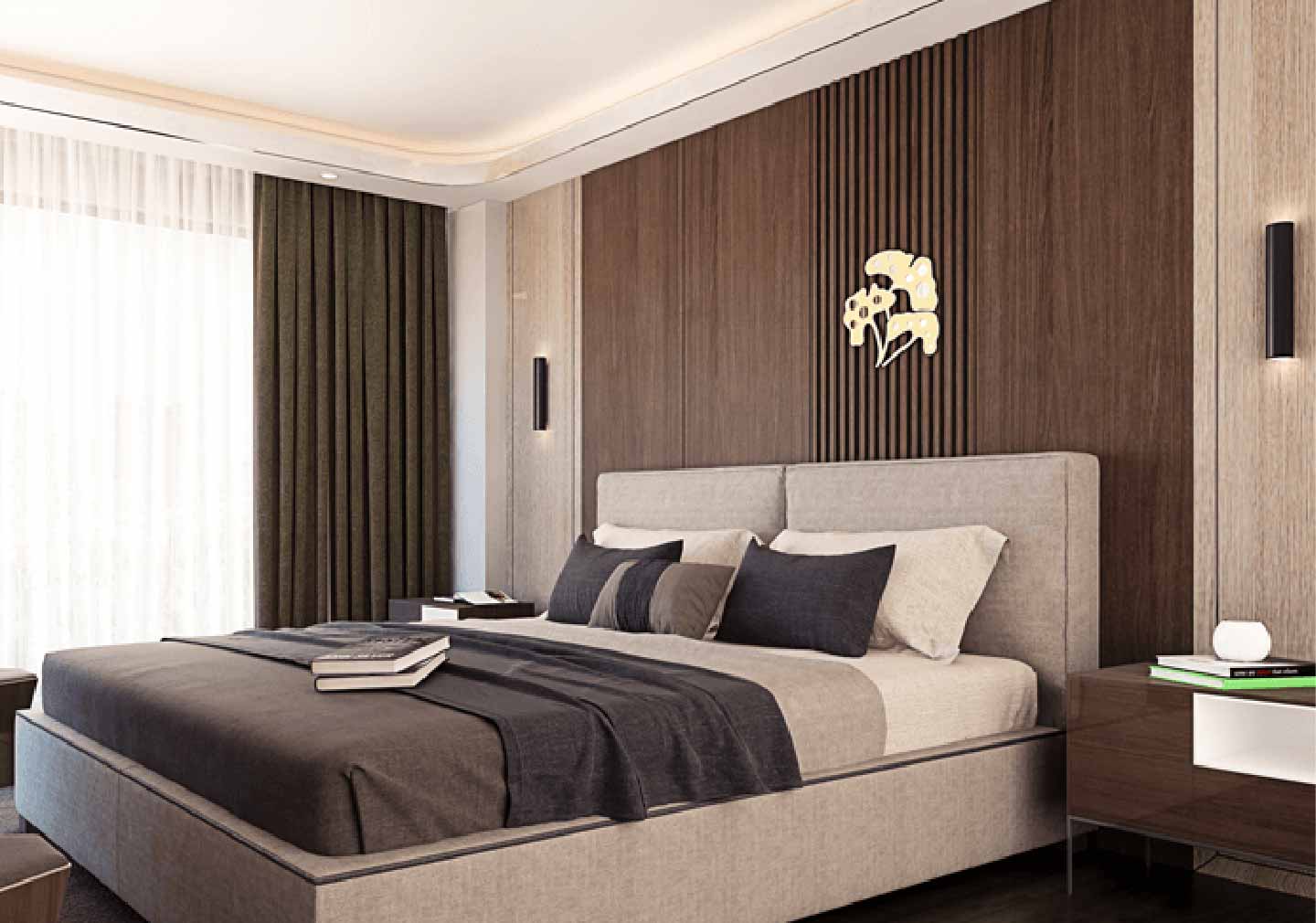 As the name suggests, it is just the opposite of the minimalistic design. You can let your imaginations flow and can bring in a lot of bedroom design options such as chandeliers hanging from the ceilings, pillows and cushions filled on the bed, and many other embellishments that you love to have.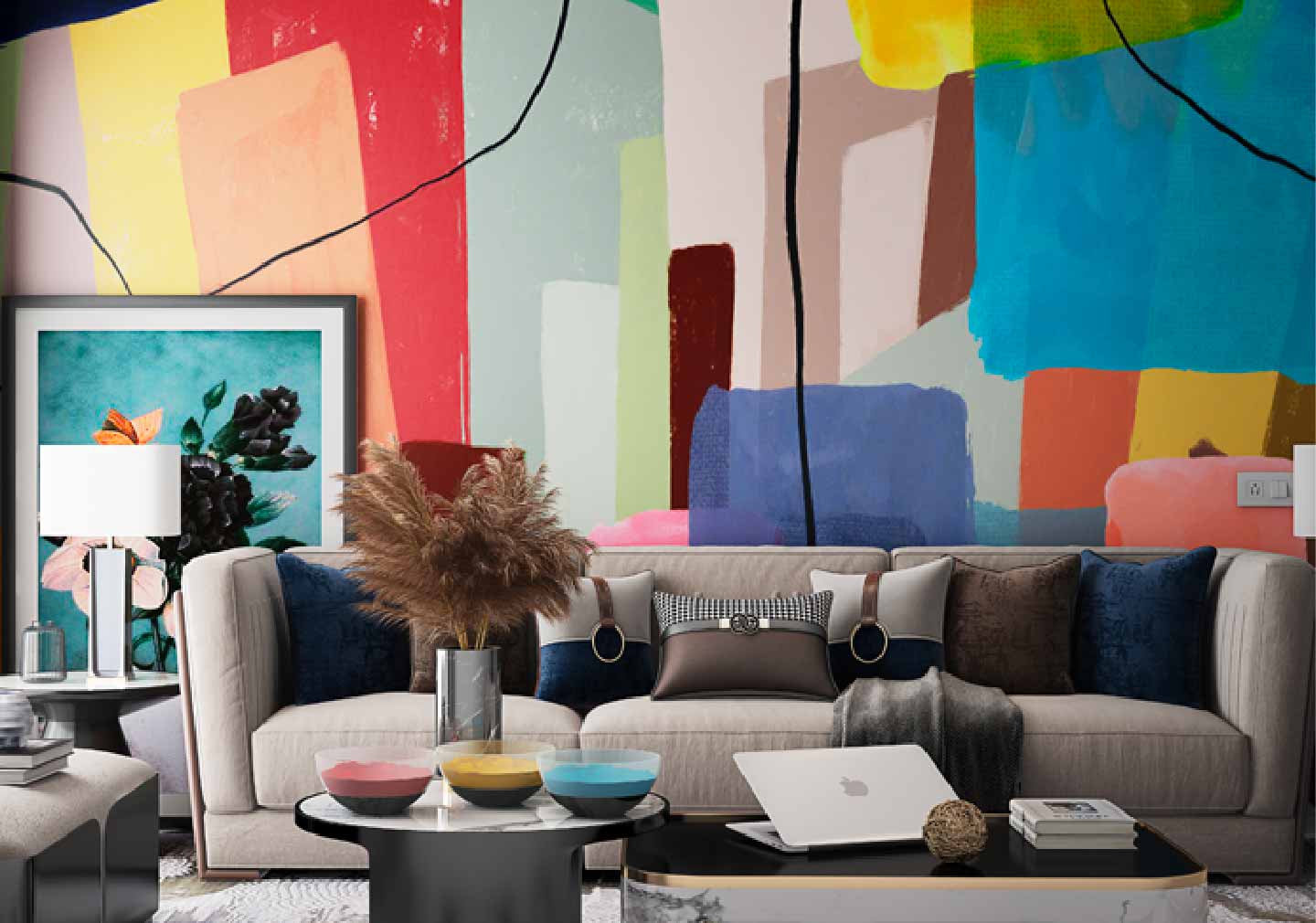 Getting the best bedroom design for a small bedroom can get quite challenging but not anymore. Options such as decorating the side table of the bed in place of focusing on the entire room are a perfect solution. Get a heavy side table lamp and install several options such as statues and portraits.

If the idea is to decorate the bedroom interior using a false ceiling, this design is the best one to have. Create an illusion that the headboard of the bed and the ceiling just above the bed are in continuity. This bedroom design offers a beautiful look and a focus on the bed area.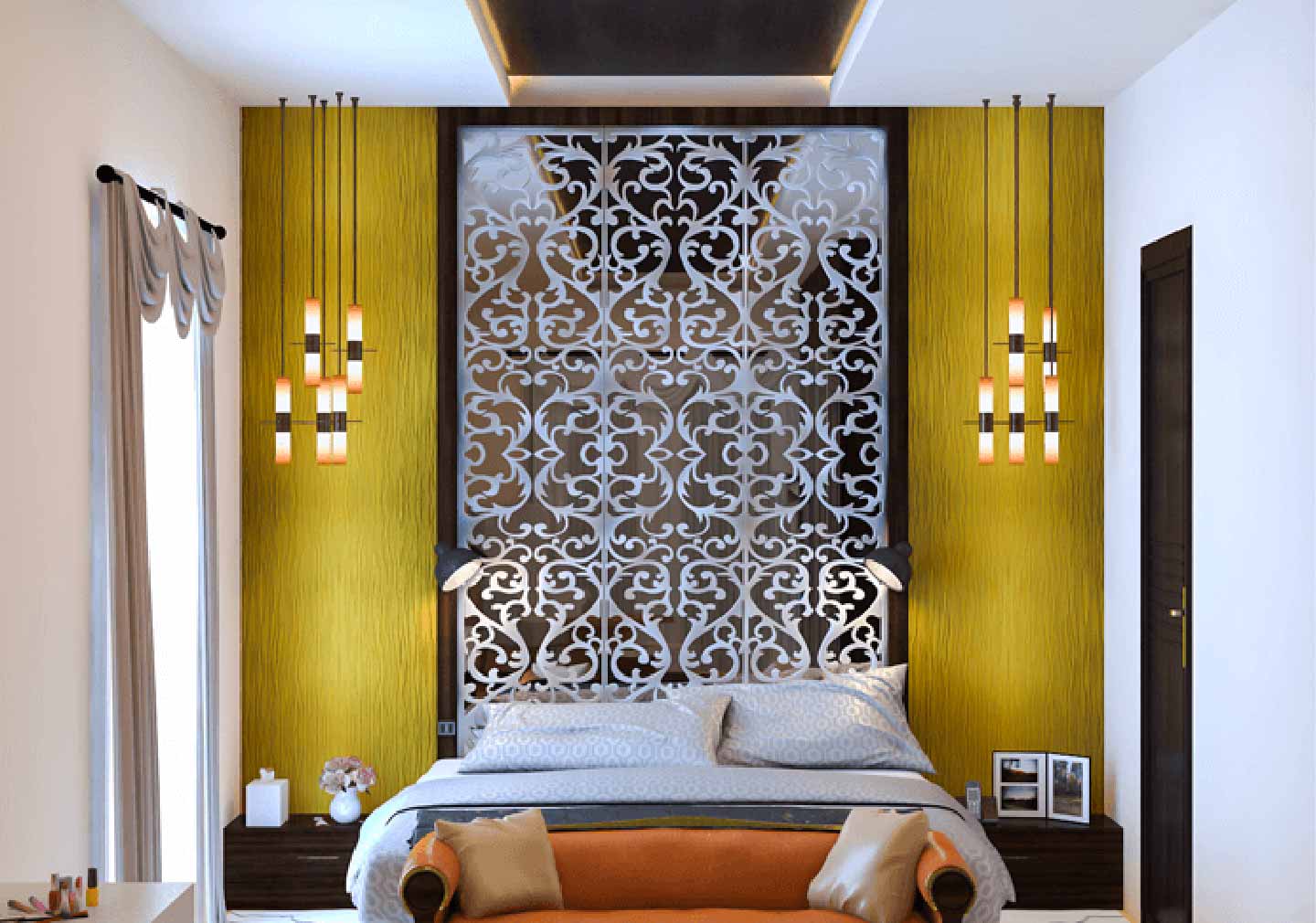 When the bedroom is huge, you cannot leave the other space empty. One of the best bedroom design ways is to utilise this space by adding up some seating options. You can create a small round seating area at one side or corner with a table in between for small get-together or so on.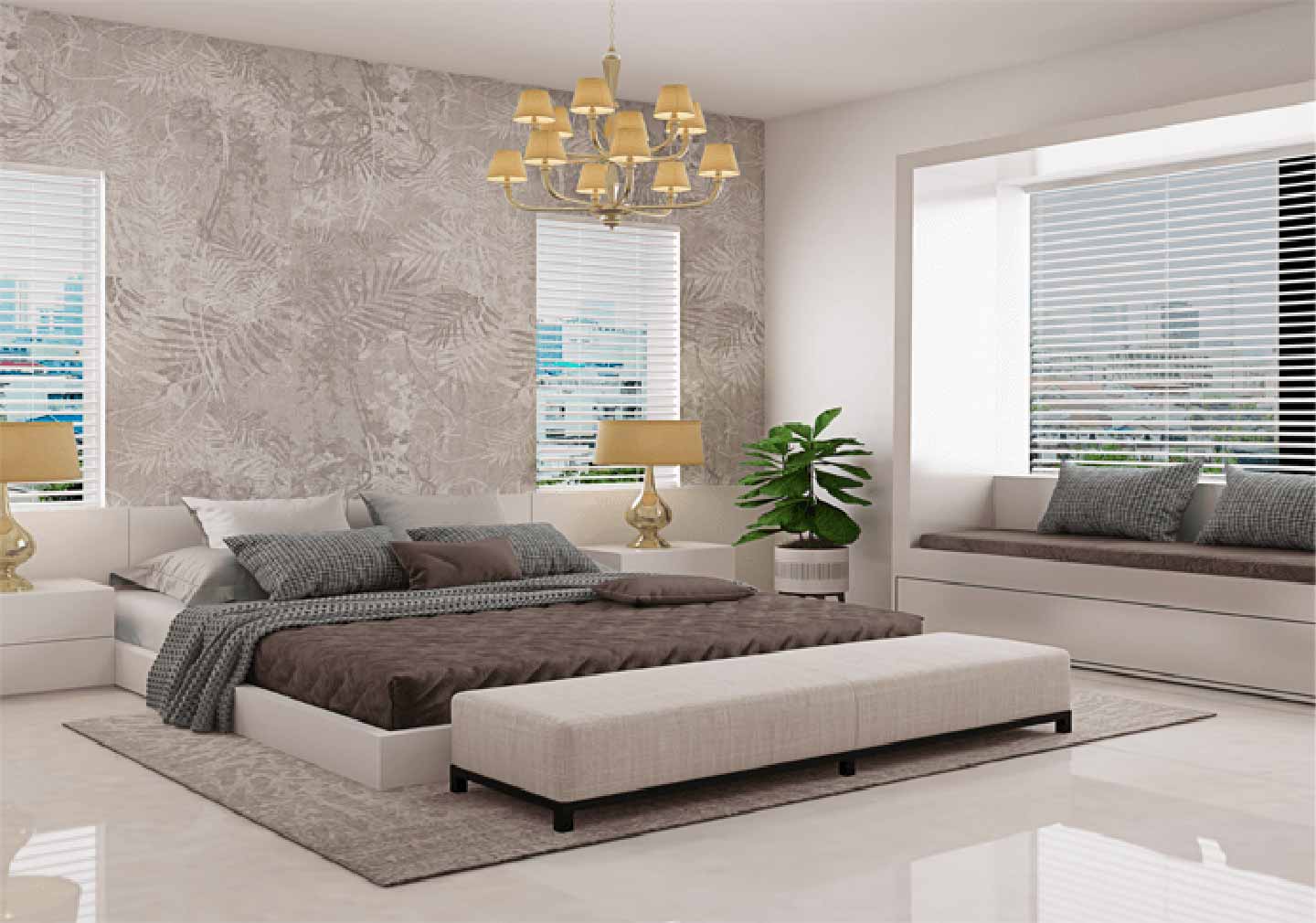 Some people are extremely obsessed with their beds such as they even love to work from their beds. In such a case, it is a great simple bedroom design to offer a decorative touch to the bed itself. You decorate the bed headboard with light strings or can make use of tassels to hang from different corners to offer the bed a highlighted look.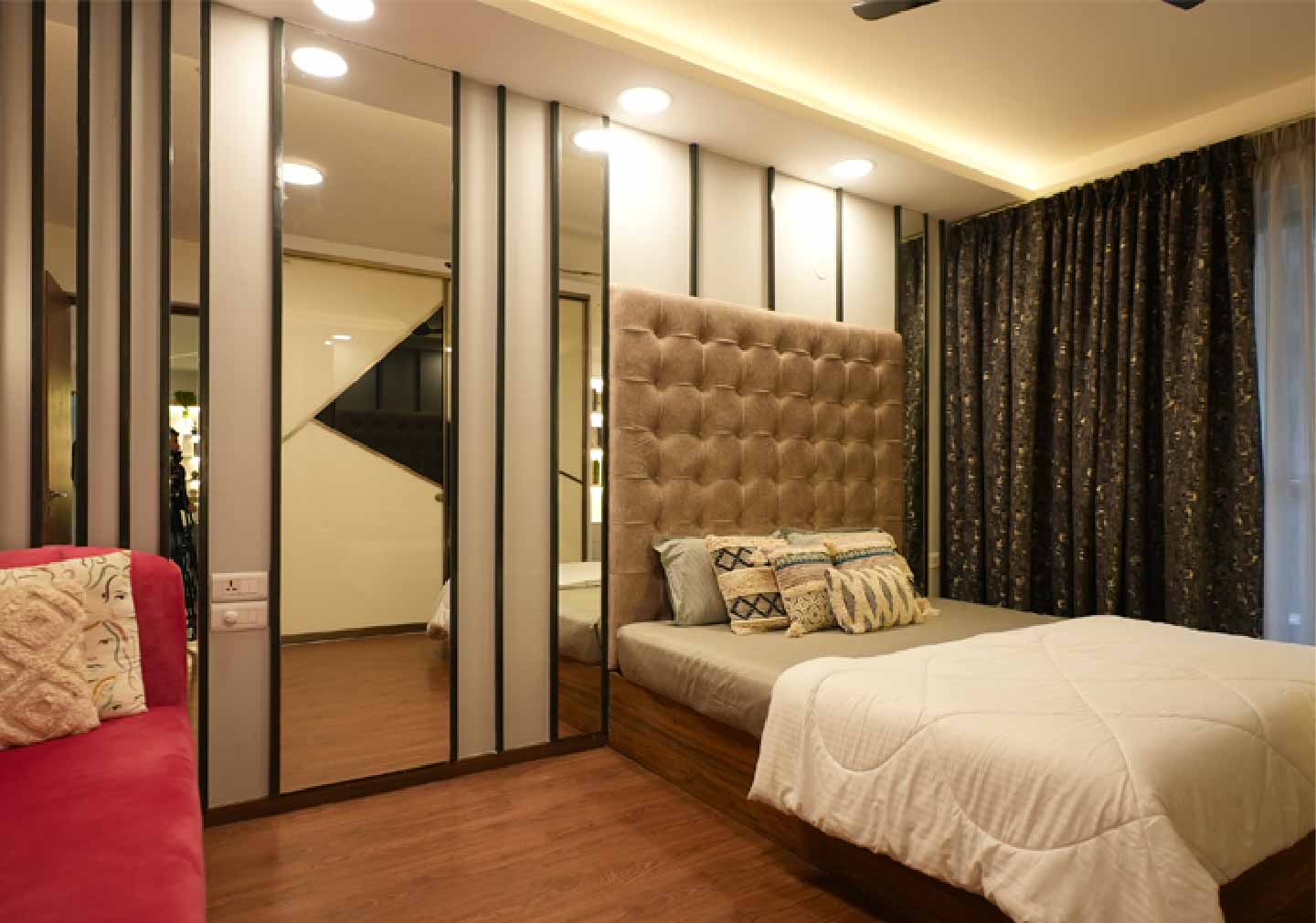 Transform your bedroom into a romantic getaway where you can spend your cozy time with your better half after the whole day's activities. Use bedroom design ideas such as installing mood-setting coloured lights, getting curtains around the bed, and so on to set the mood right.

While you are looking for a bedroom design, you can add up some charm by adding scenic wallpaper on one of the walls. It can be a forest or a beach to soothe your eyes as you wake up every morning.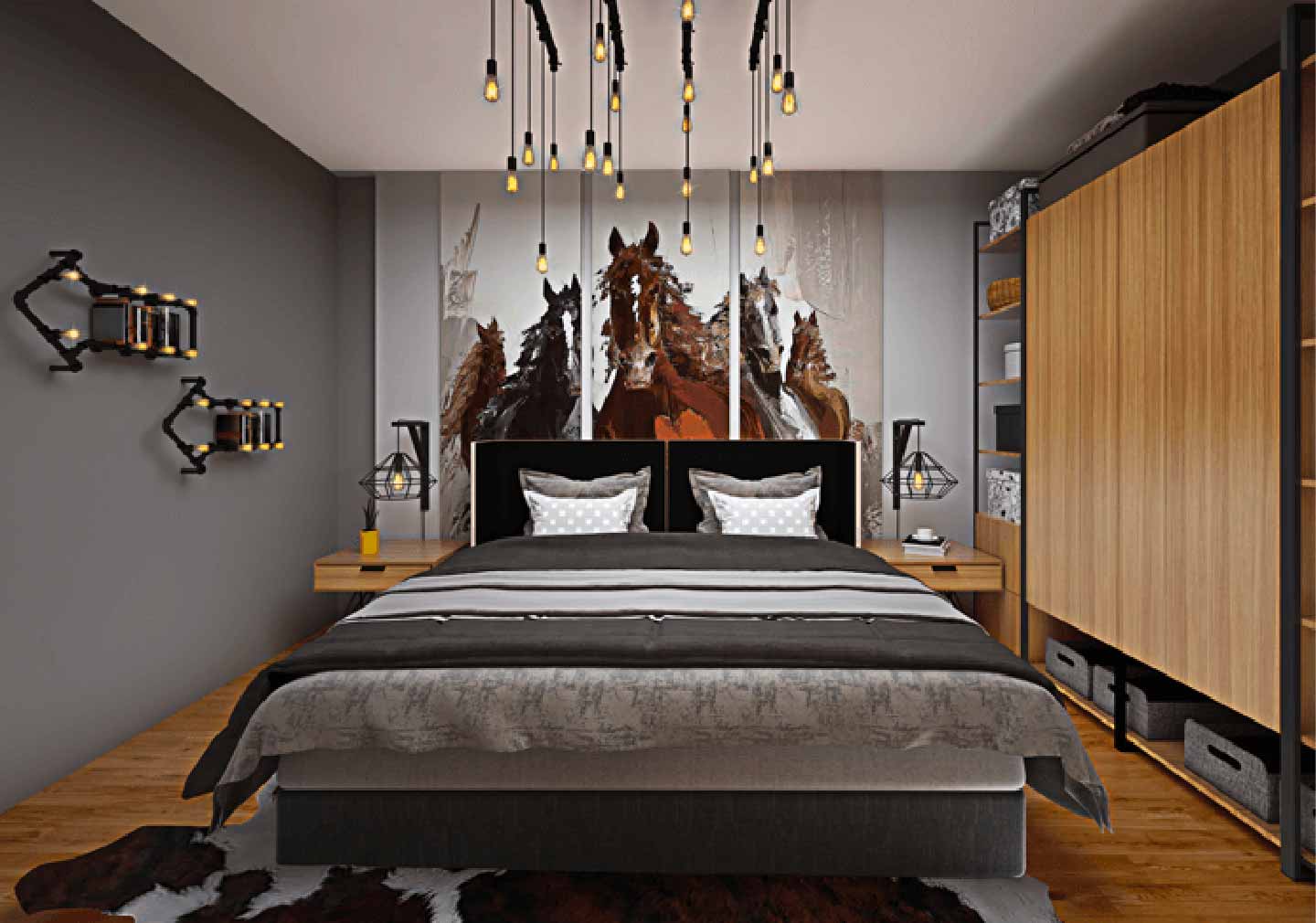 This is another modern trend that you can utilise for a simple bedroom design with a wardrobe, especially in a small bedroom. The use of huge mirrors on the wardrobe or even on a wall reflects light better to make the room look bigger.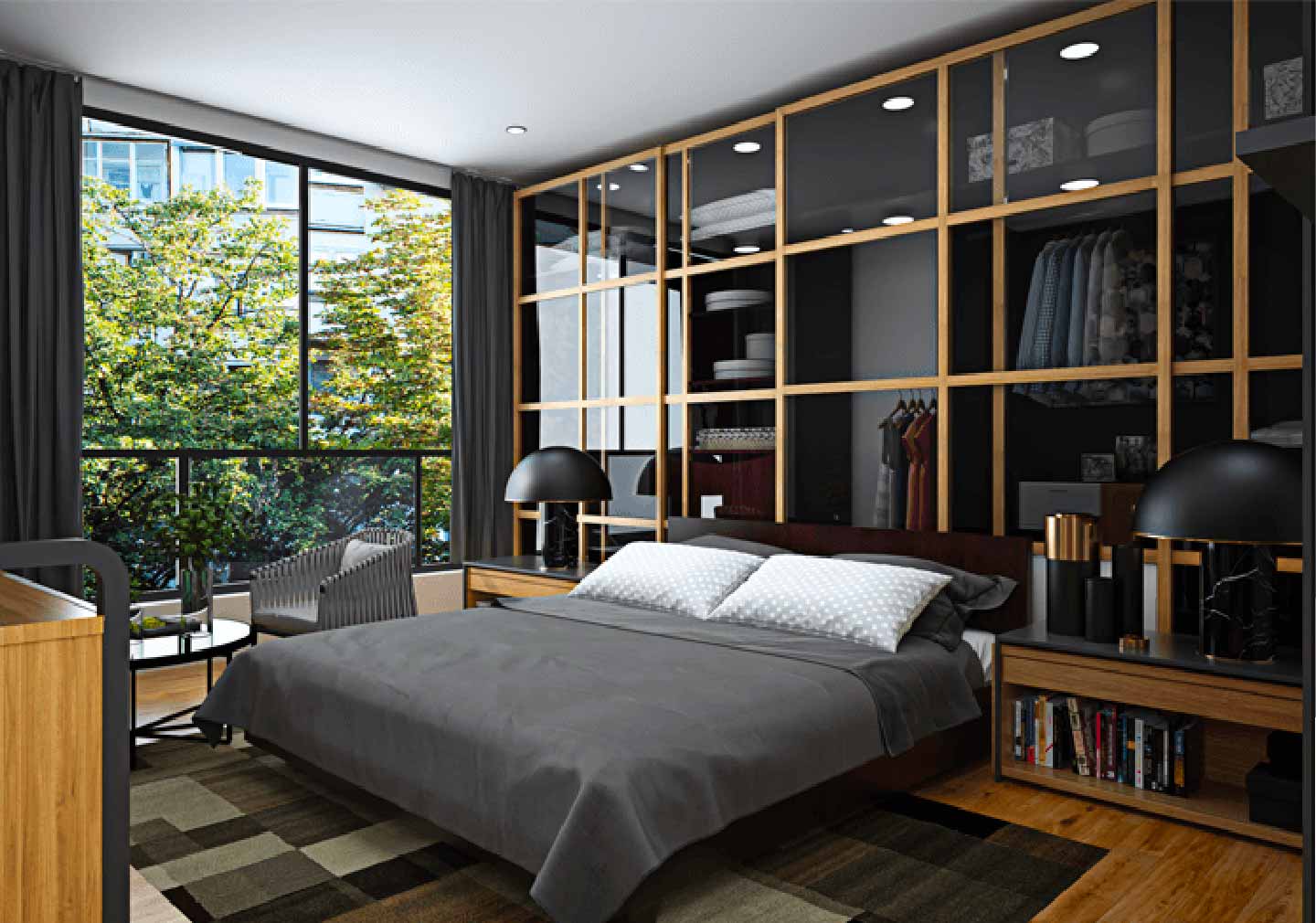 Make some space for greenery from your garden in your bedroom. You can install an oversized shrub in one corner or can even install small floral options on the side tables to get a bedroom design.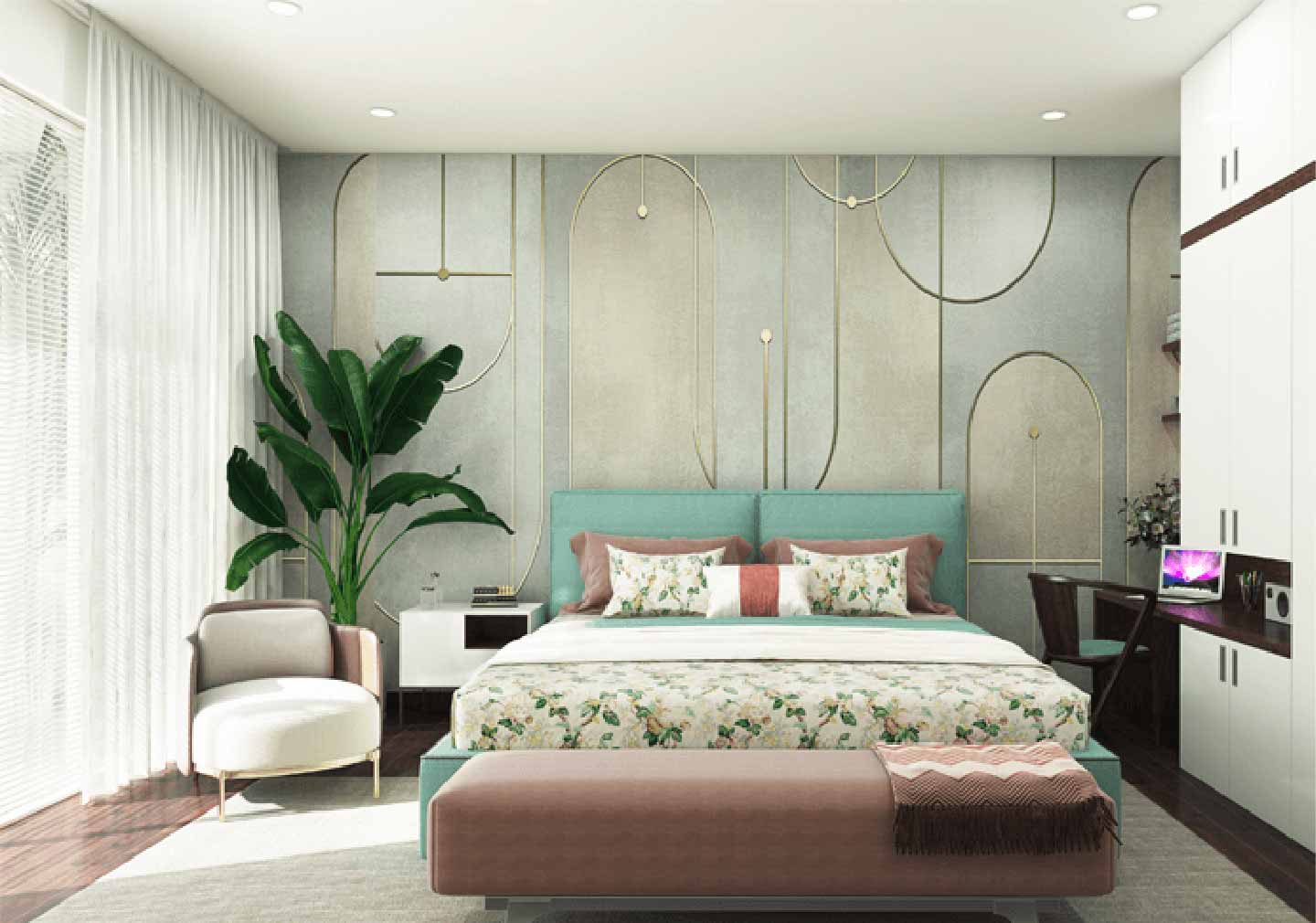 Having an accent wall is always the best simple bedroom design if you do not wish to do much in decorating your bedroom. Just focus on one of the walls and use the right textures and patterns to paint it right and make it a focal point in the room.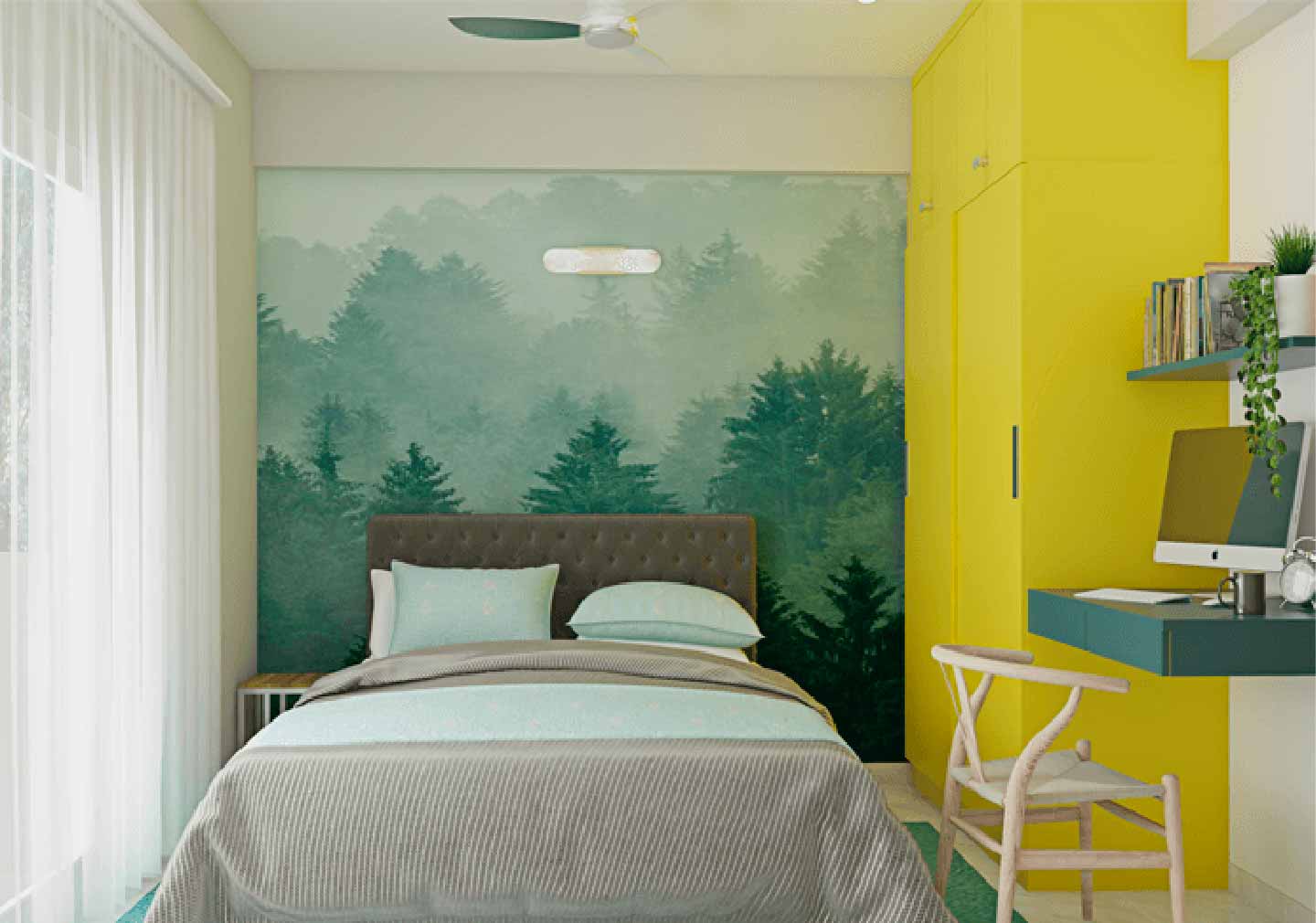 Wish to get a bedroom design that is different and unique? Well, while others are painting their walls in different colours, you can throw some shades on the flooring of your bedroom. Just make sure that it is contrasting well with the walls and ceilings of the room.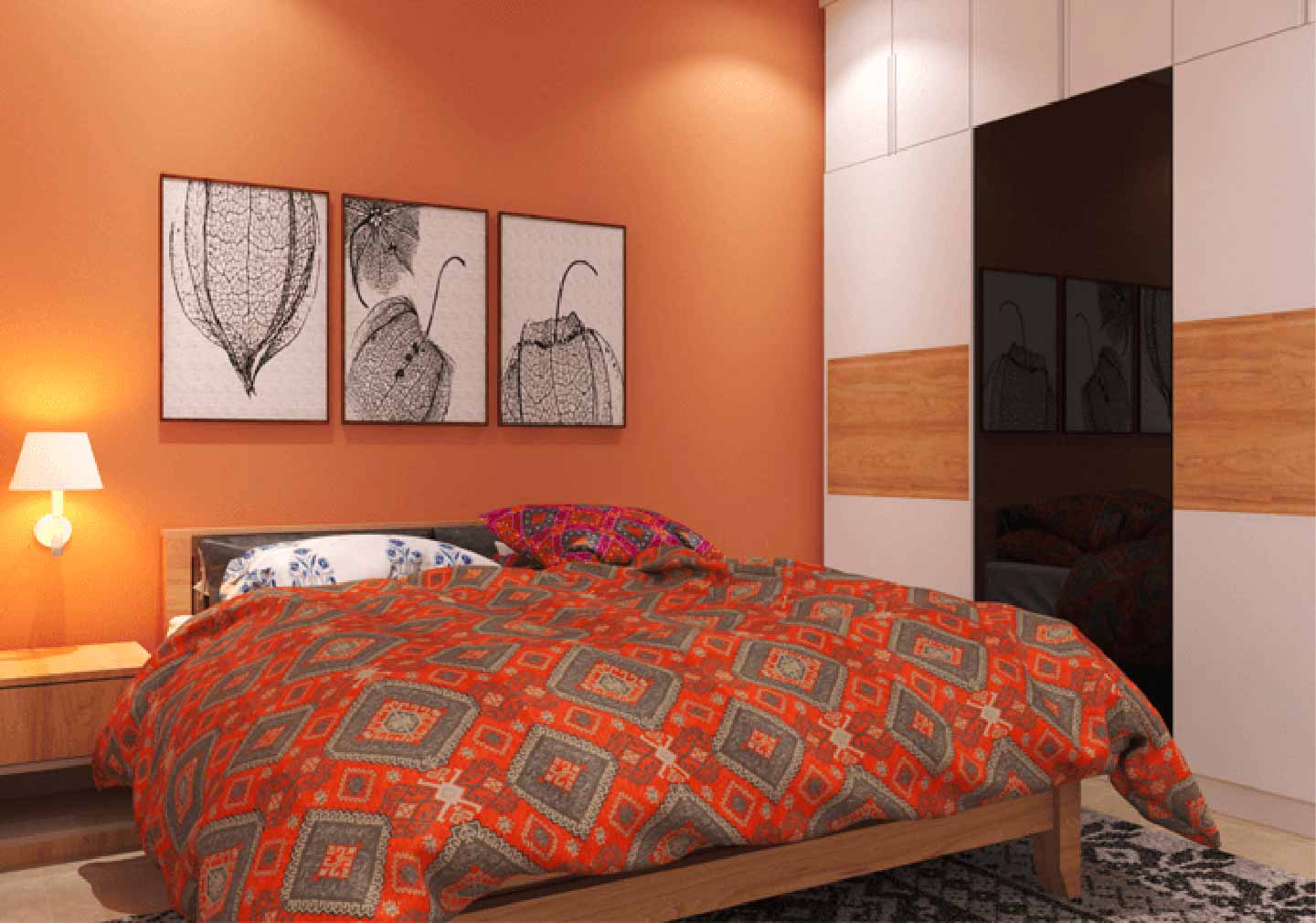 Statement lights are not just a great idea for the living room or the kitchen. Today, many people also make use of statement lights such as pendant lights in the bedroom too. The use of such lights over a study area helps enhance the look and also makes sure that the other person is not disturbed while you are working in the study area. Installing these lights in a bedroom design makes a lot of difference.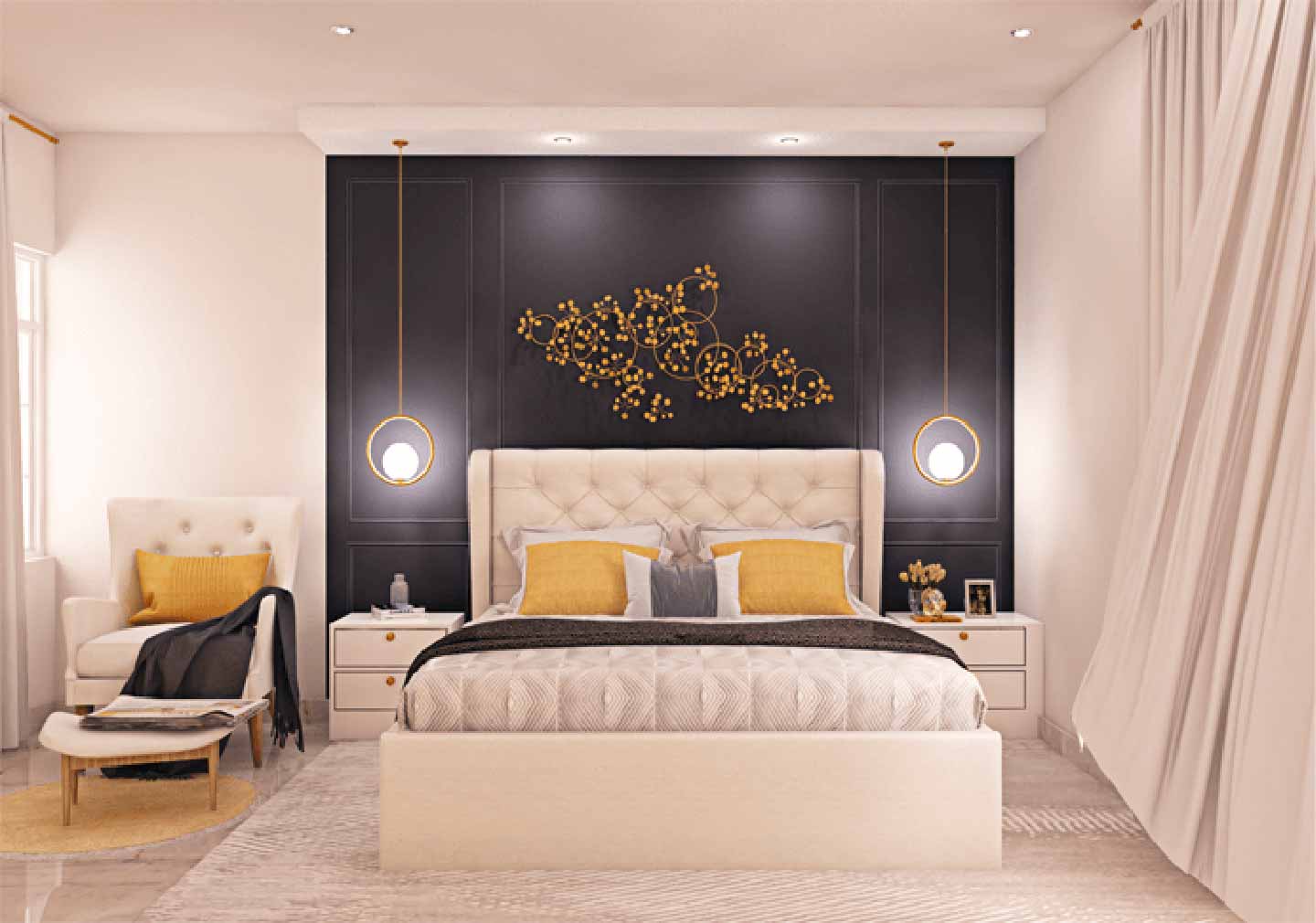 Well, bookworms will need their favourite books everywhere and even in their bedrooms. Thus, one simple bedroom design is to merge the bedroom with the study room to get a place that is loved by book lovers.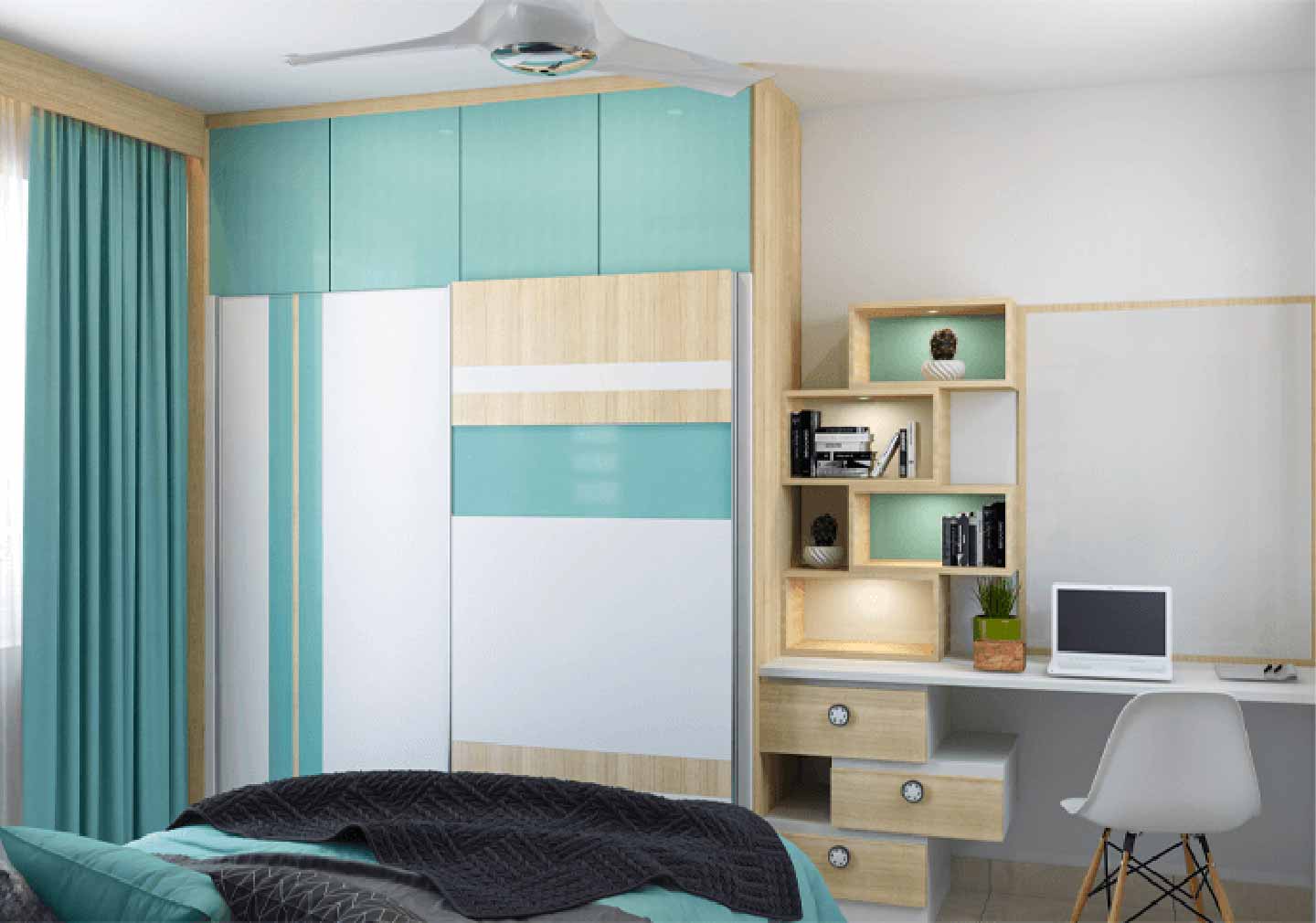 Segregate the Bedroom Space:
The false ceilings are not just to enhance the look of the interior. They serve a number of other purposes too such as dividing a room into two halves. Having step or layered false ceilings can definitely help in this case. If you have a separate study area or a seating area in the bedroom, having such a false ceiling with proper light fittings helps in segregating the sleeping area comfortably.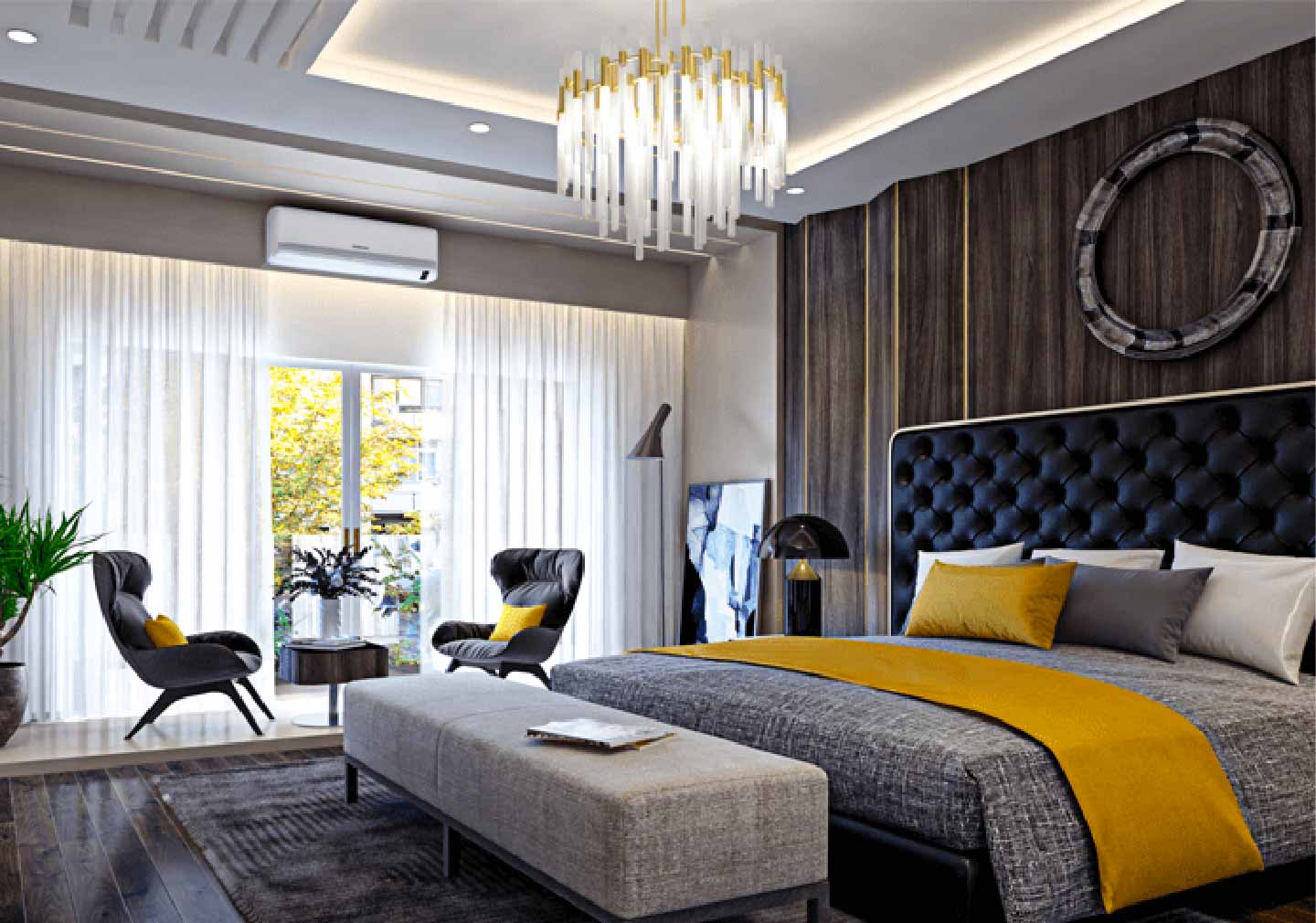 In -place of throwing out your heritage items such as furniture or other accessories, using them also can help a lot in decorating your bedroom. Today, antiques are in huge demand for home interior design purposes. So, if you have got some such options, try out adjusting them in your bedroom to make the interiors look better as per the latest simple bedroom design.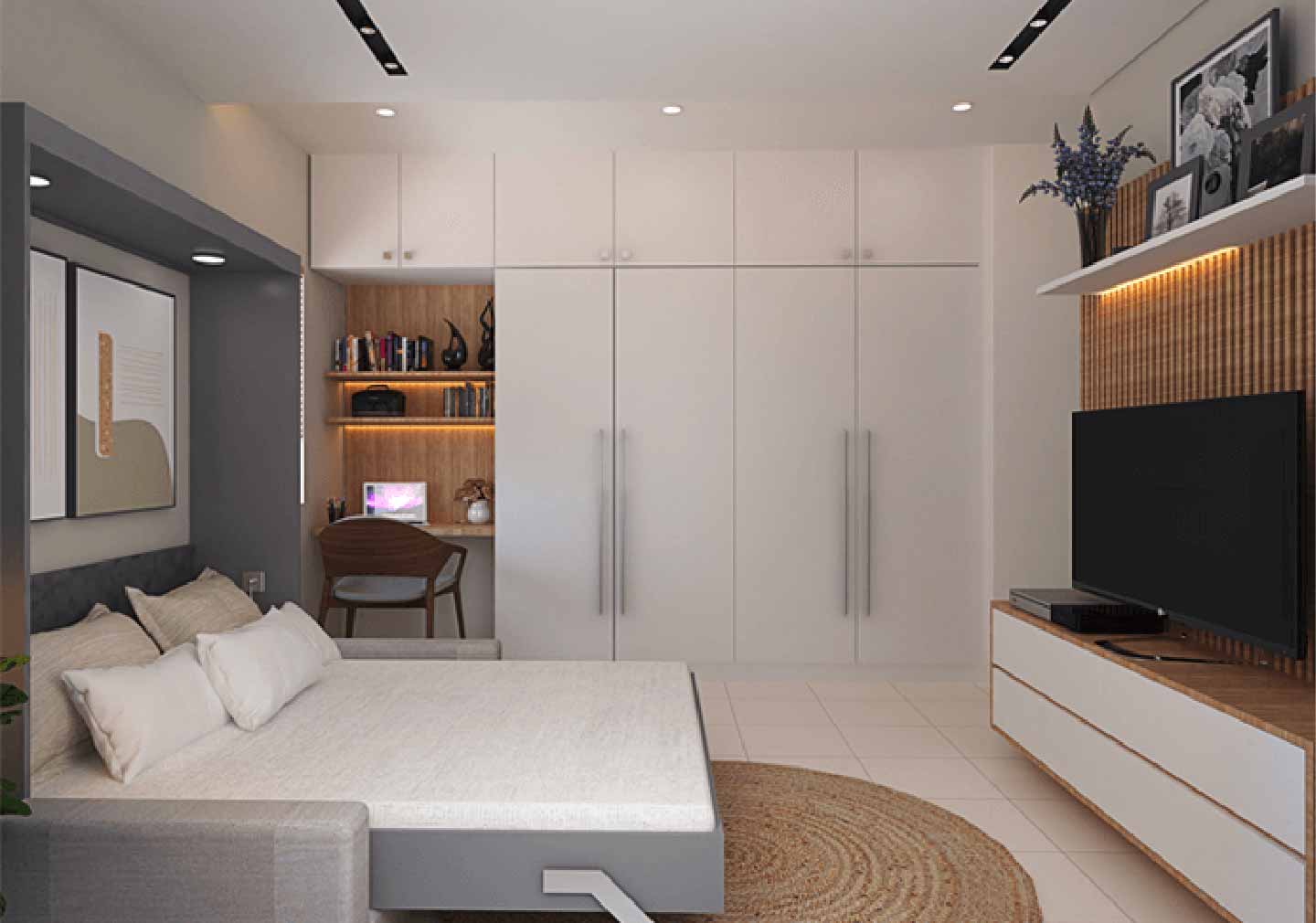 Decorating the bedroom does not mean that you have to make some dramatic changes. You can make use of a bedroom design that can still transform your old bedroom into something that is more charming and more comfortable than before.
For more bedroom design ideas, get in touch with Bonito Designs – top interior designer in Bangalore.
Transforming Small Spaces with Neutral Bedroom Decor
Transform your small simple bedroom into a serene retreat with simple decor ideas and strategic choices. Opt for a minimalist bed frame that complements the scale of small rooms, paired with sleek bedside tables to maximise functionality without overwhelming the space. Neutral tones become your ally in creating a soothing ambiance, as they open up the room and contribute to a sense of tranquility.
Discover the art of crafting a cozy haven through the subtle elegance of neutral colours, where the simplicity of the bedroom decor ideas enhances both style and comfort.
Start your journey with us and craft your
dream home
Make a statement, build a designer home.