Introduction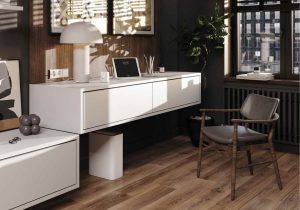 Due to the current situation, most of us are making do with adjusting our home to suit our needs when working from home. Working from home cluttering the dining table with paperwork even during dinner time. Or getting a terrible backache from the improper way we continue sitting on our couch all day long. And to be honest, it is not stylish nor energies us to power on through the workday. And it does not seem to be getting easier anytime soon.
As we settle into working from home for an extended time, it is high time to think of getting a designer workstation installed in your home, just for you. Take a look through our collection of stunning workspaces. Select the one based on your favourite design style. Be inspired to get started on your daily grind.
Bohemian Workstation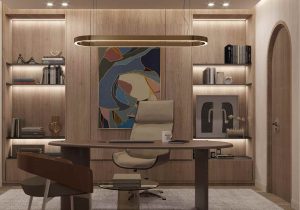 A Boho themed space with a bold statement color creates a vibrant, moody tone. The subtle use of natural cane or rattan if you prefer in the chair, tones down the drama for a soothing experience. With a Bohemian theme, bright colours are a must – be it on the wall or incorporated into the furnishing. In this setup, the quirky yellow table console brings a notable amount of brightness.
Contrasting the vibrancy of the furniture is the classic deep blue on the adjacent wall. The printed wallpaper keeps things fun and playful and makes sure you never have a dull moment. With a happy green friend by your side, you are all set to take on your meetings for the day.
Modern Contemporary Workspace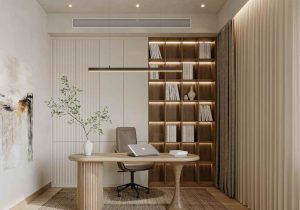 This Modern Contemporary home workspace is a small corner just for you. For the minimalist who likes serenity, we blend the perfect shades of neutrals to enjoy your work. With wooden shelves for putting on display all your favourite items. Or keeping your all-important documents handy.
A few small indoor plants sprinkled all over the shelves can also help keep the area smelling fresh. A custom pinboard to put up all those little memos and inspirational quotes to get you going. The classic Eames chair with wooden legs and sleek backrest is the perfect companion for you. Lean back and take in the view out the window in-between back to back meetings.
European Workstation
Positivity in work starts with the right kind of environment and the proper desk setup. The European design is a classic style that seamlessly blends. From the traditional European inspirations to a common man's dreams. Have an extra room that you're looking to transform into your study? This style is the perfect fit for having an office space of its own. With full-length glass windows illuminating it, the room remains bright and airy throughout.
The golden metal sawhorse legs make a bold statement with the sleek sheet of glass as the tabletop. Emphasise the writing desk's understated simplicity with a white leather high back chair. Adding stunning bold artwork on the wall behind the chair gives it a modern flair. This style not only captures the emotions of high-quality craftsmanship. It also brings out the comfort and style of nobility.
Traditional Workspaces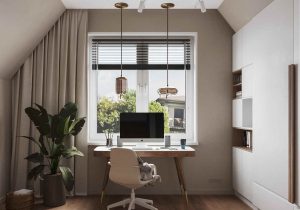 When we say old is gold – we know what will hit the sweet spot. This typical workstation has the traditional setup that is timeless. The ancient grandfather style of this setup makes some of us remember the good old days. And for some others having this at home gives them a sense of importance. Subtle color tones, dark wood, and light upholstery fabrics make for a perfect space. This style is ideal to be had in your bedroom and right beside the bed itself.
This chest of drawers is enough to stow away all papers and electronics when not needed. It helps to maintain a clean look for your bedroom. With a clear tabletop, it can also serve as a bedside table. Want to add some inspirations or moments that you cherish to the mix? This set of 4 oversized photo frames on the wall adds a bit of boldness to the overall theme. Hang your favourite family photo or put up pictures of places you want to go to someday.
No matter which design style you select for your new home office – maintenance and organisation is the key. It will inspire you to work from the comfort of your own space for a long time. Clean up after yourself after every workday and keep things away in their designated places. This ensures that your workspace is always ready for you to be productive. Whether you are required to spend hours working from home. Or dedicate a few minutes of your day-off in organising your schedule for the next week at work. Let your space always be ready to adjust according to your spontaneous needs.
Know more about how to be productive at your makeshift home workstations here.
Having a home office does not mean you remain cooped up in there during all times and miss out on precious family time. As stylish they might be and make it harder for you to leave it, we would encourage you to spend more family time in your similarly stunning Bonito home.