Bedroom Interior Design – Overview
A house is absolutely incomplete without a bedroom. This corner of the house is not just the place where you relax but also serves in many other ways. It can be the place where you get dressed to start your day. Also, it can be the place where you may love to spend your time reading a book on the study table. Moreover, a bedroom is one of the most essential rooms of a home.
As a bedroom is important, so are its interiors. A properly planned bedroom interior design happens to bring out true elements of the room. The right designs and the right aesthetics will invoke a sense of comfort that you can feel just entering the room each time. Hence, it is quite crucial to design the interiors of your bedroom in a perfect way or to leave the task to a professional interior designer.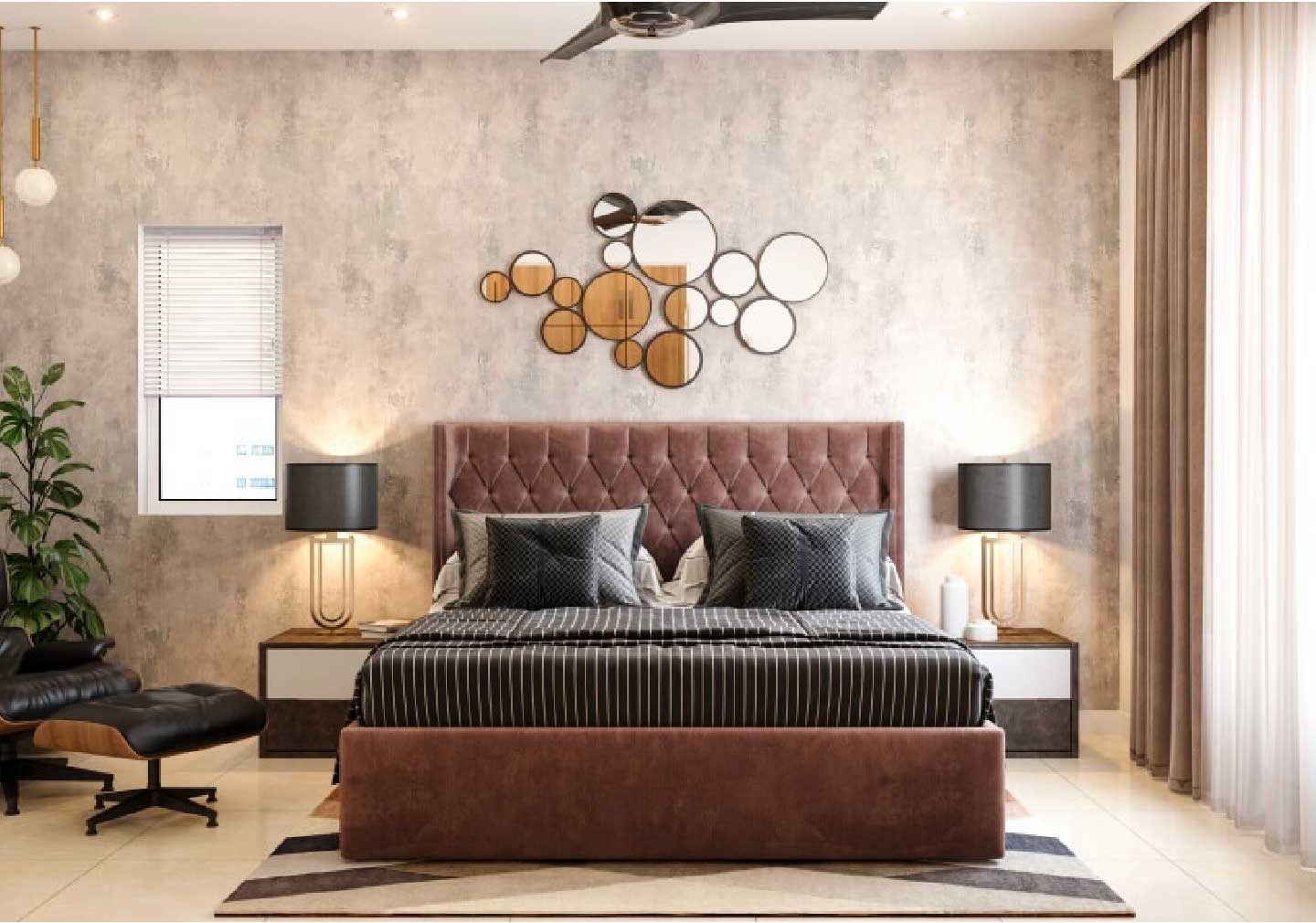 How to Plan Your Bedroom Interior?
If you have taken on the burden of creating your bedroom on your own, you should prioritize one task at a time.
Planning to begin with!
If you start remodelling your bedroom without abrupt planning, surely you will not get the result that you have opted for.
So, what should your planning revolve around?
Here are some of the major points that you should keep in mind while planning your bedroom interior design.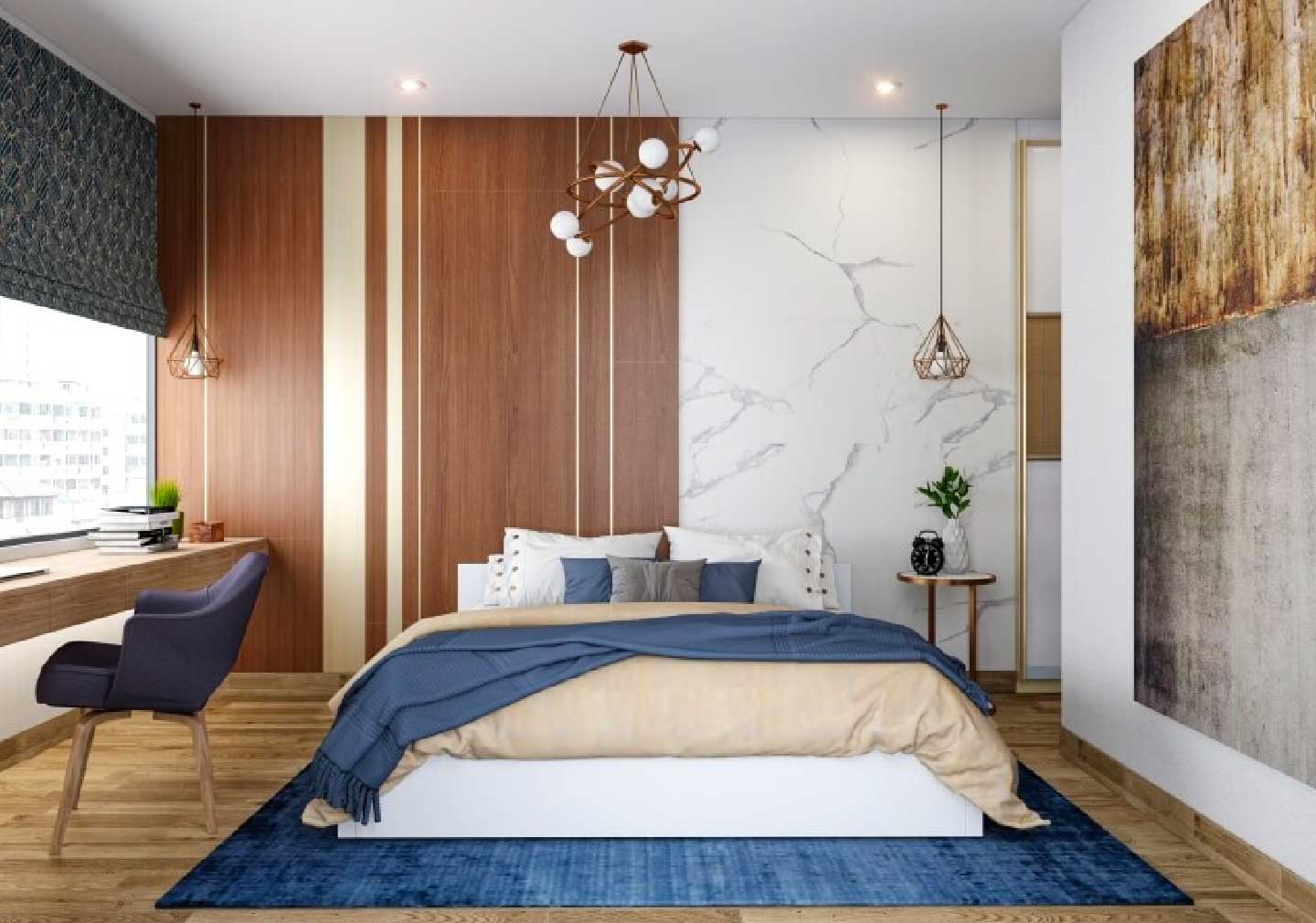 One of the major mistakes that many homeowners make is that they choose a design that makes their small bedroom look even smaller. Of course, if you have a huge bedroom or one of a standard size, you can experiment with different designs. But if you have a smaller room, you need to make sure to choose the designs carefully so that it does not make the room appear dingy and congested.
Bedrooms are known to be best if they have ample natural light sources such as a huge window or an entry to the balcony or terrace. Even if you step into your bedroom just to take your goodnight's sleep, it does not mean that you will keep this room dark. If there are not many natural light sources, make provisions for a good number of bright lights that you can use up as and when required.
In order to offer a dramatic look to your bedroom, a great idea is to select a theme for it. It can be anything from bohemian to modern, or anything else. Of course, you can also sync the design theme of the bedroom with the design theme of the entire house.
Once you have decided upon these eminent elements, do not forget to have an analysis of the budget that you can afford in designing the bedroom. It can always happen that you might lose track of your expenditure and you might, later on, realize how much pressure you have exerted on yourself with unnecessary expenditures. Hence, always fix a budget that you can spare on the bedroom interior design before you start implementing the plans that you have curated.
Tips to choose the right interior colours for your bedroom
It can be a tricky thing while choosing the right interior colors for your bedroom. The selection of the colors can depend on a number of factors.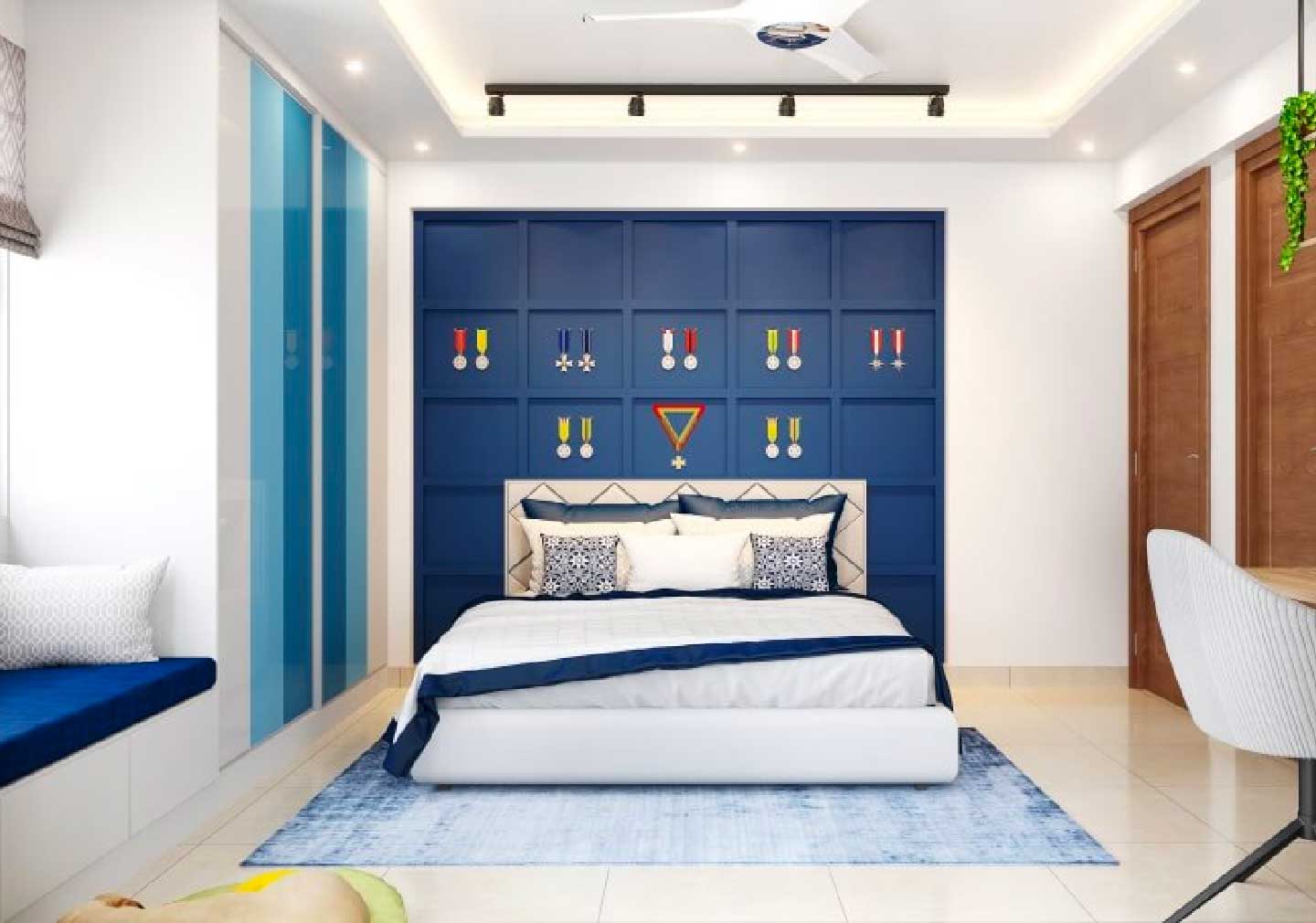 If you are someone who strictly follows the Vastu rules, then you will surely look for the colors that are appropriate for the bedroom. The Vastu experts and professionals have mentioned some eminent colors that are held to be perfect for the bedroom walls. These are:
Red
Orange
White
Green
Purple
Brown
While choosing colors as per Vastu, also make sure to check on other points such as the size and the theme of the bedroom.
If you have a smaller bedroom, you need to be very careful while choosing the color for the walls. Choosing dark shades such as brown or black can make your bedroom look even smaller and congested. In such a case, you should focus more on the brighter or the nude shades such as white, light pink, and similar.
If you are planning the interior design of your bedroom, you must have also thought of a theme around which you are planning the designs. It can be either some complementing the other rooms of the house or you may have decided to offer a unique theme to your bedroom. Whatever it is, you need to make sure that you choose the right colors that can efficiently reflect the theme that you have selected for your bedroom.
How to plan the wardrobe of your bedroom?
Now, many people might think about what is so difficult in planning a wardrobe in the bedroom? Well, there can be a number of things that you need to focus on so that you do not end up regretting afterward.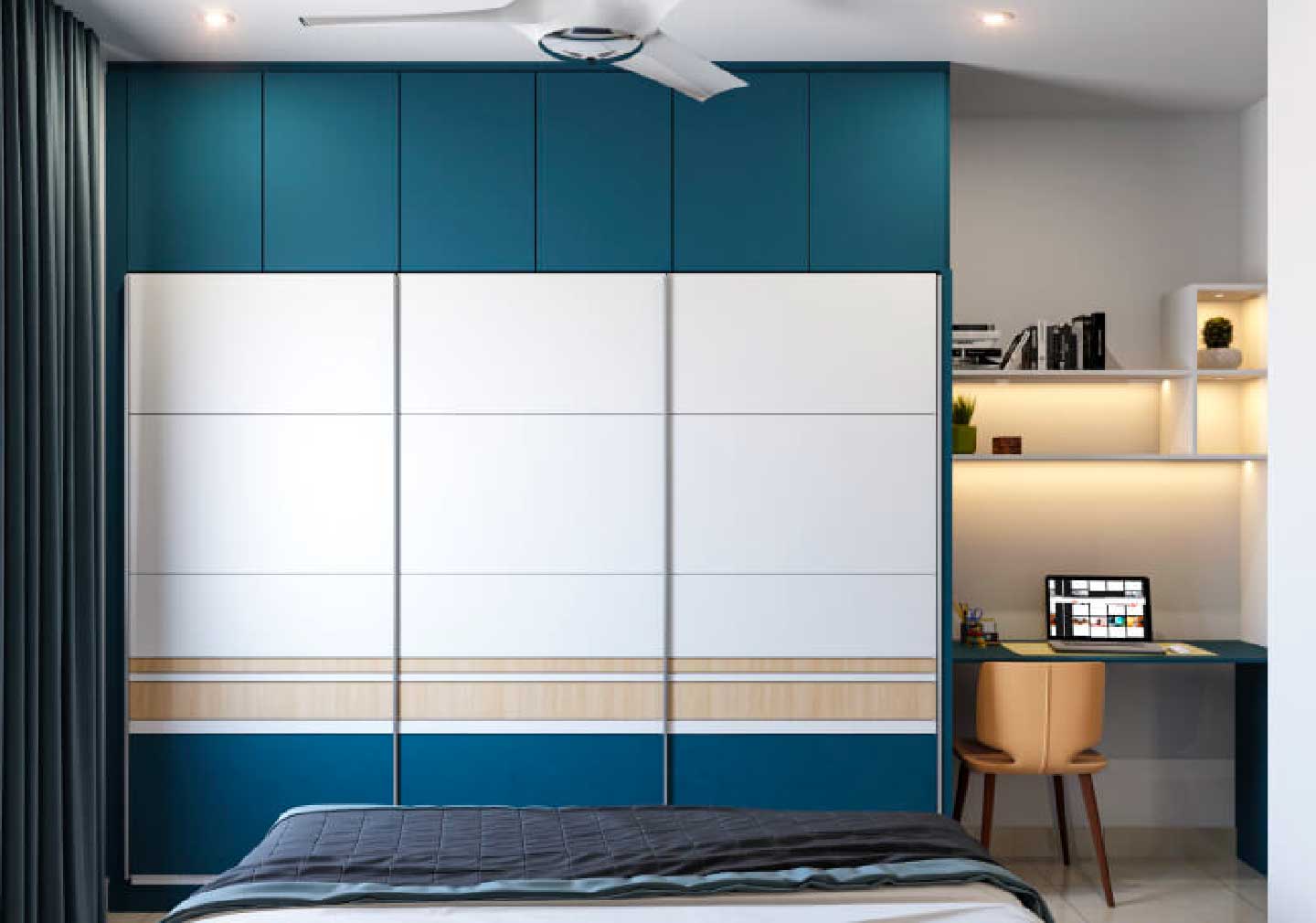 First, decide whether you want to have a fixed wardrobe installed or you wish to keep a freestanding one. If you are not sure yet where you can have your wardrobe in the best way, it is the best idea to get the freestanding one so that you can move it around as and when needed. But if the whole bedroom design is planned well, you can always have a built-in wardrobe.
Choosing the right location is very important while getting a wardrobe for your bedroom. It should be located in such a place that does not make the area congested and there is a place of traffic even when the wardrobe door is open. If the bedroom is small, it is always ideal to have the wardrobes on one side with sliding doors.
Make sure to have a wardrobe with proper dimensions. If you are installing a dressing area also in the bedroom, then, of course, you will need the wardrobe for just your clothes. But if the bedroom is not sufficient enough to house a dressing area, then you need to have enough space in the wardrobe to get segments that are for your other accessories apart from the clothing.
If you have thought of a theme for your bedroom, of course, the wardrobe will be a part of the theme. But if there is no such theme, you should make sure that the design of the wardrobe should complement well with the design and styling of the other furniture available in the bedroom.
Wallpaper or paint for your bedroom interior design?
When it comes to the walls of the bedroom, you may dream of several patterns and textures. While many people still stick to the use of wall paints, there are so many other people who prefer to have wallpaper installed in their bedrooms. Now the decision of having wallpaper or paint for your bedroom interior design depends upon several factors and your choice.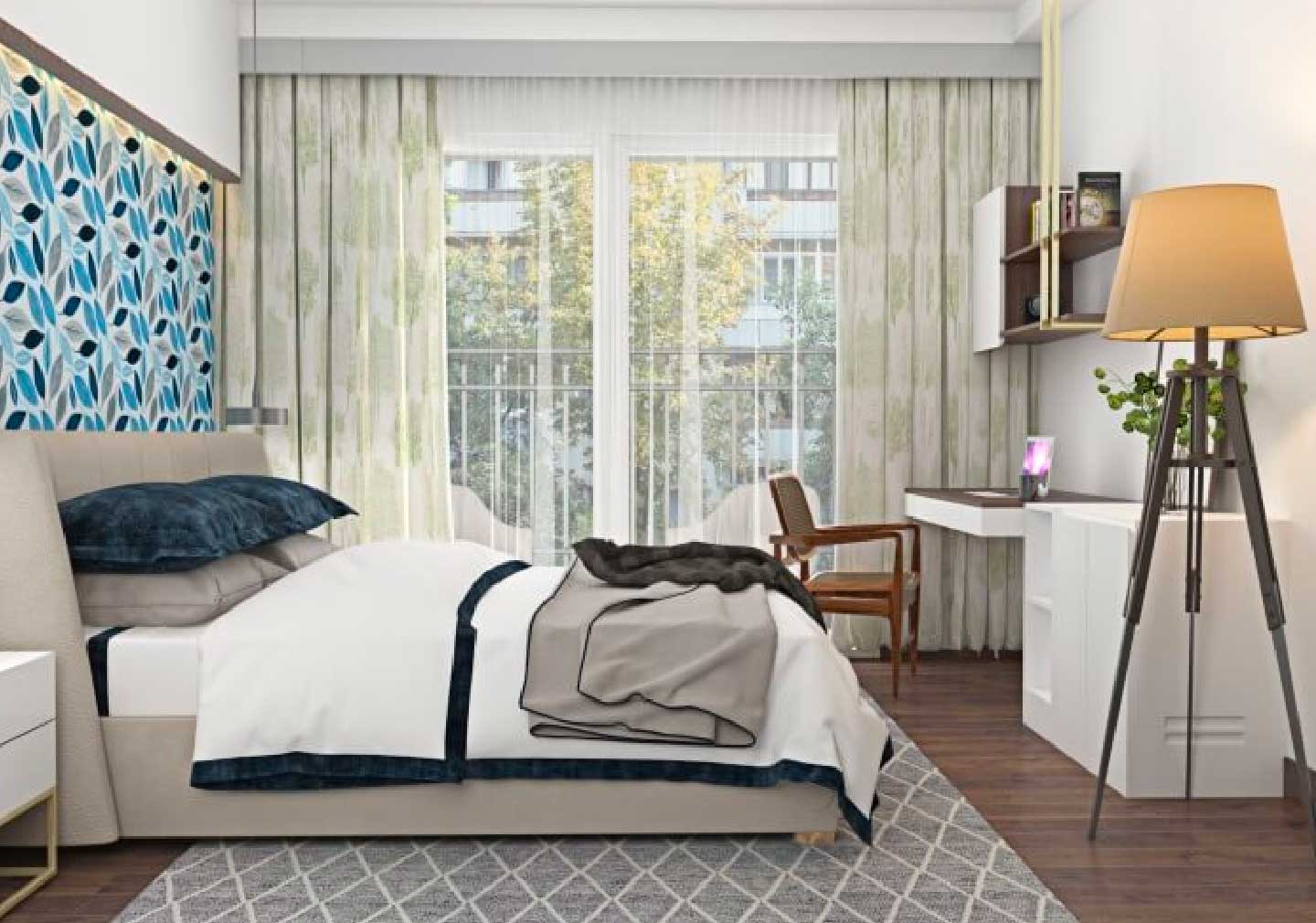 The Textures and Patterns:
Wallpapers are available today in diverse textures and patterns. You can choose from a wide range of options available to get something that suits the theme of your bedroom. But if you are looking for the customization option, then you should definitely go with the wall paint option.
When you are looking for something that is highly durable, then you should definitely go for the wallpapers. Usually, the wall paint will last a maximum of 5 years after which you have to paint your walls again in order to get the luster back. This is not in the case of the wallpapers. They last much longer than the usual wall paints.
If you are thinking of designing your bedroom on your own, then the application of wallpapers can be a tough task for you. While it may seem to be a simple pasting task, it is not as easy as it seems to be. Pasting the wallpapers in the right way on your walls to get the desired results needs a lot of precision and practice. Hence, you will require professional help. Similarly, while you may succeed in painting the walls with the usual wall paints, if you wish to have wall paint art done, you will require professional help.
Wallpapers are much more expensive than the usual wall paints. But these days there are also some wall paints available with better results that are expensive too.
Tips to Choose Bedroom Flooring
The most crucial part of any bedroom is the flooring. Often homeowners plan about the furniture, the decor, but forget about the flooring. But it is important to pay some attention to the flooring as it enhances the look of the bedroom even more. Here are some of the tips that you should keep in mind while choosing bedroom flooring.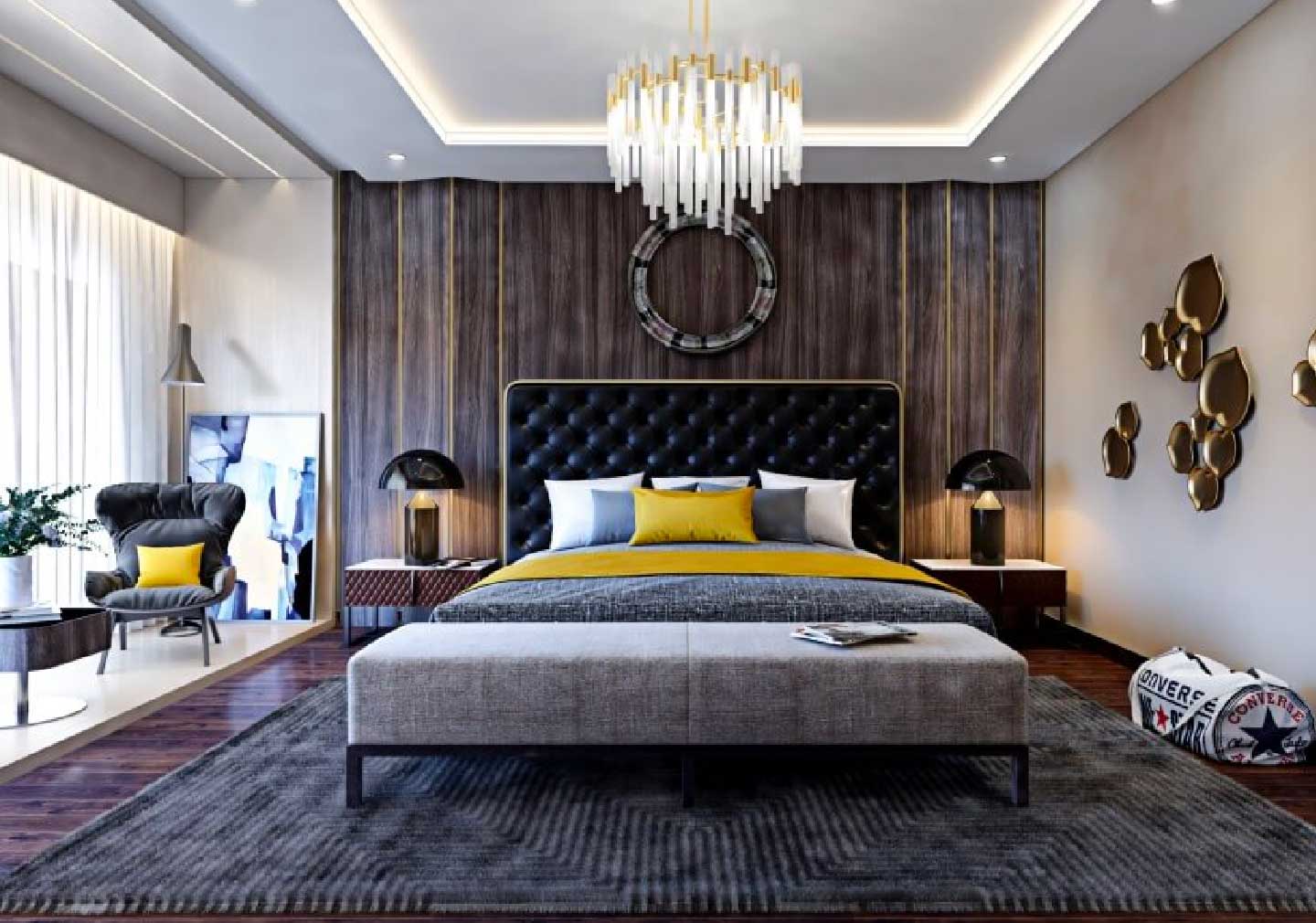 The very first thing that you need to check out is your comfort level on the flooring. The bedroom is for relaxation and comfort, so you should pay heed to the comfort of the flooring. Hardwood or laminates are some of the most comfortable flooring options to have.
If your bedroom sees a lot of activity, you should also consider the flooring's durability. Having ceramic tiles or stones in such a situation is a fantastic idea.
As you need to match your furniture and the ceiling with the theme of the bedroom, you also need to get flooring that matches well with the already planned interiors of your bedroom.
While selecting the bedroom flooring based on the above factors, do not forget about the budget that you have set for your bedroom interior design.
Bedroom Lighting & False Ceiling Ideas
Having proper lighting and a false ceiling in your bedroom not only just beautifies the room by concealing the wiring but also offers a uniform brightness. There can be several bedroom lighting and false ceiling ideas to go for.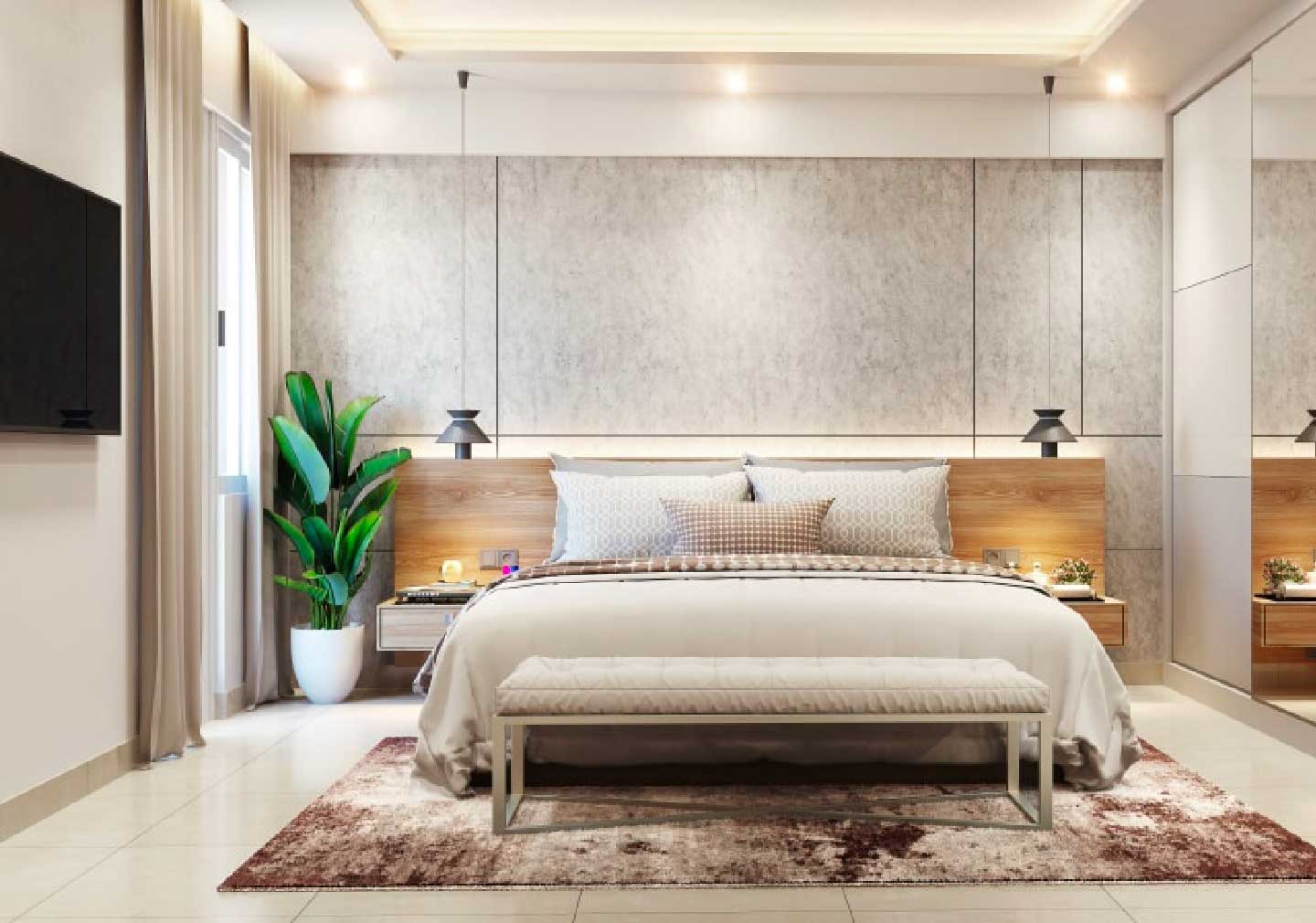 Peripheral False Ceiling and Lights:
This is one of the most common lighting solutions if you have peripheral false ceilings. They not only offer uniform illumination to the room but also offer an attractive look.
Cove Lights:
After peripheral false ceiling lights, cove lights are another high in demand lighting option for the bedrooms.
Spot Lights:
Spot lights are great options if you wish to segregate different zones in the room. If you have a study area in the bedroom, you can have different spot lights over your bed and your study table so that you can use them as and when required.
Floating False Ceilings:
These false ceilings are available in different patterns such as clouds, stairs, and others to offer a dramatic look to the room. Such dreamy patterns are mostly used in kid's bedrooms with fancy colors and fantasy design ideas.
CNC Ceiling:
While CNC designs are most commonly used in the living room or puja area, many people are using this style in the bedroom too. The combination of lights in this CNC ceiling offers a great look.
Built-in Lights:
Similar to the living room, these days many homeowners prefer to have built-in lights in their bedrooms too. If you have a TV unit, you can have built-in lights in them. Also, you can install such lights on the headboard of the bed. There are many other ways to incorporate these lights such as in false walls, closets, and others.
Lamps:
Study lamps may sound old-fashioned but they can add a tint of trend in your bedroom if installed in a proper way. If you have kept a traditional theme for your bedroom, you can not just install such lamps on your study table but also on the side tables of the bed. There are several stylish lamps available now that can easily meld with the theme and design of your bedroom interiors.
Apart from the above-mentioned ideas, there are also many customized options available today such as extending the headboard of the bed till the ceiling and so on.
Curtain Ideas for your Bedroom Interior Design
Curtains are an obvious element in your bedroom to seek privacy while you are entering your resting zone. There are several ideas to let these curtains offer a stylish makeover to your bedroom.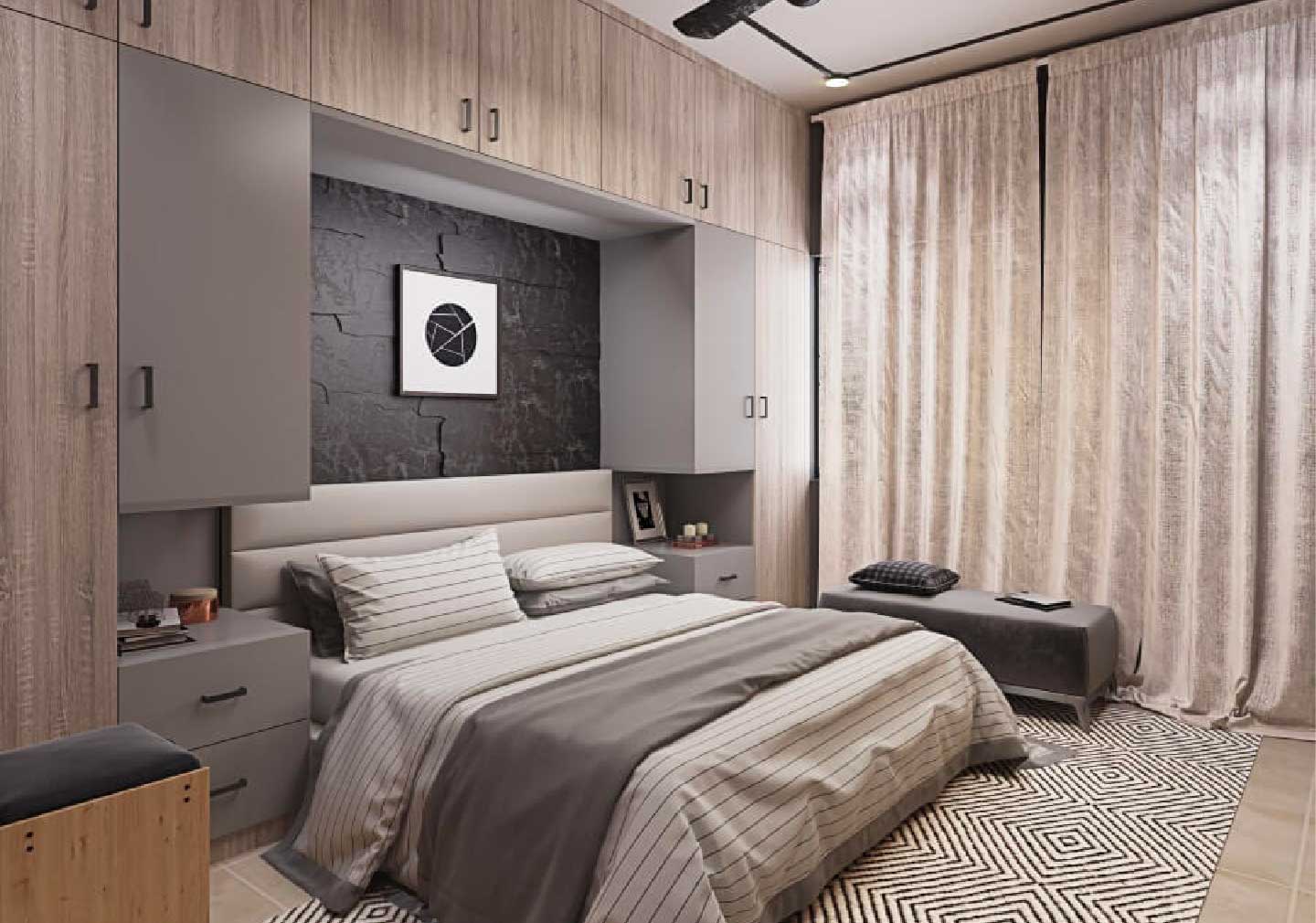 Patterns:
If you have kept your bedroom simple, then adding curtains with patterns can bring a drastic change in the whole interior. You can choose from geometric patterns to floral patterns, and many more, depending upon the already set interiors and your taste.
Lined Curtains:
If privacy is the thing that you are concerned about the most, then lined curtains are the elements you would love to have. Even when you have bright lights in the bedroom, these lined curtains are great in reducing the disbursement of lights from the room, ultimately offering you the desired amount of privacy.
Fabric:
If comfort is all you crave about, then you should definitely focus on the fabric of the curtain. In place of investing your time on satin or silk curtains, turn your head towards cotton and linen curtains. These are great for the summers and also choosing a soothing color offers a soothing feel to your eyes.
Use of Voils:
If you are tired of just the curtains, then you should try out something new to introduce freshness to your room. Try adding velvet curtains that match your bedroom walls or match up your curtains with sheer voiles to come up with a unique look.
Modern Bedroom Interior Design Ideas 2023
Though there are so many bedroom interior design options available, the modern interior design idea is something that is high in demand lately. If you are also a fan of the modern bedroom interior design, then are some of the ideas that you are trying out from the year 2021.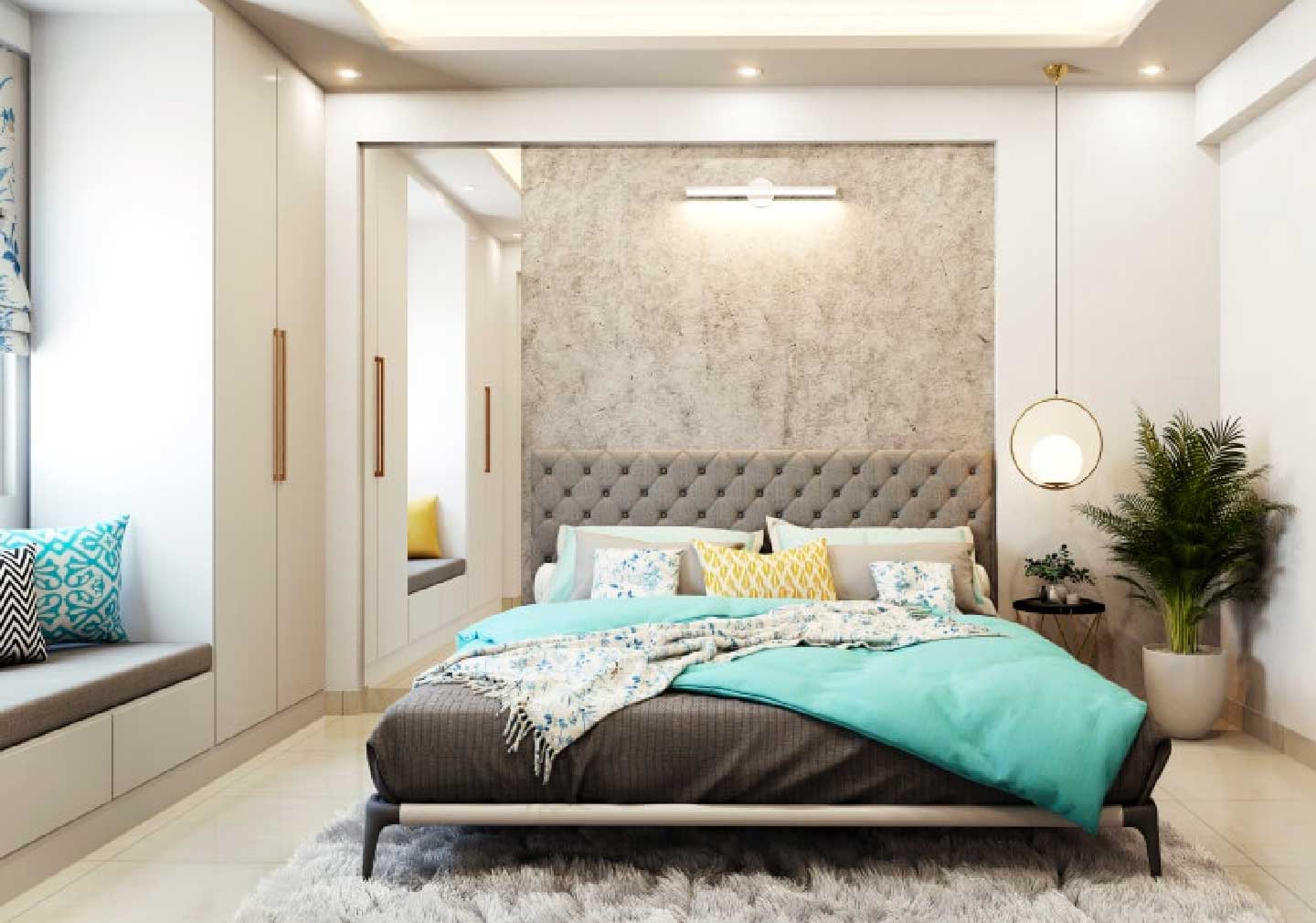 Use of nude shades:
One of the most basic things is to add up nude shades to the walls. When you have nude shades on the wall, adding some pop of colors through accessories or upholsteries can create the right amount of drama in the room. But make sure not to add too much as it can destroy the whole modern look that you are trying to perceive.
The Lights:
The use of LED strip lights is the next great thing that you can do to offer a modern touch to your bedroom interiors. Along with the strip lights, install designer lamps on the side tables to bring out the sophisticated side. The use of pendant lights or cove lights can also work well with the modern bedroom interior design.
Mirrors:
The use of frameless mirrors either on the wardrobes or on the walls will make the room look bigger and spacious. Also, it will add up to the sophistication of the interiors.
The Textures:
The modern interior implies the use of geometric textures such as a rectangular bed, square false ceilings, and others.
Keep in Minimalistic:
Though minimalistic and modern are two different designs, keeping minimalistic elements in the room is another way of getting a modern approach for sure.
While the bedroom is the place where you wish to relax forgetting about anything else, designing this small heaven of yours is equally essential. Designing your bedroom interiors is not just necessary for making it look trendy but also to offer you the right amount of comfort and relaxation.
Of course, a bedroom with soothing interiors will offer you more comfort than the one that is dingy and messed up.