Importance of colors in interior design
Color is simply energy, energy made visible. They have a profound impact on our thinking ability, intellect, and emotions. It is important to have an appropriate balance of Vastu colors for home to feel fresh and live a healthy life. As per the Vastu Shastra, our home is divided into multiple directions and each of them has specific color enunciation. A modern home surely abides by the vastu principles. We have previously shared the aesthetics about modern home interiors which you can also check out & get inspired for your dream home designs. . However, it is impossible to inculcate all the colors in one abode. The hues influence the home and the inhabitants, so having that right color is vital for your space.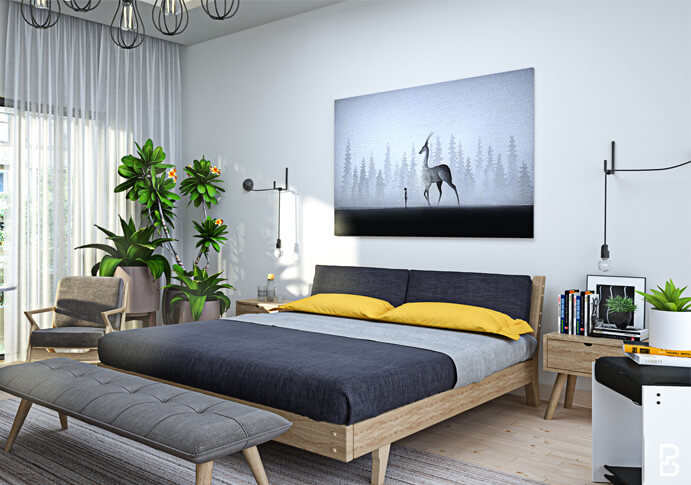 Different rooms, different colors!
Here's a concise list of colors in line with Vastu Shastra to attract positivity.
Living room:
Living room is often the first glimpse of your entire home. So Vastu Shastra tips advise against using dark shades in space. The space represents our personality and style; thus, it should be energetic and appealing. Living room usually occupies the north, east or northeast direction. The colors best suited for the living room as per Vastu could be white, shades of yellow, green, and light blue. Touch of beige can also make you feel relaxed and calm, while choosing any tone from the same family can also be a great option. It is advisable not to use dark shades for this area. Pastels and warm prints in upholstery and wall décor can also work as a great option for ushering the right balance in the room.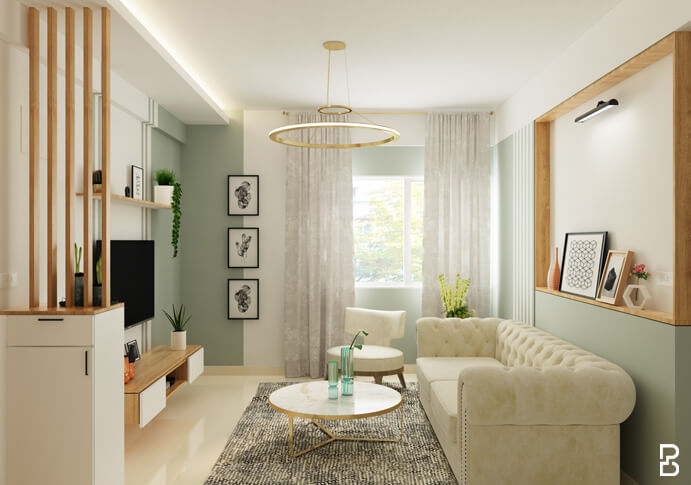 Dining Room:
A place where the entire family unites for the meals and gathering, Vastu suggests the use of warm colors like peach, shades of orange and tones of yellow which fosters happiness, joy, and creativity. Situated in the east or southeast portion, adjacent to the kitchen, the area is sometimes kept open. So, colors which are opposite to each other; like black and white should strictly be avoided in this space.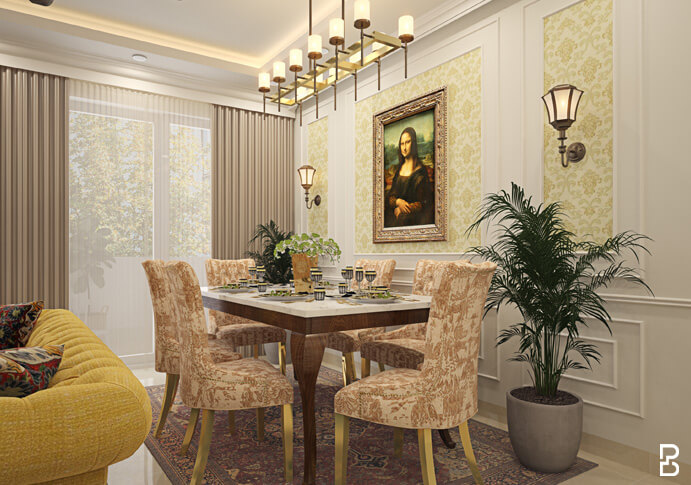 Kitchen:
Kitchens are constructed in the southeast section of the house which signifies the Agni Kon, the fire corner. According to Vastu, some colors can create a good impact on our health leading to better digestion and increased metabolism. These colors are scarlet red, light brown, burnt orange, mustard yellow and shades of green can imbibe prosperity in the kitchen space. Its highly recommended to avoid blue in the kitchen as this represents Varuna- the God of water which is a contradiction to fire! Having lively colors can lift the mood and vibrations of the person making the food specially in an Indian kitchen. You can also check out some simple kitchen designs and get your space ideas.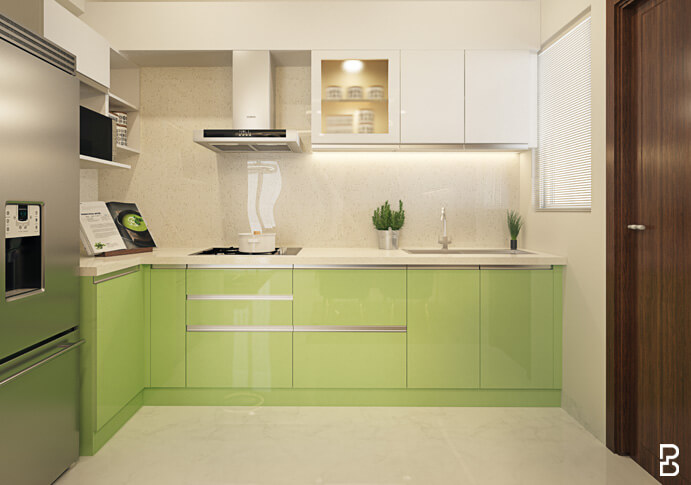 Kids Room:
Northwest and west directions are the best for kid's room construction. The room for these buds should always foster their growth and improve their personality as their tender age reflects growth and development. Some of the colors which you can use for the children's room are light green and shades of light yellow. These colors can help them concentrate better and improve their focus. Avoid using dark colors as it can create health related issues. Childhood signifies youth, joy and clarity so light colors can be the best option for this space. Also, red should not be there in the list as it can invigorate temperament in them. So be wise while choosing the best for them.
Bedroom:
Vastu Shastra principles states southwest to be the ideal location for the master bedroom. Peace, rest and relaxation- one would like to have the best time in the master bedroom. This room can have a variety of color options to choose from. Shades of pink and red symbolizes gratitude and admiration, strengthening the bond between the couple specially the newlyweds. Tinges of earthy colors like brown and tints of gold can work well in the room which encourages good health and stability. If you're looking for a more chilled out zone, light blues can also highlight the area, harnessing peace and positivity. If it's a room for a bachelor, orange can also invoke great strength and potential. Using a combination of this with the above-mentioned colors can also ensure balance. Avoid grey in this room for better energy.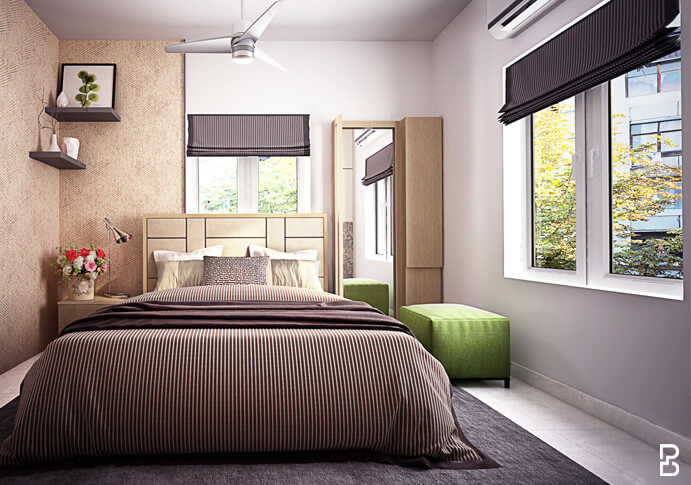 Bathroom:
Talking about the bathroom, an important private space in our house, the area occupies the West portion. The best colors recommended for this functional space are light colors like white, light yellow, lime, light pink and also light blue. As they are compact, dark colors should be a big no even while selecting floor options and wall tiles. Otherwise, they will make the area look smaller and also exude negative vibes. Beige and cream can also be good considerations which will undoubtedly make the space look classy.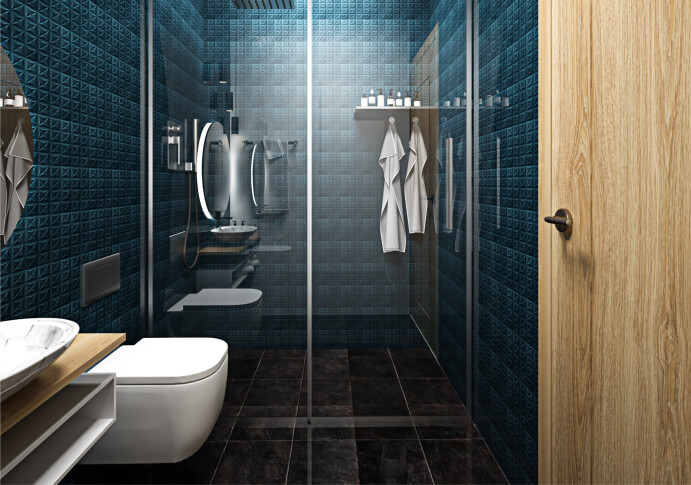 Other Rooms:
Furthermore, choosing color wisely for other specific areas can benefit a lot in maintaining positivity and zest in life. According to Vastu, the entrance door leading to the lobby can be in the north and west. North signifies new opportunities, hence, green for the main door would just be the apt color. If the door is there in the west which is governed by the wind, blue will be perfect for gaining auspiciousness. Having a car is now more of a necessity in the house which leads to the construction of garages. Light colors yet again prove to be appropriate for this area. White, cream and yellow are good ideas and would lead to better visibility, avoiding shadows. Balcony fits well in the north and east direction in any plan that also connects us with the exterior world. A big assertion to light, calm and warm colors from the palette like blue, cream and pastel green for the décor can work wonders. Meditation room which is also known as the pooja room in any Indian Household is considered the most peaceful and pure spot in the house. Usually planned in the northeast direction, this spot should be filled with white or cream hues. Orange and yellow might also be preferable as that radiates a lot of energy. Painting any one wall in light blue or green should also prove goodness. Dark colors should be deniable as they create distraction in the spiritual path.
How can we help you?
Who doesn't want that pop of neon or that subtle metallic touch in their favorite zone? You can have all your likes with much sagacity! Following some simple color guidelines as per Vastu can fill your abode with positive omen and joyful energy. So choose the best for you and live beautifully. Bonito Designs ensures that all your designs are Vastu friendly. For more information, connect with us and share your queries!