Who hasn't dreamed of a luxurious walk-in wardrobe adjacent to their bedrooms or of high-quality modular wardrobes that are smart on storage? One of the most desired aspects of home design is the requirement of stunning wardrobes, also known as cupboards.
It helps when one is organised in style. While the complete collection of cupboards may be impossible to put together, we at Bonito Designs bring you 7 modern bedroom cupboard designs that you will want in your bedroom.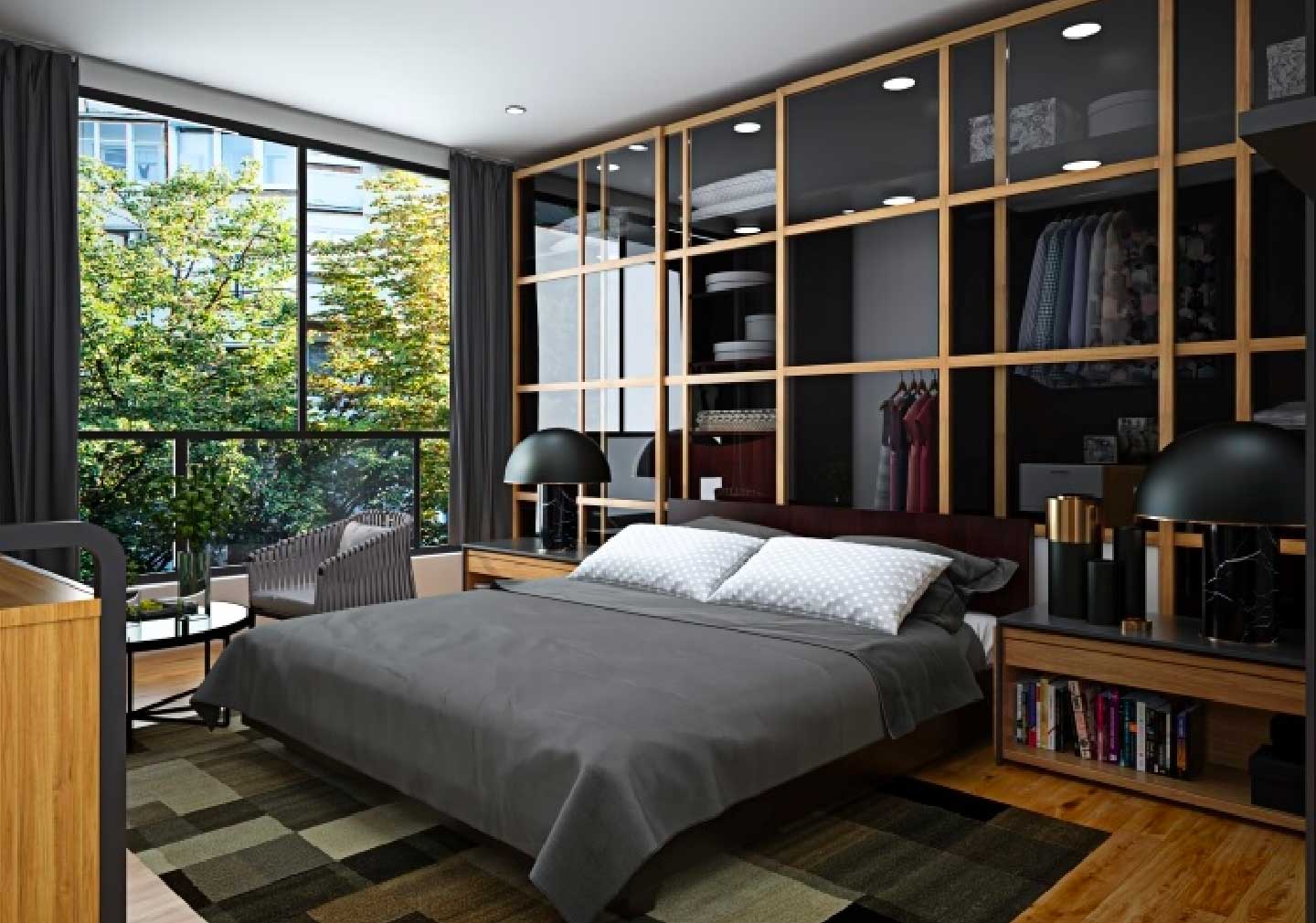 A modern bedroom cupboard design needs to have the right mix of design styles. This bedroom features a full-length glass wardrobe that houses both clothes and storable items.
A relatively contemporary look and different from the usual Indian bedrooms, but not impossible to obtain. Clear glass sliding doors seamlessly cover the cabinets with high-quality slider mechanisms. As visualized here, setting up the wardrobe on the wall behind the headboard also allows you to have a multipurpose accent wall of sorts.
From an adult bedroom to a kids bedroom, the cupboards' look and feel are entirely different. In a kid's space, bright, vibrant colours with materials that are durable are incorporated. This particular visual features a traditional pull-open wardrobe in pastel shades to suit the decor of the room.
Overhead storage cabinets add extra storage to compromise for the space taken up by the study desk. An added extension, the study desk, is a part of the cupboard itself and helps to utilize the space better.
Know your Style
Before selecting the perfect cupboard designs for your bedroom, it is recommended to fixate on a certain theme for the whole space. Only then the cupboard will fit in like a perfect puzzle piece. If you are still undecided on the overall layout of your bedroom, check out our guide on Everything you need to know about Bedrooms.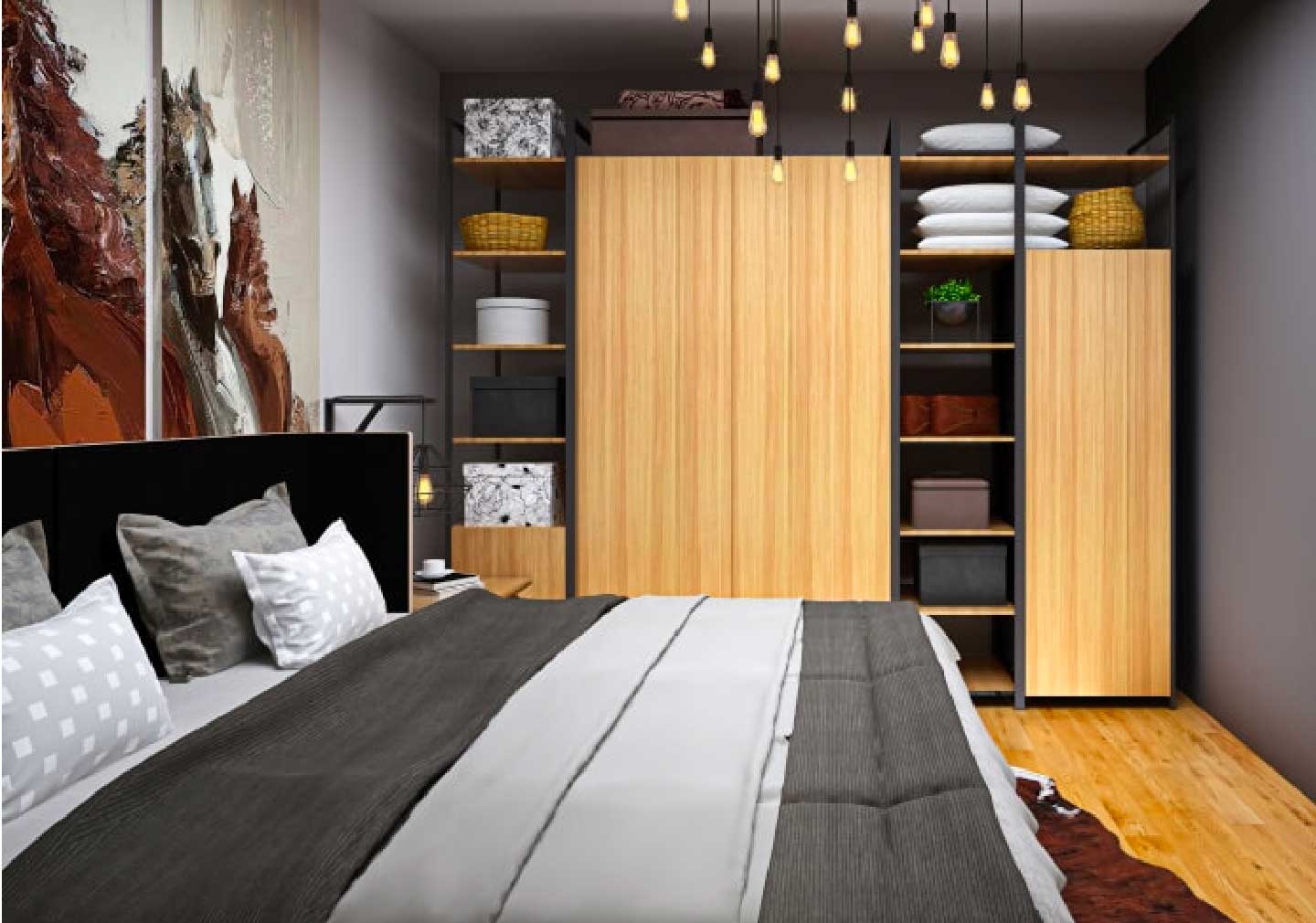 If you are one for the minimal look that Industrial design style provides, then this cupboard design for bedroom is for you. A very bare and exposed set up that does not hold back on storage. A perfect addition to guest rooms where the need for extensive storage for clothing will not be required. Customisation on these type of wardrobe is available with most interior designers.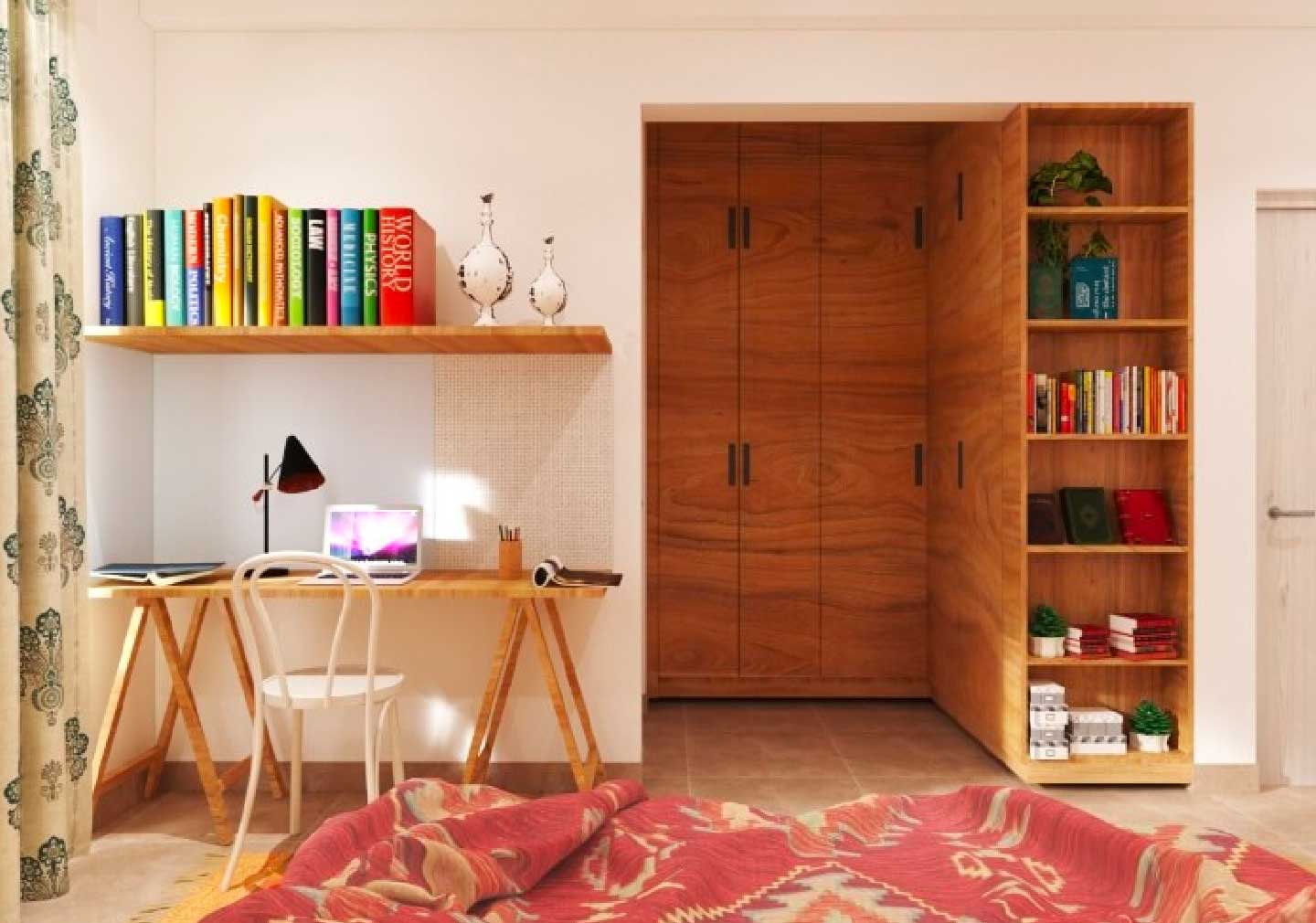 This cupboard is halfway there in being a walk-in closet. These cupboard designs fully utilize every aspect of the room and increase the storage capacity without looking overbearing.
In this visual, where the exposed part of the cupboard is transformed into an open shelf, it helps in the overall look of the bedroom. These cupboard designs are mostly made on-demand from interior designers after a thorough study of the bedroom floor-plan. If your bedroom does not allow space for a dedicated stand-alone wardrobe, then this alternative is your best option.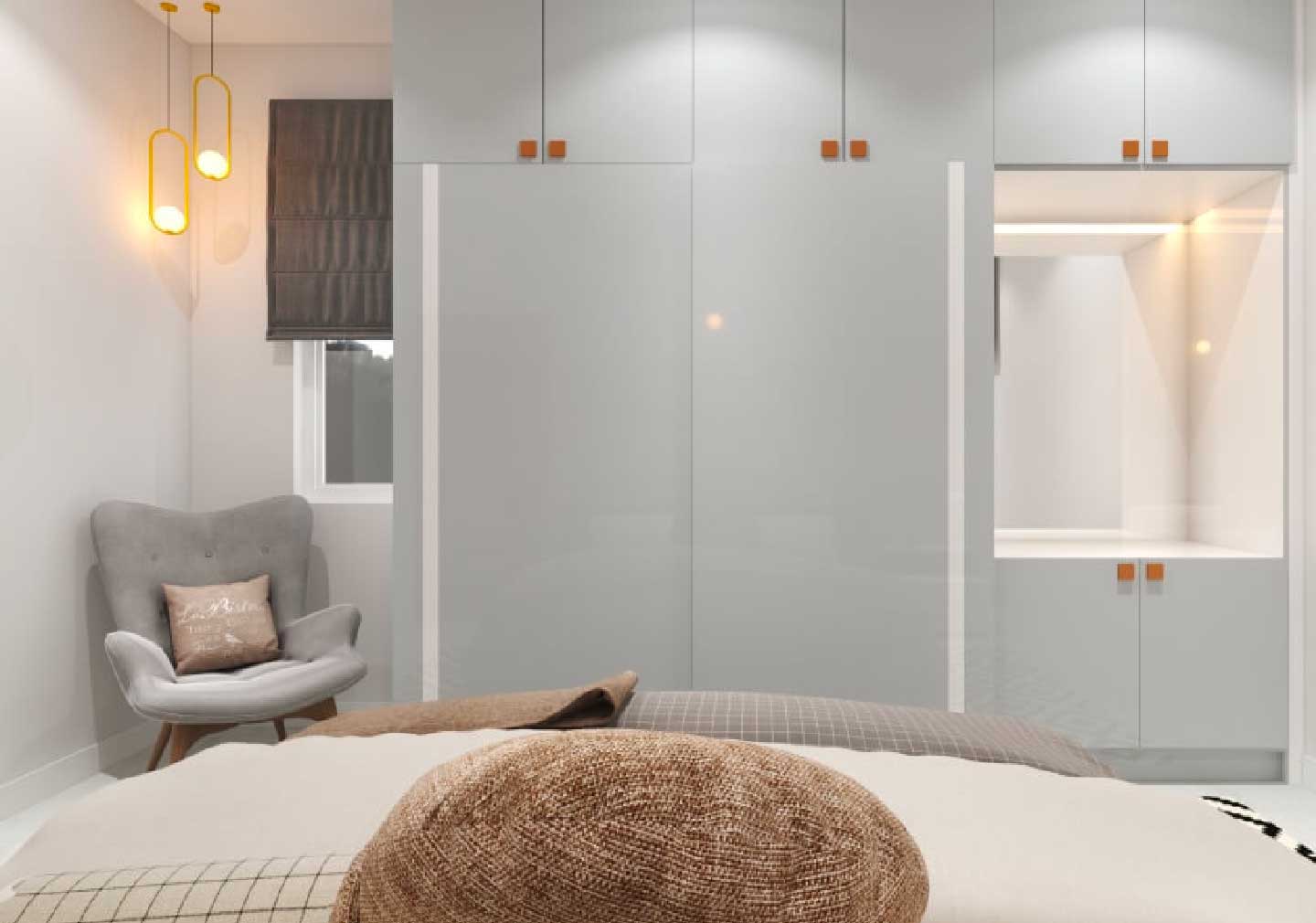 A style that incorporates all the best types of cupboard designs. A truly unique and versatile addition to your bedroom, this type of bedroom cupboard elevates the style quotient. With the main storage area featuring sliding doors, bedroom floor space is saved by dismissing the pull doors.
Adding the vanity mirror next to the cupboard eliminates the need for burying another wall behind a standalone dresser. With hundreds of laminate finishing and colors available, one can have this structure seamlessly with the color scheme.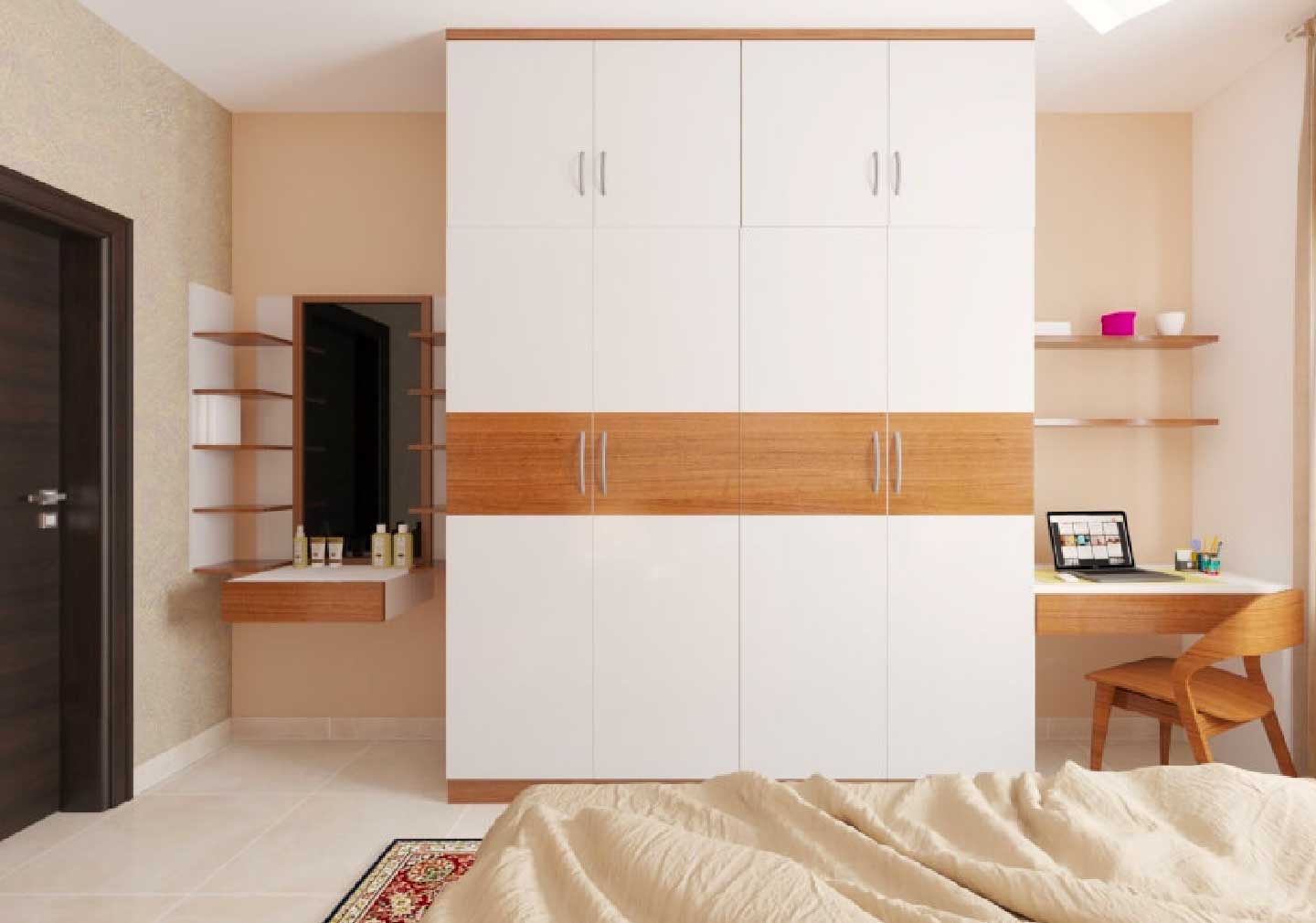 Clothing storage has come a long way since the humble beginnings of a chest of drawers, a set of coat racks, or a lonely cupboard at the corner of the room. Now bedroom cupboards are taking centre stage and how! Stunning simple designs like the one visualised here brings you both form and function into the bedroom space.
A Scandinavian design style incorporates the polished finish of wood – this cupboard design itself brightens up the whole room. A very welcome divider between work and play, it's simple design makes it a feel just at home.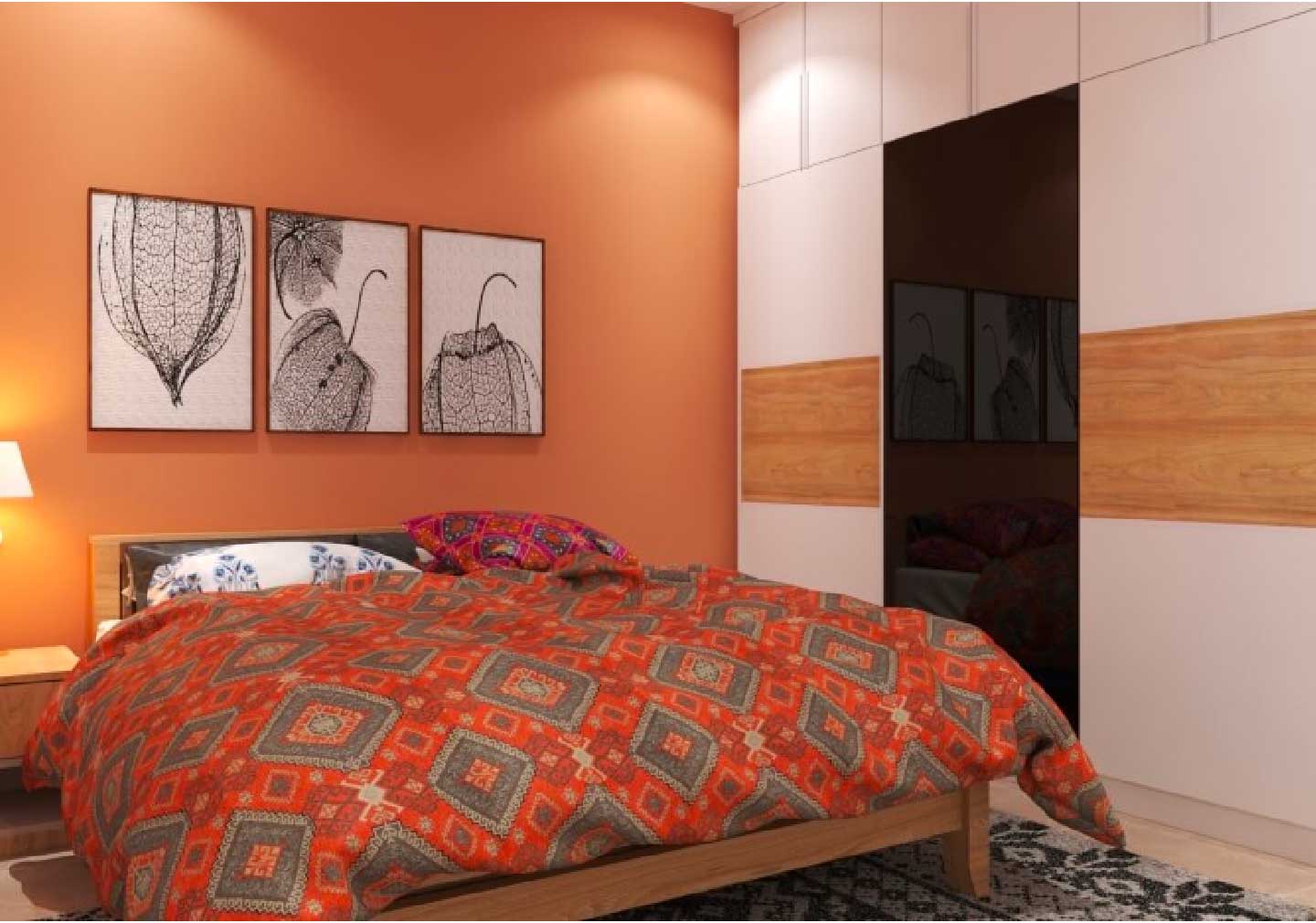 If Scandinavian is a bit too simple for your taste, add a bit of jazz to the cupboard design with a striking panel of lacquered glass. A glossy addition to the otherwise matte finish, the bedroom feels a bit more adventurous. Another option one can go for is adding a full-length mirror panel. Test your outfit of the day right as you pick them out!
While spacious closets fit in well with a bigger floor plan, smaller bedrooms do not have to sacrifice any luxuries. Consult with your designer to explore endless options and enjoy the designer lifestyle.  For more information on designing the perfect home interiors for your new address, talk to our Design Experts today, and let's start creating your bespoke home together.