Kitchen designing can be challenging. Although it should reflect your individual design taste, kitchen décor should be useful and practical. Given their purpose, kitchens are occasionally overlooked as a room that can be decorated in the house. But, because the kitchen interior design is the heart of the home and a gathering spot for family and friends, it should have a personal touch, just like any other room in the house.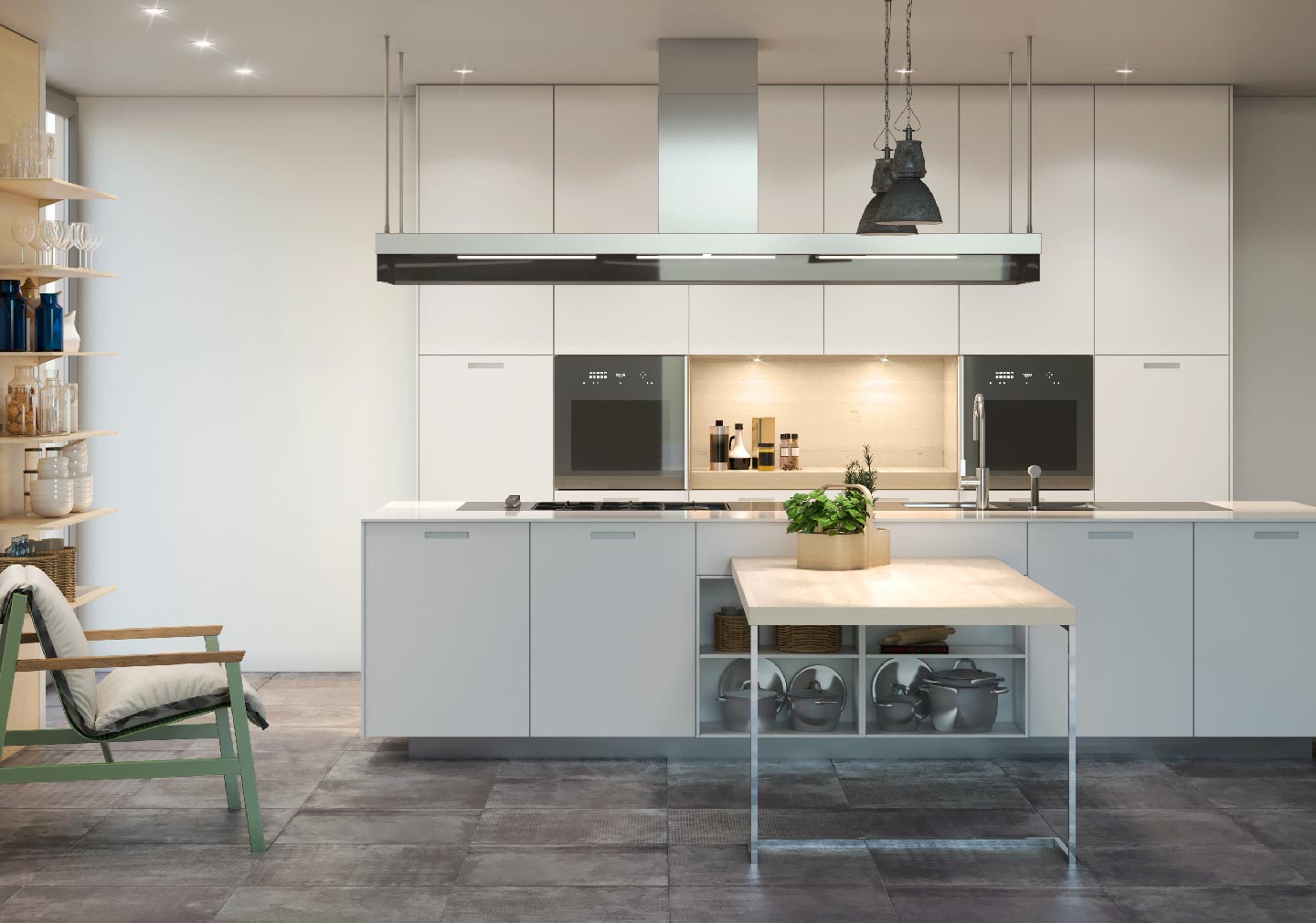 There are several chic methods to tidy up the center of your home, the kitchen. It also doesn't have to be yet another pointless waste of money initiative. Changing the look of your kitchen may be simple, quick, and inexpensive. Most importantly, it will look fantastic when everything is said and done.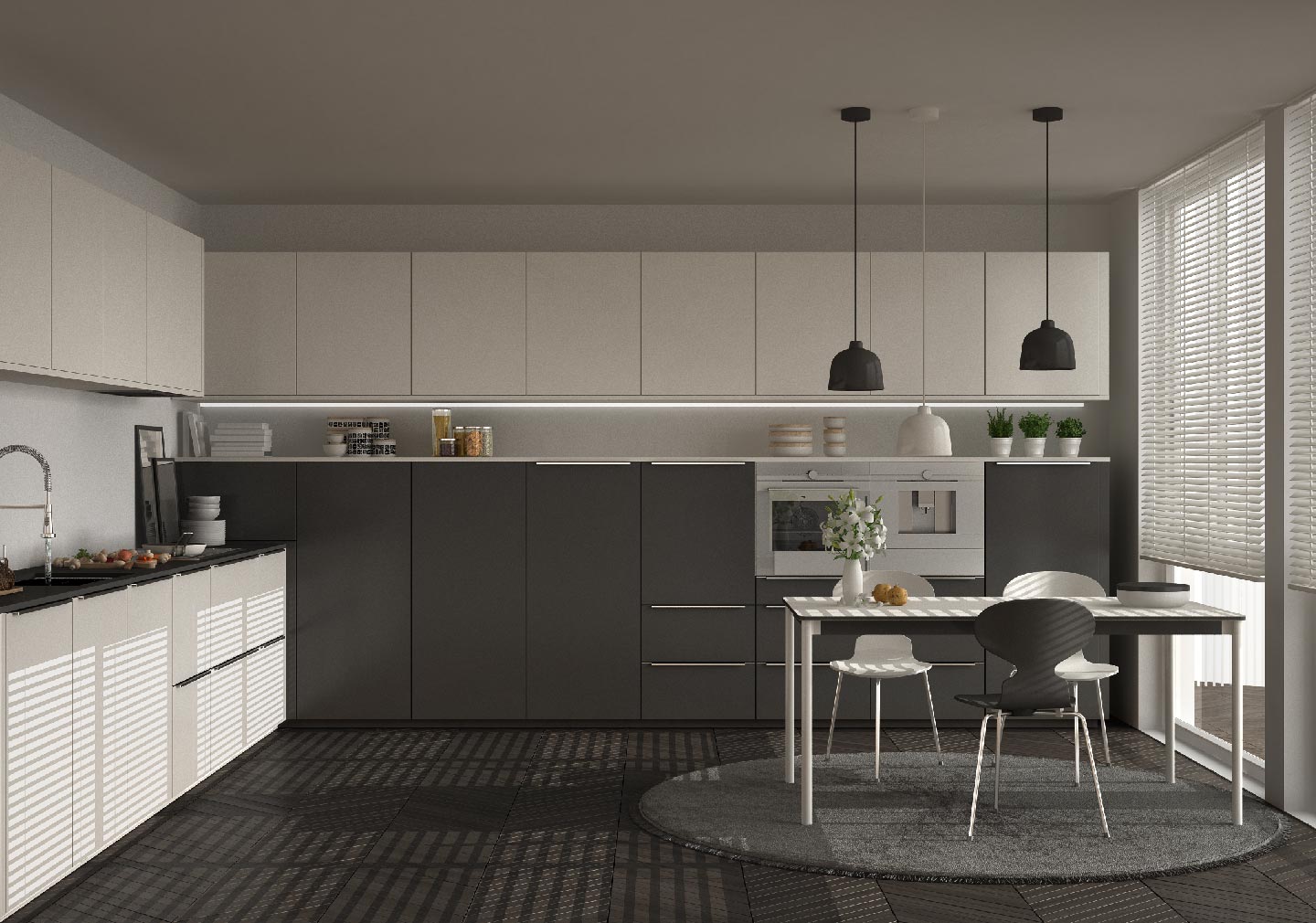 Indeed, adding accessories to the latest modular kitchen design may significantly improve how it looks and works. Here are some incredible recommendations on how to accessorize a kitchen so that it is both fashionable and functional!
Accessorize your kitchen interior design with these 5 stylish ideas
The way you furnish your kitchen interior design has a big impact on how you feel there. Yes, it is crucial that the design is usable. Yet, once you've designed the ideal layout and acquired premium appliances, the decorative accents give the room character and encourage you to spend more time cooking and spending time with family there.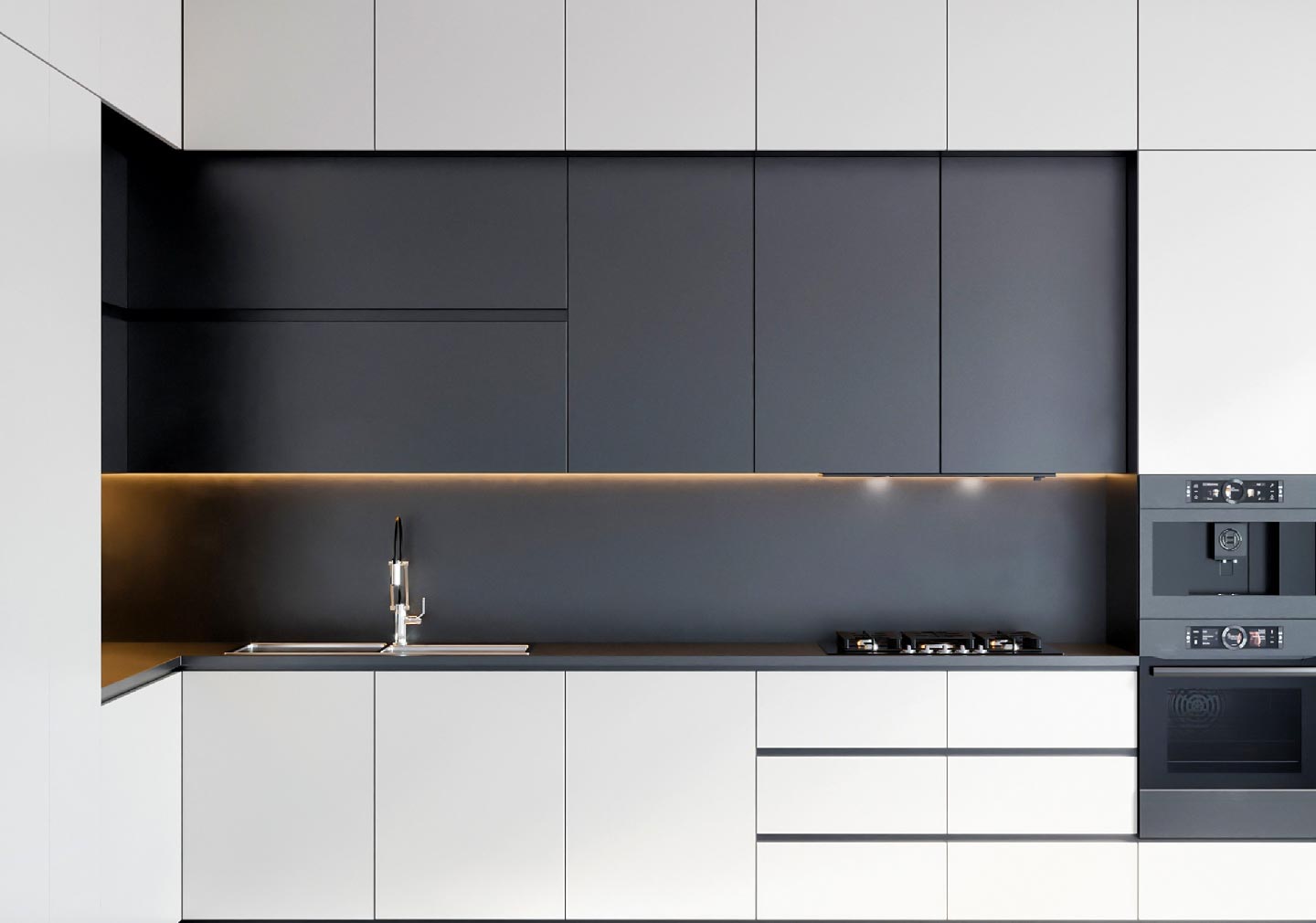 We've put out lots of kitchen decorating ideas, materials and finishes to get you started, whether you're looking for a simple kitchen refresh (like new kitchen flooring!) or want to give your area a completely different vibe (imagine a European restaurant feel). Don't forget to think about integrating the kitchen trends that industry insiders predict will be popular in 2023 for kitchen interior design.
We have many ideas for how to make your kitchen interior design a pop spot, whether it is blatantly trendy or traditional with just the right finishing touch.
If the kitchen is not that big then adopting creative lighting configurations is a terrific way to accessorize your kitchen. Cool and unique lamp shades, specially pendant lights over counter tops or island tables, encourage originality while also adding wonderful colors and intriguing textures to the decor.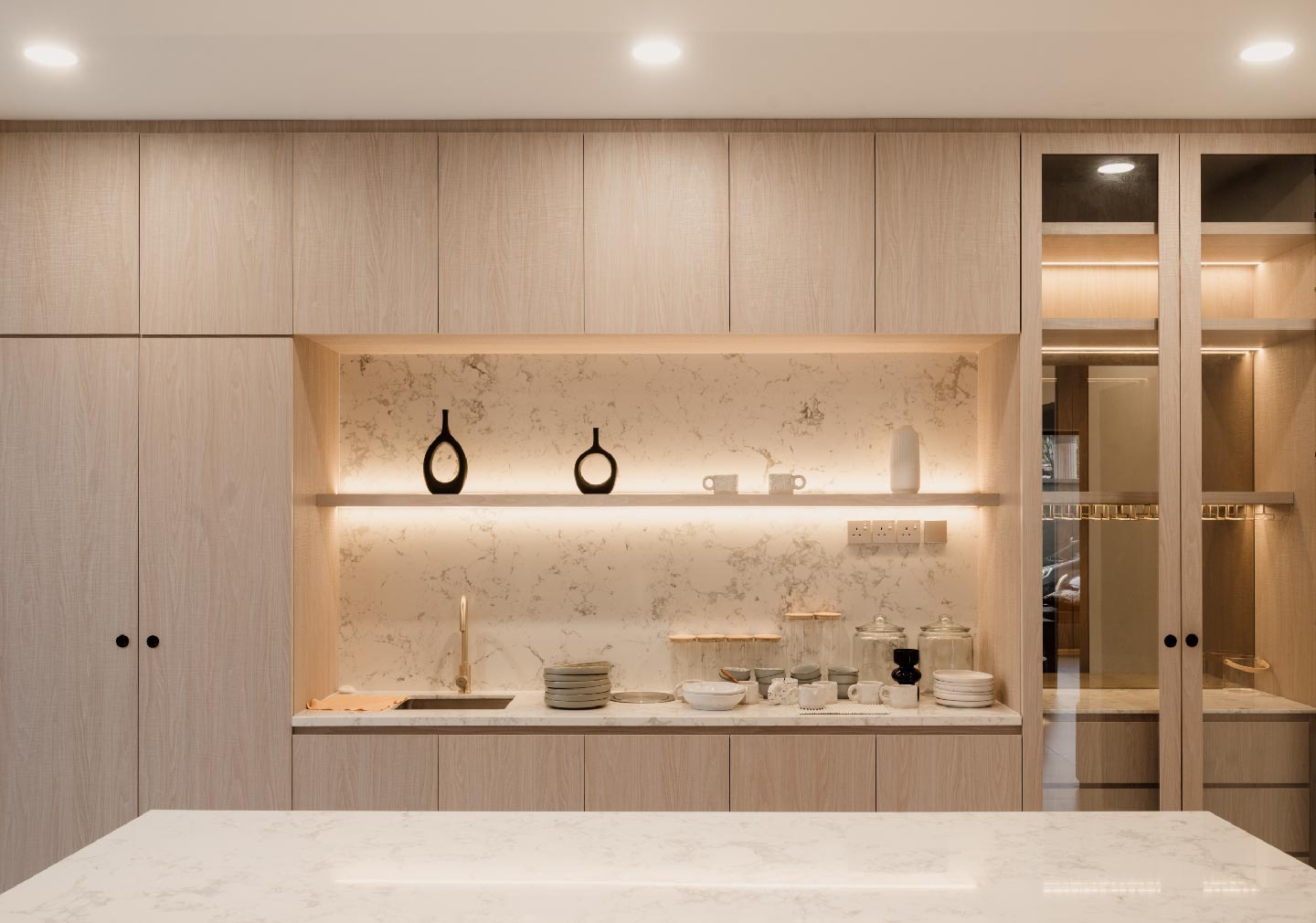 Utilizing lights with different heights can also be a great way to give your kitchen lighting and space a distinctive appearance. For instance, if you choose a modular kitchen hanging light, the dynamic offset of the various heights can give your kitchen a unique edge. Similar to how you can make your kitchen stand out by picking something striking and vivid like a geometric ceiling light. Without a doubt, it's the best accessory on the desire list!
Adding some greenery is one of the best ways to beautify the kitchen. The kitchen benefits greatly from the color, texture, and life that plants bring. Herbs, succulents, and small potted plants are excellent choices for kitchen accents. These can be put on shelves, counters, or window sills. Plants enhance the kitchen's aesthetics while also enhancing the air quality.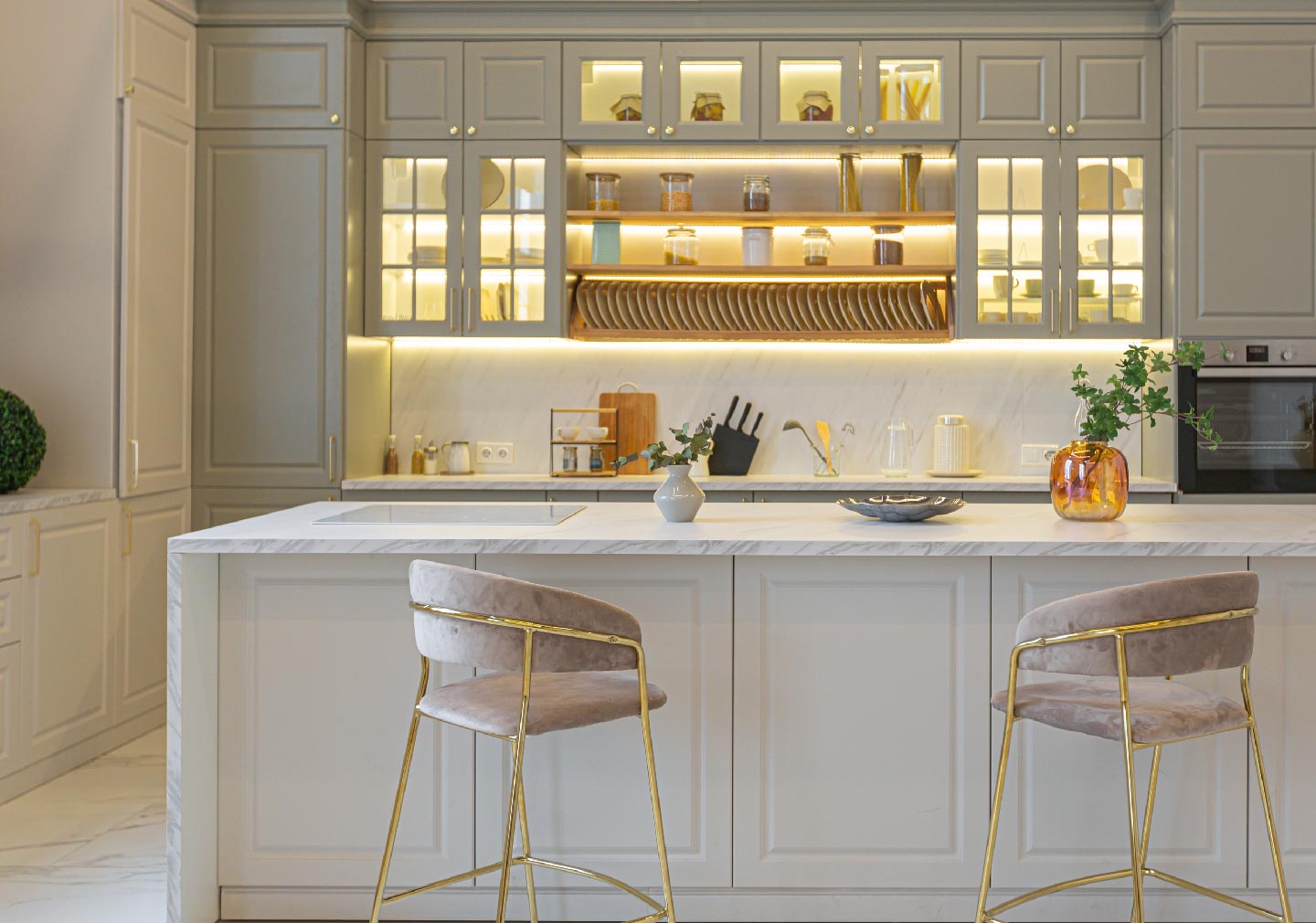 Plants can be used in a variety of ways for kitchen décor. Your modular kitchen design can gain new dimensions as a result of their various sizes, shapes, and species. They're a terrific way to incorporate texture and warmth by adding little amounts of greenery.
Do you lack a green thumb? Not to worry. Even herbs are good to go. There are practical, low-maintenance alternatives to real plants, such as topiary balls, fake plants, and decorative fruits and vegetables. Mint, basil, and rosemary are simple to grow and can be utilized in cooking with ease.
Make it personal through artworks
Both on your counter and as hanging from your walls, kitchen art looks fantastic. Simply put one canvas up against a wall, or group several related artworks together. Put family photos in your modern kitchen design to make it more personal. As long as it's far from the action, there are no spills or splatters to be concerned about.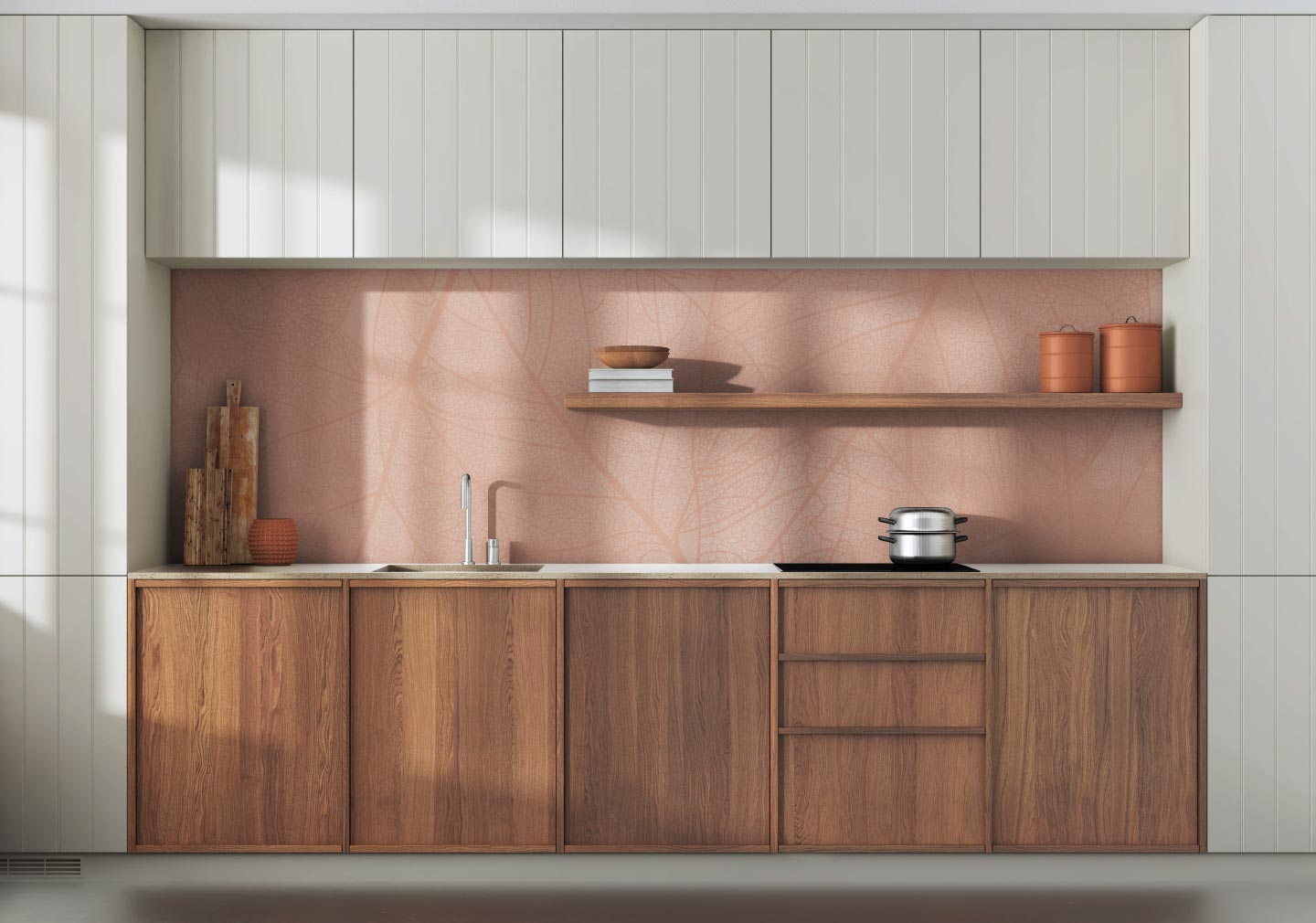 Artwork is the best way to embellish the kitchen. In the kitchen, artwork can provide color, texture, and personality. You can select artwork that goes well with the kitchen's color combination too. You can also select artwork with culinary or food-related themes. The artwork should be displayed on a wall or shelf that is visible.
Wallpaper is unquestionably in style right now, in both kitchen and bathroom design. Why not add a chic stretch of wallpaper to a feature wall and match it with open shelving to provide a striking area to showcase artifacts. Add colors to the wall of kitchen interior design according to Vastu which can bring prosperity in the home too.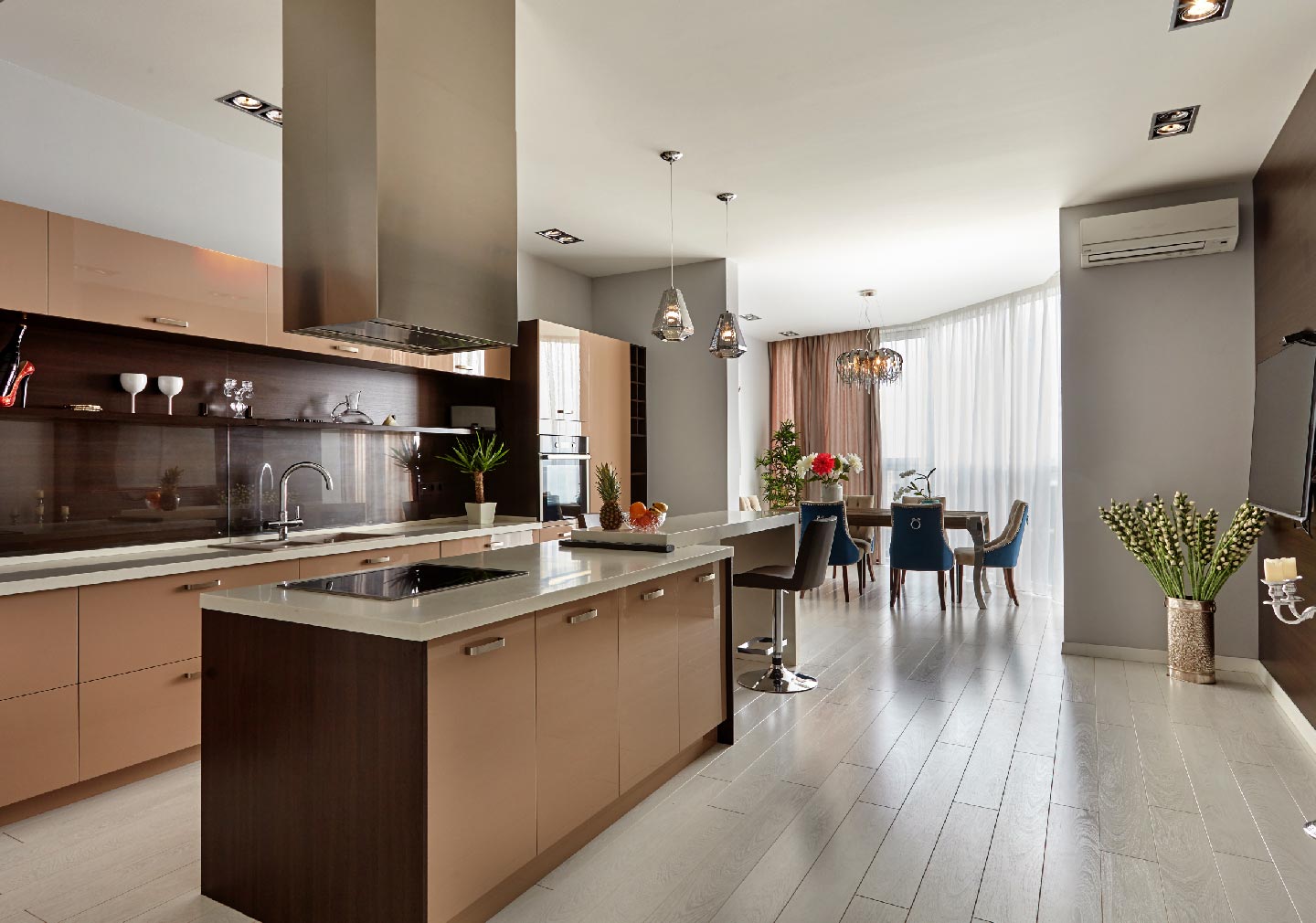 Backsplashes are more than just a practical addition to a modern kitchen design; modern kitchen backsplashes feature tiles in the newest forms, hues, and materials. Better still, go all the way to the ceiling with the backsplash. Combine this with an open shelf to keep commonly used goods or peg rails to keep vases of plants or kitchen equipment. These modest improvements are a time-honored method of giving your kitchen space personality.
Create a kitchen island table
You will need to reserve a Saturday afternoon to gather your materials and construct a kitchen island. But you'll be happy to have a multifunctional kitchen island with lots of space for storing food, towels, cutting boards, utensils and other items. These versatile islands double as cutting boards in addition to being portable, giving you more countertop room. The kitchen interior design with island has some features that were specifically created to increase its usability and adaptability.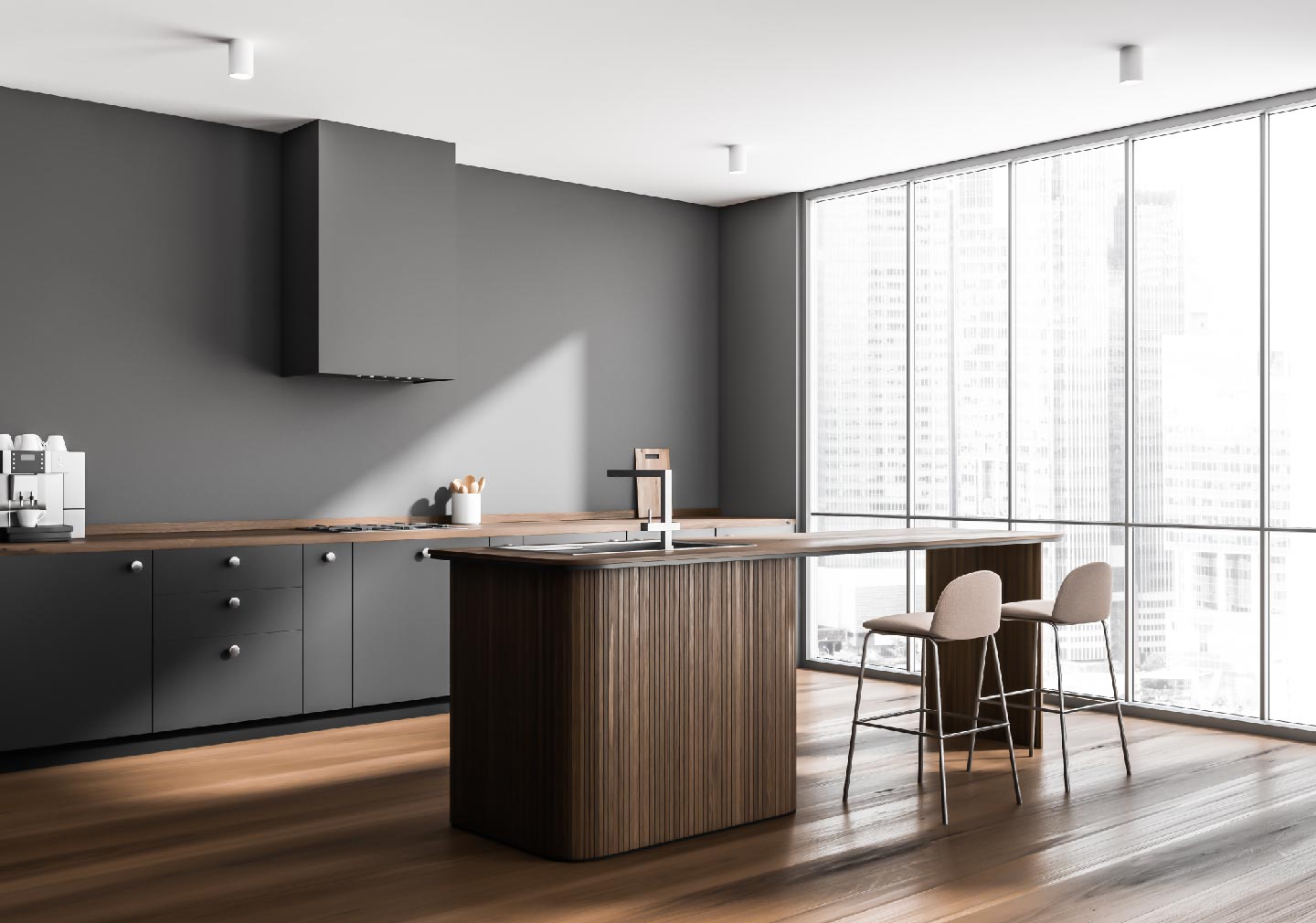 One of those tricky situations is finding space in your kitchen for both aesthetics and function. Daily-use appliances like an espresso maker typically take up more valuable space than aesthetic items. But that doesn't mean you should forgo fashionable items that will enliven your kitchen with vibrant flashes of color, organic textures, and even more functionality. There are numerous methods to create a balance between attractive and useful. These suggestions by Bonito Designs show you how to gorgeously decorate your kitchen to make it more appealing.