Belts are accessories which are a must find in every wardrobe. Trends are always changing and this add-on we all happen to just keep on stacking. There'll be a side of the cupboard where you will find all sorts of old, worn out belts, which you are neither ready to wear nor ready to throw away!
Let's check out some very innovative ways of DIY ideas to reuse your old belts, so that the special gift from your friend, or that old belt you got as an heirloom from your dad is preserved in the most respectable way.
1. Stylish Leather belt curtain Tieback or Leather Curtain Binder:
Want a give your home a retro makeover? Use the leather belt curtain tie backs or leather curtain tie backs for your kitchen area, or foyer. They'll make your home look smart and chic at the same time. Look the image where studded leather belt was used as a curtain tie-back.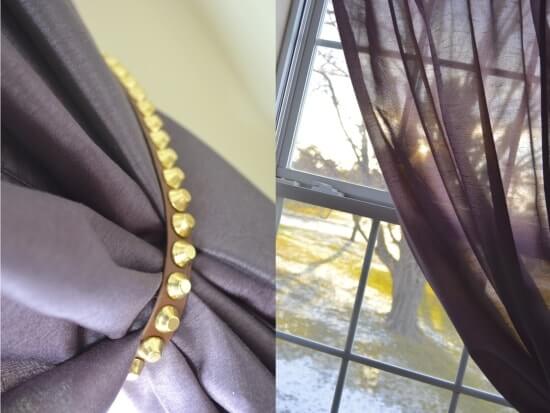 Now, definitely a leather belt won't go with a satin upholstery! Choose fabrics that'll complement the texture of the belt, and make them both stand out.
2. DIY Leather Drawer Pulls:
This DIY drawer pulls is one of the best uses of a leather belt that's worn out and can't be used whole. Cut them up and use them as leather drawer pulls to make your wooden drawers look more interesting.
This will not only make the drawer pull more efficient, but very different from those of your relatives and friends. This is very easy and efficient technique to make good use of your old leather belts.
P.S – You can use them for low height cabinets in kids bedroom to avoid sharp edges in their fairy room.
3. Welcome Mat:
We have all used synthetic, fiber, coir mats for our doorsteps. Let's get innovative, let's use our old leather belts, cut them up, or even use them whole, to make interesting pieces of DIY leather belt floormat decoration for our homes.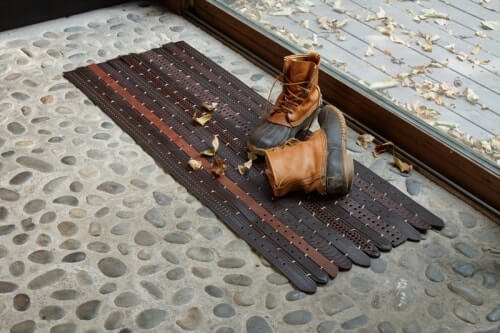 Retro as it is, leather is non slippery, and also very durable. Our old belts would be happy to help when are stitched together and layered flat of the entrance of the house.
4. Camera Strap:
Now you must be thinking, oh! why didn't this leather camera strap idea strike me before! It is truly smart to reuse your old yet favorite belt as your camera strap. If you have that knack of carrying your DSLR around searching to capture the perfect moment, hold on to it with your belt.

Chic, and very stylish to have a leather belt camera strap for your expensive camera. And it definitely does save you a lot of money to reuse something your already have in your wardrobe.
5. DIY Wall Clock Hanger idea:
Two negatives make one positive. And when there's a simple no-show clock, and an old belt lying around somewhere in the house, combine them up to create the most exclusive vintage wall clock.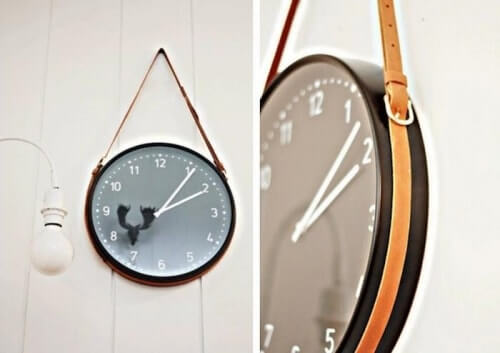 You friends would want to know the price of the antique piece, where you purchased it from, don't let them in on the secret of this  DIY Wall Clock Hanger idea!
6. DIY Flower Vase:
Surprised, aren't you? Don't be. This  is DIY flower vase idea probably the easiest and the most fabulous use of old belts. Roll them up and keep them out on the table top. Stack in a bunch of colorful inexpensive flowers, and there! You have a flower vase right where you want it to be.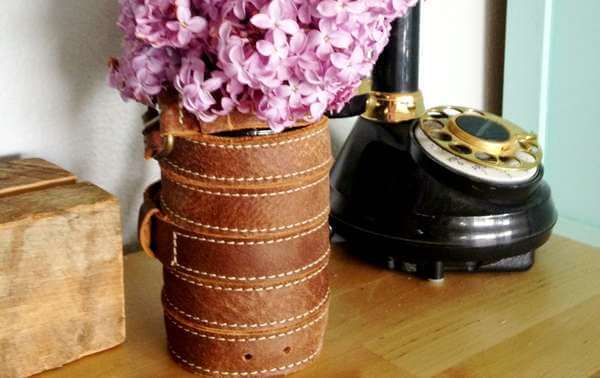 It's a quick fix for a guy who's invited his girlfriend over to impress. It's a fantastic idea to make your mom happy, and it makes good reuse of your otherwise old belts getting bored in the corner of the cupboard.
7. Rusty Knuckles:
Its holiday time, and you want to gift your family and friends some handmade objects that really show you care.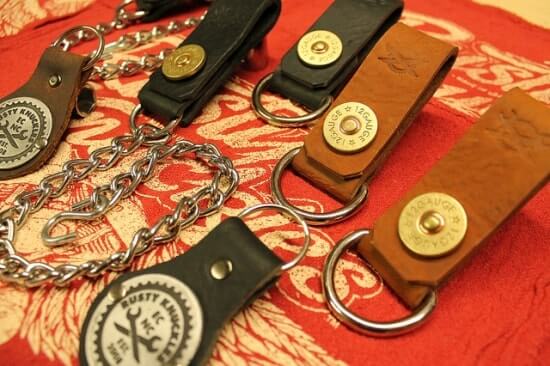 An old belt would make great key chains for everyone. Some crafting and carving is required to make nice unique pieces for everyone.
8. DIY Shelves:
DIY shelves can look more beautiful with the use of your leather belts which you feel you can't wrap around your waists anymore. Install 2 wooden ledges and wrap around slim old belts just like this in the image below. Place this DIY shelf piece in your dining to display your crockery or in home office to store your stationary.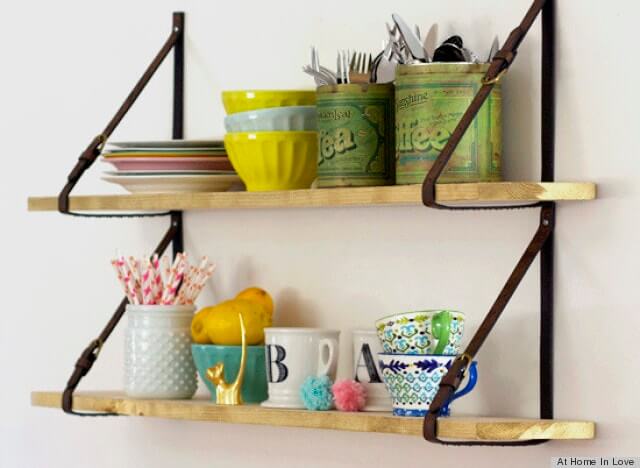 Find ideas from the internet which is flooded with DIY projects that'll help you be more creative, more inclined towards recycling and reusing old items to make them over into something new and super innovative.
9. Straps for DIY Bags:
Do not buy new straps for your DIY bags. Instead use your old leather belts and make them look more fashionable. Make sure your brush them up and file them well to avoid any uneven edges.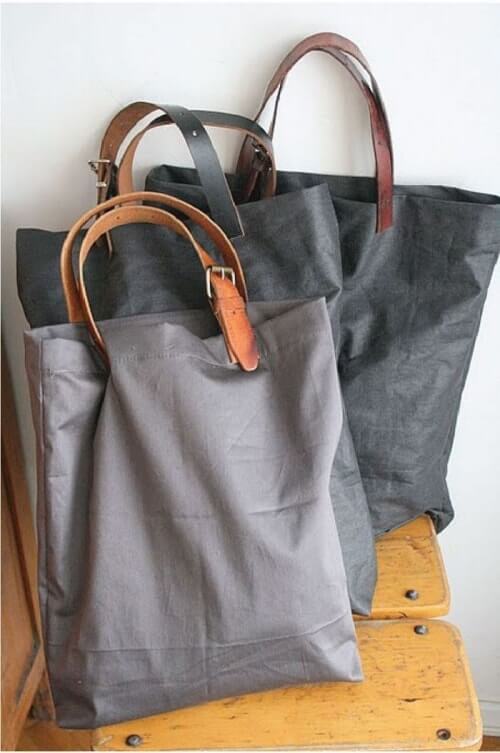 We agree they might look old, but anything antiquated is always more affluent, isn't it?
10. Hanging belt vessel:
When you have a really old belt that has very limited use. Take out those belts and wrap around a bottle filled with pebbles and some colorful stones. Hang it in your garden to get more of a stylish feel.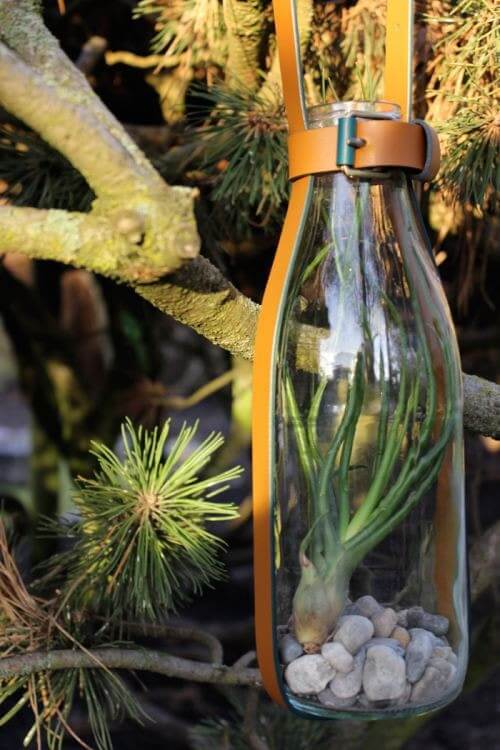 Use one or more of these fantastic ideas and recycle in style. Vintage is classy after all, they never go out of style, and always make a flashier comebacks. Take out your old belts from your closets and give them a fashionable makeover.