Celebration surely calls for home bars! These home bar units have been a part of the home décor for many years. If you're the one who loves organizing house parties or entertaining themselves, mini bar designs become really important for you to consider. Your party will instantly become a talk amongst your attendees if you have a well-stocked assortment of drinks to flaunt.
Home bar ideas are just endless! It's always a good idea to have something available to offer your guests and keep them amused, even if you don't drink. A home bar unit may take some time to set up at first, but with the correct furnishings, lighting, and interior design, it will soon be used for lots of entertaining.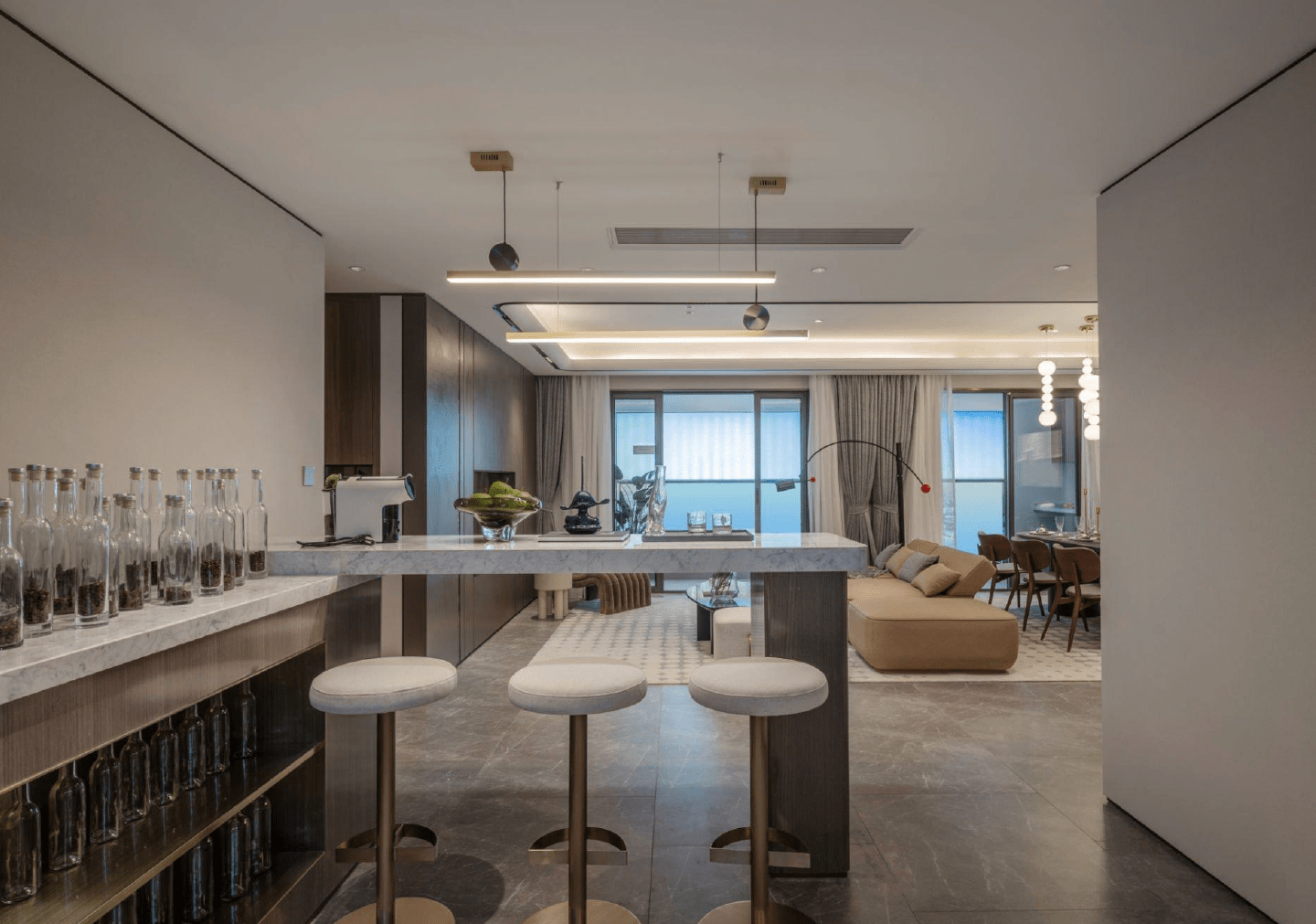 A home bar counter can be difficult to set up at first, but with the perfect furnishings, lighting fixtures, and décor, it will soon be hosting many events. While visiting different bars is fun, there are times when staying in your jammies and drinking is much more appealing. We always think of adding moods and drama to the interior space and make it attractive. Here we are highlighting some amazing home bar ideas which can create a great setup!
Stunning home bar ideas and counter design
There are many different design themes that can be used for a home bar counter, each with its own unique look and feel. Some popular themes include:
Create an industrial lounge
Unfinished materials, exposed brick, concrete, and metal- the industrial themed home bar just speaks class and style. It definitely creates an edgy atmosphere with all the materials complementing each other to give a synchronized look. Industrial-style mini bar at home feature metal accents, and geometric lighting fixtures. For example, a diamond caged wrought iron pendant fixture looks apt for the industrial design style.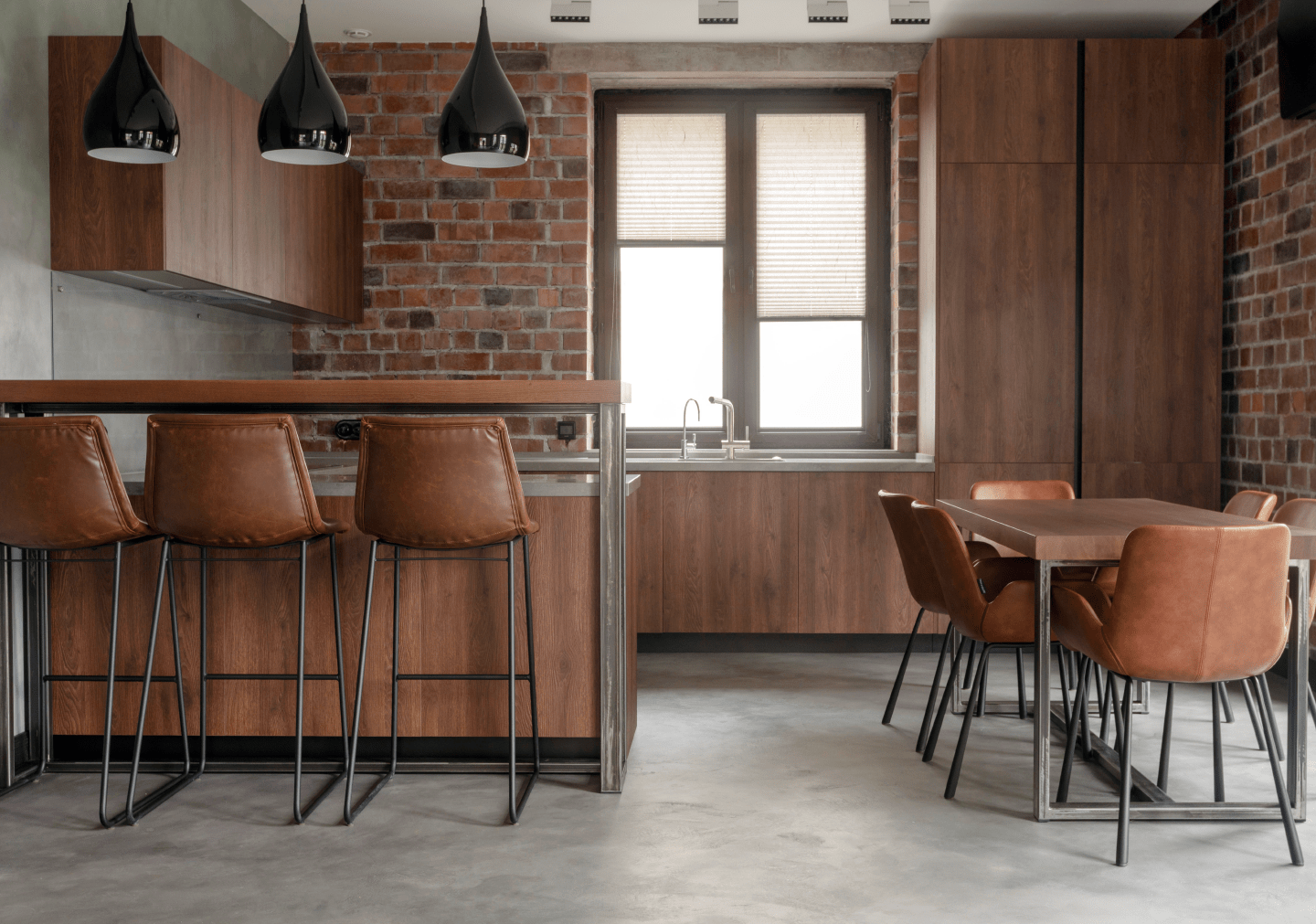 This style is all about going back to the countryside bar with all fun and flutter! The theme involves all rustic elements like the natural world, with warm wood tones, natural stone, and earthy colors. The home bar counters in this style may feature reclaimed wood, distressed finishes, and hand-forged metal accents. Also, vintage posters with chalkboards can truly enhance the style.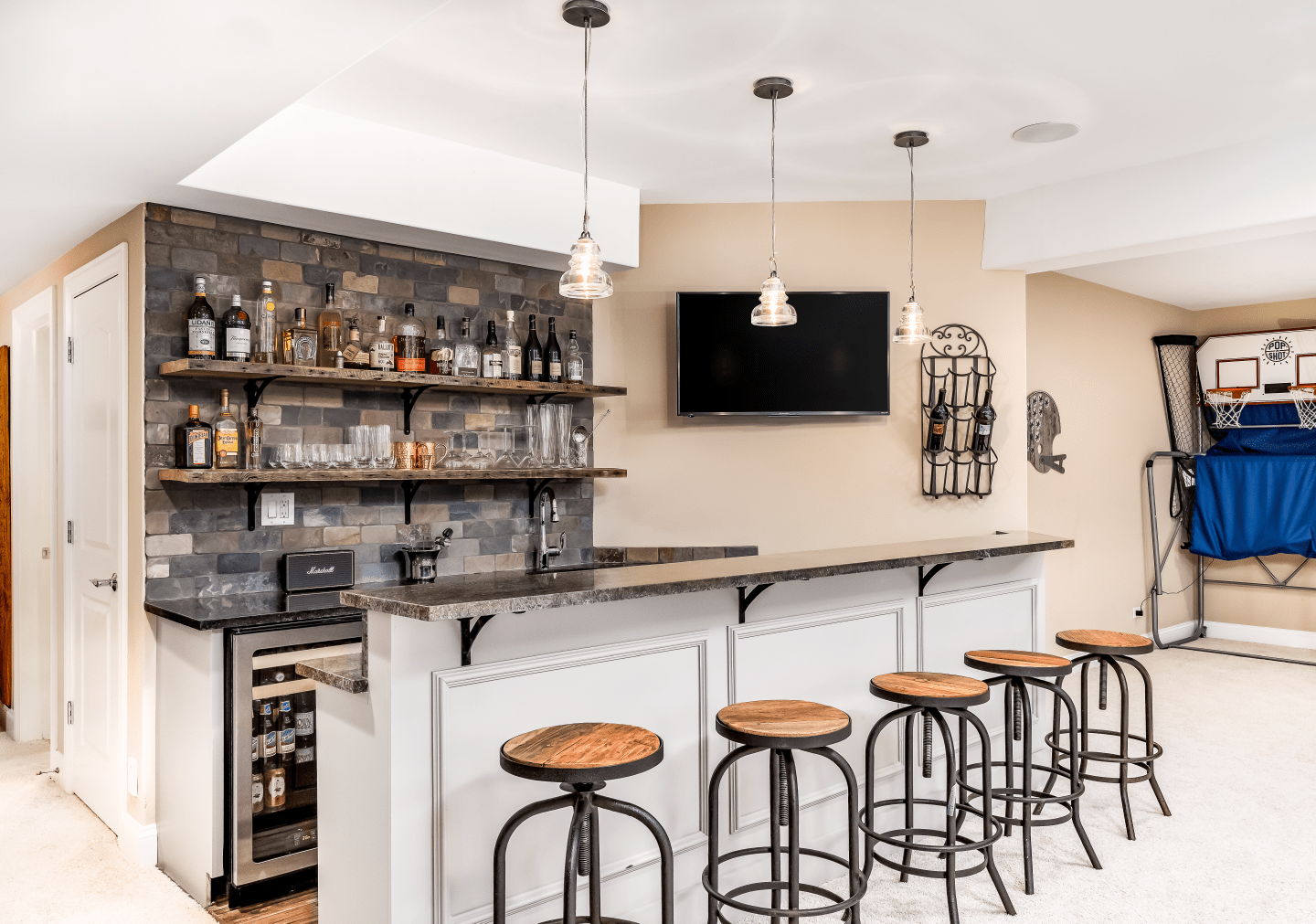 Modern accents, art and drinks
A modern mini bar design for home can be exactly what you're looking for. This theme is characterized by clean lines, minimalistic design, and a focus on functionality. What if you're an art enthusiast and look for displaying all your lovely artworks there in your bar area? The counters can be a great place to flaunt a statement sculpture or your favorite artist's work. Modern bar counters in house often feature sleek, glossy surfaces, stainless steel accents, and LED lighting can create a phenomenal look.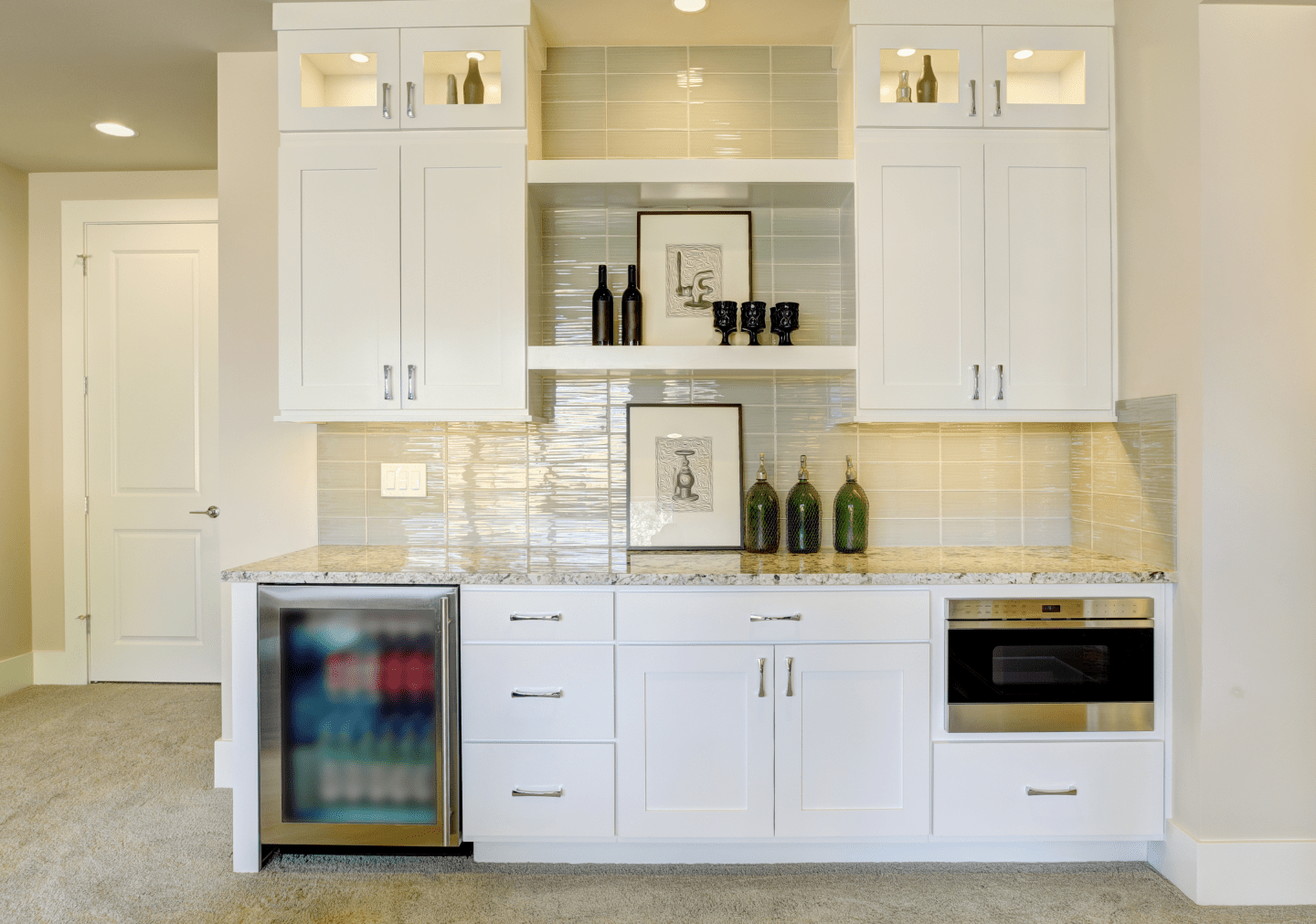 Get over with the usual styles of designing a bar area and bring some splash of colors. Set the mood with a colorful hue to create the exciting and lively atmosphere you want for your home bar. Paint the bar cart, bar stools or the display with an uncommon color or some vibrant hues like classic blue, pantone 2023 color- viva magenta, emeralds etc. Cover your bar with a mural, or give your cabinets a unique coat of paint. You can also go for a monochrome look with all brown or all black.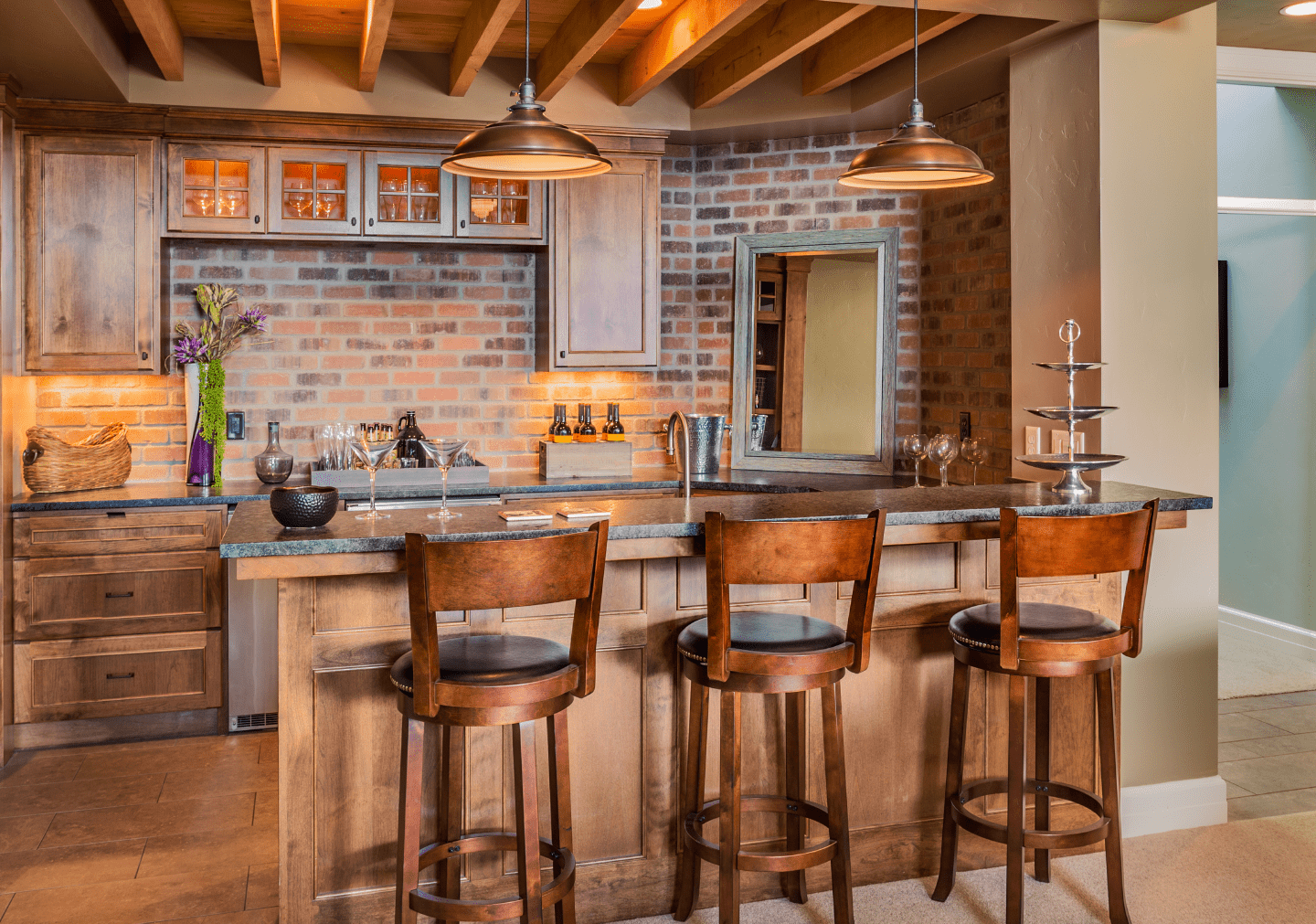 Enjoy happy hours with Art Deco
A lavish home bar counter which takes you back to the era of renaissance movement which introduced style as luxury. This theme is inspired by the Art Deco movement of the 1920s and 1930s, and is characterized by bold geometric shapes, rich colors, and ornate details. Art Deco counters may feature mirrored surfaces, geometric patterns, and brass or chrome accents.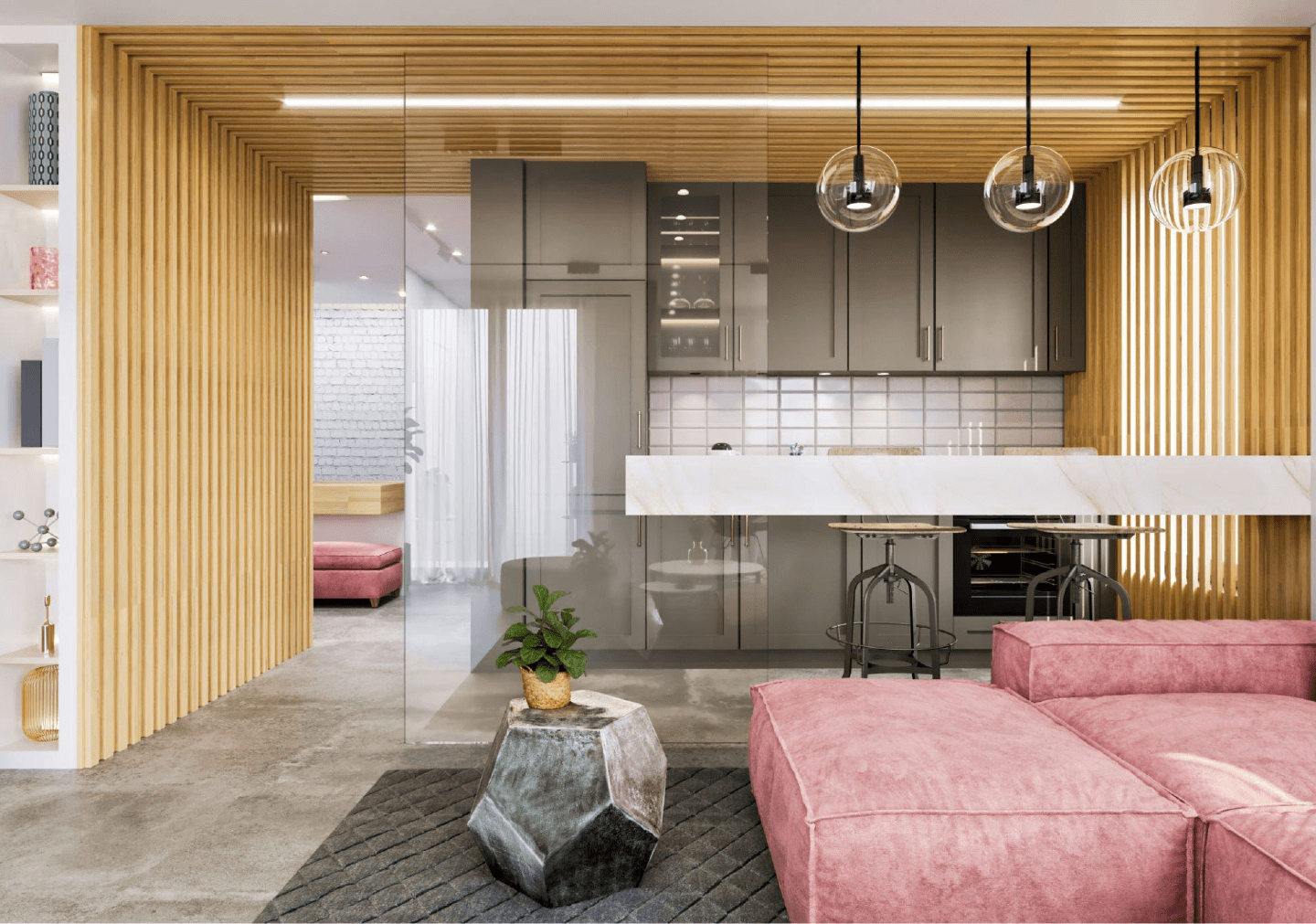 Looking for a location to display your collection of plants with pride? The location might be your bar counter in house. You may add color and texture to your home bar and life to your room by combining your favorite barware with trailing vines and prickly cacti. The natural green color blends well with any color like ivory, ochre, pastels, rose gold and much more. Pro tip- Add some touch of gold with this theme to make it look classy.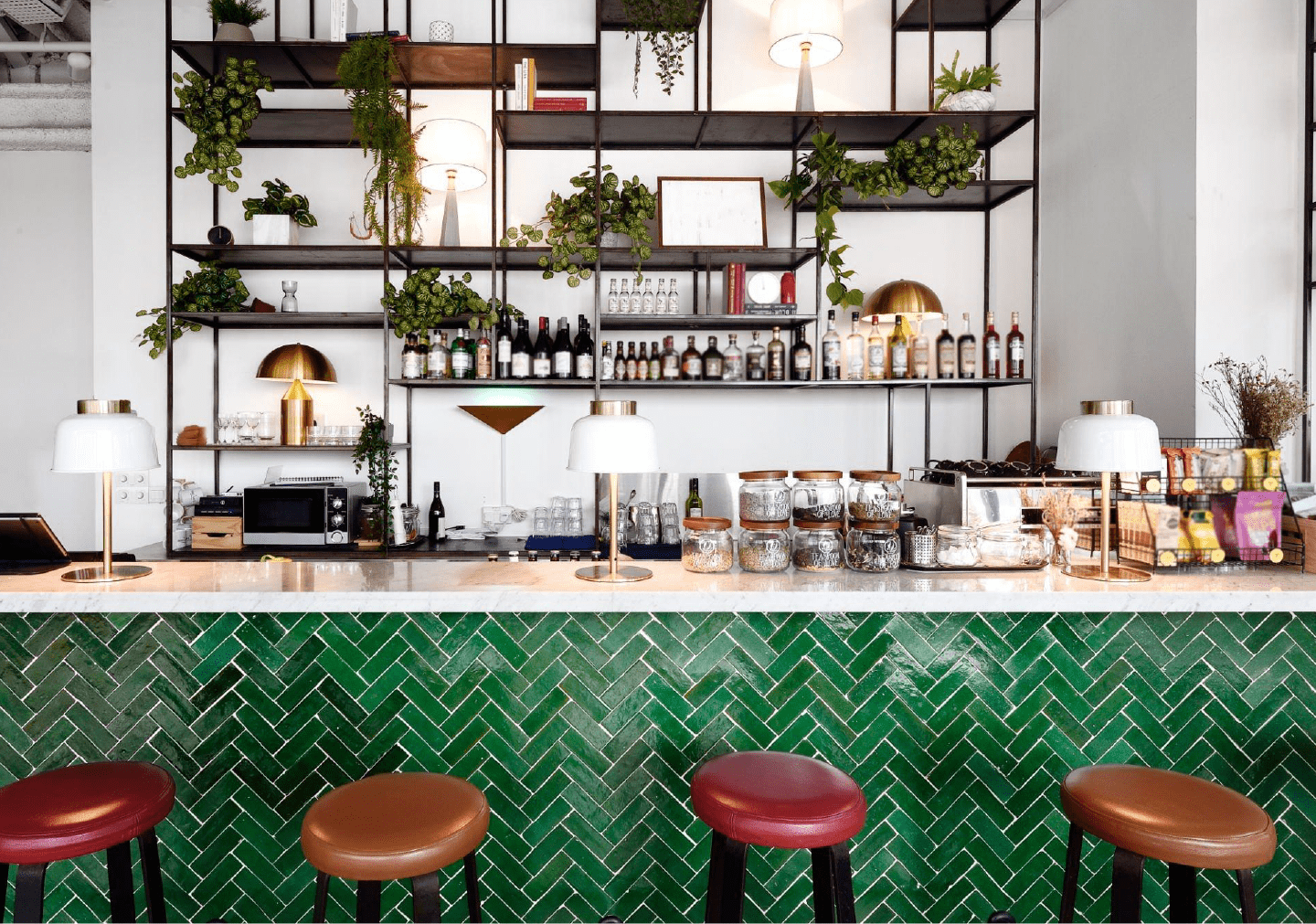 Luxe can never put you off. Luxury bar counters need not have diamonds- just a pun! This theme is characterized by opulent, luxurious design elements, such as high-end finishes, rich colors like pirate's gold or red ink, and elegant furnishings. Luxe home bar may feature marble or soapstone tops, brass accents, and crystal chandeliers. Add lushness to the space with statement chairs that create contrasts.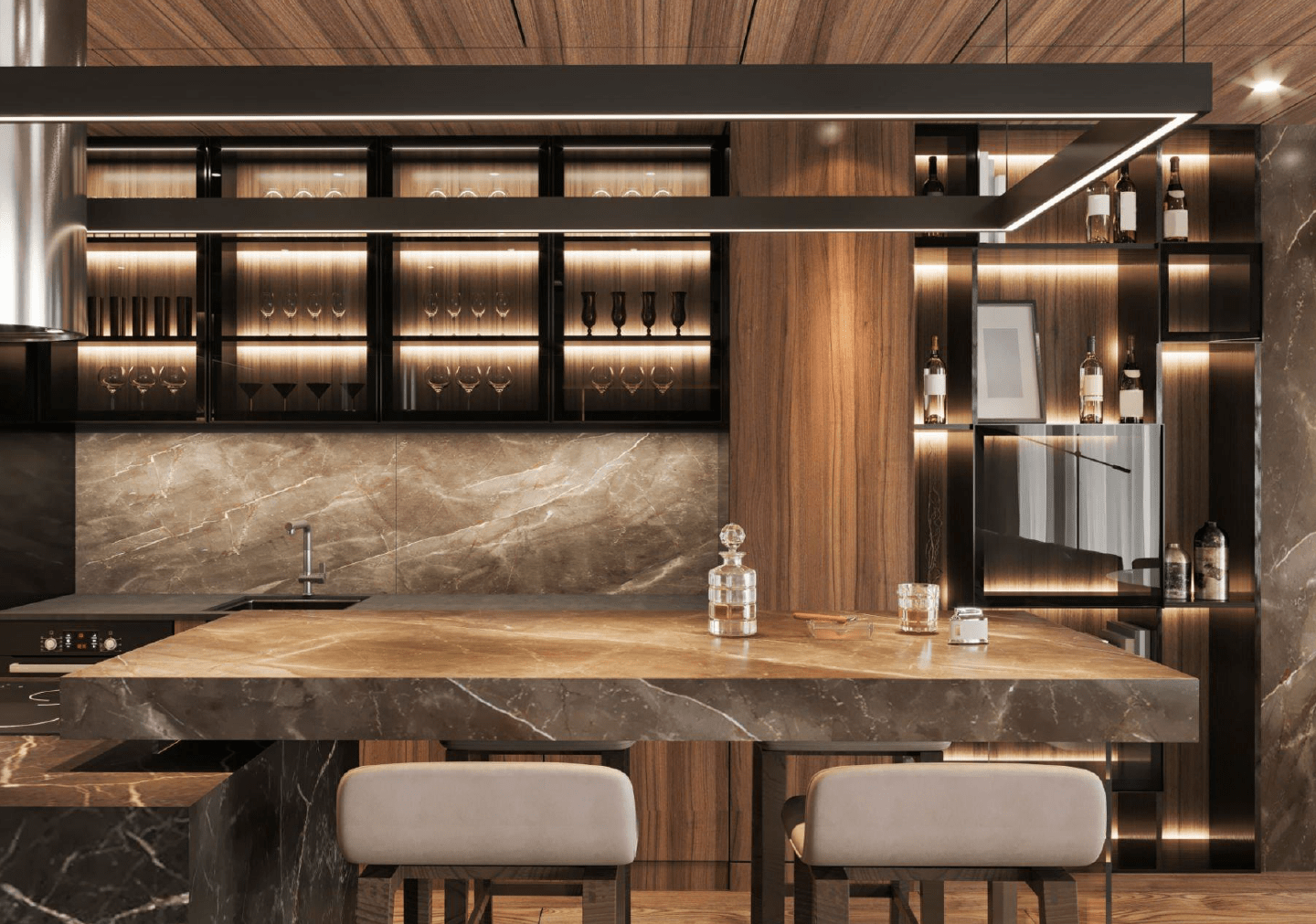 Mediterranean style for an escape
When it comes to Mediterranean interiors, vivid hues blend with understated neutrals and rustic meets elegance. This theme is influenced by the coastal regions of the Mediterranean, with a focus on vibrant hues and white colors along with Mediterranean-inspired tile work. Mediterranean-style modern corner bar cabinet often feature terra cotta tiles, blue and white accents, and wrought iron accents. The bar space in this design can look splendid, making you drink through the shores.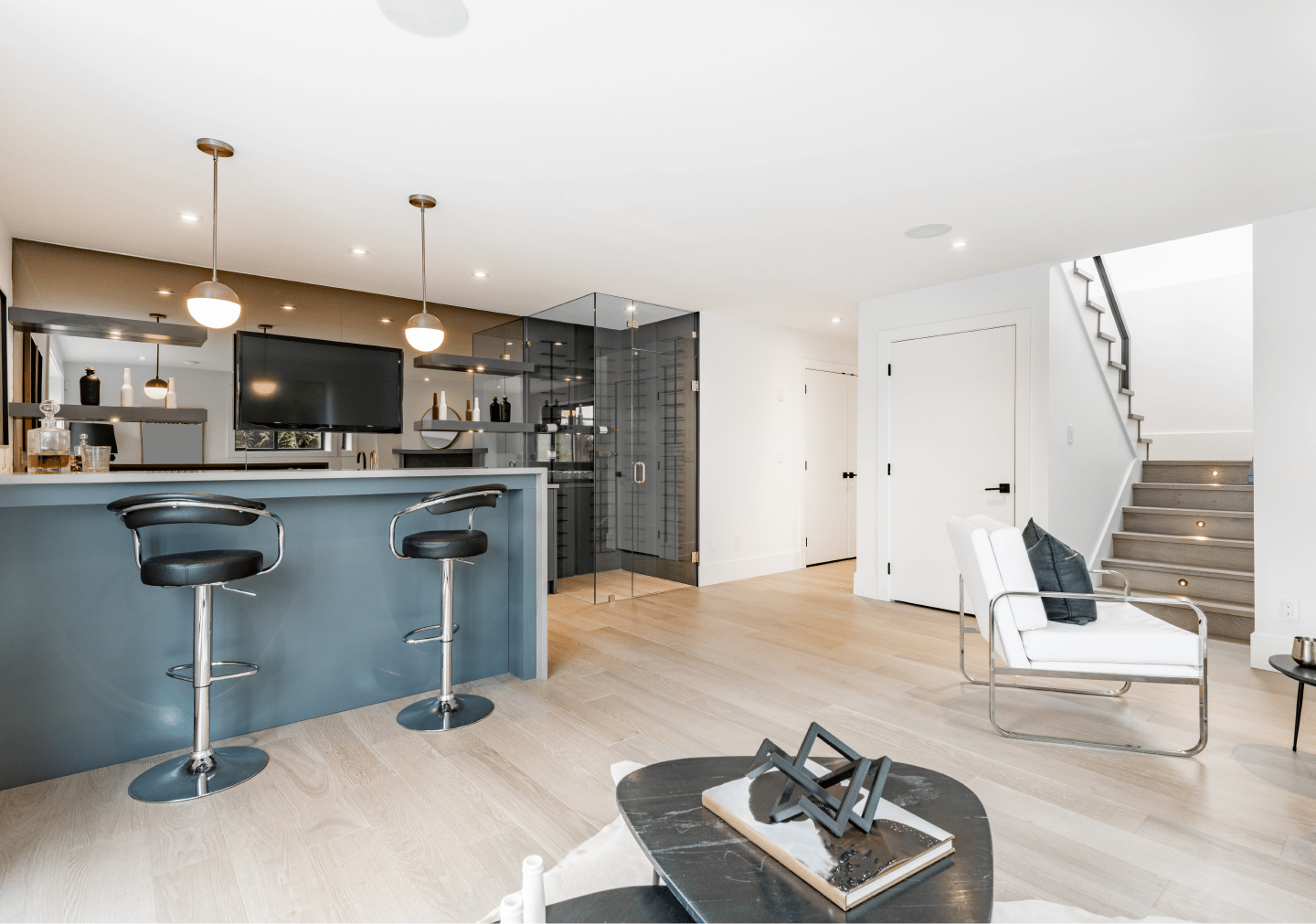 Mid-Century Modern can be your take
This theme is characterized by sleek, simple lines and a focus on functionality. This particular style has certain distinctive characteristics, like classical & subdued appearance. Mid-century modern counters often feature clean, geometric shapes, and a mix of natural wood and metal. A mini bar design space in this style exudes a modern luxurious look with all natural materials and accessories.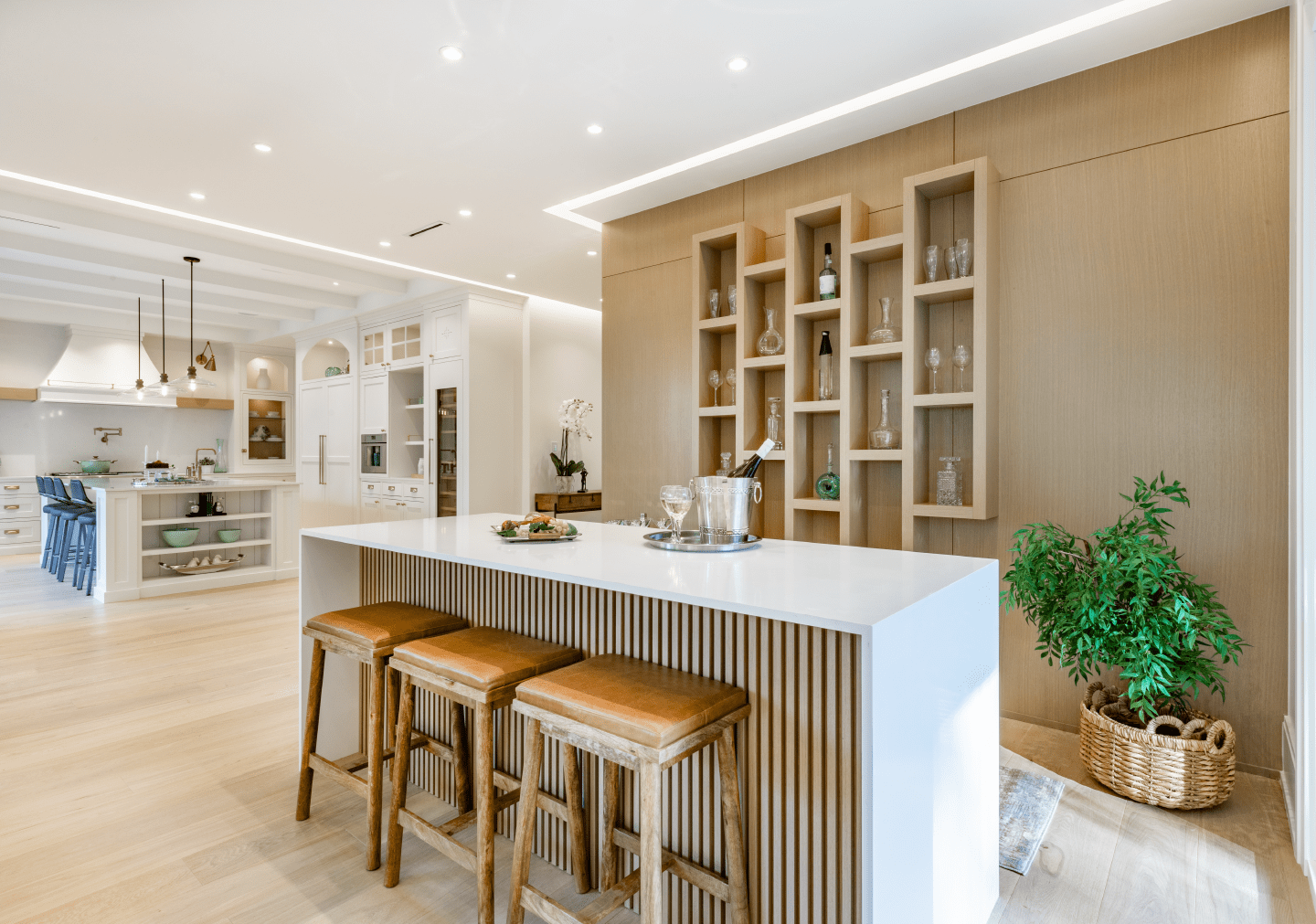 Add some antiques to your mini bar design at home and make it a conversation starter space! Add some renaissance inspired sculpture, gramophones or old whiskey bottles which can add antique charm to the space. You can also add some old palatial painting or wallpaper to add some vintage glory.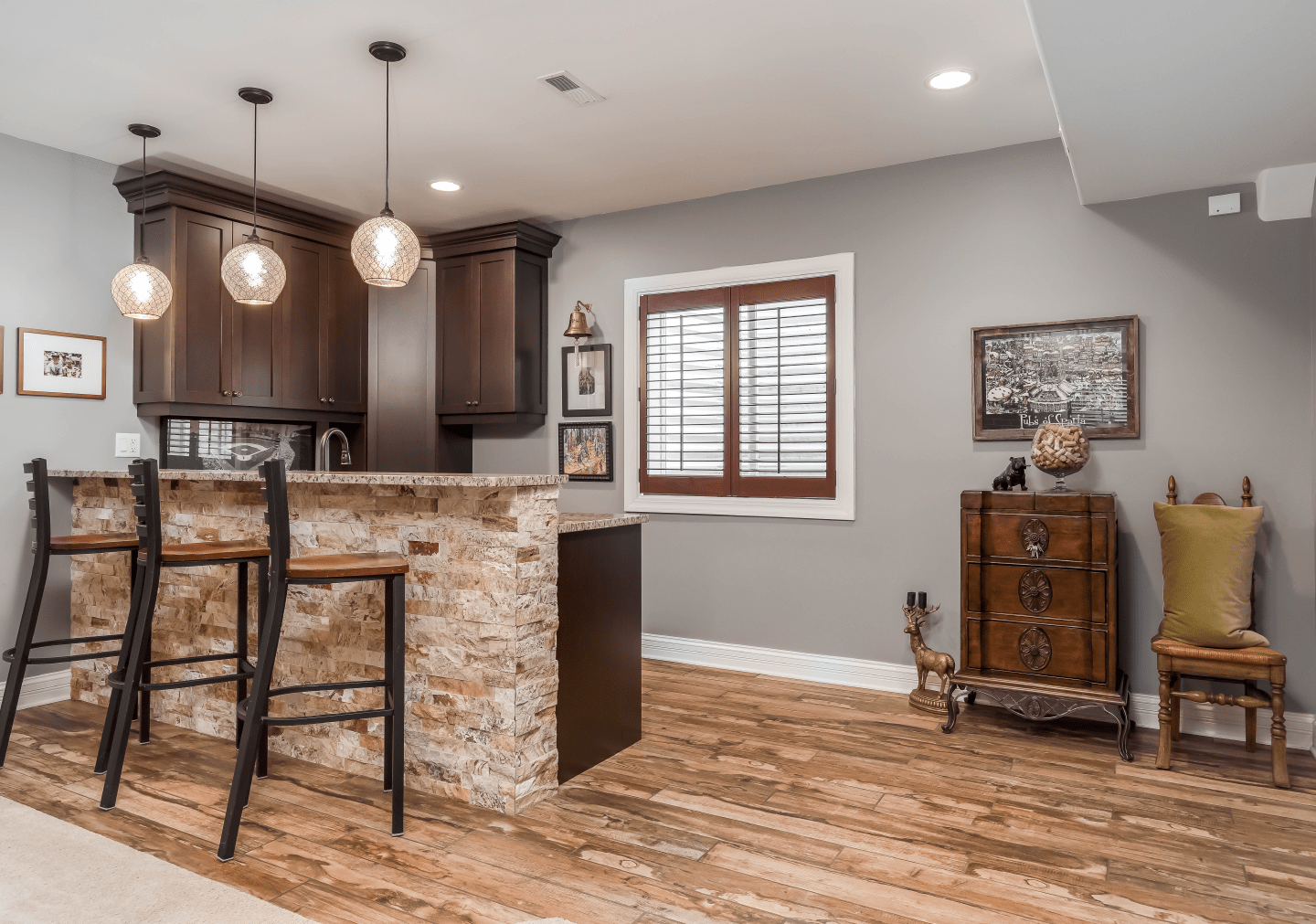 Ultimately, the design theme for a mini bar design at your home will depend on the overall aesthetic of the space and the preferences of the individual or business. It's important to consider the target audience, location, and the overall concept of the establishment when choosing a design theme for the bar counter. Bonito Designs assures unique design solutions for your home which suits your personality and style. Connect with us for more authentic bar ideas.