TREND ALERT!!! The interior design trends in 2023 are wide-ranging and diverse. There are some fresh hues, textures, and materials, but new moods are what matter most. You'll love this list if you've been looking for the ideal chance to provide your home more style, vigor, and comfort. For their opinions on the top interior design trends for 2023, we have got you some new ideas and trends which will just surprise you! Post pandemic the trends have seen a drastic change and here's a check out list for you!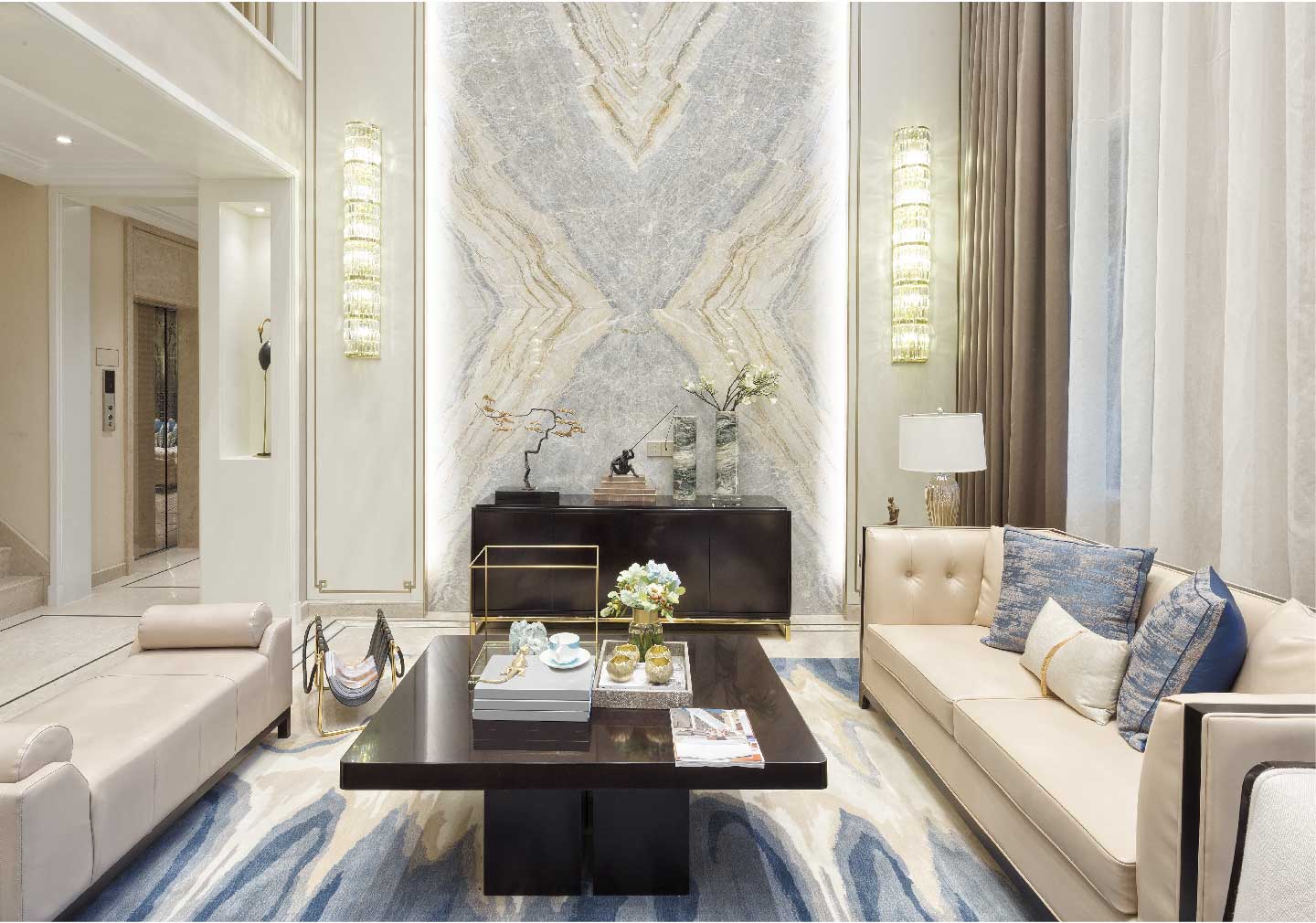 High-style marble slabs in kitchens, bold window treatments, and subdued hues have endured over time in the design world. However, with these existing styles, certain trend forecasts may dive you further into the design dip. This year's trends will focus on maximizing the cosines, functionality and welcoming the warmth of the environment. Combining your personal taste with current trends will result in a stunning home that is livable, welcoming, and completely modern and that's what Bonito Designs swear by.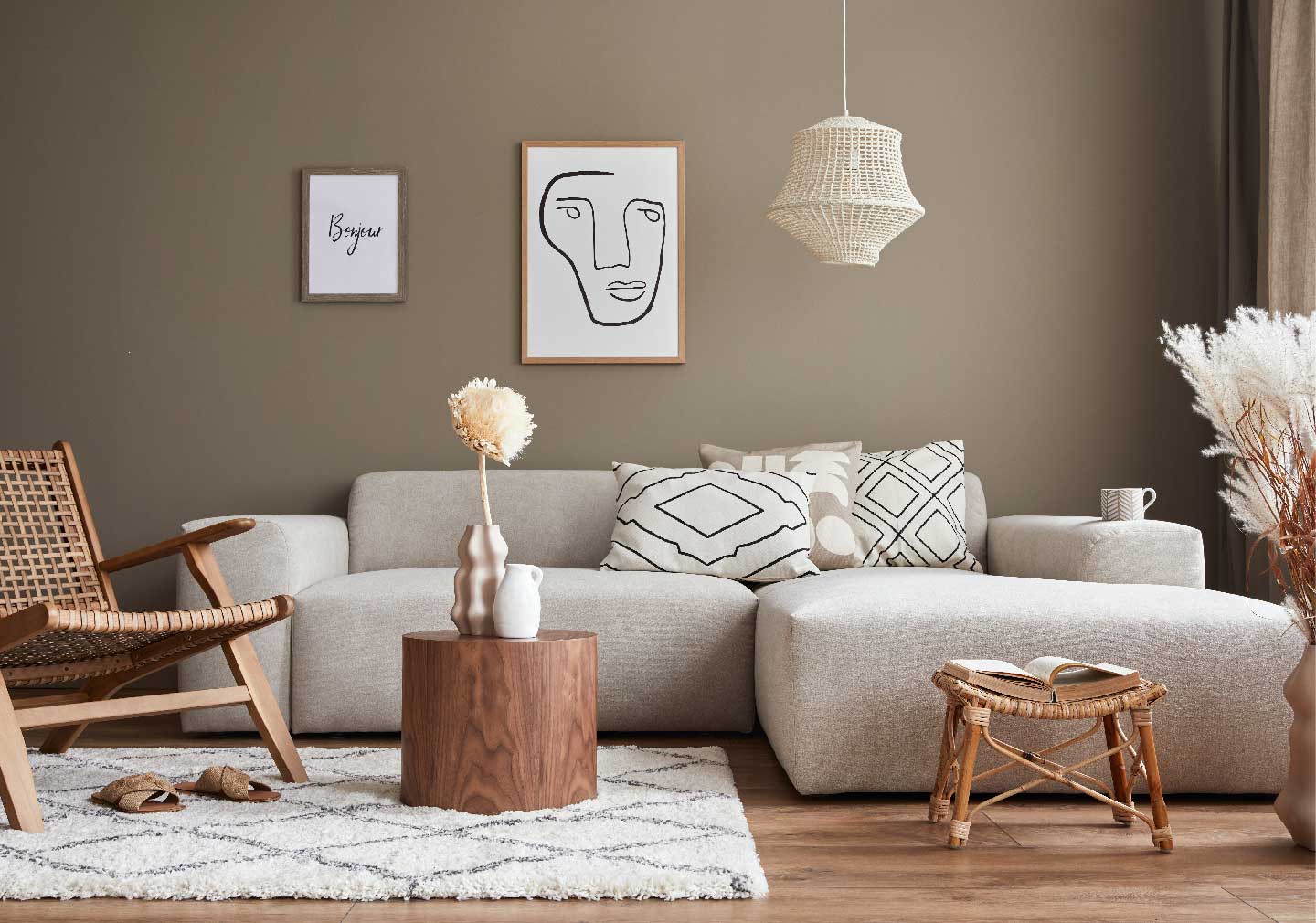 The ideal color palette, hardware style, piece of furniture, or decorative element can sometimes be all it takes to give a room a new, flawless appearance. It is difficult to assess the trends that will continue to stay but certainly these home decor ideas are going to rule. Planning your ideal kitchen, living space, getaway in your bedroom, or pretty much any other area can be in your list of upgrades. Having a dream home with celebrity-like interior designs and all new contemporary design upheavals is truly a once in a lifetime experience and Bonito Designs is all here to fulfill this. But, let's first check out the new insights in design which are here to stay with us. Keep scrolling!
Make a statement with rugs
You need look no further than an uncommonly shaped rug if you want a conversation starter in your home. This emerging style is ideal for any contemporary home. While rugs with square and circular patterns might make a space appear smaller, those with fluid curves give the impression that a space is endless. Make sure the carpets have as much room as possible and look for ones that are curved, angular, or geometric. They stand out enough to be noticed on their own. These accent rugs will stay in the house specially in the living room and serve as a perpetual piece of artwork that needs to be carefully chosen to complete the room.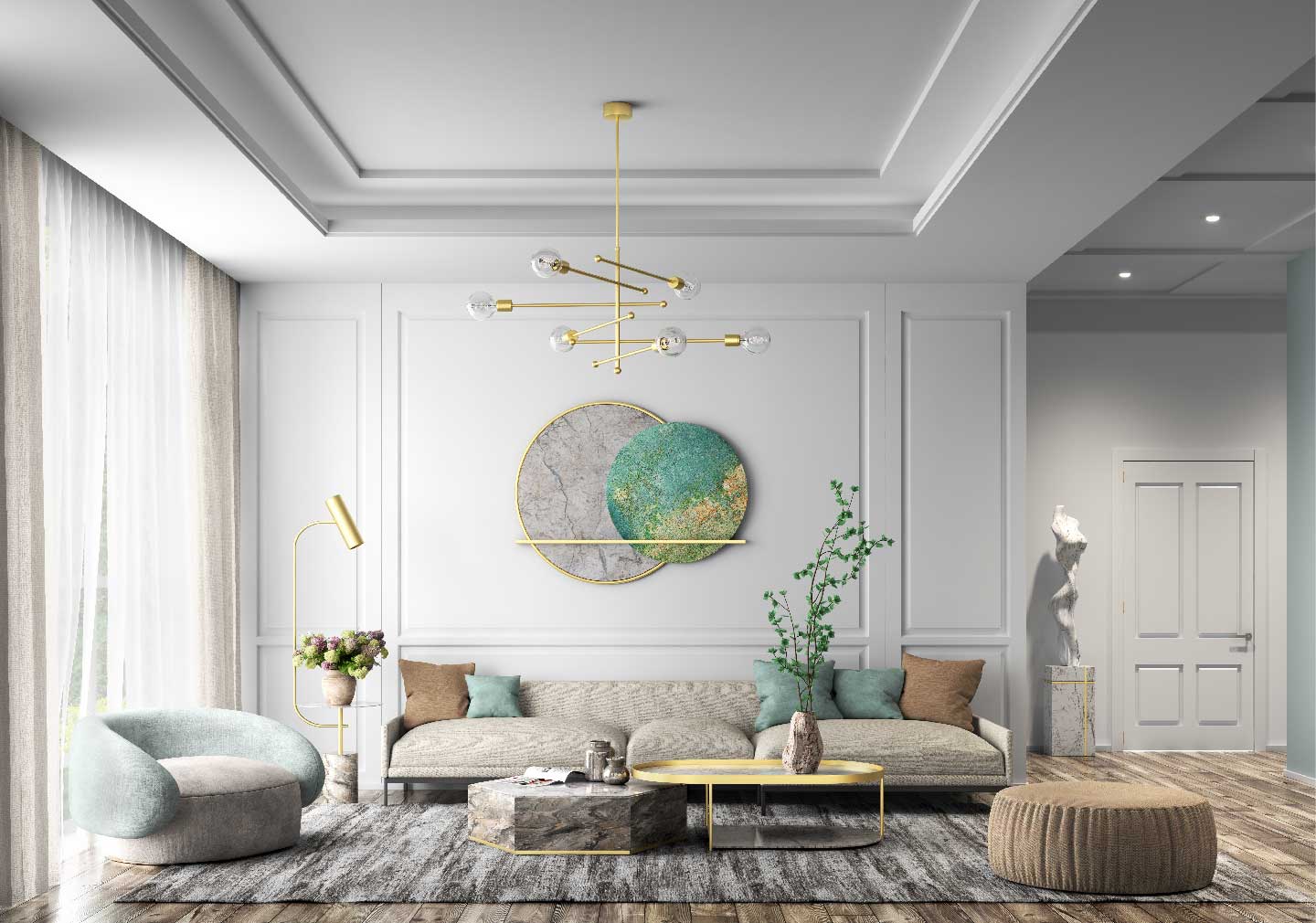 The focus on health, self-care, and nature is here to stay and is now permeating our homes. The year 2023 will be dominated by natural materials including terracotta, pottery, clay, cotton, wools, and rattan. There will be a lot of natural light, baskets, natural wood, plants, and furniture with live edges. The previous several years have seen us spend a lot of time at home, so we are aware of how bringing nature inside makes us feel more alive and connected. More and more individuals are looking for ways to make their homes more sustainable as awareness of environmental issues rises. This entails the use of environmentally friendly materials, the installation of energy-saving lighting and appliances, and the design of rooms that encourage natural light and clean air. Pro Tip: Sustainable home decor ideas work really well with the pastels. You can check your own style and get inspired!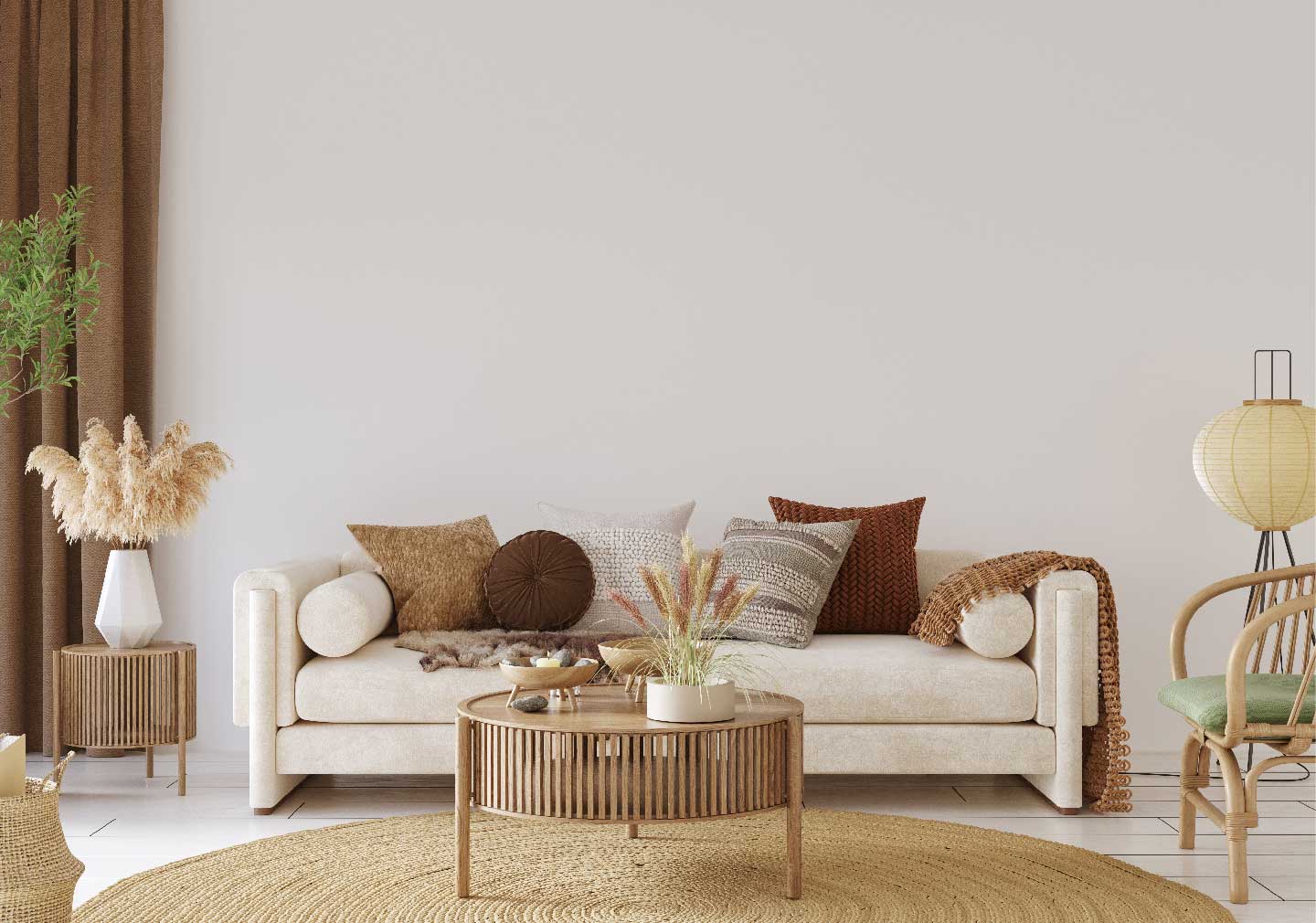 Reviving the old style back again
History repeats itself and in the design world too! There would be a strong return of antiques, vintage, old, classical art pieces, colors, styles, and designs. Many people don't seem to be as interested in having coordinated spaces and coordinating furniture sets. They desire to have priceless artwork, heirlooms, or vintage finds in their homes because they feel liberated when they develop their own unique interior design aesthetic. Heritage tiles with mosaic traditional patterns are here to mark their presence in contemporary designs.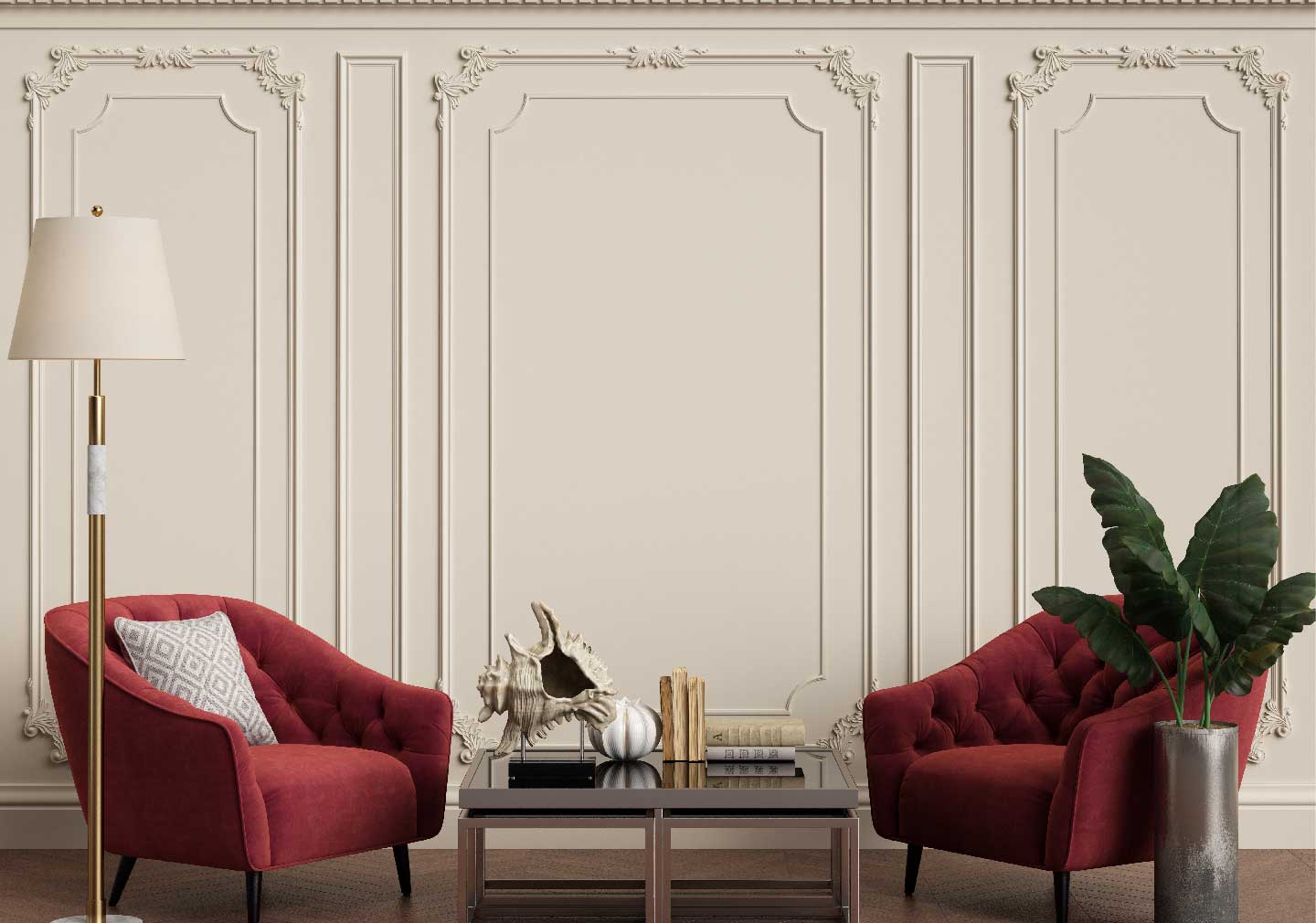 Neutral and inviting aesthetic will get some upgrades in 2023. As 2023 approaches, we foresee the return of 1970s aesthetics, including low-slung furniture and wood wall paneling with decorative motifs as well as popular earthy and pastel tones like brown, burgundy, cognac, ochre, and saffron. Although we will continue to employ and adore black-and-white visuals, this new color palette brings in some much-needed warmth and gentleness. Although this "vintage renaissance" has been developing for a while, we only foresee this distinctly cool, lounge-like style expanding through 2023. This is the trend that will continue to stay for long.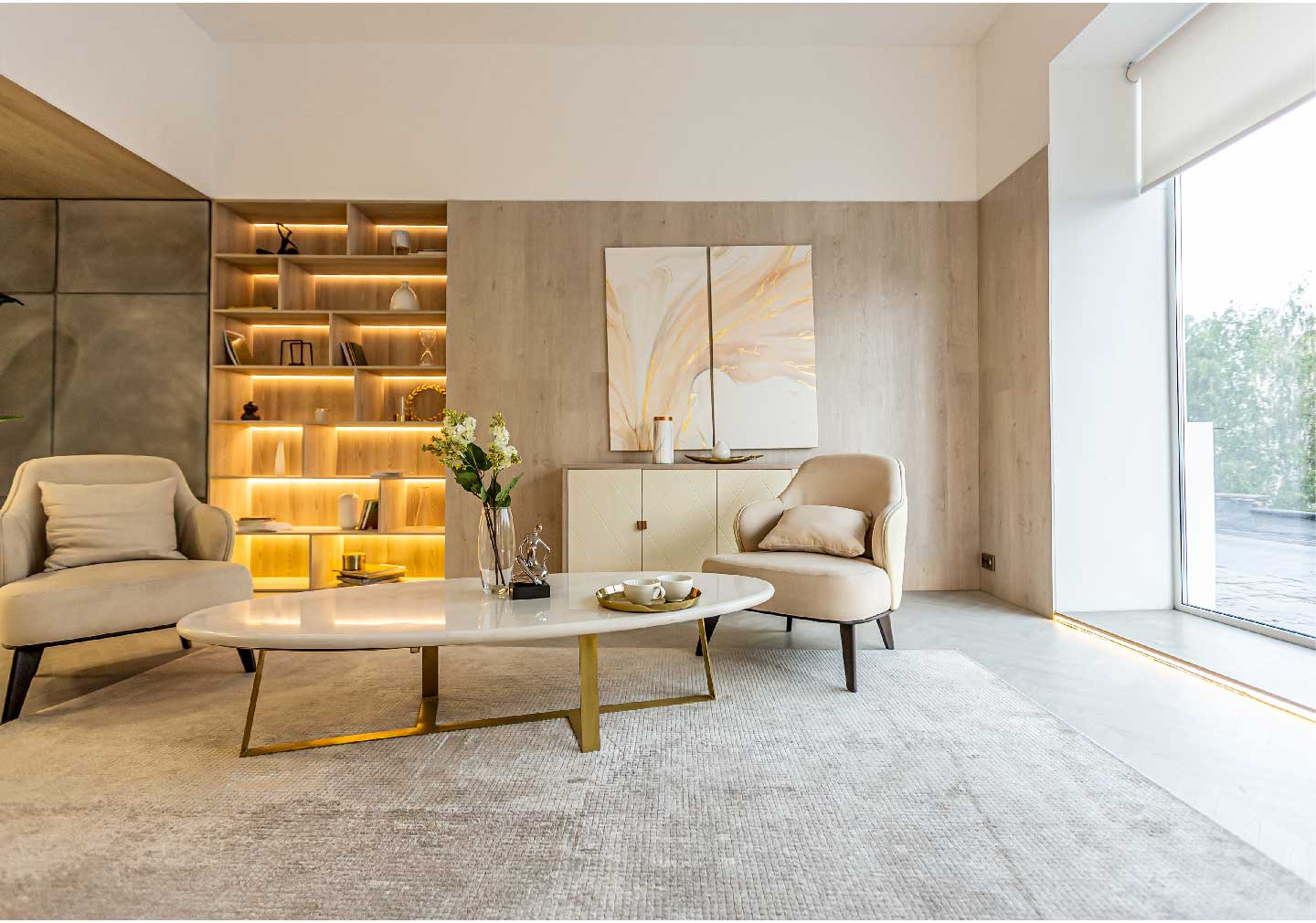 Jewel tones with metallic accents
Jewel-tone color palettes will now become popular, as they add richness and depth to a space. These shades, such as emerald green, sapphire blue, and amethyst purple, can be used as accents or as the main color scheme specially for cocktail tables. Using a mix of metal finishes, such as copper, brass, and chrome, is becoming increasingly popular in interior design. This can be used to create a cohesive design aesthetic in any room whether it's a living area or a master bedroom. Metallic accents also work well in the master bedroom spaces which is just a perfect space for rejuvenation.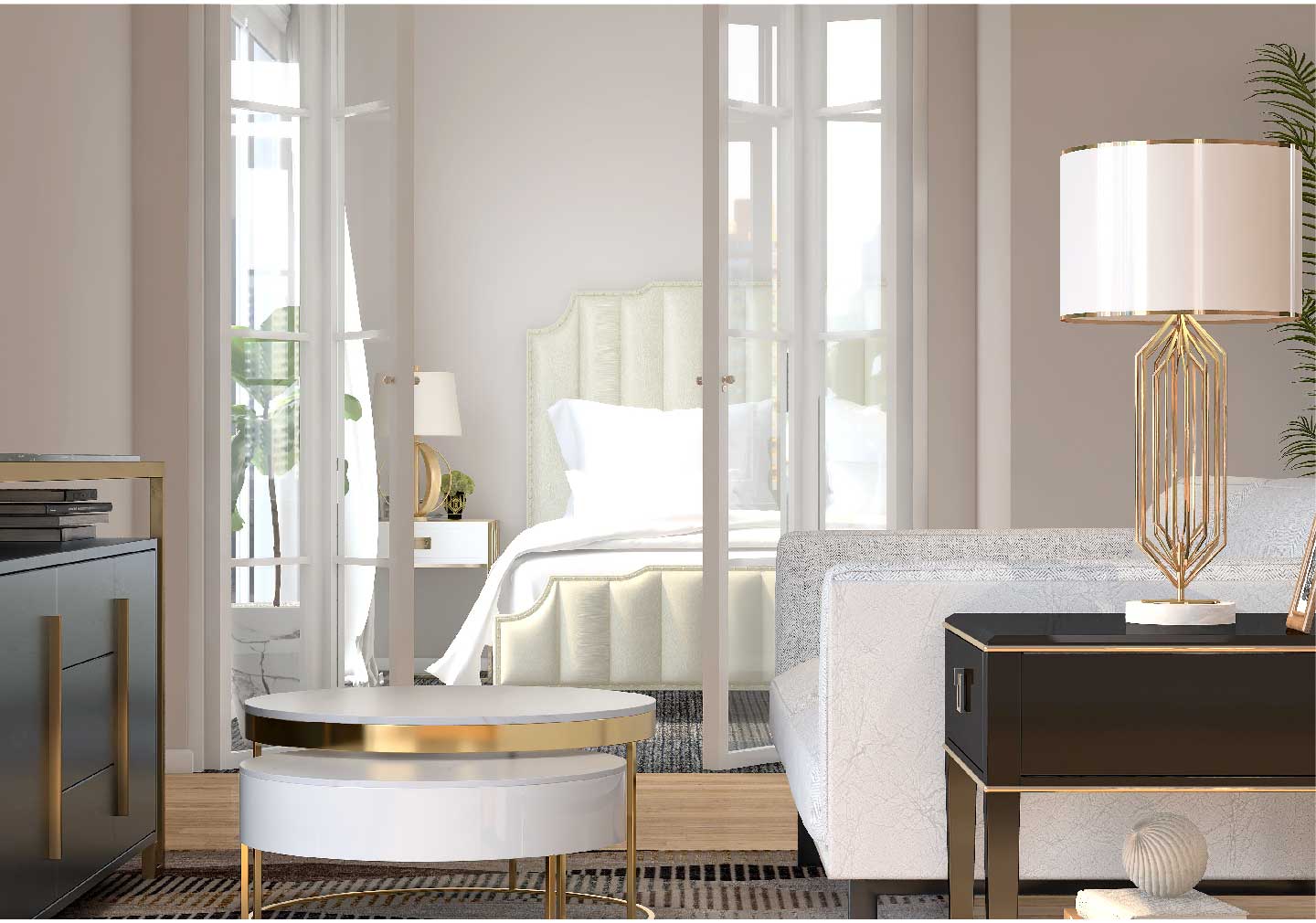 Flexible spaces following asymmetry
With more people working from home and the line between work and play becoming increasingly blurred, there is a growing demand for flexible spaces that can be easily adapted to different uses. This includes furniture that can be easily moved around, modular design elements, and spaces that can be easily reconfigured to suit different needs. Moreover, the simplest method to make your house feel distinctive and stylish is to make it a bit asymmetrical in the upcoming year. Bid goodbye to matching furniture sets in the living room- accents in different styles is the new in!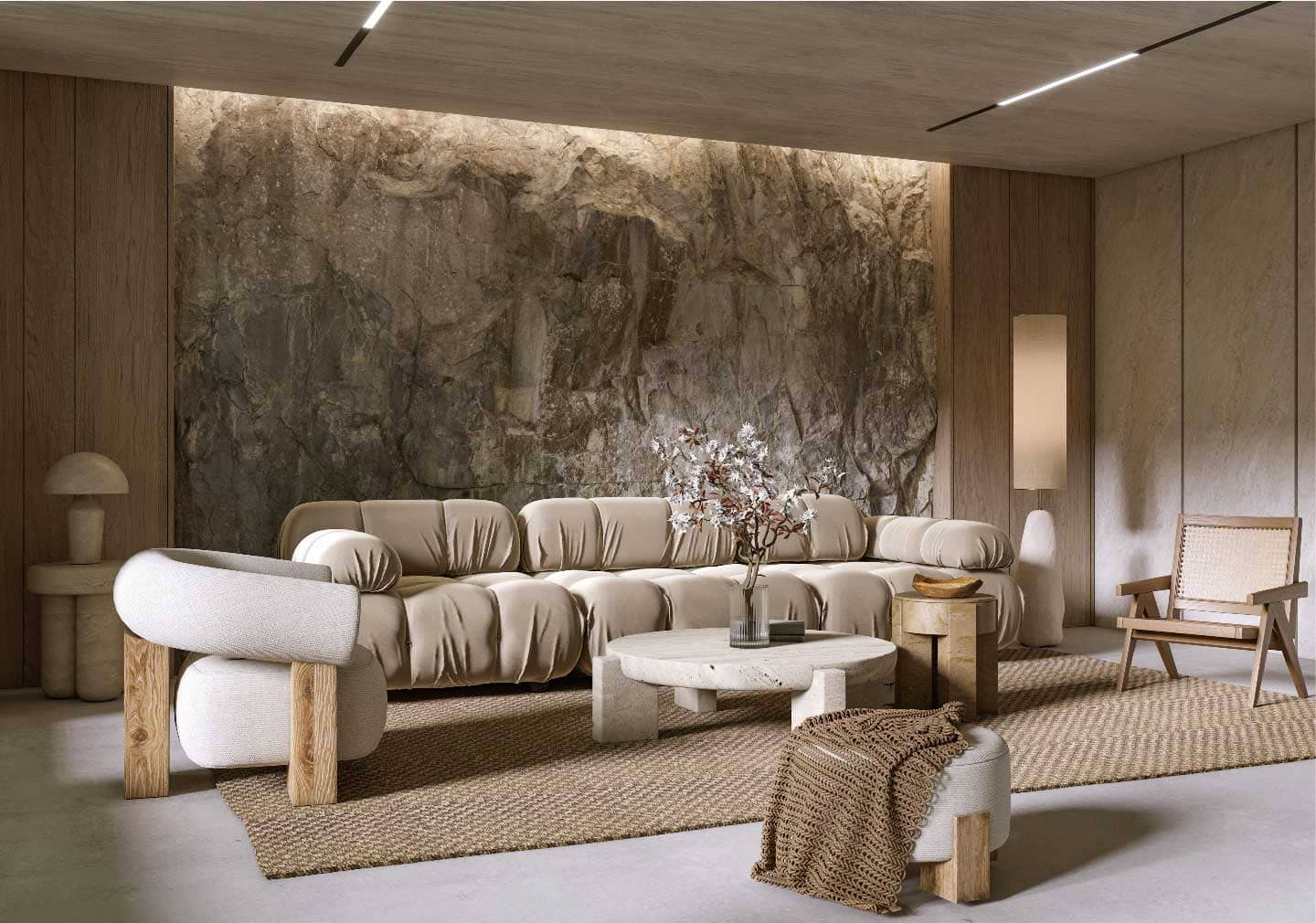 In the contemporary design world, we expect seeing significantly more vibrant colors, finishes that are more glossy than matte, and intricate lamp shades. Apart from the metallic bases, lamps made of textiles will also be the new in. Additionally, we predict that ceramic shades will become desirable for use as table, floor, pendant, or surface mounts.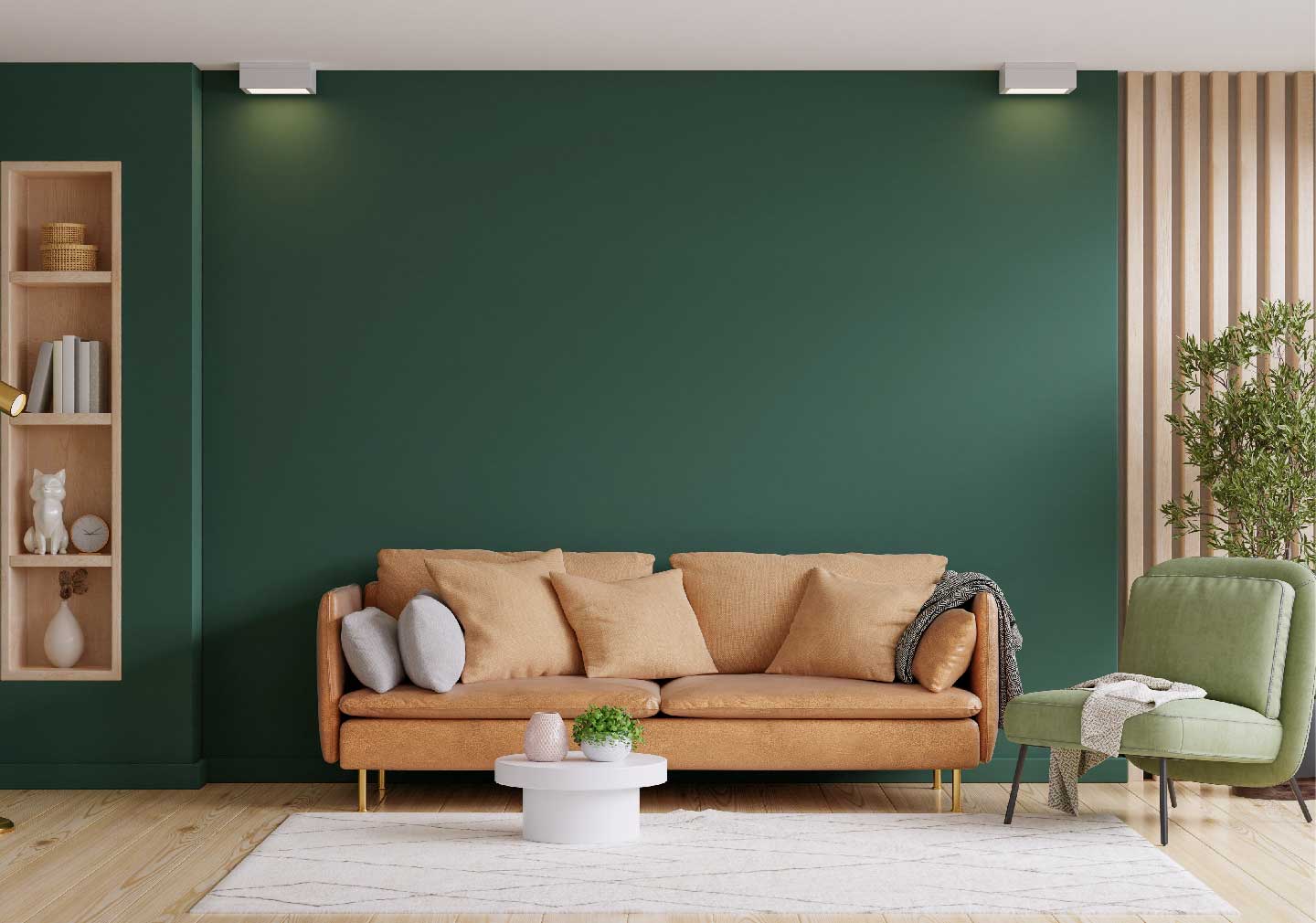 Let's talk about technology
Although the love for natural materials is increasing in modern home decor, technology is also playing an increasingly important role in interior design and acceptance of smart homes will increase in 2023. Smart home technology, such as automated lighting and temperature control, will become increasingly popular, as are interactive and multi-functional spaces, such as home offices and playrooms that incorporate technology in new and innovative ways.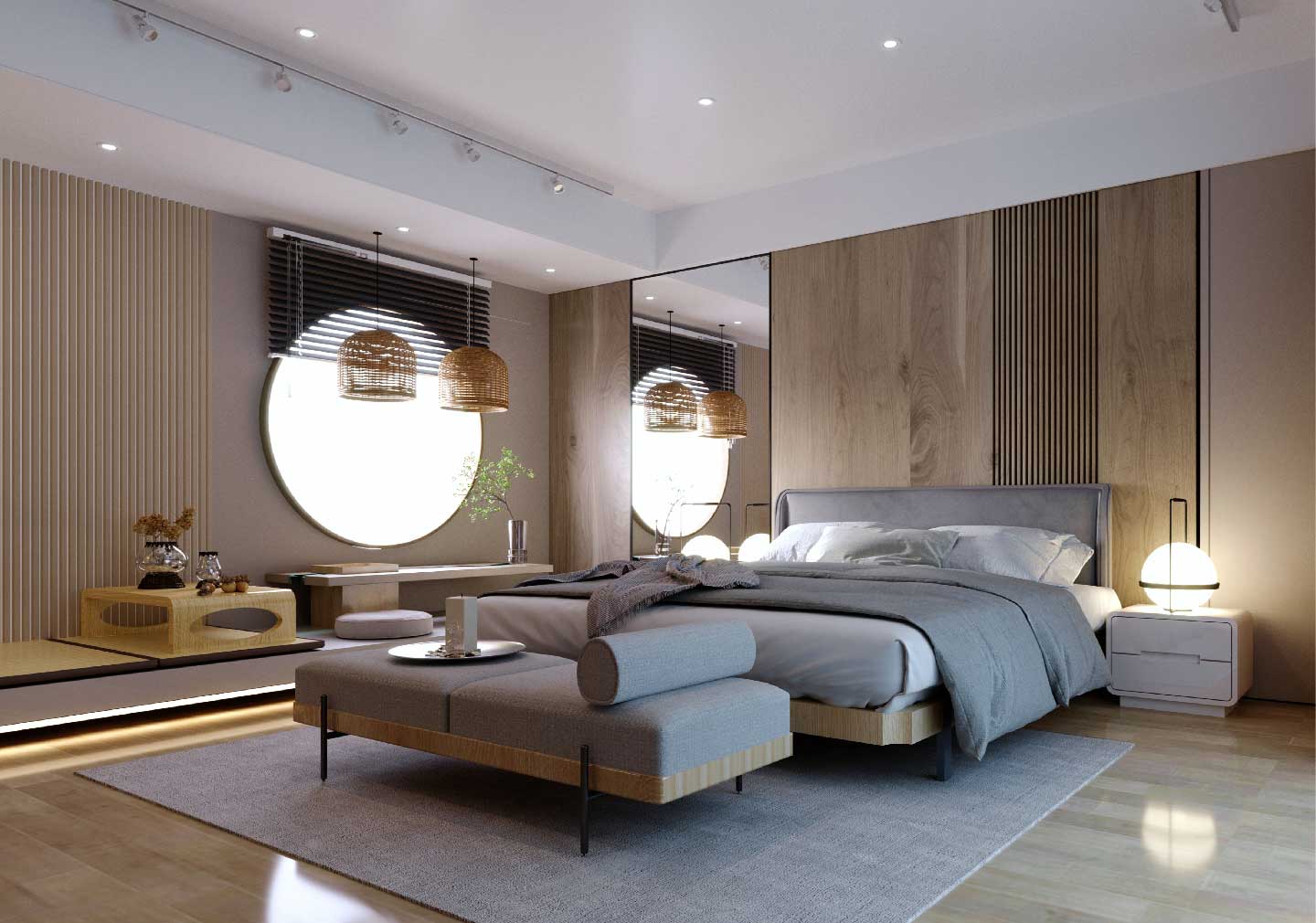 In 2023, coloured concrete will undoubtedly become popular. The material is quite durable, the color doesn't fade with time, and if it chips, the marks are difficult to see. This material is frequently used in floors, kitchens, and restrooms. If you already have concrete in your home, it's wonderful to know that you can paint it. If you want to add a distinctive texture to your area, it is definitely worth looking into because it comes in so many different hues.This also another trend that will continue to stay and complement other design styles too.
Play it well with checks!
Rugs, tiles, and fabrics will now sport in checkered patterns as checkered patterns are making a resurgence in interior design. With their neat and tailored appearance, they give any space a laid-back and informal vibe. Utilize them in the same way that you would stripes: adjacent to solids or even in combination with other textures and patterns. Checkers are a timeless design that can be utilized virtually anyplace and in any sort of home decor.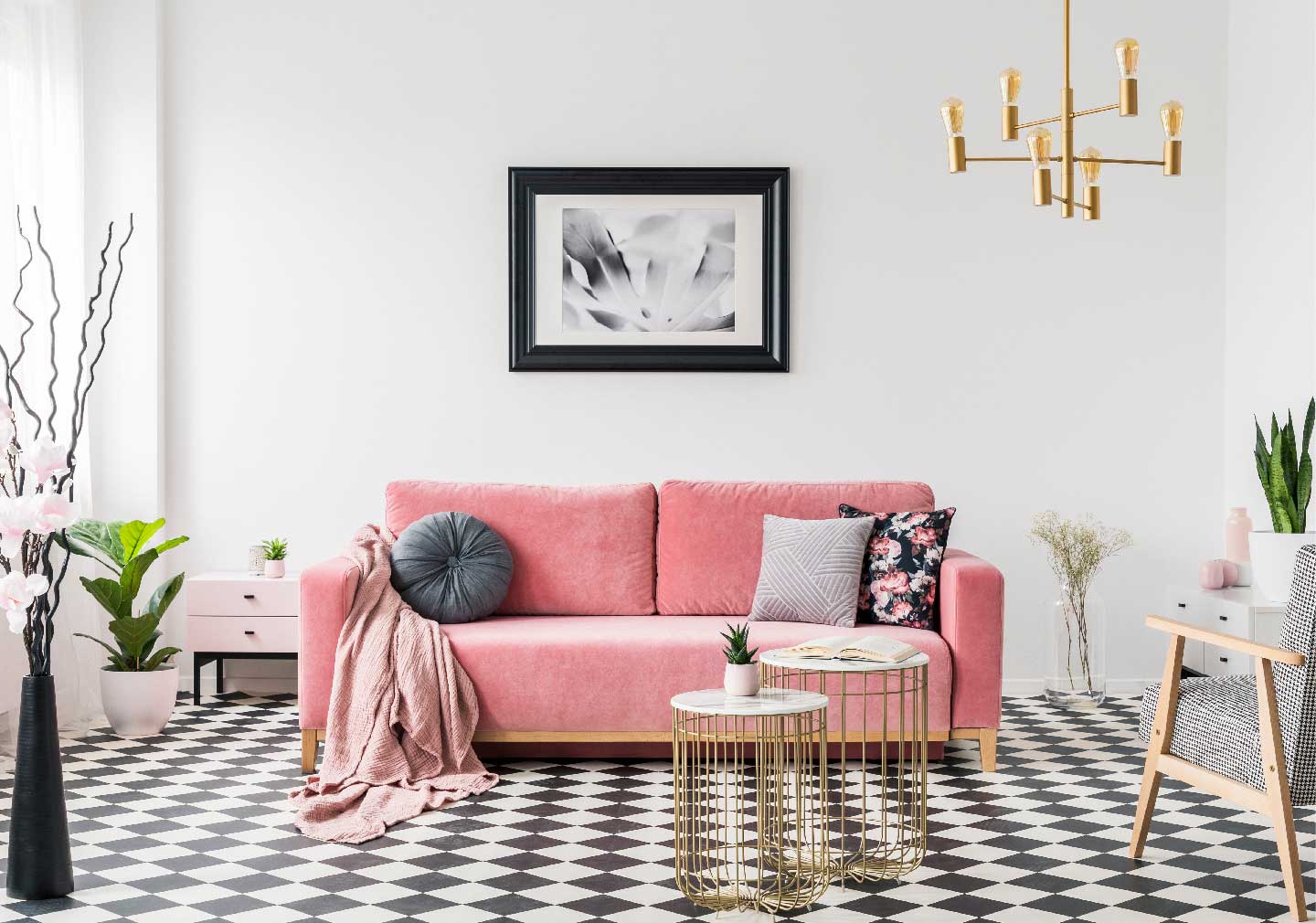 These are just a few of the trends that will shape the world of interior design in 2023. While some of these interior design trends may be more popular than others, it is important to remember that the most important thing when it comes to designing a space is that it should reflect your personal style and make you happy. Bonito Designs is here to overcome all your interior design dilemmas. Assuring you quality check in all the stages starting from drawing till site completion, we promise you the interiors of your dream. Connect with us for more information and stay tuned as we bring you more ideas about interior design which you'd love to have.