While many Indian houses today prefer to have modern interior designs, they also wish to have a touch of their traditions. Hence, most Indian houses will have a combination of modern and traditional home interior design ideas. Being traditional does not mean you have to decorate the house with religious elements or motifs. There are several ideas that help in offering a traditional look to Indian homes without exaggerating. Here are some of the most common ideas that can offer a conventional look to Indian houses seamlessly.
The Selection of Colour:
When it comes to Indian traditional home interior design ideas, one of the basic ones is to select the right shades from the palette. Indian palette consists of a lot of bright and vibrant shades such as reds, oranges, greens, and blues. You can trickily make use of colours like yellow, green, or blue for the walls. But make sure that you do not overdo it that would otherwise create chaos of colours.
A much safer idea is to stick to the earthly shades for the walls and blast colour bombs in the form of placing bright coloured cushions on the seating areas or adding other such colourful elements in the room to add texture.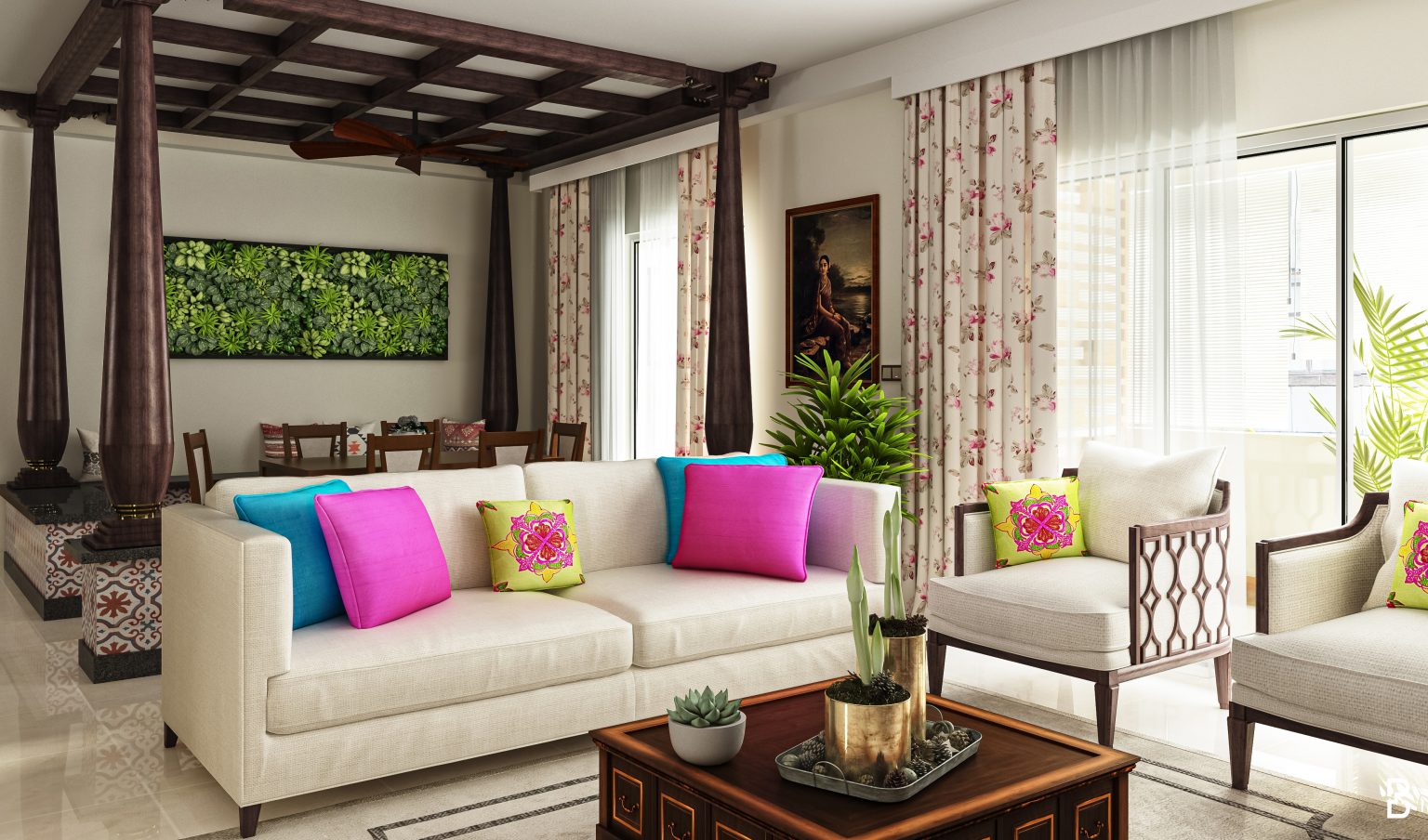 Wooden Furniture:
Nothing else can bring out the traditional side of the house better than having a wooden furniture set. Prefer to select heavy furniture options with curved legs and armrests? Love traditional designs such as a jharokha or a birdcage style. Check out the local craftsman who will have mastery in creating such traditional forms of furniture.
Apart from the obvious furniture, install one or two ornate wooden chests at the corners over which you can place a traditional cover of chikankari or embroidered clothing.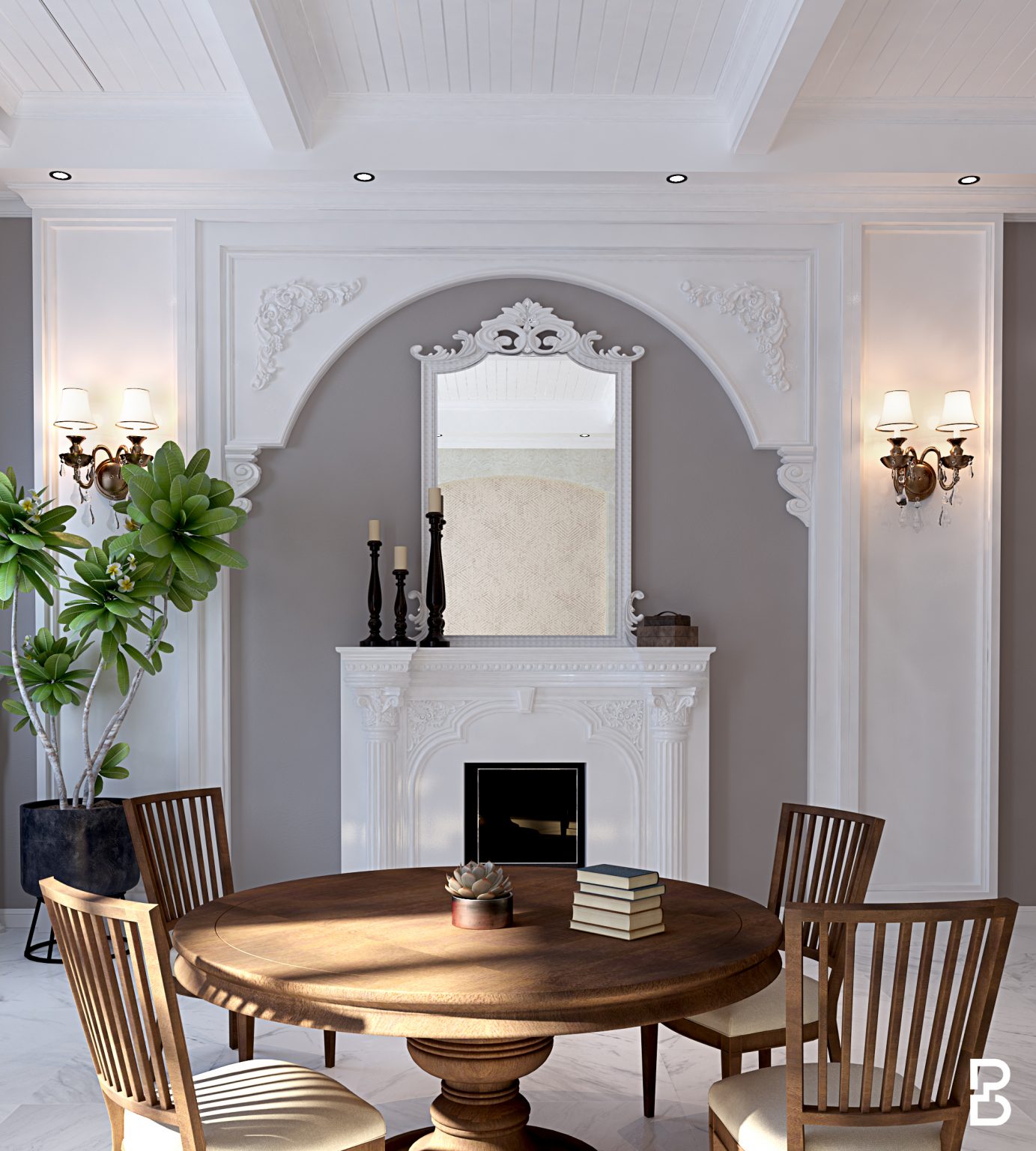 Other Traditional Furniture:
Apart from the heavy wooden furniture, there are many other furniture options that you can have to breathe the traditional air in your house. One of the favourite ones is the Chettinad furniture made up of teak wood and brass accents. While these make a perfect option for outdoor areas such as the porch or the balconies, they also can be used in the living room in contrast to the heavy furniture setups.
Also, chairs and footrests made up of bamboo can be a great idea to offer diversity to the living area. Matching different items will offer a more lively atmosphere but make sure that you match up the elements well by either complementing them with each other or carefully contrasting them.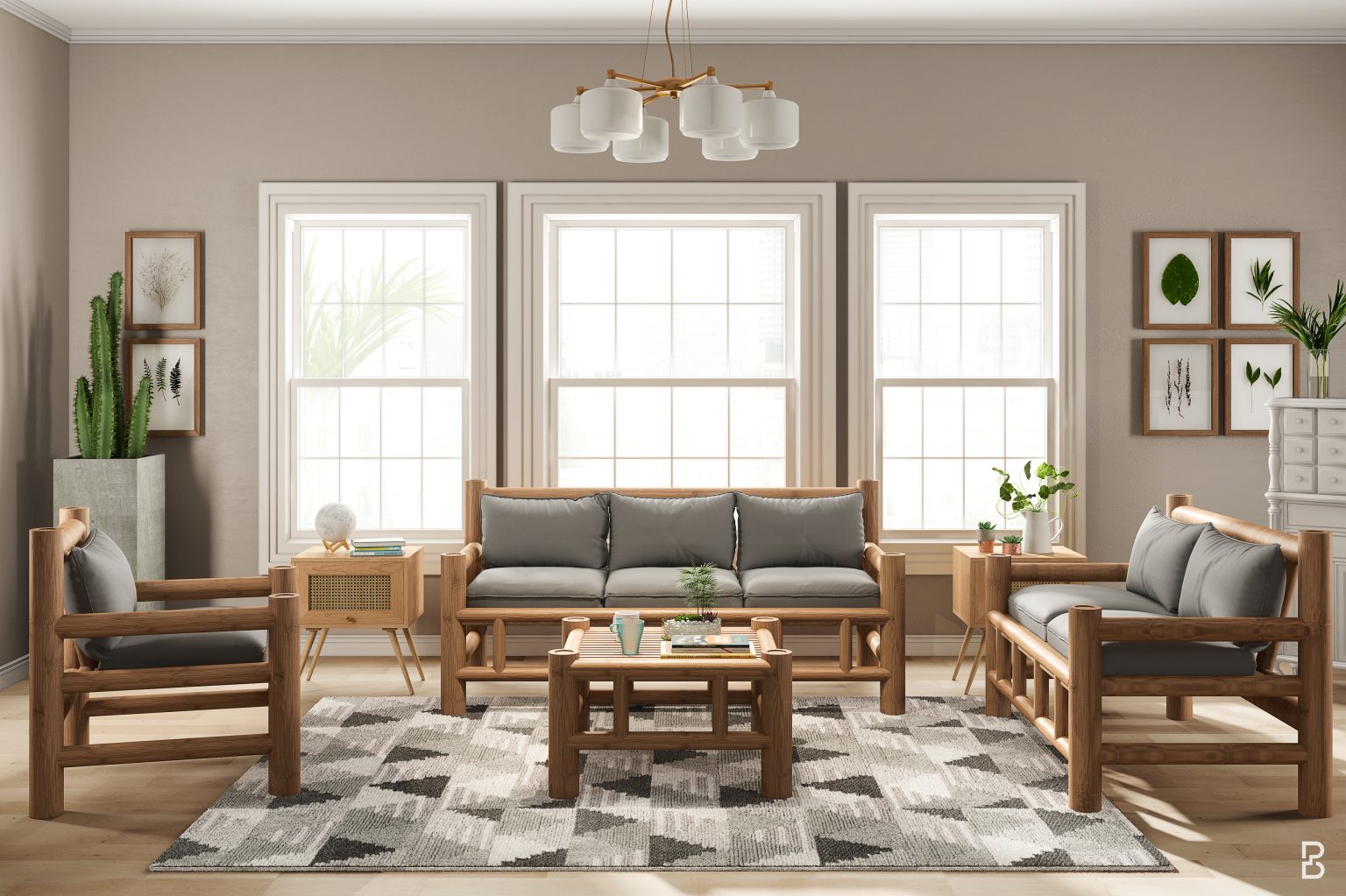 Compulsory Pooja Space:
A prayer area is mandatory in Indian households, irrespective of the religious belief that you follow. Hence, one of the mandatory traditional home interior design ideas is to have a proper prayer area in the house. Now this will depend upon the space that you have in your house. If you have got a good amount of space then you can create an entire pooja room or a prayer room with doors of CNC cutting design and a traditional design false ceiling. The choice of elements to be kept inside the room will be a personal choice.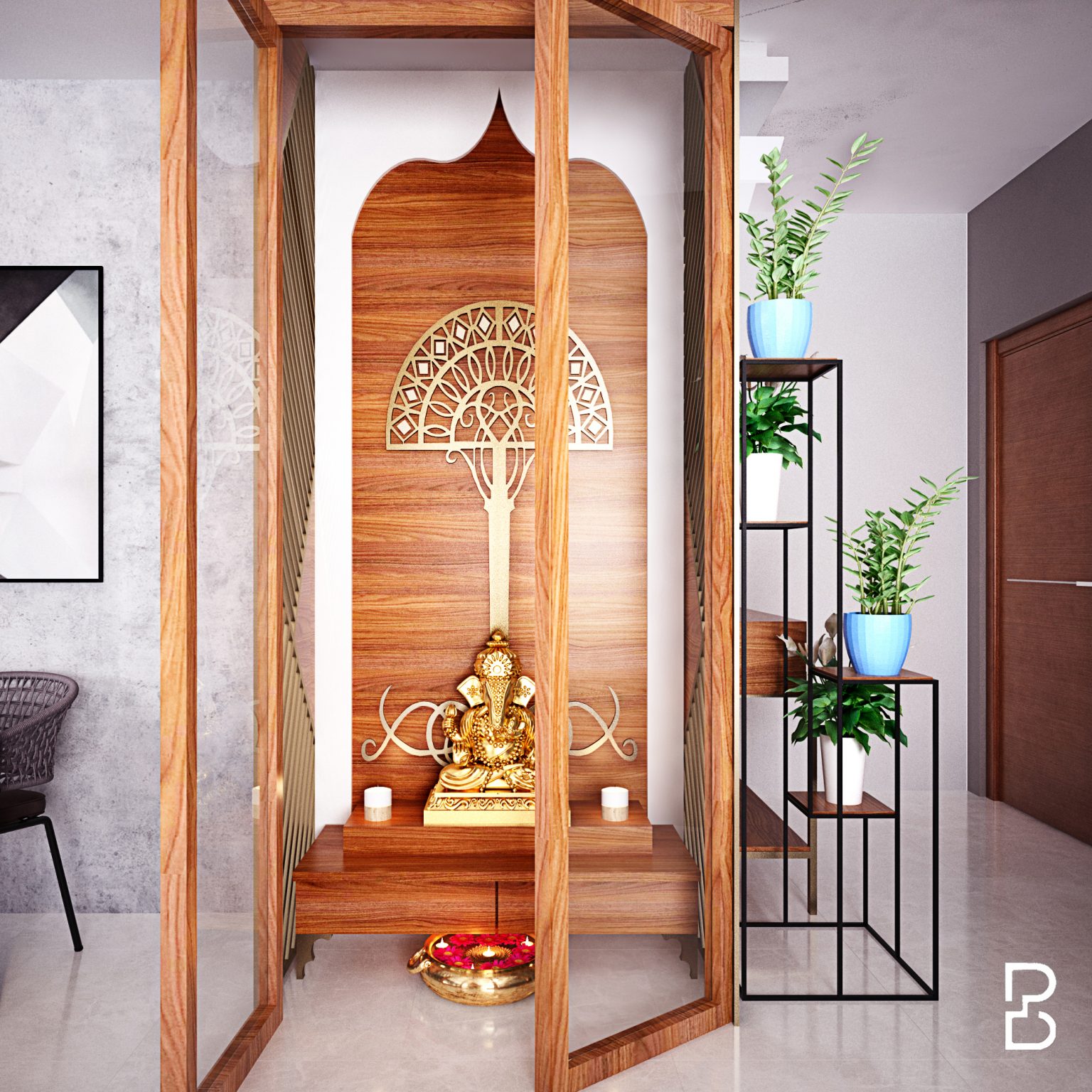 But if you do not have much area to create a room, you can also make use of a tall unit to create your pooja space. Choosing designers such as that from Bonito Designs can help you in getting some breathtaking ideas for setting up your praying place even within a tall cabinet that you can install near the dining area or even in the master bedroom.
Of course, setting up traditional plants such as tulsi on the balcony and decorating it with traditional elements will also bring out the look that you have been looking for.
Desi Upholsteries:
One of the easiest ways to get that traditional look is to get some traditional and Indian style upholsteries in the house. You can go for different options such as block prints, bandhani or tie, and dye, embroidered, and many others for your bedsheets, cushion covers, and even your curtains. You can also use such designs for the sofa covers or even put up such covers on the armrest of the heavy wooden chairs and on the table that you have got. Match the upholsteries with the shades of the walls to get a uniform and smooth look in the interior.
Install Rugs and Carpets:
Another amazing idea for traditional home interior designing is to install woolen carpets and rugs in the living room and also other areas of the house. It is quite obvious that installing the original Persian carpet is not always possible due to its extremely expensive price tag and a long list of maintenance. But you can check out the market to get other woolen carpets or even cotton rugs that can offer a similar look to the interior.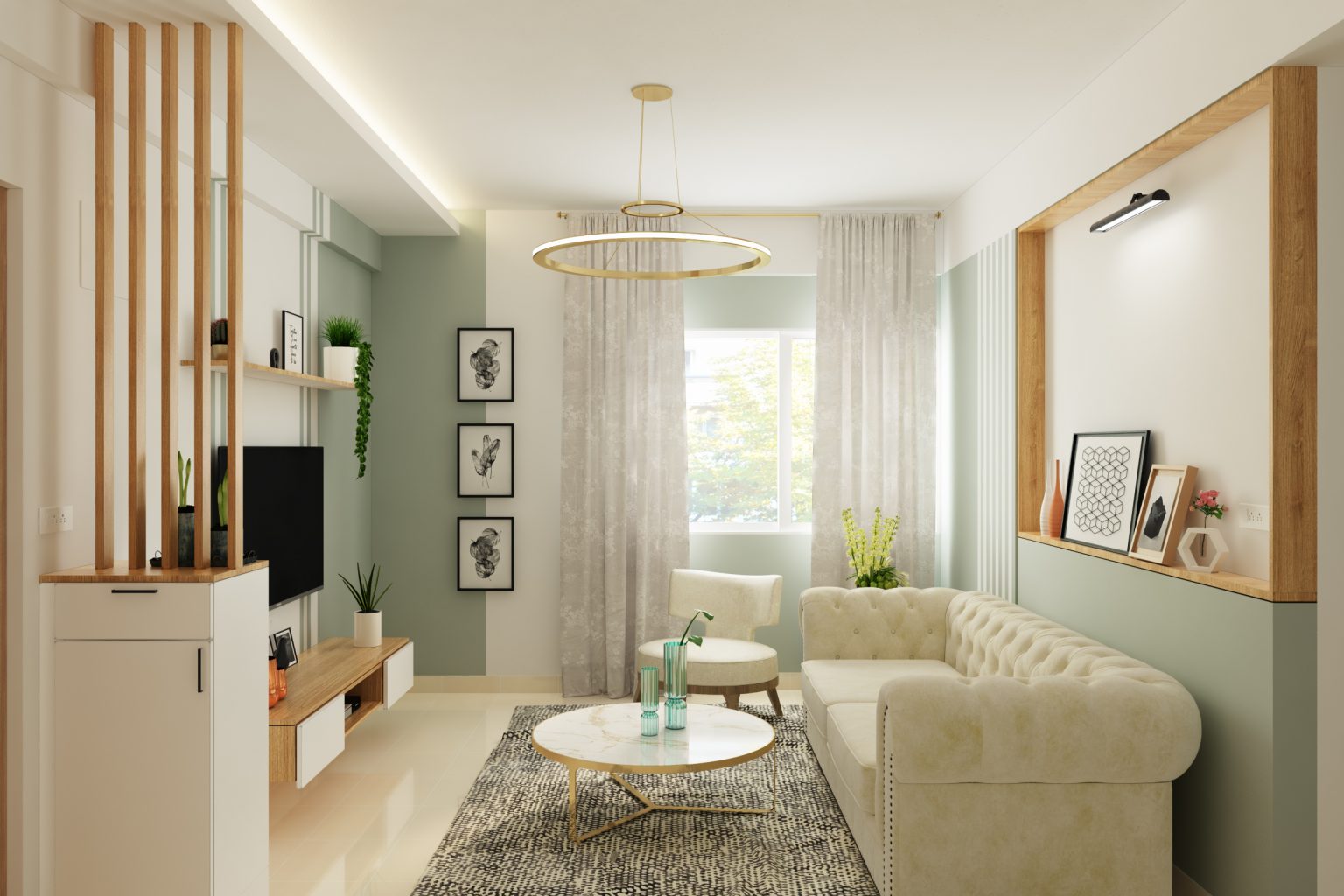 Place chairs and sofa along with the center table of the living room over the carpet to create a sense of warmth and comfort. A similar thing can be done in the case of the bedroom where the bed can be placed over the carpet or the rug to offer a lavish and traditional look to the bedroom.
Family Gathering Zone:
We Indians love to gather together over chai and samosas to spend some lovely time together. One of the best places to have such family gatherings is the living room. Whether it is a cricket match showing up on the television or the whole family is watching a wedding video recording, the living room serves to be the perfect location. Also, for such gatherings, having a formal seating setup is not a good idea in terms of comfort.
You can arrange an informal seating option with a few heavy chairs, a comfy sofa, a diwan at one side, a few bean bags for the kids, and others. If you have got ample space, you can even install a swing made up of a wooden seat and beaded rope to offer a traditional touch to the entire setup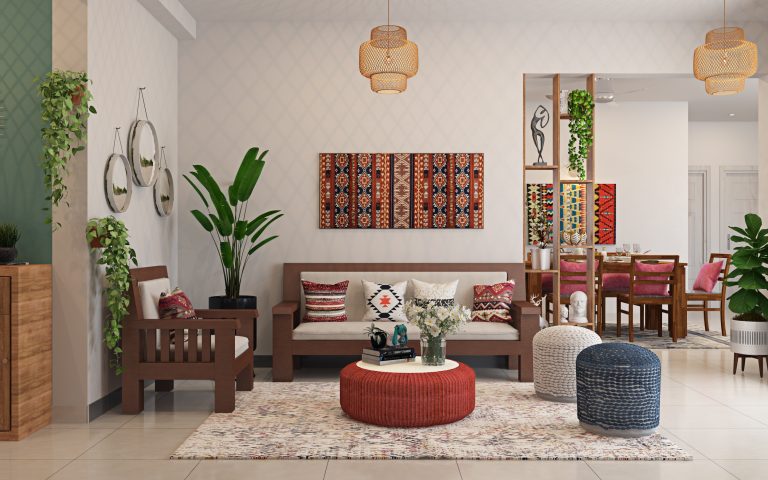 Indulge Tribal Arts:
Another great way to offer a touch of traditional look to the simplistic interior is by adding up tribal art elements in the house. You can install a wallpaper of some tribal art on one of the walls of the bedroom and highlight it with focus lights. Similarly, you can have Jaipuri wall hangings, paintings from Madhubani, or artifacts from Gujarat to offer a fascinating look to your interiors.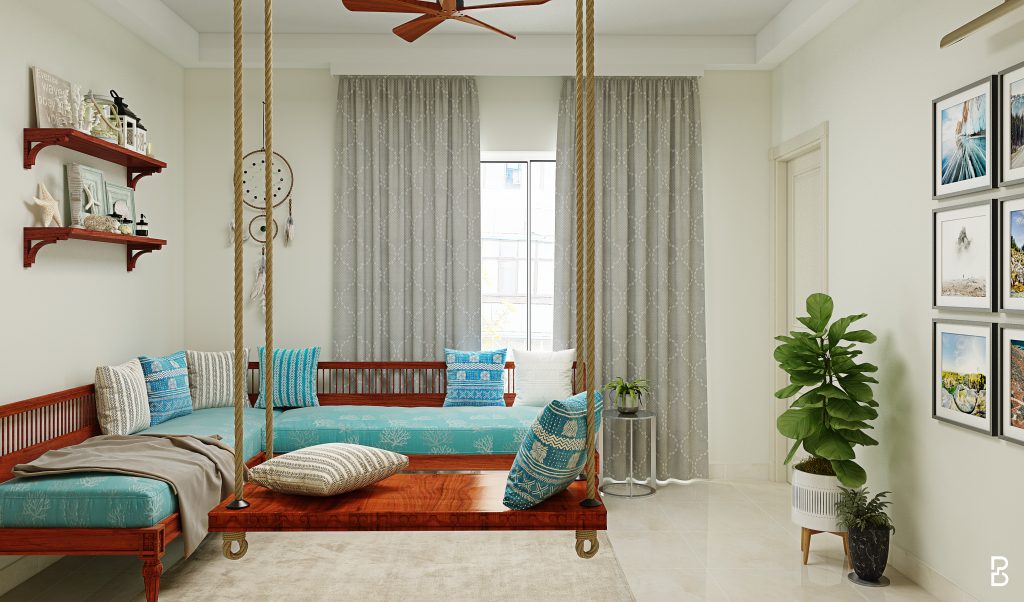 To offer a signature look, you can hang brass lamps and lanterns at the corners or at the sides of the doors. These lamps and bells can accentuate the pooja area and thus is the most common idea in many Indian houses.
Conclusion:
Today, more people are going towards minimalist options in order to keep their houses clutter-free. But while doing so, they do not wish to leave out their traditional roots. Most people wish to have some traditional touches here and there that would make them feel more comfortable and at home. Bringing traditional designs home does not mean that you have to decorate the home with religious elements in every corner of the house.
The above-mentioned traditional home interior design ideas are not extreme options while they offer a beautiful texture to your simplistic interiors. Carefully make use of these ideas to get that traditional feel in your home without creating a mess. But if you are not sure whether you can do it in the right way or not, you can always get in touch with the experts such as Bonito Designs in Bangalore.
Start your journey with us and craft your
dream home
Make a statement, build a designer home.