One glimpse at any home gives an impression about its owner's lifestyle, taste and aspirations. Avisit to Mr Amit Gupta's newly done up house at Bangalore's Salarpuria Greenage showcases his fondness for classy yet cozy lifestyle.
He gave a free hand to interior designers in Bangalore based Bonito Designs and the team sure did come up with ideas to glam up an apartment into a tastefully done house.
Elegant Entrance:
The entrance of house is decorated with unique cabinets that have been arranged in shape of steps.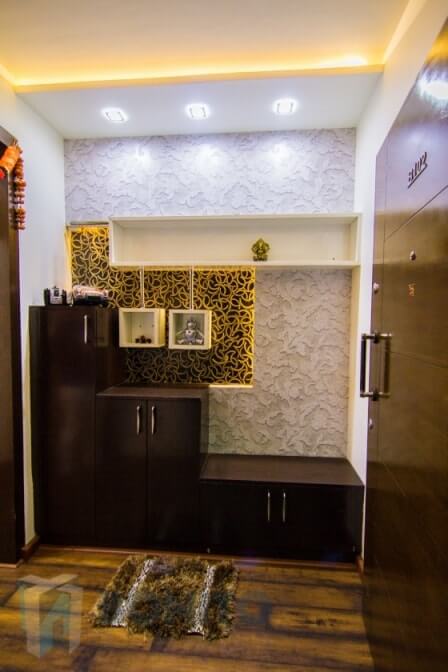 Yes, these 'steps' cleverly create space to hide the household stuff like newspapers, magazines etc The background of these 'steps' is done up with tasteful white wallpaper with floral pattern on one side.
The other side features a distinct wall design with dark background highlighting coconut shaped designs on it. On top of this wall design is ample showcase space to keep artifacts, family memories and all.
This mesh up of light and dark decoration on wall compliments the false ceiling which lends an impressive look to the entrance.
Luxe Living in an Apartment:
The entrance leads to the living room where the walls have been done up with inverted U-shaped stone cladding from end to end. A cushy sofa is placed neatly in such a manner that the big 3 seated chair comes on one side, one 2 seated chair faces the TV while another 2 seated chair is placed opposite to the 3 seated chair.
This is a designing marvel, allowing maximum space utilization. These simple yet modern interior designs have helped in two ways – first, carved out maximum space for living area and secondly interior designers have successfully created an impression that living area expanses into huge space.
This is a challenging task when designing a modern apartment since many apartments may have limited and sometimes very small space areas dedicated for living zone.
Beyond the Living Room:
One side of the living room opens into a passage leading into bedrooms. The passage ceiling deserves specific mention for intelligent use of light elements. Walls have bare minimum look but ceiling is well light with pop lights, letting the tenant to walk through easily.
Another side of living room has ample space dedicated to storage. A big, impressive crockery unit is seated neatly here. It has four cabinets, multiple drawers stacked on one side and as top and bottom shelf.
We, interior designers in Bangalore have created ample space for kitchen utensils here without cutting into the ambiance of living room.
The walls and overall façade of this space carries the same look as the living room to complete the overall décor. The designers have skillfully added lighting element in the space between the bottom cabinet and middle cabinets and further the top cabinet to spruce up the entire zone.
What's There in the Ceiling?
The tenant wanted special emphasis on a rich looking ceiling. Hence our Bonito Designs team took special care to decorate the ceiling tastefully.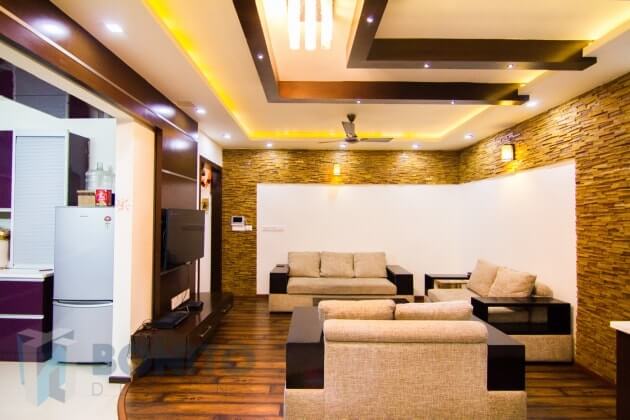 They placed two L-shaped rafters light up with LED lights and a beautiful chandelier in between to complete this look. Ceiling too, follows the living room's theme, creating an all-inclusive look for the house.
The Marvels of Modular Kitchen:
Living room leads to the kitchen as well. But right beside the modular kitchen is a graceful, white marble laden space for pooja unit. Tenant can keep his deities along with the holy accessories in this space. Kitchen space has been done with light colored tiles.
Decorators have used G-profile cabinets, these modular drawers can stock up almost all kitchen utensils.
A rolling shutter cabinet is housed in one corner which is ideal for keeping daily itineraries. Racks have been stacked in the walls and as top shelf as well to store anything and everything from the kitchen area.
Bedrooms and Beyond:
Guest bedroom has sober wallpaper, matching drapes and this look is complimented by the black and white slider wardrobes.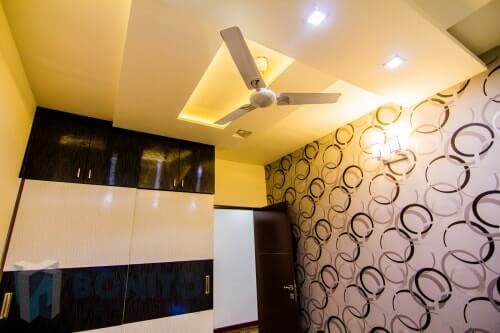 The ceiling has one straight and one U-shaped rafters to keep let the room look simple and graceful.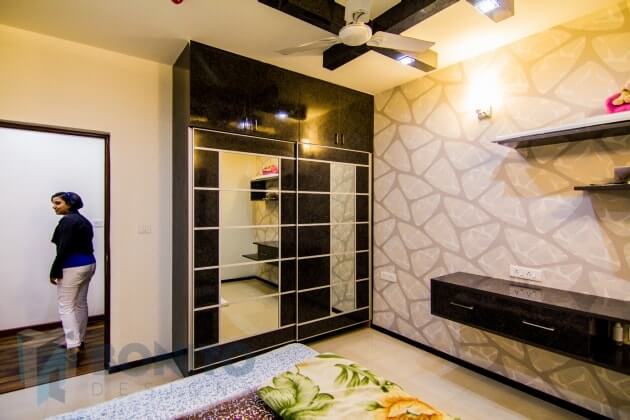 Another bedroom which can be used for guest or for children also adorns a somber look.
It has 8-feet slider wardrobe covered with stone colored laminate and glass, intersected by aluminum strips. The ceiling wears a minimalistic look.
A visit to this house can leave on asking for more. Modern interior designs do wonders to an apartment and this is just an example of wonderful interior designing