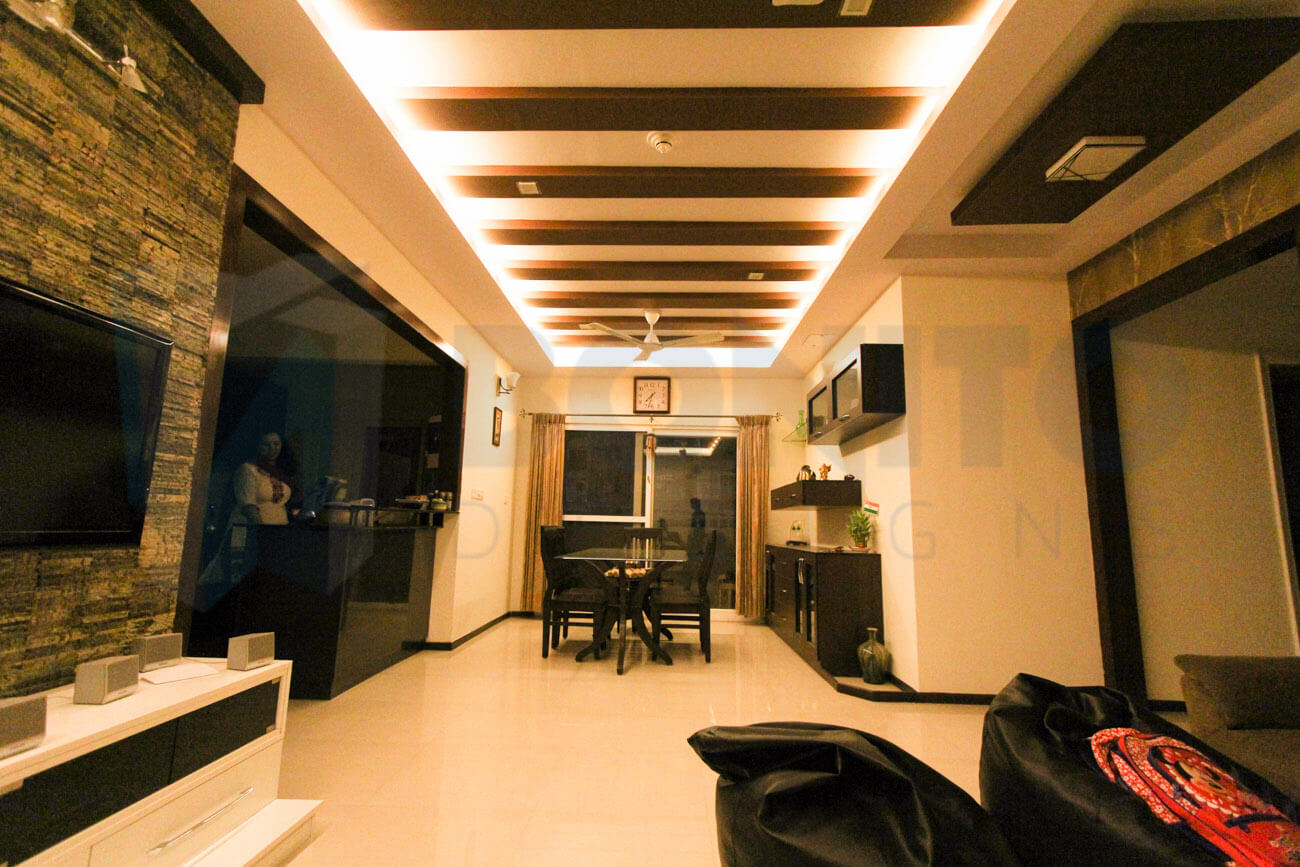 Our unprecedented creation Salarpuria Sattva Greenage Apartment @ Bommanahalli was in Bangalore is considered as a paradise by Mr. and Mrs. Gupta. Their fondness for the apartment has incremented manifolds since they have made it as their adobe.
Mr and Mrs. Gupta are very handy about their requirements. We are happy that they allowed us to show us our own creative designs in every nook and corner of their house.
Entry Point- Foyer area
The foyer area is the portion of the apartment which impressed them the most. They had not anticipated the 6 x 4 area to be so dignified and spacious. The stone clad wall imparted a royal ambiance to the whole section. The enlightening spotlights added a dash of glamour and depth to the stone clad wall.
The area has the designer wooden panel complemented by cushions and elegantly designed wooden shoe racks. The shoe casket is not totally enclosed but has the provision for circulation of air. Hence no stinking smell is experienced.
Mrs Gupta wanted the cleanliness to be of prime importance especially in the foyer area. A special back passage has been provided from the foyer area to the kitchen besides to that of living room.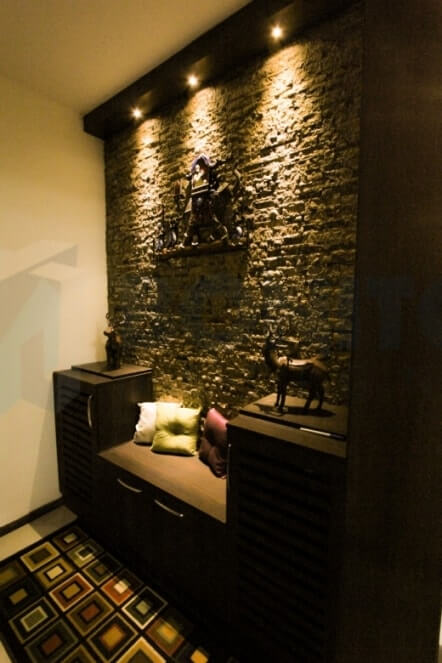 Wooden False Ceiling Concept
We chalked out the entire living space with lines of wooden false ceiling painted with brown color from one end of the living room to the other end to give it a unique look.
To spruce up the look of the living room, we continued the wooden feel in the TV cabinet right from the living entrance to the kitchen end.
Tip: This is one type of design which people would be afraid to try out in their living room given the complexity and glamour of the design. Always keep in mind one thing; Its not the design alone that imparts the feeling of complexity and cumbersomeness; but the color combination too. If you look closely; we have chosen to restrict to a minimal number of colors and yet stretching the design just a bit which balances both.
How We Designed the TV Cabinet?
To suit with the floor color, we chose a white color high gloss laminate for the TV cabinets that married the theme. Wooden color stone cladding was picked as a TV wall interior to make sure that the theme is continued without any diversion.
Also, we highlighted the stone cladding with a simple 3 lined glowing bulbs on the top which has a textured light falloff multiplying the depth of the cladding.
Virtual Partition for Living and Dining room:
Partitioning has been carried out to provide a beautiful living cum dining room. The entry to living room is sufficient to provide a glimpse of its beauty and elegance.
The glint of brown and white is not overdone and special focus is laid on imparting an understated yet beautiful scene. Brown colored three seater sofas face a television mounted on a patterned wall.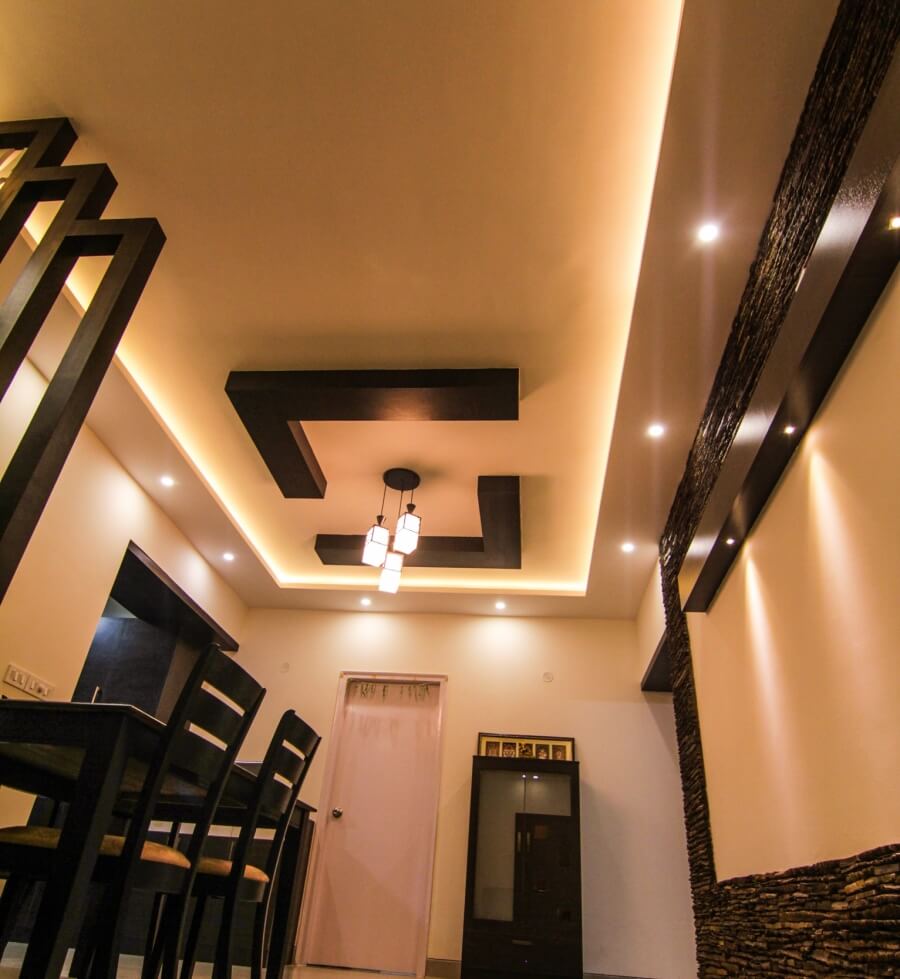 Special white cabinets have been created to provide space for placing CD's and remote control. The wall behind the sofas is stupendously designed with a simple wallpaper.
Crockery cum Bar unit:
The dining table not only provisions the inherent functionality but also is very unique without any extra polish. Mrs. Gupta seemed highly impressed with the work of how we transformed the complete look of existing bar unit to the crockery.
The transparent cabinet units with three drawers in middle section have been specially crafted with wood to convey a rustic and warm feel.
Above the crockery cabinet special closed drawers(with soft closing mechanism) for placing utilities has been provided. Above the drawer one can encounter transparent ledges which are specially designed to allot space for accessories/ crafts.
Designing a Multi-Utility Kitchen
This section was carefully scrutinized by Mrs. Gupta. The kitchen section has been very carefully designed to ensure that the residents do not encounter any hassle.
Parallel built sink and cooking unit ensure that marathon movements are not required while cooking food. Beneath the cooking unit four different cabinet sections have been facilitated.
Break fast cum Utility counter in the kitchen:
Coupled with a breakfast counter the kitchen became a multi- utility section. Moreover the breakfast counter has been integrated with set of cabinets which can be availed as per use. Left section of kitchen is occupied by a giant cabinet with four sections. Not only utensils but electronic devices like microwave can also be placed in the cabinet.
The cabinet eradicates any hassle encountered while storing of utensils. Moreover the aspect which is most amazing is that space constriction will not be experienced.
Right top cabinets are lined with 3 huge openable door cabinets that has ended with frosted glass door.
Book rack having integration of two lower cabinets and 1 upper cabinet sided with vertical cabinet with 3 partitions has been provided at the entrance of the kid's bedroom. An SS rod is opted for one end to give a designer look.
Kids Bedroom for small champions
For most of the kids, pink is not just a color, it's more than an attitude they possess. This basic fact allowed us to play a major role in selecting an adobe and inspired us to gear up our thought process.
A lot of contemplation has been put into the designing of this kid's bedroom. The basic pink hued room exudes the charisma and comfort which is very essential for kids.
At the right section of room a pink and white color sliding wardrobe has been provided. The wardrobe also has an attached dressing table.
Dressing cum storage Unit:
Pink color dressing cum storage unit is matched with the pink theme.
At the end section, the entire guest bedroom is designed with black and light cream color combination specially to appease any guest paying a visit. The 30 by 12 feet bedroom has a double bed with designer double sliding wardrobes with an openable loft.
      If you do like these designs and want to import the same in your house?           
 We prevent you from being a Copy cat.
Call us..!! We are ready to design your space with new and innovative thoughts.
You can check our design strength on our own Youtube channel.