Mr. Vishal's 3bhk Apartment
A Close Peek at the Lavishly Sophisticated Interiors of Mr. Vishal's 3BHK Apartment
Sober, Elegant, and Classy were the three words that Mr. Vishal Mansur told us when he handed over the project of decorating the interior of his 3BHK apartment to us. Located in Vijaya Bank layout, Bannerghatta Road, Bangalore, the households ample space and 3 bedrooms besides a dining area and living room. We are known as the best interior designers in Bangalore, and hence we made sure to use our finest potentials for bringing a unique and classy look to this apartment.
On completion of the project, our client was so happy that he not only gave us our Cheque but a lifetime remembering dinner party. So read the synopsis of this video to know what exactly we did that made our client so happy and convinced.
The Attractive Foyer Area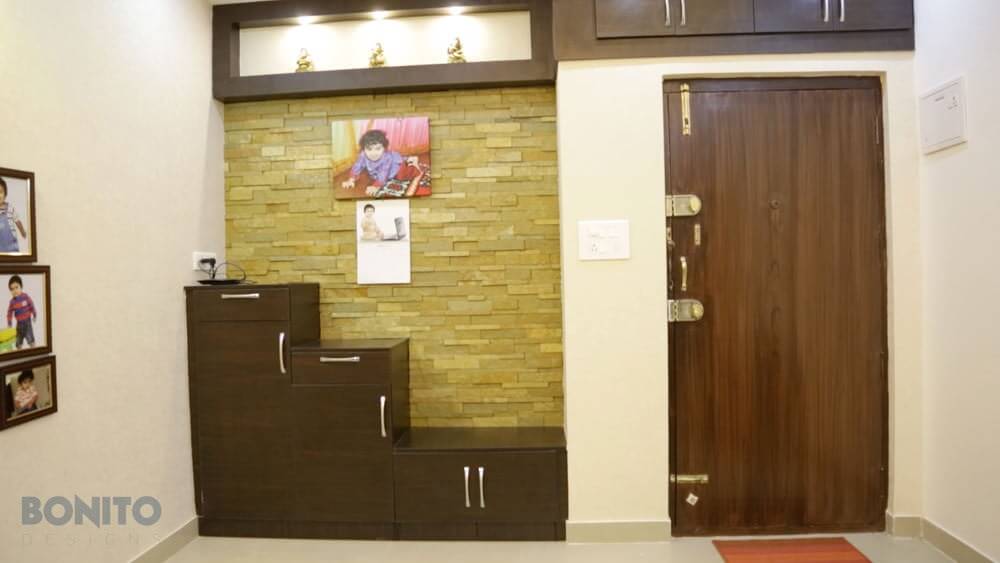 A conveniently accessible step shape shoe rack with stone cladding gives an appealing look to the foyer area. The look of this space is completed with a rafter with spotlights just above the shoe rack.
The Luxurious Living Room
The clients wanted a lavish and clean design for their living room. The main highlight of this space is undoubtedly it a luxurious false ceiling.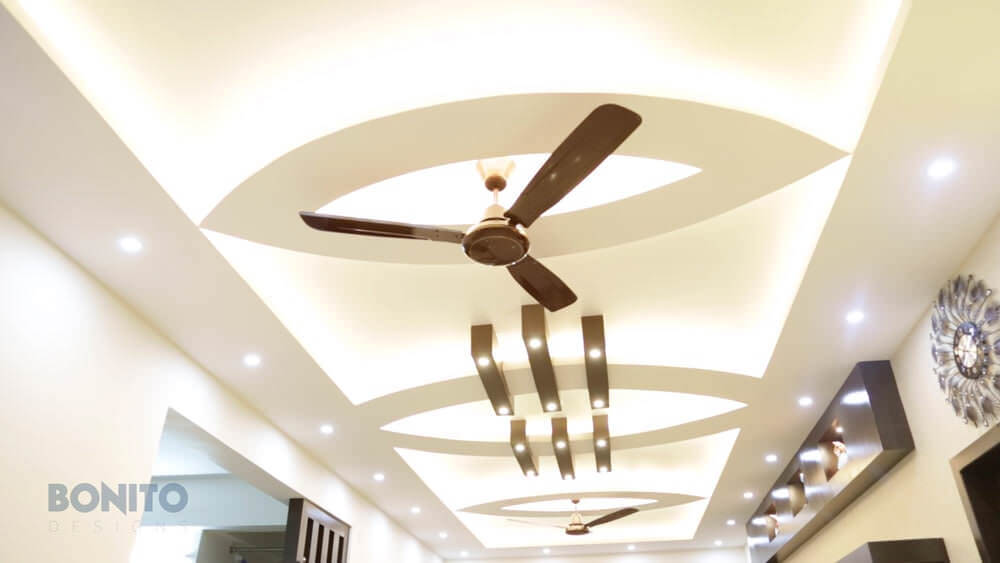 Decorated with rafter and spotlights the false ceiling is an innovatively crafted lavish design that is enough to accentuate the glory of this space. For this reason, we have kept minimum furniture on the floor.
A stylish TV unit made with chocolate brown laminate is designed with open and closed glass shelves. The cabinets have clear glass that offers a clear view of the items displayed within.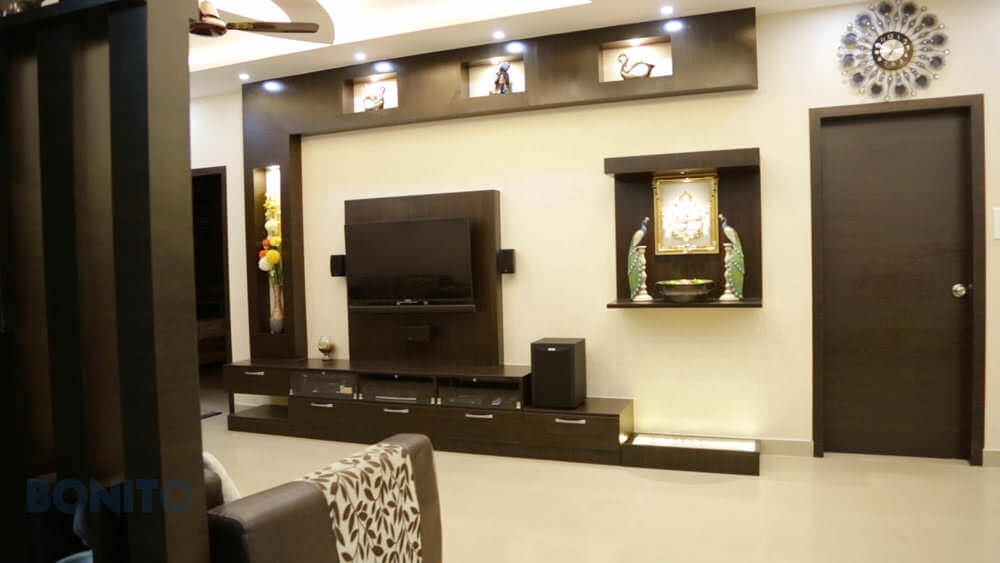 A beautiful partition made with chocolate brown laminate is introduced for separating the living space from the dining area. The partition can be also be used as a great display unit.
The U-Shaped Kitchen
Our client wanted a maximum utility for their kitchen space. We introduced a well-designed U-shape kitchen with a combination of two different colors. While the kitchen top is made with white color quartz, which is an artificial stone, the panels and shelves are made with lovely black current laminate with a glossy finish.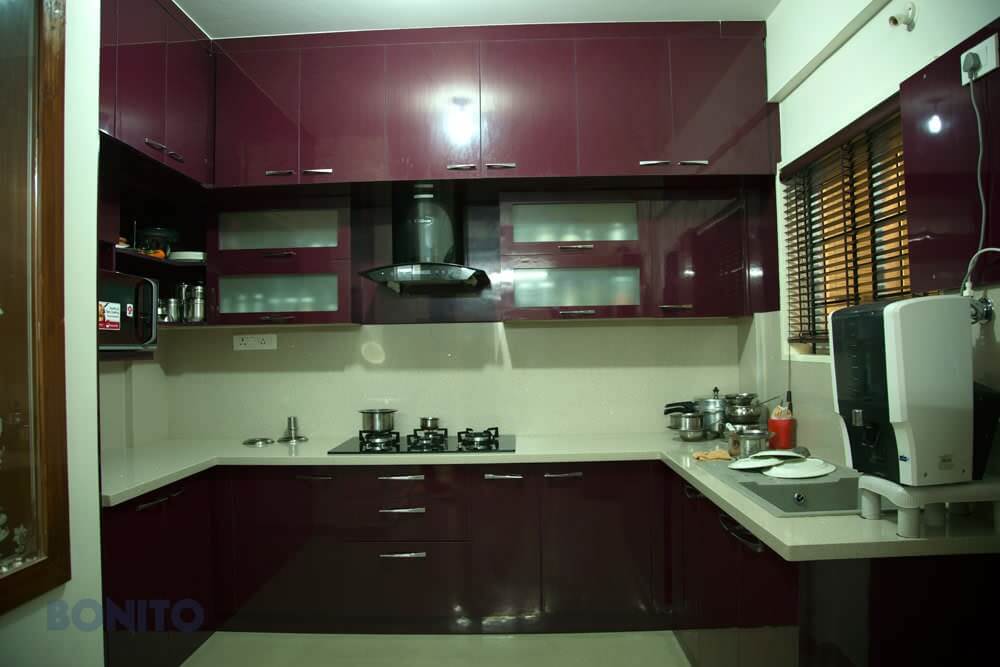 The top counters are highlighted with top lift cabinets with fogged glass.
Guest Bedroom
The guest bedroom is given a sophisticated look. We have played only with the wardrobe to make sure that the design is clean and stays attractive.
In addition to the sober gray color laminate, there is an attractive display unit offered to showcase the artifacts.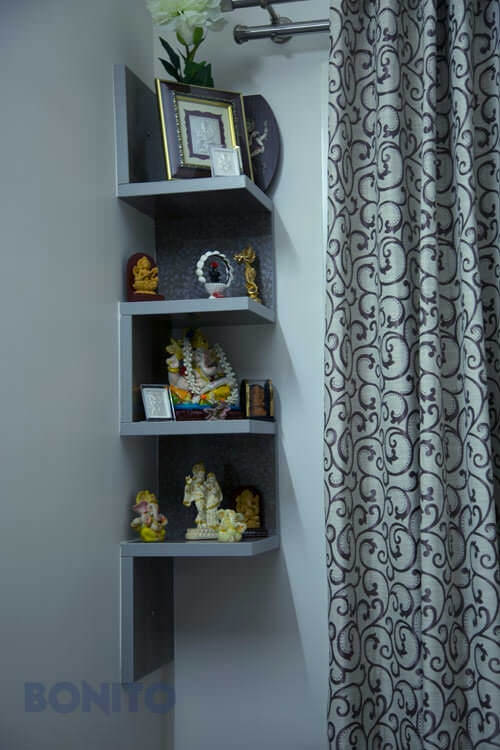 Kid's Bedroom
The wardrobe in the kid's bedroom has been cleverly designed. It not only offers excellent utility but also looks impressive.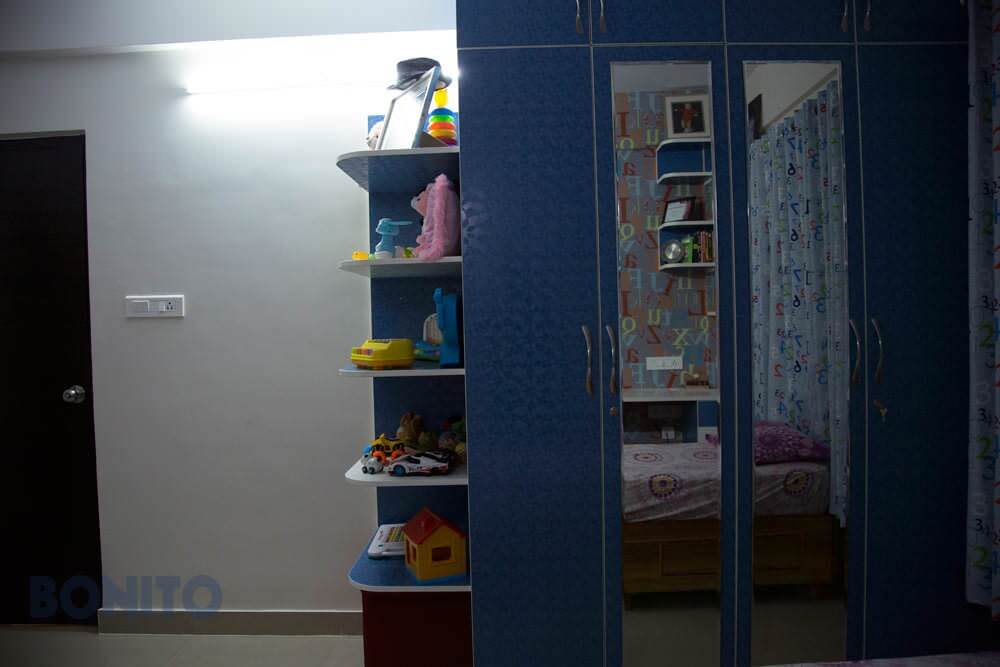 The wardrobe is designed with a big glass shutter and open cabinets.
Maintaining the harmony we have created a study unit with same laminate. We have provided open corner cabinets in the study unit to add some uniqueness in the room's décor.
Master Bedroom
The highlight of this room is its designer CNC partition with backlit.
[embed]https://youtu.be/HMGprzZCZNI[/embed]
The CNC partition right above the head rest offers luxurious glory to the entire room. The partition is covered with an acrylic sheet and holds smooth edges.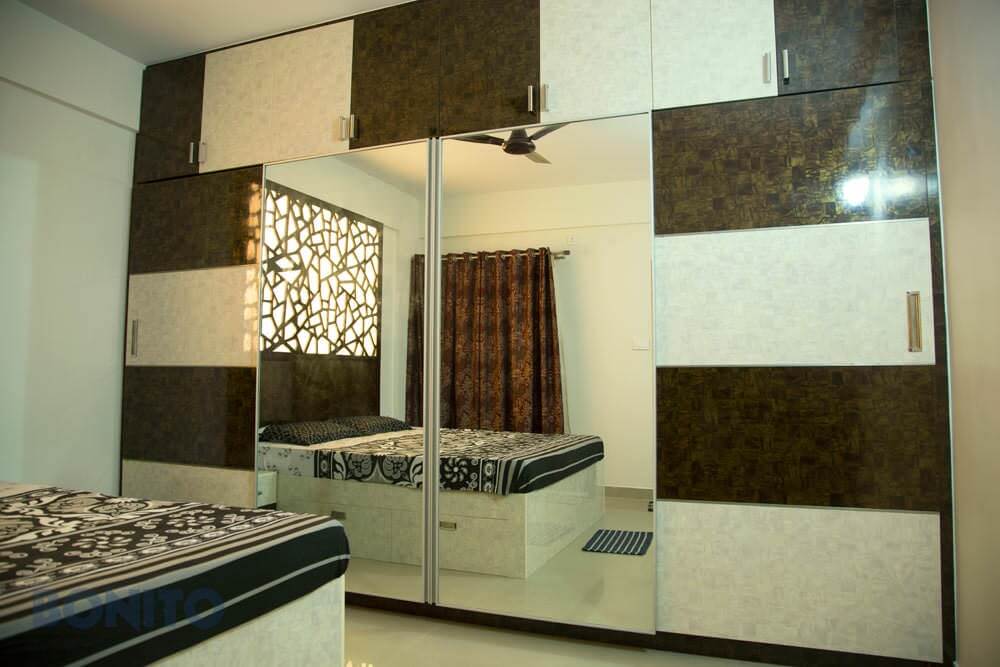 Adding more wonder to the partition are the giant size mirror shutters on the wardrobe. With these shutters not only the room looks beautiful but slightly bigger in dimensions.
This is the sober yet lavish interior décor of Mr. Vishal Mansur's 3BHK apartment. If you too wish to get your home interiors done by experts then call us right away. Our contact information and other vital details are available on our website.
If you are living in outside India, but still interested to avail our services you can just hit us at https://bonito.in/uae to see our latest works.