Introduction: 
Of everything in our home that we pay attention to during the design process, wardrobe interior design has to be in the Top Five. 
Why? 
It's because wardrobe is a place that, once installed, is hard to rebuild or redesign at least without compromising the aesthetics of your house and spoiling the paints on the wall. Which will have to be redone. Let's first discuss our lifestyle and how impulse drives us more times than necessary. 
Firstly, our modern lifestyles have led to an ever-expanding collection of clothing. With different attire required for work, casual outings, special occasions, and fitness activities, the wardrobe must cater to a diverse range of clothing needs. The challenge lies in creating a well-organised space that accommodates our vast array of clothes and accessories, ensuring easy access and efficient storage. 
Not to mention all the "sponsored posts" we are inundated with online, about clothes that we never thought we needed. Results? Giving in and contributing to the growing quantity of clothes we own. Many of us are guilty of purchasing clothing items impulsively, often influenced by sales, trends, or temporary desires or purely out of boredom. 
As we accumulate more clothes, the importance of smart storage solutions becomes evident. From adjustable shelves to pull-out drawers and dedicated sections for shoes and accessories, the wardrobe interior design needs to maximise every inch of available space.  
A well-designed wardrobe helps prevent clutter and allows us to maintain a neat and organised living environment. Therefore, let's explore some failsafe ideas to transform your wardrobe interior design. 
Simple Interior Design Ideas to Transform Your Closet Space
Your wardrobe is not just a place to store clothes; it's also an essential element of your bedroom's interior design. A well-organized and visually appealing wardrobe interior can transform your daily routine and elevate the overall aesthetics of your bedroom. In this comprehensive blog, we will explore six simple yet effective ideas to revamp your wardrobe's interior design. From optimizing storage space to adding stylish details, these ideas will help you create a functional and beautiful wardrobe that complements your personal style and makes getting dressed a joyous experience. 
Maximize Storage with Custom Shelving and Organizers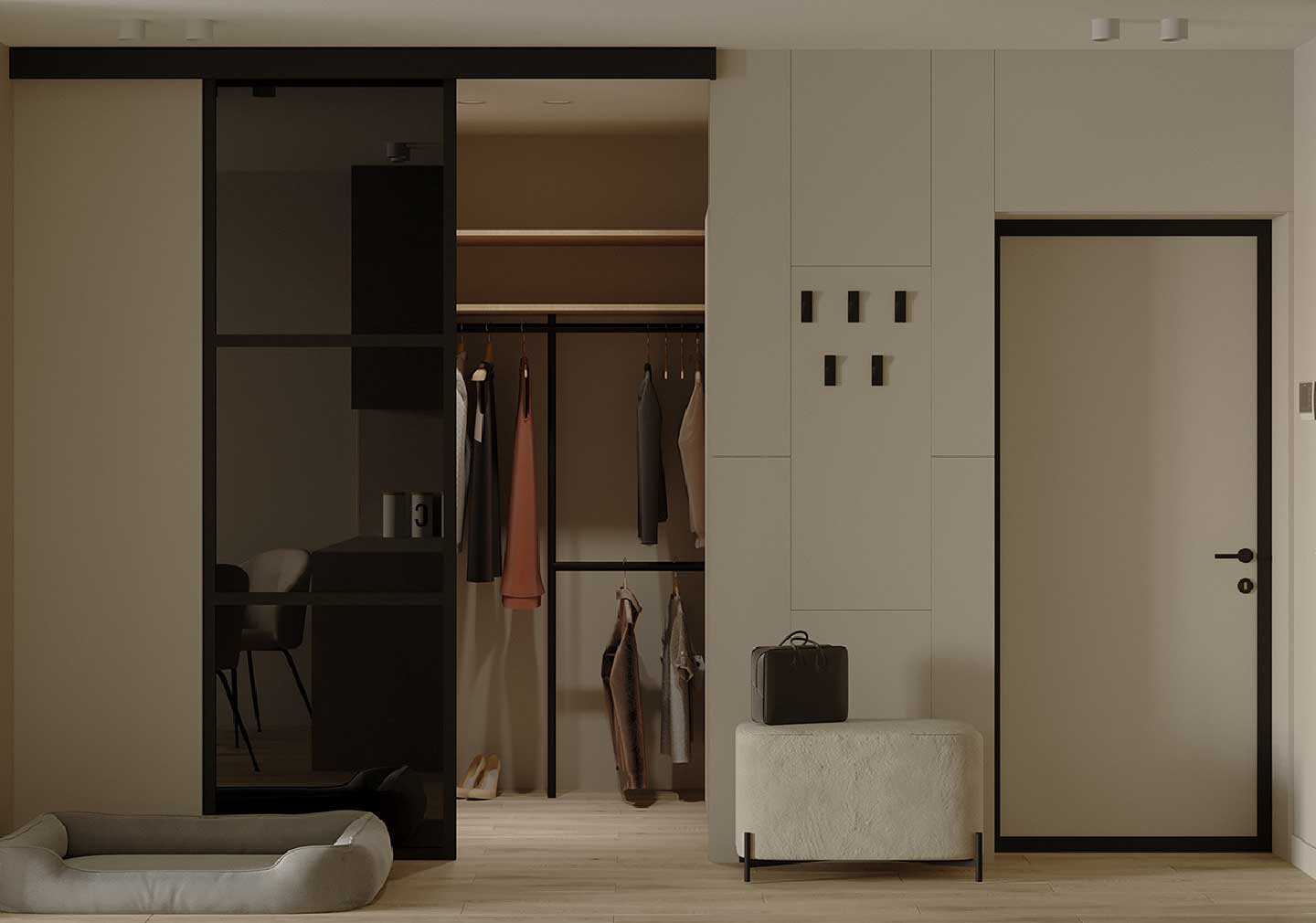 Efficient storage is the key to a well-organized wardrobe. This section will focus on the importance of custom shelving and organizers in maximizing your wardrobe's storage potential. Discover how to create adjustable shelves to accommodate different clothing items, add drawers and dividers for small accessories, and integrate hanging rods at various heights for different garments. Customizing your wardrobe's interior ensures that every inch of space is utilized efficiently, keeping your clothes and accessories neat and accessible. 
Embrace Clever Lighting Solutions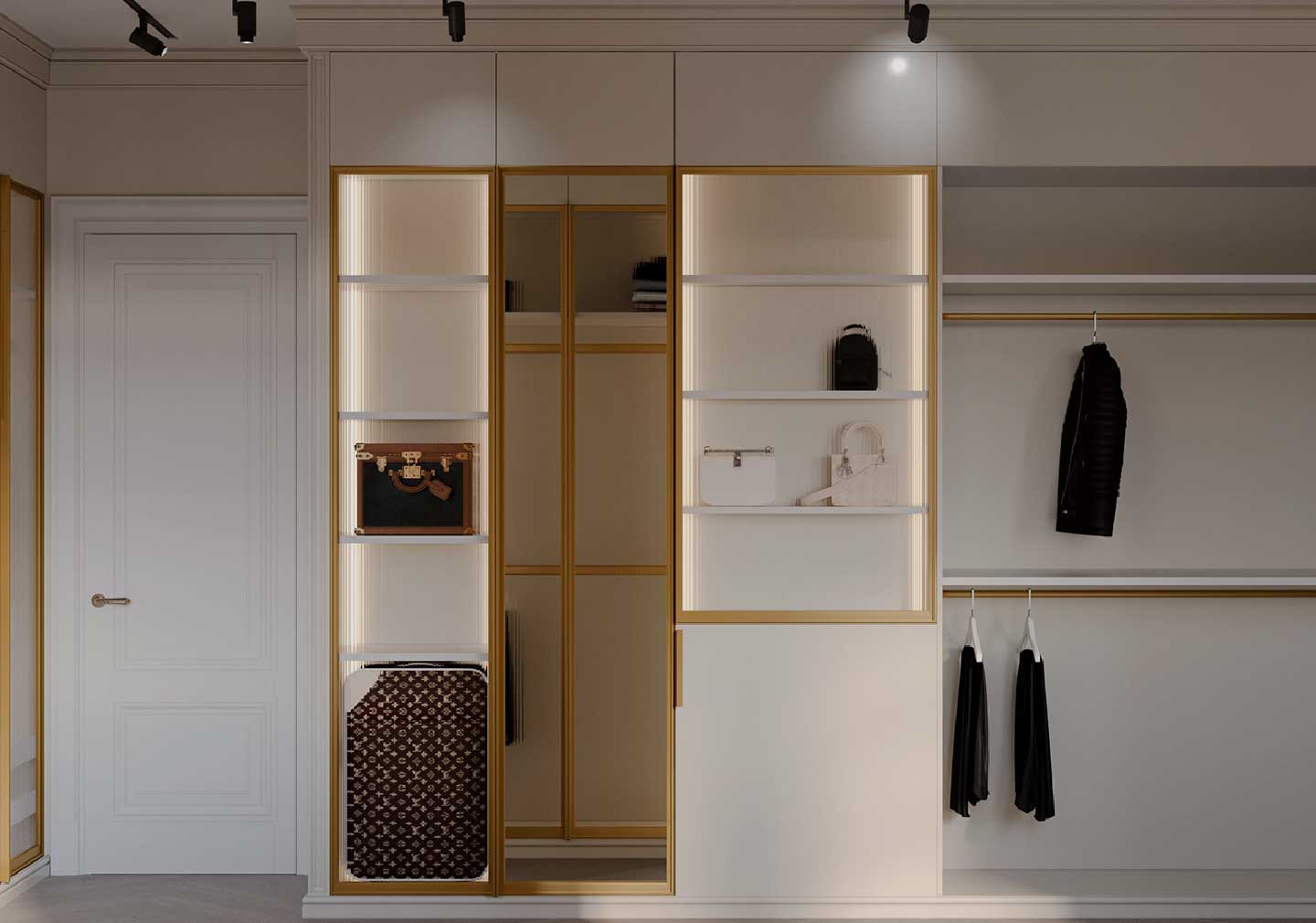 Adequate lighting is essential in a wardrobe to help you see and select your clothes easily. In this section, we will explore clever lighting solutions to brighten up your wardrobe's interior. Learn about LED strip lights that provide soft and even illumination, sensor-activated lights that turn on when the wardrobe doors are opened, and task lighting for specific sections, such as shoe racks and accessory drawers. Proper lighting not only makes it easier to find what you need but also adds a touch of sophistication to your wardrobe's design. 
Add a Touch of Luxury with Premium Finishes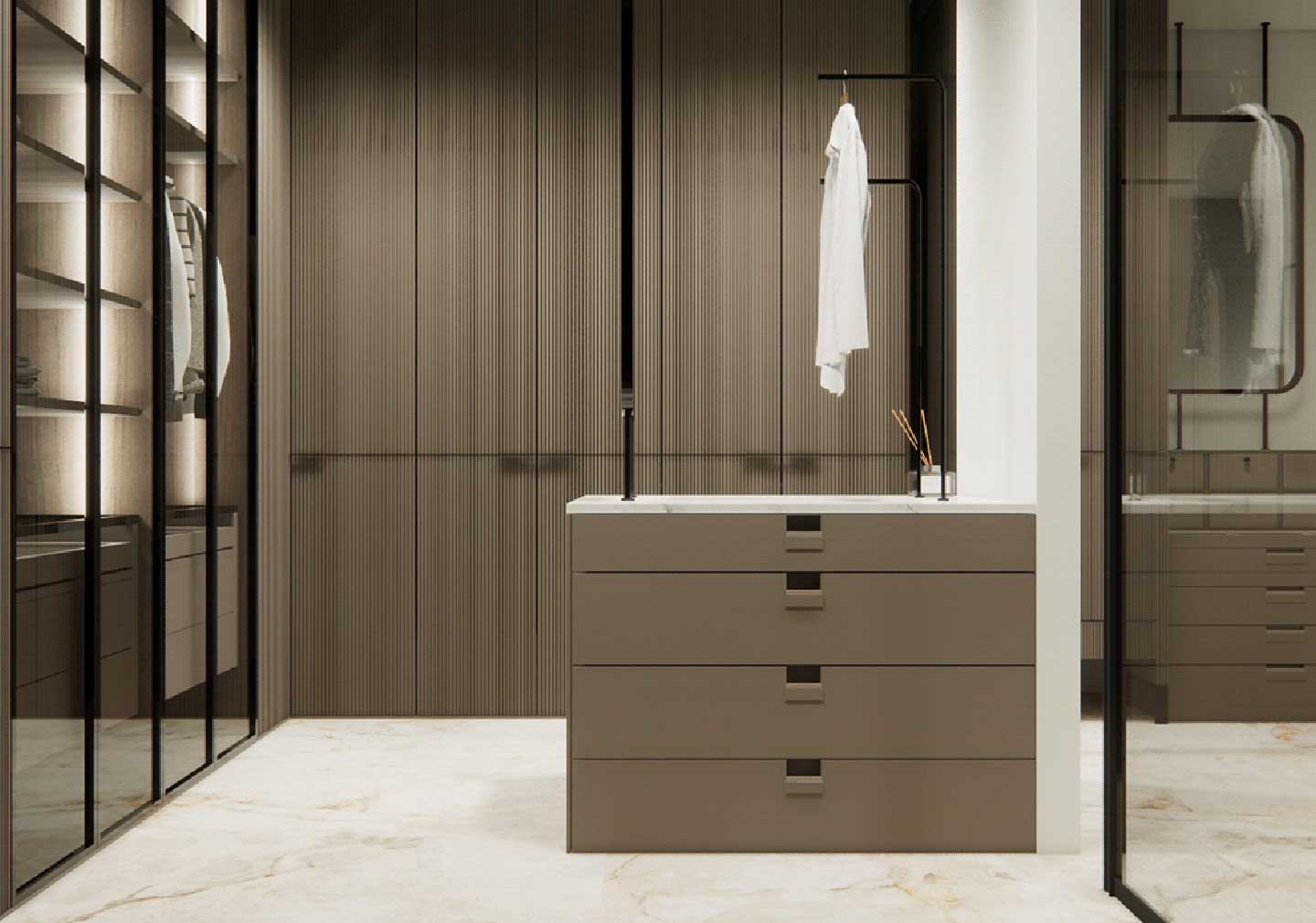 Elevate the look and feel of your wardrobe interior by incorporating premium finishes. This section will explore luxurious details such as velvet-lined drawers, leather-wrapped handles, and custom hardware. Discover how these refined finishes add a touch of opulence to your wardrobe's design and create a sense of indulgence every time you open its doors. Whether you prefer a modern or classic aesthetic, premium finishes can be tailored to suit your style and elevate the overall ambiance of your bedroom. 
Reflect Your Style with Stylish Backdrops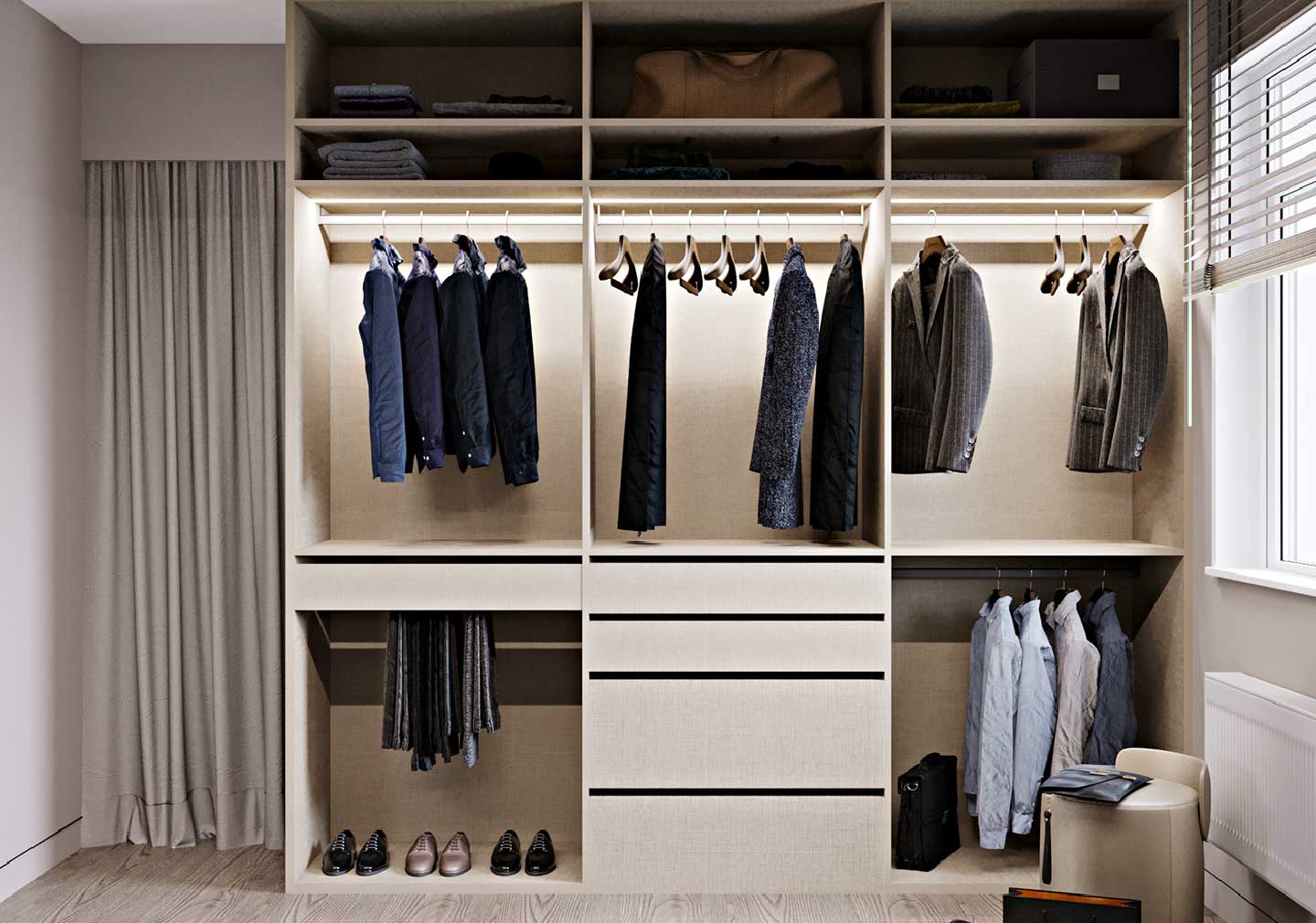 The wardrobe's interior doesn't have to be plain and ordinary. This section will discuss the creative use of stylish backdrops to reflect your personal style. From patterned wallpaper to mirrored panels, discover how backdrops can add personality and visual interest to your wardrobe's interior. We'll also explore the use of frosted glass and decorative screens to create a sense of privacy while adding an elegant touch to the design. 
Incorporate a Dressing Mirror and Vanity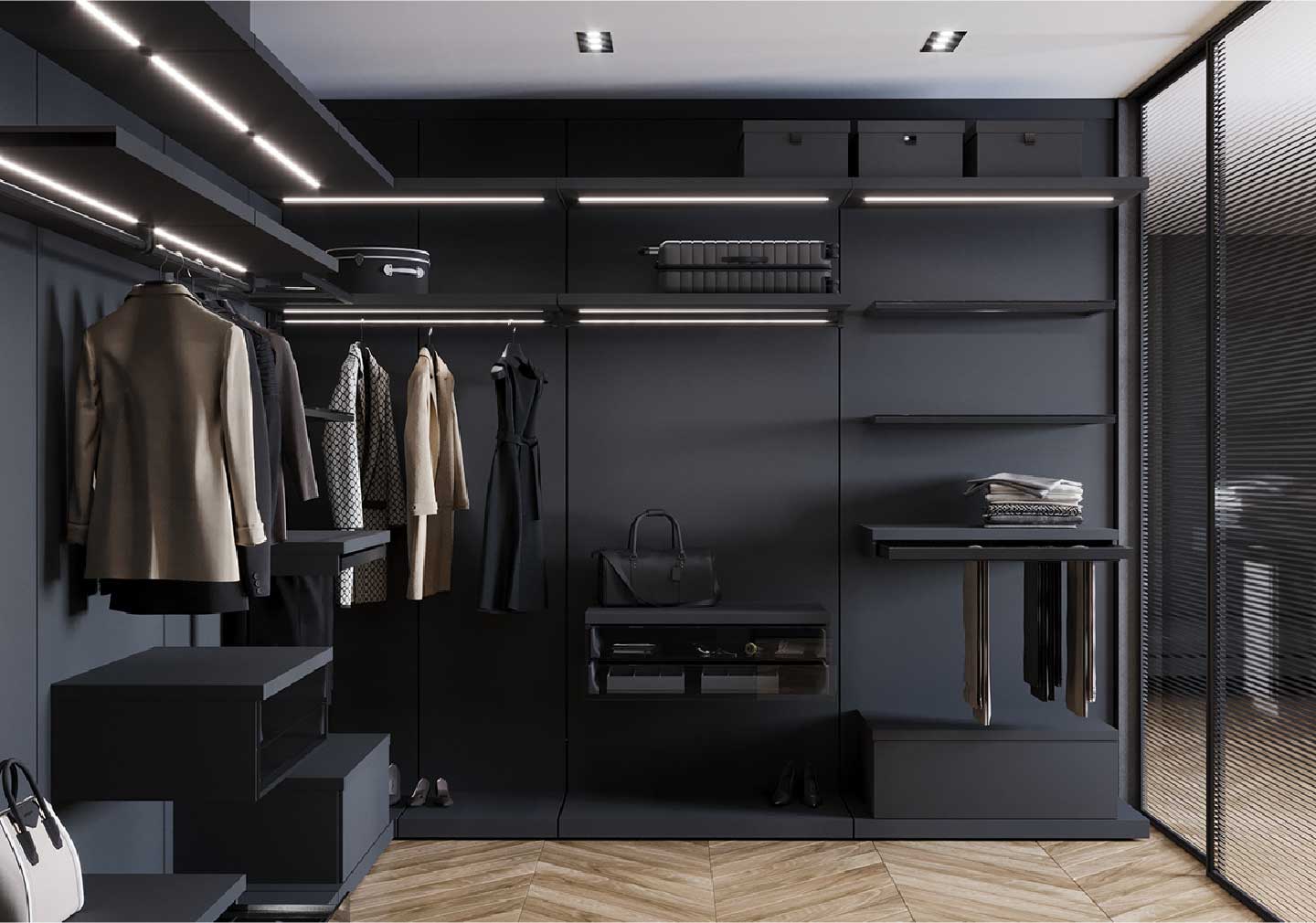 Transform your wardrobe interior into a functional dressing area with the inclusion of a dressing mirror and vanity. In this section, we'll explore how a full-length mirror on the wardrobe door or wall can serve as both a style statement and a practical addition for getting ready. Additionally, we'll discuss the incorporation of a small vanity table with a comfortable stool, providing a dedicated space for grooming and accessorizing within the wardrobe. 
Organize with Style: Displaying and Storing Accessories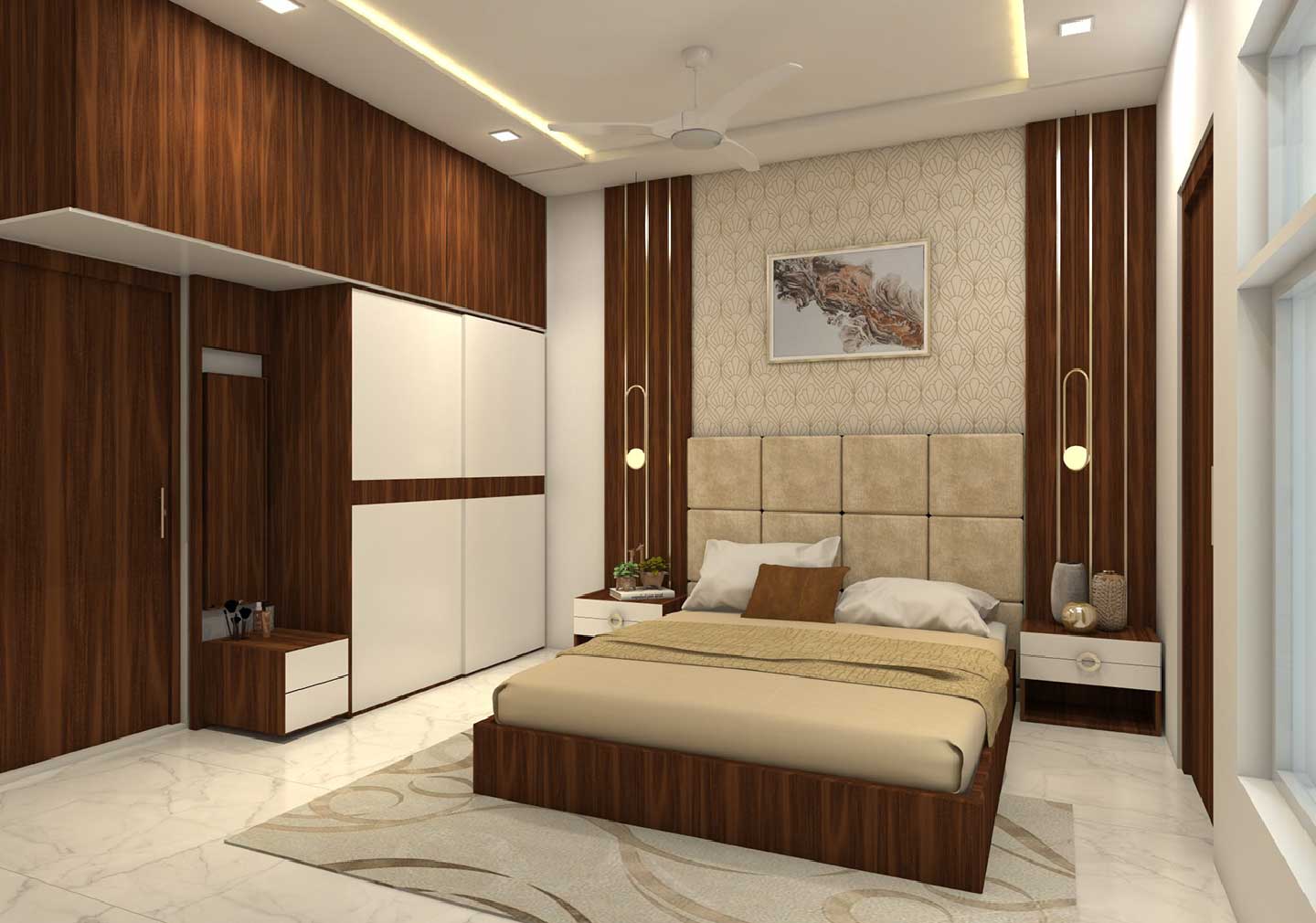 Accessories are an essential part of your wardrobe, and organizing them with style adds flair to your wardrobe interior. This section will showcase creative ways to display and store accessories, such as scarves, belts, and jewelry. From wall-mounted accessory racks to custom-built jewelry drawers with dividers, discover how these solutions keep your accessories tidy while adding a decorative element to the wardrobe's design. 
Closet Organization Systems: Streamlining Wardrobe Interiors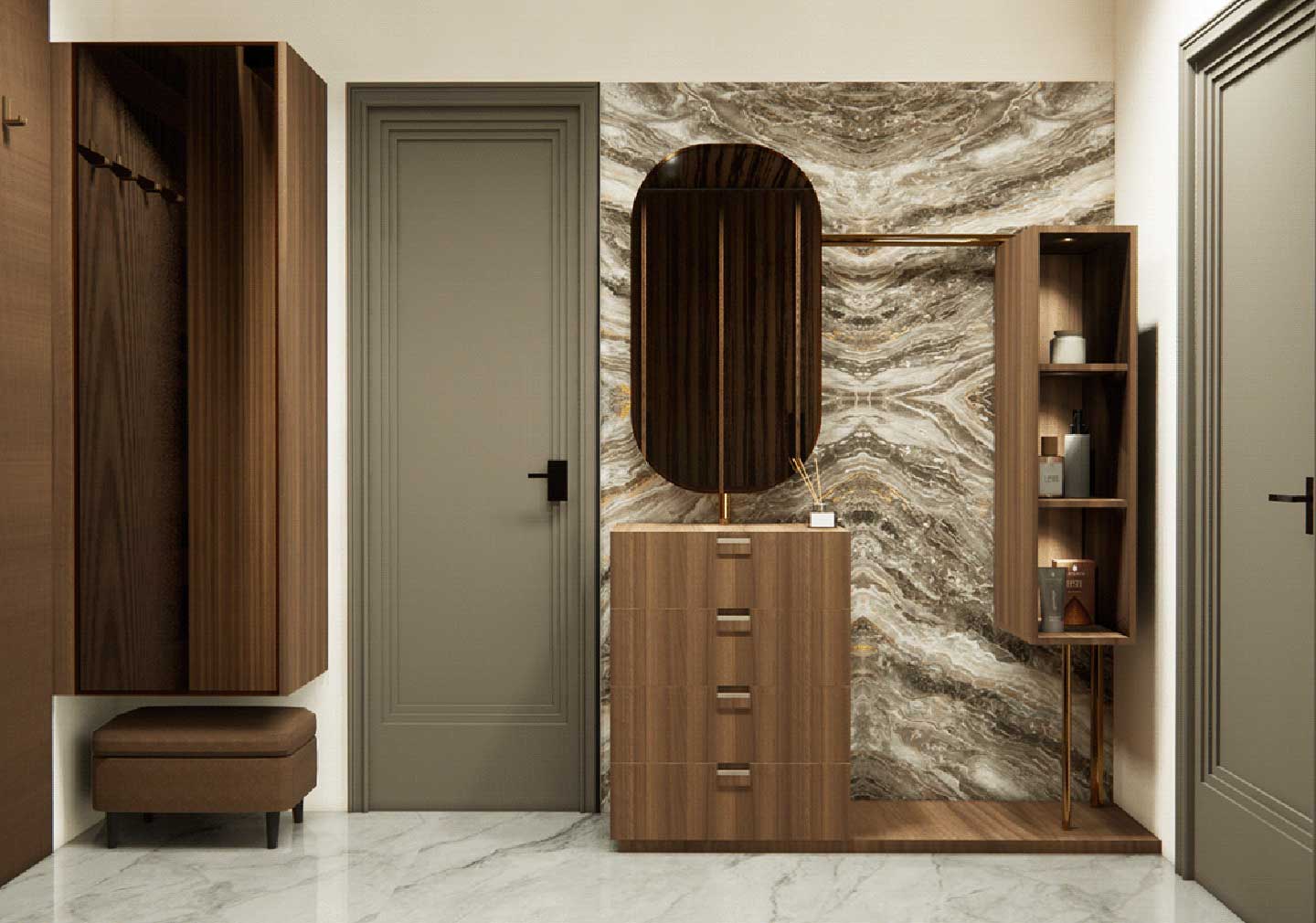 Closet organization systems are a game-changer when it comes to maximizing space and creating an orderly wardrobe interior. In this section, we'll explore the benefits of investing in a well-designed closet organization system. These systems typically feature a combination of shelves, hanging rods, drawers, and shoe racks that can be customized to suit your storage needs. Learn how to categorize your clothing and accessories efficiently, making it easier to find and access items quickly. With a closet organization system, you can keep your wardrobe clutter-free and ensure that every piece has its designated place, fostering a sense of tidiness and ease. 
Incorporating Functional Accessories: Pull-out Trouser Racks and Tie Holders
Functional accessories play a significant role in wardrobe interior design, providing tailored solutions for specific clothing items. This section will focus on two essential functional accessories: pull-out trouser racks and tie holders. Discover how pull-out trouser racks keep your trousers neatly folded and easily accessible, saving valuable closet space. We'll also explore the benefits of tie holders, which prevent ties from wrinkling and tangling while keeping them on display for easy selection. Incorporating these functional accessories adds efficiency and organization to your wardrobe, making your daily dressing routine more enjoyable. 
The Art of Color Coordination: Organizing Clothing by Hue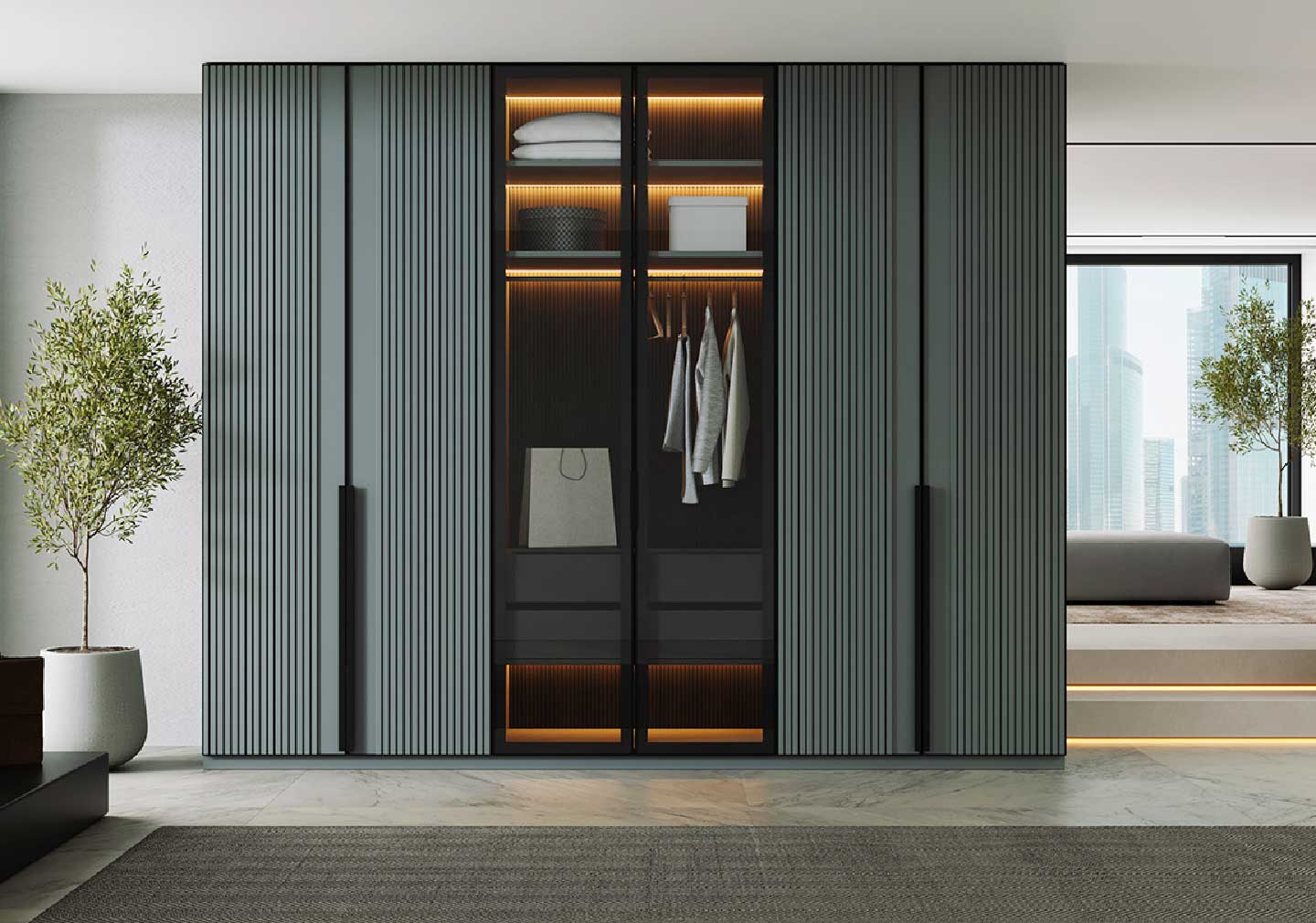 Color coordination is not just a fashion concept; it can also be applied to wardrobe interior design. In this section, we'll delve into the art of organizing clothing by hue. Learn how arranging clothes by color creates a visually appealing and harmonious wardrobe interior. From monochromatic sections to transitioning hues, discover various color organization methods that suit your personal style and help you locate items effortlessly. Embracing color coordination not only streamlines your wardrobe but also adds an element of visual delight every time you open its doors. 
Sustainable Wardrobe Design: Eco-friendly Materials and Practices
As environmental awareness grows, sustainable wardrobe design is becoming increasingly important. This section will explore eco-friendly materials and practices that can be incorporated into your wardrobe's interior. From selecting sustainable wood for closet organizers to using low-VOC paints and eco-conscious adhesives, discover how to create an eco-friendly wardrobe that supports environmentally responsible living. Embracing sustainability in wardrobe design not only reduces your carbon footprint but also sets an example for conscious consumption and responsible design choices. 
Showcasing Statement Pieces: Artful Display of Designer Clothing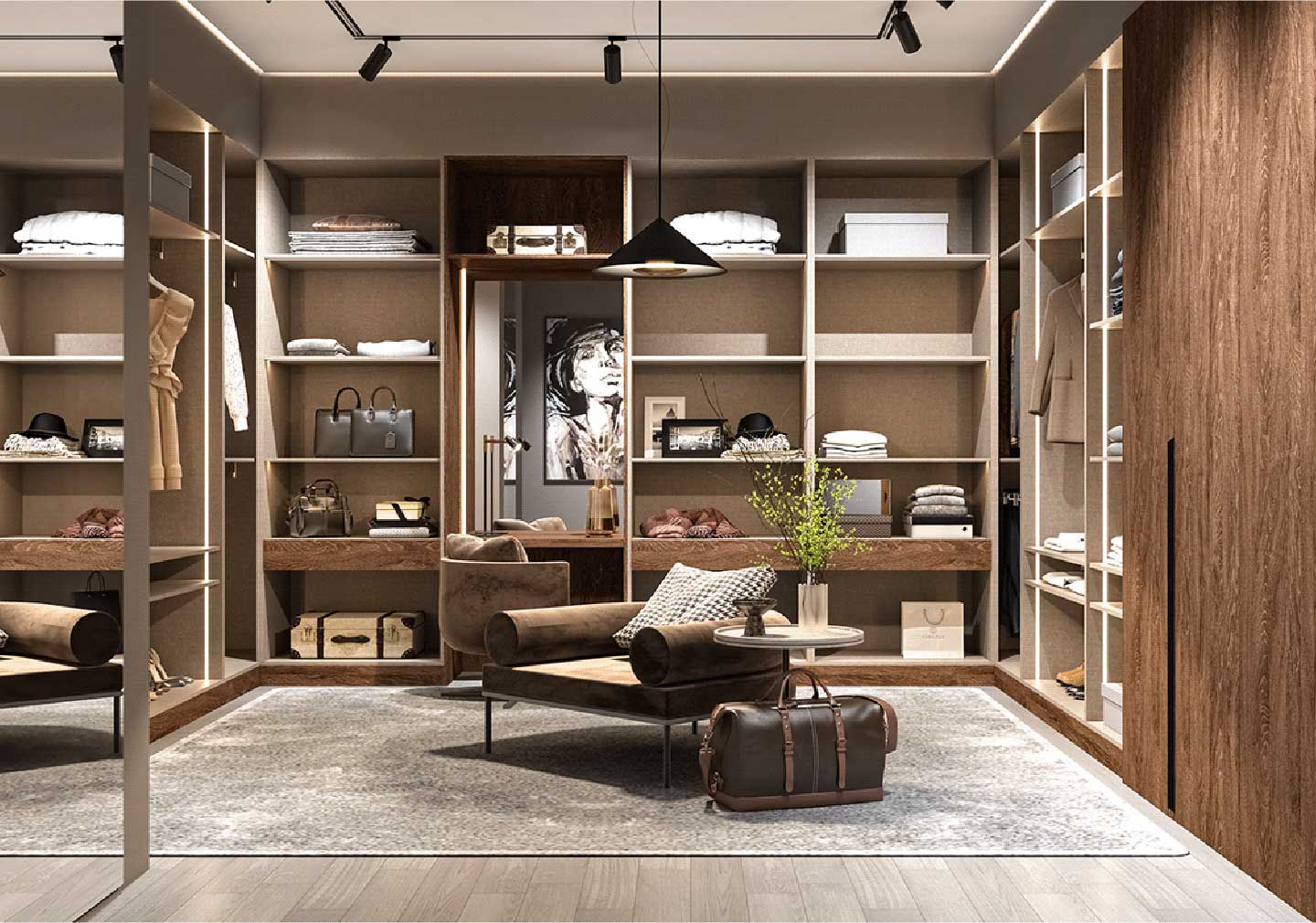 If you have a collection of designer or statement pieces, showcasing them in your wardrobe can add a touch of elegance and luxury. This section will discuss how to create an artful display of your most cherished clothing items. From incorporating open shelving for displaying handbags and shoes to using glass doors to showcase couture garments, learn how to turn your wardrobe into a gallery of fashion masterpieces. The artful display not only elevates the aesthetic of your wardrobe interior but also allows you to appreciate and enjoy your prized possessions daily. 
Space-Saving Solutions for Small Wardrobes
Small wardrobes can present unique challenges when it comes to organization and storage. In this section, we'll explore space-saving solutions that make the most of limited wardrobe interiors. Learn about compact hanging organizers, slimline hangers, and cascading hooks that maximize vertical space. We'll also discuss the benefits of using vacuum storage bags to store out-of-season clothing and bedding, freeing up valuable shelf space. By implementing these space-saving solutions, you can optimize your small wardrobe's interior and create a functional and clutter-free storage space. 
Transforming Wardrobe Doors: Sliding and Mirrored Designs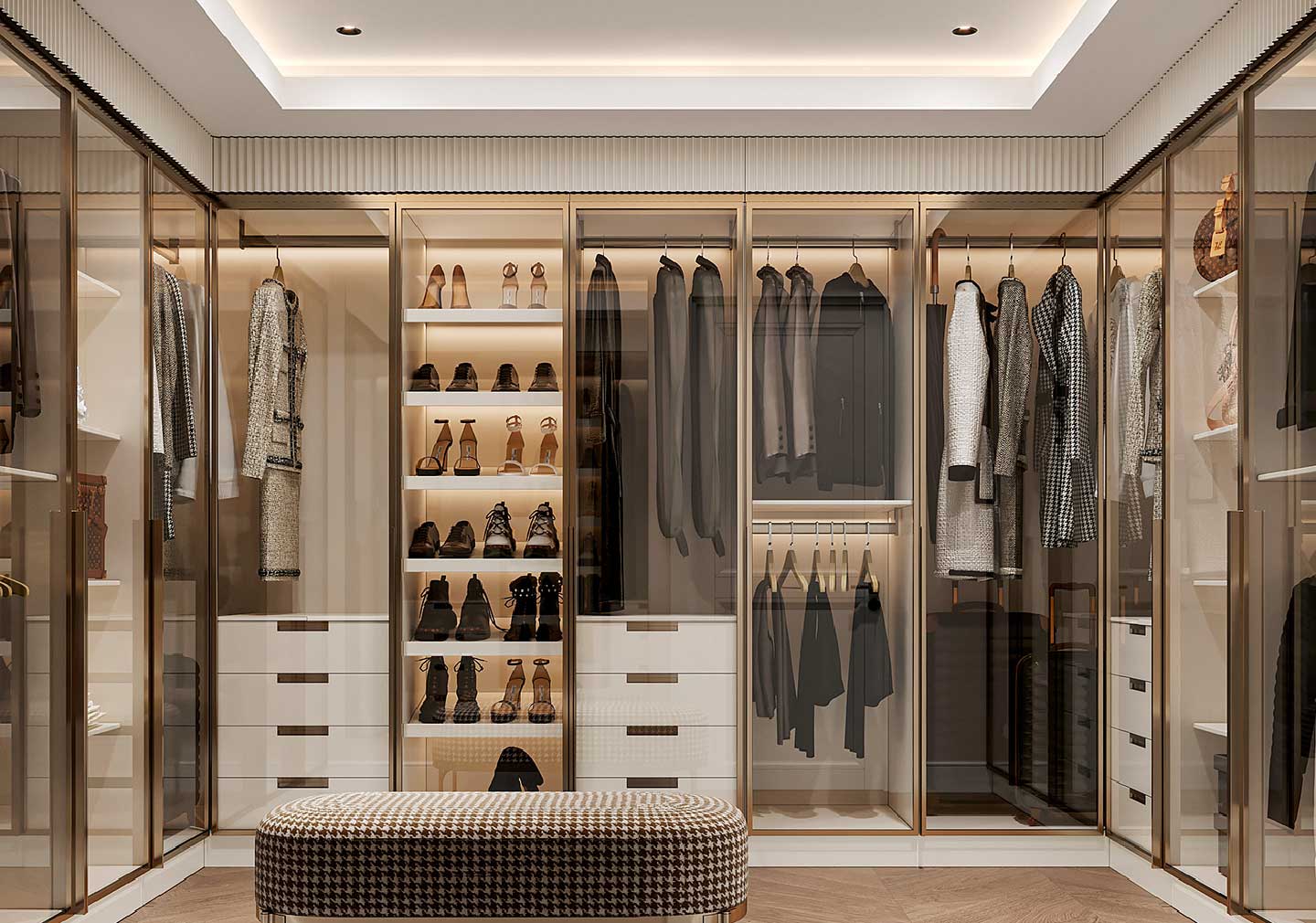 Wardrobe doors are not just functional elements; they also contribute to the overall aesthetics of your bedroom. This section will focus on transforming wardrobe doors with sliding and mirrored designs. Learn how sliding doors save floor space and create a modern and seamless look. We'll also explore the advantages of mirrored wardrobe doors, which visually expand the room while serving as a full-length dressing mirror. Embrace these transformative door designs to add style and functionality to your wardrobe's interior. 
Seasonal Rotation and Organization
Seasonal rotation and organization are essential for maintaining an efficient wardrobe. In this section, we'll discuss the process of rotating clothing and accessories based on the seasons. Learn how to store out-of-season items properly to prevent damage and declutter your wardrobe during each transition. We'll also explore seasonal wardrobe capsules, which involve curating a smaller collection of versatile pieces for each season. By adopting a seasonal rotation and organization strategy, you can keep your wardrobe interior fresh and well-organized year-round. 
Conclusion
Revamping your wardrobe interior is a transformative process that optimizes space, enhances organization, and elevates the overall aesthetics. Implementing space-saving solutions in small wardrobes allows you to make the most of limited space and keep your belongings neat and accessible. Consider transforming wardrobe doors with sliding and mirrored designs to add style and functionality to your bedroom. Embrace seasonal rotation and organization to keep your wardrobe fresh and decluttered year-round. These additional three topics, combined with the previous ideas, will help you create a wardrobe interior that suits your lifestyle, reflects your personal style, and makes getting dressed a joyous and effortless experience. Happy wardrobe transformation!