Imagine a home interior design that reflects both luxury and comfort at the same time. A place of relaxation in the lap of intricate techniques that elevate your living experience. Whether your next home has a traditional layout or is one of those modern conceptual ones that pack in quite a lot, even in the smallest spaces, so before we explore this modern home, let us understand the upcoming trend that is the Modern Home Decor style.
What is Modern Decor Style?
In interior decoration, 'modern' is a term that is often misused or gives rise to confusion with contemporary style. However, compared to contemporary design using the latest styles in the market, the modern design style actually uses designs that originated around the turn of the 20th century.
Hence, even if it is termed as 'modern,' this design style retains the past elements. This is represented through color palettes in neutral or earthy tones – monochromatic colors being the best choice for an overall theme. Emphasize is put on furnishing with natural materials and eliminating the need for detailing to only make the space look cluttered. 
How do you decorate in a modern style?
Modern design style is relatively simple and unadorned, having its roots originating from German and Scandinavian architectural design. Both design styles gained their popularity in the 1920s to the 1950s during the age of mechanization. While it continued growing in the first half of the 20th century, in the second half, we came to know about the two other derivatives of this style – the mid-century modern and the postmodern.
Establishing the ideology of "form follows function," one must start designing with functionality in their mind. Decorating with details that provide no practical purpose to the space must be eliminated from the start. Exploring options in furnishing and decor that clearly reflects its intended usage is an excellent way to begin.
What are the 7 elements of modern interior design?
For those who like plain, uncluttered spaces with straight lines and a lack of fussy ornaments, this idea behind the modern style makes it a great decorating choice. It goes well with the open floor plans that preceded this style's evolution.
Here are a few things you should know if you're dreaming of decorating a room in a modern style.
1. Exposed structural elements of architecture – Modern style thrives on simplicity that is achieved by keeping the original architectural features of the space intact.
2. Elimination of fluff or anything non-practical – The modernist movement adopted the idea that "Form follows function," meaning that its intended use, instead of its appearance, is now the most important aspect of a piece of furniture (or space).
3. Furnishings with clean straight lines and removing curves – The key elements of this look are clean lines on the furnishings and plenty of open space in the room.
4. Big windows that let in natural light and more reflective surfaces – Simplify things with full length windows that enhances the open-space concept of this design trend.
5. Mostly neutral or natural color schemes – The current color scheme is typically neutral: varied shades of brown, cream, tan, black, green and white predominate. Neutrals remained the predominant palette as the style progressed, but the use of vivid, cheery accent colors became more popular.
6. Materials used are left in natural form – Modern-style decorations include natural materials, particularly wood. The use of plastics and chrome, however is an important part of the look, adding the color, shine, and celebration of all mass-produced items that are so characteristic of this style.
7. Everything has its use in the final setup – This design is flexible enough to work for the needs of just about everyone. Build a home that works for you; versatility is a fundamental theme of modernism, after all.
We at Bonito have visualized a home that has been decorated in the Modern design style. Let's take a tour of this home and get inspired to recreate the same for your own dream home!
MODERN LIVING ROOM INSPIRATION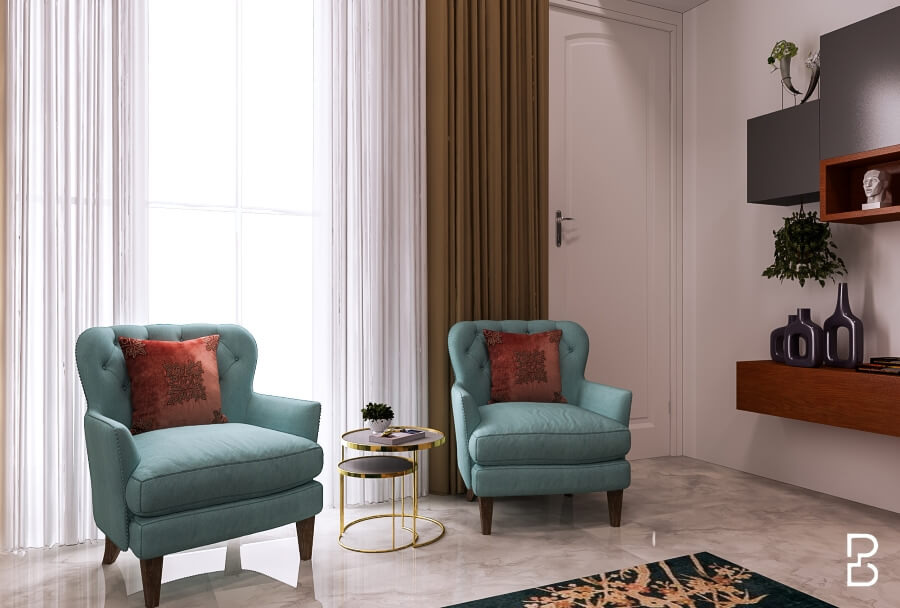 Not one for clutter or lots of furniture is the modern style. Instead, the overall clean and simple look is added to by an open airy vibe. Generally, new mid-century modern homes have wide windows and plenty of natural light. Feel free to have some fun adding your own touches to the mix, whatever your decorating style.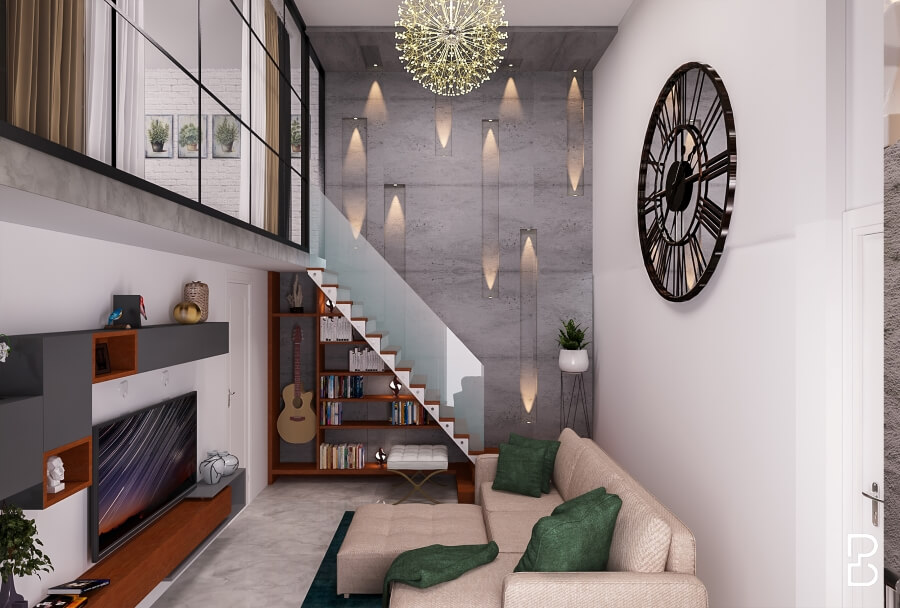 This modern apartment features a double-height living room that radiates simplicity. To build a special and elegant accent wall that extends up to the ceiling, the designer of this living room uses the exposed wall with a glass clock detail. The living room looks more spacious and the windows on the top floor contribute to the natural light of the room. As well as the natural light, the warm glow from the stylish wall lamps complements the suede sofa set.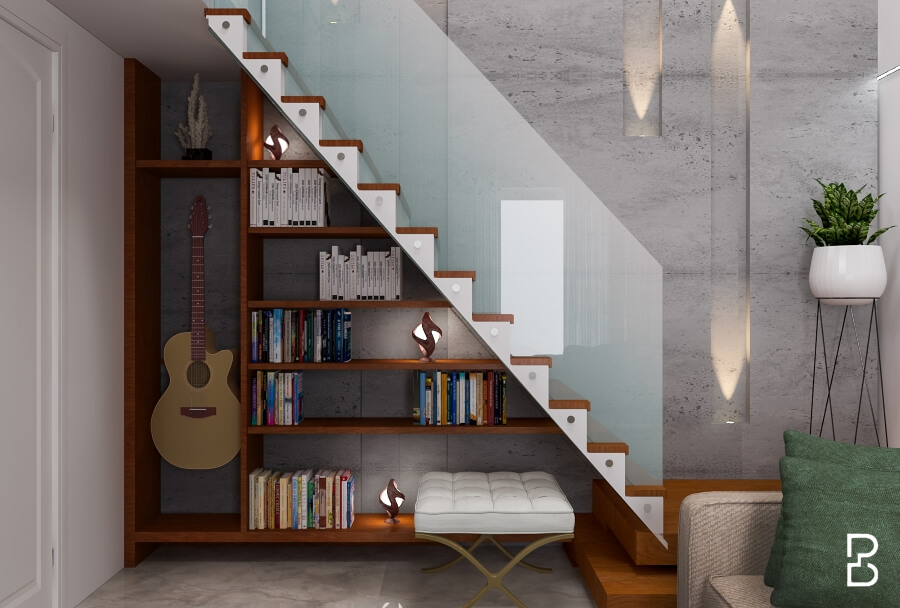 The modern style embraces natural objects, such as wood and stone, as artwork in its own right. Minimalism is similar to modern design in that without a lot of adornment, it emphasizes a very clean, simplistic look. Space utilization is also kept in mind. In this clever under the stairs display, fussy knick-knacks, collectibles and general froufrou are all cleverly arranged and displayed.
MODERN MASTER BEDROOM INSPIRATION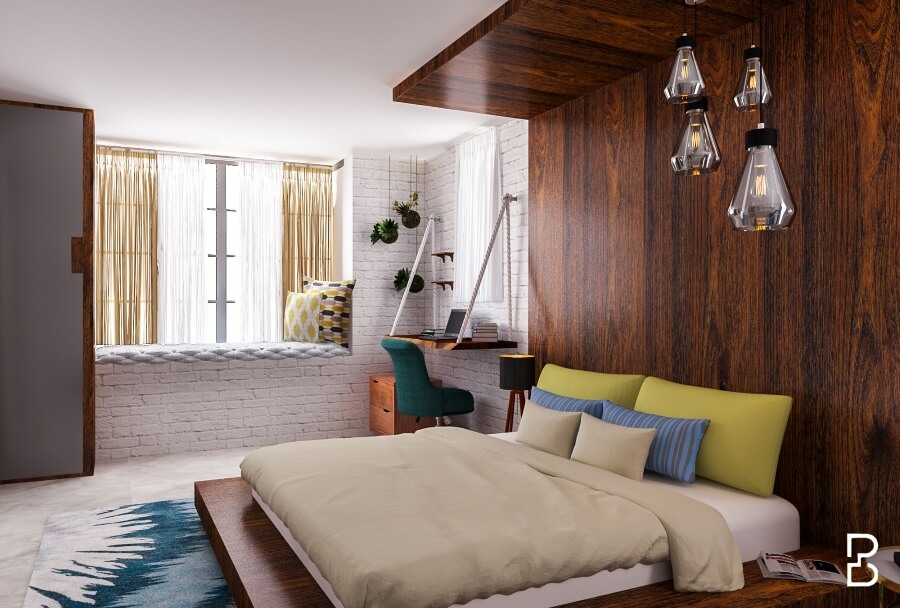 Modern and midcentury modern décor, as seen in the master bedroom here, embraces natural materials, particularly wood. In the modern bedroom, simple platform beds are a common sight, particularly in the modern Scandinavian style. The look is not at all bland or sterile, despite the straight lines, neutral colors, and lack of accessories in the typical modern bedroom. All it takes to add interest is just one special touch, such as the hanging lightbulbs in this room.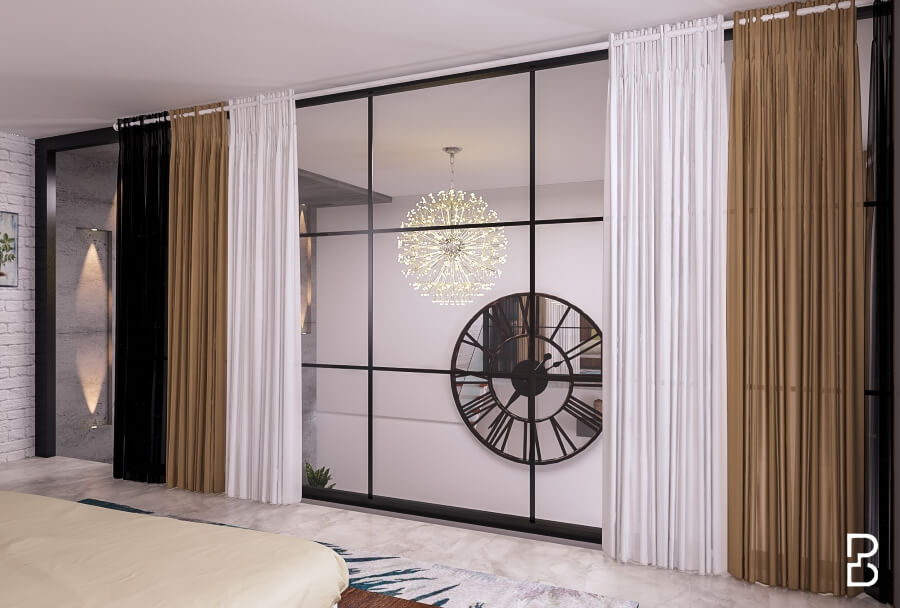 Modern and midcentury modern décor, as seen in the master bedroom here, embraces natural materials, particularly wood. In the modern bedroom, simple platform beds are a common sight, particularly in the modern Scandinavian style. The look is not at all bland or sterile, despite the straight lines, neutral colors, and lack of accessories in the typical modern bedroom. All it takes to add interest is just one special touch, such as the hanging lightbulbs in this room.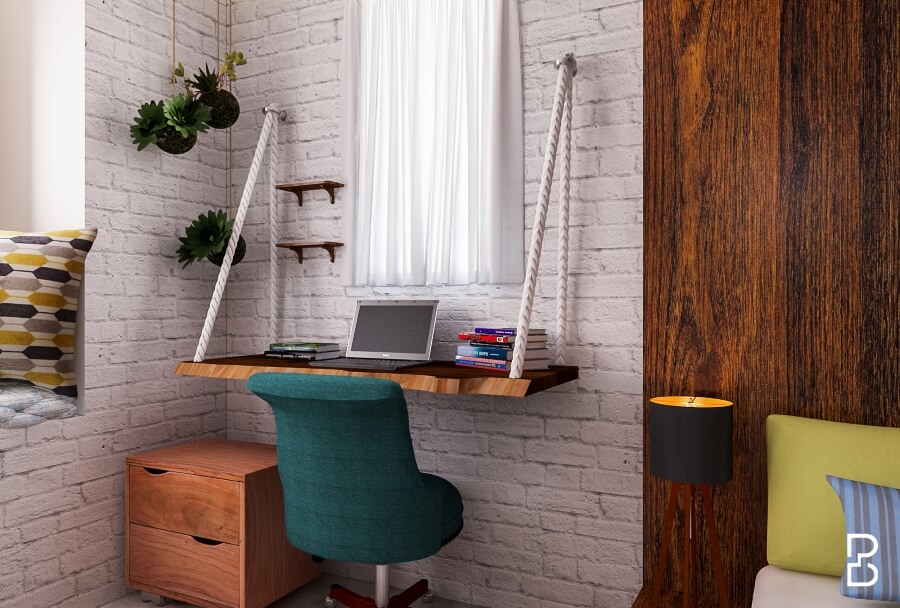 Don't think you've got any extra space for your home office? Odds are that you do. To build more space, a little imagination and maybe some elbow grease is all it takes. The unusual corner of the bedroom is turned into a home office by a floating desk and a floor storage unit. The corner is adequately lit up, thanks to the natural light from the adjacent window that has been transformed into an additional seating area.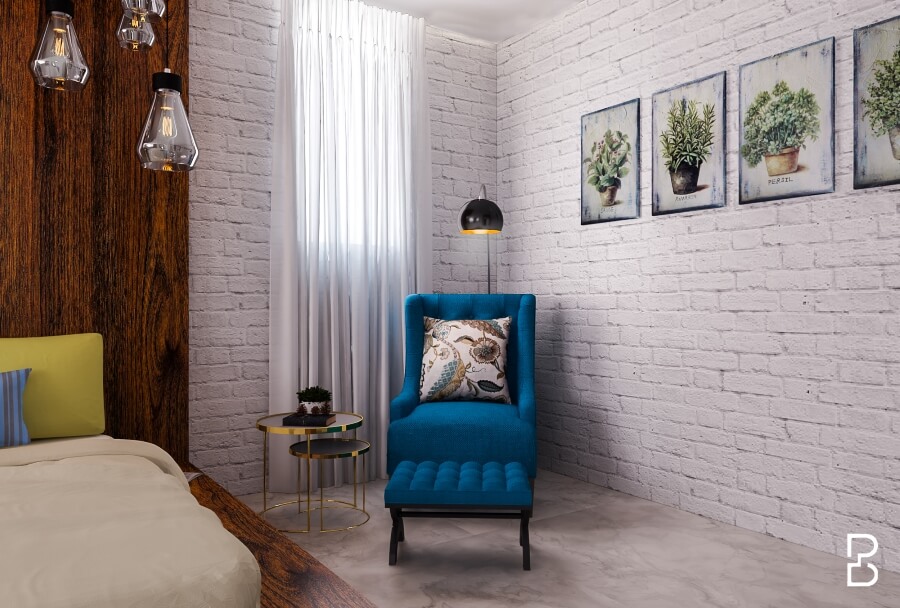 We see the spotlight being turned towards artwork in a modern bedroom, especially large paintings, posters, or prints on the walls. Also taking up the focal point of the room is this wingback chair and ottoman set. The blue upholstery of this reading nook brings a much-needed pop of color to an otherwise neutral color palette. It draws the eye and gives a warm beckoning to sink in the pages of a novel with a hot cup of tea.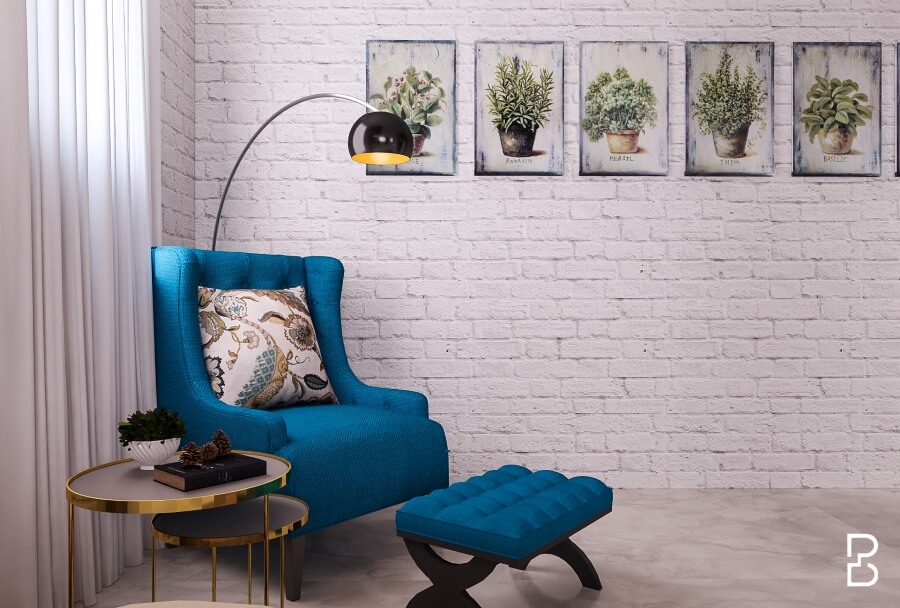 Here is a new angle for you to curl up with your books in this cozy corner. While modern midcentury design is usually clean and without unnecessary ornamentation, the use of angular or unusual light fixtures, particularly 'atomic' styled fixtures, such as the floor lamp located behind the chair here is an exception to that rule.
MODERN MASTER BATHROOM INSPIRATION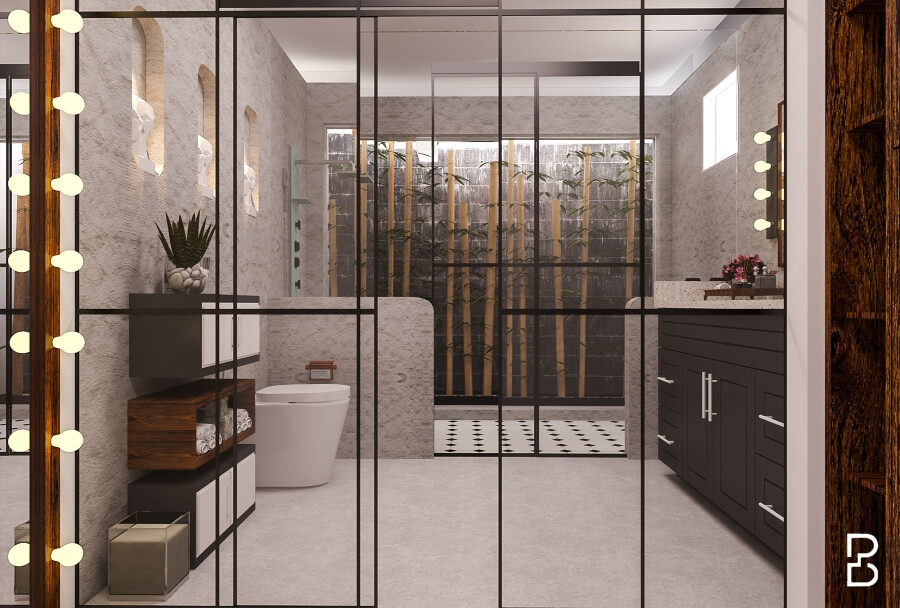 An open plan, which typically includes transparent glass walls around showers, is another characteristic of many modern-style bathrooms. In smaller spaces, this is particularly good. A "wet-room" style and distinctly modern elements are used in this bathroom: geometrical shapes in simple squares, a monochrome color scheme, and minimal decorative elements (again the trick seems to be achieved by a few flowers).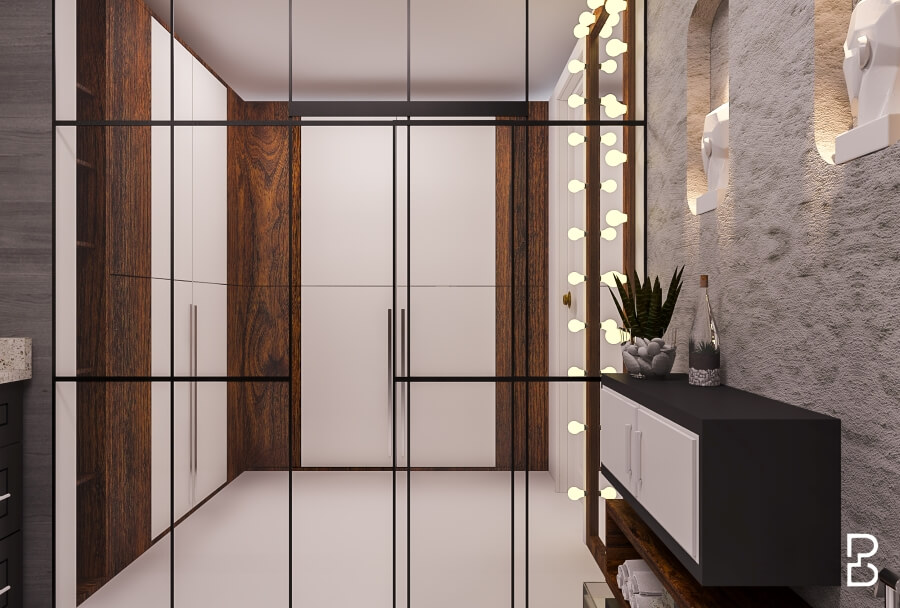 In order to be modern, not all bathrooms have to be cold and sterile. It is possible for a modern master bedroom to be wet, inviting, welcoming. In this space, concentrating on straight lines, simplistic color schemes and minimal decorative elements are popular. This closet space surely has "minimal footprint" in mind. Each feature is selected, both physically and aesthetically, to occupy as little space as possible.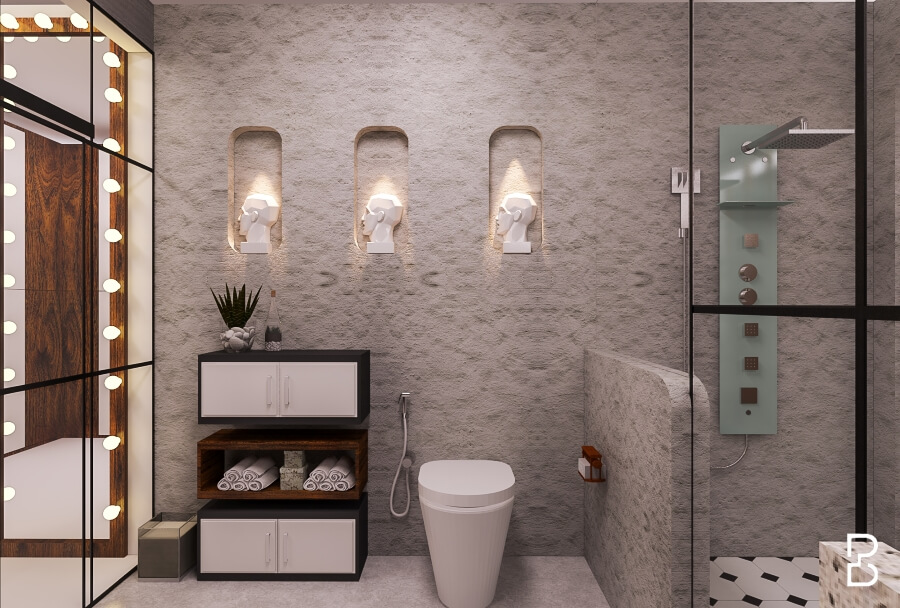 'Smooth and sleek' describes much about this bathroom: the exposed rough wall, the tankless toilet, the modern vases in the cracks formed in the wall. And there's even a space that you can access from the toilet for towels or supplies. If your style is minimal, this is an outstanding inspiration. This walk-in shower's wide, French-style doors remind you of a window, and that is precisely the point. A lot of clarity is required to battle the claustrophobic feeling in a room that uses so much black.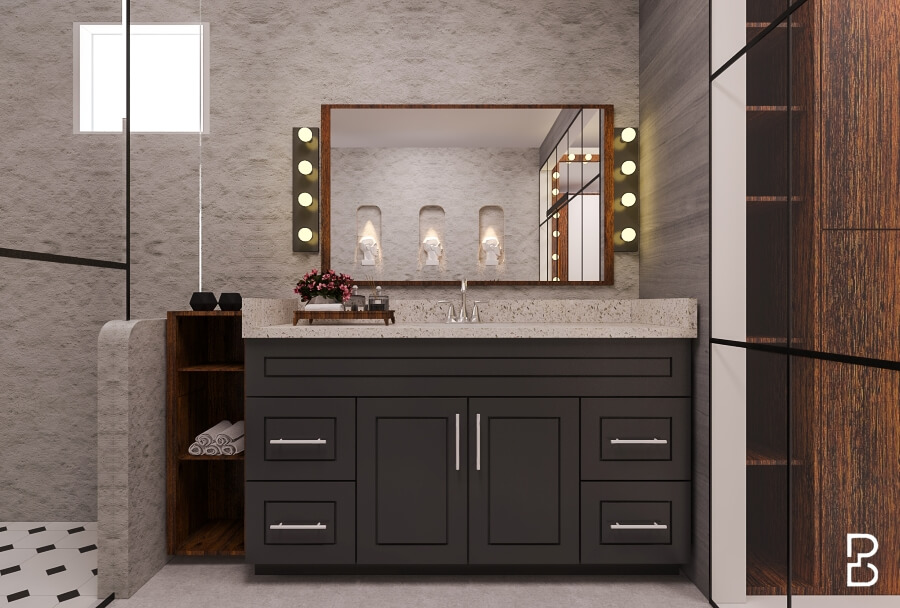 The brass accents add warmth and color to this typical bathroom. Right now, metal finishes are fairly trendy, and they never really go out of style. The mirror makes the place, really. It's not its cool, traditional blackness or its great lighting that is best about this bathroom. The smart storage room under the shower, which is just the right place to store your towels and cleaning supplies, is what really strikes us.
A modern design style is easy to put together but can become quite overwhelming for a maximalist. An interior designer knows how to put together your vision seamlessly and source furniture to fall in place with your requirements. Be it any design style or your own unique style – for more inspiration, contact our home interior design experts today, and let's start creating your bespoke home together.